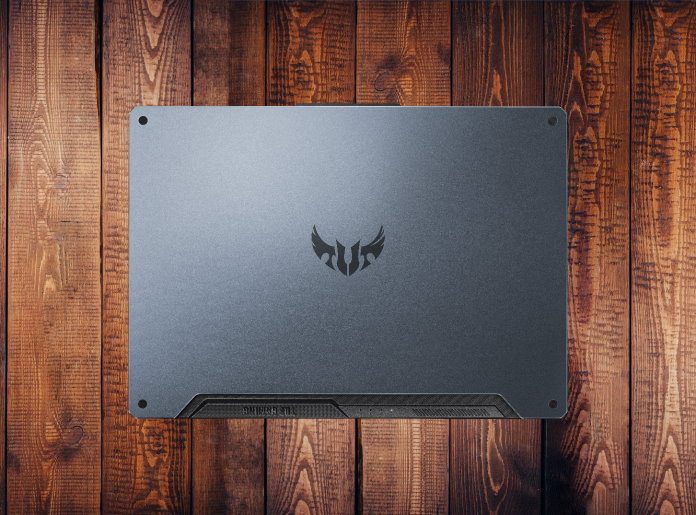 ASUS participates in several affiliate programs, including the Amazon Associates program, and may receive affiliate fees for qualifying purchases.
It can be frustrating to ask Dad exactly what he wants for Father's Day. Maybe he talks about fixing and cleaning the gutters. Perhaps he's eyeballing some renovations in the kitchen. But you know these projects are for the family, not for him. Want to get him the Father's Day gift that he really wants? Sit him down in front of some new PC hardware, hand him a cold beverage, and watch the smile spread across his face. Even if you don't know where to start, our Father's Day gift guide has something for everyone. Between ASUS families of laptops, PCs, and components, our value-packed TUF Gaming line, and our competition-grade ROG systems and peripherals, we've got something for every dad out there.
Empower his play with competitive peripherals
It's sometimes tough to buy hardware for a gamer without just asking them outright what they want. If the element of surprise is important to you, take a moment to check out Dad's peripherals. If his keyboard, mouse, or headset have visibly suffered the wear and tear of years of use, or he's using the peripherals that came in the box with his PC, an upgrade might be more than welcome.
TUF Gaming peripherals
Here are some gift options that work well individually and make a stunning complete set. TUF peripherals put gaming-quality components beneath your fingertips—or over your ears, in the case of the TUF Gaming H3 headset—to give Dad precise, reliable control over his favorite games.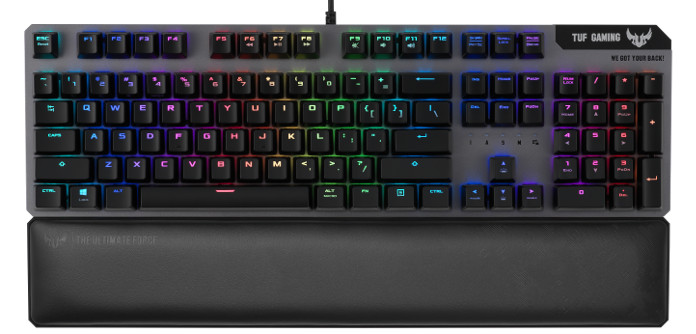 The TUF Gaming K7 keyboard makes that great first impression you want for any gift. Its sleek aircraft-grade aluminum shell, leatherette palm rest, and individually-backlit RGB LED keys will make it a bold addition to Dad's desk. When he gets his hands on this deck, he'll discover the tactile joy of the TUF Opto-mech switches. These optical switches register keypresses with lightning speed, and that immediate response translates to precise control over digital battlegrounds.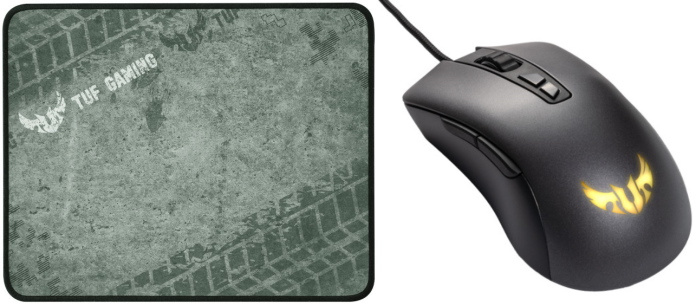 The TUF Gaming M3 mouse and TUF Gaming P3 mousepad make perfect partners for the K7. The aesthetic of these two peripherals coordinates perfectly with the keyboard. The M3's 7000 DPI optical sensor will accurately track Dad's every motion, and the heavy-duty switches are rated for 20 million clicks. It'll go the distance, as will the durable P3. Its surface is precisely engineered for optimal tracking with optical mouse sensors, and its anti-fray edge finish will ensure it has a long career on his desk.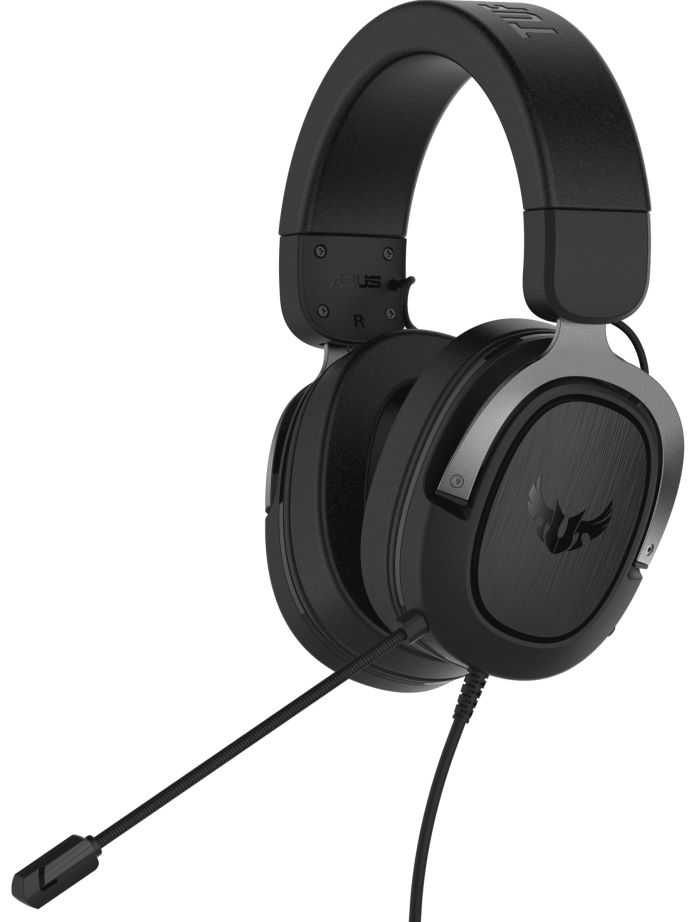 Round out his set of gaming peripherals with the TUF Gaming H3 headset, especially if he's still limping along with a pair of bottom-shelf generic earbuds. The H3's large 50mm Essence drivers deliver deep bass without sacrificing clarity, and the memory foam ear pads with protein leather covers stay cool and comfortable for the long haul.
ROG Chakram
Gift-givers dread the thought: what if he already has one? If you need an absolutely unique Father's Day gift, look no further than the ROG Chakram. Its side-mounted joystick, three connectivity modes, and easy customization options set it apart from any other gaming mouse on the market.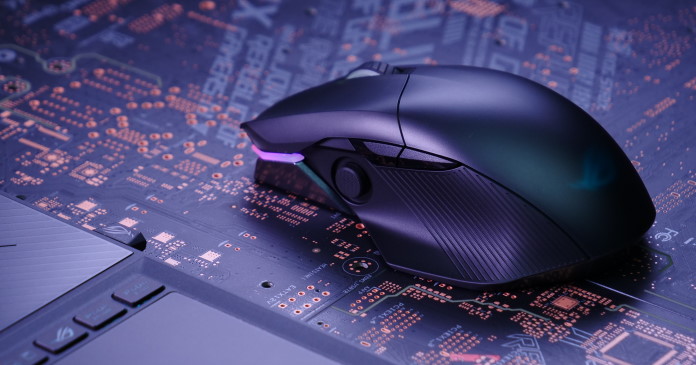 The programmable, removable side joystick gives Dad a wealth of options in games. He can set the joystick in either analog or digital modes, or swap it out for an included optional joystick that's a bit longer. The Chakram's customization options don't stop there. Magnets hold its buttons and switches in place so that it's easy to swap out switches or the illuminated badge in the palm rest for one with a personal design. The mouse connects to PCs using a low-latency 2.4GHz wireless signal, cord-free Bluetooth, or a USB Type-C cable that doubles as a charger, and its top-tier 16,000 DPI optical sensor will capture quick movements with pinpoint accuracy.
Give the gift of great internet
Here's a present that you'll appreciate just as much as Dad will: a new wireless router. If your household internet suffers from dead spots, dropped connections, or simple congestion as everyone in the family fires up their personal devices after dinner, it's time to kick that aging router to the curb. Reducing network-related frustration and maintenance is a great gift for any tech-y dad.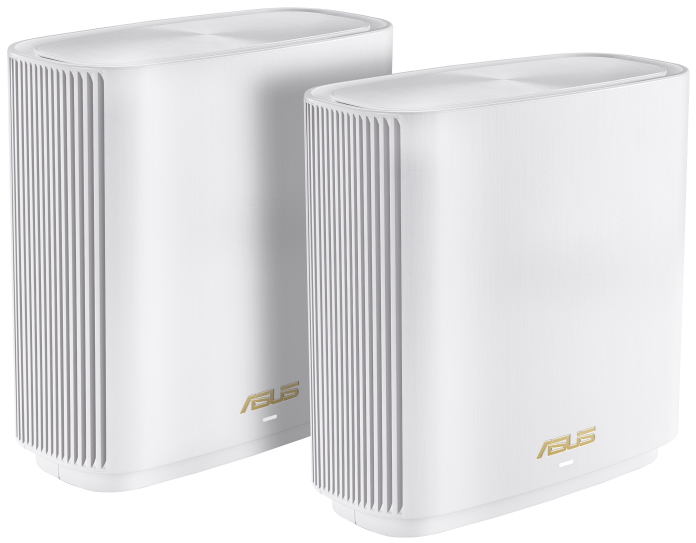 The ZenWiFi AX is an easy-to-install, drop-in upgrade for just about any home. This wireless networking system uses a pair of routers in a mesh topology to blanket your home in high- bandwidth, low-latency signal. With one router in a central location and the second in Dad's office, you'll secure solid connections for everyone while putting his work and play in the fast lane. Since the ZenWiFi AX comes with all the new features of Wi-Fi 6, it's ready to alleviate the network congestion in your home as you upgrade your connected devices to new models with support for that next-gen standard.
Give him a competitive edge with a high-powered display
Today's digital gladiators face off in fast-paced battles where every millisecond counts. Does Dad like to unwind with a few rounds of frag-filled action? Consider a gaming monitor. Gamers everywhere are turning to high-refresh-rate displays to get a competitive edge over the competition.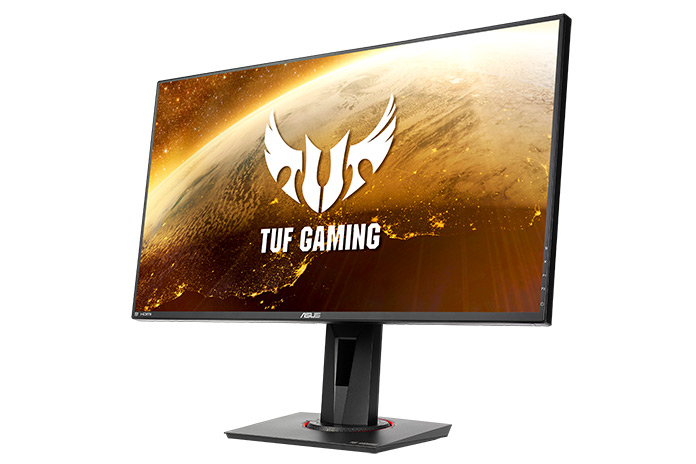 The TUF Gaming VG279QM can be overclocked to a blistering 280Hz refresh rate that produces silky-smooth visuals. With this 27" 1920×1080 display at hand, Dad won't miss a bit of the action. Our Fast IPS technology means that this screen offers the wide viewing angles and vivid colors that gamers have come to expect from IPS panels, while its 1ms response time minimizes the motion blur that can muddy up fast-changing visuals.
Our exclusive ELMB Sync technology is the icing on the VG279QM's cake. The display is G-SYNC compatible, so it'll dynamically match its refresh rate to the frame rate it receives from the GPU. This tech eliminates ugly screen tearing that can reduce image quality. ELMB Sync takes things a step further by strobing the backlight between frames in order to ensure crisp, clear motion, even while variable refresh rates are in play.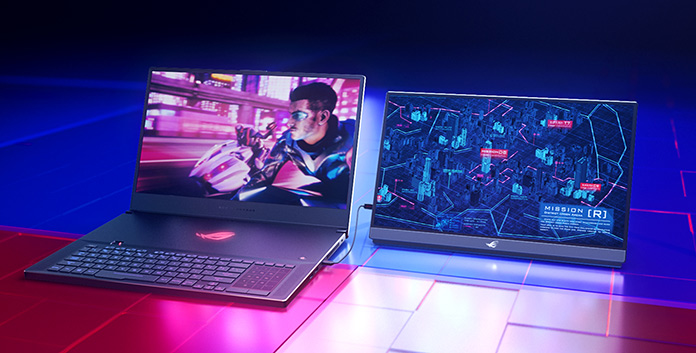 Does Dad need a monitor that he can take on the road? The ROG Strix XG17 is a 17" 1920×1080 monitor that can slip neatly into his laptop bag. It'll deliver all the multitasking power that only a second display can provide, and its USB Type-C and micro-HDMI inputs let you connect the display to a wide range of devices. A large 7800mAh battery will keep the pixels glowing for up to 3.5 hours at 240Hz, and it charges with the included USB Type-C cable. Whether he's fitting a few rounds into his schedule from the back porch or his hotel room, the XG17 will give him the gaming features he expects no matter where he travels.
Make no mistake: the XG17 is a gaming powerhouse. Its IPS panel delivers vivid colors from wide angles. The combination of its 240Hz refresh rate and Adaptive-Sync support means that it'll display new frames at a breakneck pace without screen tearing when used with compatible graphics cards. The XG17's low 3ms response time also minimizes the motion blur that can muddy fast-moving images. All told, this display gives Dad all the tech that he expects for competitive gaming in a portable package that sets up anywhere.
Feed his passion for creative work
Is Dad dabbling in photography, videography, or graphic design? It wouldn't be a surprise, considering the wealth of affordable editing software that's available these days—not to mention the astonishing processing power that even mainstream CPUs and GPUs can bring to bear on complex rendering tasks and exports.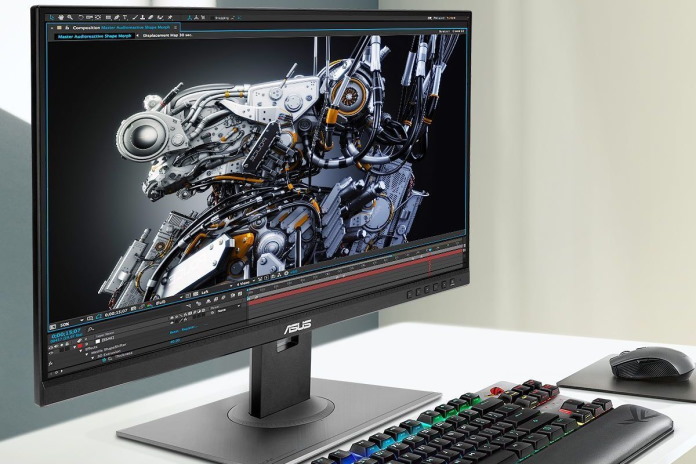 If he's touching up photographs or creating videos of the kids, consider setting him up with the ProArt Display PA278QV. With its 100% coverage of both the sRGB and Rec. 709 color gamuts, it provides the color reproduction that he'll need for this work, and it does so with superb accuracy. Its WQHD 2560×1440 resolution brings out plenty of detail in photos and video. As a Calman Verified display, the PA278QV is color-calibrated right out of the box to an average Delta E of less than two to ensure that others see Dad's work like he does.
Replace his aging clunker of a notebook
People around the world are picking up Chromebooks because they're easy to use, secure, and cloud-connected out of the box. The new Chromebook Flip C436 puts a premium spin on this time-proven formula.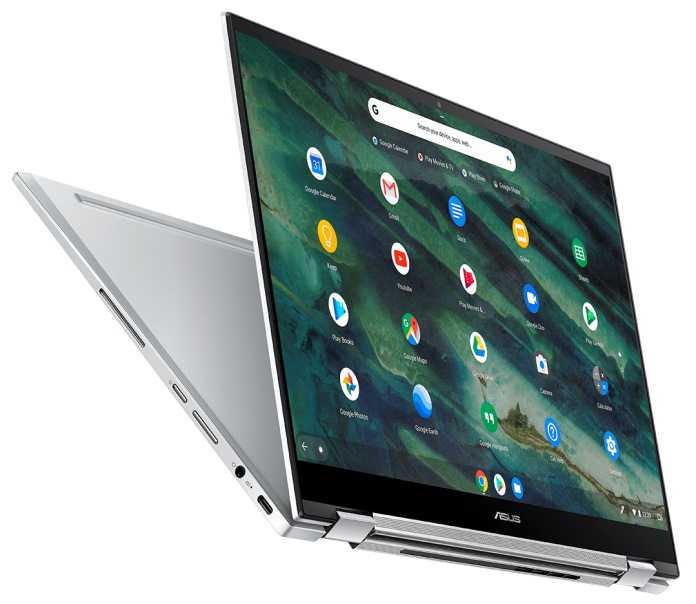 This slim device packs the kind of hardware you'd expect from a high-end Ultrabook: 10th Gen Intel processors up to a Core i7-10510U, up to 16GB of RAM, a speedy NVMe M.2 SSD up to 512GB, and Wi-Fi 6 connectivity. We wrap this hardware in a lightweight magnesium alloy chassis that checks in at just 2.4lbs.
It's the comfortable conveniences of the C436 that'll make it Dad's everyday companion. From its fingerprint sensor to the 360° ErgoLift hinge that raises the back of the laptop for a more comfortable typing experience, this Chromebook demonstrates the thoughtful engineering that makes a notebook a delight to use. It's fully convertible and has USI stylus support for easy input in any mode—clamshell, tablet, or tent. Its Harman Kardon-certified quad-speaker array is carefully positioned to deliver bold audio no matter how you position the screen.
If Dad's workflow requires the Windows platform and outstanding battery life, consider the ExpertBook B9450. This ultraportable business laptop offers a compelling mix of responsive performance, comfortable use, and sensible style.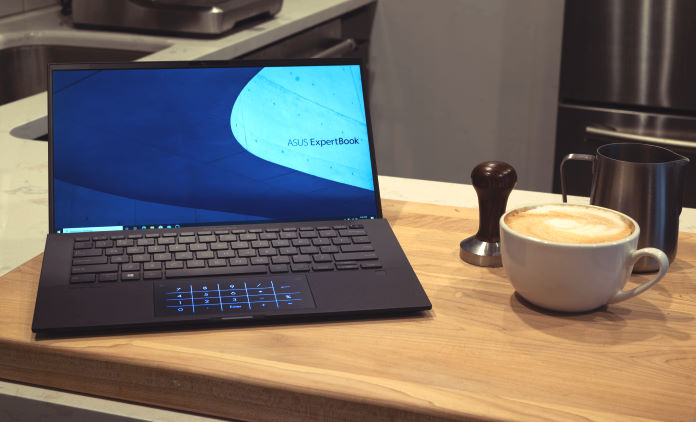 Dad might do a double take when he pulls the ExpertBook B9450 out of the box, and not just for its buttoned-up style and deep blue finish. At just 2.19lbs, this slim machine may be the lightest 14" laptop he's ever laid his hands on. It's no performance featherweight, though. Its Intel Core i7-10510U CPU, 16GB of LPDDR3 RAM, and high-speed NVMe storage drive keep the B9450 punching well above its weight class.
From its Wi-Fi 6 radio to the physical webcam shield, there are many details that Dad will appreciate about the B9450. In our hands-on time with the laptop, we were floored by the unit's exceptional battery life. Even as we subjected it to a constant stream of work, video conferencing, and light entertainment, it lasted 13 hours and 10 minutes without being plugged in. That's enough freedom to quell the worst case of range anxiety, and more than enough juice to keep the laptop powered through all but the longest flights.
Get that man a gaming laptop
You can tell when Dad needs a new gaming PC. He'll talk excitedly about an upcoming game, and then let its release date pass without comment because his system doesn't have the specs to run it. His keyboard will gather dust while he watches the entirety of The Office yet again. Maybe you have competition over who gets to pick what's on the TV right now. If this sounds like your household, a gaming laptop might be just the thing to send him happily back to his den and out of your hair.
TUF Gaming A15
Setting Dad up with a high-powered portable gaming machine doesn't have to be a bank-breaking experience. For a cool grand, the TUF Gaming A15 wraps up the latest AMD Ryzen CPU, NVIDIA's GeForce GTX 1660 Ti, 16GB of DDR4 RAM, and a 512GB PCIe SSD in a durable, attractive chassis. And that's before you consider its 144Hz gaming display and competitive battery life.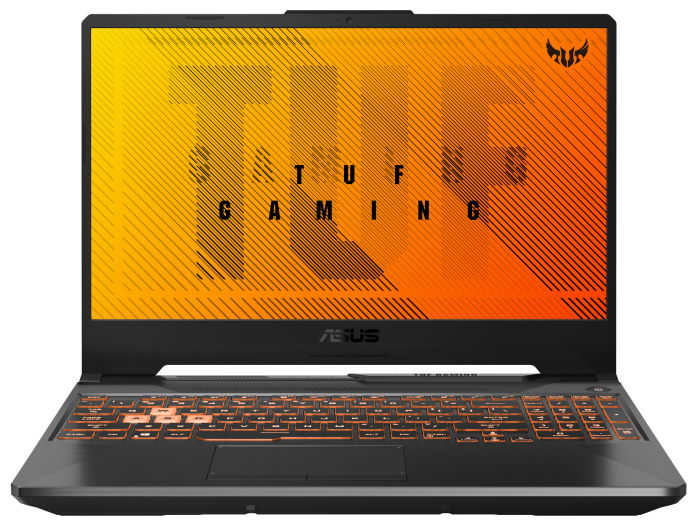 The eight-core, sixteen-thread Ryzen 7 4800H has been turning heads since its announcement this spring. The A15 harnesses this chip's masterful multitasking capabilities, keeping it performing at its full potential with a dual-fan, triple-heatsink design. This laptop has the CPU horsepower to run professional software tools, and when Dad wraps up work for the day, the A15 is ready for his favorite games. The high refresh rate display is a natural fit for popular games like Valorant, where every millisecond counts as gamers square off in epic battles, and it also features adaptive sync tech that ensures smooth, tear-free visuals.
ROG Zephyrus G14
AMD's latest mobile processors. A thin and lightweight design. Exceptional battery life. Stylish good looks. The Zephyrus G14 checks all of Dad's boxes. Thanks to its efficient components and carefully crafted thermal design, this laptop is able to provide uncompromised gaming and productivity performance inside an eminently portable 14" chassis. You'll be hard-pressed to find a gaming laptop that offers such a heady mix of value, performance, and style. It won't look out of place when he takes it on a business trip, and it won't feel out of place as he racks up a kill streak in Call of Duty.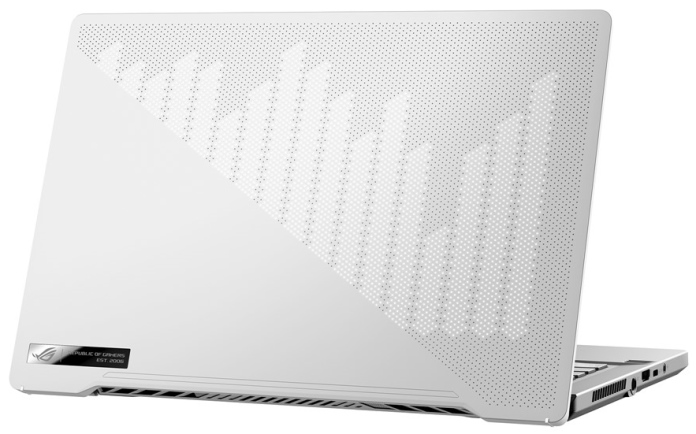 The G14's lean chassis, striking Eclipse Gray or Moonlight White finishes, and precision CNC milling make for a laptop that leaves a lasting visual impression. To create a system that balances a slim design with powerful components, our engineers collaborated with AMD to get the most out of the Ryzen 9 4900HS, a special version of this chip with lower power consumption. This efficient CPU helps ensure that the G14 provides exceptional battery life.
ROG Strix SCAR III
This last one's for the dad who leaves it all on the digital field. He looks for every competitive advantage he can get. He's trained his reflexes, he's studied the battlegrounds, and he's been itching for a laptop that can keep pace with him. He's ready for the ROG Strix SCAR III.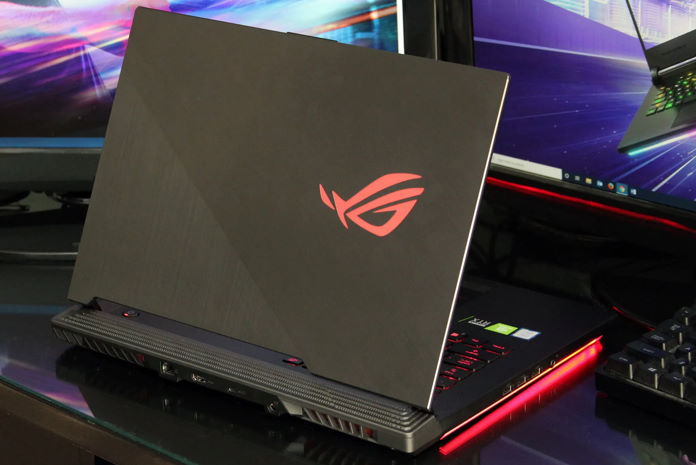 This is a competition-grade gaming laptop. It bears a blistering-fast 240Hz display that can refresh four times faster than conventional 60Hz screens. That speed gives Dad the moment-to-moment edge in reaction time over his opponents. Running games at frame rates that high takes a powerful arsenal of hardware. Intel's Core i7-9750H is more than up to the challenge, as is NVIDIA's GeForce RTX 2070, and the ROG Intelligent Cooling system keeps it all performing to its full potential.
Here's to all the fathers out there
No two dads are exactly alike, but every one of them could use a little appreciation. So set aside a little time for the guy and show him that you care. No matter what his hobbies and passions might be, some new PC hardware will bring a smile to his face and bring new life to his work and play.