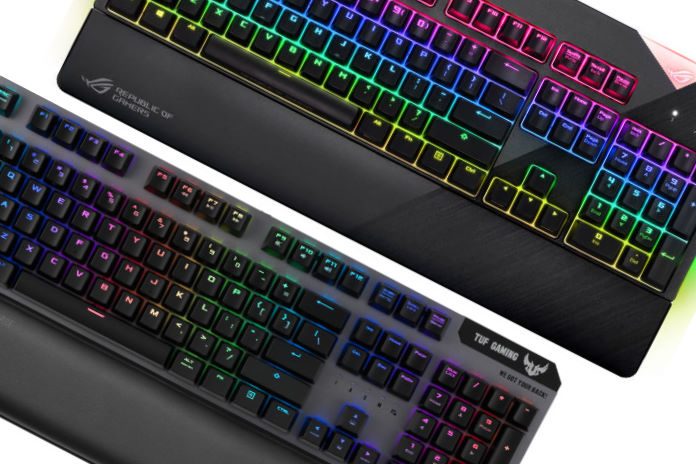 If you've never given much thought to the gear you use to control and hear your gameplay, or you're just getting by with the keyboard, mouse, and headset that came with your last desktop PC, it's time to rethink whether your peripherals are doing all they can to raise your game. ASUS engineers are at the forefront of finding ways to get you into the winner's circle more often, and our peripherals embody the fruits of their labor. We've wrapped up some of our greatest gear into an easy-to-follow peripheral guide for the best gaming keyboards, mice, headsets, mousing surfaces, and more.
Our TUF Gaming gear offers robust quality and gamer-friendly features at price points that won't break the bank. If you're new to PC gaming and still rely on peripherals built for productivity, it's easy to level up your battlestation by putting together a loadout from the TUF Gaming family.
If you're a demanding gamer looking for the most customizable and custom-tailored gear around, it's time to consider joining the Republic of Gamers. ROG gear incorporates our most cutting-edge innovations into peripherals that fuse an aggressive style with room for plenty of customization to let you express your personal aesthetic. Read on to find the right upgrade for your needs.
TUF-en up your setup with TUF Gaming
Tapping into the full arsenal of TUF Gaming peripherals will raise your game and add a dose of style to your setup without tapping out your wallet. Military-inspired design and rigorously tested durability allow you to stay in the game no matter how hot the action gets, and they'll let anybody who lays eyes on your rig know you mean business.
The TUF Gaming K5 is battle-ready and budget-friendly
Serious gamers know that a good keyboard is the foundation of a winning record. Generic membrane keyboards may be fine for office work, but we know from experience that gamers need more from their peripherals, whether that's a more durable chassis, more tactile key switches, more customizable lighting, or just more style.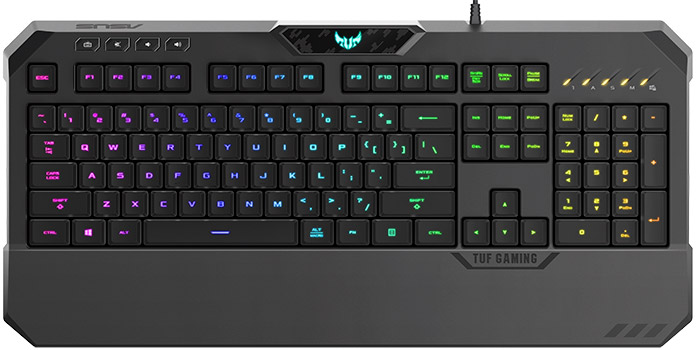 Our TUF Gaming K5 gives you a rock-solid first step into gaming keyboard glory. Under each key, you'll find a TUF Gaming Mech-brane switch. Mech-branes bring the best of membrane and mechanical switches together. Every key press delivers a tactile, clicky actuation paired with a cushioned, comfortable feel. Each key offers 3.7mm of total travel for the right balance of satisfying travel and fast response.
Under those keys, Aura Sync-compatible RGB LEDs shine through with all the colors of the rainbow. You can choose any of four popular lighting effects: a static color for easy coordination with the rest of your setup, a breathing effect that draws the eye with a single-color pulsation, a color wave effect that creates a rainbow cascade across the board, and a color cycling effect that shifts the entire keyboard through all the shades of the visible spectrum.
Five customizable lighting zones let you tweak the K5's appearance to taste through our Armoury Crate software. Armoury Crate also manages settings profiles, macro recording, and key remapping. Onboard memory in the K5 gives you access to your custom profiles even on PCs without Armoury Crate installed.
The inherently hands-on nature of gaming keyboards exposes them to considerable abuse over time, so the TUF Gaming K5's chassis is protected by an abrasion- and sweat-resistant coating designed to look and feel good for a long life of service. Most everybody has knocked over a glass or water bottle on their desk at some point, so a spill-resistant design allows the K5 to remain functional even if up to 60ml of fluid makes its way into the chassis.
If you're just getting started with gaming peripherals, the TUF Gaming K5 is an attainable, attractive addition to your arsenal. Pick one up for $79.99 from the retailers below.
TUF Gaming K5
Availability (USA)
Amazon
The TUF Gaming K7 powers up your keypresses with the speed of light
The TUF Gaming K7 keyboard takes our essential TUF DNA and augments it for top-class performance. First and foremost, it's got a secret weapon up its sleeves: our TUF Opto-mech switches.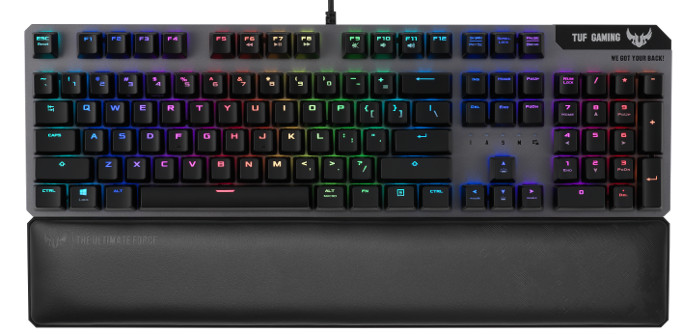 Rather than relying on contact between metal elements to record a key press, these optical switches project a beam of light beneath the switch stem. Every time you press a key, the stem blocks the beam, and a sensor immediately registers the change. This principle of operation shaves precious milliseconds off the registration of each keystroke, translating your intent into action that much faster. You can choose between tactile Opto-mech switches with a reassuring bump at the point of actuation or linear versions for a smooth, uninterrupted feel.
Thanks in part to our Opto-mech switch design, the TUF Gaming K7 boasts IP56 dust and water resistance for reliable operation and long life even as the rigors of battle take their toll. An aircraft-grade aluminum outer shell looks good on a desk and offers a rock-solid foundation for each key switch, and a nano-coated PCB inside the chassis prevents oxidation of critical circuit traces. The cushioned wrist rest uses memory foam inside and leatherette outside to give your wrists a breather between intense matches.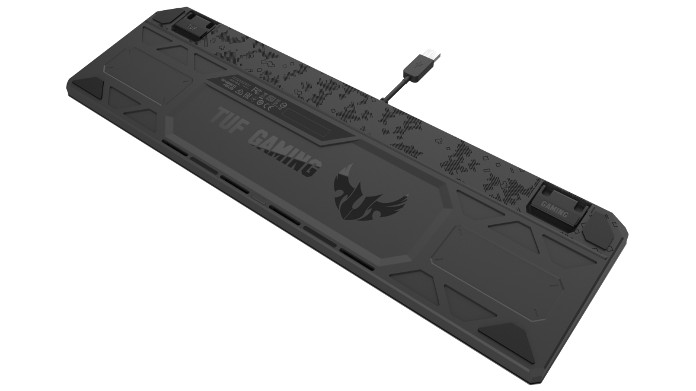 Our Opto-mech switches aren't the only place where light makes a difference on the K7. RGB LEDs under every keycap stand ready to let you define your own battle flag. The K7 gives you access to 10 pre-configured Aura Sync lighting effects for turn-key style and easy coordination with your other compatible components. If you prefer to create color-coded layouts for quick reference in compex games, the TUF Gaming K7 offers per-key RGB LED backlighting for a fully customizable canvas. Armoury Crate serves as the K7's nerve center, managing lighting, macros, and more.
Harness the speed of light for faster key strokes by picking up the TUF Gaming K7 from the retailers listed below.
TUF Gaming K7
Availability (USA)
Amazon
The TUF Gaming H3 headset gets your ears in the game
Keeping your ears open is critical to victory in fast-paced team shooters and battle royales where hearing a footstep or gunshot could mean the difference between life and death. The larger drivers and dedicated microphones of gaming headsets give you a leg up over opponents stepping onto the battlefield with generic earbuds with inline mics.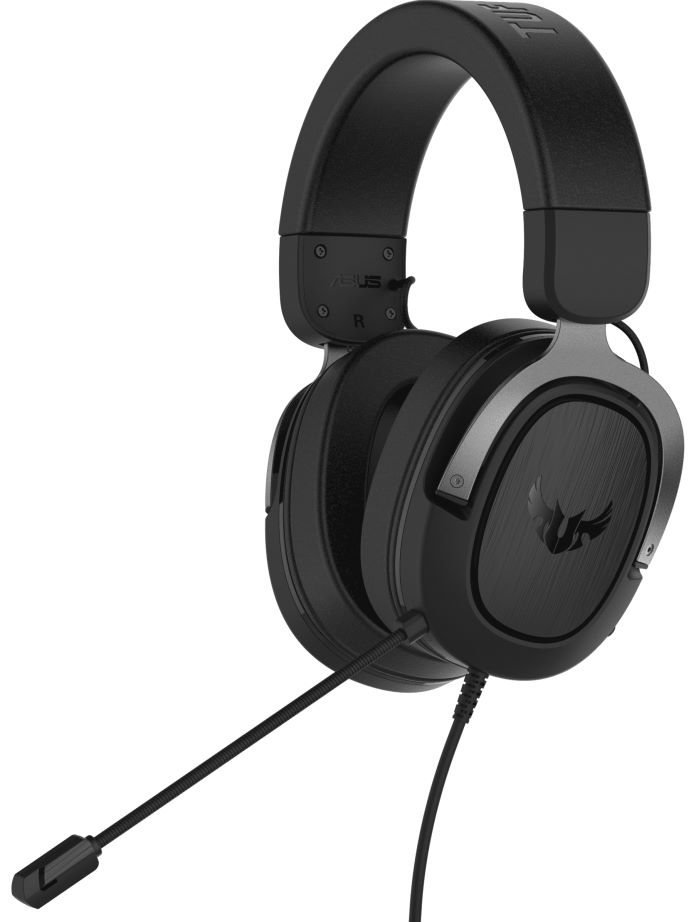 We built the TUF Gaming H3 headset to rise to that challenge. The first duty of any headset worth its salt is to cleanly and clearly transmit critical aural information to your ears, so we selected large 50mm Essence drivers and tucked them into closed, custom-designed chambers built to maximize bass response without sacrificing clarity. That approach means you'll still get the visceral thrill of explosions and chaos on the battlefield without losing the ability to pinpoint the crunch of leaves or the clink of a grenade.
If you regularly buckle in for hours of gaming, the last thing you want is sweaty, overheated ears. We selected a cooling memory foam as the starting point for the ear pads on the TUF Gaming H3 and wrapped that comfortable material in durable protein leather that further seals each ear cup against outside noise. A full-tang stainless steel headband means the H3 will stand up to repeated use over time, and it's covered in generous cushioning to keep the top of your head comfortable. To further optimize comfort during lengthy gaming sessions, we tuned the clamping force on the H3 to provide a secure fit without making you feel as though your head is in a vice.
When you take command on the battlefield, your teammates need to hear you loud and clear. To that end, the TUF Gaming H3 offers a unidirectional mic on a flexible boom. Our engineers specifically tuned this mic for optimal transmission of the human voice, and you don't have to take our word for it: it's certified for use with Discord and TeamSpeak, too. A dedicated volume control and a mic mute switch give you instant access to those critical controls when you need to step back from the action.
The TUF Gaming H3 gives you attainable access to the rich aural information available from the battlefield. Pick up one of your own for $49.99 at the links below.
TUF Gaming H3
Availability (USA)
Amazon
The TUF Gaming M3 mouse lets you take dead aim
Alongside your keyboard and headset, the mouse should be the next stop on the path to gaming glory. It's how you aim and fire weapons, dispatch units, or conduct skirmishes, and all of those actions need to happen at the right place and the right time. That need for precision means you need a mouse that you can trust to translate your inputs into action, no questions asked. The TUF Gaming M3 mouse is finely honed to get you into the winner's circle without fuss, over and over again.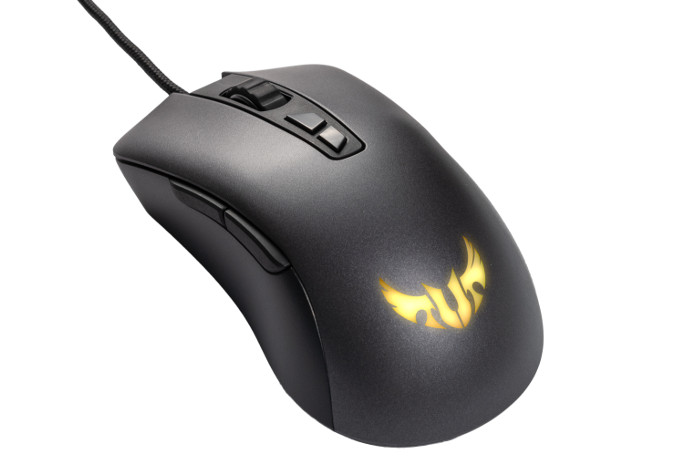 The M3's outer shell lets you get a solid grip with a claw- or fingertip-style hold. Beyond its inviting shape, the outer shell boasts a specialized, long-lasting coating built to withstand the friction, perspiration, and abrasion that build up from long hours in the hand. Long-lived Teflon feet keep the M3 gliding smoothly across your desk or mouse mat for up to 250km of travel. Aura Sync lighting behind the TUF logo on the rear of the mouse lets you customize the M3 to fit in with the rest of your coordinated setup.
Getting a grip is undeniably important, but the buttons are where the real action happens for any mouse. The two large main buttons immediately fall to hand, and they use heavy-duty tactile switches rated for 20 million clicks to endure plenty of action. Two more customizable buttons under your thumb give you quick access to frequently-used commands, and a clickable scroll wheel offers yet another hardpoint for customization. DPI switches behind the scroll wheel let you cycle through four customizable sensitivity presets on the fly, all the way through the optical sensor's range of 200 dpi to 7000 dpi. Those DPI presets, along with Aura Sync lighting, button mapping, and more, can all be managed through Armoury Crate software.
At just $19.99 from the retailers below, the TUF Gaming M3 proves that you don't have to break the bank to get into the world of customizable, purpose-built gaming mice. Take a step up from your generic productivity mouse and get a battle-tested sidearm on your team.
TUF Gaming M3
Availability (USA)
Amazon
The TUF Gaming P3 mouse pad minimizes friction and maximizes consistency
Most gaming mice function just fine when resting directly on a desk, but there are still plenty of reasons to consider adding a dedicated mousing surface to your arsenal. Coarse materials or finishes will accelerate the wear of your mouse's feet, and they might increase friction when you want just the opposite during swift mouse movements. Some materials aren't conducive to optimal tracking with mouse sensors, either. You need a mousing surface with a consistent feel and reliable response if you want to game like a pro. That's where the TUF Gaming P3 comes in.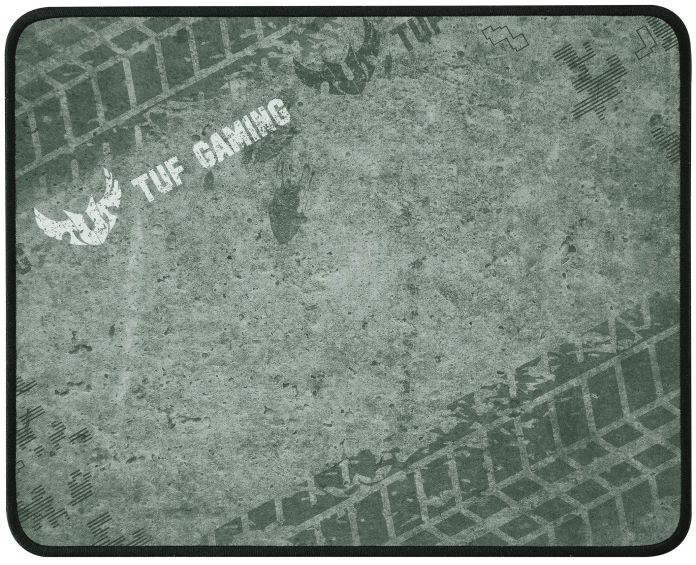 The TUF Gaming P3's finely woven cloth surface offers a slick, smooth foundation for quick mouse movements and precise aiming, and its low-friction finish means it won't slow your hand and arm down in motion, either. A rugged anti-fray edge finish extends the life of the pad, and the anti-slip rubber undercoating ensures that the surface won't move around during even the most intense moments you might encounter on the battlefield.
Mousing surfaces are a great place for personalization, too. The TUF Gaming P3's rugged tire-tread design and monochrome color scheme fits seamlessly into the overall aesthetic of our TUF Gaming peripherals. It also provides a neutral canvas that won't clash with your RGB LED lighting scheme of choice. For $19.99 from the retailers below, it's an easy upgrade to your battlestation for more consistent mousing performance.
TUF Gaming P3
Availability (USA)
Amazon
Ascend to the elite ranks with gear from the Republic of Gamers
If you want the very best performance and the most flexibility from your gaming gear, it's time to pledge allegiance to the Republic of Gamers. Our ROG mice, keyboards, and headsets are tournament-tested and pro-approved, and they're built with the latest technological innovations to give you the competitive edge you need to shine.
The ROG Strix Flare keyboard puts everything you need at your fingertips
The ROG Strix Flare is a great introduction to the world of high-end gaming keyboards. Contrasting brushed and matte finishes extend to the included detachable wrist rest. A convenient USB pass-through for mice, headsets, or charging cables hides at the front edge of the keyboard for cleaner cabling. And direct access to critical controls saves you from fumbling with software.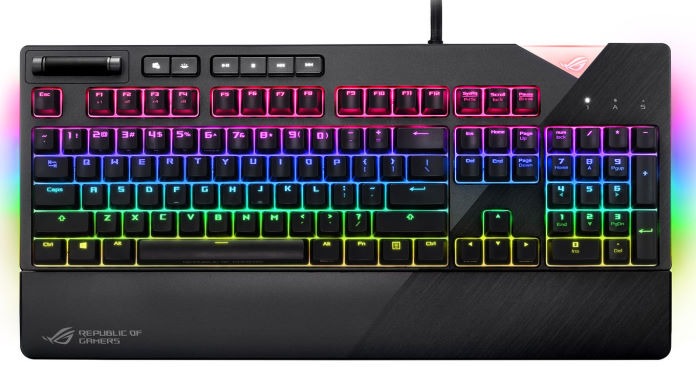 Each of the ROG Strix Flare's keys uses German-made Cherry MX mechanical key switches for the finest typing experience around. Cherry MX switches come in a variety of weights and feels to let users get the exact typing feel they want, and their precise, premium construction is renowned for long life and reliable operation. To let gamers choose the Flare that matches their preferences, we offer Cherry MX switches with clicky or silent actuation, tactile or linear key feel, or standard or fast actuation. No matter your preference, there's a Strix Flare built for you.
In keeping with its name, the ROG Strix Flare makes extensive use of RGB LEDs for an assertive, wholly customizable appearance. Each key has an individually-controllable RGB LED underneath for per-key lighting profiles, but the fun doesn't stop there. Two light bars on the left and right sides of the keyboard project the color or effect of your choice onto your desk with a subtle underglow. Aura Sync compatibility lets you set up the Flare with any of 10 preset lighting effects, and those effects can extend to other capable components for a coordinated appearance across your rig. Armoury Crate software runs the show with support for Aura RGB LED configurations, settings profile configuration, macro recording, and more.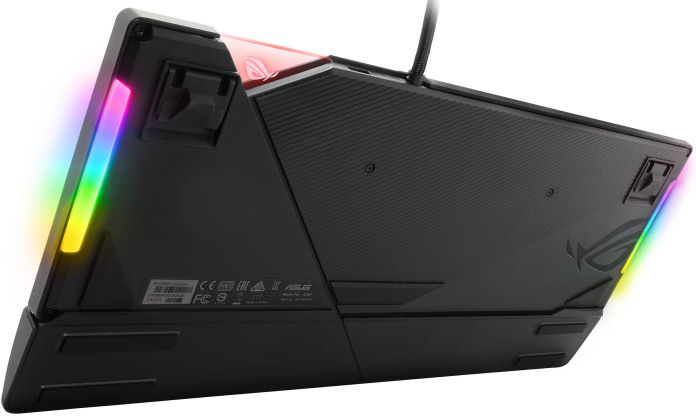 Whether you're pausing or playing music, disabling your Windows key to prevent in-game interruptions, dimming the lights, or adjusting in-game volume to match the demands of battle, direct access to those critical features can't be beat. We broke those functions out into discrete buttons with a thoughtful placement. A large, textured volume roller at the upper left corner of the board falls naturally to hand without requiring you to take your right hand off your mouse. Buttons for lighting, the Windows key lock, and media playback sit nearby for similarly seamless access.
The inset logo on the upper edge of the Strix Flare offers even more room for customization. You can add a team logo, stencil, or other symbol of your choice to the blank acrylic insert that ships with the keyboard and swap out the included ROG logo for your very own. It's a unique and creative touch that lets you put the cherry on top of your personalized battlestation. Pick up a Flare of your own at the retailers below.
ROG Strix Flare (Cherry MX Blue)
Availability (USA)
Amazon
Take control of your game with the ROG Strix Scope
The ROG Strix Flare is a great all-around keyboard, but sometimes a more specialized approach works best. The ROG Strix Scope is laser-focused on the needs of competitive gamers.

That obsessive focus starts with an oversize Ctrl key on the left of the deck that's easier to hit in the heat of battle than a standard-sized clicker. The extra landing area is important in games where Ctrl triggers walking or crouching. Miss a crouch or run headlong into the enemy control point when you wanted to sneak, and it's curtains.
The oversize Ctrl key feels just as good as the rest of the keys on the Scope thanks to stabilizers on either side of the switch for a smooth, assured feel. Our competition-focused layout also ditches the right Windows key to avoid unintentional whiplash from opening the Start menu by mistake in a heated moment. The remaining Windows key is smaller than usual for the same reason, and it can be locked out in one press using the Fn modifier.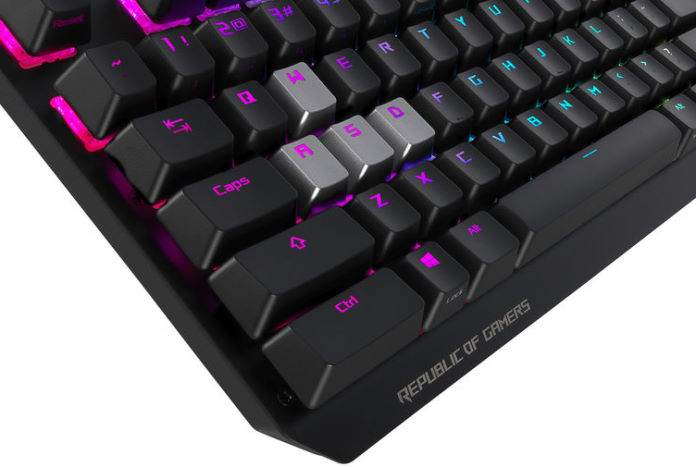 Competitive gaming keyboards need to leave plenty of room for mousing mobility, so we thinned out the edges of the ROG Strix Scope's aluminum top plate for a smaller footprint. We didn't have to sacrifice dedicated media keys in the process, though. The F5-to-F12 key block on the Scope offers dedicated play, pause, and volume controls by default. Gamers can still invoke those function keys when they need them by pressing Insert first.
A wide range of Cherry MX switch types, along with per-key RGB LED backlighting and Aura Sync support, let the most serious gamers get just the look and feel they want under their fingers with the Scope. Further customization options like macro recording, onboard profile customization, and key remapping all reside in our Armoury Crate utility. The trim design and special layout of the ROG Strix Scope make it a perfect partner for proven and aspiring pros alike.
Take control of the most important modifier key on your gaming keyboard by adding an ROG Strix Scope to your arsenal from the retailers below.
ROG Strix Scope (Cherry MX Red)
Availability (USA)
Amazon
The ROG Gladius II Origin and Gladius II Wireless mice put pro-approved precision in your hands
When it's time to step up to elite mousing performance, you want the very best. To that end, we consulted directly with competitive gamers to shape our Gladius II Origin. The professionally-influenced shape, combined with a premium PixArt PMW3360 optical sensor, mean that this mouse translates and transmits your movements directly into in-game action, no questions asked.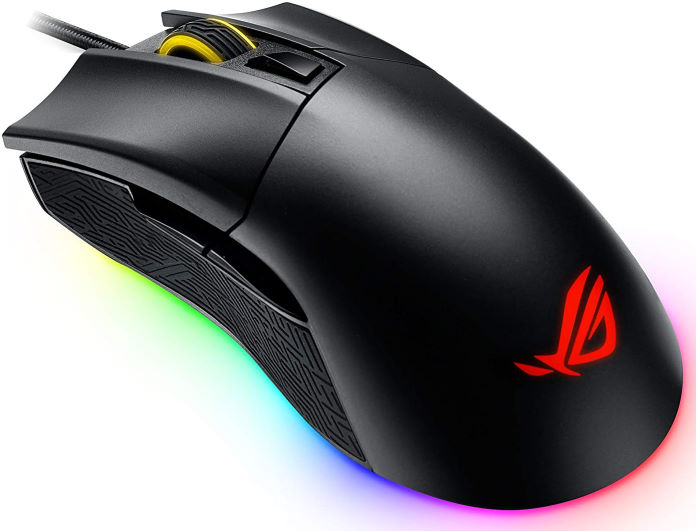 The Gladius II Origin is comfortable for gamers who use any grip style, and its outer shell comes with generous rubber grips on the sides that are textured with a Mayan-inspired pattern for the surest possible hold. Six programmable buttons, including the left and right main switches, two under-thumb switches, a clickable mouse wheel, and a DPI button, give you plenty of opportunities to map common functions just where you want them through our Armoury Crate software.
When you fall in love with a mouse, it's often the case that old favorites are no longer available when it's time to buy a replacement. In the unlikely event that you wear out one or both of its main switches, you won't have to toss the Gladius II Origin. Instead, you can simply pop off the main buttons to gain access to the socketed switches beneath.
Our socketed design lets you replace the clickers with compatible (and common) Omron switches when it's time for a freshening-up. We include extra Omron switches in the box with a lighter touch than the pre-installed ones for customization purposes, but you can acquire compatible replacements online, too. The socketed design also let us mold the main buttons separately from the mouse body for a more finely tuned click feel.
The PMW3360 optical sensor in the Gladius II Origin offers 1:1 tracking under acceleration of up to 50g and speeds of up to 250 inches per second, so it's more than ready for the swift and broad mouse movements of competitive gamers. Aura Sync RGB lighting behind the ROG logo at the rear of the mouse, under the mouse wheel, and in an underglow bar at the bottom of the mouse lets the Gladius II Origin slot seamlessly into your coordinated battlestation.
At $99.99, this elite gaming mouse has everything you need for years of top-tier performance. Find it at the retailers below.
ROG Gladius II Origin
Availability (USA)
Amazon
If you prefer an even more fluid gaming experience, the Gladius II Wireless lets you cut (or, in this case, unplug) the cord. It uses the same professionally approved shape, rubberized grips, versatile button layout, and socketed switches as the Gladius II Origin, but we significantly modified its internals to enable a cord-free connection to your gaming PC.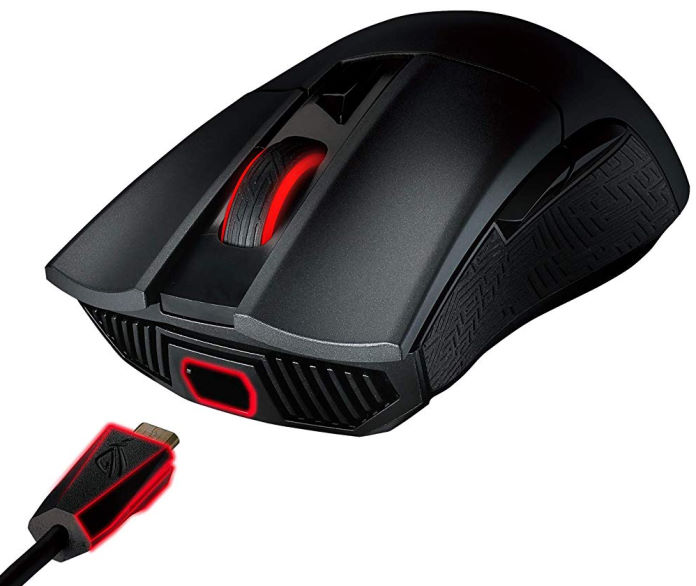 When you're gaming, the Gladius II Wireless provides near-instant responsiveness thanks to a 2.4GHz RF connection to the included USB receiver. Should you need to take this mouse out to class or a coffee shop to get some work done, you can connect it to your laptop using Bluetooth. One button press is all it takes to switch between RF and Bluetooth modes, so portability is a snap. Dual-zone Aura Sync lighting means you can still personalize the Gladius II Wireless to taste using our Armoury Crate software.
The Gladius II Wireless uses an updated Pixart PMW3390 optical sensor to expand its sensitivity range all the way from 100 DPI to an eye-popping 16,000 DPI. Reliable tracking under acceleration of up to 50g and speeds of up to 400 inches per second ensure that your movements always register precisely even under the heaviest fire. ROG engineers optimized the PMW3390's firmware for power-efficient operation, leading to a battery life of up to 24 hours with the lights off. The detachable USB cable allows you to stay in the game when it's time to top up the battery.
Grab a Gladius II Wireless of your own from the following retailers and enjoy the freedom of cord-free gaming.
ROG Gladius II Wireless
Availability (USA)
Amazon
The ROG Delta's hi-fi internals upgrade your gaming audio
When it comes to hi-fi gaming and music appreciation, you don't want to leave anything in the signal chain to chance. That's why the ROG Delta headset puts high-end audio-processing hardware inside the headset. To bring in signals from connected devices, we chose a USB Type-C connector for the broadest compatibility with the latest PCs and phones.
The Delta's hi-fi cred starts with an ESS Sabre ES9218 DAC—four of them, in fact. We use each of the chips in that quad-DAC array to handle the processing for distinct subsets of the audio spectrum before combining their output into a single, ultra-clean analog signal. This highly isolated and separated setup leads to an impressive 127dB signal-to-noise ratio, no matter what device you have it plugged into.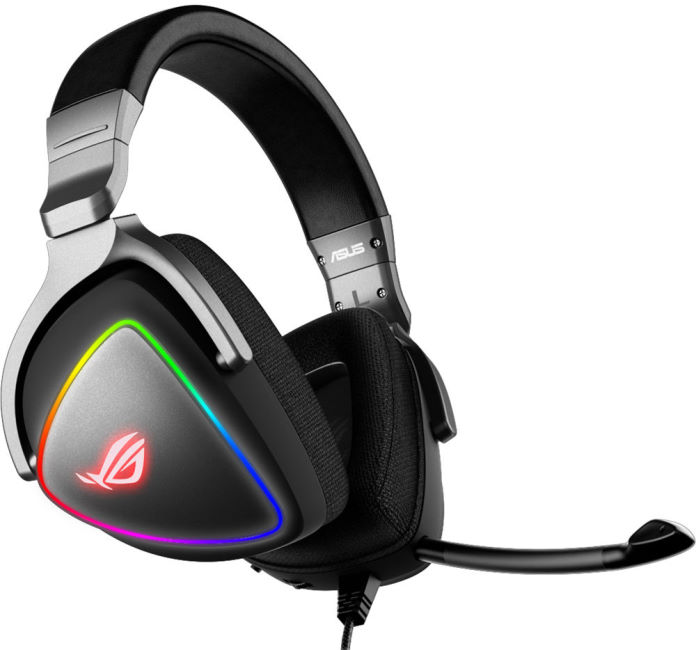 Translating that high-quality signal into audible sound falls to a pair of our 50mm ASUS Essence drivers. We ensconce each driver in a closed chamber tuned to isolate external sound and provide optimal frequency reproduction for gaming and music alike. Each ear cup features a mesh cushion ringed with protein leather on the inside for the best blend of cooling and noise isolation performance, and if you prefer the feel of leather to mesh, we include a set of fully leather-wrapped pads, too.
The Delta's ear cups and pads use a distinctive asymmetric D-shape with a contoured profile for the most comfortable fit around your ears, but our devotion to comfort didn't stop there. We surveyed a wide range of gamers to find the most comfortable clamping force for the cups. After we surveyed a variety of gamers with a wide range of head shapes, we determined that 515 grams was just right for most people.
Premium construction with aluminum hinges and accents means that the ROG Delta will stand out to passers-by or your stream audience while it's pumping hi-fi signals to your ears, and Aura Sync RGB LED lighting lets you integrate the Delta with the rest of your rig or customize it to taste.
Pick up an ROG Delta of your own from the retailers below and enjoy top-quality sound with any compatible USB Type-C-equipped device.
ROG Delta
Availability (USA)
Amazon
Wrap up your home theater into a headset with the ROG Theta
The ROG Delta offers high-quality stereo sound from any device that can pipe a signal over its USB Type-C cable, but for folks who demand an immersive experience with even finer positional audio, there's no replacement for displacement. If you're a surround-sound junkie, you'll want to consider the ROG Theta.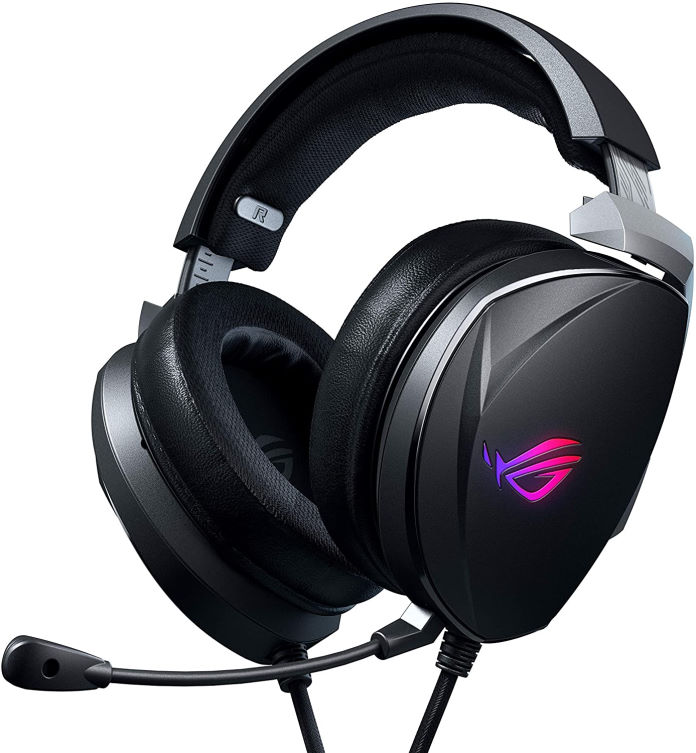 This beastly headset uses eight discrete drivers—four in each earcup—to reproduce the front, center, side, and rear channels. As on the ROG Delta, we make this happen with onboard audio-processing hardware that leaves nothing to chance. Once a signal makes its way into the headset via the USB-C cable, the Theta works its magic using a Realtek S1220A codec feeding four hi-fi ESS 9601 headphone drivers. It's like wrapping up a home theater into a package you can take with you.
The Theta isn't just about pristine positional audio reproduction. Its built-in microphone uses a proprietary AI noise-canceling technology powered by a dedicated processor to preserve the full character of your voice while blocking out over 50 million potential types of background noise signatures, including room chatter, key presses, and mouse clicks.
The high-end design of the ROG Theta includes generously cushioned ear cups with softer foam along their midlines to prevent excessive pressure for glasses-wearing gamers. Thanks to the Theta's comfortable pads, its octet of discrete drivers, and its innovative noise-canceling microphone, you'll both hear and be heard more clearly than ever before. Grab one of your own from the retailers below and jump into a private, immersive surround sound experience.
ROG Theta
Availability (USA)
Amazon
The ROG Balteus Qi turns the tables for a more versatile mousing surface
Once you've got your shiny new ROG peripherals in hand, it's time to consider upgrading your mousing surface to match the elite gear at your disposal.
The ROG Balteus Qi puts an unusual twist on mousing surfaces. Its hard, low-friction top panel is a generous 12.6" wide, but it's much deeper than the average mouse pad at 14.6" front to back. That extra depth means you don't have to reposition the Balteus Qi as you change your position relative to your desk. Whether you're hunched over your desk to get a close look at the battlefield or leaning back in your chair to play a more leisurely title, the Balteus gives your mouse plenty of room to roam.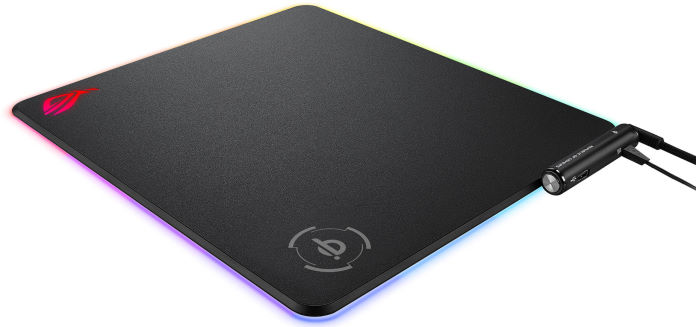 The extra-tall design of the Balteus Qi also makes its Qi wireless charging spot more convenient for devices that can benefit from the cord-free charging standard. You can rest one of today's surfboard-sized high-end smartphones on the Qi spot and still have plenty of room to mouse. A micro-USB wall charger with an extra-long cord provides dedicated power to the Qi spot even from distant outlets beneath your desk.
Aura Sync RGB LED lighting rings the Balteus Qi's lower edge and shines through its ROG logo for full coordination with the rest of your battlestation. You can switch through lighting profiles using a dedicated button on the pad's control unit. A USB Type-A pass-through port lets you charge devices or clean up cabling for wired peripherals. Add the Balteus Qi's distinctiveness to your gaming setup by visiting the retailers below.
ROG Balteus Qi
Availability (USA)
Amazon
The ROG Sheath goes big for the most demanding gamers
If the ROG Balteus Qi doesn't provide enough room for your mousing style, the ROG Sheath may be just the ticket. At nearly 36" wide and 16" deep, the Sheath isn't just your run-of-the-mill mousepad. It's a full-on foundation for your keyboard and mouse to rest on, and it won't cause slippage or undue friction in the heat of battle.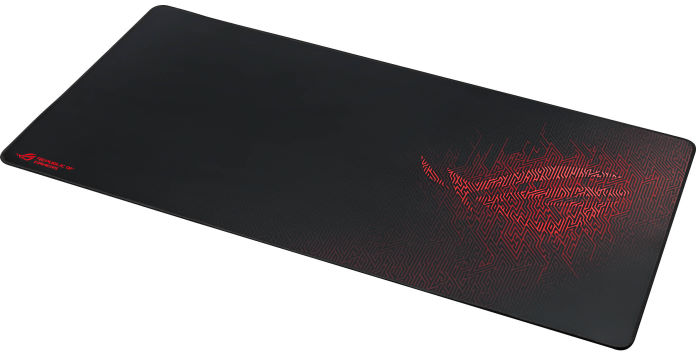 The finely-woven fabric on top of the Sheath provides a consistent and silky-smooth mousing feel for flawless execution of the sweeping mouse movements that pros prefer. If you're gaming for hours at a stretch per day, you're going to be putting a lot of miles on your mouse pad, and we took that into account when stress-testing the Sheath. Its surface has been subjected to more than 155 miles of mouse movement to ensure that it'll remain a reliable partner even for the most demanding gamers.
A rubberized underlay keeps the ROG Sheath securely planted to your desktop no matter how heated the action gets in your game, and the distinctive ROG logo prominently printed at its right edge will leave no doubt about your allegiance. Give your mousing hand room to roam by picking up an ROG Sheath from the retailers below.
ROG Sheath
Availability (USA)
Amazon
No matter your skill level or hunger for customization, our TUF Gaming and ROG arsenals  give you what you need to hear your game better and turn intent into action faster and more reliably than run-of-the-mill mice, keyboards, headsets, and mousing surfaces. With our peripherals at hand, you'll enjoy the competitive edge you need to come out on top.