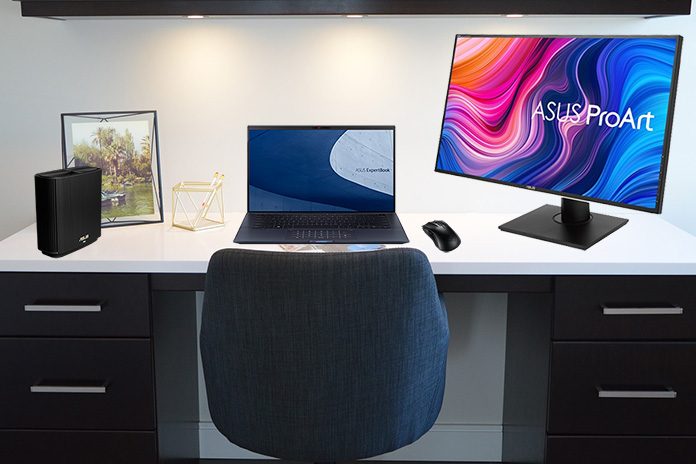 Working from home can be a rewarding experience. You get to spend your working hours in a comfortable, familiar environment, perhaps even in your favorite comfy clothes. You don't have to commute to work and face brutal traffic. And it can be easier to maintain a healthy work-life balance. If you're just getting set up in this environment for the first time, however, it can be tricky to choose the right PC, peripherals, and networking gear you need to get into the groove. Worry not: the Edge Up staff are all seasoned veterans of remote work. We've created a guide to the best ASUS work-from-home gear to keep you running on all cylinders wherever you need to set up shop.
Our products give you the flexibility you need to stay productive in the hustle and bustle of home life. We keep you collaborating and creating wherever you need to set down your PC. And the other members of your household can work, learn and play alongside you while staying connected to the communities that matter most to them.
The centerpiece of a home office: your PC
The first element of your home office to consider is your PC. It's your primary tool for collaborating with your team, organizing files, creating presentations, sketching out your next idea, or relaxing with a favorite show or a game, so you need a machine that fits your unique needs.
Your work-at-home gig might include a device allowance to spend on technology, or perhaps you're logging in from the family PC and it isn't working as well as it once did. It's one thing to tolerate some minor annoyances from an old PC that you only use occasionally. It's another to suffer through them for your entire work day.
Either way, if your home office needs a new PC, you have a few decisions to make. The first is whether to get a desktop or a laptop. If performance and value are your primary concerns, desktops are a good choice. They offer easy upgrade opportunities down the road. Graphics cards, processors, storage devices, and memory are all usually accessible in standard-sized cases. Replacing an aging peripheral or display is as easy as unplugging one device and plugging in another. And if your workflow requires some serious CPU or GPU horsepower, desktop PCs can offer the highest performance.
If portability is your primary concern, a laptop is a natural companion as you move between your home office, coffee shop, client meetings, and business trips. Laptops range from ultra-compact traveling companions to full-fledged desktop replacements that harness the most powerful components that can fit into portable form factors. Many people have found that a laptop handles all of their needs from a PC, and it's quite likely that one can do the same for you.
A desktop PC for any home office
If you don't need your PC to travel with you, a desktop is an excellent choice for your home office computer. Desktops are available in all shapes and sizes, from compact mini-PCs to massive, powerful workstations, and they offer a wide range of performance to meet any user's needs. The sheer number of options can be a little intimidating, so we've consolidated the world of desktop PCs down to a few options that we think make the most sense for folks setting up a home office for the first time.
First, a brief note about DIY PC building. It's easier than ever to custom-build your own desktop with our components. DIY builds let you assemble the exact PC you need for specialized workflows. We're a leader in motherboards, graphics cards, cases, power supplies, CPU coolers, peripherals, monitors, and more to help you construct carefully tuned, high-performance desktops that last, and if you're a seasoned builder looking to upgrade, now is a great time.
Here, though, we'll focus on turn-key desktop PCs that you can set up and deploy quickly. These desktops range from all-in-one PCs for everyday users to high-end computers that deliver the performance content creators and other power users need for their projects.
The easy-peasy Chromebox 3 delivers cloud-connected essentials
Need to quickly set up a basic PC for email, the internet, and everyday office applications like a word processor for work at home? Our Chromebox 3 gets you up and running without fuss.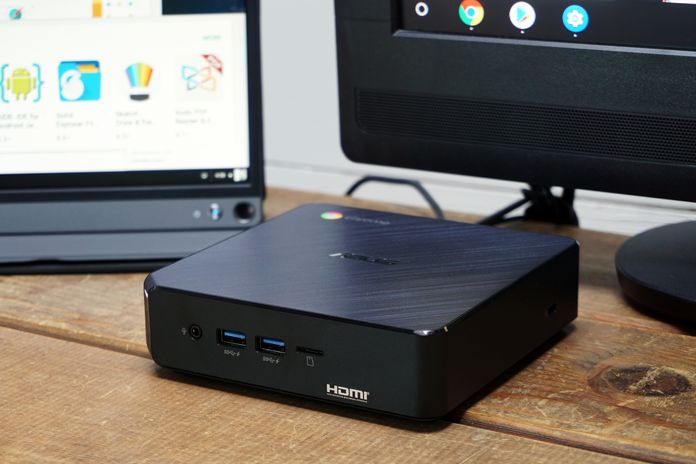 This affordable, space-saving desktop is a great choice. The setup process hardly takes longer than plugging in a mouse, keyboard, and monitor. The Chromebox 3 runs Google's lean and fast Chrome OS. If your organization is one of the many that rely on web applications such as Google's G Suite of office apps, this diminutive device might be all the PC you need.
Efficient and capable Intel processors up to the Core i7-8550U power the Chromebox 3. It'll easily keep up with your everyday web applications. Chrome OS automatically keeps software updated and applies the latest security patches, so you'll have peace of mind as you work. There's plenty of USB ports for plugging in all your peripherals, including a reversible USB 3.1 Gen 1 Type-C port, and you can use the HDMI port or DisplayPort over USB Type-C to connect the Chromebox 3 to up to two monitors. If desk space is at a premium in your office, you can attach the Chromebox 3 to the back of any monitor that has a VESA mount.
The Vivo AIO V241FA is a complete PC in a stylish package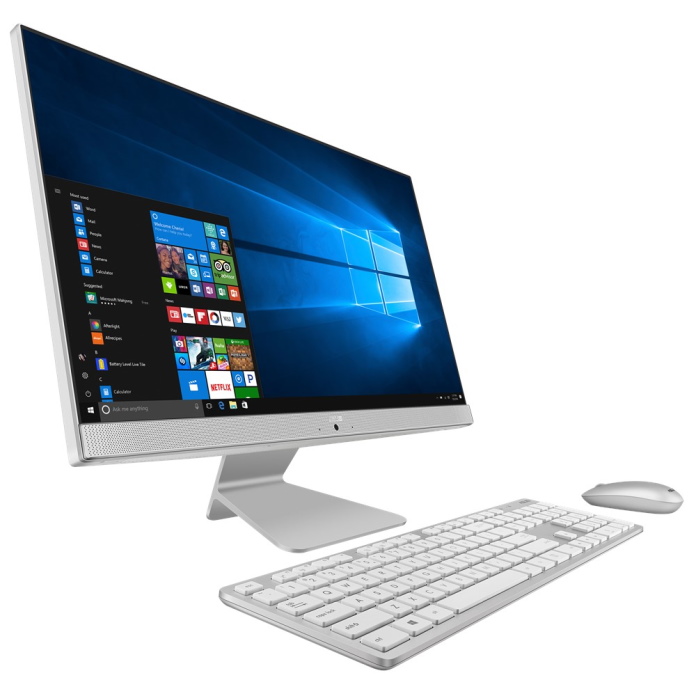 All-in-one PCs fit everything you need into one box. You can't ask for a more hassle-free PC setup experience. If you're looking to make one purchase that'll take care of all of the computing needs for your home office, consider our Vivo AIO V241FA. This elegant computer combines a 23.8" display and all the necessary hardware into a chassis that you'd mistake for a simple monitor if you didn't look carefully.
Part of the trick of maintaining a home office is making sure the room feels both like a home and like an office. The Vivo AIO V241FA's sophisticated stand, vanishingly small display bezels, and color-coordinated wireless keyboard and mouse make this system a stylish addition to your workspace. It still has all the power you need for getting office tasks done efficiently, including an eighth-gen Intel Core i5 processor, a dual-drive storage array that includes a 128GB SSD and a 1TB hard drive, and 8GB of DDR4 RAM.
The ROG Strix GL10DH games like a champ and works like a pro
A home office PC doesn't need to be all business. Once the workday is over, your PC can also be your portal to the best gaming experiences available. The ROG Strix GL10DH offers a potent blend of productivity performance and gaming excellence.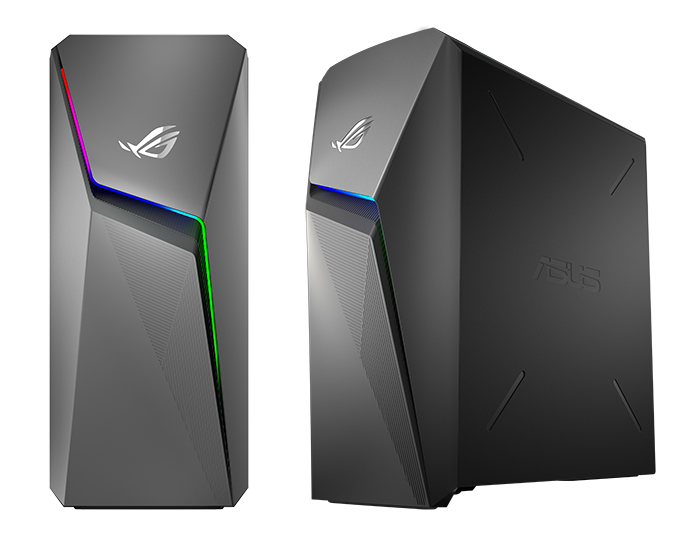 The Strix GL10DH doesn't look anything like your usual desktop. It has a surprisingly compact 27-liter chassis and a wide transparent side panel that exposes the hardware inside. A slash of customizable RGB LED lighting cuts across the front of the case. Using our Aura Sync software, you can coordinate the lighting effects of this slash with compatible peripherals.
If there's one component that separates gaming machines from everyday PCs, it's the discrete graphics card. The Strix GL10DH uses an NVIDIA GeForce RTX 2060, a powerful GPU that'll play today's AAA games at high graphics settings and absolutely crush competitive shooters like Fortnite. If you plan to game with your home office PC, we recommend pairing it with a high-refresh-rate gaming monitor—more on that later. On top of its gaming chops, the RTX 2060 can accelerate your workflow in compatible creative applications.
The AMD Ryzen 7 3800X CPU housed in the Strix GL10DH is great for supporting high frame rates in games, and it's an absolute beast when it's unleashed on productivity tasks. Its eight cores and sixteen threads allow it to handle many different tasks simultaneously without a hitch. Those resources are also ideal for heavily-parallelized workloads like rendering and encoding. This processing power can save you significant amounts of time if your workflow takes advantage of the Ryzen 7 3800X's capabilities.
The pint-sized ROG Huracan punches above its weight class
If you're just starting to piece together your home office, you might not have as much desk space as you'd prefer. But even if a larger desk isn't in the cards, a smaller desktop is still a real possibility—even a gaming desktop. The ROG Huracan packs high-end gaming hardware into a tiny 13-liter chassis.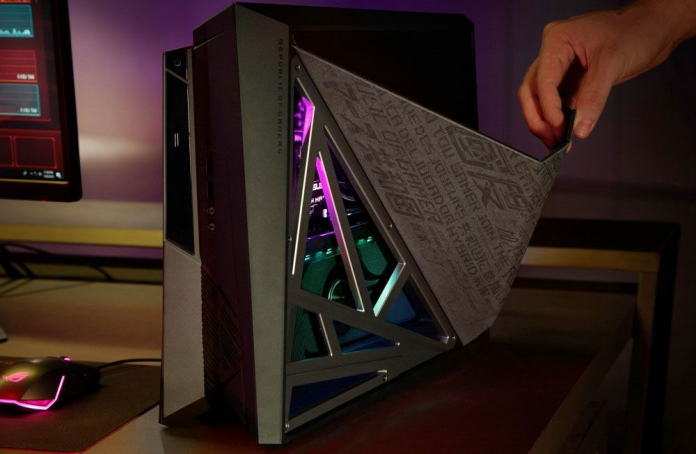 When CPUs and GPUs are under load, as they are when you're doing some video editing or dropping into a round of Modern Warfare: Warzone, these chips produce a not-insubstantial amount of heat. Part of the process of picking a reliable gaming desktop is looking for models with effective cooling solutions. Despite its compact case, the ROG Huracan effectively cools its hardware thanks to multiple strategically-placed air intakes. There's even a two-stage magnetic Smart Cover built into the side panel that opens a massive air intake as it unfolds, and it lets you see all the powerful hardware inside as a bonus.
This ventilation system allowed our engineers to outfit the Huracan with outsized hardware. It's powered by Intel Core processors ranging up to the Core i9-9900K, a proven contender for productivity and gaming alike. For its graphics card, you can configure it with options ranging all the way up to an NVIDIA GeForce RTX 2080. Whether you're a web developer, a coder, or a graphic designer by day and a gamer by night, the Huracan will provide you the performance you need for your work and play alike.
The ProArt Station PA90 offers professional performance in a stylish design
People around the world are finding exciting opportunities to turn their passions for photography, videography, and digital art into rewarding careers nowadays. As an enthusiast or hobbyist in these fields, you can get a lot of mileage out of consumer-grade CPUs and GPUs. In many professional contexts, on the other hand, you need certified compatibility with the professional software tools that you use daily.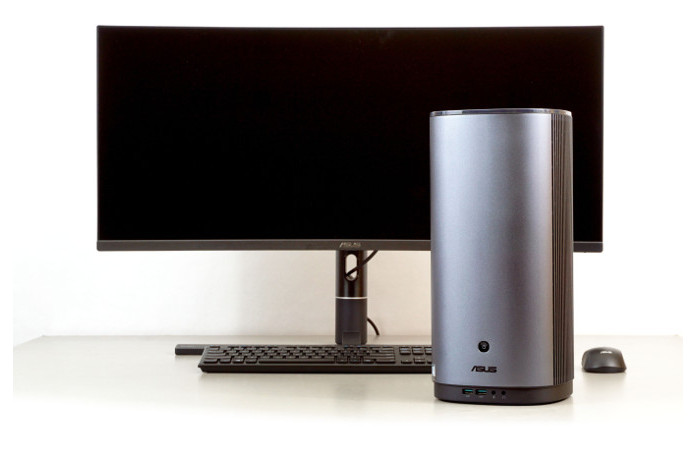 The ProArt Station PA90 delivers the hardware and certifications that professionals in many fields need for their work. It's certified by a range of independent software vendors  for use with rendering, modeling, and engineering software like AutoCAD, 3DS Max, and Maya, for example, and Adobe products as well. That's due in part to the NVIDIA Quadro P4000, a graphics card with the accelerated performance you need to drive multiple ultra-high resolution displays and complete 3D rendering tasks efficiently.
As you picture a 3D rendering workstation in your mind, you might be imagining a hulking, squared-off beast of a machine. Toss out those preconceptions. The PA90 contains its hardware in a 15" tall case that measures just 6.93" per side. The result is a design that's elegant, compact, and highly effective at keeping components cool. Intel Core processors up to the eight-core, sixteen-thread i9-9900K are kept cool with an all-in-one liquid CPU cooler. When the CPU is at full load, the PA90 automatically raises its top lid to increase cooling airflow by up to 38%.
Laptops that give you the flexibility to work wherever life takes you
One of the best parts of working at home is the freedom to work in the surroundings of my choice. When I worked in an office, I was more or less tied to the same desk all day. Now, I have my pick of any room in the house. If I need a breath of fresh air or a change of scenery, there's a coffee shop and a park just down the road.
The key technology that makes this flexibility possible is a laptop. In my home office, I plug my laptop into a secondary display, mouse, and full-sized keyboard, and I use it just like a desktop. But when I need to go on business trips, to meetings with clients, or just spend an hour at the coffee shop, the laptop lets me bring my work along.
As with desktops, there are a dizzying array of options available when you shop for a laptop. You'll have to consider size, for one. Do you want an ultraportable 12" or 13" laptop that doesn't weigh down your bag or satchel? How about a 17" laptop with a spacious screen that's ideal for multitasking? Perhaps a 15.6" laptop that splits the difference? Then there's performance, connectivity, and gaming ability to consider. Don't worry about figuring this out on your own, though—we've curated a list of choices that will cover the best options for everyone.
The VivoBook S15 S532 is an everyday laptop with panache
A processor that delivers snappy performance. An SSD that loads your OS and programs without making you wait. A bright, vibrant display and a natural-feeling keyboard. A VivoBook S-series laptop delivers these PC essentials, and it does so in a cheerful chassis that's bursting with personality.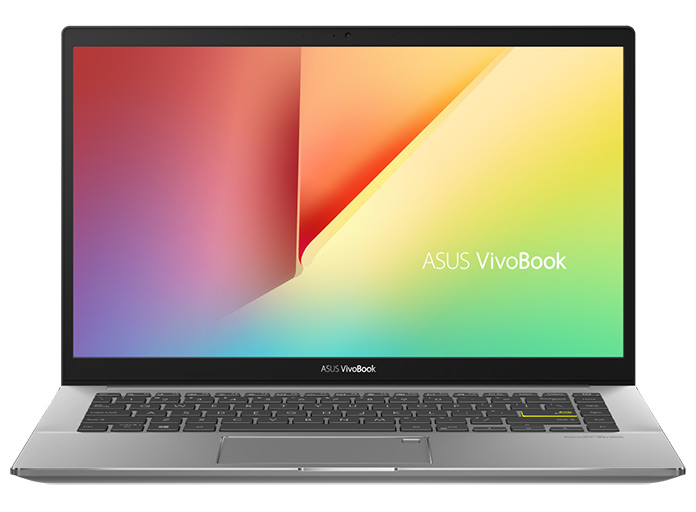 The VivoBook S15 532 gives you a broad selection of colors to choose from: everything from subdued silvers to sizzling pinks and calming greens. For an extra bit of satisfaction every time you enter a command or insert a new line, you'll see that the Enter key is color-blocked in a striking yellow.
VivoBook S15 532 laptops come equipped with our innovative ScreenPad 2.0, a replacement for an ordinary touchpad that plays double duty as a secondary screen. It's a powerful input device and a convenient location to keep an eye on an app. Thanks to the laptop's GeForce MX250 GPU, you can even watch your favorite YouTube channel or streamer on the ScreenPad 2.0 while playing a game on the main display.
The Chromebook Flip C436 is the working professional's Chromebook
So much work is done these days through web applications like Google's G Suite that it only makes sense to see if a Chromebook can meet your needs. The Chromebook Flip C436 is a superlatively thin laptop that serves up snappy performance and extended battery life in a professional shell.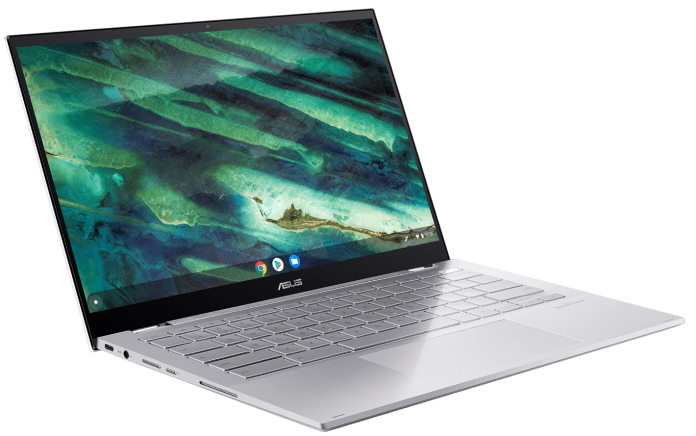 With a 10th Gen Intel Core processor wrapped up in a 13.7mm thick magnesium-alloy chassis, the Chromebook Flip C436 offers a compelling blend of performance and portability—and that's before you consider its lean 1.1kg weight. An iridescent Aerogel White or a sleek Transparent Silver finish on the lid puts the final touch of sophistication on this ultra-premium ultraportable.
The C436 will crunch your spreadsheets with professional poise, but it knows how to have fun after hours, too. Its 360° hinge allows the display to completely flip over so that you can use the device in tablet or tent mode. Tablet mode is great for curling up on the couch with your favorite show, while tent mode is a convenient way to prop up the laptop for a brief presentation or to share a video with your family. A quad-speaker array certified by Harmon/Kardon ensures that you get rich sound no matter how you fold the C436.
This product will hit store shelves soon. For more information, check out the product page and subscribe to our mailing list. You'll be one of the first to know when it's available.
The ZenBook Duo doubles up on screens for a productivity boost
When you're in your home office, it's easy to expand the multitasking potential of your laptop by connecting it to a monitor on your desk. But what do you do when you're out on the road? One option is to bring along one of our convenient, portable ZenScreen displays. Another is the ZenBook Duo. Its integrated high-resolution ScreenPad Plus display gives you the multitasking real estate you need wherever you go.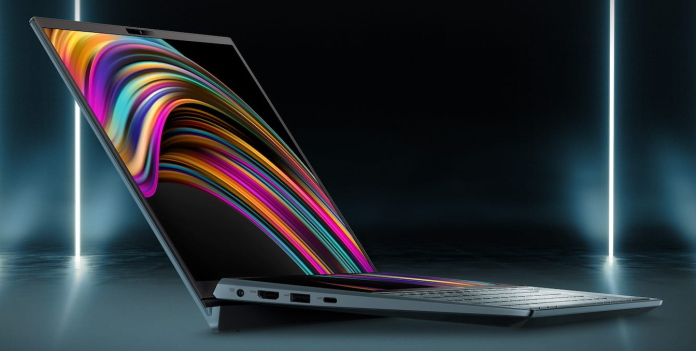 The ScreenPad Plus is a high-resolution 12" touchscreen that opens up new possibilities for interacting with your laptop. As a touchscreen, it's a convenient surface for quick inputs. You can place your favorite media apps on the ScreenPad Plus with a quick drag and click, and then adjust the volume or skip to the next song or video without switching away from your primary workspace on the main display. If you use photo or video editing software regularly, you'll appreciate having a space to put all the secondary windows and palettes that those applications put on your screen. Stylus input compatibility for drawing or handwriting only expands the versatility of the ScreenPad Plus.
A machine so well suited to multitasking needs a CPU that can keep up with all the windows you'll be arranging on its two displays. A 10th Gen Intel Core i7 processor powers the ZenBook Duo alongside up to 16GB of LPDDR3 RAM. NVIDIA's GeForce MX250 GPU expands the laptop's content creation abilities, and a 1TB NVMe SSD provides plenty of speedy storage.
This product will hit store shelves soon. Check out the product page for more information. Subscribe to our mailing list and you'll be one of the first to know when it's available.
The ExpertBook B9450 frees you from range anxiety
When you're on a tight schedule traveling from one appointment to the next, you just don't have time to sit and wait for your laptop to charge. The ExpertBook B9450 offers astounding battery life in a chassis so thin and light you'll hardly notice it in your bag.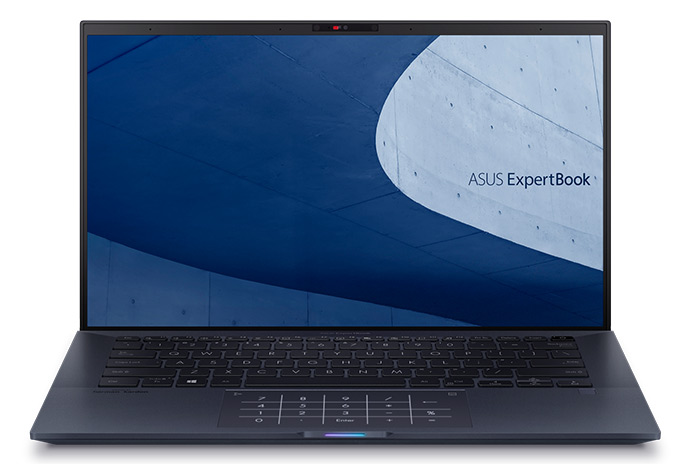 A laptop only serves its primary purpose if it's light enough for you to carry around. It's hard to imagine a laptop more portable than the B9450. It's a mere 14.9mm thin, and thanks to its featherweight-yet-sturdy magnesium-lithium chassis, it's as light as 865g. Narrow display bezels help the laptop keep a compact footprint, as well. As a result of these NanoEdge bezels, we were able to fit a 14" display in a chassis footprint more typical of 13" laptops.
The ExpertBook B9450's battery proved itself good for an astounding 20 hours of productivity in our internal tests. That'll take you a long ways through a business trip, but even if you should manage to run the battery down, it can recharge to 60% in just 39 minutes with the included charger.
Powerful components complete the B9450's feature set. It's powered by 10th Gen Intel processors up to a Core i7, and is equipped with Wi-Fi 6 (Gig+) and up to 16GB of LPDDR3 memory. It has a pair of Thunderbolt 3 ports, giving you access to the fast peripherals and a powerful option for connecting more displays. A face-sensing webcam and a fingerprint sensor give you multiple ways to keep business-critical information secure, too.
The ZenBook Pro Duo unleashes dual-display creativity anywhere
Artists and creators of all kinds love their home studios, but they regularly find inspiration in the wider world, too. The ZenBook Pro Duo lets you dig into your projects whenever and wherever inspiration strikes.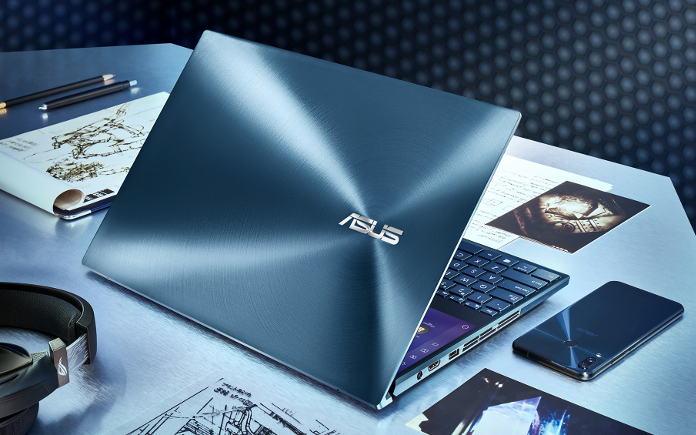 Ninth-gen Intel Core CPUs up to a Core i9-9980HK and NVIDIA GeForce RTX 2060 graphics deliver the powerful performance that you need for demanding applications like Adobe Creative Suite and DaVinci Resolve. You'll want speedy storage and copious memory for accessing large photos and high-bit-rate footage, so the ZenBook Pro Duo has up to a 1TB NVMe SSD and up to 32GB of DDR4 RAM. Creators often work with high-resolution images and video, so we outfit the ZenBook Pro Duo with a 4K OLED screen that covers 100% of the wide DCI-P3 color gamut.
It's the ScreenPad Plus secondary display that makes the ZenBook Pro Duo such an ideal device for content creation, though. Applications like Adobe Premiere, with its many workspaces, can quickly fill a notebook's available screen space. With the ZenBook Pro Duo, you can simply drag one of those workspaces down to the 3840×1100 ScreenPad Plus display and interact with it using touch controls. This will make interacting with your workspace more convenient, and it'll also open up more space on the main display for efficient multitasking.
The Zephyrus G14 is a new laptop for a new generation of gamers
Today's gamers are busy. Sure, they're often playing the latest games, but they're also streaming and sharing. A gaming laptop has the power to support all the demanding work that modern gamers do to cultivate and retain their audiences. The potent processors and massively-parallel GPUs that serve up smooth frame rates in today's games are more than capable of editing video footage and performing complex rendering tasks. The ROG Zephyrus G14 provides an excellent platform for gaming and productivity alike in a chassis that's dressed to impress.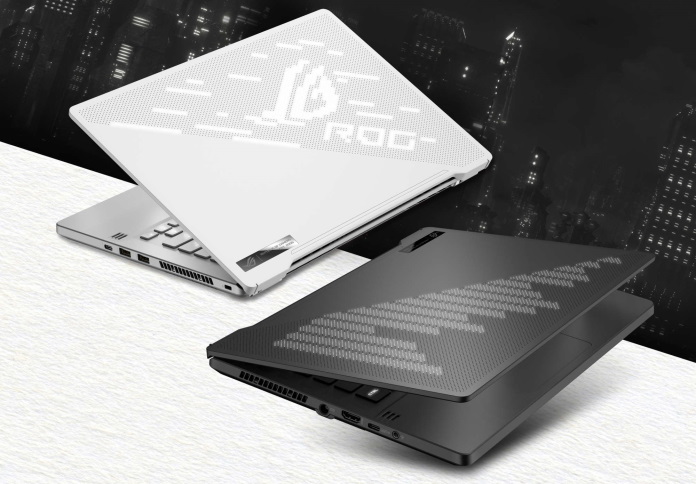 The Zephyrus G14 harnesses AMD's latest Ryzen 4000 CPUs to provide up to eight cores and 16 threads primed for multithreaded performance. An NVIDIA GeForce RTX 2060 powers games and content creation applications with equal aplomb. The 120Hz FHD panel option will deliver the lightning-fast visuals that gamers crave, while the high-resolution WQHD display will meet the needs of creators. Both displays are Pantone Validated for accurate colors right out of the box—a stamp of approval that makes games look great and a must-have for anyone working with photos or video footage.
Finished in pearlescent Moonlight White or metallic Eclipse Gray, the Zephyrus G14 is a laptop that's professional and stylish at the same time. Models coming out later this year will feature the exclusive AniMe Matrix display, an array of mini-LEDs in the lid of the laptop that displays custom images and animations in a retro-inspired dot-matrix design.
This product will hit store shelves soon. For more information, check out the product page and subscribe to our mailing list. You'll be one of the first to know when it's available.
The reliable wireless networking you need for work and play
If you have any reason to be annoyed with your wireless router—it doesn't cover the entire house, it mysteriously stops working and needs to be reset, or it gets overwhelmed when everyone's trying to connect at the same time—those annoyances will only become more acute when you and your family are all at home. To stay productive and to keep everybody happy, you may need to replace it.
You can't let a spotty connection interrupt your video conferences. You can't spend all day waiting for file transfers to and from your colleagues to complete. And if your company's preferred web applications are running slower than they should? That's a sure-fire recipe for falling behind.
The good news is that a new wireless router can alleviate these problems, and it's far easier to install than you might expect.
The ZenWiFi AX delivers the best of Wi-Fi 6 and AiMesh
A Wi-Fi 6 router paired with compatible devices will create a home network that will make everybody in your household happy. The headlining technologies for this new generation of wireless networking can help alleviate the congestion that clogs many busy home networks. As you upgrade your household smartphones, laptops, and smart home devices to Wi-Fi 6-capable models, your Wi-Fi 6 router can distribute the available bandwidth more intelligently so that all devices have a stable connection.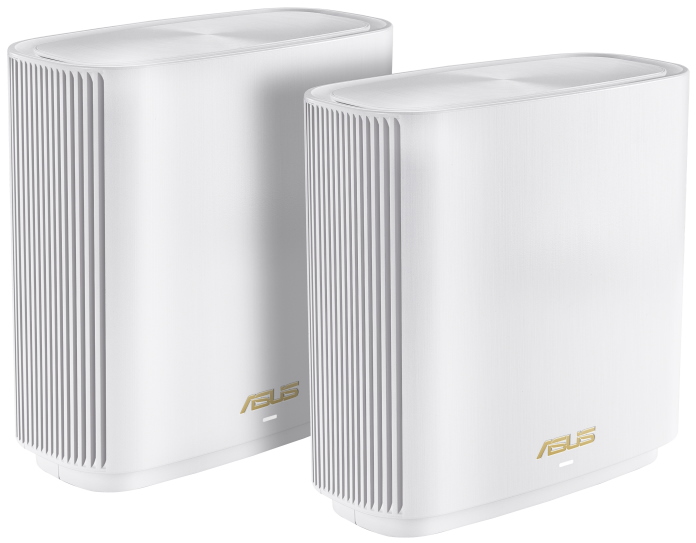 Our ZenWiFi AX system uses a pair of Wi-Fi 6 routers to blanket your home in a reliable, low-latency signal. The two routers use our AiMesh technology to form a mesh network. In this arrangement, the two routers track all devices in real-time and determine which access point provides the best signal to that device. They'll seamlessly pass devices back and forth to each other without dropping your connection. This system is ideal for homes and buildings with odd corners and rooms that are tough for a single wireless router to cover by itself. If you have a room that just doesn't get good coverage from your current router—and especially if that room is your home office—consider the ZenWiFi AX.
The RT-AX89X handles busy network environments with aplomb
Excellent wireless networking has become an everyday necessity in many homes, but there are still plenty of reasons to value an old-fashioned wired connection. The good old Ethernet jack is a great way to give demanding users of all stripes dedicated access to bandwidth-intensive resources like NASes without adding to the load of an already-busy wireless network. If you're looking for a wireless router that offers superlative Wi-Fi 6 connectivity and an arsenal of Ethernet ports for any PC that needs a dedicated connection, take a look at the RT-AX89X.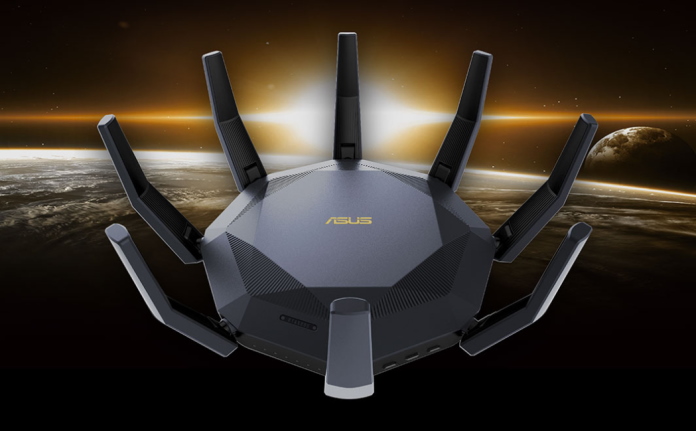 A whopping eight Gigabit Ethernet ports give you ample space to connect a range of wired devices. The RT-AX89X also has two 10 Gigabit Ethernet ports—one Base-T and one SFP+—so both fiber and copper 10G connections are supported. These high-bandwidth connections will help you maximize your ISP-provided connection speed or create an ultra-fast connection to compatible devices on your LAN.
| | RT-AX89X |
| --- | --- |
| Availability (USA) | Newegg |
The Lyra Voice is more than just a router
Believe it or not, a wireless router can do more than simply manage network activity. For our Lyra Voice, our engineers crafted a stylish router that doubles as the hub of your connected home.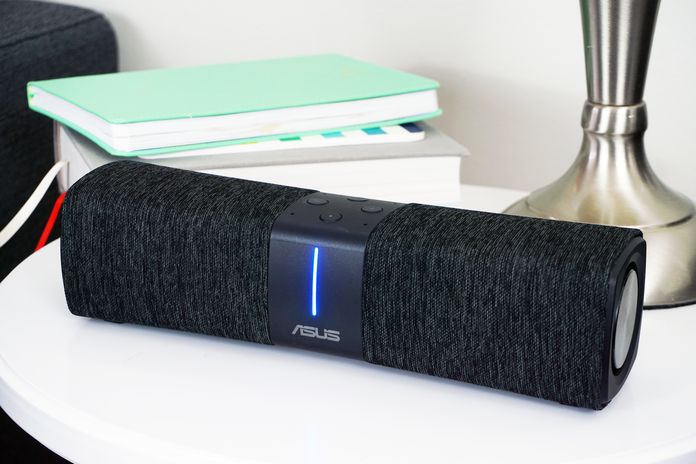 In addition to providing tri-band mesh Wi-Fi, the Lyra Voice is also a rich, powerful Bluetooth speaker equipped with Amazon Alexa. With its intuitive voice interface, Alexa is a helpful addition to your home office. It can remind you of deadlines and appointments, answer simple questions, play your favorite music, and control your smart home devices. The Lyra Voice's pair of 8W speakers delivers immersive sound in stereo so you can enjoy your favorite background music while working.
The Lyra Voice can act as a standalone router, but if you already have an ASUS AiMesh network set up in your home, you can also use the Lyra Voice as an access point in your office. This'll ensure that you have the best signal where you need it the most while giving you convenient access to Alexa from the comfort of your office chair.
The right monitor for your workflow
Unless your desktop is an all-in-one with an integrated display, it absolutely needs a monitor. If you have a laptop, it's tempting just to rely on its built-in screen, but many laptop users find that they're more productive if they connect their laptop to a second, spacious screen on their desk. The following monitors range from everyday workhorses to specialized tools for professionals.
The ASUS VZ239H-W puts your work front and center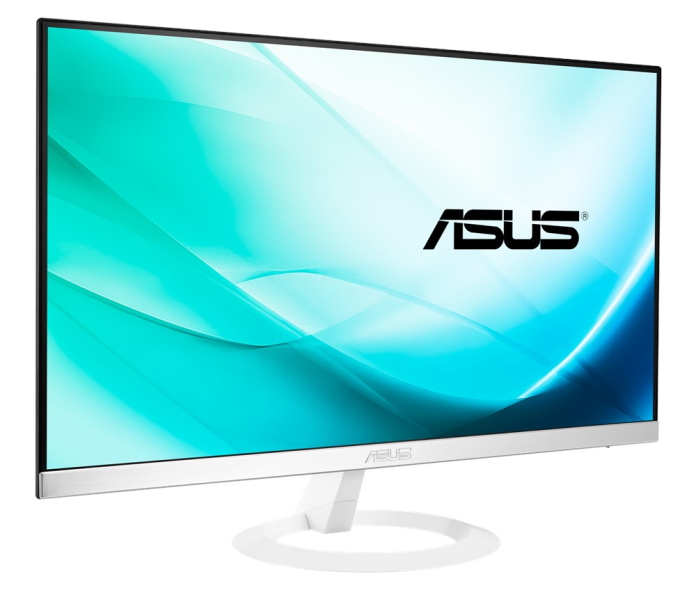 The ASUS Z239H-W is a straightforward, affordable monitor that's perfect for everything that comes your way in office work. As a 24" display with ultraslim bezels, it'll fit on just about any desk. Its 1080p Full HD resolution and 60Hz display rate are a great starting point for office work and entertainment alike. It has an IPS panel with wide viewing angles, so it'll deliver clear, undistorted images even if you place it off to the side of your laptop.
The TUF Gaming VG27VQ offers an expansive canvas for work and play
Perhaps you're looking for a monitor that's an ideal companion both on the clock and after hours. The TUF Gaming VG27VQ fits that niche precisely. It's a 27" FHD display with 400 cd/m2 max brightness, so everything on screen will still be clearly visible even when your home office is filled with natural light. Your shoulder and neck muscles will appreciate that it has a full set of tilt, swivel, and height adjustments, which allow you to position the monitor at a comfortable viewing angle.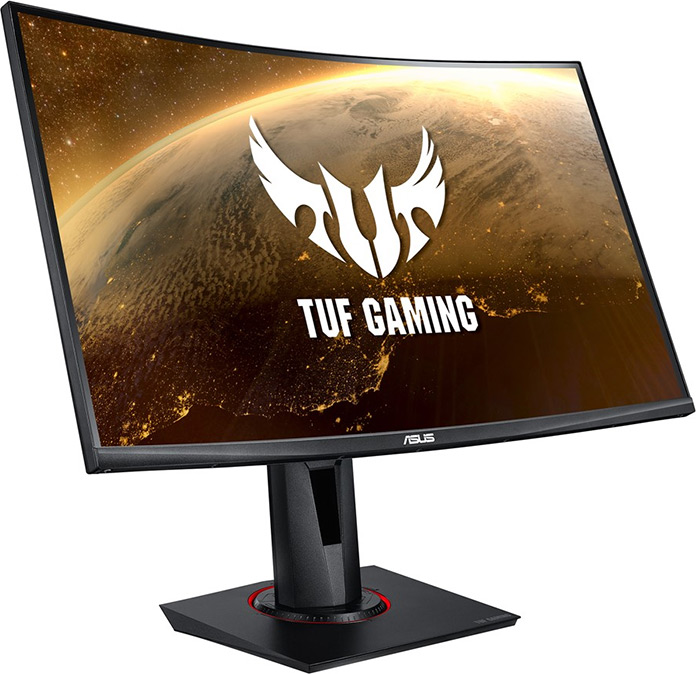 When you unwind after a day of work by hopping into a competitive online shooter, you want a monitor that displays fast-paced action as clearly and quickly as possible, and that's where the VG27's gaming cred comes into focus The VG27VQ's 165Hz refresh rates means that it can display a new frame from your PC 165 times per second. Combine that with a low 1ms MPRT and our Extreme Low Motion Blur technology, and you have a display that keeps you up to the millisecond with in-game action.
Games don't always run at a constant frame rate. The VG27VQ's FreeSync Premium designation means that the monitor can tie its refresh rate to the delivered frame rate of your GPU. This variable refresh rate system gets rid of tearing artifacts and ensures smooth visuals.
Expand your horizons with the ultra-wide ASUS Designo MX34VQ
For many of us, one monitor just isn't enough. When I'm writing a new article for Edge Up, I'll have many windows open at the same time: my current project, several browser tabs with supporting documentation, my email, at least one messaging service for staying in touch with my colleagues across the globe, and a source of music. There's just no way for all of that to be visible and useful on one display, so I have three monitors on my desk—not counting my laptop's display.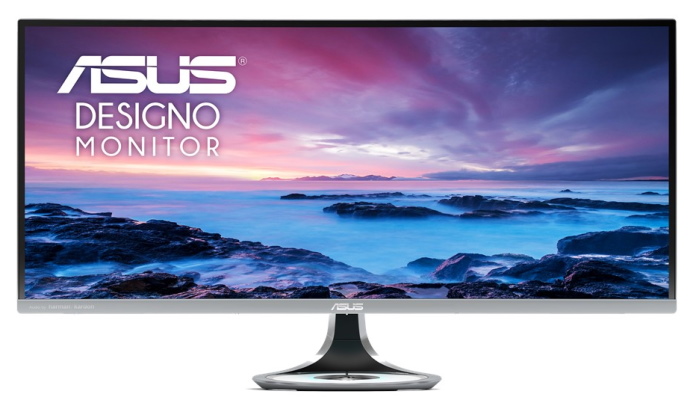 If your workflow is similar to mine, you might find a monitor you like and purchase a couple. Another approach—one that's simpler and more elegant—is to pick up an ultrawide monitor. The ASUS Designo MX34VQ gives you the real estate of two separate screens in one slick package. You'll have space for all your windows, but without extra wires on your desk or a bezel in the middle of your field of view. That expansive vista makes working at home a real pleasure.
The MX34VQ offers 34" of pixels at a resolution of 3440×1440. VA panels are known for their high contrast, and the MX34VQ's 3000:1 contrast ratio doesn't disappoint. It has a 100Hz refresh rate, and it's compatible with VESA Adaptive-Sync technology, so it'll provide smooth, tear-free visuals in games with a broad range of graphics cards. With its elegant stand, built-in Qi wireless charger, and ultra-slim bezels, it's an attractive and practical addition to your desk.
The Zenscreen MB16ACE is the monitor that travels with you
It's convenient to have a secondary monitor on your desk that you can connect to when you're in your home office, but some workers need to move around their house or office during the day in addition to when they're on the road. Our ZenScreen MB16ACE is a thin and light screen that can travel in your laptop bag and set up wherever you need to.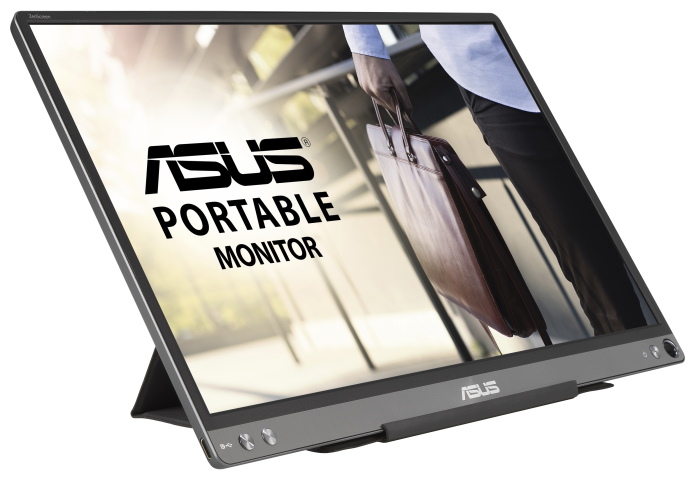 The ZenScreen MB16ACE is a 15.6" FHD display with an IPS panel that displays clear images even from sharp angles. It's only 8mm thick and weighs just 1.56 lbs, so it only adds a little weight to your bag. It'll look small in your satchel, but it'll significantly increase your productivity  when you prop it up with its included SmartCase Lite and connect it to your PC.
Create for any audience with the ProArt PA329C
When you're doing creative work with photos, digital art, or video footage, you need a versatile, high-resolution display with exceptional color reproduction. Our ProArt monitors make professional-quality displays accessible to hobbyists and aspiring professionals alike.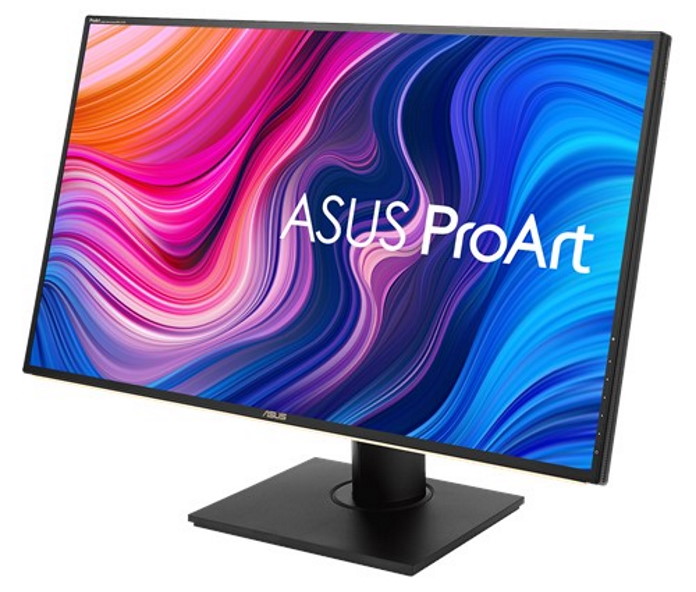 With its 32" 4K panel, the ProArt PA329C provides a wide canvas for your creative work. Most professional photographers and videographers shoot in 4K, if not at an even higher resolution, so it takes a 4K display like the PA329C at a minimum to let you work fluidly with those files. Its color reproduction is exceptional, as well. It covers 100% of the wide Adobe RGB gamut and 98% of the DCI-P3 color space common in digital cinematography. Another selectable mode gives you 100% of the sRGB color space.
We factory-calibrate the PA329C to a Delta E of less than 2, and ProArt Calibration technology allows you to store color profiles on the monitor itself for consistent results between different applications and systems. Add in VESA DisplayHDR 600 certification and HDR10 support, and you've got a display that's primed for your creative vision, even when you work from home.
| | ProArt PA329C |
| --- | --- |
| Availability (USA) | ASUS |
Accurate, comfortable keyboards and mice
They say that you shouldn't skimp on things that separate you from the ground: your shoes, bed, and tires, for just a few examples. We also think you shouldn't skimp on the devices that connect you to your PC. Take a few minutes at a computer hardware store to try out a variety of keyboards and mice, and you'll find that some are more precise, are a better fit for your hands, and more comfortable to use over the long term than others.
Peripherals from the Republic of Gamers are built to meet the demands of competitive gamers first and foremost, but their accuracy, reliability, and comfort make them ideal for a wide range of workloads.
The ROG Strix Carry gives you championship credentials to go
The high-quality touchpad or clickpad in your laptop is more than capable of handling everyday office tasks, especially once you start committing the Windows multitouch gestures to muscle memory. There are likely to be times throughout your workday that a mouse will improve your workflow, especially when you work at home from a desk. More buttons and a scroll wheel give you quick access to commonly used commands, and a well-appointed mouse gives you the pixel-perfect precision you need for many creative apps.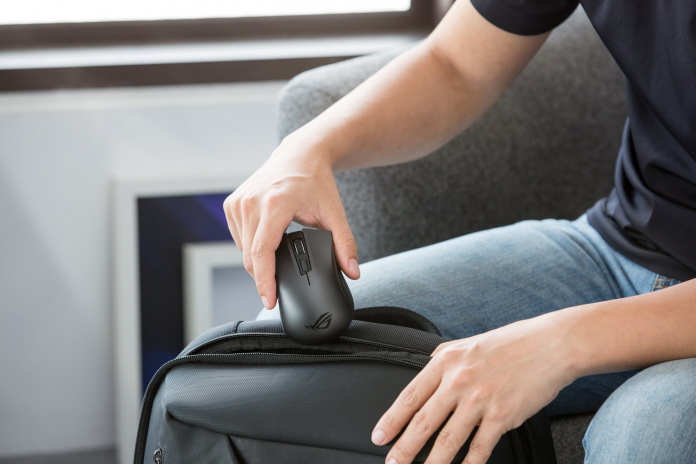 The ROG Strix Carry is a wireless mouse that's especially well-suited for people who need a mouse that can work with them anywhere they are. Whether you're using it to edit a spreadsheet, touch up a photo, or play a game or two after the workday is done, this mouse is an excellent choice. You can connect it to your PC with either a low-latency 2.4GHz RF link or Bluetooth, so it's great for moving between different systems.
It's small enough to fit easily in a laptop bag, too, yet it's equipped with a professional-grade 7200 DPI optical sensor. Our tests show that it's good for at least 300 hours of runtime on its RF link, and at least 400 hours when it's connected via Bluetooth. You'll be able to get tons of work done without worrying about plugging in.
The ROG Strix Scope TKL works as hard as it games
For a keyboard that provides excellent typing and gaming experiences alike, we recommend the ROG Strix Scope TKL. The mechanical key switches that gamers prefer are well-suited for extended typing. The higher actuation point of Cherry MX switches allow you to type without constantly bottoming out the keys, and the more tactile feeling of pressing a mechanical switch is undeniably satisfying.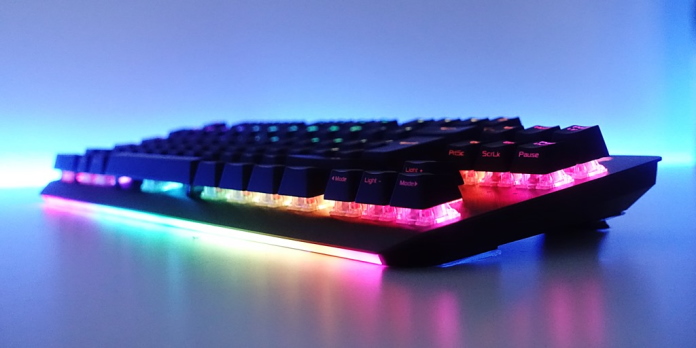 The Strix Scope TKL's tenkeyless design brings your hands closer together while you work and game for a more ergonomic typing and mousing experience. If a numpad is essential to your workflow, you'll want to look for a keyboard with an integrated numpad like the ROG Strix Flare we'll discuss in a moment.
The Cherry MX switches we use in the Strix Scope TKL are available in a variety of flavors, each with a different typing experience. You'll find switches with longer and shorter actuation distances, quieter or clicker operation, and some with a tactile bump at the actuation point. Tactile, quiet Cherry MX Brown switches are my favorite, since I spend a good deal my workday typing. Gamers often prefer the linear actuation of Cherry MX Red switches, as it allows them to repeatedly press the same key with lightning speed.
The ROG Strix Flare keeps you in the zone
Don't be distracted by its gorgeous per-key RGB LED backlighting and vibrant, colorful underglow. The ROG Strix Flare is a full-sized keyboard full of convenient features for power users.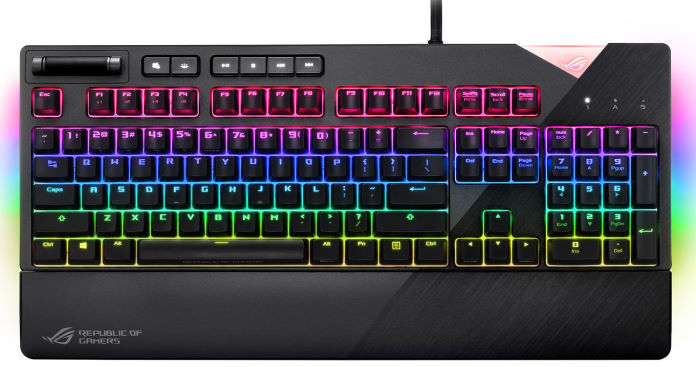 Like the Strix Scope TKL, it's appointed with your choice of a variety of Cherry MX switches. Anti-ghosting tech and N-key rollover ensures that all your keypresses register, even when you're inputting a complex hotkey combo. You can also map macros on the fly to any key of your choosing, a feature that can boost your productivity in coding and creative work.
The Strix Flare also includes USB passthrough port, giving you a convenient location for plugging in devices like charging cables and thumb drives. Desktop users in particular find this a helpful feature, as your keyboard is more readily at hand than your PC's case. You'll also find a row of media buttons and a large, textured volume roller in the keyboard's upper left corner. They allow you to skip tracks and adjust volume without switching away from your primary workspace or removing your right hand from your mouse.
The ROG Sheath creates an unshakable foundation for your gear
Many people find that they're more focused and productive when they're working in a tidy, organized space. We can't help you with your household clutter, but we can suggest using the ROG Sheath to keep your workspace organized. The Sheath is a mousepad that's large enough to hold not only your mouse, but your keyboard or laptop, as well.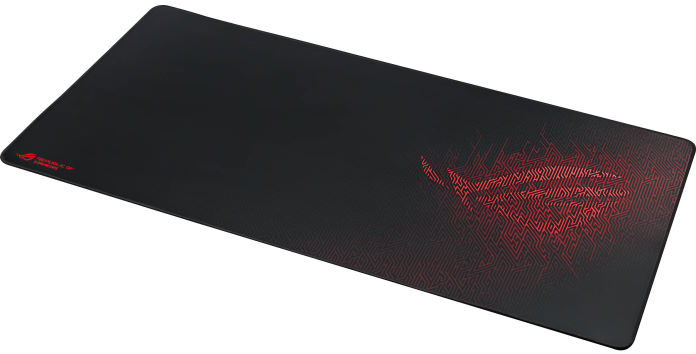 Beyond its neat division of your desk space, the ROG Sheath provides an optimal surface for your mouse and a more comfortable surface for your arm to rest on. If your desk's material confuses your mouse's optical sensor, you'll appreciate how the Sheath's precisely textured surface allows your mouse to track movements more accurately. A rubber base keeps the Sheath from sliding at inopportune moments, and durable stitching at the edges will keep the pad from fraying.
Look and sound your best on a conference call
Folks who work from home frequently use email and messaging services like Slack and Microsoft Teams to communicate with clients and coworkers. You'll want to show your professionalism in conference calls and video calls, so you need a webcam that takes flattering, high-quality video, and a microphone that clearly picks up your voice while ignoring background noise.
Laptops typically have an integrated webcam, microphone, and speaker array, but it's common to see laptop users give themselves more options with a high-quality headset. A headset allows you to separate yourself from distractions in your environment and keep conversations more private.
The ROG Eye sees all
The best webcams record high-resolution footage, perform light color adjustments to make sure your skin looks natural, and integrate a convenient microphone array. The ROG Eye is a compact webcam that clips easily to a laptop lid or monitor. It records at 1080p at a smooth 60 FPS, and its Auto Face Exposure technology automatically detects your face and brightens it to make sure it's distinct from the background.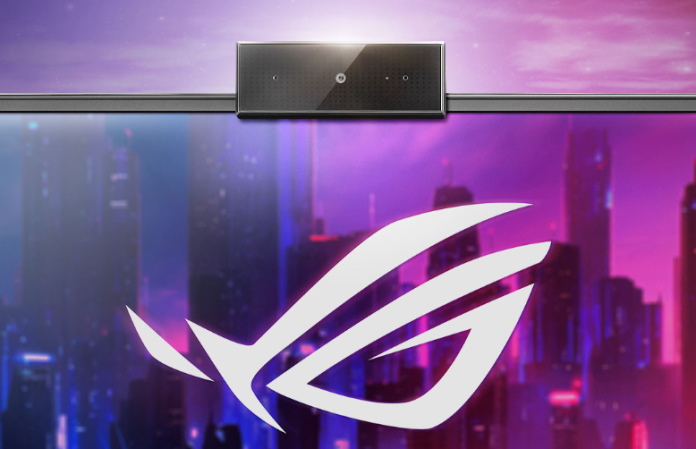 A common problem with webcams is that they struggle to display your face when the background is too bright, as when there's natural light streaming in through a nearby window in your home office. The ROG Eye incorporates Wide Dynamic Range technology that limits overexposure in these lighting conditions.
Your voice should be just as clear as your face in a video conference. The ROG Eye uses a pair of microphones in a beamforming array to capture your voice. This arrangement lets the webcam filter out ambient background noise like keyboard clicks.
The ROG Delta Core is the gaming headset for everyone
Even in a home office, you sometimes need to shut out the world and get work done. A headset like the ROG Delta Core helps you separate yourself from your surroundings when you need to work from home. In the box, you'll find two sets of ergonomic D-shaped ear cushions: one that's 100% protein leather for maximum isolation, the other a hybrid of mesh fabric and leather for more airflow. ASUS Essence drivers deliver powerful sound with punchy bass, while a closed design with tuned chambers ensures natural-sounding audio without ambient noise.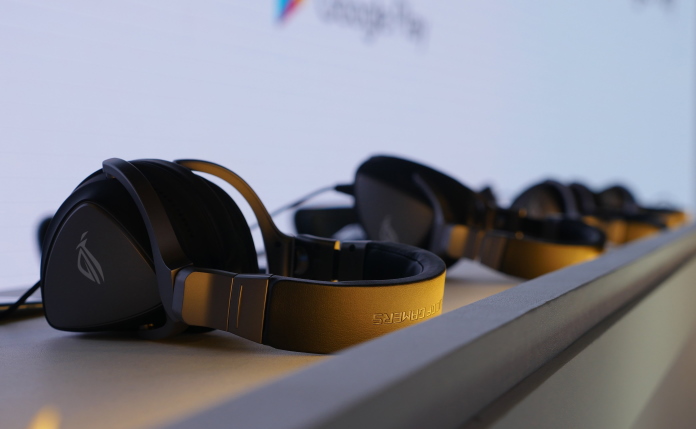 A headset isn't just for your favorite focus music. With its detachable boom mic, the ROG Delta Core also gives you another option for contributing to a conference call. It uses a unidirectional mic tuned to make your voice stand out clearly whether you're talking to coworkers or barking out directions to your Fortnite squad in the evening.
The ROG Theta immerses you in virtual worlds
Music aficionados and gaming enthusiasts alike might consider stepping up to the ROG Theta headset. With four discrete drivers in each ear cup, the Theta provides an exceptional audio experience, and the AI-powered noise-canceling microphone makes sure your voice is clear as crystal.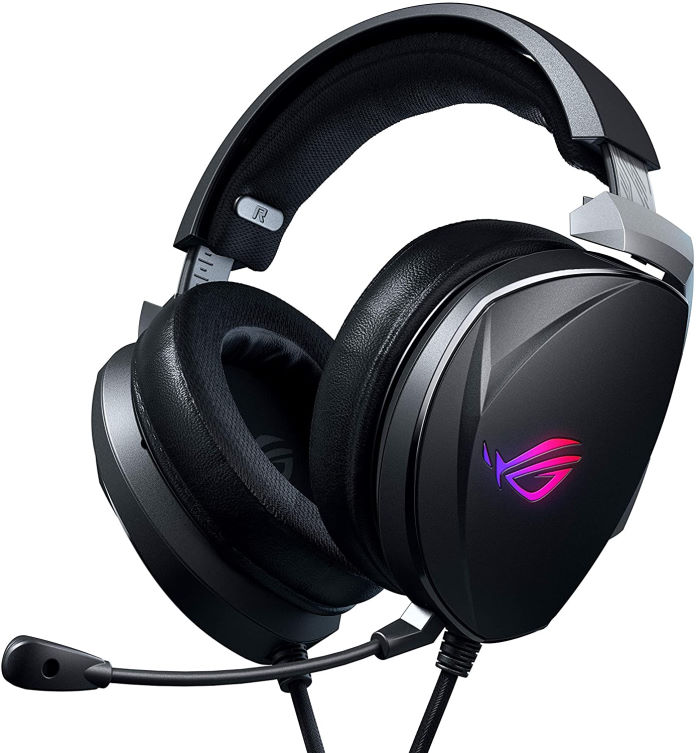 The ROG Theta will handle your daily business needs just fine, but it's made for delivering 7.1 surround sound audio for music and games. It's like a home theater setup miniaturized into a headset. You'll enjoy the sound quality it provides for background music while you work, and you'll be mesmerized by the audio experience it provides when you load up a game afterward. A custom ROG home-theater grade DAC and quad ESS 9601 headphone drivers make games come alive. Thanks to its superior production of positional audio, you'll track your virtual opponents with unprecedented accuracy.
Put it all together
If you came into this guide unsure of how to stay in the zone when you're working at home, don't fret. You wouldn't be the first person to feel intimidated at the prospect of setting up a home office. There are a lot of reasons to be excited about working from home, to be sure, but this is your work, your career. You want to get this right.
The good news is that ASUS technology makes it easier than ever to work effectively from home. With a carefully-selected PC, reliable home internet, and the right peripherals, you'll be ready to face the challenges of your professional life, all from the comfort of your home.