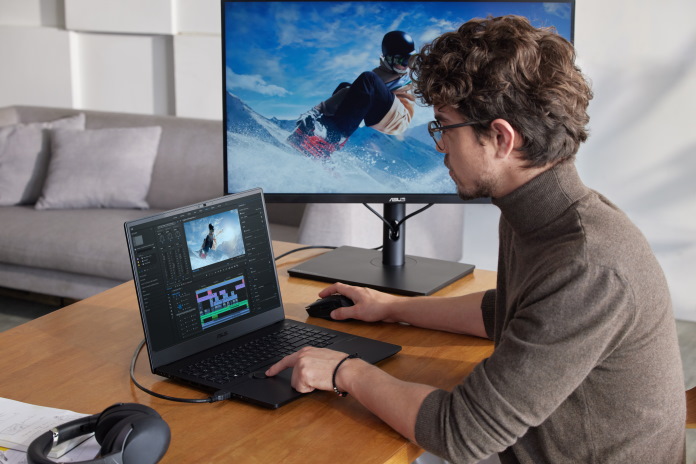 The USB-C connector on our laptops, phones, and other tech these days is wildly popular for a reason. It's foolproof to plug in, and it reduces the number of cables you need to carry around to charge and connect all of your devices. But the USB-C port can do so much more. It can carry high-speed data, pass up to 100W of power to your laptop or phone, carry a display signal, or all of the above. Combine all those features into one port, and you have the perfect ingredients for a dream desk: one where you can plug a single cable into your laptop and get to work on a large, high-resolution display while your device charges. And when it's time to go again, you can simply unplug the same cable and hit the road without a second thought. Those capabilities are especially appealing for busy creators who split time between the studio and on-site work with clients. ASUS USB-C monitors make it easy to live the single-cable docking dream.
We know that one size doesn't fit all, and that's true for your laptop and your monitor. Many of our latest laptops, from VivoBooks and ZenBooks to ProArt StudioBooks, already include at least one USB Type-C connector with everything the port has to offer, and several of our ProArt Display-series monitors are ready to tap into that capability with Type-C inputs that support USB Power Delivery charging, DisplayPort signals, and USB peripheral connectivity through integrated hubs.
Because USB-C is a standard connector that's widely used across the industry, many other laptops can take advantage of the single-cable connectivity offered by our monitors. The latest MacBooks from Apple even use USB-C as the sole port for both peripheral connectivity and charging, so it's important for your monitor to do more when you sit down and plug in.
Whether you're connecting a mouse and keyboard or creative essentials like a pen tablet or card reader to your setup, running those peripherals through the integrated USB hub on our ProArt Displays is a smart choice for a cleaner desk. When you plug that single USB-C cable into your Windows laptop or MacBook, all of those peripherals will be ready to go right when you need them—no fumbling around with dongles or hubs required.
To help you choose the ASUS USB-C monitor that's right for the single-cable setup of your dreams, we've curated several monitors from our ProArt Display series that support USB-C connectivity with any compatible laptop. Read on to find the one that's right for you.
The ProArt Displays PA247CV, PA278CV, and PA279CV bring color accuracy to every creator
Until just recently, it was hard to find a display that was both color-accurate and affordable for average folks or creators just starting to realize their visions. But color accuracy is no less important to those users than it to seasoned pros. To make color-accurate panels and USB-C convenience available to everybody, we built the ProArt Displays PA247CV, PA278CV, and PA279CV.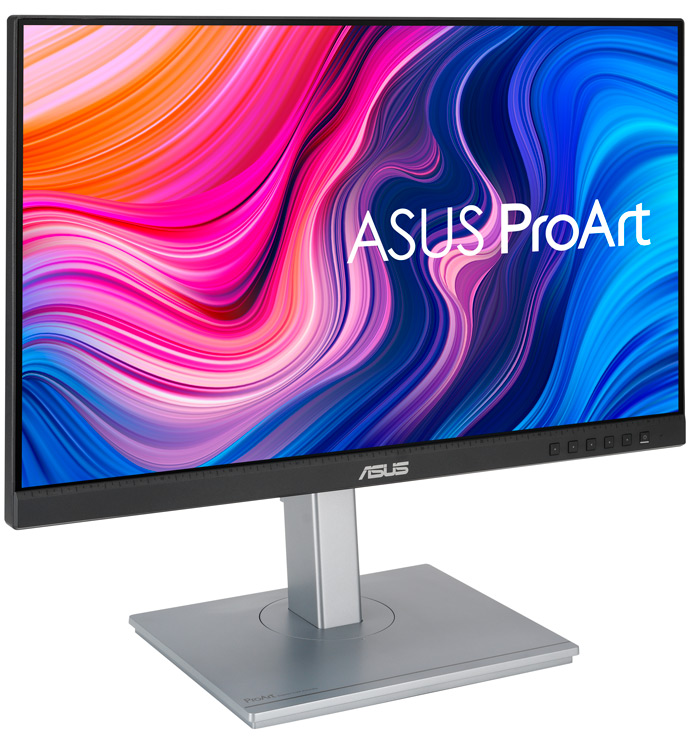 The ProArt Display PA247CV's friendly 23.8" size is easy to fit on most any desk, and its 1920×1080 resolution provides plenty of room for everyday computing and content creation. A 75Hz refresh rate means that video and games appear more fluid and immersive than they would on lesser displays.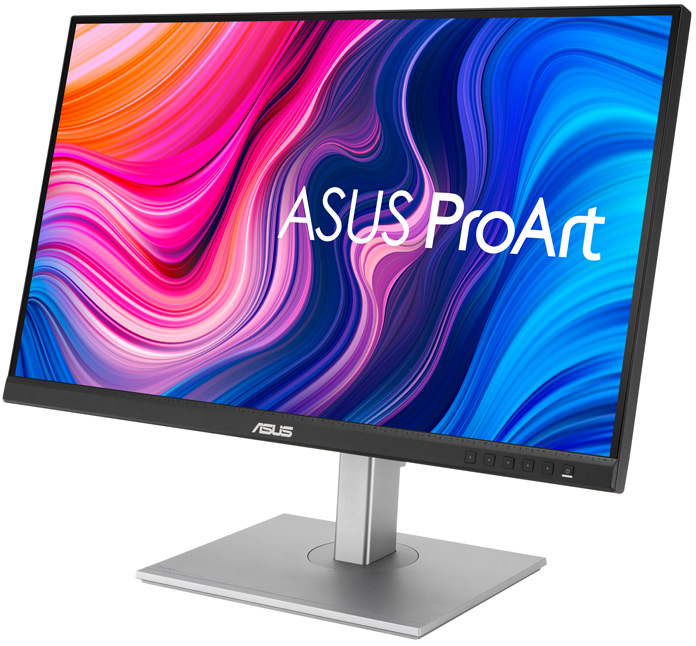 The ProArt Display PA278CV is a great step up for creators and producers alike. With a 2560×1440 resolution in a comfortable 27" diagonal, it lets users see more on-screen with the same fluid refresh rates as its 24" sibling.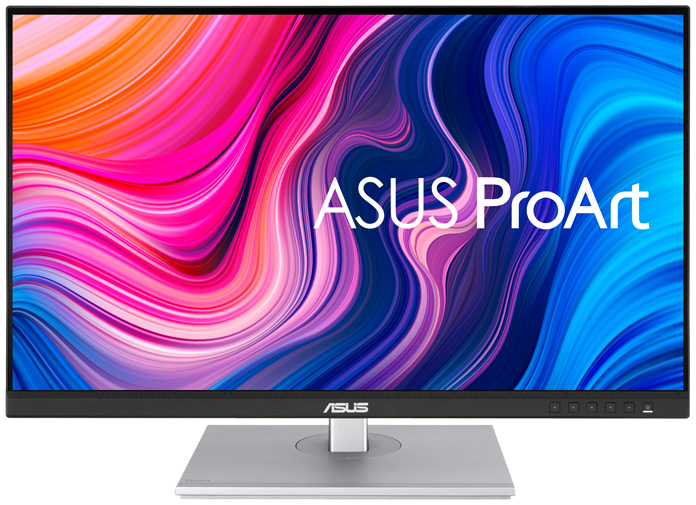 For demanding creatives who want to make the most of the video that their phone or dedicated camera can create, the ProArt Display PA279CV ups the resolution even further to a stunning 4K. Budding game developers will also find VESA Adaptive-Sync support to ensure that their content remains fluid and responsive even as the frame rate of on-screen content varies over time.
Any of these ProArt displays can be the centerpiece of a single-cable desk setup. Their USB-C ports enable DisplayPort input, 65W USB-PD charging for connected laptops, and communication with up to four more connected devices through a USB 3.1 Type-A hub. And whether you're creating or consuming content, you'll enjoy vivid and accurate color. Thanks to 100% coverage of the common sRGB color gamut and factory calibration to a ΔE of less than two, any of these ProArt Displays will ensure that photos and videos look the same no matter where they're viewed. You don't have to take our word for it, either: each ProArt Display is Calman Verified to reproduce accurate and consistent colors.
The ultrawide ProArt Display PA34VC immerses you in your content
Sometimes a widescreen display just isn't enough. Some creators need to go ultrawide. The ProArt Display PA34VC's ultrawide 34" screen, which wraps around your field of view with a gentle curve, lets you put multiple windows side by side for comfortable viewing without the distracting seam between displays that's inherent to multiple-monitor setups.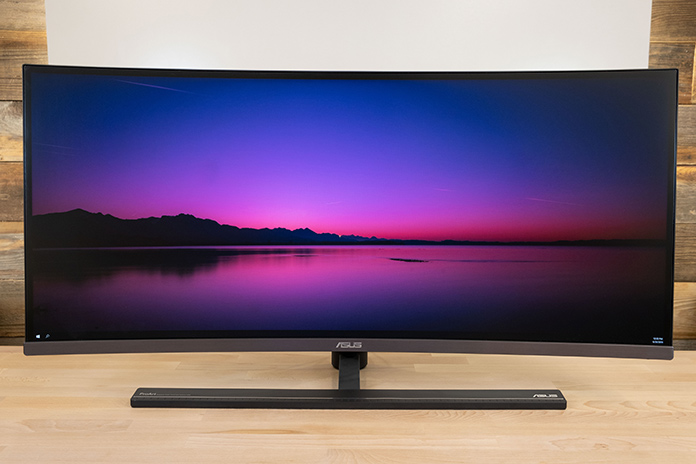 A crisp 3440×1440 resolution makes plenty of room for multiple windows on the PA34VC's curved vista, and a Thunderbolt 3 USB Type-C port passes all those pixels through a single cable from compatible laptops. The PA34VC can charge your connected PC with up to 60W through USB-PD, and Thunderbolt 3's 40Gbps speed lets us include a three-port USB 3.1 Gen 2 Type-A hub with up to 10Gbps per port for bandwidth-hungry devices like external storage or capture cards. If you enjoy gaming after hours, VESA Adaptive-Sync support from 40Hz to 100Hz ensures fluid and responsive gameplay.
The large and versatile ProArt Display PA329CV gives creators more of what they want
If you're a creator that demands more from your monitor, the ProArt Display PA329CV delivers more inches, more power, and more mounting options. This display spreads its 4K resolution across a sweeping 32" canvas for easier viewing without space-robbing scaling factors. 90W of USB Power Delivery support over a single USB cable makes it easy to connect and charge power-hungry laptops that need more juice to perform at their best.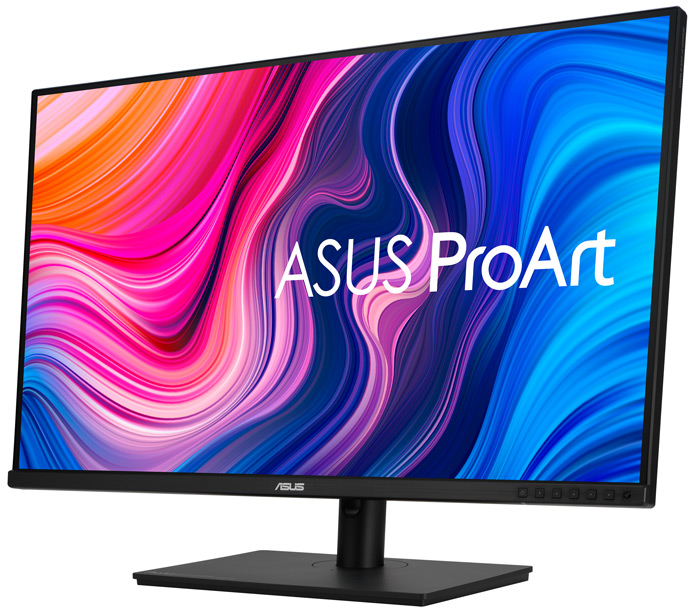 Creators' studios are as unique as their inhabitants, and not every desk has enough space for a traditional monitor stand. To save you the trouble of buying a separate monitor arm, the PA329CV ships with a C-clamp mounting option that can fit onto almost any flat work surface. Once the clamp is in place, the PA329CV's mounting arm can slide right in, leaving you free to adjust height, tilt, and orientation as you choose while preserving desk space.
100% coverage of the common sRGB and Rec.709 color gamuts make the PA329CV a flexible choice for mastering both photo and video content with confidence. Like our other ProArt Displays, it comes factory calibrated to an average ΔE of less than two for consistent color reproduction, and its performance is Calman Verified for excellence.
The ProArt Displays PA27UCX-K, PA32UCX-PK, and PA32UCG-K open new frontiers of content creation
Today's most demanding content creators are working at the bleeding edge of entertainment. To realize their creative visions, these pioneers need monitors with local-dimming backlights with true high dynamic range (HDR) support, a broad range of wide color gamut and HDR metadata profiles for different delivery targets, and the most stringent factory calibrations.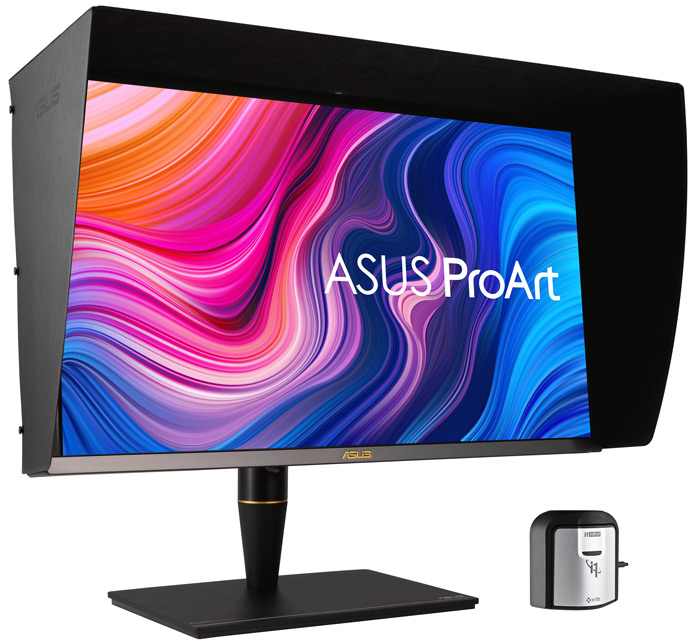 The ProArt Display PA27UCX-K uses 576 Mini-LED dimming zones spread across its 27" canvas to create stunningly bright HDR highlights and eye-popping contrast between light and dark areas. This impressive performance lets it claim elite VESA DisplayHDR 1000 certification. 90W of USB Power Delivery over a Thunderbolt 3 USB-C cable lets connected laptops run at their full potential in single-cable setups.
Whether you're targeting Dolby Vision, Hybrid Log-Gamma, or HDR10 metadata for HDR playback, the PA27UCX-K supports all three standards so that the user can always show how that content will appear before it's sent off for final delivery. 97% DCI-P3, 99.5% Adobe RGB, and 100% sRGB coverage make the PA27UCX-K a flexible canvas for still and moving images alike.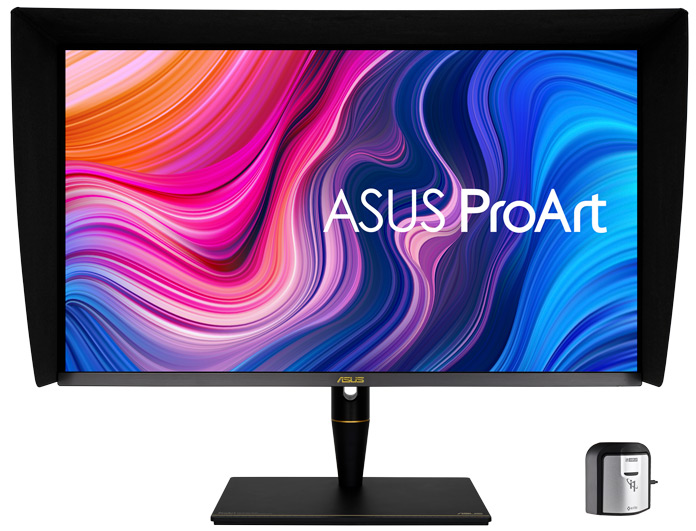 For even more impressive HDR content reproduction on a larger canvas, the ProArt Display PA32UCX-PK uses Mini-LED technology to spread 1,152 individual dimming zones across its 32" 4K vista. A peak brightness of 1200 nits and VESA DisplayHDR 1000 certification attest to the impressive performance potential of this monitor. And it maintains all the color gamut and HDR metadata support of its 27" stablemate.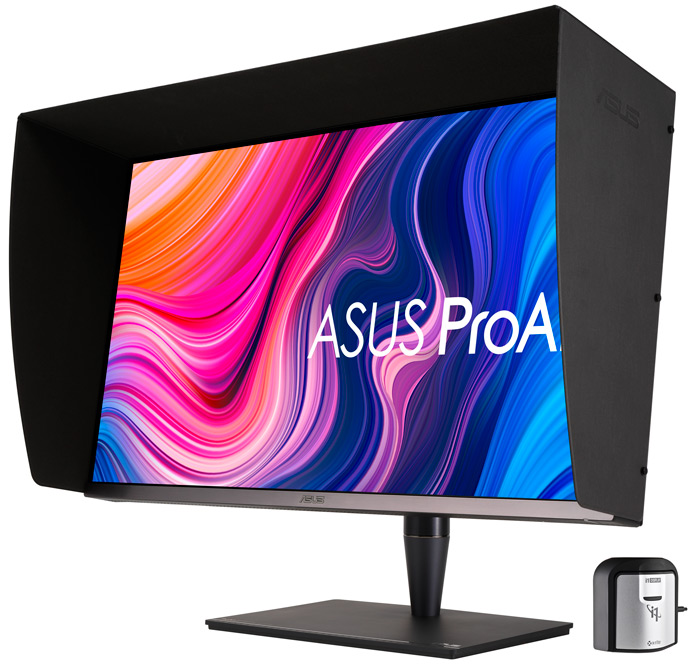 For the ultimate in HDR highlight reproduction across the broadest range of input sources, the ProArt Display PA32UCG-K stands ready. Thanks to an 1152-zone Mini-LED backlight with an incredible 1600 nit peak brightness rating and VESA DisplayHDR 1400 certification, this monitor simulates both light and dark with unparalleled realism, giving filmmakers and videographers a unique tool for recognizing their creative visions.
HDR is an increasingly common feature in games. Like other artists, game developers need accurate and reproducible color. Game developers also work with content that naturally includes higher refresh rates than the 24 FPS or 30 FPS typical of film and TV. Thanks to HDMI 2.1 inputs and variable refresh rates ranging from 48Hz to 120Hz, the PA32UCG-K lets game developers and asset artists view their creations exactly as they'll be reproduced on modern consoles and gaming PCs.
Both the PA32UCX-PK and PA32UCG-K feature Thunderbolt 3 USB-C connectors for high-performance single-cable docking setups. In addition to DisplayPort signaling, this high-speed connector unlocks a four-port USB Type-A hub on the PA32UCX-PK and a three-port USB 3.1 Gen 2 Type A hub on the PA32UCG-K for seamless integration of external storage and peripherals into your single-cable connection. 60W charging via Thunderbolt 3 keeps your laptop powered while it's docked, too.
No matter which of these three elite ProArt displays you choose, you can create with confidence that its color and brightness are reference-grade. We subject each of these displays to an exacting factory calibration that ensures an average ΔE of less than one out of the box, so you can trust that your content will look great from the moment you turn on the display. And to help creators maintain this exacting performance over time, we include X-rite's proven i1 Display Pro colorimeter with the PA27UCX-K, PA32UCX-PK, and PA32UCG-K.
ProArt Displays with USB-C make it easy to create
No matter whether you're just beginning your creative journey, spreading your wings, or soaring at the most elite levels of film, TV, or photography, there's an ASUS ProArt Display with convenient single-cable connectivity that's right for you. Plug into a large creative canvas where you can view your work with confidence and unplug when it's time to take your show on the road. Our creator-friendly features and the universal USB Type-C connector make it easy to use one of our monitors as the centerpiece of your studio.