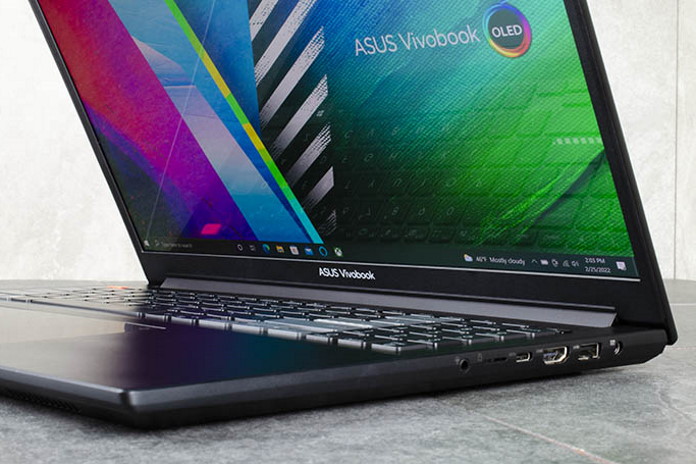 There's a lot to learn when you first start video editing. Getting comfortable behind a camera, learning about light, color, and composition, and getting used to the ins and outs of professional-level software all take time and effort. Widely available resources can help you get started, but there's one problem that can bring your progress to a grinding halt: an underpowered PC. In the past, I put up with aging machines that couldn't quite live up to my ambitions, but now the Vivobook Pro 16X OLED makes sure that my hardware doesn't hold back my creativity.
A laptop that does just fine with everyday tasks like browsing the web, editing office documents, and light photo editing might not have the chops to keep up once you start working with Adobe Premiere Pro and high-resolution assets. Without sufficient processing resources and free memory, you might find frequent stutters and hangups as you edit, and frustrating delays as you try to export your final projects.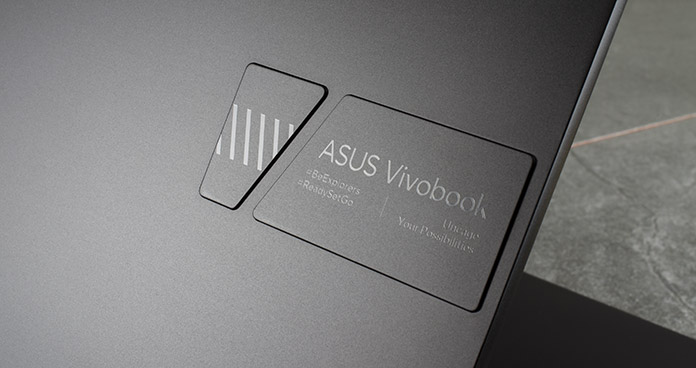 That's why professional video editors use specialized laptops for their work. Video editing isn't limited to pros with large budgets, though. Our own Vivobook Pro 16X OLED delivers everything you need to take your editing chops to the next level: an accurate OLED display, plentiful processing power, broad connectivity, and intuitive controls with the exclusive ASUS DialPad.
To make this accessibly priced laptop prove its worth in video editing workloads, I put together a music video in Adobe Premiere Pro. Throughout the process, it demonstrated its mettle as a credible content creation contender.
Great connectivity streamlines my process
After shooting the footage for my most recent video, I needed to transfer the files to my laptop and set up my workstation. Some laptops out there expect me to make do with a paltry selection of ports and a rat's nest of dongles, but the Vivobook Pro 16X OLED's built-in port selection gave me the connectivity I needed for fast file transfers, attaching secondary displays, and plugging in vital peripherals.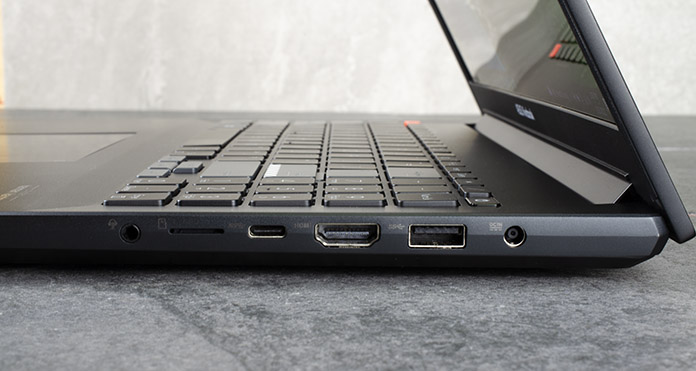 Moving the files from my camera to the laptop was a breeze. The integrated MicroSD card reader on the right side of the chassis let me pop in my camera's memory card, copy things over, and get working. Use a different storage media? The fast USB 3.2 Gen 2 Type-C port offers a high-bandwidth access point.
A pair of USB Type-A ports and an HDMI port make it easy to connect the tools of the trade: I can attach an external monitor, a control surface, and a mouse to their own ports, all without a splitter or dock. And Wi-Fi 6 wireless connectivity means that I can tap the latest standard's congestion-busting protocols when I'm connected to a Wi-Fi 6 router that's managing a network of Wi-Fi 6 devices.
The Vivobook Pro 16X OLED features an exceptional display
A petite 13" or 14" display is fine for everyday computing, in my book. But when I'm working on a video, I prefer a display with enough real estate so that I can have a clear view of my project in addition to the timeline and the other settings windows. The Vivobook Pro 16X OLED's 16-inch display, with its extra-tall 16:10 aspect ratio, gives me a large canvas for creative work. That's a large screen, but the notebook still travels with me easily. Since the laptop has ultra-slim NanoEdge display bezels, it's still compact enough to slide easily into my backpack.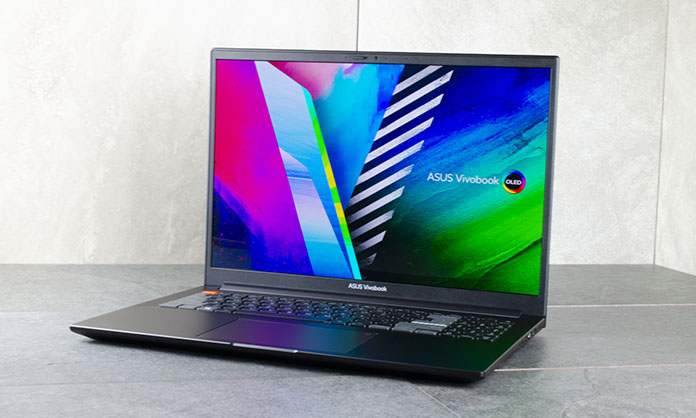 The display's size is just the beginning of its creator-friendly spec sheet, though. As a high-resolution 3840×2400 OLED panel that's tuned for color accuracy, it's uniquely well-suited for video editing. The display in the Vivobook Pro 16X OLED is Pantone Validated to achieve a △E of less than 2, and because it's an OLED display it delivers perfect, inky blacks. This means that I could make color adjustments to my footage with the confidence that the content will look correct on other devices.
Once I start working on a video, I don't like to set it down until it's done. That's why I love having a laptop as a creative workstation–I can stay productive even when I'm on the move. The versatile OLED display makes sure that I can edit in confidence anywhere. Its 550-nit peak brightness lets me work even in locations with plenty of natural light, and its high color volume in low-light settings lets me keep fine-tuning my projects even after the sun goes down.
There are so many ways that an OLED panel is perfect not just for video editing, but for everything I use a laptop for—click here for a rundown of all the reasons why your next laptop should have an OLED display.
Snappy performance in Premiere Pro
The Vivobook Pro 16X OLED's rich connectivity and a decked-out display ease my video editing process from start to finish. The components under the hood are just as crucial for keeping me focused and productive. The snappy, responsive performance from the Ryzen 7 5800H CPU kept Adobe Premiere Pro running smoothly as I assembled my video and applied a color grade.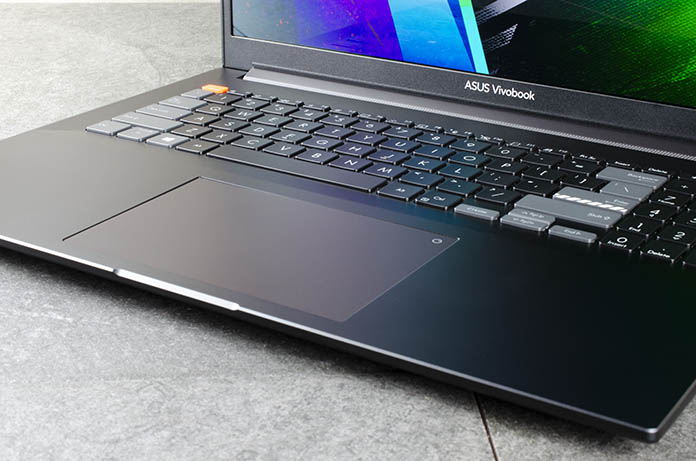 CPU performance is paramount for a seamless experience in Adobe Premiere Pro, but GPU resources are increasingly important, too. The software balances the workload between my GPU and CPU for better overall performance. With the GPU accelerating image processing, recoloring, resizes, color space conversions, timeline playback, and more, the app takes better advantage of the full resources of the Vivobook Pro 16X OLED.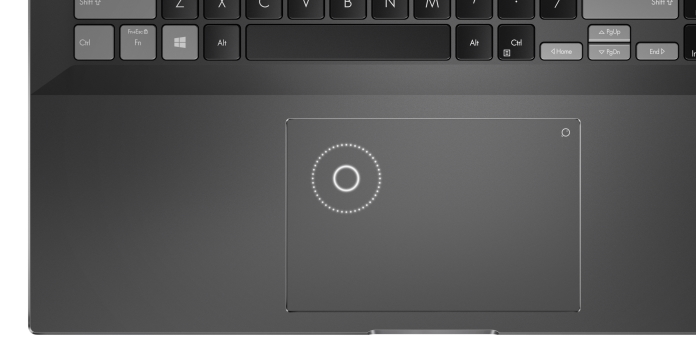 While I was editing, the ASUS DialPad gave me a convenient tool for controlling Premiere Pro. This circular region on the extra-large touchpad brings up a customizable set of functions on the main display when I tap the center of the DialPad. Then, with a spin of my finger I can do things like move the Timeline forward and backward. For many functions, it's a more intuitive way to interact with Premiere Pro than memorizing another hotkey, and it's fully customizable through the ProArt Creator Hub app. The ASUS DialPad is ready for action in other popular Adobe apps, too–check out our guide for how to integrate it into your creative workflow.
Crushing those export times with the Vivobook Pro 16X OLED
Once I had all my clips lined up, my effects in place, and my color grade completed, it was time to export my video and wrap the project up. This is the moment where I've encountered nothing but frustration with some other laptops that I've worked with in the past. It's not just me—talk with almost any video editing veteran, and they'll have horror stories to tell about exports that took too long or crashed mid-process.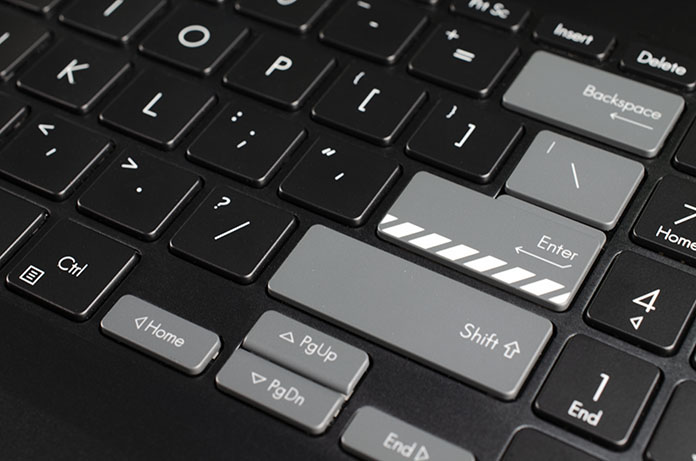 With today's powerful multicore CPUs, those horror stories can be relics of the past. The 45W Ryzen 7 5800H in the Vivobook Pro 16X OLED, with its eight cores and sixteen threads, was born for tough tasks like encoding media files. It needed just over a minute to export my four-minute music video. For comparison's sake, I loaded up the same project on an older laptop with a 15W four-core, eight-thread CPU. This four-year-old CPU does just fine for a wide range of activities—but it needed eleven and a half minutes to do the same export. While it's no surprise that newer chips outperform older ones, the massive performance gap between the two machines shows how much more efficiently creators can work on a laptop with a higher-wattage CPU with plentiful cores on tap.
Cool, comfortable, and quiet
Higher-powered components produce more heat under load than standard chips. In order for the Ryzen 7 5800H CPU and GeForce RTX 3050 Ti GPU to deliver their full performance, they need a laptop cooling system that can keep them cool and comfortable. The dual-fan IceCool Plus thermal system in the Vivobook Pro 16X OLED keeps the CPU and GPU from throttling even under sustained workloads. That lets me fire up even a complex export with the confidence that the laptop will wrap up my work quickly and efficiently.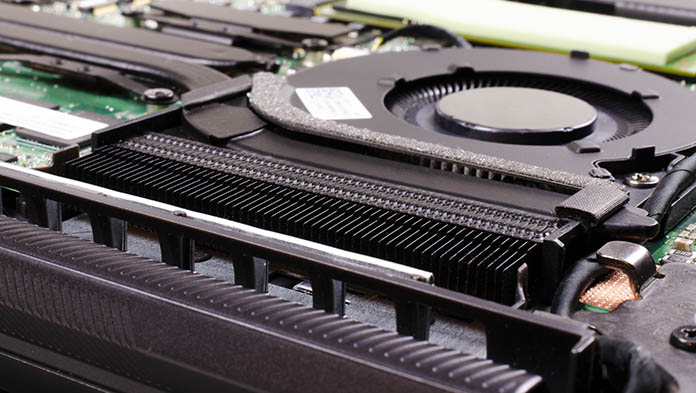 Sustained performance is just one benefit of the robust cooling system. It's about comfort, too. The specially designed fans move a large volume of cooling air at whisper-quiet noise levels, so I can work undistracted by excessive fan noise. And the laptop stays cool under my fingers while I work, giving me a comfortable experience even when I'm focused on a project for an extended period of time. Thanks to intelligent heatpipe routing, the hottest parts of the machine are never under the trackpad or the most commonly used parts of the keyboard, allowing me to leave my hands on the keyboard deck without ever noticing a temperature change. Click here for an extended look under the hood of the Vivobook Pro 16X OLED to see how the IceCool Plus thermal system works.
Vivobook Pro 16X OLED
Model
M7600
CPU
AMD Ryzen 7 5800H
Display
16" 4K 16:10 OLED
GPU
NVIDIA GeForce RTX 3050 Ti
Memory
16GB DDR4
Storage
1TB SSD
Wireless
WiFi 6
Bluetooth 5.0
Camera
HD Camera
Privacy shutter

I/O
1x USB 3.2 Gen 1 Type-A
1x USB 3.2 Gen 1 Type-C
2x USB 2.0 Type-A
1x HDMI 1.4
1x audio combo jack
MicroSD card reader
Battery
96Wh
Dimensions
14.19" x 10.20" x 0.74"
Weight
4.30 lbs
OS
Windows 10 Pro
Availability (U.S.)
ASUS
Newegg
Amazon
Best Buy
B&H
Professional creative power priced for everyone
Not that long ago, laptops capable of meeting the needs of professional creators were priced out of the reach of everyday enthusiasts, hobbyists, and college students. Like many other creatives, I made do over the years with the hardware on hand, grudgingly accepting the compromises in display quality, processing power, and connectivity that those machines made me tolerate.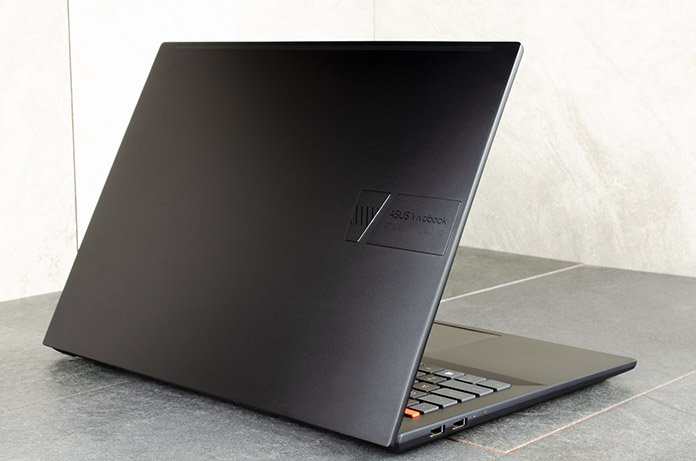 Now, all of that has changed. The Vivobook Pro 16X OLED shatters the boundaries between aspiring creators and the hardware they need. Starting at just $1,449.99, it provides an exceptionally accurate OLED display with wide color gamut coverage, a powerful Ryzen 7 CPU, broad connectivity, and the intuitive ASUS Dial. You'll even get a free one-month subscription to Adobe Creative Cloud with your purchase of a Vivobook Pro 16X OLED—click here for the full details on this promotion. If you're shopping for a laptop for video editing and you need to make every dollar count, this laptop offers bang for the buck that you just can't ignore. Purchase a Vivobook Pro 16X OLED today to put your own creative endeavors in the fast lane.