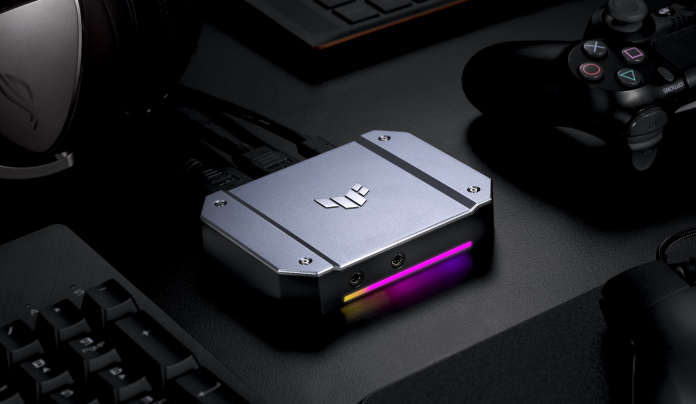 Variable refresh rate (VRR) tech is everywhere these days. If you bought a gaming monitor in the last couple years—and not necessarily even an expensive one—there's a good chance it features VRR. And since it's one of the best innovations in modern gaming, we've outfitted our entire ROG and TUF families from top to bottom with G-Sync and FreeSync to ensure you can play your games at high refresh rates without tearing or stuttering. Now, we're excited to offer VRR passthrough for the TUF Gaming Capture Box CU4K30. Existing owners can simply download and apply a firmware update to start enjoying fluid, tear-free gaming as they play and stream with HDMI 2.1 VRR-compatible hardware.
To find out if your display is compatible with VRR passthrough on the TUF Gaming Capture Box CU4K30, check with the manufacturer to confirm that it supports HDMI 2.1 VRR.
An easy choice for streaming
The TUF Gaming Capture Box CU4K30 makes it easy to share your gameplay with the world. Plug it into a compatible PC using a USB 3.2 Gen 1 port, and you're ready to stream and record its output with your favorite software. The TUF Gaming Capture Box CU4K30 is certified for use with Open Broadcaster Software (OBS) Studio, and you can also use it as a source within Xsplit Gamecaster, Streamlabs OBS, and most any other streaming application that can accept a video source.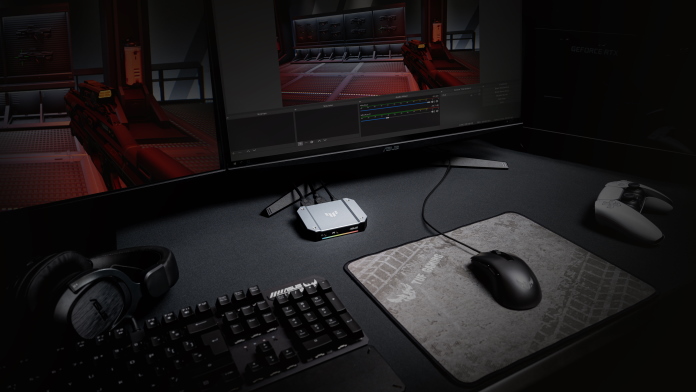 What devices can you connect to the CU4K30? Just about anything you can connect to an HDMI port: gaming consoles, PCs, even a mirrorless camera or DSLR. A dedicated 3.5 mm combo input lets you game using your headset and record console party charts to share your squad's real-time reactions and in-game banter in addition to your gameplay.
VRR passthrough delivers pristine visuals
For many gamers, VRR is a must-have technology. If your display's refresh rate is out of sync with your GPU, you'll experience screen tearing—or have to rely on outdated tech like Vsync that introduces input lag. For gamers, that's a lose-lose situation.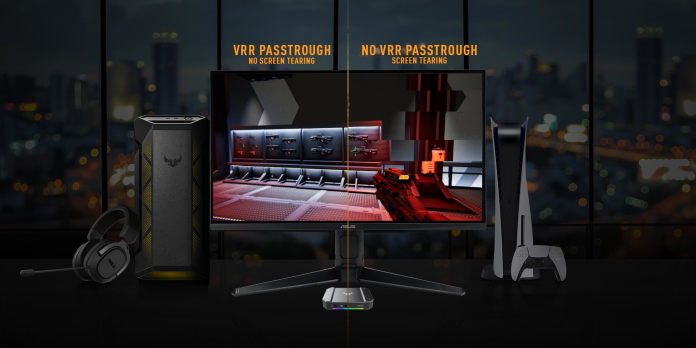 VRR neatly splits the horns of that dilemma by synchronizing your GPU and display. Your VRR-compatible display refreshes whenever a new frame is presented within its supported refresh rate range—and as a result, tearing and stuttering disappear. Frame rates naturally vary over time depending on the complexity of the scene being rendered, but as long as they stay inside the supported refresh range, you'll enjoy smooth, fluid gaming experiences. Now that the TUF Gaming Capture Box CU4K30 supports VRR passthrough, you'll have access to this tech as you stream your favorite games.
VRR passthrough rates (by resolution)
4K
48Hz - 60Hz
1440p
48Hz - 120Hz
1080p
48Hz - 120Hz
For VRR passthrough to work on the CU4K30, you need compatible tech at either end of the pipeline: both your gaming device and your display need to support the feature. If you're gaming on a PC, your NVIDIA or AMD graphics card is almost certainly ready to go. The tech has also made its way to current-gen consoles, including the PlayStation 5, Xbox Series X, and Xbox Series S. Owners of an Xbox One X or Xbox One S can get in on the action, too.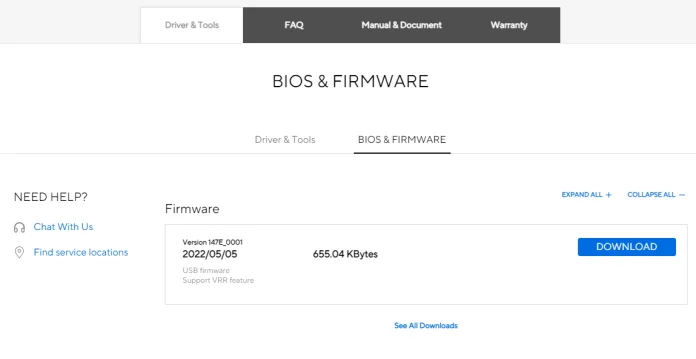 We've rolled out VRR passthrough tech as a free update for owners of the CU4K30. Visit the product's support page to download and install the latest firmware update, and you'll be ready to go.
Built inside and out for gaming
Perhaps you have the TUF Gaming Capture Box CU4K30 and a gaming device that's primed and ready for VRR passthrough, but you don't yet have a compatible display. Never fear—we have a wide array of options from our TUF Gaming and ROG product lines that are fully loaded with gaming features in addition to variable refresh rate support.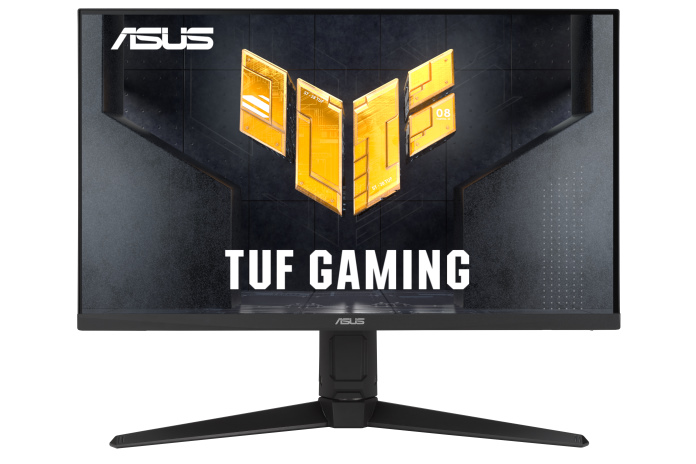 With its 4K resolution, 144Hz refresh rate, and Fast IPS panel, the 28-inch TUF Gaming VG28UQL1A is an especially good partner for the TUF Gaming Capture Box CU4K30. Even in the fastest-paced games, it gives you supremely clear images thanks to its ultra-low 1ms response time (GTG), ELMB Sync tech that banishes ghosting, and our exclusive Variable Overdrive technology.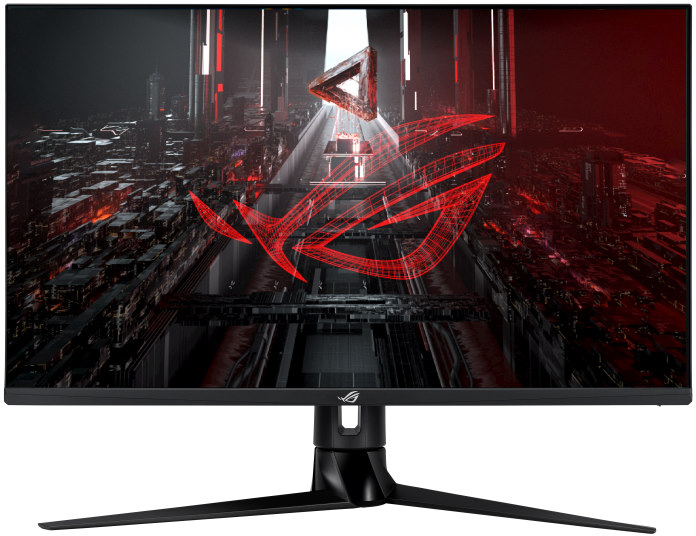 Looking for an even larger canvas for your games? Consider the 32-inch ROG Swift PG32UQ. This immersive display is loaded with luxuries for the discerning gamer. It offers both richly detailed images and lightning-quick animation with its 4K resolution and 144Hz refresh rate. HDR and quantum dot technologies allow this display to deliver a wider color range and high contrast levels than traditional monitors—it covers 98% of the cinema-grade DCI-P3 color gamut and boasts a VESA DisplayHDR 600 certification.
Hassle-free streaming, now with VRR passthrough
Sharing your gameplay with friends and family—or with your adoring throngs of subscribers on Twitch, YouTube, or Facebook—can be an easy process with the TUF Gaming Capture Box CU4K30. With its certified compatibility with OBS Studio, passthrough video support for a wide range of resolutions, and streamlined setup process, this compact device gives you an easy tool for going live from your console or PC.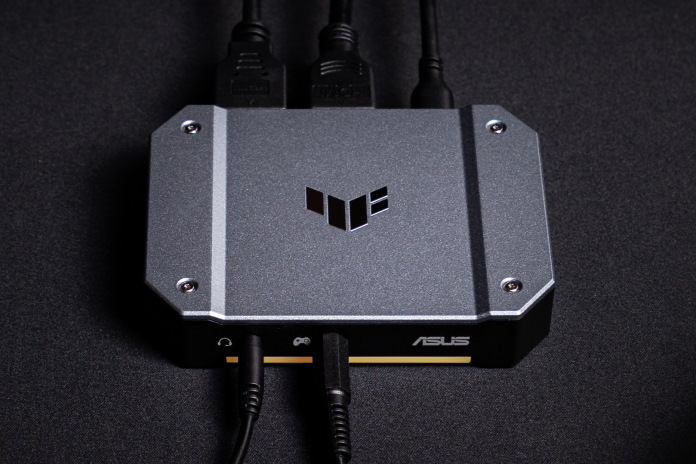 Thanks to VRR passthrough, you can now enjoy the conveniences of the CU4K30 and fluid, tear-free VRR gaming experiences at the same time. Grab the latest firmware update, connect a compatible gaming device and display, and you'll be ready to go.
Whether you're a console warrior or a PC enthusiast, the TUF Gaming Capture Box CU4K30 helps you take the plunge into streaming. Purchase one today to get yourself started—and pair it with a VRR-compatible device and display to get the most out of the experience.