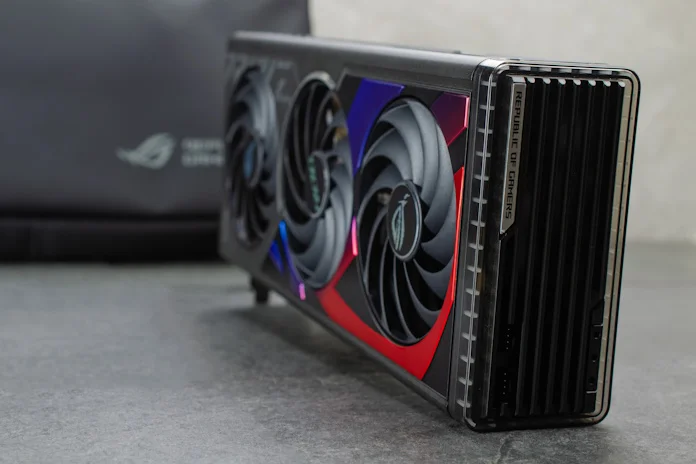 Black Friday 2023 has come and gone. We still have great gift ideas for the last items on your holiday shopping list, though. Head over to our Holiday Gift Guide to learn more.
Black Friday is just around the corner, but our deals are already rolling — and we're kicking things off with a discount that's sure to turn a lot of heads. For a limited time, we're knocking a full $150 (USD) off the list price of the ROG Strix GeForce RTX 4070 Ti OC Edition. This graphics card is fully loaded with a premium cooling solution, NVIDIA's latest 40 Series architecture, 12GB of GDDR6X, and audacious style that'll look good in any build. Read on for a closer look at what makes this GPU tick — or head straight over to Amazon to get one of your own while supplies last.
Thoroughly next-gen
During this Black Friday shopping season, you're going to see a variety of deals on graphics cards, last-gen and next-gen alike. (To be among the first to hear about our full selection of discounts as they become available, hit the "subscribe" button in the upper right-hand corner of this page.) But if long-term value is one of your top priorities when shopping for a graphics card, then it makes sense to upgrade to the latest platform.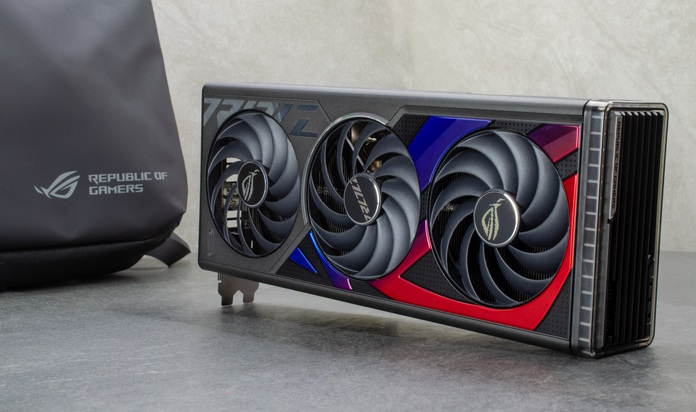 For every generation of GPUs, NVIDIA raises the bar with a new and refined feature set, making cards like the ROG Strix GeForce RTX 4070 Ti more tempting choices than last-gen models. There's a lot on offer with the cutting-edge NVIDIA Ada Lovelace architecture. Dedicated 3rd generation Ray Tracing Cores deliver the most realistic and immersive graphics available today across a wide range of compatible games. For accelerated performance with virtually no degradation to visual quality, you'll get access to the latest version of NVIDIA DLSS. NVIDIA Reflex ensures a low-latency experience for supreme responsiveness in fast-paced competitive gaming. With a 40 Series GPU, you even get streaming-focused tools like the NVIDIA Encoder and the NVIDIA Broadcast app.
Right now, there's no better showcase for the latest RTX features than Alan Wake II. This jaw-droppingly gorgeous game is not only a blast to play, but also a stunning introduction to how tech like ray tracing, DLSS, and ray reconstruction come together to produce an immersive, realistic gaming experience. The game also makes use of a new technology called mesh shaders to create richly detailed scenes. You can run the game on last-gen cards, but you'll get a much better experience with a 40 Series GPU like the ROG Strix GeForce RTX 4070 Ti — and you'll be much better prepared for future AAA games that use the same tech.
Built for supreme 1440p gaming
Check out the latest Steam survey about the hardware used by today's gamers, and you'll see that the fastest-growing display resolution segment is 2560×1440 (also known as 1440p or QHD). It makes sense that so many gamers are flocking to monitors with this resolution. It offers a substantial upgrade over 1080p in terms of visual detail. You'll enjoy great PPI in 27-inch displays, a size that's a natural fit for most desks. And today's graphics cards can run even the latest games at high frame rates when you load them up at 1440p.
If you're shopping for a graphics card for your 1440p display, you're almost certainly trying to find out which option will let you dial up the in-game graphics settings while still enjoying fantastic frame rates. The ROG Strix GeForce RTX 4070 Ti is that graphics card. It'll even let you throw ray tracing into the mix while still keeping FPS high, especially if you take advantage of DLSS.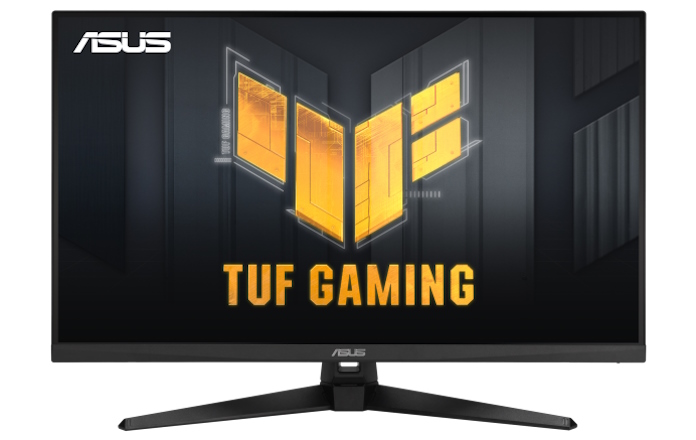 Perhaps you haven't yet upgraded to a 1440p display. Never fear — it's the Black Friday shopping season, and you know we have some options on sale. Go check out the TUF Gaming VG32AQA1A, a 32-inch display with a 2560×1440 resolution, a 170Hz refresh rate (OC), and 1ms response time.
Keep your cool with the ROG Strix GeForce RTX 4070 Ti
The GeForce RTX 4070 Ti provides a compelling combination of features and performance to 1440p gamers. But not every 4070 Ti is made equal. We armed the ROG Strix GeForce RTX 4070 Ti for great cooling that sets it apart from the pack.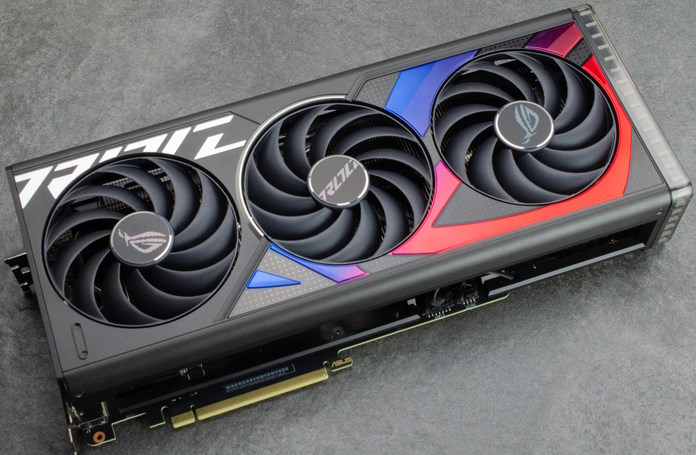 It starts with a generously oversized custom heatsink that soaks up heat from the GPU and nearby circuitry so that it can be whisked away by the three Axial-tech fans. These fans spin on dual-ball bearings for an extended lifespan, and we scaled this generation's units up to deliver 31% more airflow through the card. A massive backplate vent provides another pathway for heat to exhaust away from the graphics card. To ensure great air intake or exhaust for your graphics card exactly when you need it most, you can connect two of your chassis fans to two PWM FanConnect headers on the ROG Strix GeForce RTX 4070 Ti.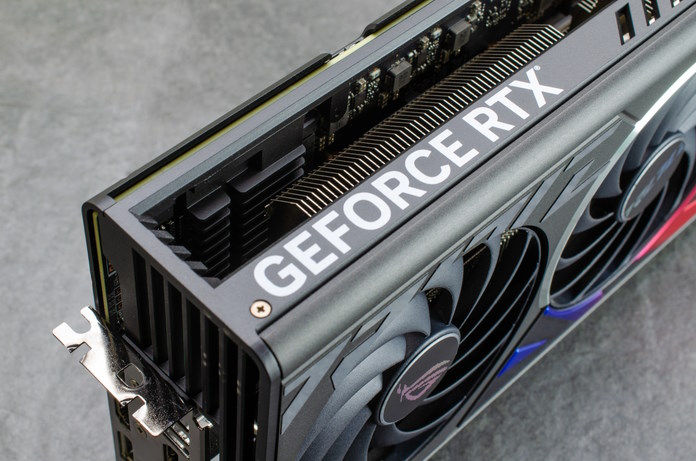 The ROG Strix GeForce RTX 4070 Ti's air superiority elevates every moment with your gaming PC. By effectively keeping the GPU cool, it ensures that you get the best sustained performance from your hardware. The cooling solution operates so quietly that fan noise never distracts you in the heat of battle. And the fans will spin down entirely when GPU temperatures drop below 50° Celsius, allowing you to enjoy silent operation during less-intensive tasks. For even quieter performance during gaming workloads, you can flip the Dual BIOS switch to Quiet mode to get a great balance of stealthy operation and potent gaming performance.
Built to last
Inside and out, we prepped the ROG Strix GeForce RTX 4070 Ti to go the distance. It's assembled with our Auto-Extreme Technology, which is an automated manufacturing process that sets new standards in the industry by allowing all soldering to be completed in a single pass. This reduces thermal strain on components and avoids the use of harsh cleaning chemicals, resulting in less environmental impact, lower manufacturing power consumption, and a more reliable product overall.
We armored this graphics card with a high-quality diecast metal frame, shroud, and backplate to prevent PCB flex. Your graphics card will keep its level over the long term. Large venting along the sides of the shroud facilitates heat dissipation.
Don't miss this Black Friday deal for the ROG Strix GeForce RTX 4070 Ti
The ROG Strix GeForce RTX 4070 Ti sits in the middle of our RTX 40 Series graphics card family, making it a tempting choice for a wide range of PC builders. Gamers who dare to want it all might prefer the most powerful gaming GPU we've ever made. Folks on a tighter budget might opt for a more-affordable option.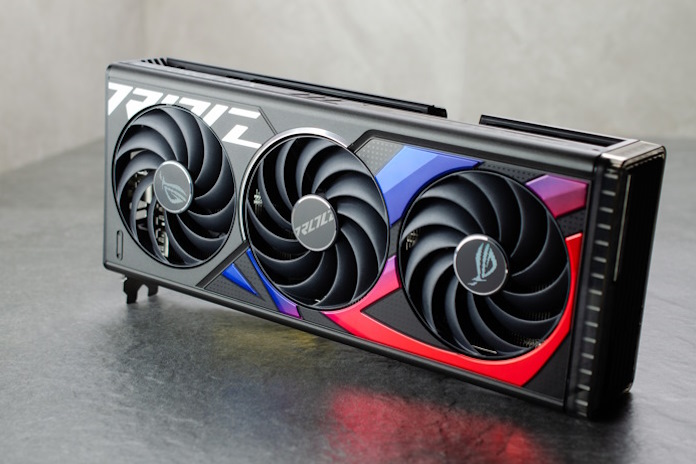 But for anyone looking for a graphics card ready to deliver great 1440p gaming for the long term, the ROG Strix GeForce RTX 4070 Ti is a standout option. Today, its value proposition is more tempting than ever. With a $150 price cut during Black Friday, there's never been a better time to upgrade your PC with this powerful, quiet, feature-rich graphics card. Follow the links below to purchase one of your own today.