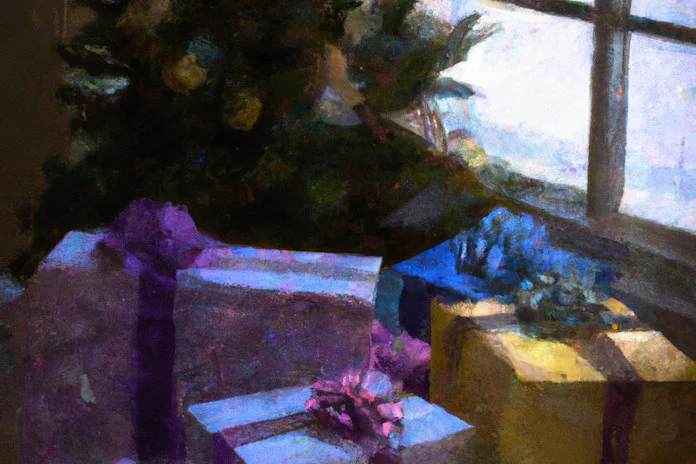 ASUS participates in several affiliate programs, including the Amazon Associates program, and may receive affiliate fees for qualifying purchases.
When you're watching a loved one open a gift that you bought for them, it's so much fun watching their eyes light up with joy. Want to see some eyes sparkle this holiday season? Few gifts create excitement quite like the latest tech. The right laptops, sophisticated peripherals, dazzling displays, or portable projectors make the best gifts for the friends and family on your shopping list.
We understand if you feel a little overwhelmed by all the possible gadget gifts out there. Unless you're as passionate about PCs, gaming, or digital content creation as the person you're shopping for, it can be tricky to find the right gift for them. That's where we come in. As PC enthusiasts ourselves, we manufacture some of the world's best laptops, desktop PCs, wireless routers, DIY components, and peripherals for every hobby and passion. In our holiday gift guide for 2023, we'll walk you through a selection of gifts tailored to meet the needs of everyone on your list.
Holiday Gift Guide 2023: pick up some stocking stuffers that are sure to please
We'll kick off our holiday gift guide 2023 with a selection of surefire hits, none of them too large to fit into a good-sized stocking. Here, you'll find lightweight tech that travels easily but makes a big impact.
Premium on-the-go audio: ROG Cetra True Wireless gaming earbuds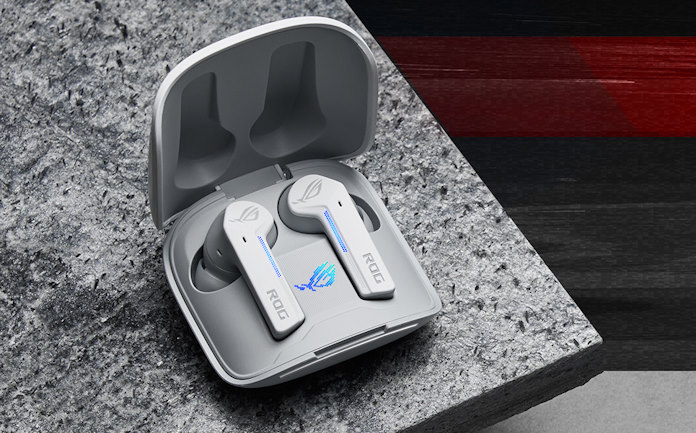 It seems like everyone's rocking wireless earbuds these days — they're such a convenient and comfortable way to listen to music, make phone calls, and enjoy your favorite media. For the gamer on your holiday shopping list, though, standard earbuds don't offer a complete experience. The ROG Cetra True Wireless earbuds offer a low-latency wireless audio connection in Gaming Mode that offers greater synchronization of audio with video for competitive gaming. These lightweight units have specially tuned 10mm ASUS Essence drivers that deliver high-quality audio, along with built-in active noise cancelation tech for use in noisy environments. And with their quick charging case, they're always ready for action.
Competition-grade accuracy: the ROG Harpe Ace Aim Lab Edition gaming mouse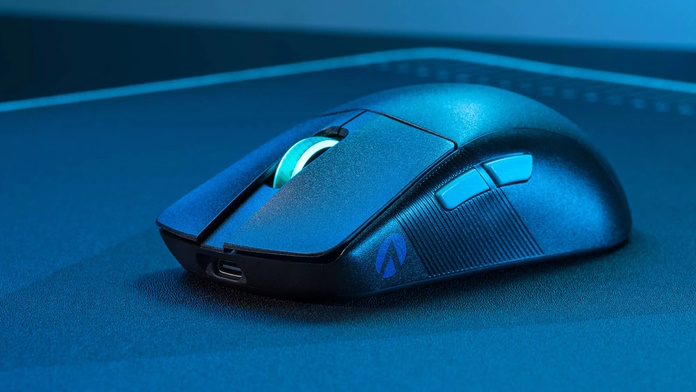 Seriously competitive gamers need every advantage they can get, and when it comes to battlefield agility and quick shots, your mouse can make or break your performance. That's why ROG has joined forces with Aim Lab to create a next-level wireless gaming mouse for pro-level performance. The ROG Harpe Ace Aim Lab Edition is an ultra-lightweight 54-gram wireless gaming mouse that's perfect for the frantic action of today's fast-paced competitive esports games. Its light weight lets it breeze across any mousing surface, and its next-gen AimPoint optical sensor tracks every movement with uncanny accuracy.
Compact without compromise: the ROG Falchion Ace gaming keyboard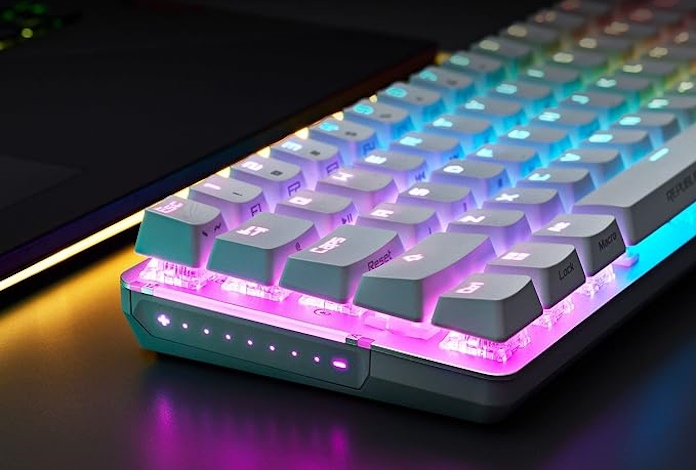 When it comes to keyboards, many folks today are going small. The ROG Falchion Ace is a gaming keyboard in the ultra-compact 65% form factor that saves desk space and leaves more room for your mouse hand without compromising on the essential keys. High-quality ROG NX Red mechanical switches deliver lightning-fast response times and a satisfying keypress feel.
Its wireless capability, powered by ultra-low-latency 2.4GHz RF technology, guarantees lag-free performance, while Bluetooth connectivity provides versatility for various devices. Customize your experience with per-key RGB lighting and programmable macros, and stay in command with the intuitive Armoury Crate app. For easy portability, the ROG Falchion Ace includes a high-quality travel case, and its pristine Moonlight White surfaces will give your setup a fresh look.
Great entertainment anywhere: the ZenBeam Latte L1 portable projector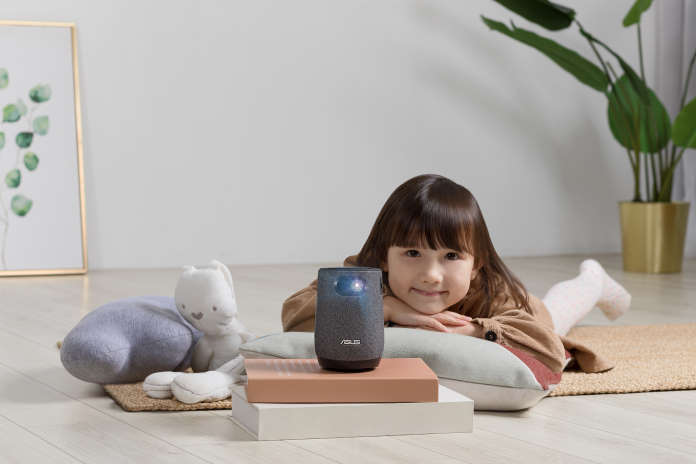 Watching videos and playing games are some of the most popular activities in many households right now, so as your loved ones gather this holiday season you might find there's a shortage of screens. The ZenBeam Latte L1 will alleviate the competition for the family room TV. This portable projector is about the size of a 16oz cup of coffee, yet it can display a 720p image that measures 120" across at 300 lumens of brightness. The Aptoide TV media platform will let your loved ones stream video from their favorite services, and since the Latte has a large battery that's good for three hours of video playback it won't even need a nearby outlet to perform its magic.
Give the gift of great home networking
Too many people struggle every day with an inconsistent home wireless network, not realizing that their outdated router is the culprit. Here in our holiday gift guide for 2023, you'll find plenty of options to give a loved one on your shopping list the gift of great internet.
Award-winning performance: the ZenWiFi XT9 mesh WiFi system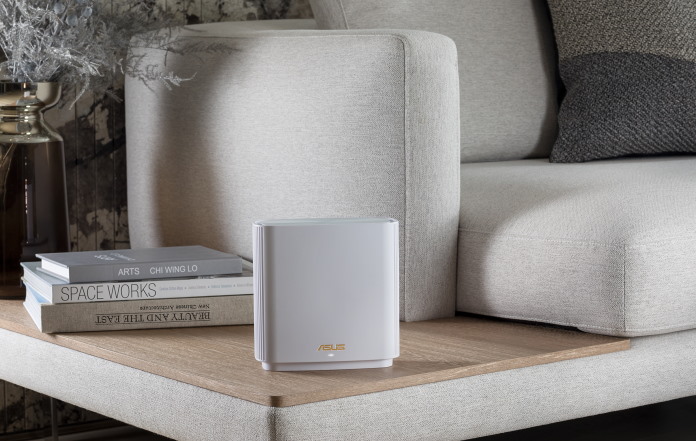 A mesh WiFi system is a fantastic way to get excellent coverage to every room in a house. For the person on your list with many internet-connected devices and a taste for elegant design, we recommend the ZenWiFi XT9. Offering excellent range, plentiful bandwidth, and the full capabilities of WiFi 6, this router ensures great connections for your wireless devices.
Extended range for a great price: the ZenWiFi XD5 mesh WiFi system
When some folks go shopping for the best mesh WiFi system, they're more concerned about getting reliable coverage to a large area than they are with raw networking speed. If your bandwidth needs are more modest, but you need a home network with plenty of range, consider the budget-friendly ASUS ZenWiFi XD5.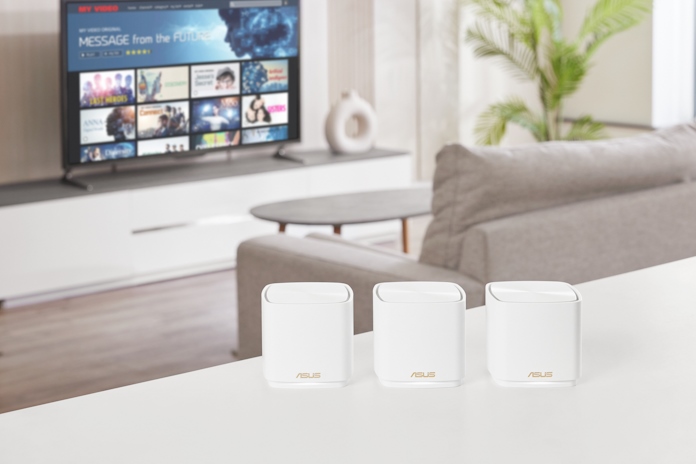 This dual-band mesh WiFi system offers high performance and extended range through its 5GHz and 2.4GHz bands. Yet its standout feature is its range. It's a strikingly affordable way to get three mesh WiFi nodes in one package. The three-pack can handle homes up to 4800 square feet. It's a great way to make sure you have excellent internet not only in your primary living spaces, but in an attached garage and backyard patio, as well.
Stylish mesh networking for gamers: the ROG Rapture GT6 mesh WiFi system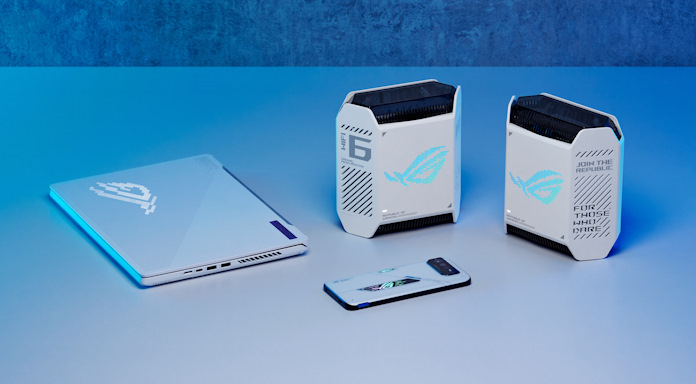 ROG's first tri-band mesh WiFi system, the ROG Rapture GT6, sizzles with great gamer style. It offers massive network capacity, and it's built inside and out for gamers. WiFi 6 tech makes it well-equipped to handle a full household of connected devices, and as a mesh system with two nodes, it can provide excellent coverage to larger, multi-floor homes.
Great networking for everyone: the ASUS RT-AX57 and ASUS RT-AXE7800 wireless routers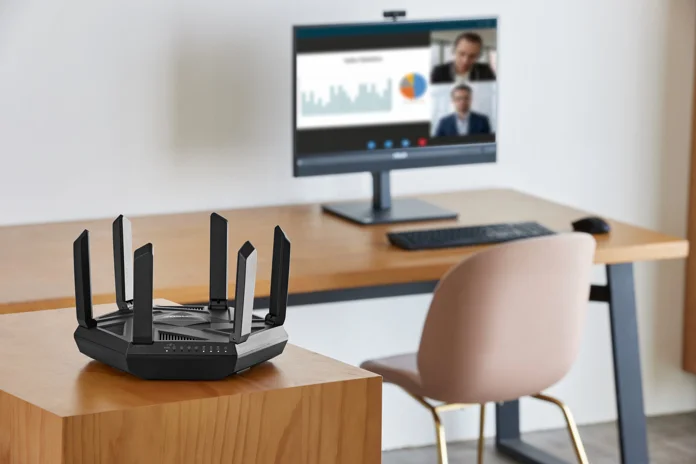 Finally, we'll highlight two models that offer great networking experiences without breaking the bank. The ASUS RT-AX57 brings WiFi 6 goodness to a wide audience with its complete feature set and attractive price point. It's a great pick for someone who has modest bandwidth needs but will definitely take advantage of the advanced parental controls, complete security toolkit, and VPN features that you get with ASUS routers — all without additional subscription fees.
Shopping for more of a power user instead? Check out the ASUS RT-AXE7800. As a WiFi 6E router, it lets users access the wide-open 6GHz band for interference-free networking for their most important devices. All kinds of devices right now are compatible with WiFi 6E, from the ROG Ally gaming handheld to the Zenbook S 13 OLED laptop to the latest iPhones, so it's very likely that your loved one will benefit from the extra bandwidth that WiFi 6E offers.
Lighten a loved one's load with travel-ready tech
Lots of folks find themselves constantly on the move these days. Today's students travel between school, work, and home, getting projects done and connecting with friends whenever and wherever they have a spare moment. Professionals often enjoy hybrid work arrangements that have them taking care of business at home or the coffee shop as often as they go into the office. And even when we're relaxing at home, many of us are as likely to find a shady spot on the back patio as we are to curl up on the couch.
It can be a little daunting to shop for loved ones fully immersed in the on-the-go lifestyle. If they need to be at their desk to enjoy the present you bought for them, they might not get as much use out of it as you hoped. Thankfully, you'll find many options here in our holiday gift guide 2023. With our ultraportable laptops, gamer gear, and portable monitors and projectors, you have plenty of choices for great tech gifts that make easy traveling companions.
The sustainable choice for your next ultraportable laptop: the Zenbook S 13 OLED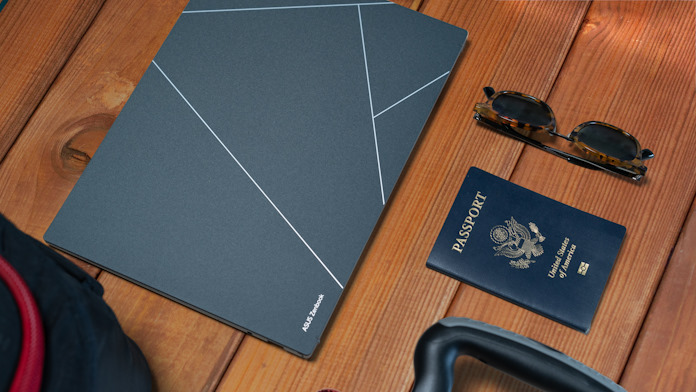 For many folks, sustainability is one of their primary concerns when they're shopping for new tech. As you're looking for a new laptop for someone on your shopping list, you're likely thinking about the sustainability of this choice, too. Introducing the world's slimmest OLED laptop. Our award-winning, powerful Zenbook S 13 OLED is thoughtfully made with over 50% post-industrial recycled (PIR) aluminum and magnesium-aluminum, ocean-bound plastic, and post-consumer recycled (PCR) plastic. Certified EPEAT Gold, the slim Zenbook S 13 OLED is finished with detailed craftsmanship using a plasma ceramic coating, maintaining its excellent performance, long battery life, and long-lasting durability.
Fantastic price, unbeatable value: the Zenbook 14 OLED laptop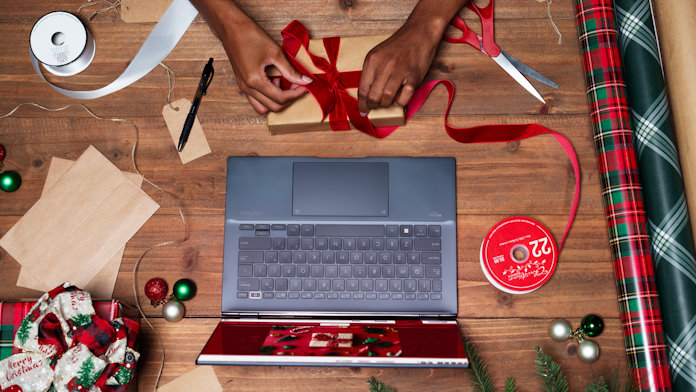 There are many reasons why a Zenbook laptop might be perfect for a special someone on your holiday shopping list. In this series, you'll find vibrant OLED displays, supremely thin designs, snappy performance, and elegant style. Even with all these high-end features, the cost of entry into this series is lower than you might think. Take a look at the Zenbook 14 OLED. For less than $700 (USD), it offers a bright, true tone, high-resolution OLED display. Its AMD Ryzen 5 7530U processor, 8GB of RAM, and 256GB superfast SSD provide effortless performance for everyday computing. And it doesn't require much time connected to an outlet thanks to its long-lasting 75Wh battery.
Perhaps the person you're shopping for needs a bit more performance for content creation, design, and even moderate gaming. Our most popular, the Zenbook 14X OLED (Q420) quietly and efficiently uses additional processing power with the ultra fast Intel Core i7-13700H, 16 GB of RAM, and 512GB SSD. Looking for something even more powerful? Our Zenbook 14X OLED (UX3404) even offers the NVIDIA GeForce RTX 3050 Laptop GPU, a specialized graphics processing power complemented by the top-line Intel Core i9-13900H, 32GB of RAM, and a spacious 1TB SSD.
Extra screen space that travels: the ZenScreen MB16ACV portable display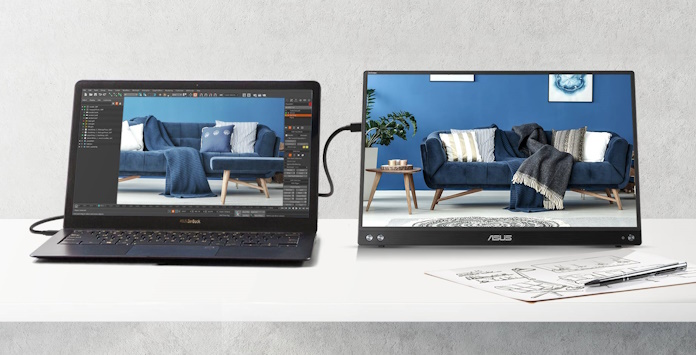 A portable display gives you the multitasking power of that desktop monitor in a slim form factor that travels just as easily as your laptop. The ZenScreen MB16ACV is a convenient portable companion for anyone on your shopping list who does a lot with their laptop on the go. This 15.6" plugs in easily to just about any laptop, and it'll give your loved one extra screen space for multitasking. It even has a hygienic, embedded anti-bacterial coating in the body of the display to help keep your friend or family member safer and healthier as the MB16ACV moves with them.
Bring a bright, vibrant display anywhere: the ZenBeam L2 and ZenBeam E2 portable projectors
ZenBeam portable projectors are a great pick for holiday fun — and they're a practical choice, too, for anyone on your shopping list who could use a handy display that travels with them. We highlighted the pint-sized ZenBeam L1 earlier in the holiday gift guide 2023 as a stocking stuffer, but our ZenBeam lineup has even more options that might be better suited for your gift recipient.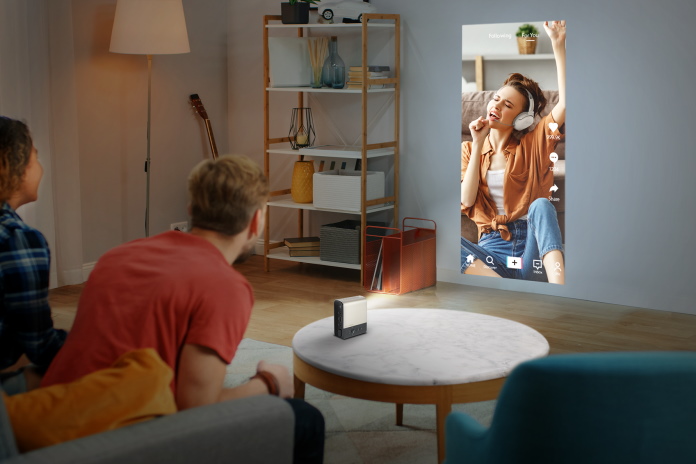 The ZenBeam E2 makes it easy to put your favorite media up on a wall for everyone nearby to enjoy — no matter where it's in a horizontal or a vertical layout. This battery-powered projector ensures you don't even need to have an outlet nearby to start the fun. When you're using wireless mirroring mode, its integrated G-sensor automatically projects images exactly as they're shown on your smartphone screen without requiring you to change a single setting. Most projectors require an elaborate setup and connection process, but not the ZenBeam E2. Set it down a mere 2.8m away from your display surface, and it can project a large image with a 100" diagonal.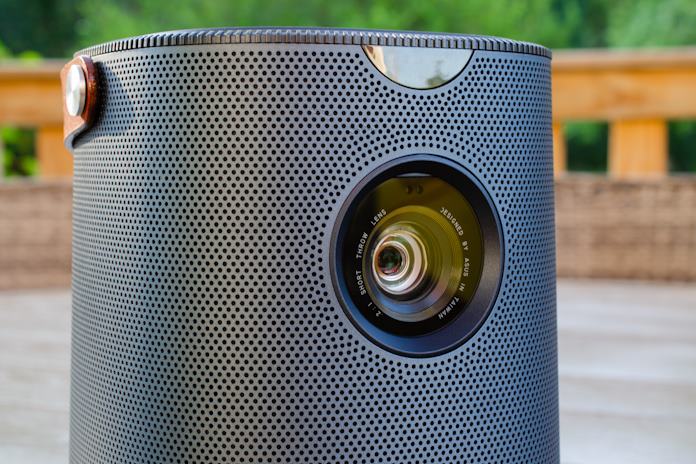 If you put a premium on peak brightness and higher resolution, the ZenBeam L2 might be the best fit. It's a bit larger than the ZenBeam L1, though still plenty portable with its built-in leather carrying strap and bundled traveling case. Its larger dimensions let us go big on key specs. With 960 LED lumens output, Full HD native resolution, and compatibility with 4K content, it offers an immersive experience anywhere.
PC gaming in the palm of your hand: the ROG Ally
For the gamer on the list who's always on the go, the ROG Ally is the perfect present. It's a full-featured gaming handheld, but unlike some competitors on the market, it runs Windows 11. That means that your loved one can play the games that they already own on the platforms that they already use. It has a bright 7-inch screen that's built for gaming in Full HD with a 120Hz refresh rate and FreeSync Premium. And since it works with our ROG XG Mobile ecosystem of external GPUs, your loved one can easily transform the ROG Ally into a true gaming battlestation when they're at home.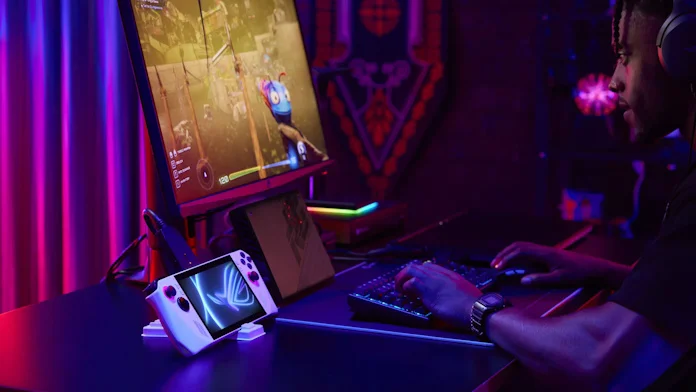 We offer the ROG Ally in two variations. The baseline option offers snappy performance courtesy of an AMD Ryzen Z1 processor, and it's a great fit for anyone who tends to play indie games, platformers, and fast-running competitive games like Rocket League. The more powerful option — which only costs $100 (USD) more — boasts an AMD Ryzen Z1 Extreme CPU, and it's ready for AAA gaming. It's a great pick for a gamer who loves to play the latest titles on the go.
Lay the foundation of a new DIY PC with our Holiday Gift Guide 2023
The best gifts aren't just presents — they're reasons to spend quality time with the people you love. This holiday season, consider building a PC with someone on your shopping list. It's a great excuse to get together, plan out the parts, assemble the machine, and feel a shared sense of accomplishment. To make the planning stages easy, we've curated a selection of motherboards, AIO liquid CPU coolers, and PC cases for our holiday gift guide 2023 that will work great together for a new build.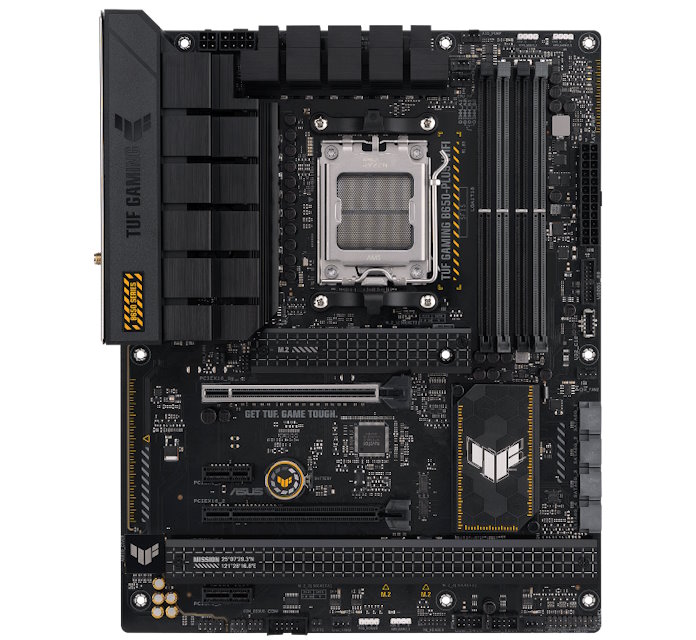 We'll kick off the list with two eminently affordable options from TUF Gaming. Builders everywhere turn to TUF Gaming when they're on the hunt for a no-frills gaming motherboard with a ruggedized aesthetic. The TUF Gaming B550-Plus WiFi II is an extremely attractive choice for building a budget-friendly PC around a last-gen AMD Ryzen CPU. But we're partial to the TUF Gaming B650-Plus WiFi. Ready for AMD's latest Ryzen 7000 Series CPUs and priced to move, this feature-rich motherboard will give you years of gaming excellence.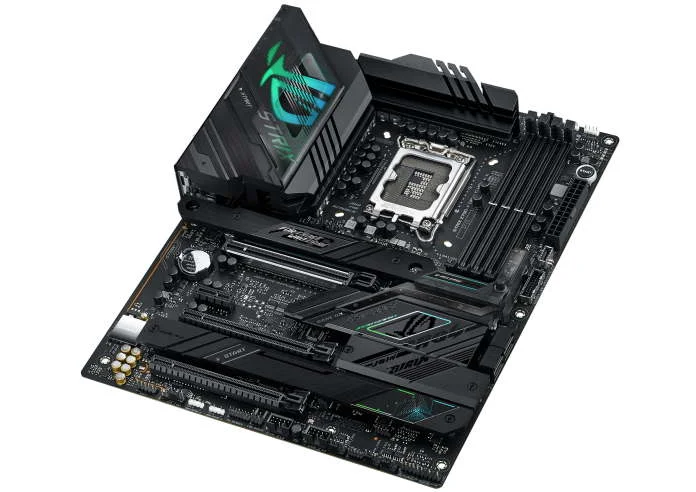 Perhaps the loved one you're planning this build with prefers Intel CPUs instead? We've listed a few options in the table below, but we'll highlight the ROG Strix Z790-F Gaming WiFi. It offers an excellent suite of high-end features at an attractive price point. As a Z790 motherboard, you'll be able to easily overclock your K-series 14th Gen Intel Core CPU, and our Ai Overclocking software suite makes the process easy. Four M.2 slots let you quickly set up a large and speedy storage array, while onboard WiFi 6E provides fast wireless networking.
Bold style, exceptional cooling: the ROG Ryuo III 360 ARGB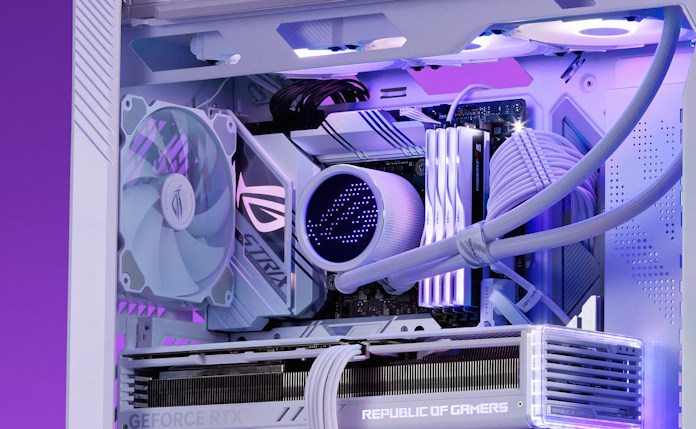 Next, let's keep your brand-new CPU cool in style. The ROG Ryuo III 360 ARGB AIO liquid cooler is ready to tame the thermals of your high-performance rig with its 8th Gen Asetek pump, large 360mm radiator, and performance ROG AF 12S ARGB fans. Its bold design is a great fit for ROG motherboards. A customizable AniMe Matrix display embedded in the pump housing gives you a bold way to express your personality. And since it's available in both pristine white and classic black, it's easy to match with the color theme of your build.
The new home for your showcase build: the TUF Gaming GT502 chassis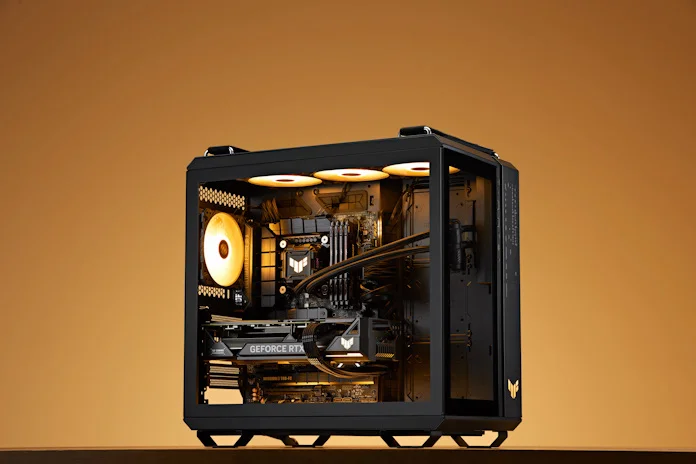 The build you're planning with your loved one deserves a chassis worthy of the occasion. Check out the TUF Gaming GT502 chassis. First and foremost, durability and reliability take center stage with its rugged construction and military-grade components, ensuring your gaming rig stays safe and operational for years to come. The chassis provides excellent thermal performance, thanks to its optimized airflow design and support for multiple cooling fans and radiators, keeping your components cool under intense gaming sessions.
Cable management is a breeze with thoughtfully designed routing channels, allowing for a clean and clutter-free interior. Additionally, the GT502 boasts ample space for high-end hardware, accommodating large graphics cards and extensive storage options. With its striking aesthetics and customizable RGB lighting, this chassis not only offers superior functionality but also adds a touch of style to your gaming setup. As with the ROG Ryuo III 360 ARGB, you have your pick of a white version and a black version.
Bring the holiday cheer with premium gaming keyboards
If you're shopping for a long-time PC enthusiast, they might have plenty of keyboards lying around — but they may not actually like any of them. The budget boards that were bundled in the box with their old builds might get the job done, but they don't offer anywhere near the same experience as a modern, fully featured gaming board. If you're shopping for a relative newcomer to the world of PC hardware, it's even more likely that they're getting by with a basic keyboard. Time to rescue them with a premium option from ROG.
Stylish excellence with a numpad: the ROG Strix Scope II 96 Wireless gaming keyboard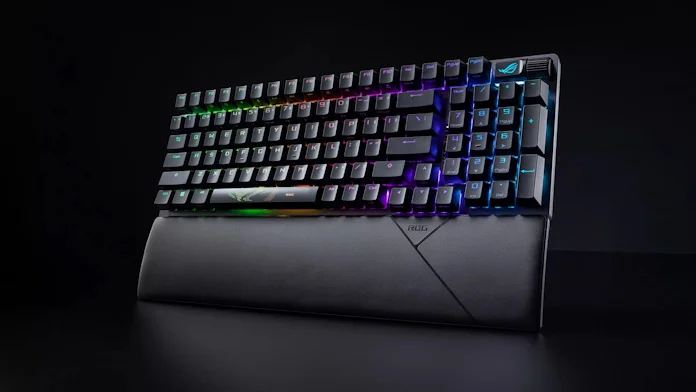 Many folks these days are gravitating to compact keyboards with a minimal desktop footprint, but not everyone is ready to give up the number-crunching convenience of a numpad. For them, the ROG Strix Scope II 96 Wireless is the perfect fit. This gaming keyboard retains all function and number keys in a surprisingly compact and efficient layout. For quiet typing, it features integrating dampening foam and an added switch-dampening pad structure that absorbs pinging noises and echoes. It won't be a distraction as nearby roommates are trying to sleep.
Endless customization: the ROG Azoth gaming keyboard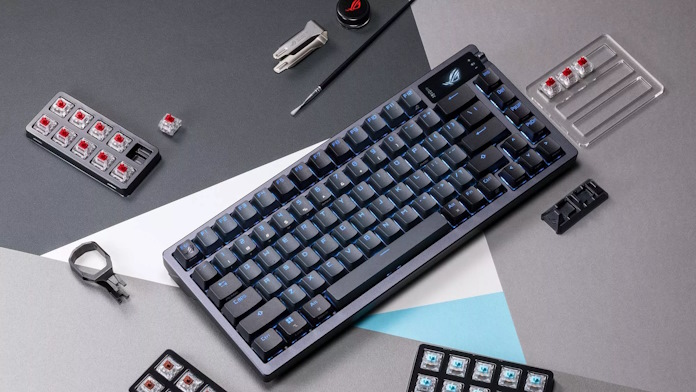 It's never been easier to personalize the look and feel of your keyboard. For the loved one on your holiday shopping list who loves customizing their hardware, the ROG Azoth beckons. It's a 75% gaming keyboard bristling with DIY features traditionally found on premium custom keyboards. A metal top cover with silicone gasket mount and three-layer dampening, hot-swappable, pre-lubed ROG NX mechanical switches and keyboard stabilizer, ROG PBT doubleshot keycaps and bundled switch lube kit combine to create unprecedented typing experiences. The ROG Azoth also has an OLED display with intuitive controls, versatile tri-mode connectivity with SpeedNova wireless technology in 2.4 GHz mode, three adjustable tilt positions, and macOS support.
Holiday Gift Guide 2023: Level up a loved one's gaming with a new graphics card
2023 has been a banner year for PC gaming. With titles like Baldur's Gate III, Alan Wake II, Resident Evil 4 Remake, Starfield, Dead Space, and Hi-Fi Rush all making themselves a case for game-of-the-year awards, it's quite likely that someone on your holiday shopping list has a game that they're just aching to play — but they might not have a graphics card that gives them experience that they're looking for.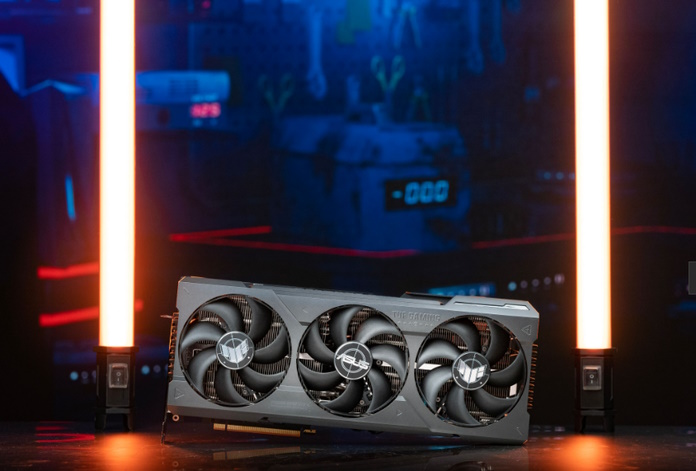 One of our NVIDIA 40 Series graphics cards might be just what they need to bring their gaming PC into the fast lane. In the table below, you'll find a selection of graphics cards that will be drop-in upgrades for a wide range of gamers. The TUF Gaming GeForce RTX 4060 Ti brings the full suite of RTX features to 1080p gamers, including ray tracing and DLSS with Frame Generation. For someone who's getting started with video memory-hungry tasks like VFX, the ProArt GeForce RTX 4060 Ti with its 16GB pool of VRAM might be the better play. And it's hard to ignore the exceptionally well-balanced TUF Gaming GeForce RTX 4070.
For a gamer who prefers to play on a higher-resolution 1440p display, upgrading to the TUF Gaming GeForce RTX 4070 Ti or ROG Strix GeForce RTX 4070 Ti have greater resources to bring to bear on more demanding gaming scenarios. They have what it takes to allow gamers to crank the graphics settings up to Ultra at 1440p in most games — and the exceptional cooling solutions that hardware needs to perform at its best.
Open a dazzling window to new worlds with these gaming monitors
A gamer's display is their window to digital worlds. A great display can give them an edge in competitive games and immerse them like never before. For the holiday season, we're highlighting a selection of monitors ready to take any gamer's setup to the next level.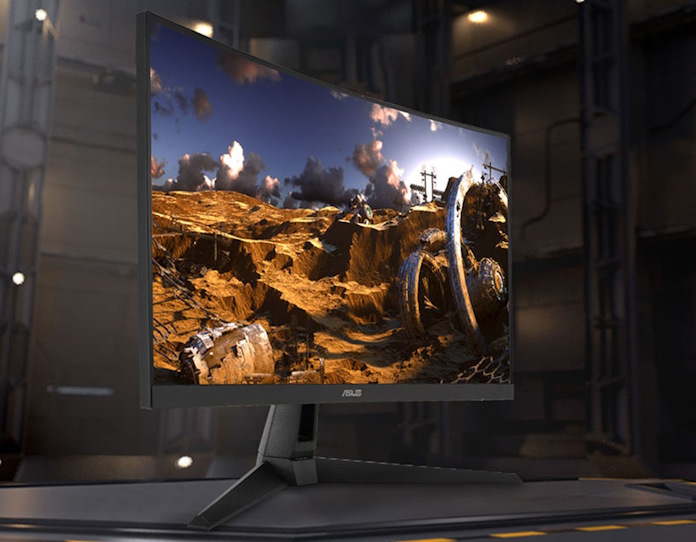 For gamers just getting started, we'll recommend the well-balanced TUF Gaming VG27WQ1B. As a QHD display with a fast 165H refresh rate, it offers detailed images and fluid animation, so it's equally at home with story-driven games and fast-paced titles. If you're shopping for a gamer who plays competitive esports first and foremost, they might prefer the ROG Strix XG259QN. In the smaller 24.5-inch size preferred by many esports professionals, it offers a blazing-fast 380Hz refresh rate that keeps gamers on top of every moment of the action. For the gamer who wants it all, we'll recommend the ROG Swift OLED PG27AQDM. As an OLED gaming monitor, it offers the vivid colors, astonishingly low refresh rates, and inky backs that gamers covet.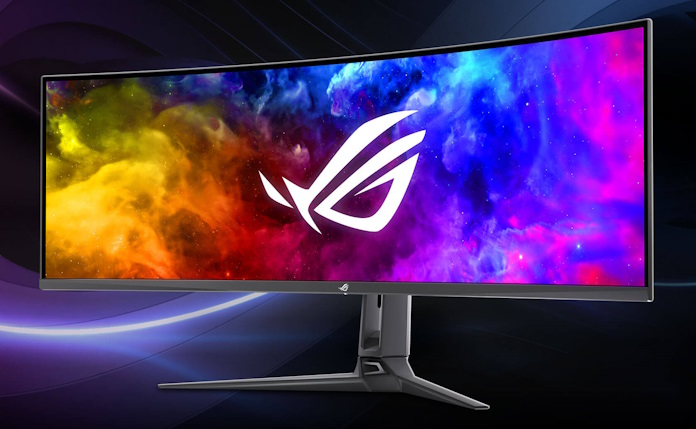 To wrap up this list of monitors for our holiday gift guide 2023, we'll highlight two super-ultrawide displays. These massive monitors offer as much screen space as two separate 27-inch displays, but rolled up into one immersive 49-inch panel. Go for the ROG Swift OLED PG49WCD to enjoy all the advantages of a premium OLED panel, or opt for the ROG Strix XG49WCR if a VA panel will get the job done. Either way, your loved one will enjoy Smart KVM tech that will allow them to control two devices with the same monitor, a speedy refresh rate, and a detailed 5120×1440 resolution.
Kickstart a loved one's passion for PC gaming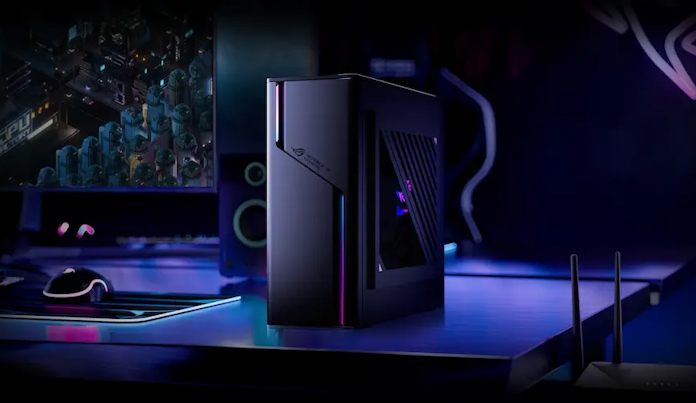 Last but certainly not least, let's talk about gaming laptops and desktops. They're perfect choices for someone on your list who's ready to dive into PC gaming. The TUF Gaming A15 will give them everything they need to get started, and its price is hard to beat. For someone on your list who prefers a desktop, but needs something that doesn't need a lot of space — a loved one who lives in an apartment or a dorm room, perhaps? — the ROG G22CH desktop PC offers substantial gaming horsepower in a startlingly compact design.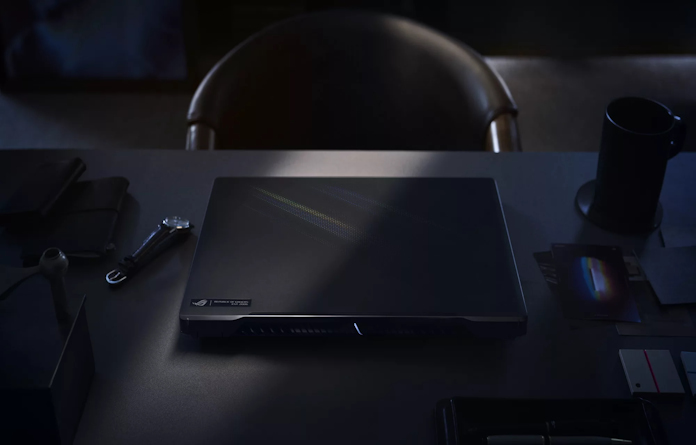 Some folks need a laptop that's comfortable in both their professional lives and their gaming lives. The ROG Zephyrus M16 never feels out of place with its subdued colors, sophisticated finish, and slimmed-down chassis, yet it houses premium gaming hardware that's ready for any game out there. ROG Intelligent Cooling tech does the behind-the-scenes work to allow such powerful components inside to perform their best in this supremely slim chassis, all while keeping temperatures and fan noise low.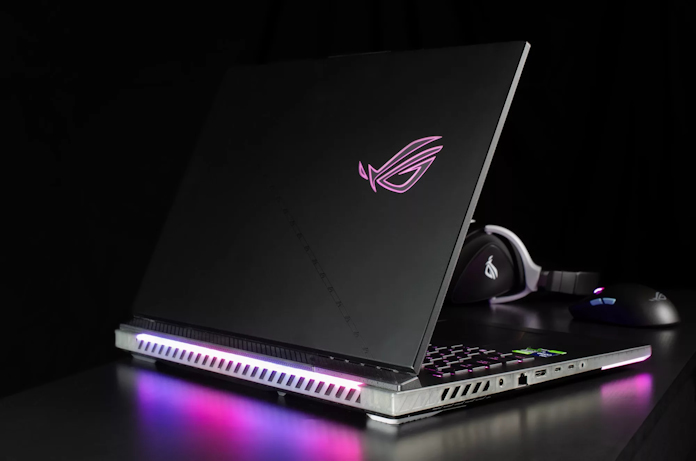 Finally for our holiday gift guide 2023, we present the current gaming champion of the ROG laptop lineup: the supremely powerful ROG Strix SCAR 18. The perfect present for the gamer who wants it all, this cutting-edge machine boasts an immersive 18-inch ROG Nebula HDR display that offers a premium experience in any game on the market. The dynamic duo of an Intel Core i9-13980HX CPU and NVIDIA GeForce RTX 4090 Laptop GPU — both top-end silicon — gives it muscular performance in every game on the market. With its bold design and Aura Sync RGB LED lighting, it's a stunner, too.
Holiday Gift Guide 2023: even more options at the ASUS store
We hope you've found the perfect presents for your friends and family in our holiday gift guide 2023 — and maybe even a little something for yourself while you're at it. But if you need even more ideas, head over to the ASUS store. There, you'll see our latest deals and discounts on a wide range of tech.
*UNII-4 spectrum support not available in all regions due to current regulatory restrictions.