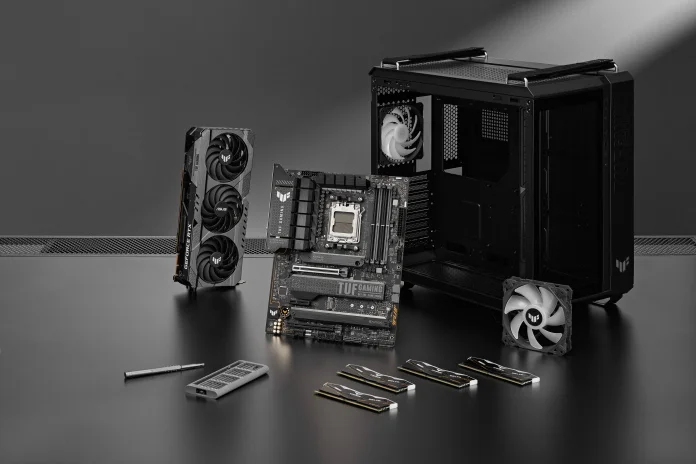 NVIDIA's hotly-anticipated GeForce RTX 4000 series of graphics cards made a grand entrance in the fall of 2022, and we kicked off the party with new entrants from ROG Strix and TUF Gaming. In order to give you an ideal balance of performance, thermals, and fan noise from these supremely powerful cards, we designed our GeForce RTX 4090 models with cooling as our top priority. That's why these graphics cards employ thick heatsinks, triple-fan designs, sturdy vented backplates, and custom vapor chambers—and why they're able to boast a hefty performance increase while keeping GPU temperatures and acoustics at similar levels to the previous generation model.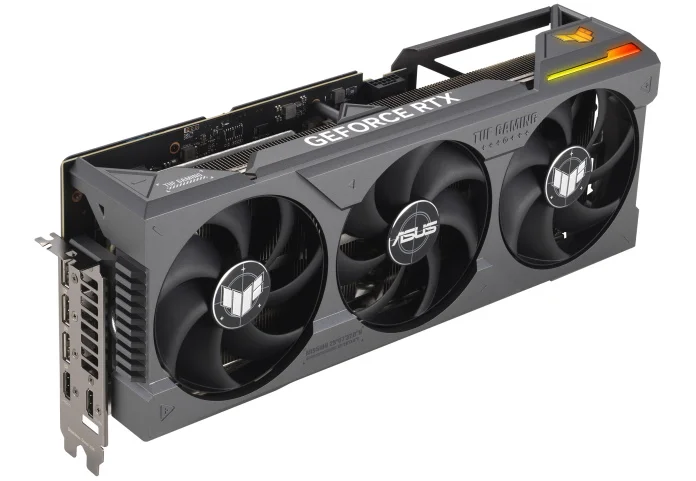 This beefy cooling hardware does require some breathing room to do its work. The ROG Strix GeForce RTX 4090 has a 3.5-slot design and checks in at 357mm long. The TUF Gaming GeForce RTX 4090 is a bit shorter at 348mm, yet has a thicker 3.65-slot design. And our upcoming ASUS GeForce RTX 4080 Noctua Edition, with its beefy 4.3-slot cooler, state-of-the-art Noctua NF-A12x25 fans, and vapor chamber cooling, is the quietest RTX 4080 on the market.
Perhaps your current PC case doesn't offer quite enough room for one of these pioneering graphics cards. Before you break out your favorite rotary tool to cut a path to freedom, we might suggest a case upgrade. We have two spacious options ready for you to consider as you hunt for the best case for an RTX 4090: the ROG Strix Helios and the TUF Gaming GT502.
Tower over the competition with the ROG Strix Helios
Let's start with the perfect home for your ROG Strix GeForce RTX 4000-series card: the ROG Strix Helios. This mid-tower case is easy to build in, packed with features, and brimming with confidence.
The roomy interior of the Helios gives you the flexibility to work with just about any components you choose. It supports graphics cards up to 450mm in length, so you'll have room to spare even with our longest GeForce RTX 4090 option. You can install any size motherboard up to a monster EATX model—such as the glorious ROG Maximus Z790 Extreme. You'll have just as many options when it comes to cooling. The Helios can accommodate radiators up to a whopping 420mm in size. A dedicated fan speed control on the front panel gives you a convenient tool to adjust the cooling power of your rig, too.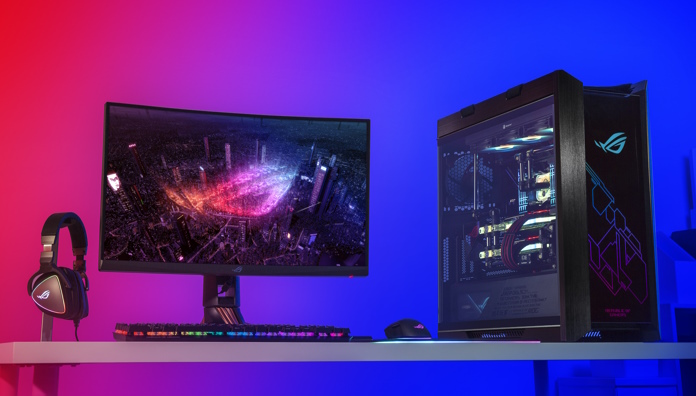 The Helios gives you ample tools for constructing a build with a clean, coordinated look. A shroud separates the PSU from other heat-producing components and keeps power cables tucked away out of sight. We figure that you might mount an ROG Thor PSU under that shroud, so the Helios has a window for keeping an eye on that unit's LiveDash OLED panel. Extensive cable management options fill the space behind the motherboard tray. Tool-free access through both side panels lets you tinker with your build to your heart's content. Just use the releases on top to let the panels swing down and open.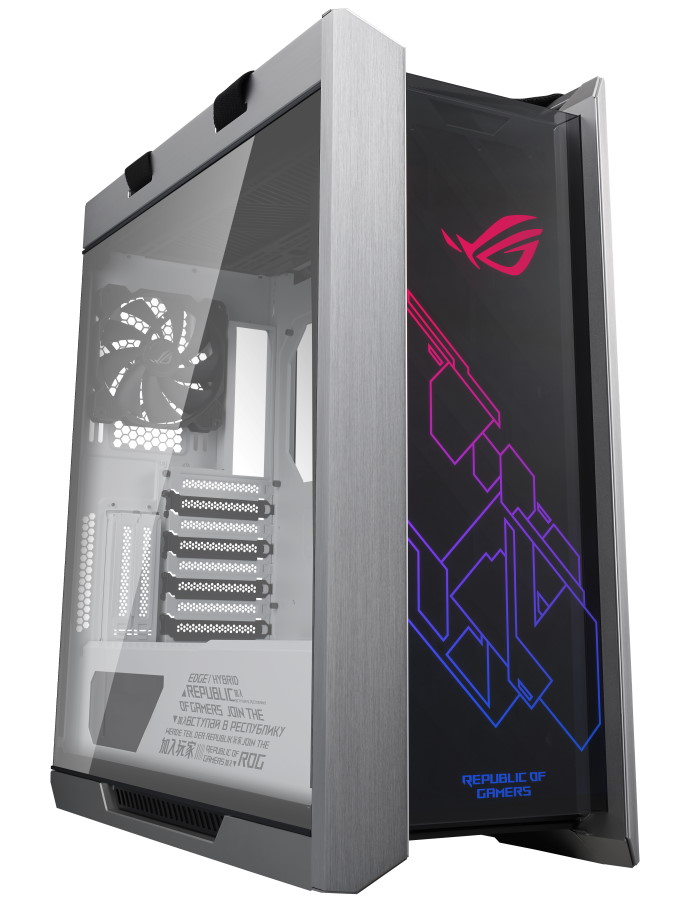 Finally, the Helios scratches your itch for customizable good looks. Its wide tempered glass side window sets up a striking contrast to its brushed metal accents. Aura Sync RGB LEDs adorn the front panel, ready to be synchronized with the lighting on the rest of your gear. Last but not least, we offer a white edition of ROG Strix Helios ready to complement your white-themed gear.
Showcase your TUF gear with the TUF Gaming GT502
Our TUF Gaming GeForce RTX 4090 exudes a rugged, no-nonsense aesthetic, and the TUF Gaming GT502 chassis is the perfect way to show it off. With wide transparent windows on the front and left panels, this case gives you a commanding view of your carefully coordinated build. And as it accommodates graphics cards up to 400mm, you can comfortably install an RTX 4090 without even pinching your fingers between the card and case.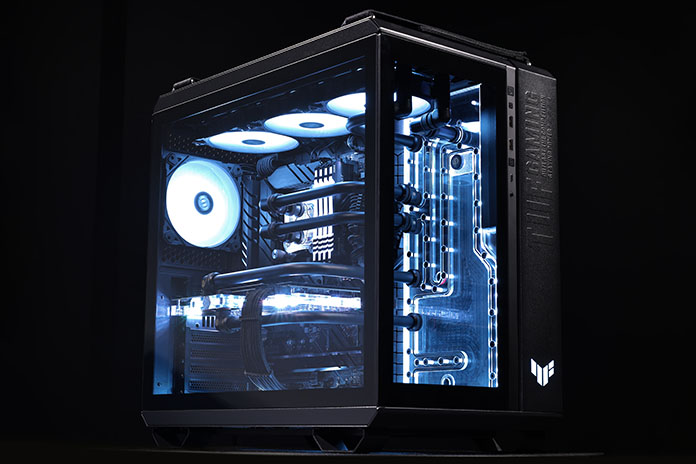 The GT502 features a dual-chamber design that's ready for a wide range of builds. The roomy rear chamber offers a 90mm wide space for cable management, your PSU, and a versatile bracket that you can use to mount up to three storage drives—or even a 360mm radiator. And it's all isolated from the primary heat-producing components in the main chamber.
Building conveniences abound across the GT502's feature set. A convenient front-panel USB 3.2 Gen 2 Type-C port lets you set up a versatile connector in arm's reach. An included graphics cards holder will support your new RTX 4090. We also went above and beyond to support the word of PC modders. With over 25 detachable parts, this case makes it easy for you to personalize your machine.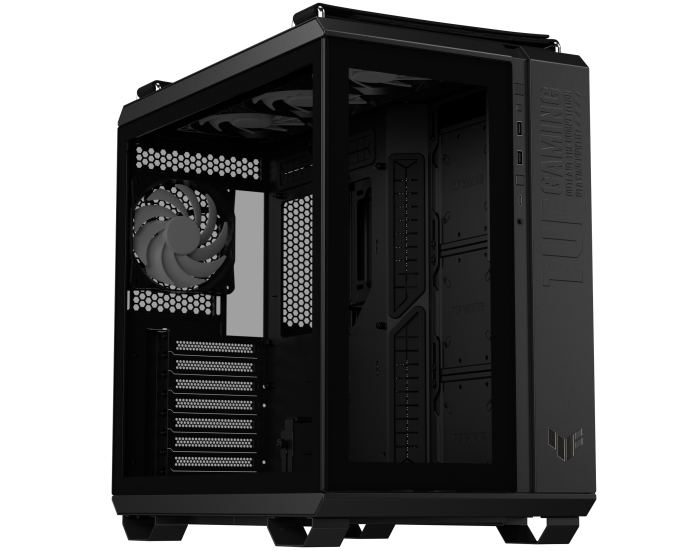 For those who prefer to design their own cooling solution from the ground up, we offer the TUF Gaming GT502 standard edition. Its support for up to 13 fans gives you plentiful options for directing cooling air right where you need. We also offer the TUF Gaming GT502 PLUS Edition, which ships with four pre-installed ARGB fans and an ARGB hub.
Whether you love to go all-in on RGB lighting or just prefer a set of understated accents, the GT502 gives you the options that you're looking for. The illuminated TUF Gaming logo on the front panel supports Aura Sync, so it's easy to coordinate with your other gear. Owners of the PLUS Edition can use the included 6-port ARGB hub, protected from accidental short circuits with its plastic housing, to set up a dazzling array of lights. Synchronize it all through your compatible motherboard with Aura Sync, or toggle between preset lighting effects with a button on the front panel—it's all your choice.
On the horizon: the ROG Hyperion
Both the TUF Gaming GT502 and ROG Helios are available right now for your high-end rig. But if you're willing to wait, we have another option coming soon: the ROG Hyperion. Just announced at CES 2023, this is a durable, elegant chassis with an airflow-focused design that keeps your components running in top shape.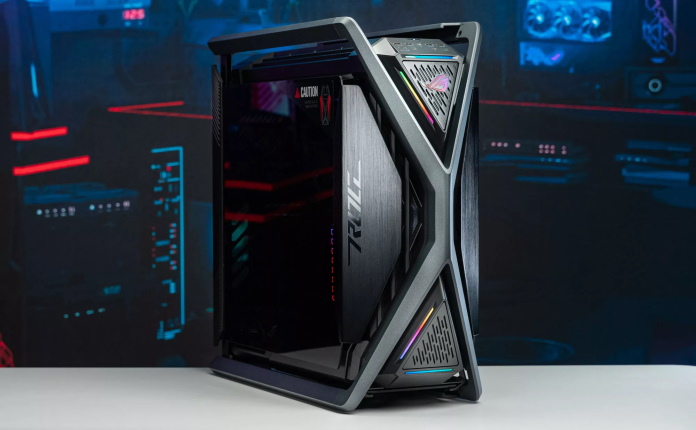 This is the next generation of ROG chassis. The ROG Hyperion has been completely reimagined to offer an uncompromising vision of luxury and performance, engineered to take your next DIY build to new heights. Our top priority with the Hyperion was airflow, with huge channels in the front for air to pass through alongside a grille along the top. Coupled with support for up to two 420mm radiators, you can rest assured your components will stay frosty and perform their best, whether you're using your own heatsinks, all-in-one liquid cooling, or a fully custom loop designed from the ground up.
The ROG Hyperion has also been designed with next-gen components in mind. It supports up to 12-inch wide E-ATX motherboards, dual USB 3.2 gen 2×2 Type-C ports on the front, and plenty of expansion slots for future upgrades. The latest GPUs, in particular, reach untold new levels of performance, with large heatsinks to keep them cool and quiet, and the Hyperion is spacious enough to fit even the largest graphics cards like the ROG Strix GeForce RTX 4090. Go with a traditional horizontal mount of up to 460mm wide, or mount your card vertically with up to 130mm of space for present and future cards. The built-in aluminum 2-way graphics card holder will keep the card from sagging in either orientation, no matter how large it is — while also aiding in cable management for the rest of your build.
Ready for action
Whether you prefer the confident, angular stylings of the ROG Strix Helios or the rugged good looks of the TUF Gaming GT502, either case offers everything you need to build with our latest GeForce RTX 4090 graphics cards—and our RTX 4080 cards with similar shroud designs, as well. Purchase one today to start building in comfort and style.
Looking for more tips, tricks, and ideas for your next PC build? Head over to our PC DIY portal. There, you'll find building tutorials, easy tools for planning your next builds, and example builds from the professionals to inspire your next project.
Go on a power trip
The GeForce RTX 4090 and RTX 4080 graphics cards from our ROG Strix and TUF Gaming families are some of the most powerful gaming cards we've ever offered, providing unparalleled performance for high-end PCs. To make sure you get the absolute most from your next-gen rig, pair your new graphics card with one of our premium power supplies, like the ROG Thor 1000P2 or ROG Thor 1200P2. With their high-quality components, quiet operation, and 10-year warranty, you know your PC is in good hands.