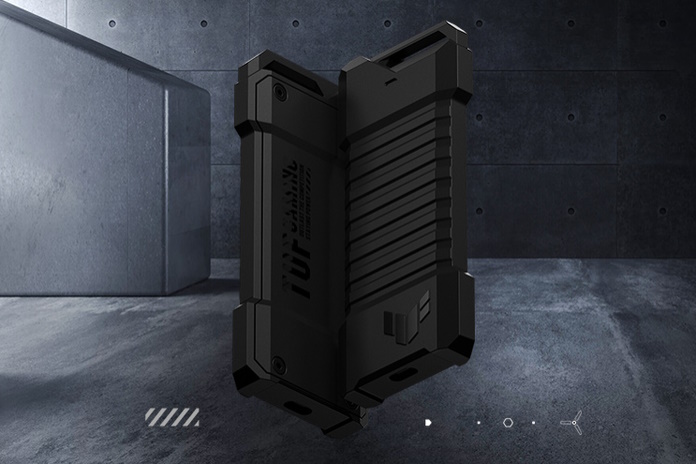 If you're building a cutting-edge PC this year, you have the opportunity to ascend to next-gen with a PCIe 5.0 SSD. These blazing-fast drives promise transfer speeds that put the pedal to the metal. Every one of our X670E motherboards offer at least one M.2 slot that's PCIe 5.0-ready, and a wide range of our cutting-edge Z790 motherboards can make the same claim. But don't give up on your older M.2 SSDs just yet. The odds are good that you can reuse or repurpose your old drives even as you upgrade to the latest and greatest. Your last-gen M.2 drives can easily find a new home even after you upgrade to a PCIe 5.0 model. Here are three ways to get more life out of your older PCIe 4.0 or PCIe 3.0 SSDs.
Make yourself a high-speed external drive with a portable enclosure
Most of us have a drawer somewhere with a pile of USB thumb drives in it. They're an extremely convenient way to transfer files from one PC to another. But it's not hard to fill one up, requiring you to buy another, and before too long you might find yourself popping in drive after drive to find the one with the files that you want.
A portable SSD enclosure is a much easier solution that lets you repurpose your old M.2 drives rather than purchase brand-new silicon. The concept is simple. Inside these lightweight enclosures, you'll find everything you need to install an M.2 drive. Pop the SSD in, close it up, connect it to your PC with a USB cable, and voilà — you have a portable drive that likely offers a larger storage capacity and faster transfer speeds than any of the thumb drives in your junk drawer.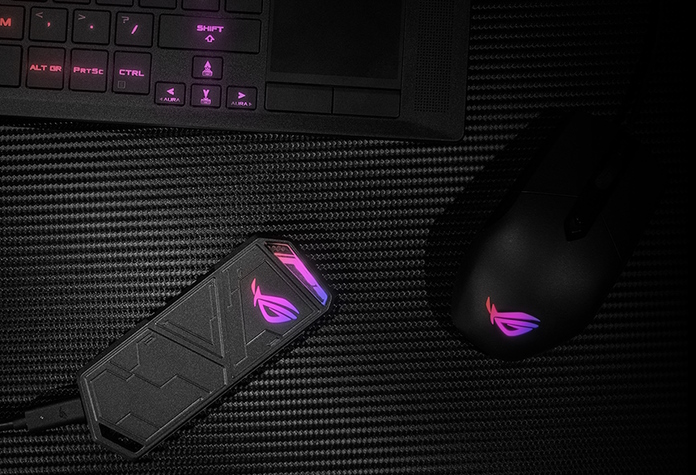 We have two SSD enclosure options ready to give your last-gen M.2 drives a new home. The ROG Strix Arion offers transfer speeds up to 10 Gbps through a USB-C 3.2 Gen 2 port, and it supports PCIe SSDs in the M.2 2230, 2242, 2260, and 2280 form factors. Tool-free installation makes it a breeze to pop in your drive, and the aluminum alloy case and thermal pads keep the drive cool even during sustained transfers. To help make sure that your drive is always handy, we include a stylish detachable R-hook, and you can use Aura Sync to coordinate the lighting effects on the drive's built-in RGB LED accents with the rest of your gear. Fans of the seminal anime Neon Genesis: Evangelion can even grab a special edition of the ROG Strix Arion featuring design elements from the classic series.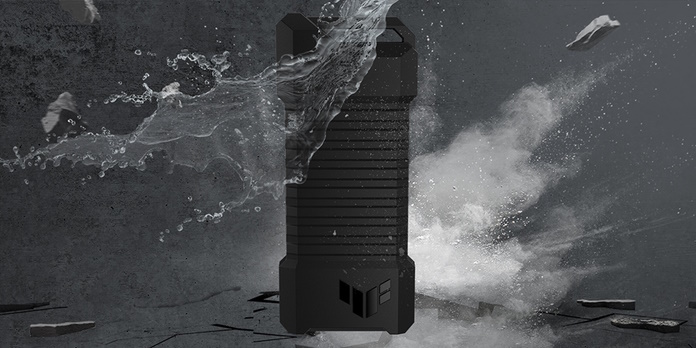 Prefer the no-frills, military-themed stylings of our TUF Gaming product lineup instead? Get yourself a TUF Gaming A1 portable SSD enclosure. For broad compatibility with just about any M.2 on the market, it's compatible with both PCIe and SATA drives. Our exclusive Q-Latch mechanism makes it easy to mount an SSD into the enclosure. It's built to withstand the wear and tear of regular use and travel, too. It meets MIL-STD-810H drop resistance standards, demonstrating its resilience in the face of accidental bumps, drops, and jostles. And should you work in a dusty environment or advertently spill a cup of coffee on it, you'll appreciate that it meets IP68 standards for water and dust resistance. Its bundled USB-C cable allows you to connect this enclosure to a wide range of PCs, laptops, mobile devices, and latest-gen gaming consoles.
Upgrade your laptop with more or faster storage
Today's laptops typically use the same M.2 drives that you find in desktop PCs. It's quite possible that you'll be able to use your old PCIe M.2 SSD to bolster the storage space of your laptop, give it a speed upgrade, or both.
This will depend on a few factors. Does your laptop have M.2 slots? Are they user-accessible? Does your M.2 drive fit in the slot provided? Is there an open slot for you to add a secondary drive to the laptop, or will you need to replace the primary drive and reinstall your operating system?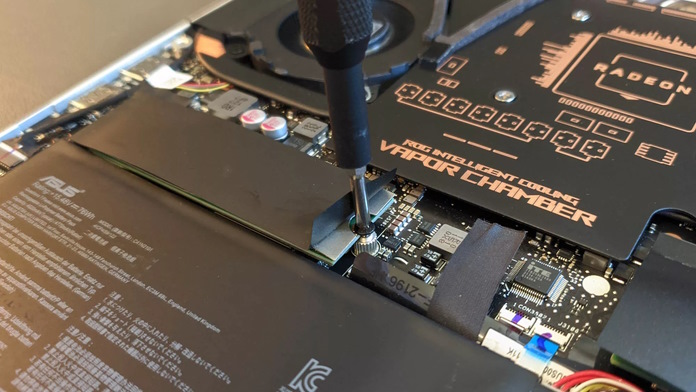 We can't speak for every manufacturer out there, but we design as many ROG and TUF Gaming laptops as possible for easy storage upgrades down the road. Click here for a rundown on how to upgrade the SSD or RAM in an ROG Strix laptop. Check out this guide if you're upgrading our award-winning ROG Zephyrus G14. Owners of a TUF Gaming laptop, click here for a step-by-step guide to upgrading the storage of a TUF Gaming A15 laptop — the process will be largely similar for any owner of a TUF gaming notebook.
Use your old drive in a new build
You likely have one PC that's your primary device. Whether it's your creative workstation, your gaming rig, or simply your daily driver, it's your go-to device for daily computing. However, there's room in your life for more than one PC. After you upgrade your main rig with a PCIe 5.0 SSD, perhaps the best thing to do with your older drive is to use it in a second build.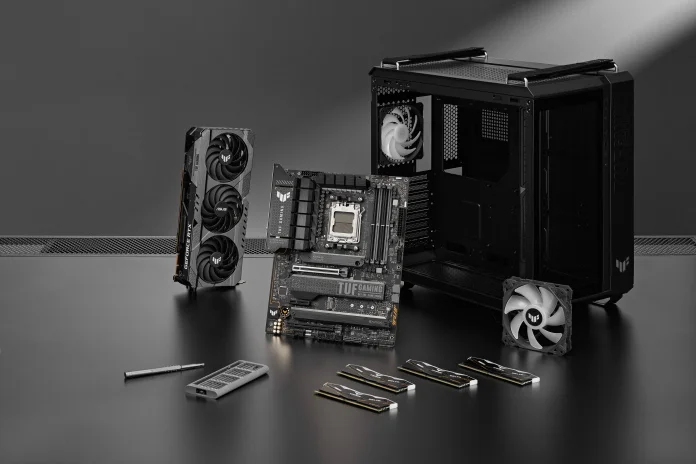 After all, there are many ways that your household might benefit from having another PC. A second gaming rig would allow you and your significant other to enjoy some quality time together. Maybe a slim home theater PC would be the perfect thing to take your living room entertainment center to the next level. Or perhaps it's time to teach your kids some invaluable life skills by building a PC with them that they can then use for learning, coding, creation, gaming, and so much more.
Find a friend in need
Does your Saturday night gaming squad have one member with a painfully underpowered PC? If you're all teaming up for a round of League of Legends and someone's PC is still rocking an HDD, all of you will have to sit there and wait through that excruciatingly long loading screen. That's no fun for you, and it's certainly no fun for them.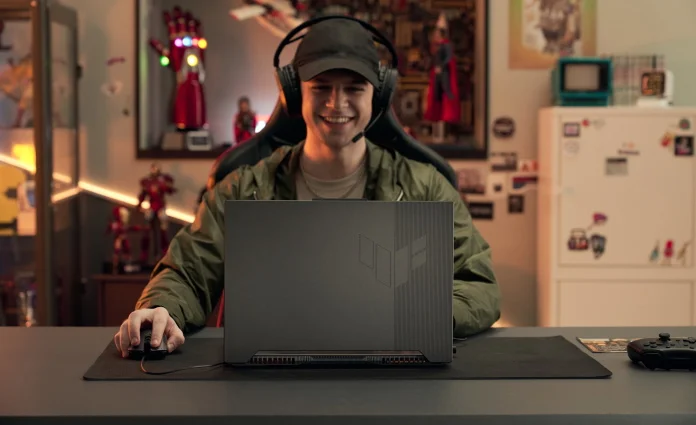 Here's how you fix this problem: give your friend your old SSD. They'll enjoy a massive upgrade to their PC that will elevate everything they do from web browsing to gaming, and you'll get to enjoy much faster load times for your multiplayer matches with them. Best yet, you'll get to enjoy the great feeling of knowing that your generosity made a difference in their life.
Use it as a secondary drive in your new PC
There are all kinds of creative ways that you can reuse or repurpose an old SSD, but sometimes the simple approach is the best. After you upgrade your PC with a PCIe 5.0 SSD, you can always just install your old drive into an open slot on your motherboard.
You'll want to have your operating system and your favorite apps and games installed on your fastest drive for the best performance, but you'll still have plenty of uses for your old SSD. You could protect your data by setting it up as a backup drive. It could be your storage space for videos and photos. Or maybe you're just the kind of person who needs more than one drive for all your games.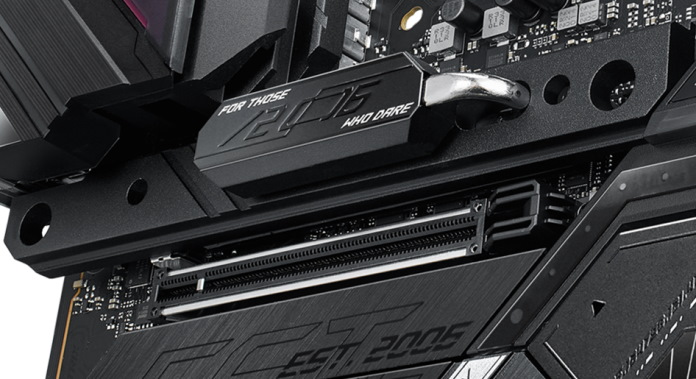 Modern motherboards give you plentiful options for installing M.2 drives. Between its two onboard slots and the three additional slots made available through the ROG PCIe 5.0 M.2 card and the ROG GEN-Z.2 card, the ROG Crosshair X670E Extreme offers five total M.2 slots. The Mini-ITX ROG Strix Z790-I Gaming WiFi motherboard offers two onboard M.2 slots. If that pint-sized board can fit two M.2 drives, your new motherboard almost certainly can, as well.
Sustainability matters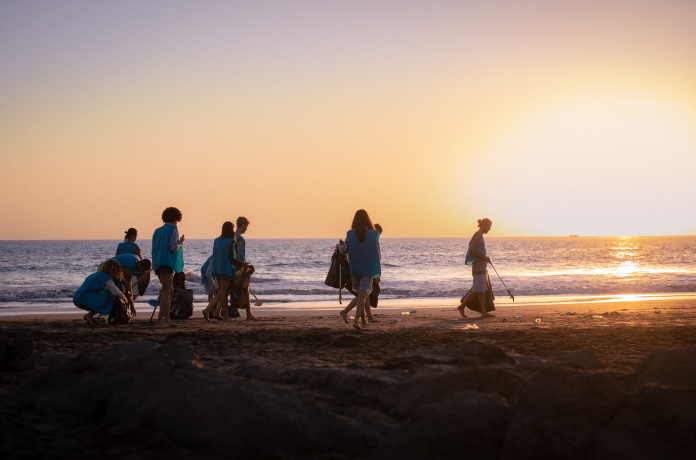 Whatever you do with your old SSD, we urge you to do anything but toss it in the trash until it's truly reached the end of its usable lifespan. Your efforts to create a sustainable future matter. We're ramping up our efforts to reduce the environmental impact of our business, but we need your help to make sure that our products are reused and recycled as long as possible. So as you're taking advantage of the latest PCIe 5.0 SSDs, don't miss the opportunity to give your old drives a new home.