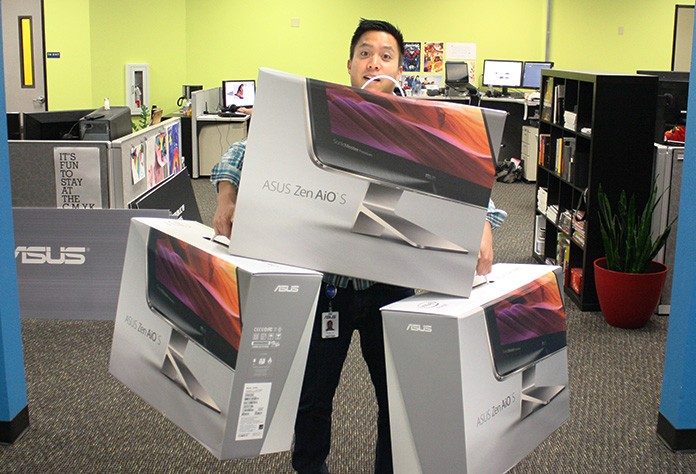 So, you want a Zen AiO Pro—but which one?  There are four different versions in the US, each with a unique blend of features designed to suit different tastes.  They all have the same unibody aluminum chassis, reversible Type-C USB 3.1 port, and IPS display technology.
The entry-level Z240-C1 starts at $999 and comes with a 1080p display that lacks integrated touch.  This resolution is perfect for watching Full HD movies on the 23.8" screen, especially given the wide viewing angles of the IPS panel.
With a quad-core Intel Core i5-6400T CPU and 8GB of DDR4 memory, the Z240-C1 has plenty of horsepower for work, while its discrete NVIDIA GeForce GTX 950M GPU offers much better gaming performance than integrated graphics solutions.  1TB of flash-infused hybrid storage accelerates access to the files and applications you use the most.
Z240-C1

Z240-C3

Z240-C4

Z240-C2

Chassis

Aluminum unibody with Icicle Gold anodizing

Display

23.8" IPS

Resolution

Full HD 1920x1080

Full HD 1920x1080

Ultra HD 3840x2160

Ultra HD 3840x2160

Touchscreen

N/A

N/A

10-point

10-point

CPU

Core i5-6400T

Core i5-6400T

Core i7-6700T

Core i7-6700T

Memory

8GB DDR4-2133

8GB DDR4-2133

8GB DDR4-2133

16GB DDR4-2133

Graphics

GeForce GTX 950M 1GB

GeForce GTX 950M 1GB

GeForce GTX 960M 2GB

GeForce GTX 960M 2GB

Storage

1TB hybrid drive

1TB hard drive

1TB hybrid drive

512GB PCIe 3.0 x4 SSD + 1TB HDD

Camera

720p webcam

RealSense

RealSense

RealSense

Ethernet

10/100/1000 Gigabit Ethernet

Wireless

802.11ac Wi-Fi with Intel WiDi support and Bluetooth 4.0

Ports

USB 3.1 Type-C, 4 x USB 3.0, USB 2.0, 2 x HDMI output, SD/MMC card reader, 3.5-mm microphone and headphone

MSRP

$999

$1099

$1499

$1899
Exclusive to the Microsoft Store, the Z240-C3 tweaks the formula slightly for $1099.  It trades hybrid storage for a traditional hard drive that isn't quite as fast.  However, it also adds Intel's RealSense camera, which supports Windows Hello facial login, real-time video effects, and motion control for games and applications.  The RealSense camera is included on all of the higher-end configs, as well.
The Zen AiO Pro models sold through the Microsoft Store are Signature Edition variants equipped with a pure Windows 10 installation.  You can download the apps that usually come with the Zen AiO Pro from the ASUS support site.
One step up from the Z240-C3 sits another Microsoft Store exclusive, the $1499 Z240-C4. This is the most affordable path to the 4K/Ultra HD touchscreen, which quadruples the pixel density to produce much sharper, more detailed visuals.  The high-PPI screen is ideal for content creators and anyone who dabbles in photo and video editing.  It's also sublime for entertainment, whether you're playing games at the native resolution or watching UHD movies that completely fill the screen.
The Z240-C4 drives its upgraded display with more powerful graphics.  NVIDIA's GeForce GTX 960M pumps up the clock speeds and doubles the video memory to 2GB to help games run smoother and look better.  Intel's Core i7-6700T kicks things up a notch in the CPU department, delivering not only higher clocks than the i5-6400T, but also the ability to act like an eight-core chip via Hyper-Threading.  These changes make the Z240-C4 more responsive with both simple tasks and more demanding workloads, while the move to a 1TB hybrid drive ensures the internal storage won't slow you down.
To take the top-of-the-line Z240-C2 to the next level, we swapped in a dual-drive storage configuration that pairs a 512GB PCI Express SSD with a 1TB hard drive.  The PCIe SSD is a beast compared to typical solid-state drives and in a whole other class compared to hybrids. With the hard drive along for the ride, you get a potent combination of blistering speed and copious capacity.
On top of the beefed up storage, the Z240-C2 has 16GB of RAM—double what's in the other models.  The extra memory and ultra-fast SSD make this config even more capable in the hands of professionals and power users.  Asking price: $1899.