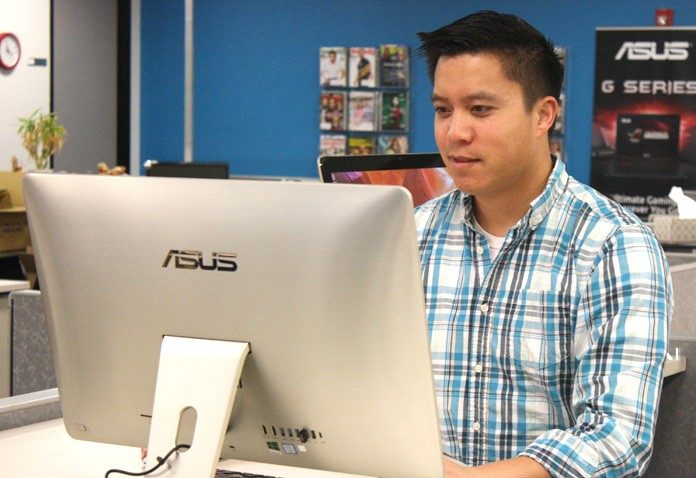 ASUS' Zen AiO Pro looks familiar, I know. But there's never been an all-in-one quite like it before. This all-new machine brings expert craftsmanship, thoughtful engineering, and cutting-edge technology together to keep you entertained in style—and make you more productive.
There are plenty of rational reasons to like the Zen AiO Pro, and we'll get to those in a moment. But first there's the lustful desire that sets in the moment you set eyes on the thing. Just look at it.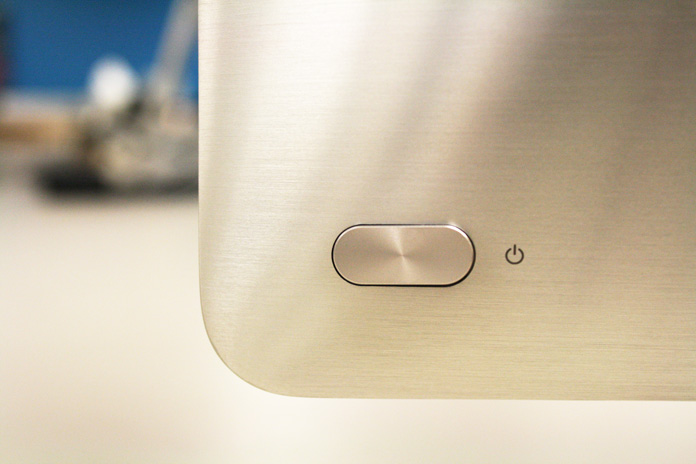 Built from stamped and extruded aluminum, the unibody chassis and stand exude a mature elegance that captivates your gaze without screaming for attention. The hairline finish raked across the gently curved back is applied by hand, making each Zen AiO Pro unique. And the color's distinct, too: a subtle shade of Icicle Gold that could have just as easily been called Aluminum Blonde.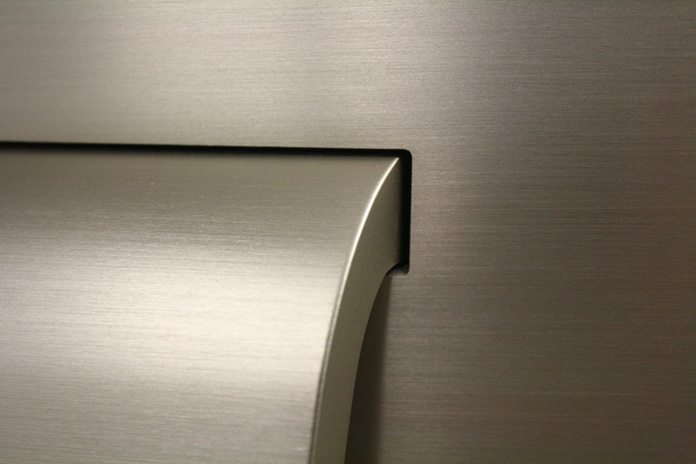 Then you see the 4K/Ultra HD touchscreen, which squeezes more than eight million pixels into a 23.8" IPS panel. This incredibly high density produces crisp text that's easy to read even after hours of staring at the screen. Pictures and movies are razor-sharp, with vibrant colors that look luscious regardless of whether you're sitting dead center or off to the side. Everyone has a great view when gathered around to see your creations, watch movies, or play games.
Entertaining a crowd is easy thanks to the six-speaker integrated audio, which produces clear, distortion-free sound across the full spectrum. With 16W of output power on tap, you can crank the volume to fill an entire room.
The Zen AiO Pro's lithe beauty and strong voice are backed by real brains and brawn. Intel's latest 6th Generation Core processors bring quad cores and high clock speeds, letting you breeze through everything from web browsing to 3D rendering to photo and video editing. They're also extremely efficient, which saves energy and lets you work in peace and quiet. The Zen AiO Pro barely makes a sound even when it's fully loaded.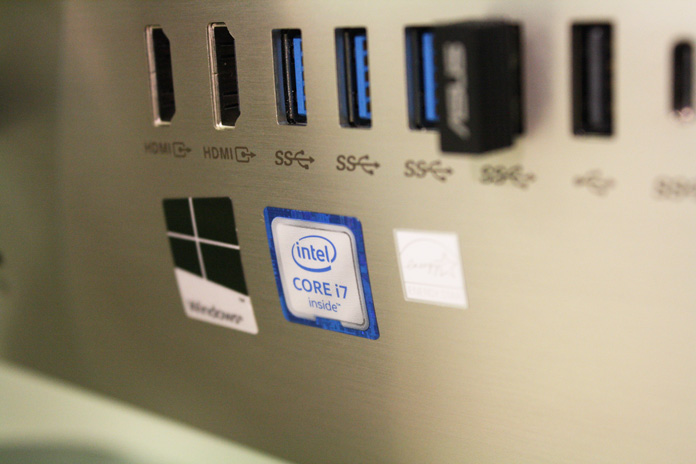 Operating in near silence is even more impressive considering the second processor under the hood. The CPU has a discrete GPU sidekick in NVIDIA's GeForce GTX 960M. This entirely separate chip accelerates performance in popular content creation applications and, more importantly, makes games run faster and look better.
Although the Zen AiO Pro isn't a hardcore gaming system, it's definitely a capable one. Popular hits like Counter-Strike: Global Offensive and League of Legends are playable at 4K resolution, while cutting-edge titles like Grand Theft Auto V and Project Cars run smoothly and still look good scaled down to 1080p. The Zen AiO Pro can also tap into the vast assortment of indie games and older classics available for the PC.
As an added bonus, the ShadowPlay feature built into NVIDIA's GeForce Experience software lets you easily capture and share your gaming exploits. It automatically records the last 20 minutes of gameplay, so you'll always have video evidence of epic moments. You can record virtual adventures manually, too, and effortlessly stream to a live Twitch audience.
Discrete graphics horsepower is just one aspect of the Zen AiO Pro's well-balanced attack. The top model is equipped with a 512GB PCI Express 3.0 x4 M.2 SSD—an awkward mouthful of letters and numbers that roughly translates to loads of insanely fast storage. This solid-state drive boasts nearly instantaneous access times, making the Zen AiO Pro feel light on its feet no matter what you throw at it. It can also push data up to 2250MB/s, four times the speed of typical Serial ATA SSDs.
512GB is ample for the applications, games, and files you want to access at top speed. For everything else, a secondary hard drive offers a full terabyte of storage.  Although not nearly as fast as the internal SSD, this drive is sufficient for movies, music, pictures, backups, and other miscellaneous data.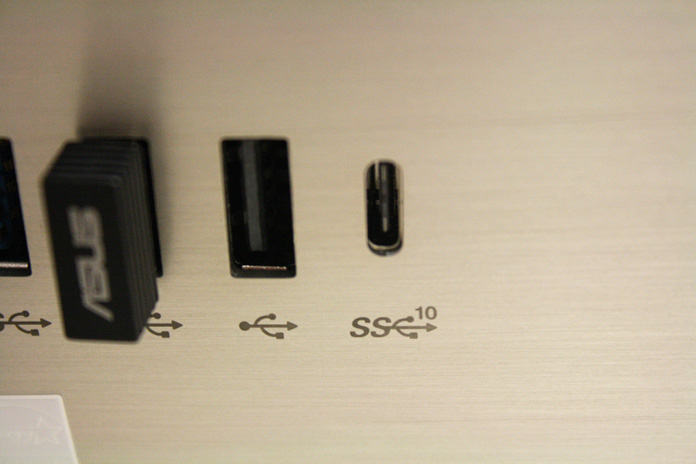 A next-generation machine both inside and out, the Zen AiO Pro is the first all-in-one with a Type-C USB port.  The reversible plug can't be inserted the wrong way, making connecting devices easier than ever before.  The Type-C port also supports the latest USB 3.1 spec, which doubles the bandwidth available in USB 3.0 to enable a new class of high-speed external storage.
The Zen AiO Pro's forward-looking technology payload includes Intel's depth-sensing RealSense camera.  You can control games by moving your body, navigate recipes without smearing ingredients on the touchscreen, and add green-screen effects to videos in real time.  The RealSense camera is also compatible with Windows Hello, a biometric authentication system that lets you log in to the Zen AiO Pro by simply looking at the screen.  In the future, RealSense facial recognition will extend to Passport, a Microsoft initiative that lets Windows 10 verify your identity for applications, websites, and networks.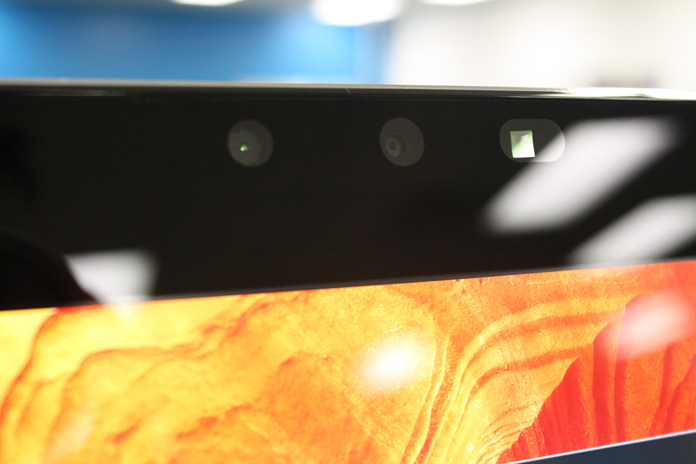 Biometric authentication isn't the only Windows 10 function to take advantage of the Zen AiO Pro's hardware.  Questions and instructions for Microsoft's voice-activated Cortana virtual assistant come in loud and clear through the beam-forming microphone array.  Enhanced window snapping lets you quickly organize multiple applications on the Ultra HD desktop, while improved scaling helps the OS look its best on the high-density display.
Premium all-in-ones don't come cheap, but you get what you pay for—and in this case, quite a bit more than with the competition.  The top-of-the-line Zen AiO Pro is priced at $1899, hundreds less than a comparable config from the other guys.  The base model rings in at $999 and comes with a 1080p display, while the Ultra HD goodness starts at $1499.  Check out this guide to see which Zen AiO Pro is right for you.