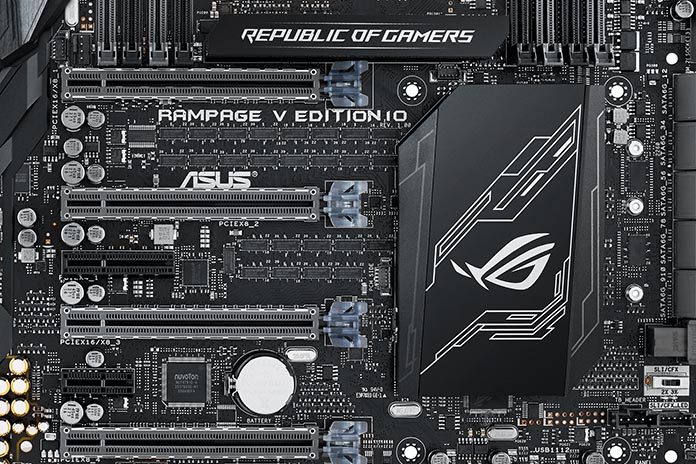 The year was 2006. The PC industry was growing, and so was the number of gamers and enthusiasts within it. Obsessed with performance, this community was increasingly tuning and modifying its hardware to eke out the fastest clock speeds and smoothest frame rates. More casual users were getting into overclocking, and the hardcore crowd was pushing new extremes with sub-zero cooling. Modding cases and other components was also becoming more popular as people sought new ways to personalize their PCs.
ASUS was quick to recognize the importance of these PC aficionados. Many of our own R&D engineers were gamers and overclockers at the time. They wanted to help hardcore tweakers harness the full potential of their CPUs and GPUs while also making performance easy to unlock for new recruits. They were driven to push the limits of other features to enhance every aspect of the user experience, too, and they wanted to do it in style by elevating PC components to a new level of luxury.
To realize their vision, these pioneering engineers and enthusiasts formed a new division within ASUS dubbed Project G and began working on a motherboard code-named Pluto. Project G morphed to become the Republic of Gamers, while Pluto spawned the original Crosshair motherboard. The Crosshair redefined expectations for what a motherboard could be, and ROG has remained at the forefront of gaming and enthusiast hardware in the 10 years since its debut.
Over the past decade, the Republic of Gamers has established a history of relentless innovation that has left the rest of the industry following in our wake. It's only fitting that we look back on our triumphs to celebrate the 10th anniversary of ROG.
Putting enthusiasts and gamers in the Crosshair
The ROG story begins with the Crosshair, which set a new standard for enthusiast motherboards in the era of dual-core Athlon 64 processors for Socket AM2. It delivered the very latest technology in a tweaker-friendly package loaded with thoughtful features and indulgent extras.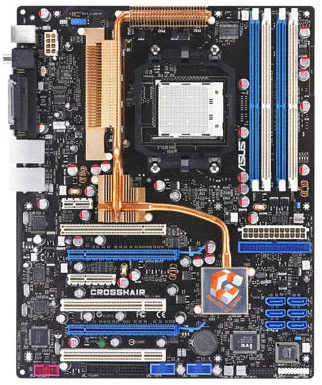 We packed the BIOS with a vast assortment of tweaking options that let hardcore overclockers probe the true limits of AMD's 90-nm silicon. While the depth and breadth of options catered to expert enthusiasts with outlandish cooling, the intuitiveness of the interface let gamers and more casual users easily gain a few hundred MHz with an aftermarket heatsink. By exposing esoteric overclocking options in a user-friendly BIOS, the Crosshair brought seasoned veterans and curious newbies together on a single platform.
In true ROG spirit, our engineers pushed the envelope across the board and beyond it. The audio was housed on a SupremeFX add-in card that moved the codec chip and critical circuitry away from board-level noise that could tarnish the sound quality. An LCD in the rear port cluster translated cryptic POST codes in a more natural language to help troubleshoot boot problems, while onboard buttons provided convenient shortcuts for power, reset, and clearing the CMOS.
The Crosshair even had extra LEDs to illuminate key areas of the board and I/O cluster. Although they didn't shine in the millions of shades available with modern RGB lighting, the LEDs made it easier to work within the shadowy confines of a chassis and connect peripherals without fumbling in the darkness of a LAN party. They also cast a distinctive glow through a case window.
Tech media and users alike heralded the Crosshair for its performance and attention to detail. ROG had raised the bar of expectations in its first outing and established a clear direction for the future. We've stayed on that path for the past 10 years and have a rich history to show for it.
Transforming tuning to unleash performance and overclocking
The Crosshair was just the first in a series of ROG motherboards to give overclockers new ways to push the limits. Subsequent boards introduced entirely new conduits for system tweaking and monitoring, plus special features for sub-zero cooling. Our engineers unlocked the secrets of new platforms and developed custom hardware for chasing benchmark records. They also taught ROG motherboards how to overclock themselves automatically—and how to recover gracefully from failed attempts.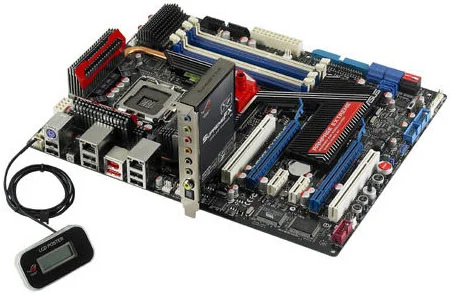 PC enthusiasts crave knowledge and control. They want insight into every aspect of how their systems are operating and the ability to change parameters at will. Over the years, ROG has enabled this community not only through the BIOS and conventional tweaking applications, but also via more unique methods. With the Rampage Extreme released back in 2008, we introduced onboard TweakIt buttons that combined with an external LCD module. These controls let overclockers adjust clock speeds and voltages on the fly, without entering the BIOS or loading the OS. The display provided an instant read on critical system variables and also let users choose between different BIOSes when booting the board.
Like most ROG features, TweakIt and its LCD sidekick evolved over time. They joined forces in the original OC Station for the Rampage II, bringing hardware monitoring and overclocking controls to a 5.25" bay insert that could be installed in a case or used on its own. The OC Station went on to inspire the ROG Front Base, a more full-featured bay insert that added peripheral connectivity and other special functions, like an Escape Mode button capable of instantly hiding your secret gaming session. Then there was the OC Panel, which delivered even more extensive tweaking and monitoring in a compact module that could stand alone or dock in a drive bay.
Our desire to bridge the gap between overclockers and their machines extended beyond custom hardware. We went on to develop ROG Connect, which enabled remote tweaking from a notebook. With only a USB connection, ROG Connect let overclockers tweak clock speeds and voltages while also providing real-time information on POST codes and other system variables. RC Bluetooth cut the cord, making similar functionality available wirelessly via smartphone. We want all the right controls to be at your fingertips, no matter how you prefer to tune your PC.
Remote tweaking was popular with competitive overclockers looking for an edge over traditional methods. This group was increasingly used sub-zero cooling to hit higher frequencies, but chips behave differently at extremely low temperatures, introducing a unique challenge for ROG to overcome. We created a special LN2 Mode that makes numerous adjustments to compensate, including disabling elements of the temperature monitoring that react poorly to frosty environments.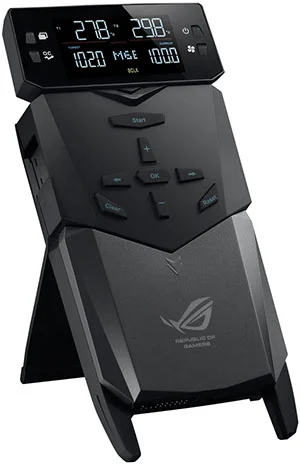 Even in LN2 Mode, some CPUs are still unstable below specific temperatures. We tackled these so-called cold bugs with Slow Mode, which instantly throttles the CPU clock speed to improve stability. Accessible with a simple switch, Slow Mode lets extreme overclockers easily back off frequencies while waiting for their LN2 pots to reach optimal temperatures. It also provides a window of opportunity for preparing applications to benchmark and taking screenshots to document scores. In conjunction with the hardware-level system halt triggered by the pause button on our OC Panel, Slow Mode helps overclockers establish the ideal conditions for setting records.
Slow modes and system halts may not be directly applicable to gamers and casual overclockers, but the lessons we learn at the bleeding edge often inform the technology we bring to the masses. Such was the case with ROG's Gandau Bridge, a high-end X79 motherboard with slots for custom hardware modules that improved specific kinds of overclocking. The timing for Gandau Bridge ultimately wasn't right, so the board never made it to production. However, the knowledge our engineers gained during its development fed into the ASUS-exclusive OC Socket for X99 motherboards. OC Socket widens the margins for overclocking by using extra pins on the CPU to improve signal grounding and voltage delivery.
Because ROG products are designed for both gamers and bleeding-edge performance junkies, we have to carefully balance the needs of each group. For example, the Rampage III Extreme supported SLI with up to three cards, a configuration that was more than adequate for multi-GPU gaming. But you could also power four cards with an optional ROG Xpander board. The Xpander used dual switch chips with dedicated cooling to distribute the motherboard's PCI Express payload for maximum performance with quad SLI. Although it compromised compatibility with cases, it gave benchmarkers with open systems an ideal configuration for claiming records.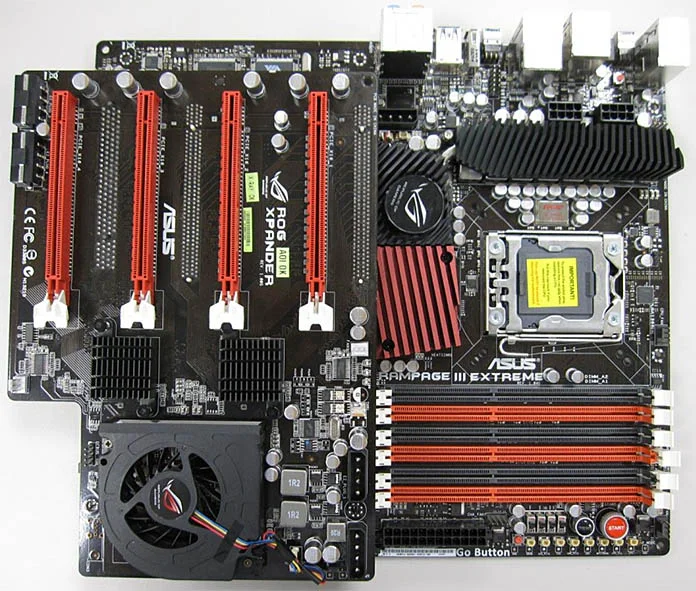 Some of ROG's efforts to enhance performance happen behind the scenes. In 2012, we began optimizing memory profiles for the individual ICs used in popular enthusiast-oriented DIMMs. This tuning applied to not only timings and voltages, but also the very microcode affecting memory signaling. It's part of the reason ROG motherboards consistently reach some of the highest memory speeds.
As experienced tweakers, ROG's engineers are keenly aware that overclocking doesn't always go as planned. You never really know where the edge is until you go over it. So we developed an internal watchdog that helps motherboards recover after failed attempts to boot. It trips if the board becomes unresponsive during POST, prompting a reboot with stock settings that should always work. Booting in safe mode can also be done manually by holding the power button, saving overclockers the hassle of resetting the CMOS when they hit the wall.