An evolutionary formula for onboard audio
Getting onboard audio right has always been a big deal to us. ASUS has been making premium sound cards for nearly as long as the Republic of Gamers has existed, so we're attuned to excellent sound. But we're also acutely aware that space constraints and other challenges make it very difficult to deliver truly high-fidelity audio on a motherboard.
Early on, we worked around those limitations by putting the SupremeFX audio for ROG motherboards on a separate daughter card that plugged into a PCI Express slot. This raised the codec chip and circuitry above board-level noise that could interfere with the output. Effectively a discrete sound card, the first SupremeFX solution was available with the original Crosshair. It returned with the Crosshair II formula wearing shielding to further reduce interference.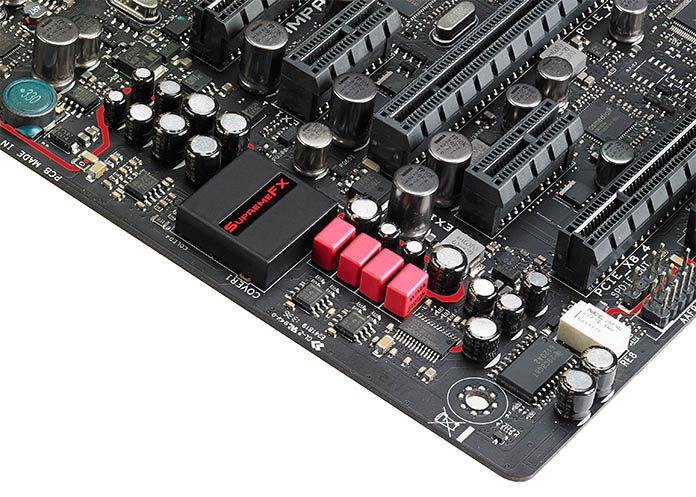 Separate SupremeFX cards gave the first Crosshairs better audio, but they required sacrificing an expansion slot just to get sound. Though feedback was positive, members of the community expressed that PCIe slots were a precious commodity they wanted to control themselves. That's why SupremeFX moved onboard with the Rampage IV series. This third generation isolated the audio circuitry in a corner of the PCB, away from noise-inducing components. It also used a shielded codec to reduce interference and an extra-large capacitor to condition incoming power, all in the name of producing pristine sound even with the system stressed to the limit.
Community trends continued to drive the evolution of ROG audio as the era of multi-channel PC speakers came to an end. From the beginning, SupremeFX supported 7.1-channel output for home theaters and other surround-sound installations. But headsets, studio monitors, and other stereo speakers started becoming more popular as users embraced simpler and more portable setups. The fourth generation of SupremeFX brought the Maximus V a dedicated amp capable of driving high-fidelity headphones with impedances up to 300 Ω. On top of that, it used ELNA capacitors to create a warmer acoustic profile with more natural sound. Subsequent generations have continued to refine the formula with upgraded circuitry, more robust headphone output, and Sonic SenseAmp tech that automatically detects and adjusts for different impedances.
Despite optimizing analog output for headphones, we've maintained our commitment to supplying digital bitstreams for home-theater receivers. DTS Connect encoding let the original Crosshair pump multi-channel game audio over a single S/PDIF cable, and it remains a staple of ROG motherboards.
The initial SupremeFX implementations used codec chips from Analog Device, but we switched to Realtek and have stuck with them since. Timely driver updates and support for new operating systems is extremely important to the community, and Realtek has a proven track record of keeping up. In the latest SupremeFX 2015 generation, we paired the codec with a high-end ESS Sabre DAC that largely defines how the board sounds.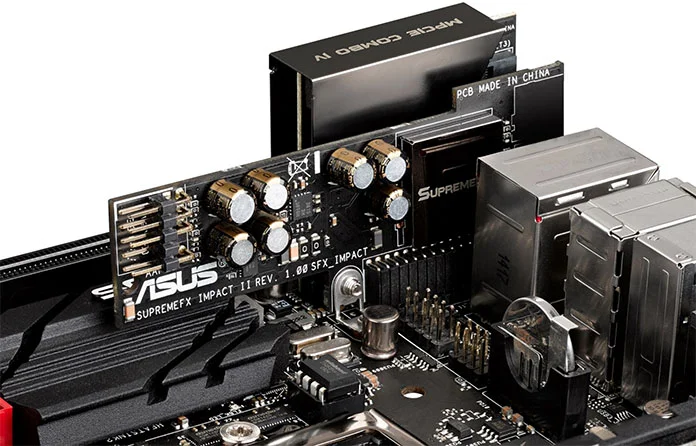 Although most ROG audio has been onboard, we've branched off in specialized cases. There was even less room for audio circuitry on the Mini-ITX form factor of the Maximus Impact, whose single expansion slot would most likely be devoted to a graphics card. Unwilling to compromise sound quality, we created a miniature SupremeFX daughter card that plugged into a dedicated connector on the board.
We've also developed multiple USB DACs, including the SupremeFX Hi-Fi that comes with our flagship Maximus VIII Extreme/Assembly. USB connectivity lets these solutions deliver the benefits of discrete audio without consuming precious PCI Express slots, leaving more room for graphics cards and airflow around them. The SupremeFX Hi-Fi DAC slots into a 5.25″ bay, putting the circuitry farther from board-level interference than a traditional sound card—and the headset jack and volume knob within reach.

Our efforts to improve motherboard audio have even pushed the limits of what's allowed in competitive gaming. We created Sonic Radar software that mapped the origin of in-game sounds on a monitor overlay, painting a visual picture of the aural battleground. While this made games like first-person shooters more accessible for the hearing impaired, it also gave players a cheeky advantage over their opponents. Sometimes, our engineers are perhaps a little too clever.
Premium motherboards that look the part
A motherboard's appearance isn't the most important thing, but gamers and enthusiasts have long showed off their rigs at LAN parties and admired their handiwork through case windows. Looks definitely matter, which is why our designers have honed the ROG aesthetic since the inception of the brand. When the original Crosshair was introduced, most boards were a mishmash of colors with little cohesion or style. We toned down on the Technicolor rainbow and eventually popularized the distinctive red-on-black colorway that has come to be associated with all PC gaming products.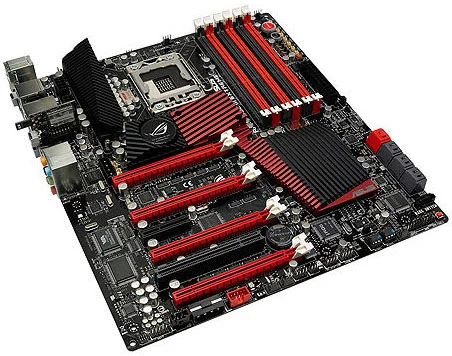 More recently, ROG has been at the forefront of the RGB revolution that's sweeping across the PC industry. The Maximus VIII Hero Alpha takes the trend to the next level with headers for off-the-shelf LED strips, plus the ability to control them with the Aura software for the onboard lighting. Aura enables personal expression with varied effects and millions of shades, so you can subtly match other components or power a seizure-inducing neon show. The lighting isn't just for show, either; it can also be configured to reflect the CPU temperature. As with the first Crosshair, we're keen to use LEDs for both function and form.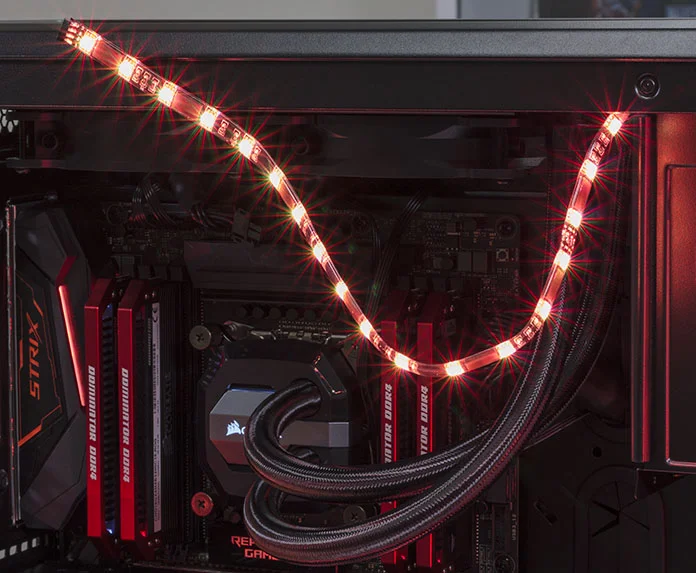 As more products join the AURA family, we're working to consolidate control and synchronize effects across multiple components. One of the benefits of covering different categories is being able to tie them all together as a cohesive whole. We want to elevate the entire PC experience, not just individual parts.
Sometimes, the ROG team comes up with an idea that ends up debuting outside the republic. Such was the case with Thermal Armor, a full-board shroud that appeared on ASUS' TUF Sabertooth P67 before being reclaimed by the republic for the Maximus VI Formula. The armor was initially developed in response to the community's desire to have a cleaner overall look for showcase builds. It's since been embraced by modders who can easily remove and customize the piece to make it even more distinctive.
Motherboards in all sizes
Smaller motherboard form factors have been around since before the Republic of Gamers was born, and they've long been popular in the community. But they also have less real estate than their full-sized counterparts, which complicates squeezing in everything that makes ROG boards unique. Rather than racing to welcome smaller form factors to the family, we waited until we could incorporate them without compromising our core values.
Increased platform consolidation allowed us to bring the ROG experience to microATX with Maximus II Gene. Mini-ITX's diminutive 6.7″ x 6.7″ footprint presented greater challenges that required more extensive customization to overcome. We succeeded with the Maximus VI Impact, which used multiple daughter cards to bring ATX-grade power, audio, and Wi-Fi to the tiny form factor. Despite their restricted dimensions, the first Impact and its successors have been potent overclockers capable of keeping up with the fastest full-sized boards.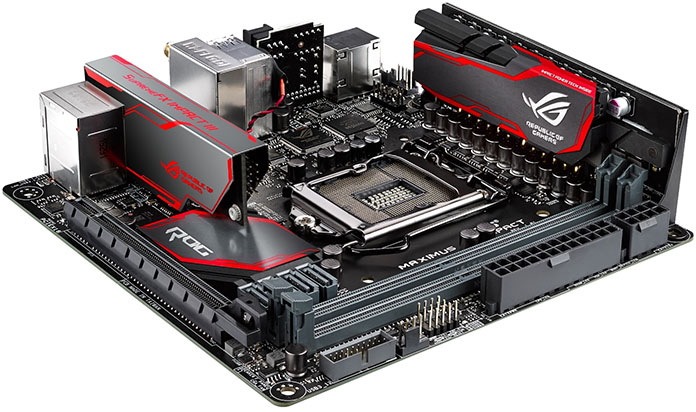 While we've pursued smaller form factors that are easier to tuck into corners and transport to LAN parties, we've also loosened our belts with numerous Extended ATX boards for bigger builds. The larger E-ATX footprint gives our engineers more room to go above and beyond the ROG standard for truly extreme configurations.