Gaming displays that redefine the genre
While graphics cards are largely responsible for determining in-game frame rates, displays dictates how those frames reach your eyeballs. They affect everything in your digital world, including the smoothness of animation and movement.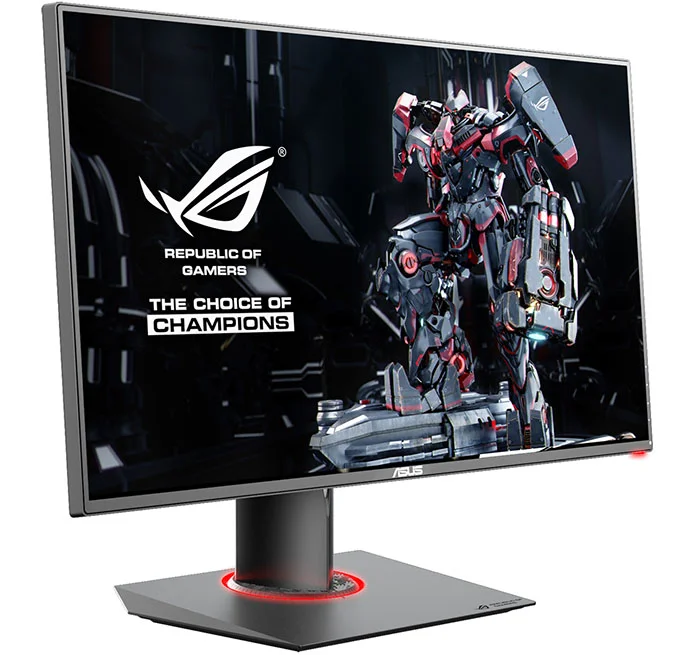 Gaming frame rates vary based on the contents of the scene, but displays traditionally refresh at a fixed interval, creating a fundamental disconnect that causes stuttering, input lag, and visual tearing that disrupts immersion. NVIDIA's G-Sync technology addressed those problems by synchronizing the refresh rate of the display with the frame rate of the graphics card, resulting in an improved experience worthy of ROG recognition. The ROG Swift PG278Q was not only our first gaming monitor, but also the first native implementation of G-Sync tech. It matched refresh and frame rates up to 144Hz—or 144 FPS—to deliver impeccable smoothness with no tearing and minimal lag. Gaming monitors haven't been the same since.
Of course, there was much more to the original Swift than its variable refresh rate. We refined the design throughout, with narrow bezels for multi-monitor configs, an anti-glare coating to minimize reflections, and a fully adjustable stand that lets you set the perfect position. We also revitalized the on-screen display with an intuitive interface built around a mini navigation joystick. Instead of forcing users to fumble with awkward buttons, the PG278Q made it easy to tweak picture with the tip of your finger.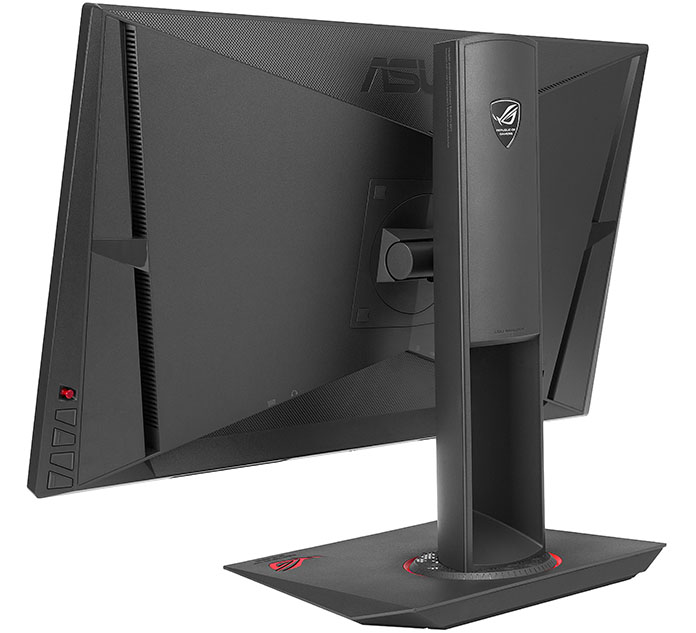 Our second ROG monitor, the Swift PG279Q, may be the one enthusiasts anticipated the most. Unlike its predecessor, which is based on TN technology, the PG279Q combines G-Sync's fluidity with the benefits of an IPS panel. Its wider viewing angles are better for split-screen Rocket League matches and other shared experiences, while its superior color reproduction make games, movies, and images more vivid. And its 165Hz peak refresh rate brings a new degree of silkiness to games.
ROG spreads to physical interfaces
The keyboard and mouse play a pivotal role in how a PC feels, from the precision of the input to the feedback at your fingertips. We had some ideas about how to improve them, so we expanded the republic to include some of our own.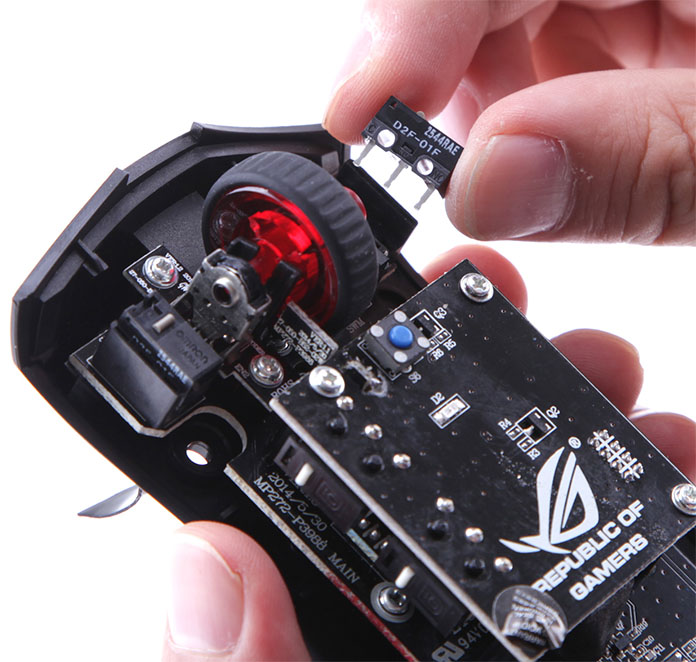 Honoring ROG's history of enabling customization, our Gladius mouse uses socketed switches that are easy to swap. It ships with two pairs of Omron switches for the main buttons, each with a different click force. Right out of the box, gamers can change the feel to suit personal preferences that may change based on the genre.
The swappable switches are rated for 20 million clicks, which is durable enough for most mortals. The top competitive players can rack up thousands of clicks per match, though. Any one of those could be vital to victory, leaving no margin for error. Being able to replace switches as they pass their prime lets elite gamers keep the Gladius as crisp and sharp as the day it left the factory.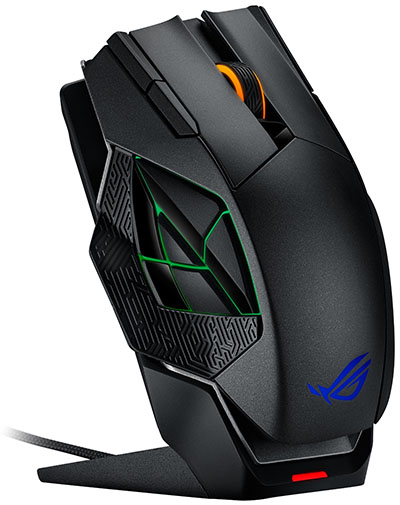 Our latest mouse, the Spatha, brings swappable switches to a wireless body laced with RGB LEDs. The lighting can be tied to other AURA-enabled products, with support for synchronizing colors and effects across multiple components. Synchronized lighting will also extend to the RGB backlighting in our upcoming Claymore mechanical keyboard. These peripherals are part of a growing collection of complementary ROG products that work together to exceed the sum of their parts.
The Claymore's integration into the ROG ecosystem runs even deeper thanks to hotkeys that activate motherboard features. Tweakers can boot directly into the UEFI with a single keystroke, removing the hassle of rapidly hammering delete. And they can adjust the frequency and fan speed instantly via other shortcuts, adding another convenient tuning tool to the ROG arsenal.
Completing the circle with full systems
While creating ROG components for your ultimate DIY PC, we've also been developing complete systems of our own. These fully assembled machines extend the republic's reach to an even larger audience. They also include gaming notebooks that DIY builders can't match.
ROG's first notebook was introduced in 2008. Dubbed the G70, this 17″ gaming powerhouse doubled up on everything; it had a dual-core CPU, dual GPUs in SLI, dual storage bays, and dual fans to cool it all. There was even had a secondary screen to let gamers receive message and email alerts while playing. The G70 had functional lighting, too, in the form of separate LEDs that changed color with the fan speed and flashed with the CPU load.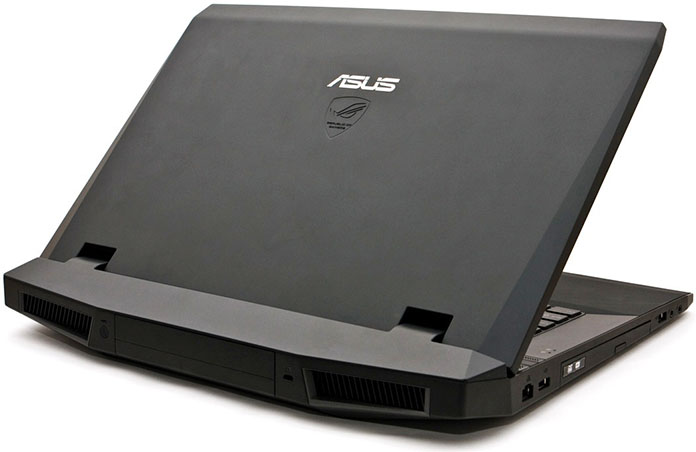 ROG notebooks really came into their own with the G73, a ground-up redesign modeled after the iconic F-117 stealth fighter. Although it wasn't invisible to radar, the angular body cut an aggressive profile unlike anything else on the market. The matte black exterior and soft-touch finish fit right in, imparting a premium tactile feel with menacing undertones.
Thanks to a potent CPU and GPU, the G73 easily ran the most demanding games of its era. But like all gaming notebooks, it faced the significant challenge of dissipating the heat from those chips within the confines of a streamlined chassis. We designed a custom cooler with two large exhausts capable of handling the load. The exhausts directed warm air and fan noise out the back, away from the user, making the cooling as stealthy as the styling.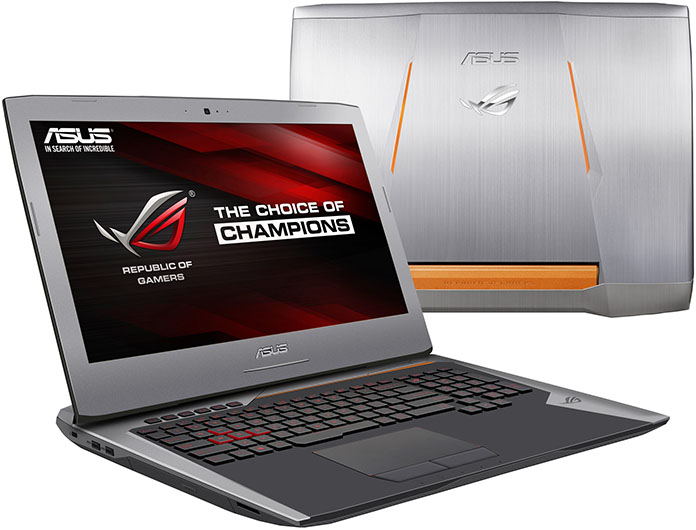 As with our components, we're constantly looking for ways to improve the cooling of our notebooks. That effort spawned the Mobile 3D Vapor Chamber that provides dedicated CPU and GPU cooling in select versions of our G752. It also drove the development of the GX700, the first gaming notebook to chill its components with liquid.
Our engineers began experimenting with liquid notebook cooling in 2013. It took several years to perfect the concept, which consolidates the pump, radiators, and much of the plumbing in an external docking station that connects to the back of the notebook. Liquid flows when the dock is attached, providing a performance boost and greater overclocking headroom, while traditional coolers allows the notebook to run without its sidekick. This hybrid approach harkens back to our roots and ensures maximum versatility for gamers who play at home and on the road.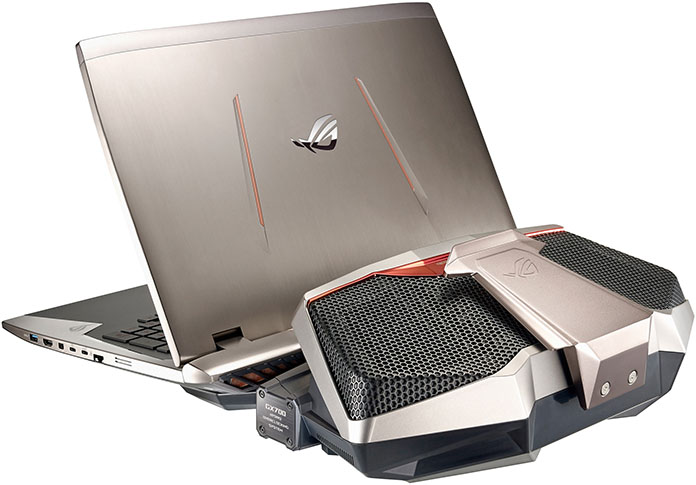 The Republic of Gamers got into desktops in 2011 with the Tytan. Our extensive overclocking experience inspired its Turbo Gear, which increased the CPU clocks at the touch of a button. Turbo Gear works instantly, without rebooting, to make overclocking as convenient and accessible as possible. We firmly believe that you shouldn't have to be an expert to push your PC's performance past stock speeds.
Developing desktops gives us control over every aspect of the system, opening doors to new ideas that wouldn't necessarily be feasible for DIY builds. The benefits are most apparent with compact form factors, where we can tweak the component placement to squeeze more horsepower into smaller chassis. ROG's G20 mini desktop and the even smaller GR8 are prime examples that deliver formidable gaming potential in pint-sized packages. Their smaller footprints are perfect for the living room, an increasingly important battleground as gamers outgrow compromised console experiences.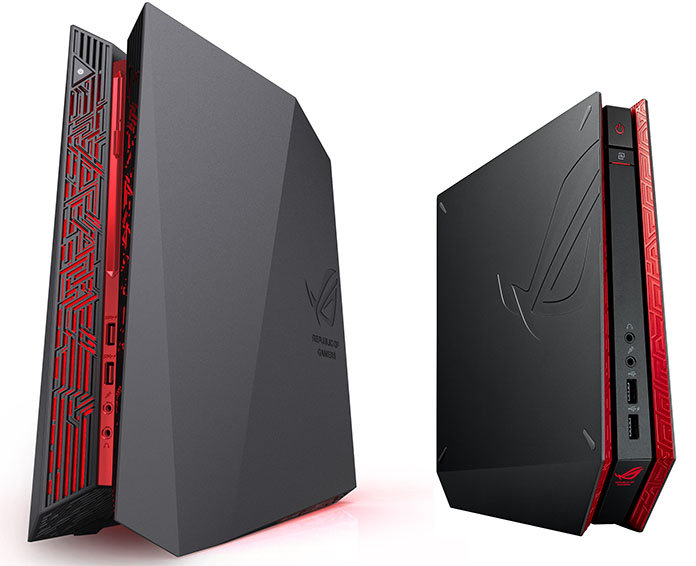 Another perk to creating complete desktops is being able to shape every contour. The edgy, almost alien-like exteriors of the G20 and GR8 are a testament to what our designers can achieve when their imaginations run wild. These striking machines stand with one foot in the future, while their classic black-and-red motif echoes the rich history of ROG's past.