Every year, the world's leading consumer electronics companies gather in Las Vegas for one of the biggest annual events in the industry: CES. It's an exciting event where media and industry insiders can come to learn about our latest and most innovative products.
We're more than a little competitive here at ASUS, so we love the CES Innovation Awards. These hotly-contested awards honor the best of the best—products that demonstrate the highest-quality engineering and design in the industry.
We're proud to announce that so far, nine of our latest products have been named Innovation Awards Honorees ahead of the show. Representing the ingenuity of the engineering and design teams across our company, these products showcase all of the innovative technologies that we put in the hands of creators, gamers, and producers the world over.
Making more of mobile
Headlining our list of Innovation Award Honorees is the ROG Phone II. Designed for high-end phone enthusiasts and mobile gamers, the ROG Phone II puts unparalleled performance in your pocket.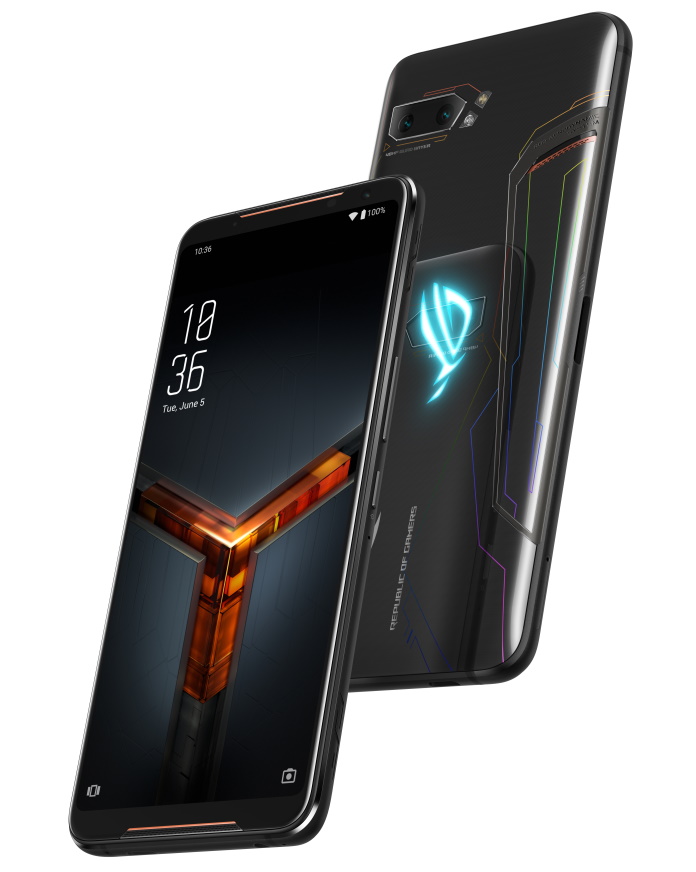 The ROG Phone II harnesses the power of the Qualcomm Snapdragon 855 Plus mobile platform. Our unique thermal design incorporates extensive venting and a custom 3D vapor chamber to keep the phone cool. This powerful cooling system ensures that the ROG Phone II can perform to its full potential even during the longest gaming sessions. Despite all those powerful components under the hood, the ROG Phone II offers exceptional battery life. Its 6000mAh battery is good for all-day gaming.
For the phone's display, we pulled out all the stops. The ROG Phone II has an ultra-responsive 120Hz AMOLED display with only a 1ms response time and 49ms of touch latency. It's the perfect display for users who demand a fluid, blur-free gaming and entertainment experience. Gamers can enhance their experience further with a range of custom peripherals, including the bundled AeroActive Cooler II external fan, the ROG Kunai Gamepad, and a WiGig display dock that enables low-latency, big-screen gaming with no wires.
Designed to complement the ROG Phone II, the ROG Kunai Gamepad is a flexible input device that turns our flagship gaming phone into a true mobile console. Users have several convenient options for connecting the Kunai to the ROG Phone II, each providing a different gaming experience. First, gamers can attach the Kunai to a special case for the ROG Phone II to turn it into a portable console. Second, users can slot the Kunai and the ROG Phone II into the ROG TwinView Dock II for true dual-screen gaming. For a more traditional experience, the controllers can be placed in the Kunai Holder to create a standalone wireless controller. With that impressive flexibility, it's no surprise the Kunai is an Innovation Awards honoree.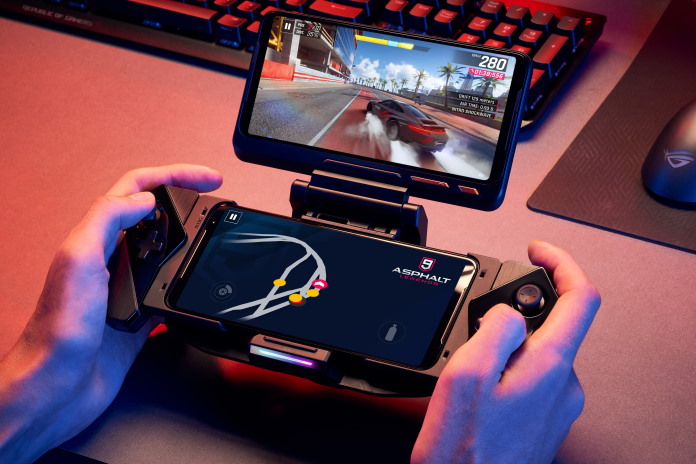 With its familiar button layout and preloaded bindings for popular titles, the ROG Kunai Gamepad is easy for gamers to pick up and use right away. Four switches on the underside of the device provide additional control options and make sure that you can set up a convenient control scheme in any title.
The Kunai's sharp visual design perfectly complements the ROG Phone II. With built-in RGB LED lighting, the Kunai will catch more than a few eyes as you game on the go. Even further, you can use AURA Sync to coordinate the lighting effects on the Kunai with the rest of your gear.
While the ROG Phone II redefines what users can expect from flagship smartphones, the ZenFone 6 makes a high-end smartphone experience attainable for everyone. Despite a low starting price of $499, the ZenFone 6 delivers a top-end Qualcomm Snapdragon 855 mobile platform, a NanoEdge all-screen display, and our innovative Flip Camera. The ZenFone 6's eye-catching moves and style helped it flip right onto the podium as an Innovation Awards Honoree.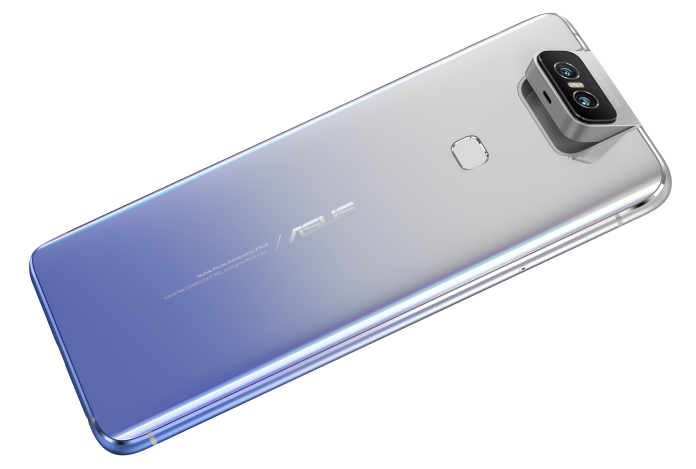 At a time when other manufacturers cut out notches in their smartphone screens to make room for front-facing cameras, we carved our own path. The Flip Camera contains both a 48MP main camera and a 13MP ultrawide second shooter that automatically flips up 180° when users want to take selfies. Unlike standard front-facing cameras, which are typically of lower quality than rear-facing cameras, the Flip Camera lets users take the highest-quality images no matter which direction the phone is facing. Better yet, they don't have to give up valuable screen space to get the best camera experience.
Bringing our A game to the notebook market
We've been innovating in the laptop space since—well, ever since there was a laptop space to innovate in. We've led the way with our high-end gaming laptops, ultraportable notebooks, and professional-grade content creation laptops. We're not resting on our laurels, though. Our latest laptops bring new features that allow users to get the most of their systems whether they're at a desk, relaxing on a sofa, or out on the road.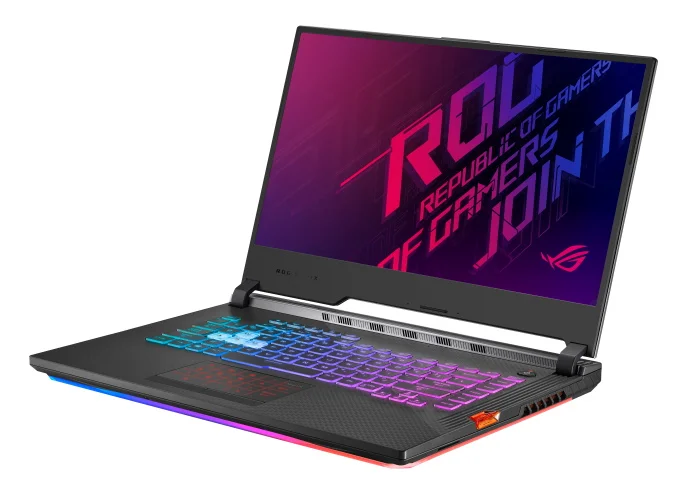 Our first Innovation Award Honoree notebook, the ROG Strix SCAR III, sports an ultrafast display in a machine that's ready for esports dominance. Mere milliseconds separate winners from losers these days, so competitive gamers demand high-refresh-rate displays that deliver the speed, precision, and responsiveness they need to come out on top. The Strix SCAR III's upcoming 300Hz panel provides the smooth, responsive visuals those gamers need to perform at their best. In fact, it's the fastest display gamers can get their hands on right now, period.
It takes carefully selected graphics settings and a tightly-tuned machine to game at 300 frames per second or more in today's most popular esports titles. The ROG Strix SCAR III is ready to make the most of its blisteringly fast display in those titles thanks to Intel's Core i9-9880H CPU and Nvidia's GeForce RTX 2070 GPU, a potent pairing that can not only deliver high-refresh-rate gaming but also the latest ray-traced effects.
To keep these components performing optimally even when the action gets hot, our engineers outfitted the Strix SCAR III with our latest Intelligent Cooling technologies. High-density 83-blade fans draw air through a specially designed 3D Flow Zone at the back of the laptop, while anti-dust tunnels channel dust particles out of the chassis before they can affect the fans' performance over time.
Gamers aren't the only folks who can get a special edge from our notebooks. The ZenBook Pro Duo offers creators an incredible leg up in productivity, and on first glance, you'll understand right away why it's an Innovation Awards Honoree. It features the ScreenPad Plus, a full-width secondary touchscreen that works seamlessly with the main 15.6-inch 4K OLED HDR touchscreen.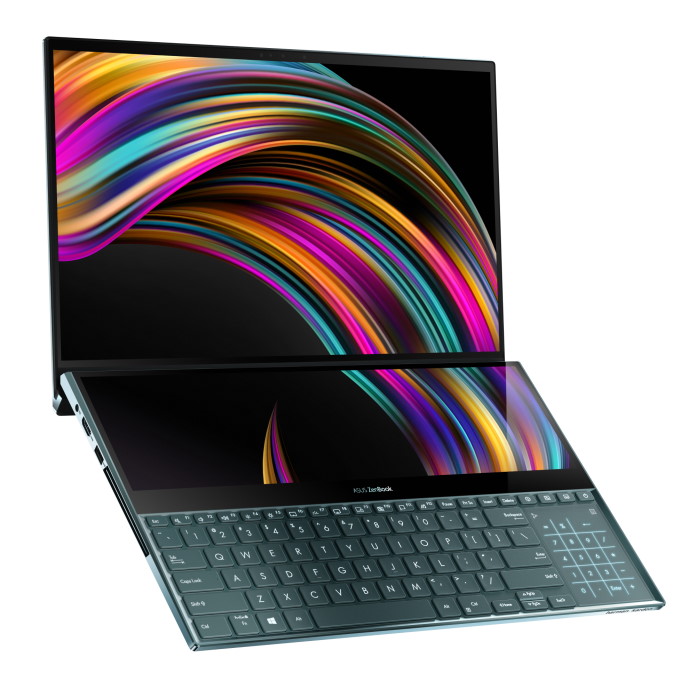 Want a convenient location for all of your Adobe Photoshop control panels, or the Timeline in Adobe Premiere? Looking for a spot to park your meeting notes and email while you work on another project? The ScreenPad Plus's 3840 x 1110 display is the perfect place for all these jobs and more. The main display is tuned for the superlative color production that creative professionals need. This OLED panel is Pantone Validated for color accuracy and reproduces 100% of the DCI-P3 color space.
To give you the processing power you need for your projects—not to mention the dual displays—we equip the ZenBook Pro Duo with some of the finest internals available. Users can select 9th-generation Intel Core Processors, up to 32GB of RAM, and NVMe SSDs as large as 1TB. Graphics horsepower comes courtesy of Nvidia's GeForce RTX 2060 GPU. Whether you're encoding video, rendering 3D models, or processing high-resolution images, the ZenBook Pro Duo will provide the performance and flexibility you need.
Our next two laptops worthy of Innovation Awards honors come from our popular ZenBook line. The ZenBook 15 UX534 and the ZenBook Flip UX563 both include the new ScreenPad 2.0, a 5.65" secondary touchscreen that does double duty as a touchpad. Its smartphone-like interface lets you manage apps and multitask more effectively, and it provides a great space to watch and control entertainment apps without switching away from the primary content on the main screen.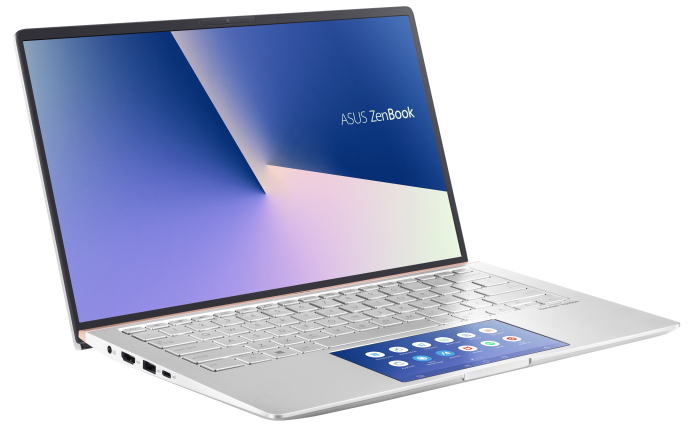 Thanks to its frameless NanoEdge display, the new Zenbook 15 is one of the smallest notebooks in its class. By surrounding the screen with ultraslim bezels, our engineers were able to put a 15.6" display in a chassis that's close to the size of a typical 14" laptop. The ErgoLift hinge raises the rear of the chassis as you open the laptop's lid, bringing the keyboard to a more natural typing angle and opening up more room for airflow beneath the laptop.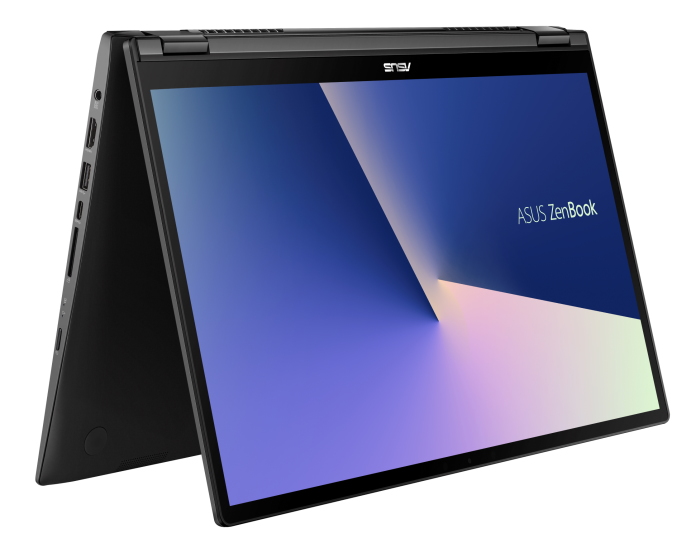 Like the ZenBook 15, the Zenbook Flip is a surprisingly powerful ultraportable, but we rigged out this model with our exclusive 360° ErgoLift hinge. This smooth, stepless hinge holds the display securely at any angle, whether you're using the device in laptop, tablet, stand, or tent mode. For typing comfort, the hinge lifts and tilts the keyboard when the laptop is opened, too.
The ZenBook Flip is an ideal notebook for budding creatives who find inspiration in unexpected places. Its 4K UHD display is Pantone Validated for superior color accuracy, making it a perfect fit for people who work with photographs, graphic arts, or video. With the latest Intel Core i7 processor and Nvidia's GeForce GTX 1050 Max-Q graphics card, the ZenBook Flip can deliver all the performance you need for creative work.
A cutting-edge display and a swift external SSD enclosure round out our Innovation Award Honorees
Creative professionals know that the display is one of the most crucial parts of their rigs. To meet the demands of filmmakers, broadcasters, and game developers alike—all in one screen—we've unveiled the ProArt Display PA32UCG, the world's first 32" 4K HDR monitor with variable refresh rate support up to 120Hz.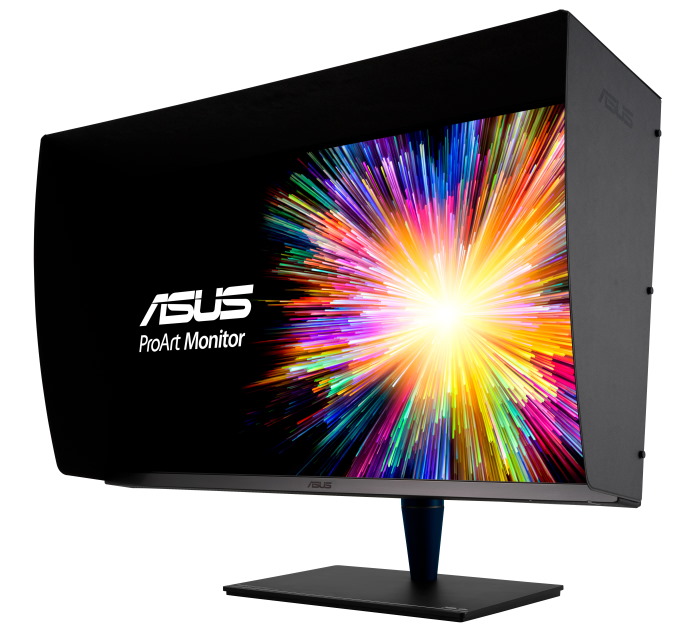 The PA32UCG incorporates industry-leading technologies to support HDR content production in multiple HDR delivery formats. It uses an 1152-zone full-array local dimming backlight to minimize haloing artifacts and achieves a native contrast ratio as high as 1,000,000:1. The display's 1600-nit peak brightness is among the best in the industry, and its support for a wide range of target color gamuts and HDR mastering modes—including Dolby Vision—means the PA32UCG could be the only monitor a professional colorist or game developer needs. It's no surprise this cutting-edge display is an Innovation Awards Honoree.
As HDR gaming builds momentum, game developers need displays that provide not only true color depth but also a smooth rendering experience. The PA32UCG has a wide variable refresh range of 48Hz to 120Hz, making it ideal not only for quality checks and color grading during development but also for evaluating the kinds of high-frame-rate gaming experiences today's competitive players demand. Whatever the job may be, the PA32UCG stands ready to do it.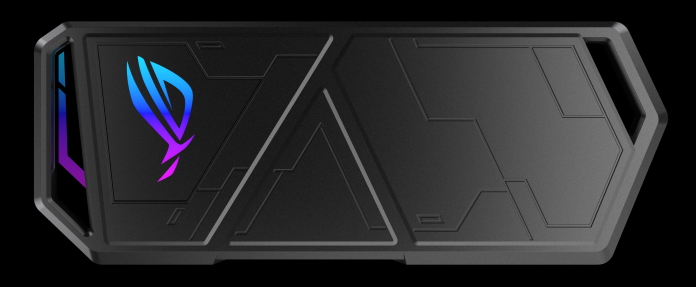 Finally, we're proud to announce that our unique ROG Strix Arion SSD Enclosure is an Innovation Awards Honoree. Today's M.2 NVMe SSDs pack astonishing storage capacity and transfer speeds into a package barely larger than a stick of gum, and the ROG Strix Arion allows users to put that power into a portable enclosure.
A speedy portable drive needs a port with the bandwidth to keep up. The Arion takes full advantage of the performance potential of the USB 3.2 Gen 2 Type-C port. Its sleek aluminum alloy case and integrated thermal pads provide excellent heat dissipation, making sure that the drive runs at peak performance even when users press it into heavy use. The ROG Strix Arion is not only powerful, but stylish, as well. You can customize the RGB LED lighting on the device and coordinate the effects with the rest of your ASUS gear using AURA Sync.
More to come at CES 2020
We're honored to have been recognized with nine CES 2020 Innovation Awards, and we're proud of the design teams and engineers who turned these innovative concepts into tangible products. We're looking forward to showing off these award-winning products and many others at CES this year, and who knows? Maybe we still have a surprise or two up our sleeve. We'll see you in Las Vegas January 7 through January 10, where you can learn more about all that ASUS and ROG products have to offer.
Disclaimer: The CES Innovation Awards are based upon descriptive materials submitted to the judges. CTA did not verify the accuracy of any submission or of any claims made and did not test the item(s) to which the award was given.