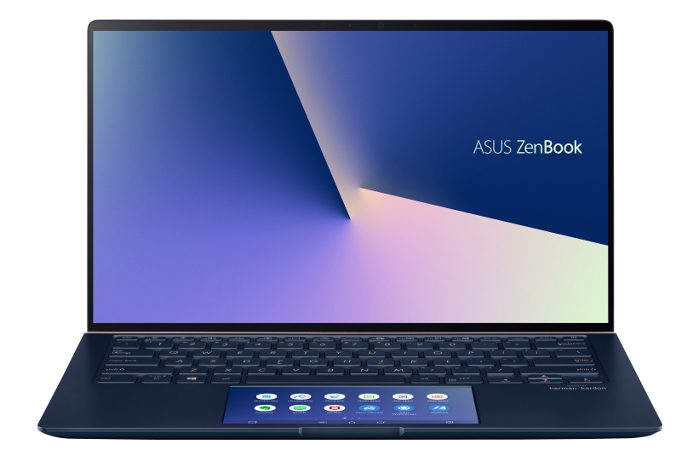 ZenBooks have always been known for their balance of performance, portability, and style. For Computex 2019, we're announcing a trio of new additions to the family. With each generation we find new ways to squeeze more into less space, but this balanced new family packs in more premium features than ever.
We've been honing our classic ZenBook design for busy young professionals, and the latest lineup features 8th Gen Intel processors, discrete graphics, and plenty of storage for perfect on-the-go performance. With a beautiful military-grade aluminum chassis and all-day battery life, these tough multitaskers go from conference center, to climbing wall, to cafe with elegance and ease.
But this isn't just a hardware refresh. We went back to the drawing board and asked ourselves what's needed for real mobile productivity. The answer is a second screen, which is why every new ZenBook in the line features our innovative ScreenPad. Once limited to the premium ZenBook Pro, the ScreenPad swaps your everyday touchpad for a high-res touchscreen with native apps and the ability to extend your desktop beyond the laptop's display. All these updates mean the newest ZenBook series has the personality, portability, and power to truly go anywhere.
Feeling Blue
Browse the ultrabook aisle and you'll soon notice a trend. Cheaper models miss the mark with plasticky finishes, while well-designed ones can be hard to justify given the more affordable alternatives. But ZenBooks have been doing high-end gorgeous design for years and that aesthetic extends to even the more affordable family members like the new ZenBook 13, 14, and 15. Our trademark deep Royal Blue delivers all the elegance of a navy tux. The laptops are clad in aerospace-grade aluminum for beauty and durability, and feature clean and square modern lines complemented by a luxurious Rose Gold accent along the display hinge.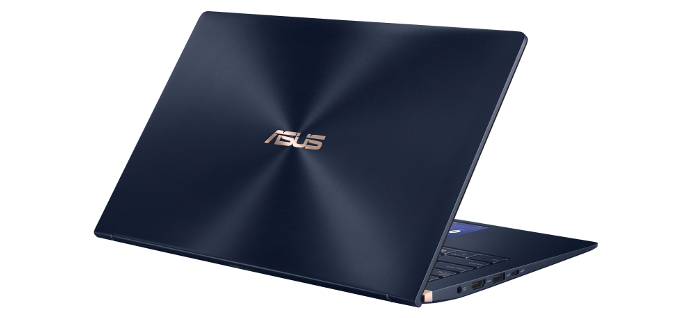 Good looks don't count for much if your laptop drags you down. Thankfully, these ZenBooks have more than fresh new facade. They continue their reign as the world's smallest ultrabooks, packing power into three impossibly compact machines. It starts with the ZenBook 13 UX334, a 13" laptop in a 12" body that's perfect for space-conscious commuters and busy urbanites. By shaving away every excess inch, it's now 14% smaller than previous generations and only 0.7" thick. The ZenBook 14 UX434 is scaled down, too, measuring just a shade bigger than an A4 sheet of paper. Even the largest of the bunch, the ZenBook 15 UX534, crams its 15.6" display into a tight 13.9" x 8.7" footprint.
Life on the edge
Beyond a beautiful build, these new ZenBooks push the limits of what's possible in such a small package. Their reduced footprint is possible thanks to razor-thin NanoEdge bezels measuring as thin as 2.8 mm. Designed to give you the most screen in the smallest package possible, the near-frameless display reduces unnecessary bulk and maximizes your work area for fewer distractions. The side bezels are the slimmest, while the top bezel is a little thicker to accommodate the high-definition 3D IR webcam. Centered above the screen, it's in the perfect position for dialing into remote meetings or simply logging in with Windows Hello's ultra-fast facial recognition.
Smaller is more portable but there's benefit to going big: a larger display offers a roomier screen for working on bigger spreadsheets and projects. Our ZenBook line includes small, medium, and large options to better cater to individual needs. The new ZenBook 13 boasts a 95% screen-to-body ratio, squeezing a stunning 13.3" Full HD 1920 x 1080 display into its 12" body. For those needing more workspace in an ultra-portable package, the ZenBook 14 and 15 have 14" and 15.6" displays that spread their resolution across a bigger panel to give your apps more room to breathe. The 15.6" UX534 has the option of a Full HD or a 4K Ultra HD display, which is ideal for editing really large photos with lots of detail, while the UX434 features an optional touchscreen for easy interactions and quick scrolling as you read.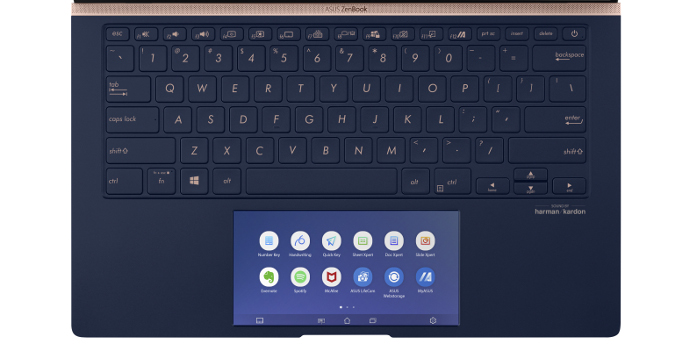 No matter how big your display, as a busy professional, flipping back and forth between windows and tabs can slow you down. This is why we've added the ScreenPad 2.0 to every new ZenBook. By exchanging the underutilized touchpad space for a 5.65" Full HD+ touchscreen, the ScreenPad streamlines your workflow to speed up everyday tasks. Your new multitasking BFF works as a numpad for data entry, media controls for video and music, or even a second screen for sneakily keeping an eye on the big game. It can also serve as a handy dock for important tools, like your calendar, favorite chat app, or your calculator.
The ScreenPad's updated smart software makes it super easy to use. Just tap the dedicated navigation bar shortcut to switch to touchpad mode, and when you're ready to go back to the ScreenPad, hit the 'x' in the top right corner. The default resolution has been tweaked to make it easier to see and interact with everything on-screen, but if you'd like more detail or want to play videos, the ScreenPad's settings allow you to adjust to a higher 2160 x 1080 resolution as well. The latest generation of ScreenPad also consumes less power than before by running on Intel's integrated graphics instead of the discrete GPU, so you can enjoy enhanced productivity without worrying about depleting your battery.
Ultralight heavyweight
Along with the additional screen real-estate and an updated design, the new ZenBooks have gotten an under-the-hood refresh. These hard-hitting ultraportables handle it all, easily going from email and word processing to design work.
The ZenBook 13 UX334 joins its siblings by offering up to an 8th-gen Intel Core i7-8565U processor. This quad-core processor boasts a 1.8GHz base clock and a 4.6GHz Max Turbo for an extra boost when tackling demanding tasks, and it's now available across the lineup. To help with intensive multitasking and multimedia work, the whole series features up to 16GB of memory. All of the ZenBooks leverage up to 1TB of speedy PCIe SSD storage to ensure they boot quickly and have plenty of room for all your apps and files.
We also know that integrated chipsets can struggle with heavier design and multimedia work, so this new generation continues in its predecessors' footsteps with dedicated NVIDIA GPUs. The ZenBook 13 and 14 feature the latest GeForce MX 250 graphics, while the ZenBook 15 has a hard-hitting new GeForce GTX 1650 Max-Q. Now you can get all your work done, edit videos, and even unwind with some light gaming when it's time to relax.
Most professionals need to hook up peripherals at some point during the day, whether that's a mouse, an external drive, headphones, or all three. These ZenBooks feature a full suite of ports so you can connect a newer storage drive to the USB Type-C port while topping up the battery with the separate DC jack. The integrated HDMI port means there are no surprises when your boss asks you to present at the last minute, and a universal audio jack keeps the music going while you power through your unread emails. A couple of extra USB Type-A ports are on hand for legacy storage devices to keep your life dongle free.
Lighten your load
Our obsession with working hard while traveling light is pretty obvious. Making laptops as portable as possible is important, but smaller isn't always better if a laptop is too uncomfortable to use for a prolonged period. Working from anywhere isn't easy if your laptop is too hot and loud for class, and then there's wrist pain from typing on tiny keyboards, and neck strain from poor screen positions. Our keyboard design considers both comfort and compactness. On the surface, a subtle curve ensures the full-size keycaps hug your fingertips, while backlighting makes typing easy even in dark rooms. Underneath, improved rubber dome switches and 1.4 mm of key travel provide comfortable tactile feedback.
The entire series also incorporates our ErgoLift hinge, which raises the back side of the keyboard for a perfect typing angle. The clever design offers improved airflow for a cool and quiet 25db, even at max fan speed, and creates space under the laptop so sound from the speakers isn't muffled by the desk underneath.

Too often, performance like this comes at a cost; more power means shorter battery life, and a bigger battery adds more weight. But every new ZenBook is also astonishingly light. The UX534 is the heaviest of the bunch and it clocks in at just 3.5 lbs. Any one of them slips right into your gym bag, backpack, or favorite messenger bag. Large 50Wh batteries in the 13" and 14" models keep you going through long work sessions, and a beefy 71Wh battery in the UX534 ensures your decision to go big doesn't also mean you have to go home for your charger.
Robust in all the right ways
Instead of shaving off necessities for the sake of size, we focus on fitting it all into a sleek, slim package. It's a tenet we've delivered on with each new generation of ZenBook, and the stylish ZenBook UX334, UX434, and UX534 uphold this promise with a super-compact design, stunning good looks and well-priced performance to match.
ZenBook 13 UX334
ZenBook 14 UX434
ZenBook 15 UX534
CPU
Up to Intel Core i7-8565U, 4C/8T, 1.8GHz (8MB cache, up to 4.6GHz)
Up to Intel Core i7-8565U, 4C/8T, 1.8GHz (8MB cache, up to 4.6GHz)
Up to Intel Core i7-8565U, 4C/8T, 1.8GHz (8MB cache, up to 4.6GHz)
GPU
Intel UHD Graphics 620 / NVIDIA MX250
NVIDIA GeForce GTX 1650 Max-Q
Display
13.3" NanoEdge
5.65" ScreenPad 2.0
14" LED-backlit NanoEdge, Touch Optional
5.65" ScreenPad 2.0
15" LED-backlit NanoEdge
5.65" ScreenPad 2.0
Resolution
Full HD (1920 x 1080)
Full HD+ ScreenPad (2160 x 1080)
Full HD (1920 x 1080)
Full HD+ ScreenPad (2160 x 1080)
Full HD (1920 x 1080) / Ultra HD (3840 x 2160)
Full HD+ ScreenPad (2160 x 1080)
Memory
Up to 16GB
Up to 16GB
Up to 16GB
Storage
Up to 1TB PCIe SSD
Up to 1TB PCIe SSD
Up to 1TB PCIe SSD
Networking
Intel Gigabit 802.11ac (2x2)
Connectivity
1 x USB 3.1 Gen 1 Type-C
1 x USB 3.1 Gen 2 Type-A
1 x USB 2.0 Type-A
1 x HDMI
1 x MicroSD slot
1 x Audio combo jack
Bluetooth 5.0
Battery
50 Wh
71Wh
Weight
TBD
3.5 lbs
Dimensions
11.93" x 7.44" x 0.73"
12.56" x 7.83" x 0.69"
14" x 8.68" x 0.77"
OS
Windows 10
With quad-core processors, discrete NVIDIA graphics, super-slim NanoEdge bezels, battle-tested MIL-STD 810G military toughness, and premium ScreenPads, the new ZenBooks are designed to make your workday more comfortable and productive. Check with your local ASUS representative for information on pricing and availability in your region.
We announced a lot of hot new tech at Computex 2019. You can find all of the latest gear from ASUS and ROG in this article.