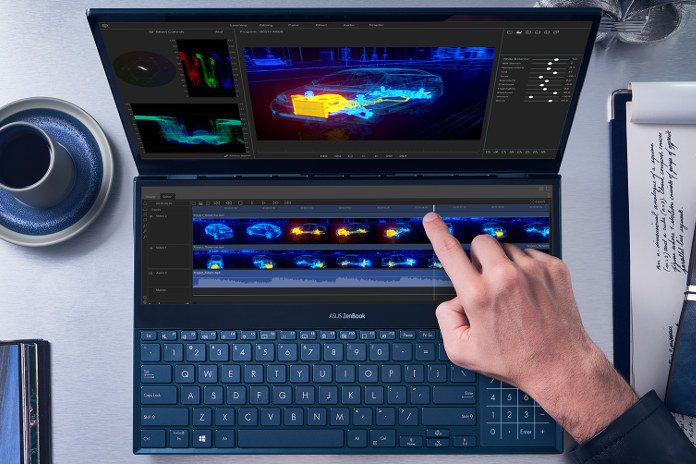 Advancements in mobile computing have allowed the way we work to evolve beyond life in a cubicle. Even if you require a high-performance machine for demanding tasks like 3D rendering, content creation, or complex calculations, it's possible to find a laptop that squeezes the speed you need into a portable package. But for years, innovation has been focused on cramming increasing amounts of power into smaller form factors, and there hasn't been much consideration of other ways to improve productivity. Outside of being slimmer, lighter, and more powerful, our computers look largely unchanged from nearly three decades ago.
Thinking outside the bezel
At ASUS, we pride ourselves in stepping outside the confines of what's considered conventional to see if there's a better way of doing things. Last year, we added a second screen to our ZenBook Pro, replacing its trackpad with the ScreenPad, a 5.5" IPS panel that streamlines your workflow by relocating certain functions and toolbars to maximize screen space without hiding important windows. The ScreenPad 2.0 delivers an enhanced experience for our mainstream ZenBooks and entry-level VivoBook laptops in the same recognizable form factor. But we realized that a second screen could be more useful for a wider variety of people if we moved some things around.
Enter the ScreenPad Plus, a roomy second display that spans the full width of the keyboard on the new 15.6" ZenBook Pro Duo UX581 and 14" ZenBook Duo UX481. Designed for more demanding workloads, this pair of laptops feature powerful Intel processors, discrete graphics from NVIDIA, blazing fast PCIe storage, and the ability to extend your workspace beyond the laptop's screen so that you can work more efficiently.
Duo it again
The ScreenPad Plus doubles down on our belief that the secret to getting more done is an auxiliary display. The ability to organize applications and position windows across a bigger space means you spend less time minimizing and maximizing windows when switching tasks. Working away from home, whether you're traveling, at the library, or meeting a client, often means leaving your most efficient setup behind and then struggling to be as effective.
The ScreenPad Plus enhances your productivity while you're on the road. In the ZenBook Pro Duo, it takes the form of a 14" touchscreen that spans the full width of the laptop and sits under the display, while the more compact ZenBook Duo boasts a 12.6" touchscreen stretching from one side of the chassis to the other. Both are carefully sized to match the display that sits directly above, resolution and all, so dragging windows down is seamless and you won't have to deal with differences in scaling.
To make room for the ScreenPad Plus, we had to rethink traditional laptop layout. We didn't want to make the chassis larger, or add a bulky and potentially flimsy flip-out mechanism for another display. Instead, we made the most of the space already available to us. To that end, the keyboard has been shifted forward, a design that was first implemented in our high-end gaming laptops and emulates the typing position of a desktop keyboard. Instead of resting your wrists on the laptop itself, your hands hang off the edge, just like they would on a regular keyboard. A desktop-style detachable palm-rest is included with the UX581 for those that want to replicate the feel of their external keyboard. The ErgoLift hinge introduces a subtle slope that mimics the flip-out feet responsible for raising up the back of your favorite keyboard. The trackpad shifts over to the right, which is a more natural position anyway. By repositioning both, there's ample space above for the ScreenPad without making the laptop any bigger.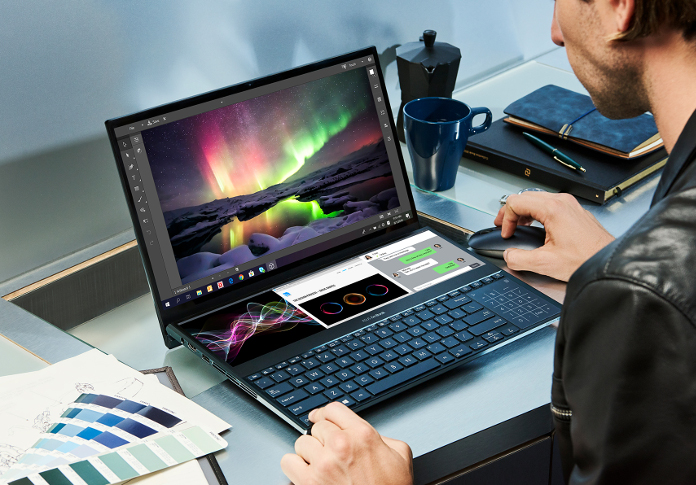 I like the way you work it
A change in routine can be jarring, but the ScreenPad Plus is designed to emulate and enhance your existing multi-window workflow rather than disrupt it. Most of us park certain applications, like email and chat windows, on one screen so we can make full use of the main monitor for our current task. The ScreenPad is large enough to dutifully fulfill the same function. It can even remember what you like to keep down below and what needs the breathing room up top. Stash your email, Twitter feed, and financial tickers on the ScreenPad while you work on a spreadsheet on the primary display. Or, run a timer to keep you on track during a Powerpoint presentation. Either way, the ZenBook can arrange all of the software you need to see right from launch. When a window you've stowed on the ScreenPad suddenly takes priority, a dedicated Task Swap function can instantly switch the two screens, bumping your background tasks up to the foreground on the main stage.
Many folks use a second display to extend their workspace while they focus on just one task, and that's where the ScreenPad Plus shines. Windows can be dragged and dropped to the ScreenPad, allowing you to pop out editing toolbars and use the ScreenPad Plus as a docking area rather than an independent window for separate apps. This is one scenario where the ScreenPad outdoes even the inspiration for its existence. Rather than edit on one screen and dock all your tools on a second monitor way off to the left or right, it places them right below your line of sight, just a couple of inches away, and still in your field of vision. Changing between tools is as easy as adjusting your gaze and tapping what you need on the touchscreen right above your keyboard.
A matte coating on top of the ScreenPad display combats unsightly fingerprints and cuts the glare from overhead lights, while wide 178 ̊ viewing angles keep colors vivid. Brightness for the two displays can be controlled independently, allowing you to crank up the ScreenPad Plus' intensity if you're sitting underneath bright fluorescent office lights, or turn it way down if you're taking notes in a dark conference room.
Seeing is believing
The ZenBook Pro Duo's second screen is a showstopper on its own, but the headline act for this laptop has got to be the 15.6" NanoEdge display up top. Framed in narrow bezels and free of clutter thanks to the ScreenPad, it looks much bigger. The 4K Ultra HD resolution is detailed enough for working on really large images that usually have to wait until you get back to your desk, and the ZenBook's OLED panel boasts 100% coverage of the DCI-P3 color space. DCI-P3 is typically used in digital cinema and is much wider than the sRGB color space typical of laptop screens. The OLED panel offers stunning contrast between the darkest blacks and brightest whites as well as support for HDR content. If you don't spend all your time in creative applications, the more compact ZenBook Duo spreads its Full HD resolution across a smaller 14" panel. It covers 72% of the NTSC color space and is factory-calibrated to ensure colors on the screen are accurate.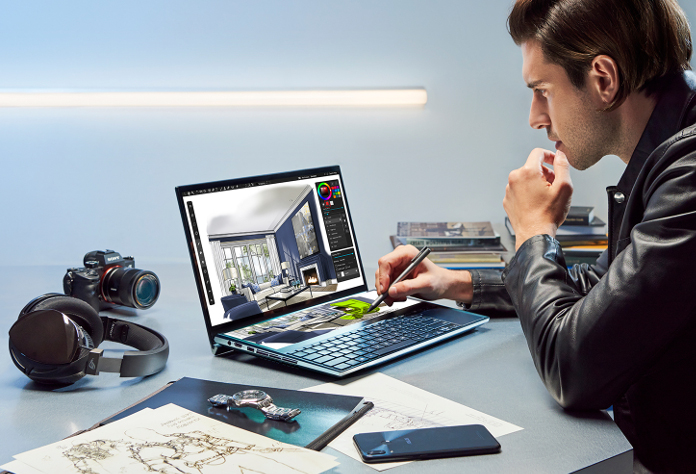 Emulating your desktop setup is useless if your computer can't perform the same tasks on the road as you would at the office. The ZenBook Pro Duo and ZenBook Duo are each equipped with multi-core Intel CPUs and powerful discrete graphics from NVIDIA. The beefier ZenBook Pro boasts up to a Core i9-9980HK with a base clock of 2.4GHz and a peak Turbo Boost clock rate of 5GHz. It packs eight cores and 16 threads into a 45W TDP. Combined with up to 32GB of RAM, it crushes multi-threaded encoding and compiling workloads, and masterfully handles multitasking. This formidable mix is matched with an NVIDIA GeForce RTX 2060, the same GPU inside many of our ROG gaming laptops. It delivers a boost for GPU-accelerated tasks, speeding up rendering so that you're not bogged down while working on the road.
The smaller ZenBook Duo takes things down a notch, though it's still exceedingly capable when it comes to creative workloads. The UX481 lives on the cutting edge with options for Intel Core i5 and Core i7 processors paired with up to 16GB of RAM. These ultrabook processors are designed as power-efficient solutions for smaller systems, but with four cores and Intel's Hyper-Threading technology offering eight parallel threads of execution, they provide plenty of performance. NVIDIA's GeForce MX250 discrete GPU lends a hand with photo and video editing with lots of effects, plus acceleration for movie playback.
Both the UX581 and UX481 complement their high-end hardware with lightning fast PCIe SSDs. With support for capacities up to 1TB, there's plenty of room for big projects without resorting to cloud backups or external drives, though if you need one, there's ample connectivity, including USB Type-C and USB 3.1 Gen2 Type-A. The UX581's Thunderbolt 3 port can also be used for hooking up to an external display, while an HDMI port offers flexibility for connecting to older monitors, TVs, and projectors.
Upgrades from the inside out
This year's ZenBook is very different from any other, and the updated design reflects our complete reimagining of what it means to be productive on the move. Along with the ScreenPad Plus and an under-the-hood overhaul, subtle changes to the chassis emphasize our focus on performance. Wrapped in smart Celestial Blue, it's business-like without being boring. On the outside, the color manifests as an inky black that shines a blue-green when it catches the light. The aluminum lid features our signature concentric circles, which sit off-center and radiate out from the mirrored ASUS logo that's been shifted over to the right for a more modern feel.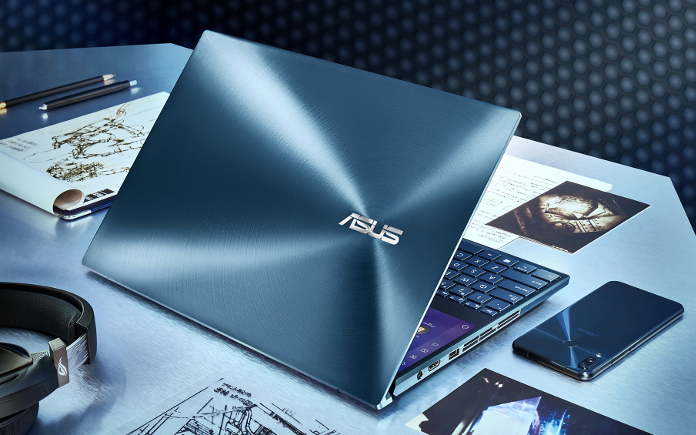 Lift the lid, and you'll see the distinctly zen blue that covers the keyboard and trackpad. It features a matte texture to help hide fingerprints and smudges that might look unprofessional. Rather than the glossy gold or silver that usually adorn the edges of our premium laptops, the ZenBook is trimmed with subtle pewter grey that accents its angular edges and shows off the new futuristic look. Oblique cuts on the back edge and sides lend an elegant air of authority that feels all business.
The ZenBook Pro Duo UX581 packs its considerable might into a chassis that still measures less than an inch thick and weighs 5.5 lbs, so it'll slide into any laptop sleeve or messenger bag. The more compact and moderately specc'd UX481 tips the scales at just shy of 4 lbs. Measuring just 0.75" thick, it's slim enough to tuck under your arm.
ZenBook Pro Duo UX581
ZenBook Duo UX481
CPU
Up to Intel Core i9-9980HK, 8C/16T, 2.4GHz (16MB cache, up to 5GHz)


Up to the latest Intel Core i7 CPU
GPU
NVIDIA GeForce RTX 2060 with 6GB GDDR6 VRAM
NVIDIA GeForce MX250 with 2GB GDDR5 VRAM
Display
15.6" NanoEdge OLED
14" ScreenPad Plus touchscreen
14" NanoEdge IPS
12.6" ScreenPad Plus touchscreen
Resolution
Main: 4K (3840 x 2160)
ScreenPad Plus: 4K UHD
Main: Full HD (1920 x 1080)
ScreenPad Plus: 12.6" Full HD
Memory
Up to 32GB DDR4 @ 2666MHz,
Up to 16GB LPDDR3 @ 2133MHz
Storage
1TB PCIe x4 SSD
512GB / 256GB PCIe x2 SSD

Networking
Up to Intel Wi-Fi 6 with Gig+ (802.11ax)
Bluetooth 5.0
Connectivity
1 x Thunderbolt 3 USB-C
2 x USB 3.1 Gen 2 Type-A
1 x Standard HDMI
1 x Audio combo jack
1 x DC-in
1 x USB 3.1 Gen2 Type-C
1 x USB 3.1 Gen 2 Type-A
1 x USB 3.1 Gen 1 Type-A
1 x Standard HDMI
1 x Audio combo jack
1 x MicroSD card slot
1 x DC-in
Battery
71 Wh
70 Wh
Weight
5.5 lbs
3.3 lbs
Dimensions
14.1" x 9.7" x 0.94"
12.7" x 8.8" x 0.78"
OS
Windows 10 Home / Pro
Windows 10 Home / Pro
Crafted for creatives
The ZenBook Pro Duo and ZenBook Duo are tailored for creative professionals who crave unmatched mobile productivity. Dressed in a modern new chassis and equipped with our functional ScreenPad Plus, these laptops are powerful enough to do all your heavy lifting from the road. The latest generation of Intel processors and NVIDIA discrete GPUs are complemented by fast storage and ample connectivity. Check with your local ASUS representative for regional availability and pricing for the ZenBook Duo and ZenBook Pro Duo.
These products aren't available yet. Please subscribe to receive emails from us and we'll let you know when they're available.
We announced a lot of hot new tech at Computex 2019. You can find all of the latest gear from ASUS and ROG in this article.