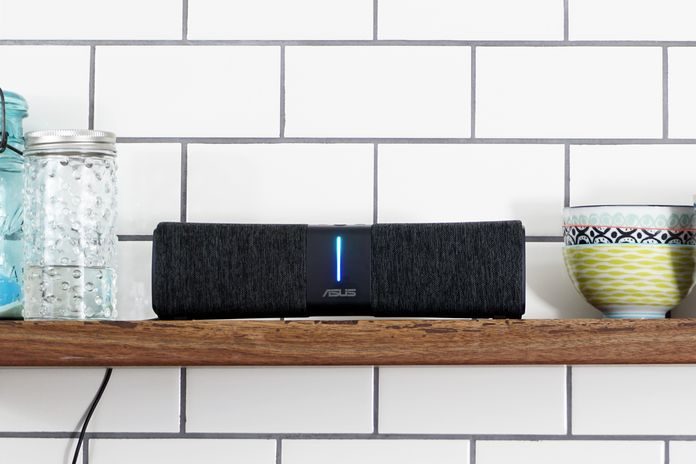 Our Lyra family of routers aren't just capable networking devices; they're designed to be attractive enough to blend in with your home decor so you can confidently place them anywhere you need them. The Lyra Trio nodes are small, triangular, and modern, and the original Lyra features a low profile design that makes it easy to deploy a discreet mesh network. The Lyra Voice takes that notion to the next level, because it doesn't look like a router at all. Unless you knew otherwise, you would swear it's just a cool-looking speaker.
First and foremost, the Lyra Trio is an AC2200 tri-band router with 2.4GHz and two 5GHz bands, each of which offers 2×2 MIMO capabilities. That means the router both reduces traffic congestion by letting you keep devices on different bands and maximizes the efficiency of the traffic on each band. However, it's also a wireless speaker, and it boasts Amazon Alexa integration, so you get a smart assistant that you can control with your voice. In addition to that triple threat, the Lyra Voice can function as a WiFi repeater, a regular Bluetooth speaker, or as part of a mesh network that blankets your entire home in WiFi.
Stand alone
This multi-functional device sounds quite complex, but setup is actually a breeze. To use the Lyra Voice as your primary router, all you need is the ASUS Router app, your modem, and a few minutes of your time. You can get the ASUS Router app for free in either the App Store or Google Play Store, and it's loaded with features, including AiProtection powered by Trend Micro. It gives you parental controls, like an internet activity dashboard, time limits, and content filtering, as well as presets to manage kids' devices. Like other ASUS routers, you also get handy extras like the ability to easily set up a guest network for when you want to let others use your WiFi but don't want to give them your network credentials.
Once you have the app installed on your phone, connect the Lyra Voice to your modem with the included Ethernet cable. Power cycle your modem and then plug the Lyra Voice into a power outlet and switch it on.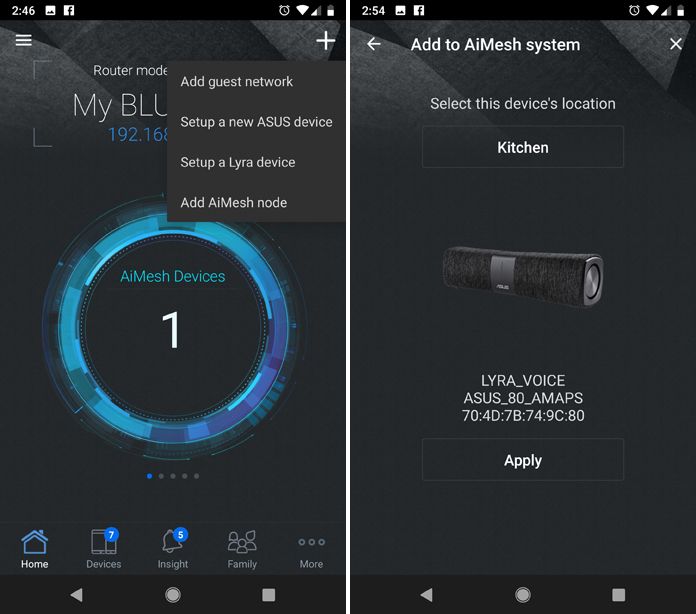 After it's fired up, open the ASUS Router app, click the "+" in the upper right corner, and select "Setup a Lyra device" from the drop down menu. The app will find the Lyra Voice and then you can tap the image of the router to connect. This may take a couple of minutes. When the app finds the Lyra Voice, you can select between Router Mode or Repeater Mode. If you want to use it as your main router, select Router Mode.
Next, you can choose a location from a list the app provides, like Kitchen or Living Room. This is merely a naming convenience; you don't have to worry about choosing the right location. The app will then search for the modem for a few minutes, and when that's done, you'll be prompted to name your network and create a password.
After you do that, and create your login profile and admin account, you'll be prompted to connect to your Amazon account. If you plan to use the Alexa features of the Lyra Voice, tap to sign into Amazon and tap Allow when you're there. In short order, the Lyra Voice says aloud, "Your Lyra Voice is ready." You'll be taken to another screen in the app; tap Finish, connect to your newly created network, and you're ready to go.
Spotty WiFi is something we've wrestled with at home so I was impressed with the Lyra Voice's range and strength as a WiFi router. With the device placed in a downstairs corner of the house, I checked the signal strength in several rooms on multiple floors. The Lyra Voice's reach extended to the top level and had enough bandwidth for a 4K stream even on the opposite corner of the house.
Get set, mesh
If you want to take your WiFi to the next level, the Lyra Voice is an ideal addition to an AiMesh network. Mesh networking in general can be a huge benefit to connectivity in larger spaces. Instead of relying on a single router whose range is limited and diminishes across distances, a mesh network relies on a series of nodes that maintain the strength of the primary signal and evenly distribute it across a much larger area. It can also help bring a stronger WiFi signal across floors of a home or office, and extend the network to previously unreachable spots, like the garage or yard.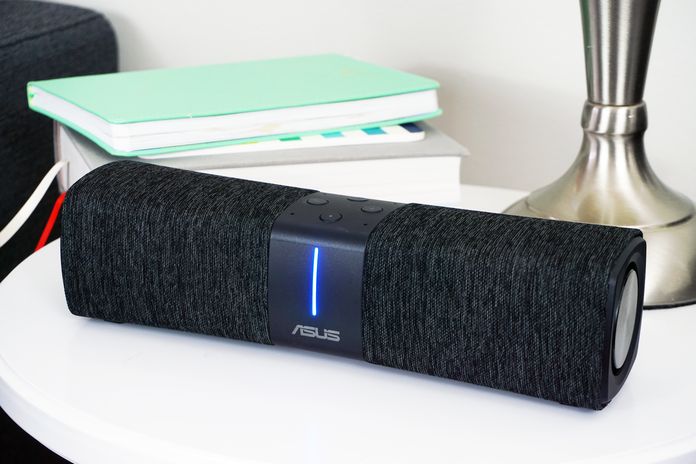 ASUS's AiMesh simplifies the process of setting up a mesh network. While traditional mesh networks involve investing in multiple identical nodes, any ASUS router with AiMesh support can be added to an existing ASUS WiFi network with a few easy steps. Not only is it cheaper than investing in a full set of nodes, you can mix and match compatible routers to customize your network.
We already have the fast and powerful ASUS Blue Cave router set up, so we simply added the Lyra Voice to it as a node. You can set up the new device using the ASUS Router App, so have that at the ready. Plug the Lyra Voice into a power outlet, turn it on, and wait for it to boot up. Meanwhile, fire up the app and log in to your existing router.
Click the "+" sign in the upper right corner of the app and select "Add AiMesh node" from the menu. The app will automatically find the Lyra Voice. When you select it from the list of devices, a robot voice will tell you that the Lyra Voice is ready to be set up and instruct you to follow the directions to complete the process. Click Apply, and wait a few minutes for the app to perform its updates. A couple of tap-throughs later, the Lyra Voice will be connected to your AiMesh-capable router's network. You can go through the same process to add more nodes if you have a particularly large house or there are problem areas with persistent dead spots, but for me, the Blue Cave and Lyra Voice are more than enough for full coverage.
Stop, calibrate and listen
Because it looks like an elegant Bluetooth speaker, this router blends in basically anywhere, but in my house, the place to be is the kitchen. I have a PC set up in a corner for everyone to use, and it's become the de facto house jukebox, too. The Lyra Voice is perfect for letting me control all the music from my phone, instead of having to go to the computer and pull up whatever music I want to play.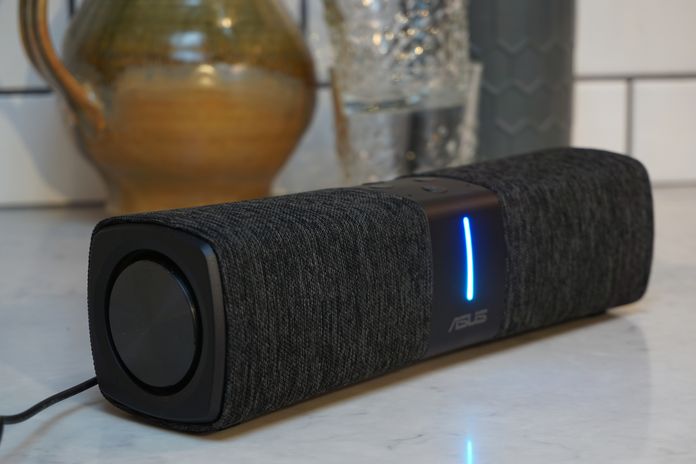 It integrates with several music streaming services, including Spotify, Pandora, Amazon Music, SiriusXM, and iHeartRadio. You can treat the Lyra Voice as a WiFi or Bluetooth speaker, adding it as a device to each of those services. In the ASUS Router app, for instance, you can tap Devices, then Lyra Voice, and then tap to open your Spotify Premium account. Spotify will find your Lyra Voice and add it to your devices list. To play music over the Lyra Voice's speakers, just tap to select it as the playback device and hit play on your favorite tunes.
For as easy as that process is, you may literally not want to lift a finger, and if that's the case, you're going to want to enable Alexa so you can control everything with just your voice. You might have connected your Amazon account to the Lyra Voice, but there are a few more steps to turn Alexa functionality on. Download the Alexa app to your phone and log in to your Amazon account. Then, tap the "+" sign in the app, tap "All Devices," and select your Lyra Voice from the list. Next, enable the ASUS Router Alexa skill. You can get to it from within the Alexa app, or visit the ASUS Router skills page on Amazon. Once you've enabled the skill, you, the Lyra Voice, and Alexa will be best buds.
Sound actually is all around
As a speaker, the Lyra outperforms any expectations I had about the sound quality of a relatively compact speaker bar. It produces not just room-filling sound, but house-filling sound. When I cranked the volume up, there wasn't a corner of my house where I couldn't hear my music sufficiently loudly. I could leave it downstairs in a corner and still enjoy my tunes while folding laundry on the floor above. You don't need to jack the volume all the way up, though. At around 85% volume, the Lyra Voice will blow your hair back if you're in the same room with it.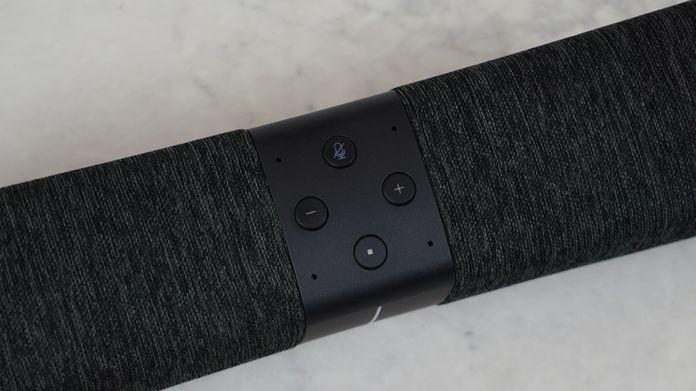 The EQ balance is solid across multiple types of music, from rock and roll to classical. You can hear a lot of subtlety even at a high volume and across distances; until I listened to one familiar song over the Lyra Voice's speakers, I had never noticed its quiet introductory section. The highs aren't too stabby, and the bass response offers a nice thump that doesn't overpower the rest of the sound.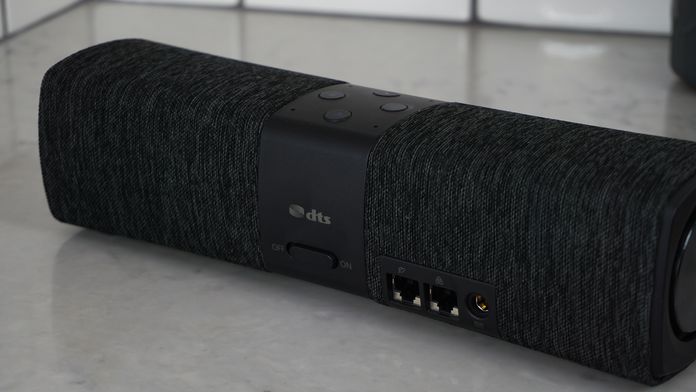 The music doesn't seem like it's coming from any one spot, either. The DTS Surround Sound on board uses clever technology to make the stereo speakers offer a surround-sound experience. To test it out, I placed the Lyra Voice in the center of a large room and moved all around, listening for any semblance of directionality. With your eyes closed, it really sounds like the music is coming at you from all angles.
Lyra Voice
Chipset
Qualcomm IPQ4019 (2.4GHz & 5GHz-1)
Qualcomm QCA9886 (5GHz-2)

Networking standards
IEEE 802.11a/b/g/n/ac
MU-MIMO
Wireless throughput
866 + 866 + 400Mbps
Tx/Rx
2.4 GHz 2 x 2
5 GHz-1 2 x 2
5 GHz-2 2 x 2
Antennas
6 internal single band antenna
Operating frequency
2.4GHz
5GHz-1
5GHz-2
Ethernet
1 x 10/100/1000 Gb/s Ethernet WAN Port
1 x 10/100/1000 Gb/s Ethernet LAN Port
Speakers
8W stereo speakers
Dimensions
10.6" x 3" x 3" (WxDxH)
Price
$219.99 USD
Availability (USA)

US Vendors
Rerouting expectations
A great router is a beautiful thing, and the Lyra Voice fits that bill with its ample speed, multi-band capability, mesh network flexibility, and extensive security and network controls. But it serves additional functions, as an Alexa-powered smart assistant that rocks a small but mighty speaker system. Although all devices in the Lyra family are attractive enough to be out and visible, you'll want to keep the Lyra Voice in a prominent location so its WiFi signal and smooth tunes wend all through your home. You can pick one up for $219.99 USD from the retailers listed above.