The Prime series is a well-rounded foundation for well-rounded builds
All the extras of ROG and ROG Strix models are appealing to anyone with an interest in building their own desktop PCs, but not every build calls for extreme overclocking, hyper-speed networking, or elaborate cooling setups. The Prime lineup delivers all-round competence both on and off the clock without sacrificing the control or style that demanding builders expect.
The Prime Z490-A backs up clean style with commanding performance
The Prime Z490-A takes inspiration from the best of our entire Z490 motherboard lineup. The integrated white I/O shield and multiple brushed-aluminum heatsinks give this board a distinguished look that would be right at home in a windowed case, even in an office or study.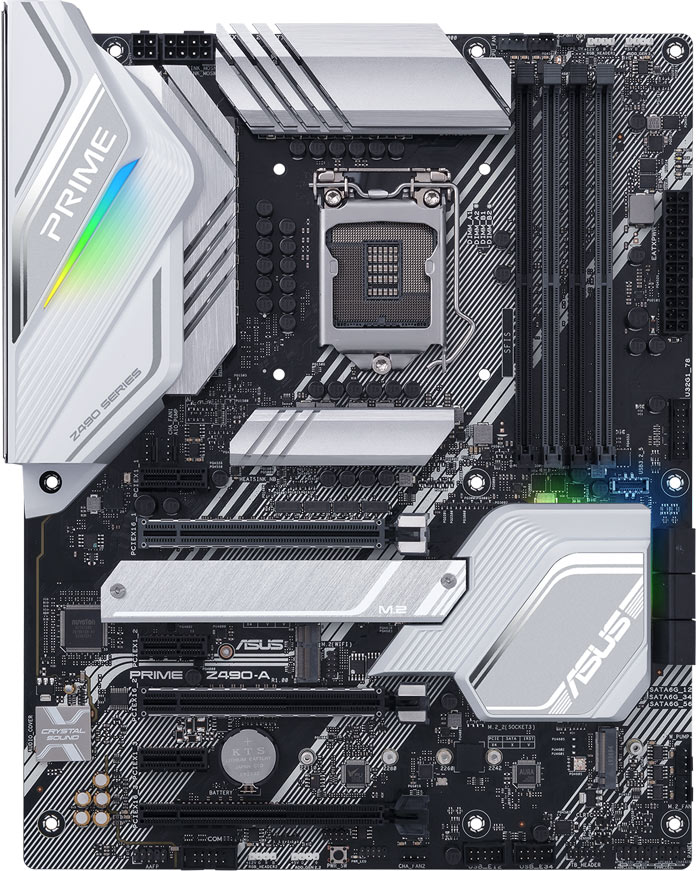 Under those heatsinks, you'll find a 12+2 teamed power stage design that delivers a solid foundation for all 10th Gen Core CPUs. A six-layer PCB underpins that VRM with plenty of copper for improved passive cooling. The DIMM slots can clock compatible pairs of DDR4 sticks up to 4600MHz and take in as much as 128GB of memory, too.
Despite its clean styling, the Z490-A isn't strictly business. You can give your 10th Gen Core CPU a performance boost on this board thanks to AI Overclocking. Just install your CPU, click a button, and the system will figure out the optimal clock speed and voltage for your particular chip, netting you a speed boost with only minimal effort. Seven fan headers benefit from AI Cooling, so they'll only spin up as much as necessary under sustained load to maintain a sonically unobtrusive system.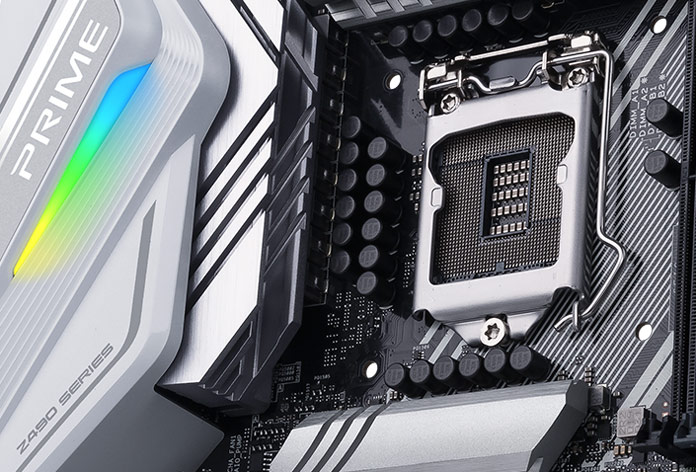 When it comes time to store and move data, the Prime Z490-A stands more than ready. The two onboard M.2 slots can both take in drives as long as 110mm. Network connectivity comes by way of a speedy 2.5 Gigabit Ethernet port. Cutting wires out of your life? That's fine, too. Just install a CNVi-compatible Wi-Fi module in the M.2 E-key slot. The Prime Z490-A also includes a dedicated header for Thunderbolt 3 expansion cards if your work calls for one.
The stylish white accents on this board look classy on their own and will come alive under RGB LED lighting of any shade. Aura Sync can tweak the subtle integrated lights and configure any strips you attach to the four RGB LED headers. Two of those are Gen 2 addressable headers, so you won't be left out of the latest trends in illuminated PCs.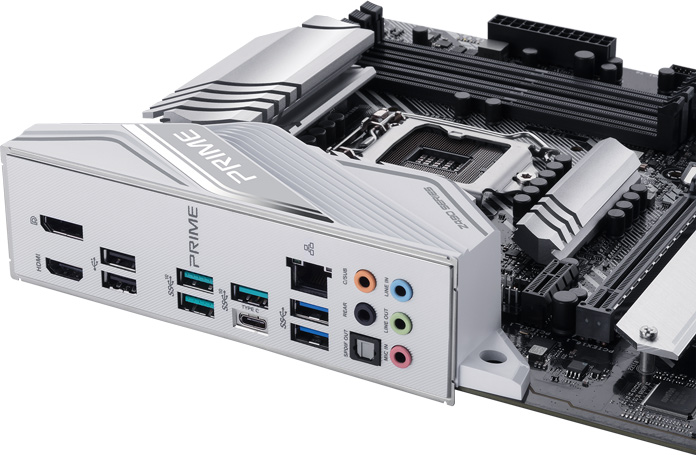 The audio codec on the Z490-A is a Realtek S1220A chip with a 120dB signal-to-noise ratio, so it'll come through loud and clear while you're on calls or listening to music at work. It'll also prove an ideal partner for pinpointing every enemy footstep if you prefer to escape into a game after hours. The premium hardware includes support for DTS:X® Ultra, offering pinpoint-accurate 3D audio for movies and games.
Prime Z490-A
Size
ATX
Memory
4 x DDR4 up to 4600+ (OC)
Multi-GPU
2 x SLI, 3 x CrossFireX
PCIe
2 x16 @ x16, x8/x8
1 x16 @ x4
3 x1
Storage
1 x M.2 22110 (NVMe x4 or SATA)
1 x M.2 22110 (NVMe x4)
6 x SATA 6Gbps
Networking
Intel I225-V 2.5Gb Ethernet
M.2 E-key slot for Wi-Fi card
Audio
Realtek S1220A
Thunderbolt 3
1 x internal header
USB
3.1 Gen 2: 1 x Type-C, 3 x Type-A, 1 x front
3.1 Gen 1: 2 x Type-A, 2 x front
2.0: 2 x back, 4 x front
Aura
2 x strip headers, 2 x Gen 2 addressable headers
Cooling
7 x fan headers
Price
$229.99 USD
Availability (USA)
Amazon
Newegg
Availability (Canada)
Canada Computers
Memory Express
Newegg
The Prime Z490-P is a rock-solid home for a 10th Gen Intel Core chip
The Prime Z490-P is our most attainable motherboard for the Z490 family. It keeps a laser focus on the essentials to get you up and running reliably with 10th Gen Intel Core CPUs, all without straying from quality in its pursuit of essential competence. The 10+1 teamed VRM design proves the point, and 4600MHz RAM support means you'll still have access to a full range of memory kits to suit your build's performance requirements.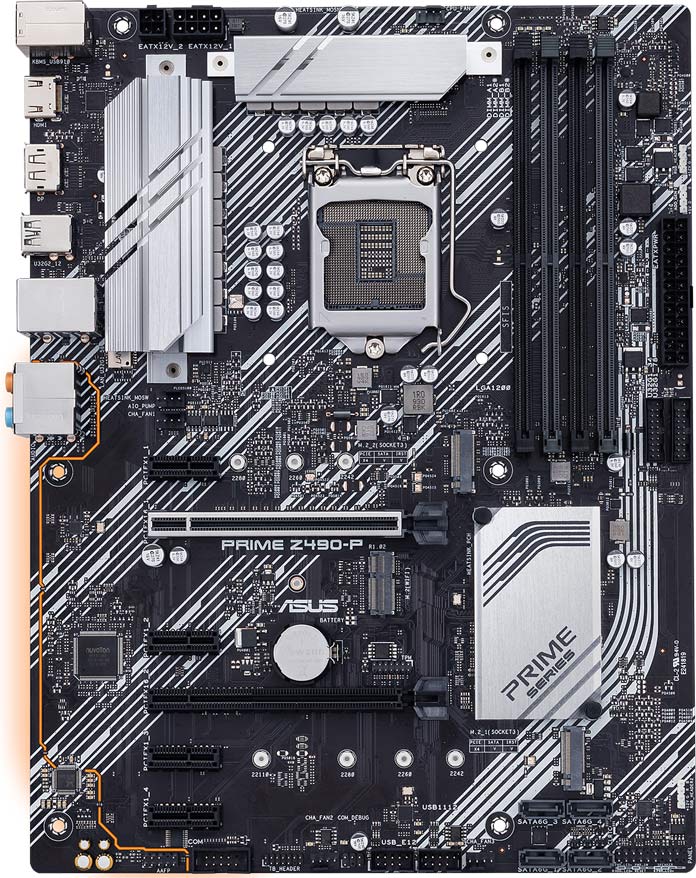 The Z490-P's storage options will satisfy a wide range of builders, too. The dual M.2 slots might be enough on their own, considering the convenience, throughput, and affordability of modern NVMe SSDs, but four SATA ports make room for any bulk storage your build might need. We've also included an E-key slot for a Wi-Fi card, as well as a Thunderbolt 3 header for use with our ThunderboltEX 3-TR expansion card.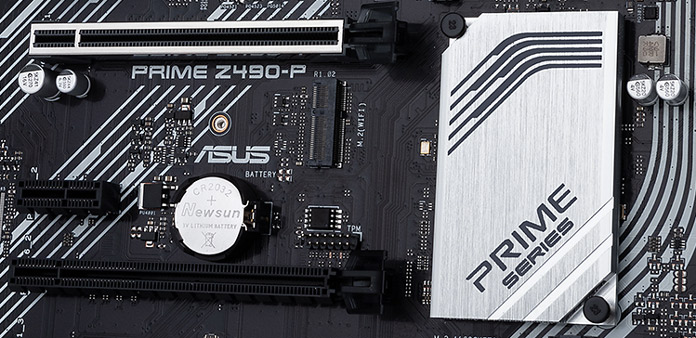 The main PCIe x16 slot uses our SafeSlot Core+ metal-reinforced construction to secure heavy graphics cards if you need to move your system. You'll also find a dash of onboard lighting that can be augmented with three RGB LED strip headers—two four-pin and one Gen 2 addressable. A Realtek Gigabit Ethernet controller and an ALC887 audio codec round out the main specifications.
Prime Z490-P
Size
ATX
Memory
4 x DDR4 up to 4600+ (OC)
Multi-GPU
2 x CrossFireX
PCIe
1 x16
1 x16 @ x4
4 x1
Storage
1 x M.2 22110 (NVMe x4 or SATA)
1 x M.2 2280 (NVMe x4 or SATA)
4 x SATA 6Gbps
Networking
Realtek RTL8111H 1Gb Ethernet
M.2 E-key slot for Wi-Fi card
Audio
Realtek ALC887
Thunderbolt 3
1 x internal header
USB
3.1 Gen 2: 2 x Type-A
3.1 Gen 1: 2 x Type-A, 4 x front
2.0: 2 x back, 4 x front
RGB
2 x strip headers, 1 x Gen 2 addressable header
Cooling
5 x fan headers
Price
$159.99 USD
Availability (USA)
Amazon
Newegg
Availability (Canada)
Amazon
Canada Computers
Memory Express
Newegg
The Prime Z490M-Plus zips up key features in a compact package
Reliability, affordability, and a compact form factor are key aspects of a workhorse machine. That last point makes microATX an ideal starting point when planning a new build, and the Prime Z490M-Plus covers all of those bases adeptly.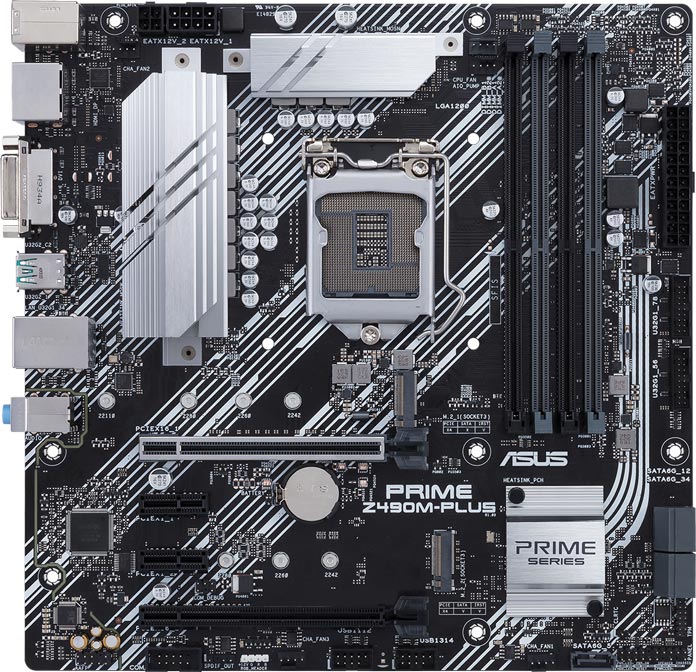 Just because a board focuses on the basics doesn't mean it's time to cut corners. An 8+1 DrMOS power stage design for the VRM ensures reliable power, and heatsinks on the power delivery circuitry ensure that the Prime Z490M-Plus keeps 10th Gen CPUs ticking reliably. Memory multipliers ranging up to 4400MHz give you plenty of options when you're choosing the best balance of performance for your build.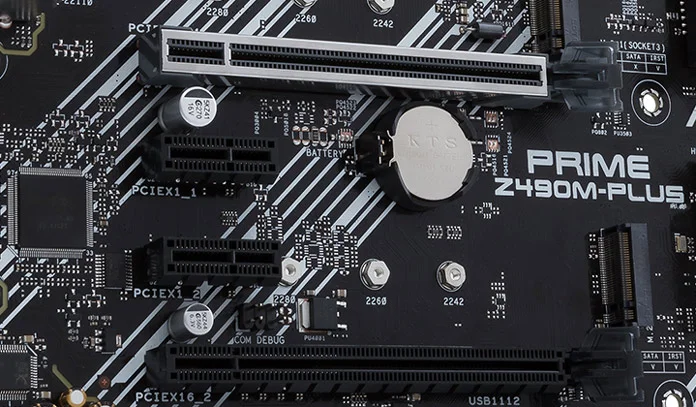 An Intel controller manages the Gigabit Ethernet port alongside USB 3.2 Gen 2 ports in both Type-A® and Type-C® formats. Five onboard SATA ports handle bulk storage, and two M.2 slots stand ready for big, fast NVMe storage devices. The rear I/O panel contains a trio of video outputs (DisplayPort, HDMI™, and DVI) for ready access to output from Intel's onboard graphics.
Prime Z490M-PLUS
Size
microATX
Memory
4 x DDR4 up to 4600+ (OC)
Multi-GPU
2 x CrossFireX
PCIe
1 x16
1 x16 @ x4
2 x1
Storage
1 x M.2 22110 (NVMe x4)
1 x M.2 2280 (NVMe x4 or SATA)
5 x SATA 6Gbps
Networking
Intel I219-V 1Gb Ethernet
Audio
Realtek ALC887
USB
3.1 Gen 2: 1 x Type-C, 1 x Type-A
3.1 Gen 1: 2 x Type-A, 4 x front
2.0: 2 x back, 4 x front
RGB
1 x strip header
Cooling
5 x fan headers
Price
$149.99 USD
Availability (USA)
Amazon
Newegg
Availability (Canada)
Amazon
Canada Computers
Memory Express
Newegg