All hail the Republic of Gamers
The Republic of Gamers was established in 2006 with a simple formula: build cutting-edge motherboards with top-shelf components for overclockers and demanding enthusiasts looking for the highest clocks around. We imagine that builders eyeing Intel's highest-end 10th Gen Core chips are already rubbing their hands together at the notion of pushing their processors as far as they'll go with ROG boards.
We number every edition of ROG motherboards to mark our long legacy of leading performance, and the Z490 series is the 12th in our line of Maximus boards for Intel's mainstream socket. Models in the Maximus XII range are all set to juice up both stock and overclocked Core i9 chips thanks to power delivery subsystems with up to 16 teamed power stages for CPU Vcore. VRM, M.2, and PCH heatsinks are all oversized to ensure components can run all out for extended periods without losing performance, and our OptiMem III tech can overclock some of the fastest DDR4 RAM around to its limits.
Overclocker assists abound on the Maximus XII series, both in hardware and software. Q-Code status displays, onboard power and reset buttons, and our exclusive AI Overclocking technology makes it easy to extract every last drop of processor performance with minimal effort. Every model has plenty of fan headers along with dedicated AIO and pump headers to keep power-hungry components cool. SupremeFX S1220 codecs handle audio output, and we ensconce them in shielded circuitry, dedicated PCB layers, dual op-amps, and Japanese capacitors. For the highest-fidelity analog output, the Extreme, Formula, and Hero models wire up their codecs to an ESS Sabre DAC and a Texas Instruments discrete headphone amplifier
The Maximus XII Extreme leads the way with a massively powerful VRM, equally massive heatsinks, and 10Gb Ethernet adapters, followed closely by the liquid-cooling-friendly Formula. The Maximus XII Apex is tuned for daring overclockers armed with cryogenic fluids, while the Maximus XII Hero puts the lion's share of the Maximus XII family's overclocking-friendly trappings in an enthusiast board with mass appeal.
The ROG Maximus XII Extreme is your path to greatness
The ROG Maximus XII Extreme is the crème de la crème of our Z490 lineup, and it should be the first stop for builders using top-end CPUs, multiple graphics cards, and copious amounts of fast storage and peripherals. This model ticks every possible checkbox we could think of, and it comes dressed to impress.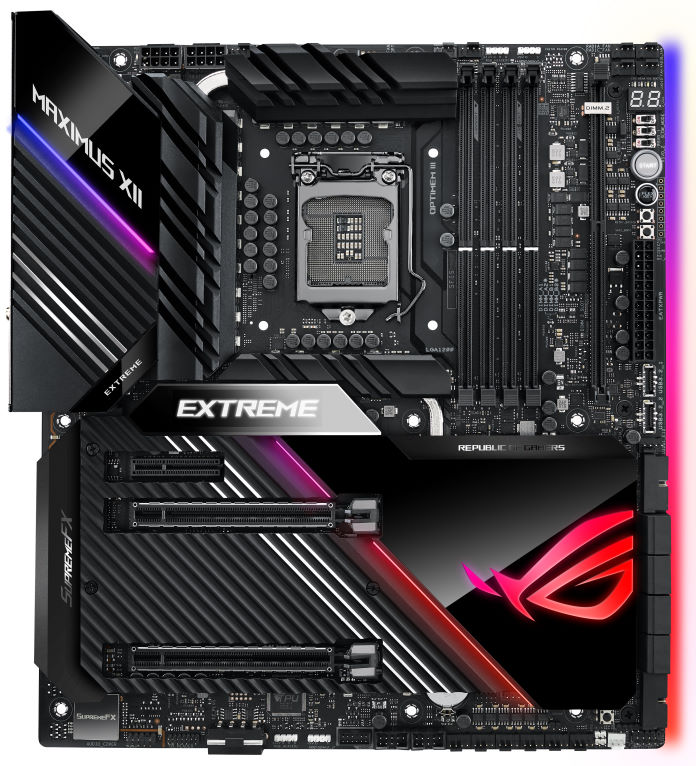 The fun starts with an impeccable VRM made up of 16 teamed power stages, all dedicated to the CPU Vcore. We selected exotic, efficient Infineon TDA21490 integrated power stages capable of handling up to 90A of output each without losing their cool. A set of MicroFine Alloy chokes complements those power stages and helps deliver pristine, stable power to 10th Gen Core chips. To keep the power flowing to those high-core-count CPUs, the Extreme uses ProCool solid pins in its two eight-pin auxiliary 12V inputs and as part of the ATX connector.
The full-coverage ROG Armor resting atop the VRM and board components is an engineering achievement on top of its dashing looks. A high-octane VRM needs equally capable cooling to deliver sustained performance, so we start with highly conductive thermal pads that transfer heat into a massive heatsink array. Beyond the large heat pipe and heatsinks that serve as the first line in wicking heat away from the VRMs, we machined the entire I/O shroud from solid aluminum and coupled it with the rest of the cooling system for even greater heat-dissipation potential. A solid aluminum plate mid-board further dissipates heat from high-end NVMe storage in twin M.2 slots.
The Extreme's memory slots may appear unassuming. Take a closer look and you'll find they're anything but. We combine a cutting-edge OptiMem III design approach with a daisy-chain topology that's new for our Z490 boards. Our engineers chose this daisy-chain design after extensive research showed that builders prefer high-performance, two-DIMM memory configurations the vast majority of the time in modern systems. This topology ensures the signal integrity that overclockers need to push DDR4 memory to its limits.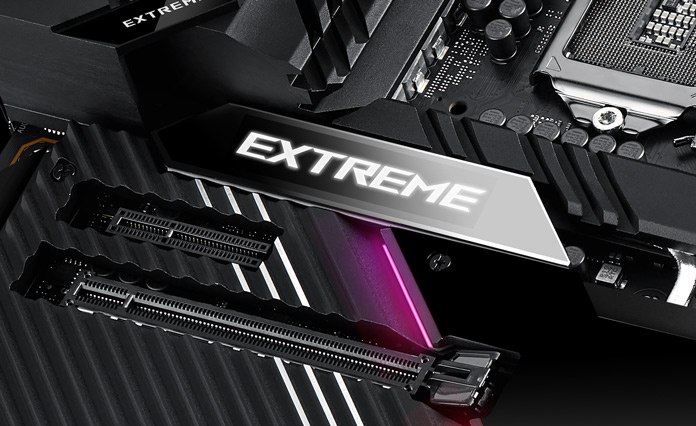 The Maximus XII Extreme's new trace topology and OptiMem III tech are a boon for memory overclockers. We set out to give builders access to everyday memory clocks of 4800MHz with this board, and speeds beyond that are attainable for those ready to explore the outer limits of overclocking. We've also observed out-of-the-box compatibility with over 80% of still-stratospheric 4600MHz DDR4 kits. Even with all four DIMM slots populated, we've pushed memory latency as low as CL16 on the Extreme with high-capacity kits. No matter how you like your DDR4 memory, the Maximus XII Extreme can deliver.
To support overclockers in extracting maximum performance from their CPU and RAM, the Extreme features an onboard POST code LED display next to power-on, retry, and safe boot buttons. There's also a trio of boot mode DIP switches, a set of ProbeIt voltage measuring points, and a FlexKey button that can be mapped to an Aura Sync toggle, direct-to-UEFI booting, or Safe Boot. The collection of onboard fan headers lets you build and monitor complex air and liquid cooling systems, and the included Fan Extension Card II offers even more control points for the most demanding builds. You'll find a set of dedicated headers for liquid cooling loops, including inputs for coolant flow and temperature.
Most overclockers tune their processors by twisting each knob manually, and we fully support that fine-grained approach. If you want to establish a quick baseline for your overclock, however, the exclusive AI Overclocking suite present in ROG boards can intelligently find the right combination of multipliers and voltage for a given CPU to get your chip running both swiftly and stably. AI Overclocking also makes it dead simple to get an extra speed boost in games and multithreaded applications with next to no effort.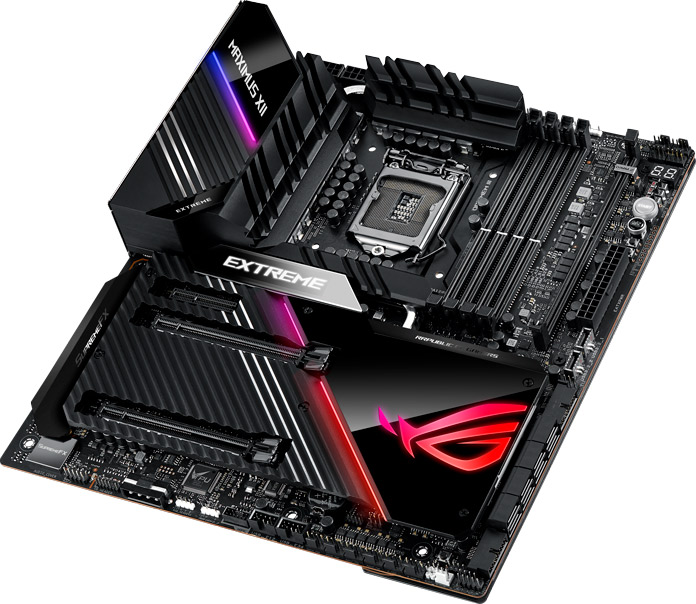 The Extreme's four M.2 slots are the ideal tools for creating a build with fast, plentiful storage. Two M.2 slots rest underneath the main body armor at the middle of the board, and two more slots come courtesy of an exclusive DIMM.2 card that wraps the storage onboard in heatsinks for reliable sustained performance. Wide-ranging RAID support is available to team drives together for sky-high storage speeds. Mass storage drives can be plugged into an octet of SATA ports, too.
An assortment of USB ports provides peripheral connectivity, including a next-generation USB 3.2 Gen 2×2 Type-C port capable of speeds up to 20Gbps. That cutting-edge reversible connector is flanked with three USB 3.2 Gen 2 ports—one Type-C and two Type-A—capable of speeds up to 10Gbps. There are additional onboard headers for two front-panel USB 3.2 Gen 2 Type-C connectors for use with the latest crop of cases. For professional needs like AV gear and massive external storage arrays, the Extreme is bundled with our ThunderboltEX 3-TR card.
In keeping with its mission, the Extreme's networking subsystem boasts the highest-end hardware on tap these days. An Intel I225-V offers a swift baseline of 2.5Gb Ethernet, while a Marvell 10GbE controller can shuffle gigabytes of data across the network an order of magnitude faster than good old Gigabit Ethernet. Those who prefer a cord-free office can take advantage of WiFi 6 and Bluetooth® 5.1 connectivity.
Thanks to its stealthy gray aesthetics, the Extreme looks quite dashing even before you color-coordinate it with the rest of your system using Aura Sync. The board has two standard RGB LED headers along with a pair of Gen 2 addressable LED headers that enable control over each individual light in a device. These headers can auto-detect the capabilities of compatible lighting devices, easing the setup process. Each audio connector on the Extreme has its own colored LED for easy identification while you're plugging in your audio gear, too.
ROG Maximus XII Extreme
Size
EATX
Memory
4 x DDR4 up to 4800+ (OC)
Multi-GPU
2 x SLI, 3 x CrossFireX
PCIe
2 x16 @ x16, x8/x8
1 x4
Storage
1 x M.2 2280 (NVMe x4 or SATA 6Gbps)
1 x M.2 2280 (NVMe x4)
2 x M.2 22110 (NVMe x4) on DIMM.2 card
8 x SATA 6Gbps
Networking
Marvell AQtion AQC107 10Gb Ethernet
Intel I225-V 2.5Gb Ethernet
Intel AX201 WiFi 6: 2x2 802.11ax MU-MIMO
Bluetooth 5.1
Audio
SupremeFX S1220 codec
ESS ES9023P DAC
TI RC4580 op-amp
Thunderbolt 3
1 x header; ThunderboltEX 3-TR card included
USB
3.2 Gen 2x2: 1 x back
3.1 Gen 2: 1 x Type-C, 2 x Type-A, 2 x front
3.1 Gen 1: 6 x Type-A, 4 x front
2.0: 2 x Type-A, 4 x front
Aura
2 x strip headers, 2 x Gen 2 addressable headers
Cooling
14 x fan headers total
1 x coolant flow
1 x coolant temperature
Fan Extension Card II included
Price
$750.00 USD
Availability (USA)
Amazon
Newegg
Availability (Canada)
Canada Computers
Memory Express
Newegg
The ROG Maximus XII Apex is the top predator in the overclocking jungle
Every motherboard flying the ROG banner comes outfitted for overclocking, but the Maximus XII Apex's purpose in life is to wring every last MHz out of a 10th Gen Intel Core CPU and accompanying DDR4 RAM. If cryogenic coolant runs in your veins, the Apex is ready to help you stand atop the OC leaderboards. Past Apex boards have set plenty of records in the hands of elite overclockers the world over, and we're extending that pedigree to the Z490 platform.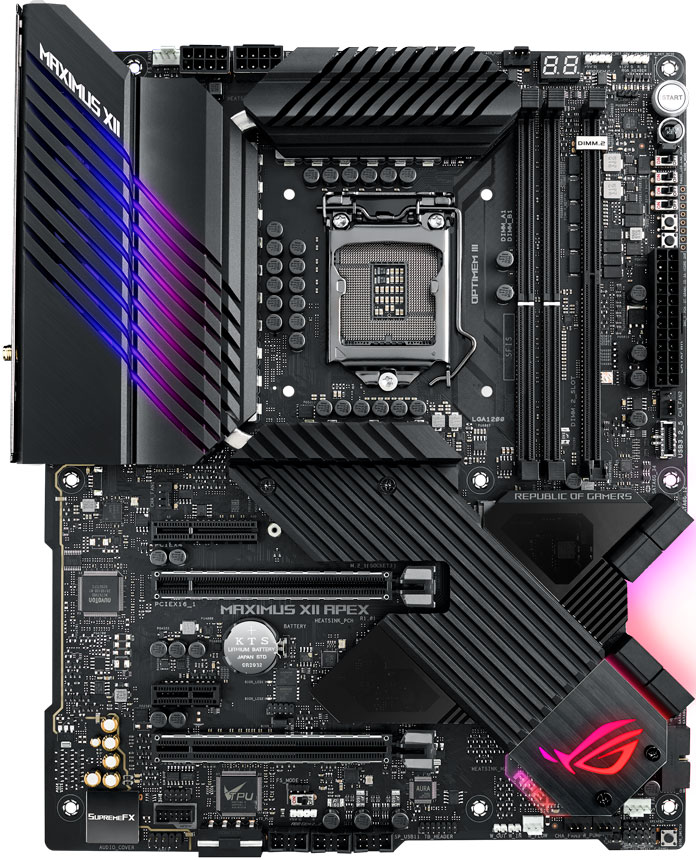 The Apex starts its record-breaking journey with an overclocking-optimized six-layer PCB and the same 16 teamed power stages as the Maximus XII Extreme. All 16 of those teamed stages are dedicated to the CPU Vcore. We put a huge heatsink atop the power components to ensure they stay cool even when extreme tweakers are pushing 10th Gen Core CPUs well past the limits of air or liquid cooling. To help deliver the extensive power needed to extract record-breaking potential from 10th Gen Core CPUs, the Apex includes two eight-pin power connectors at its top left corner in addition to the standard 24-pin ATX connector.

The Apex isn't just built for peak CPU performance. Notice the two DIMM slots: one for each memory channel. Those slots sit as close to the CPU as our board layout engineers could make them. The short trace lengths allow overclockers to pursue new records with DDR4 RAM. Our OptiMem III design puts 5000MHz RAM multipliers and beyond at your fingertips, and the extensive array of OC settings in the firmware give you the tools to go well past stock performance potential.
Extreme overclockers generally roll their own cooling systems, and the comprehensive set of headers atop the Apex covers both standard and high-amperage fans, along with liquid-cooling control headers and sensors. Select fan headers are locked to full blast for clearing vapor off nitrogen pots, while a condensation detection circuit will let you know if moisture is threatening to short-circuit your world-record run.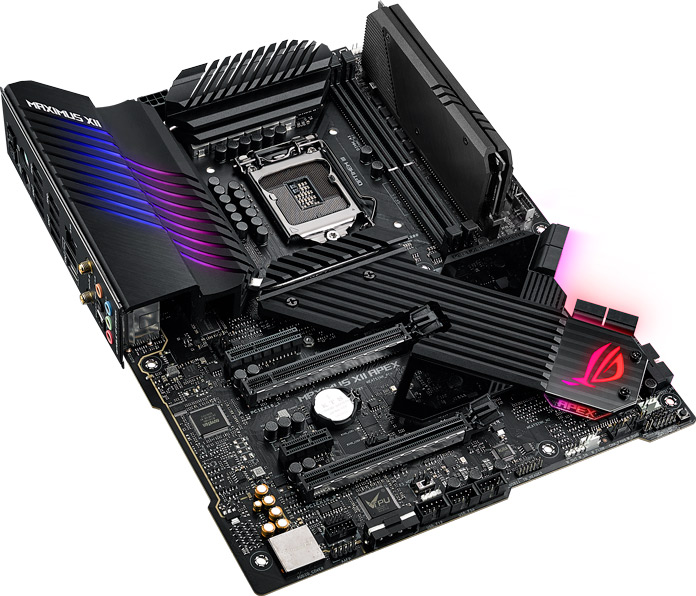 ProbeIt voltage measurement points sit alongside the right edge next to a quartet of DIP switches for controlling your overclocking bench's boot sequence. The POST code display and pair of Start and remappable FlexKey buttons round out the onboard control hub. If the top of the OC leaderboards are in your crosshairs, the Maximus XII Apex is your path to glory.
ROG Maximus XII Apex
Size
ATX
Memory
2 x DDR4 up to 5000+ (OC) with double-capacity DIMM support
Multi-GPU
2 x SLI, 2 x CrossFireX
PCIe
2 x16 @ x16, x8/x8
1 x4
1 x1
Storage
1 x M.2 2280 (NVMe x4)
2 x M.2 22110 (NVMe x4 & SATA) at DIMM.2 slot
8 x SATA 6Gbps
Networking
Intel I225-V 2.5Gb Ethernet
Intel AX201 WiFi 6: 2x2 802.11ax MU-MIMO
Bluetooth 5.1
Audio
SupremeFX S1220A codec
Thunderbolt 3
1 x internal header
USB
3.1 Gen 2: 1 x Type-C, 4 x Type-A, 1 x front
3.1 Gen 1: 5 x Type-A, 2 x front
2.0: 5 x front
Aura
2 x strip header, 2 x Gen 2 addressable header
Cooling
9 x fan headers
1 x coolant flow
1 x coolant temperature
Price
$420.00 USD
Availability (USA)
Amazon
Newegg
Availability (Canada)
Newegg
The Maximus XII Formula stays hydrated for marathon endurance
If your dream Z490 system includes the ability to liquid-cool as many of your components as possible, the Maximus XII Formula is an excellent foundation. Its VRM dedicates 16 teamed power stages dedicated to the CPU Vcore. To keep that circuitry cool, this board features a CrossChill VRM water block designed in collaboration with industry luminary EK Water Blocks. If you need your board's power-delivery circuitry to stay cool no matter what, the power of liquid coursing through the CrossChill block is the tool you want for the job.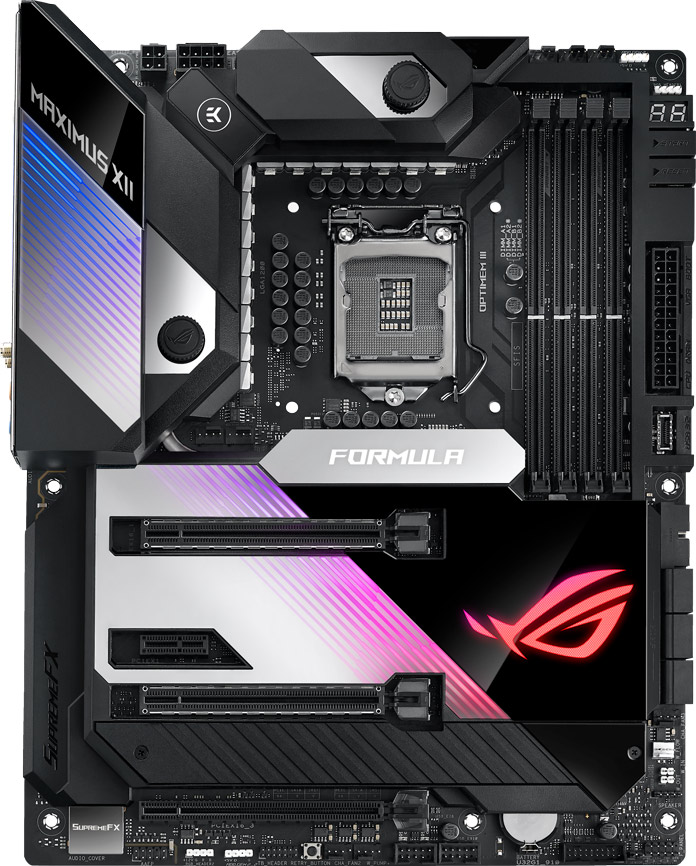 The CrossChill EK III hybrid heatsink gives the Formula a clean look that's guaranteed to turn heads. It's not just about looks, though—this is our best-performing VRM heatsink ever, and it's capable of running up to 50°C cooler than a standard air-cooled design. Performance with simplicity is the Formula's calling card thanks to the preinstalled VRM block and standard fittings. That forethought makes it easy to plumb the Formula into an existing loop, perhaps in anticipation of unleashing the 10-core power of a 10th Gen Core i9 chip and boosting it with some overclocking.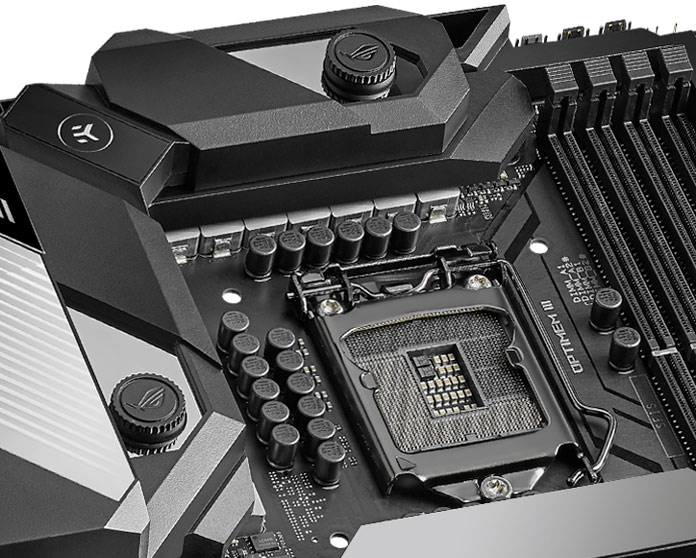 The reservoirs and radiators that channel liquid through custom loops still need fans to go with them, and the Formula's array of sensors and headers allows for nearly any combination of liquid and air cooling you can concoct. Dedicated liquid-cooling headers are complemented by seven additional fan headers, two of which support high-amperage fans.
A POST code display and dedicated power and reset buttons at the upper right corner of the board make it simple to power on and test your custom rig before you button it up in liquid-cooled bliss. Two M.2 slots lie beneath heatsinks on the front of the board, and there's one more around the back—all configurable in a RAID array for maximum parallel storage performance.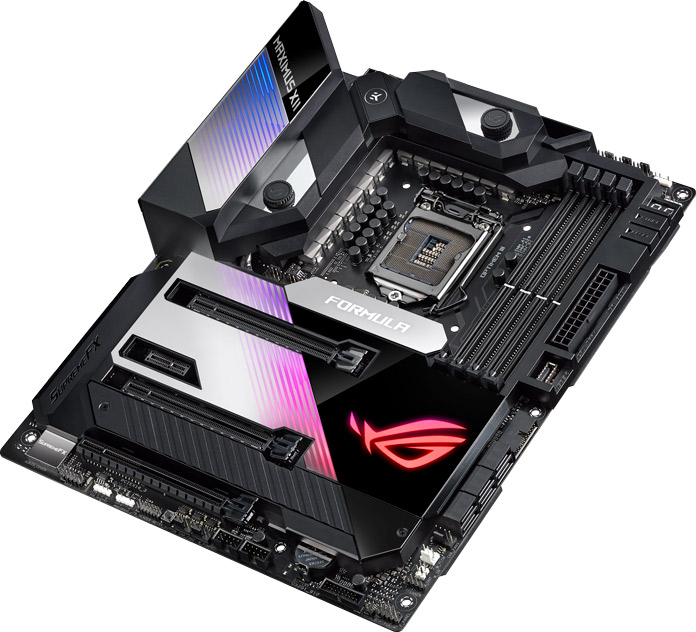 We filled out the Formula's feature set with a tantalizing array of top-end specs. 10Gb and 2.5Gb Ethernet ports, WiFi 6 and Bluetooth® 5.1 connectivity, and enough USB ports for an entire household's worth of peripherals all come standard. Owners can also take advantage of AI Cooling and the GameFirst VI suite with AI Networking technology, as well.
ROG Maximus XII Formula
Size
ATX
Memory
4 x DDR4 up to 4800+ (OC)
Multi-GPU
2 x SLI, 3 x CrossFireX
PCIe
2 x16 @ x16, x8/x8
1 x16 @ x4
1 x1
Storage
2 x M.2 2280 (NVMe x4 )
1 x M.2 22110 (NVMe x4 or SATA)
6 x SATA 6Gbps
Networking
Marvell AQtion AQC107 10Gb Ethernet
Intel I225-V 2.5Gb Ethernet
Intel AX201 WiFi 6: 2x2 802.11ax MU-MIMO
Bluetooth 5.1
Audio
SupremeFX S1220 codec
ESS ES9023P DAC
TI RC4580 op-amp
Thunderbolt 3
1 x internal header
USB
3.1 Gen 2: 1 x Type-C, 3 x Type-A, 1 x front
3.1 Gen 1: 6 x Type-A, 4 x front
2.0: 4 x front
Aura
2 x strip headers, 2 x Gen 2 addressable headers
Cooling
9 x fan headers
1 x coolant flow
1 x coolant temperature
Price
$500.00 USD
Availability (USA)
Amazon
Newegg
Availability (Canada)
Canada Computers
Memory Express
Newegg
The ROG Maximus XII Hero (Wi-Fi) makes it easy to be a champion
The ROG lineup is all about giving the most demanding builders everything they want, and we know that many enthusiasts want balance from their high-end systems above all. The Maximus XII Hero (Wi-Fi) delivers all the sophisticated features you expect from an ROG board in a package that's carefully designed to cover all the bases of the modern high-end gaming system with enviable luxury. Think of it as the daily-driver foil to the specialized supercars at the peak of the Maximus XII family.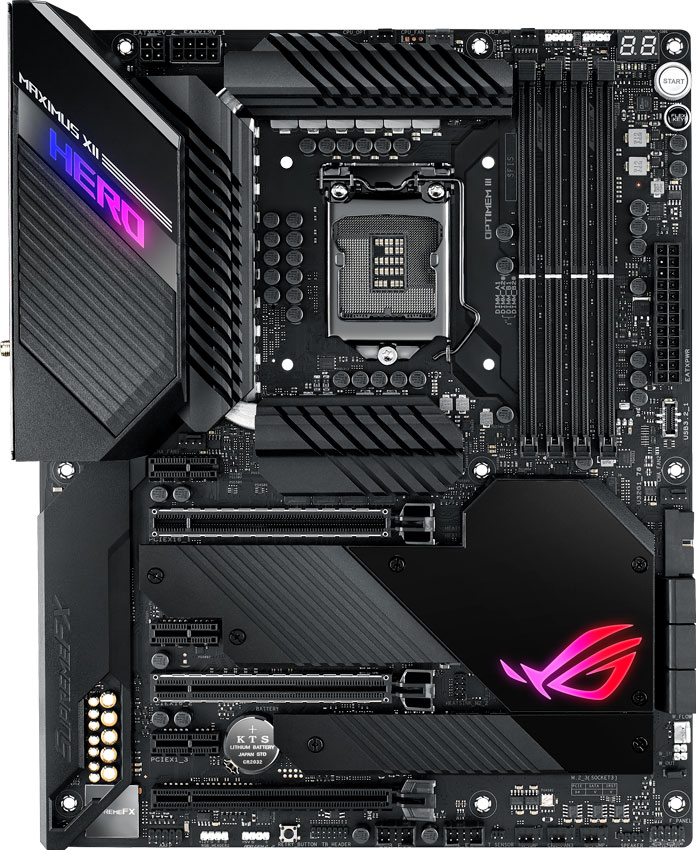 In its Z490 iteration, the Hero continues its predecessors' legacy of balanced performance with a design that's ready for the demands of 10th Gen Core CPUs. A 14+2 teamed power stage design sits underneath a blacked-out, high-surface-area heatsink that wraps around three sides of the socket for maximum heat dissipation. A large heatpipe running beneath each of the three VRM heatsinks ensures a more uniform heat distribution throughout the system, too.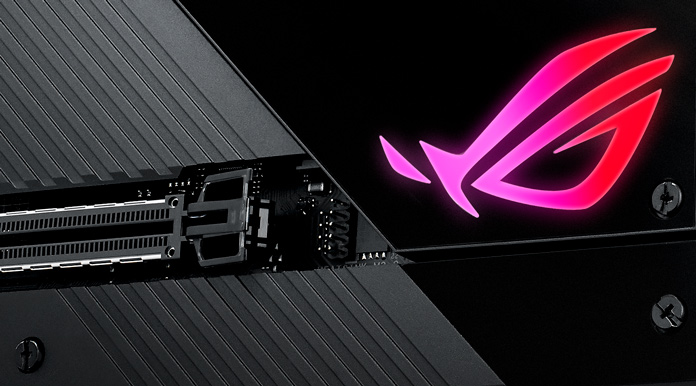 Three swift NVMe storage devices can slot into the Hero, each under its own heatsink. The POST code readout, Start and FlexKey remappable buttons, as well as a full set of fan headers and liquid-cooling sensor headers, are all present and accounted for if you're planning to command and control the Hero for some overclocking. A 5Gb Ethernet port stands ready to shuttle gaming and data packets across your network at well-above-average speeds. An Intel WiFi 6 adapter and an extra Gigabit Ethernet port give you additional tools to link up with the outside world in just the way you want.
The Hero's pursuit of balanced performance doesn't leave overclocking on the roadside. In fact, you'll be surprised just how easy it is to extract maximum performance from exotic components on this board. AI Overclocking can figure out the best clocks and voltage settings for your 10th Gen CPU at the press of a button, while our OptiMem III design brings stratospheric 4800MHz RAM along for the overclocking ride. Your system will stay both cool and quiet thanks to AI Cooling's smarts, while AI Networking ensures your gaming packets get highest priority through your networking adapter of choice.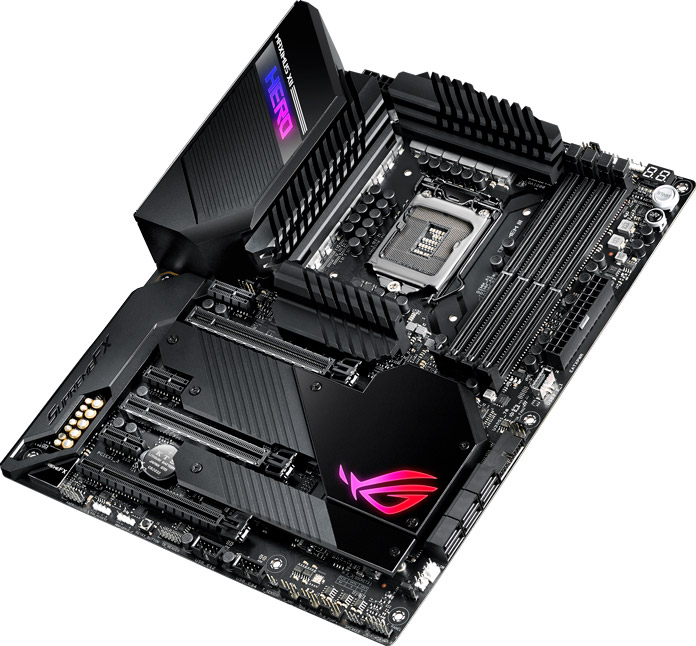 Style is perhaps the hardest line to walk when you're drawing up your dream build, but the Hero deftly incorporates tasteful RGB LED accents into its stealthy, blacked-out aesthetic. You can also roll your own styling with Aura Sync and onboard Gen 2 addressable RGB LED headers. Whatever your vision for your high-end gaming PC, the Hero is ready to help you make it legendary.
ROG Maximus XII Hero (Wi-Fi)
Size
ATX
Memory
4 x DDR4 up to 4800+ (OC)
Multi-GPU
2 x SLI, 3 x CrossFireX
PCIe
2 x16 @ x16, x8/x8
1 x16 @ x4
3 x1
Storage
2 x M.2 22110 (NVMe x4 or SATA)
1 x M.2 2280 (NVMe x4)
6 x SATA 6Gbps
Networking
Marvell AQtion AQC111C 5Gb Ethernet
Intel I219-V 1Gb Ethernet
2x2 802.11ac WiFi MU-MIMO
Bluetooth 5.1
Audio
SupremeFX S1220 codec
ESS ES9023P DAC
TI RC4580 op-amp
Thunderbolt 3
1 x internal header
USB
3.1 Gen 2: 1 x Type-C, 3 x Type-A, 1 x front
3.1 Gen 1: 4 x Type-A, 4 x front
2.0: 2 x Type-A, 4 x front
Aura
2 x strip headers, 2 x Gen 2 addressable headers
Cooling
8 x fan headers total
1 x coolant flow
1 x coolant temperature
Price
$399.99 USD
Availability (USA)
Amazon
Newegg
Availability (Canada)
Amazon
Canada Computers
Newegg