The ProArt Z490-Creator 10G is a study in elegance
We introduced our ProArt product family last September at IFA 2019 across a series of laptops, displays, and desktop PCs. The concept is simple and straightforward: to provide high-end tools to fulfill the needs of professional content creators and developers. Whether your work is in 3D modeling, video editing, programming, or audio production, the ProArt series delivers bespoke gear designed with your specific needs in mind.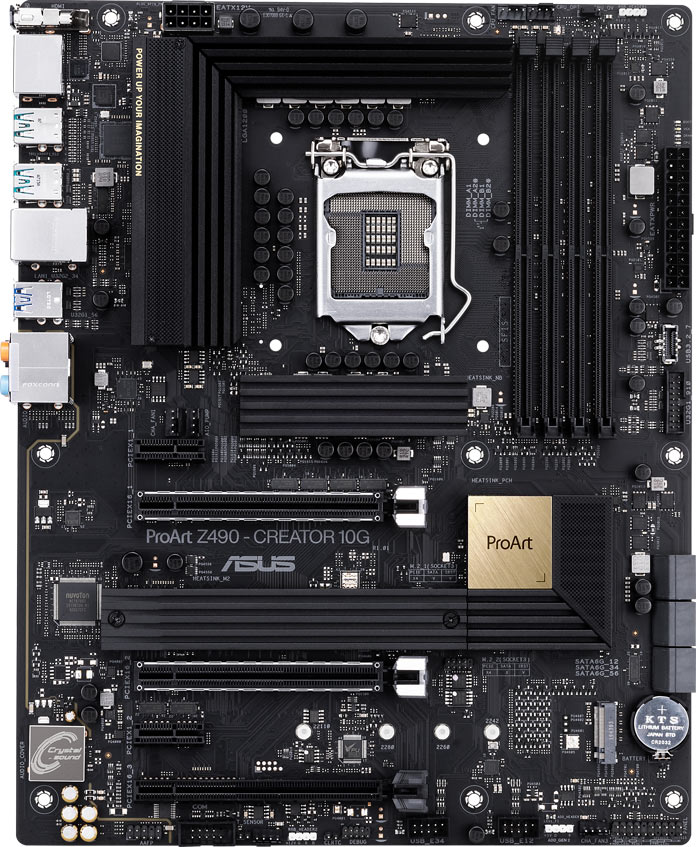 We're extending this focus on creativity to motherboards with the advent of Z490 and 10th Gen Core CPUs. Professional users need high-performance equipment, and a fair share of those users build their own machines in the quest for rendering or compiling speed. Enter the ProArt Z490-Creator 10G.
In keeping with the family DNA expressed in our other ProArt products, the Z490-Creator 10G displays sophisticated restraint. The all-black PCB, heatsinks, and slots all infuse your system with a sense of professional purpose.
The ProArt Z490-Creator 10G packs everything a professional creator or developer needs, but its calling card is definitely connectivity. The I/O panel is one of the richest ever in sheer gigabits per second. There are two Thunderbolt 3 Type-C® connectors capable of pushing up to 40 Gbps apiece, powered by the latest-gen Intel Titan Ridge controller.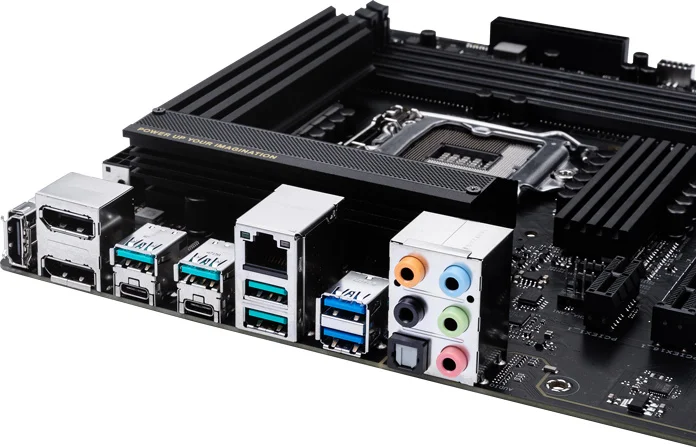 All the usual Thunderbolt goodies are supported: high-speed peripheral connectivity, multi-device daisy-chaining (across up to 12 total devices), and DisplayPort 1.4 video signals. Go ahead and wire up 8K video capture gear, Dante audio interfaces, perhaps a storage array or two—there's bandwidth to spare. Two DisplayPort inputs rest next to the Thunderbolt-enabled USB-C ports so you can channel display output from your discrete graphics card into Thunderbolt 3 cables.
That's hardly the whole story for this motherboard's connectivity, though. Four USB 3.2 Gen 2 Type-A® connectors (each running at up to 10 Gbps) and two USB 3.2 Gen 1 Type-A® ports (running at up to 5 Gbps) also grace the back panel. The 2.5Gbps Ethernet controller next to the USB ports is complemented by a mighty 10Gbps Ethernet card included in the box that'll make short work of multi-terabyte transfers to your central media server or other network-attached storage device.
Although the ProArt Z490-Creator 10G has plenty of display outputs, 3D and video artists or game developers will likely rely on a discrete graphics card, and perhaps more than one. The three PCIe x16 slots allow you to install up to three graphics cards in up to a x8-x8-x4 lane topology. If you feel the board's all-black getup is a shade too dark, you can brighten it up using three RGB LED headers (two providing standard four-pin outputs and one Gen 2 addressable). Most creative professionals will have their own audio solutions at hand, but the Z490-Creator nonetheless comes with a Realtek S1220A codec in a shielded circuit that incorporates Japanese capacitors for clean, clear output.
The ProArt concept extends beyond hardware. We've designed the ProArt Creator Hub, a utility that offers at-a-glance system monitoring and control. The Hub starts with a system dashboard where you can keep an eye on CPU temperature, load, and voltage for the system and any ProArt connected devices. You can also switch system and fan modes to prioritize performance over noise when you need all the horsepower you can get, or perhaps ease down on the throttle when you just want to work quietly. Since a ProArt system is likely to be used for graphical work, the Creator Hub conveniently includes a color calibration utility for attached displays.
Finally, the CreationFirst network prioritization utility ensures your work-related packets always get first-class treatment. The default Adaptive Intelligence mode prioritizes content creation and network-intensive applications, while the Creation First mode enforces a strict "content first" rule. Additional modes let you direct preferential treatment to streaming, multimedia, or gaming traffic.
ProArt Z490-Creator 10G
Size
ATX
Memory
4 x DDR4 up to 4600+ (OC)
Multi-GPU
3 x CrossFireX
PCIe
2 x16 @ x16, x8/x8
1 x16 @ x4
2 x1
Storage
1 x M.2 22110 (NVMe x4 or SATA)
1 x M.2 22110 (NVMe x4)
6 x SATA 6Gbps
Networking
Marvell AQtion AQC107 10Gb Ethernet (on bundled Hyper 10G card)
Intel I225-V 2.5Gb Ethernet
Audio
Realtek S1220A
Thunderbolt 3
2 x Thunderbolt 3 USB-C ports
2 x DisplayPort inputs
USB
3.1 Gen 2: 2 x Type-C, 4 x Type-A, 1 x front
3.1 Gen 1: 1 x Type-C, 2 x Type-A, 2 x front
2.0: 4 x front
Aura
2 x strip headers, 1 x Gen 2 addressable headers
Cooling
6 x fan headers
Price
$299.99 USD
Availability (USA)
Amazon
Newegg
Availability (Canada)
Canada Computers
Newegg