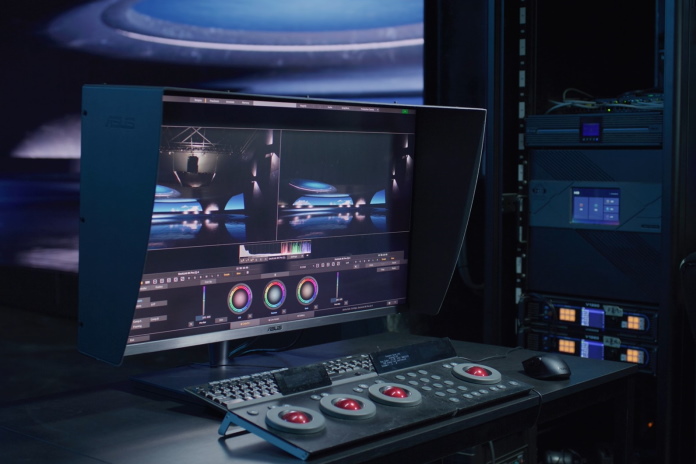 For years, VFX companies used green screens to meld together computer-generated backgrounds and effects with video capture of live actors. Today, new software tools, powerful PC hardware, and innovative techniques allow VFX companies like MoonShine to shift to a new model: virtual production. In this workflow, the virtual and real sets are fully integrated, allowing directors and actors to see the final result in real-time during filming.
How does this cutting-edge process work? What new software unlocks the collaboration necessary to make it all happen in real-time? What PC hardware makes it all possible? We spoke with Chia Chi Lin, founder of MoonShine, to get the inside story of how virtual production works at their company.
On the set with MoonShine
MoonShine's XR Studio is the first and largest virtual production studio in Taiwan. Instead of green screens, MoonShine's set is surrounded by LED walls. With real-time rendered computer graphics displayed on the walls, human actors can react to digital creations with much more authenticity. Backgrounds can move with respect to the camera's position, creating a full sense of presence. Since this technique merges the virtual and real sets, it allows for in-camera shooting without the need for compositing in post-production.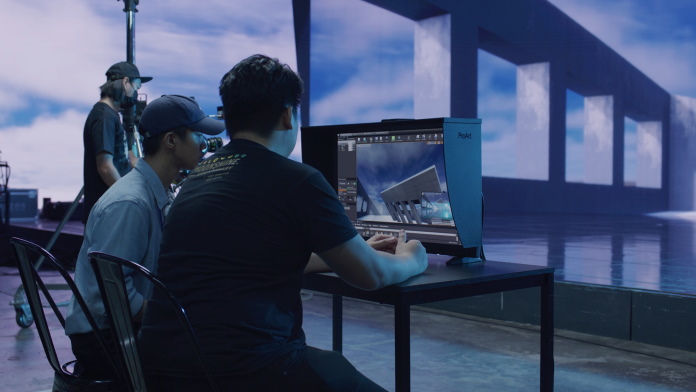 For Lin, the benefits of virtual production are undeniable. "Since virtual production has become more and more mainstream, we can finalize animation and CG creation earlier than the actual shooting, saving a lot of time for post-production," he said. "That's exactly what we want, as it allows creators to unleash their endless creativity and deliver high-quality artwork."
Here at ASUS, we've seen the power of MoonShine's process first-hand. For our digital "The Rise of Gamers" launch event for CES 2022, we filmed our promo at the MoonShine XR Studio. The seamless integration of human actors, live products, and XR backgrounds let us quickly craft an unforgettable viewing experience.
NVIDIA Omniverse pulls together teams and tools
Talk to Lin about the pieces of the puzzle that had to come together to make the MoonShine XR Studio a reality, and he'll emphasize a wide range of factors. On the hardware side, ASUS ProArt hardware keeps MoonShine on the cutting edge. On the software side, Unreal Engine is an essential element of virtual production. NVIDIA Omniverse plays an increasingly important role, as well. Omniverse is an interoperable and collaborative platform for 3D development that allows engineers, designers, and artists on a 3D workflow team to collaborate remotely on the same project.
Members of the team can use different apps to construct their elements for any given project, and Omniverse pulls it all together seamlessly. Lin explained, "With Omniverse, creators can work closely with different creative tools. For example, a creator can deal with lighting through Unreal and, at the same time, adjust texture via the Omniverse Create App." While a project is being created, clients can check in on the progress, see it in real-time, and offer feedback right away. This streamlines the creative process and reduces the need for extensive revisions in post-production.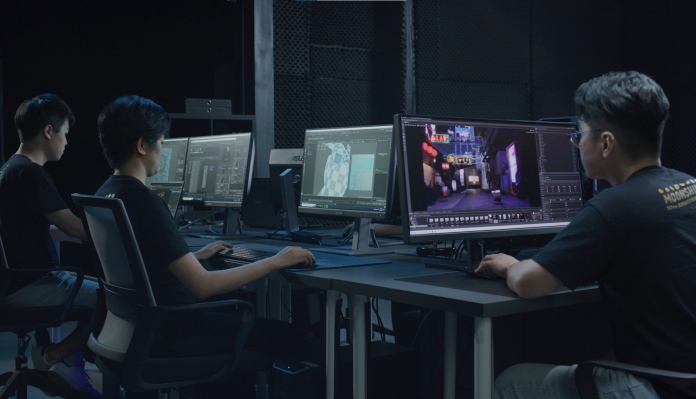 Omniverse also allows teams to work together remotely. When COVID-19 disrupted MoonShine's previous workflow, the company turned to Omniverse. Now, its entire staff can securely connect to its NVIDIA GPU-accelerated server using virtual desktop instances and develop content together, simultaneously, in a shared space.
Powered by ASUS ProArt
MoonShine's creative process requires high-performance hardware—and the team found what they needed with ASUS ProArt. As Lin put it, "To get the full potential of NVIDIA Omniverse Enterprise for remote collaboration, you need really powerful hardware. ASUS ProArt, which is a leading creator brand, provides a comprehensive solution for us. Performance is very important. ASUS servers and ProArt motherboards have high-level performance, advanced thermal design, and powerful graphic performance, so we can deliver high-quality projects."
The MoonShine XR Studio is fully equipped with ASUS ProArt laptops, workstations, and servers. Its setup starts with the ASUS ESC4000-E10. They use up to 6 units of RTX A6000 graphics cards to project one large scene background across separate LED panels. Lin explains, "Our XR Studio needs powerful performance, so we rely on the best-in-class ASUS ProArt motherboards and NVIDIA graphics cards, which have amazing graphics and computing abilities. Thanks to customized PCs with ProArt motherboards, which have efficient cooling with stable and fast connections, our team can stay fully focused during the production process."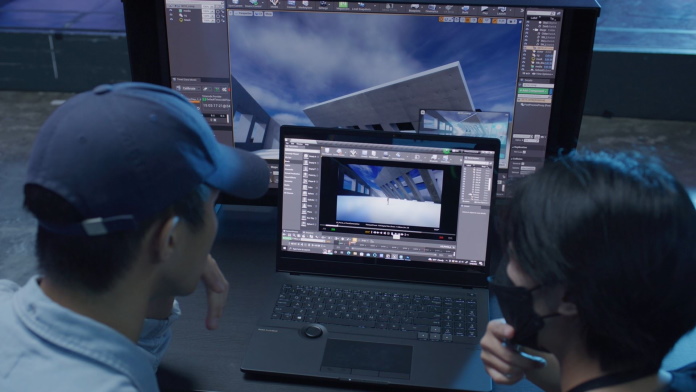 Exceptional displays are equally important for MoonShine's workflow. The ProArt Display OLED PA32DC, with its professional-grade color accuracy, exceptional HDR capabilities, and automatic calibration, is MoonShine's workhorse display. "Good visuals are vital for seamless team collaboration," Lin told us. "ProArt displays have professional color accuracy and a wide color gamut." MoonShine can't afford to let inaccurate displays slow down its process. Working with color-accurate panels at every step ensures a high-quality end product that matches the vision of its creators. "You can be sure that the colors you see are the colors that you'll get when you project the environment background on an LED wall," Lin explained.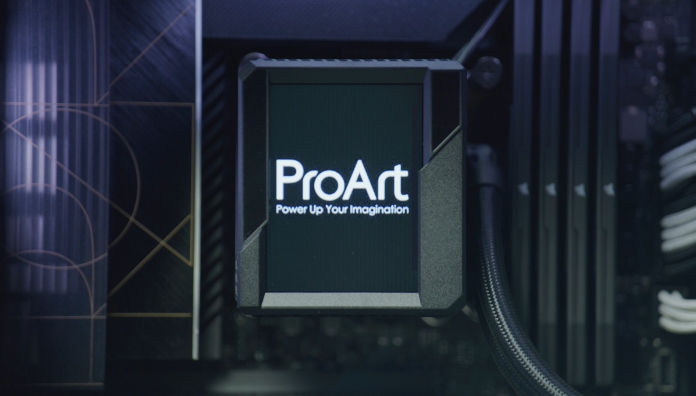 ProArt hardware gives MoonShine the full package. The team makes heavy use of the ProArt Studiobook Pro W7600, a mobile workstation with a color-accurate 4K OLED display, supreme processing power with its Intel Xeon or Core i9 CPU and NVIDIA RTX A5000 Laptop GPU, wide connectivity, and a built-in ASUS Dial. According to Lin, "The design of ProArt products is fantastic. From the specifications down to the design details, you really feel that ASUS completely understands the needs of creators. ProArt Creator Hub gives our creators a more personalized creative experience. The built-in ASUS Dial on ProArt Studiobook and the ProArt Mouse make working with creative apps as natural and intuitive as possible, which our creators really appreciate."
Learn more at SIGGRAPH 2022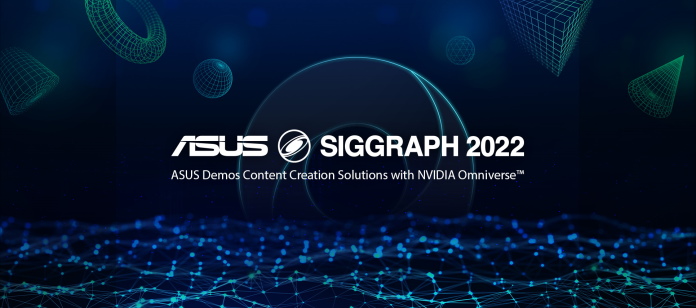 Join us at SIGGRAPH 2022 for a virtual and digital event where we'll share the latest and most innovative ASUS hardware solutions. SIGGRAPH is an annual conference on computer graphics for enthusiasts and professionals who love 3D design, animation, and visual effects. For SIGGRAPH 2022, ASUS and MoonShine will showcase comprehensive virtual production solutions supercharged by NVIDIA Omniverse to create seamless and borderless 3D working environments.
Meet us in person at booth #933 at SIGGRAPH between August 9 and August 11 at the Vancouver Convention Centre, Canada.