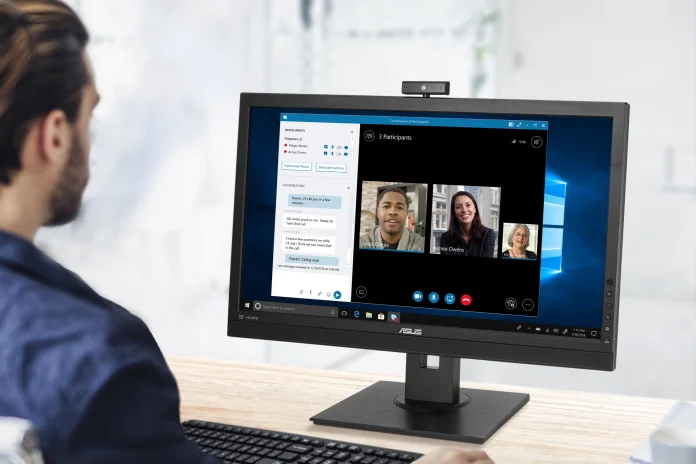 For many businesses, remote and hybrid work arrangements are here to stay. While not all functions can be shifted effectively from the office to the home, many can, and employees in those roles have proven that they're willing to change employers rather than forego the flexibility of hybrid work. Of course, working from home does present unique challenges, especially on the technology side. Setting up employees with the best displays for hybrid work means finding displays built from the ground up for the needs of remote workers—and it's a proven tactic for ensuring that your employees maintain all the productivity of the office environment while reaping the benefits of working from home.
The new world of hybrid work
Not long ago, a typical employer assumed that employee productivity was highest in a traditional office space. They thought the office guaranteed collaboration and satisfaction among their workers. Many managers even resisted remote or hybrid work arrangements altogether, insisting that face-to-face interaction was vital for their teams' workflows.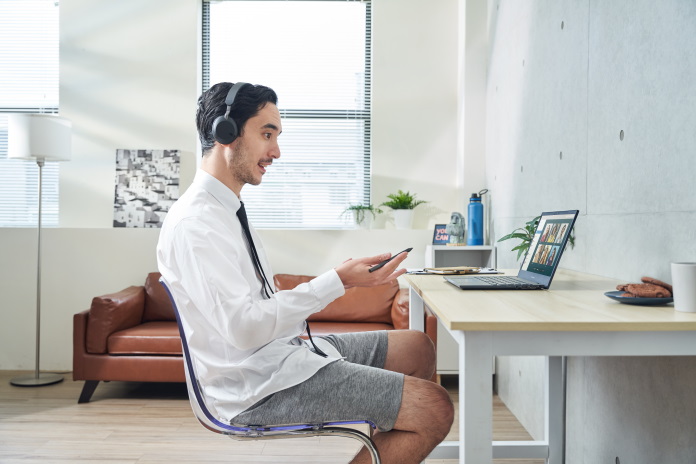 Suddenly, that stigma suffered a serious blow in 2020, when worldwide quarantines shifted millions of employees to remote work. People everywhere were introduced to benefits they had never considered. They could care for sick family members, help children stay on task with schoolwork, or just enjoy more flexible schedules. Of course, sooner or later everyone suffers from Zoom fatigue. But not everyone has agreed to drop video conferencing from their careers and social lives altogether.
Consider that 47 million Americans quit their jobs in 2021, and a record-setting 4.5 million quit in March of this year. Most were looking for better workplace conditions—and not necessarily higher wages. As many as 59% of these employees seek greater flexibility, opting for employers who allow remote work rather than those who don't. These might be workers who feel themselves starting to burn out, so they go searching for a better work/life balance, so they can stop feeling pulled between two worlds and start standing comfortably with one foot in each. In fact, one study found that almost a third of workers reported they would rather quit their job than not be able to work remotely.
Hybrid work arrangements stumble without the right tech
While the last two years familiarized us with video chats, they also introduced the frustrations of malfunctioning software, low-quality microphones, and wonky camera setups. At some point we all encountered the colleague whose connection failed mid-meeting or whose video feed never started. We too have strained to hear the silent colleague whose mic wouldn't unmute. And even when the tech works as intended, 35% of us report problems with poor quality sound and visuals.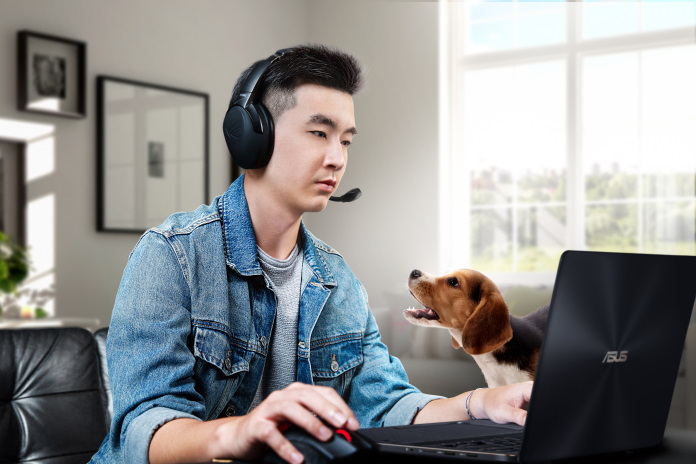 At the office, the IT department was never far away. At home, everyone has to troubleshoot their own tech, or try to juggle a cell phone in one hand and their computer setup in the other. Some employees have the expertise and experience to comfortably diagnose and fix the odd computer problem, but many more need easy ways to get the guidance they need—and everyone benefits from more reliable hardware to begin with.
And then there's the environment of the home office itself, which always does double duty. A typical home desk quickly clutters with a professional suite of tech. With wires for the camera, mic, and display piled onto the keyboard and mouse, it gets so people find themselves scribbling notes on a pad perched precariously on their lap, trying not to spill the tea.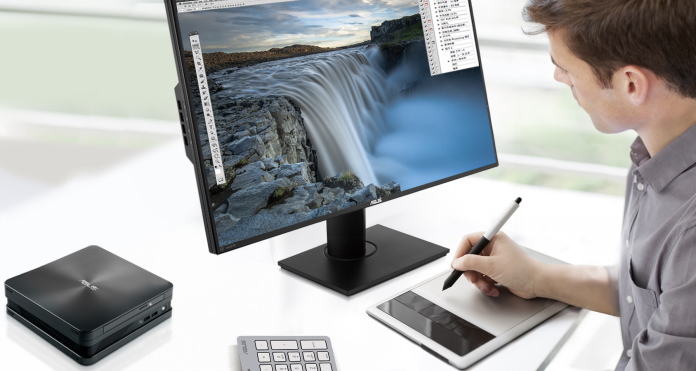 Technology can decrease the clutter while easing the transition between office and home. ASUS has designed two new displays to meet the needs of employees who work remotely—especially those whose schedules are flexible enough to take them back and forth between office and home.
Built-in teleconferencing tools distinguish these displays
We designed two new, full-featured monitors to make remote work hassle-free: the 23.8" ASUS BE24ECSNK and the 27" ASUS BE27ACSBK. Both displays for hybrid work provide a complete video conferencing solution in one right-sized package. With their integrated camera, microphone, and speakers, they provide everything that employees need for seamless virtual meetings, and their generous range of connectivity options ensures broad compatibility and empowers workers to set up a convenient, clutter-free work environment.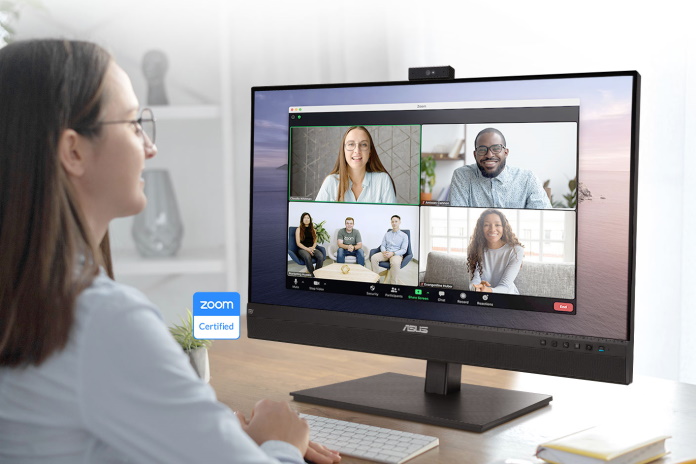 Each and every design element of these displays addresses a difficulty of video conferencing. The built-in 2 megapixel webcam's facial auto exposure eliminates those blurry, smudged, shadowy images of coworkers (and grandchildren). If the idea of a built-in camera has you worried about sitting up straight to stay in the frame until your back and neck begin to ache, fear not. The webcam offers generous tilt and swivel adjustments, and the monitor it's mounted to offers a full range of tilt, swivel, pivot, and height adjustments. With such a range of camera angles, you could even get away with wheeling out the whiteboard to work through the group's ideas.
Additional webcam features offer security and peace of mind. The non-detachable webcam includes a manual shutter to guarantee privacy when not in use. And for the 54% of employees who regularly participate in video conferencing, both displays are Zoom certified to guarantee software functionality on that popular platform—and, of course, they're also compatible with other popular apps like Microsoft Teams, Google Meet, and Cisco Webex.
But what about background noise? The built-in ASUS AI Noise-Canceling Mic solves sound problems on the fly. Waste less time in meetings yelling "There's a loud echo every time you speak," or "Can you hear me better now?" To guarantee good sound, the mic intelligently cancels noise outside the speaker's vocal range. But don't worry about the robots taking over. If the AI miscalculates, the monitor's adjustable interface lets users fine-tune the level of amplitude cancellation. And anyone who wants to share their cat's meow or that rocking street music—or more practically, pick up the voices of everyone in the room—can push the AI Mic hotkey to adjust the beam-forming controls and widen the receiving range. Meanwhile, the unit's built-in, forward-facing speakers ensure you will hear the other remote attendees. Quick buttons on the front of the monitor let you adjust the volume up or down, turn the microphone on or off, and even hang up the call.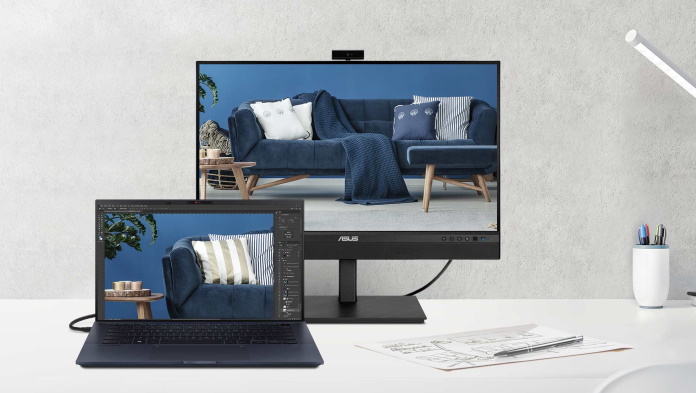 For employees who already own a computer rig, how will these displays fit into their existing setup? In a word, seamlessly. The monitors accept display signals through either an HDMI or a USB Type-C port, ensuring wide compatibility with almost all laptops and PCs. What's more, these displays are also set up to act as a single-cable dock for your employees' laptops. The USB Type-C port is wired to not only accept a display signal but also deliver 80W of power. That means workers can connect one cable between laptop and display in order to enjoy additional screen space while simultaneously recharging their device.
Four USB Type-A ports on the display let workers connect their mouse and keyboard, while an Ethernet jack on the 24" BE24ECSBKN display connects their wired home internet at the same time—resulting in just one cable from their laptop to their display. Since a wired internet connection is often more stable and reliable for users than their wireless network, such an arrangement might prove invaluable as your employees participate in an important teleconference or upload files to cloud storage.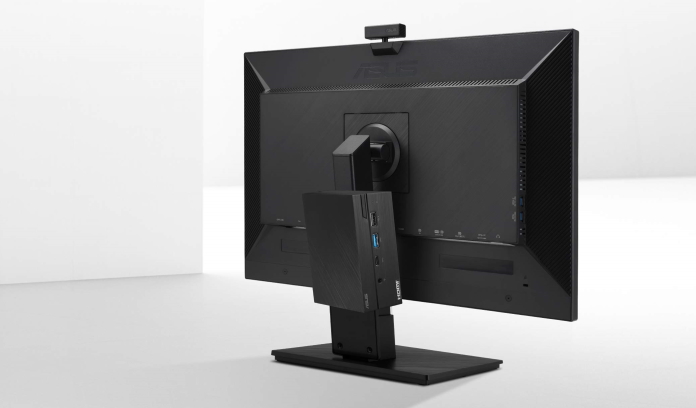 Furthermore, DisplayPort in and out connectors in both monitors allow users to daisy chain their new displays, creating panoramic displays across multiple monitors. This feature helps workers unlock even more productivity by extending their cognitive capacities into the workspace. Workers who use multiple displays appreciate not having to toggle between numerous windows or getting lost while worrying they'll miss something when the video screen gets hidden by a webpage or PDF.
The best displays for hybrid work
The world has changed. As always, successful businesses will need to adjust. Competing for the highest quality talent, and keeping them content in the workplace, are more challenging than ever. Yet an alarming number of companies seemingly can't face these facts. Leaders on the cutting edge of business management recognize how and where the workforce of the future wants to work. And they meet those workers' needs with the business infrastructure crucial to the task.
As the stigma against remote work fades, managers and business owners are catching on to its benefits. One survey of managers found that more respondents thought workers' productivity had gone up during the pandemic than down. Small to medium businesses looking to keep up with this changing world are building greater flexibility into their models of work. The ASUS BE24ECSNK and BE27ACSBK webcam monitors provide a full-featured setup that makes transitioning from the office to the home as smooth as flipping a switch. Set up your remote workers with these monitors to bolster their productivity and cut the hassle out of their teleconferencing.