Many creators have to laugh when they look back on the hardware they started off with. The underpowered laptops, inaccurate displays, and basic cameras that they had on hand got them started, but not much more than that. We decided to give a class of photography students at the ArtCenter College of Design of Pasadena, California a head start on their careers by supplying their classroom with a set of ProArt displays. The work they produced with these monitors surpassed our expectations, and the monitors the students used to produce this work surpassed theirs.
For their final project, the students had to create media focused on a theme that has been on most people's minds recently: "Life After Pandemic." Through their art, they communicated the complex web of emotions and reactions that many of us feel, but don't always know how to express. The careful control of color in each image demonstrates the value of using a highly accurate display. Several students found a ProArt display such a valuable tool for their creative process that they purchased one of their own.
ProArt displays offer the key specs that creators need
We set up each student with a ProArt Display PA278CV monitor. This display delivers the crucial specs that creators need to produce professional-quality work, and it proved a natural fit for a classroom environment. Its 1440p resolution provides a detailed image, while the IPS panel ensures wide viewing angles for easy single-screen collaboration. The PA278CV offers 100% coverage of the sRGB and Rec. 709 color gamuts, and it's factory calibrated and Calman Verified to achieve a ΔE of less than 2. Right out of the box, it provided the color accuracy that these students needed to create with confidence.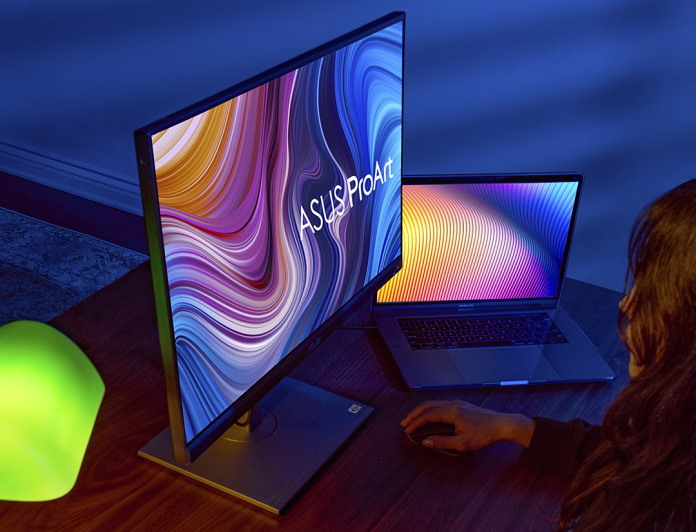 It didn't take long for the students to discover the advantages of augmenting their usual setup with a ProArt display. "I think the monitor is great. I love how it connects to my personal laptop and makes it really easy for me to swap between each screen," one student told us. "The ruler is a great addition to it. It helps me scale my images a lot easier." Another student praised the connectivity, noting that a lack of ports has stopped them from buying other monitors in the past. With its USB Type-C port wired for DisplayPort and 65W USB Power Delivery, the PA278CV makes it a breeze to set up a tidy workspace.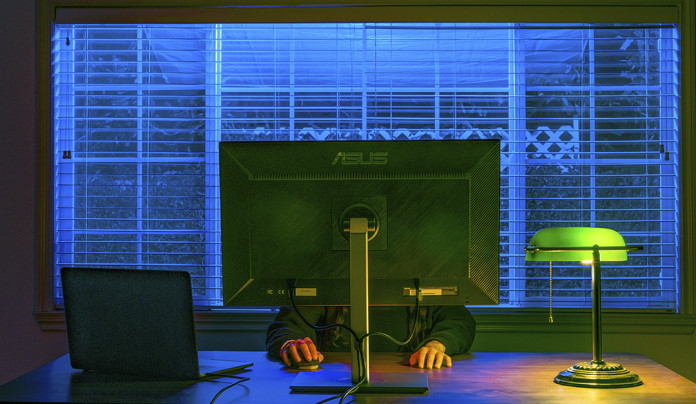 The ArtCenter students were most interested in talking about the display's color reproduction. "The colors are amazing," one student gushed. "I've been using the sRGB mode and it's been matching my digital outputs really well. I think the color quality is great." Since this student had his workflow arranged over his laptop screen and the PA278CV, the advantages of using an accurate monitor were always on display. "Looking at my website on the two screens, I think the monitor that ASUS provided is a lot more accurate to how I want the images to look."
ArtCenter students show off their talents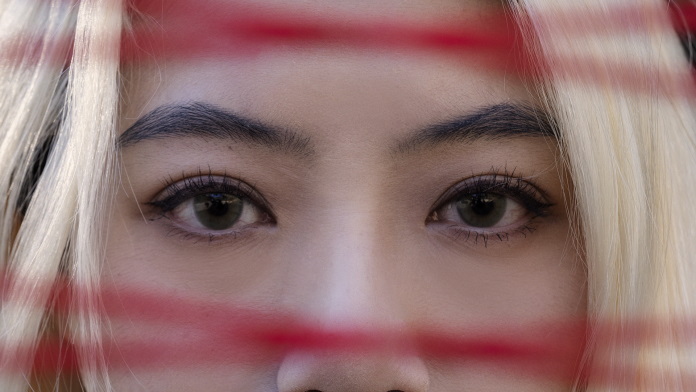 The students' final projects show what happens when talented creators have access to the tools they need. Natural skin tones bring the subject of this portrait to life and draw you into its striking composition—and make the red bands truly stand out.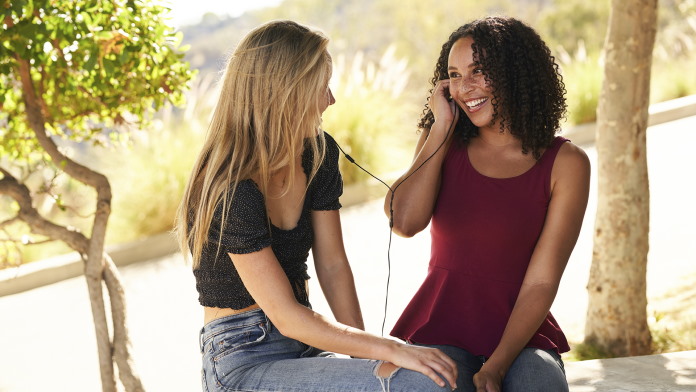 A sun-drenched hillside provides a vibrant backdrop to this scene. Lifelike touches of green in the distance complement the closer foliage, all without overpowering the true subjects of the photo in the foreground.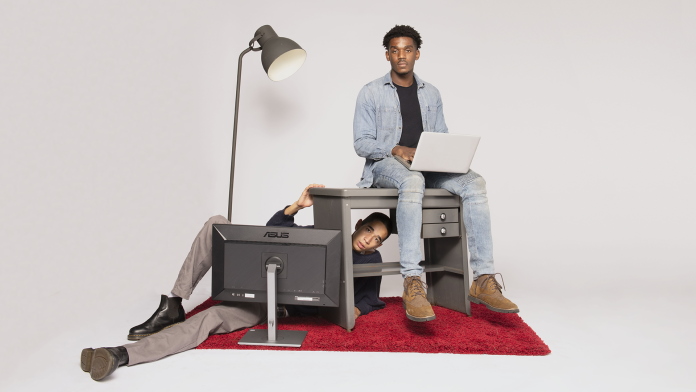 The students produced eye-catching shots on the set, as well. With a composition that bursts with personality, this photo draws the eye with its vivid contrast and natural range of colors and textures.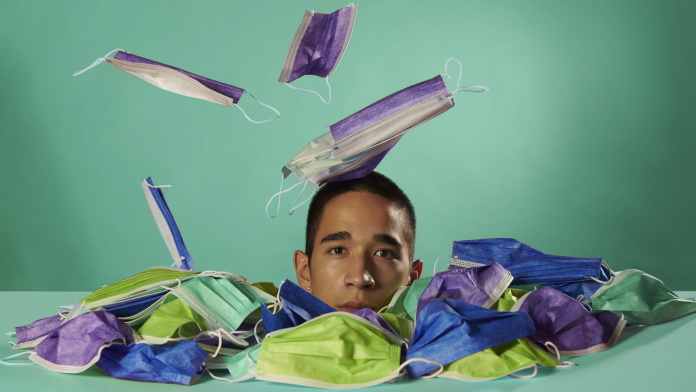 Another student found inspiration in the many ways that public life changed during the coronavirus pandemic. The vibrant colors, falling and piled up masks, and ambiguous expression of the young man all combine to express a compelling truth about modern life.
ProArt displays stand ready for your studio, school, or company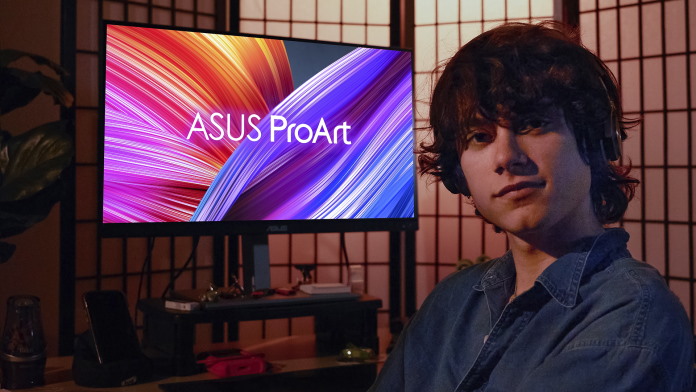 It's incredible what young creators can produce when they have access to the tools they need. The ProArt Display PA278CV proved to be a valuable partner for these students as they developed their skills in the classroom and put those skills to use for their final projects. After the end of the semester, many decided to get a ProArt monitor of their own. Out of all the students and faculty at ArtCenter who used a ProArt monitor through our partnership with the school, a full half went on to purchase a ProArt display for their personal use.
ProArt displays offer the crucial specs that creative professionals need for photo and video editing, graphic design, game development, and much more. Whether you're looking for a versatile input device with Wacom EMR tech, an OLED on-set monitor, an accurate ultrawide display with a fast refresh rate, or an affordable display with 100% sRGB coverage a professional-grade accuracy, the ProArt family of monitors has a model that fits your needs. Learn about our full lineup of ProArt content creation displays here.