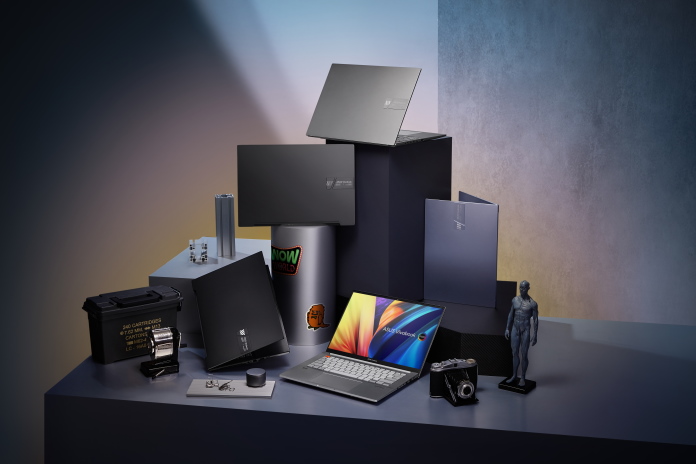 Professional-grade hardware for content creators. Stylish lifestyle laptops for today's trendsetters. Dependable, affordable laptops for any user. The 2022 Vivobook family is larger and more inclusive than ever. Built on a rock-solid feature set of essential performance for daily productivity, high-quality displays for entertainment, and long-lasting battery life, Vivobook Pro and Vivobook S laptops offer something for everyone.
For aspiring content creators and college students who need every dollar in their laptop budget to count, Vivobook Pro offers high-performance components, dazzling OLED displays, and innovative features in value-packed machines. Vivobook S machines deliver the performance, battery life, and features you desire in sleek, ultraportable designs. And our entry-level Vivobooks raise the bar for what you can expect from laptops priced for everyone.
Vivobook Pro leads the way
For content creators on the rise, the value-centric and high-performance Vivobook Pro series beckons. We're expanding our lineup with a variety of sizes, each with a range of configurations that let you pick the level of performance you need. Is a broad canvas for fine-tuning your latest creation essential? The 16-inch Vivobook Pro 16X OLED and Vivobook Pro 16 OLED offer a spacious 16-inch display with an extra-tall 16:10 aspect ratio. Perhaps you put a premium on portability? The more compact 14.5-inch Vivobook Pro 14X OLED stands ready. For a balance of screen space and portability, the 15.6-inch Vivobook Pro 15X OLED and Vivobook Pro 15 OLED hold up the middle of the lineup.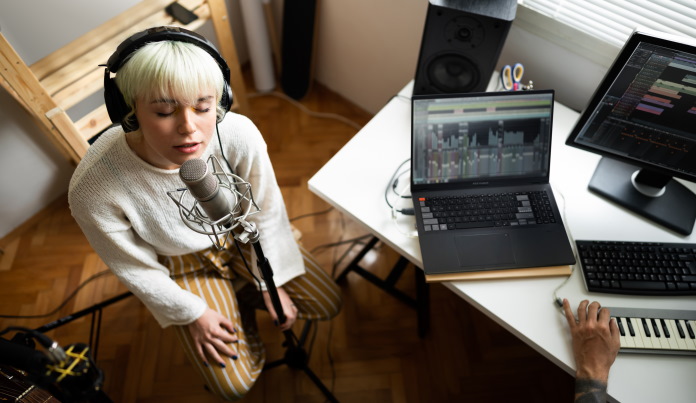 These powerful creator laptops feature top-notch specifications that represent incredible value for the money. High-performance CPU options are on tap, including the 12th Gen Intel Core i9 12900H and AMD Ryzen 9 6900HX processors. Creative work often requires spacious pools of memory, top-end graphics cards, and ample storage, so configurations are available with up to 32 GB of DDR5 RAM, studio-grade NVIDIA GeForce RTX 3070 Ti graphics, and an ultrafast 2 TB PCIe® 4.0 SSD. ASUS IceCool Pro thermal technology keeps it all cool, allowing you to enjoy exceptional performance, subdued fan noise, and comfortable laptop surface temperatures in a slim, portable device.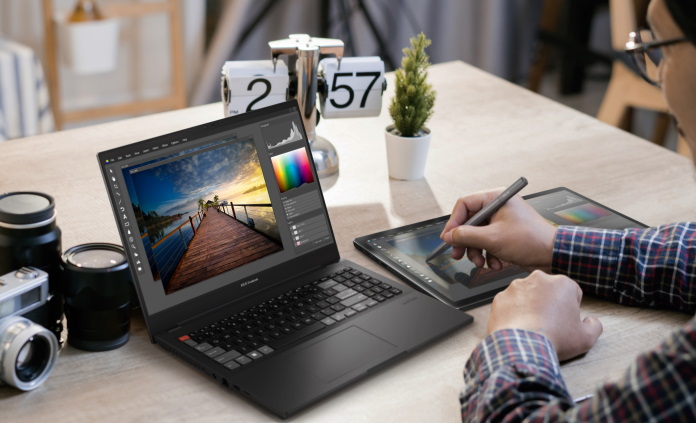 New display options give you a pixel-perfect canvas for your work. For creators who work with rendering, animation, or other moving media, we're proud to offer OLED displays with a speedy 120Hz refresh rate and an ultra-low 0.2ms response time. On these exceptional displays, fast-moving images will be clear, blur-free, and smoothly animated. Other display options include OLED panels with finely detailed 4K resolutions and dazzlingly bright 600-nit peak brightness. Whichever option you pick, your display will be Pantone Validated for industry-standard color rendering, up to VESA DisplayHDR™ True Black 600 certified for high contrast and deep blacks, and have a cinema-grade 100% DCI-P3 color gamut. For enhanced eye care, they are also TÜV Rheinland certified for low blue-light emissions.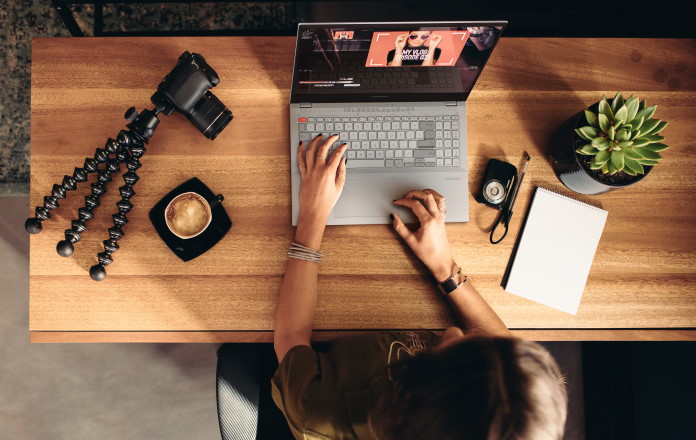 Vivobook Pro laptops offer creators a broad range of connectivity options so they can easily hook up their full creative workstation. Connect external displays, recharge your devices, or access high-speed external storage though ultra-fast and convenient Thunderbolt 4 or USB4 ports. HDMI 2.1 ports make connecting a second display quick and easy, while SD Express 7.0 microSD card readers let you conveniently access media from your camera. With WiFi 6E, you can use a compatible wireless router to rise above the often-congested 5GHz band for reliable, high-bandwidth internet.
Budding creators will also appreciate the unique and intuitive ASUS DialPad virtual rotary control for their creative apps. Built right into the ultra-wide touchpad, the DialPad gives you a customizable analog input for use in your favorite creative apps. Tweaking its settings is easy with the ProArt Creator Hub app, which puts all the monitoring and customization controls for your laptop in one convenient place.
Sleek designs set Vivobook S laptops apart
Vivobook S series laptops are the thinnest and lightest in the Vivobook family, with a chassis profile measuring from just 17.9 mm thin and weighing from as little as 1.6 kg. Despite their size,  they offer performance levels normally associated with much bulkier models. In fact, they are some of the world's first thin and light laptops capable of harnessing powerful CPUs with a 45W TDP.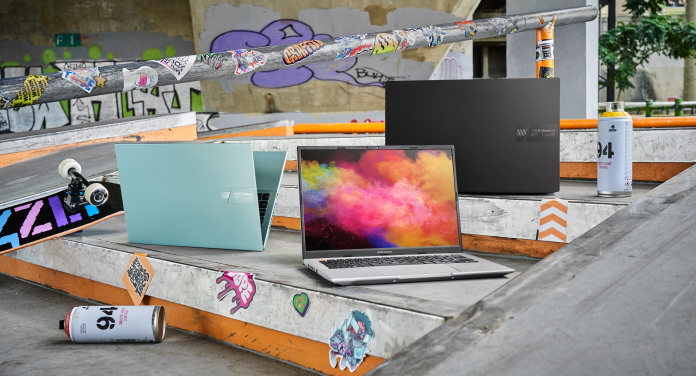 For those who prefer the luxurious feeling of an all-metal chassis, we offer the 14.5-inch Vivobook S 14X OLED and the 16-inch Vivobook S 16X OLED. Alternatively, the Vivobook S 14 OLED and Vivobook S15 OLED are dressed to impress with metal lids. The all-new chassis design makes a real style statement, with a choice of youthful new colors—Indie Black, Neutral Grey, Brave Green, Midnight Black, Solar Silver, or Sand Grey, depending on your model and region—and a raised logo tab on the lid.
High-end components offer snappy, responsive performance for everything you do on your laptop. Whether you prefer Intel or AMD CPUs, we have a range of options available, up to the 12th Gen Intel Core i7-12700H or the AMD Ryzen 9 6900HX. ASUS IceCool thermal technology efficiently accelerates heat transfer and prevents throttling, so you get unbounded performance and quiet operation, even in an ultraslim device.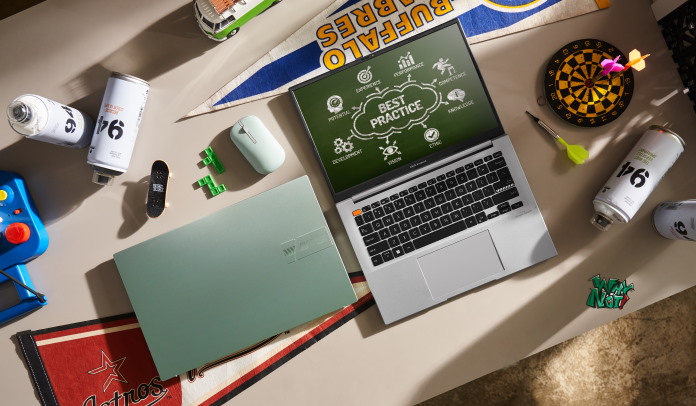 World-class OLED displays elevate your entertainment and everyday computing. With resolutions up to 4K, and infinite contrast, you get a supremely clear image. Ultra-slim NanoEdge display bezels let us fit spacious displays into a compact footprint. Select models feature lightning-quick 120Hz refresh rates for fluid animation. All these displays have a cinema-grade 100% DCI-P3 color gamut, are VESA DisplayHDR True Black 600 certified and are PANTONE Validated for color accuracy. TÜV Rheinland low blue-light certification ensures eye comfort during long viewing sessions.
User-friendly design is a key feature of the Vivobook S series. Versatile lay-flat 180° hinges let you position your laptop screen at the angle that best fits the moment. The powerful Harman Kardon-certified audio system includes ASUS AI Noise-Canceling Technology for crystal-clear communications. A physical webcam shield and ASUS 3DNR technology make conference calls safer and clearer, even in low-light conditions.
Finishing touches that make all the difference
In ways large and small, Vivobook laptops make your life easier and simpler. The full-size ASUS ErgoSense keyboard has an incredibly satisfying feel, with the optimum bounce and travel calculated with fine-tuned precision. The keys have a long 1.4 mm travel, and the keycaps have a 0.2 mm dish that cups your fingertips. The ASUS ErgoSense touchpad is now larger and more responsive than ever.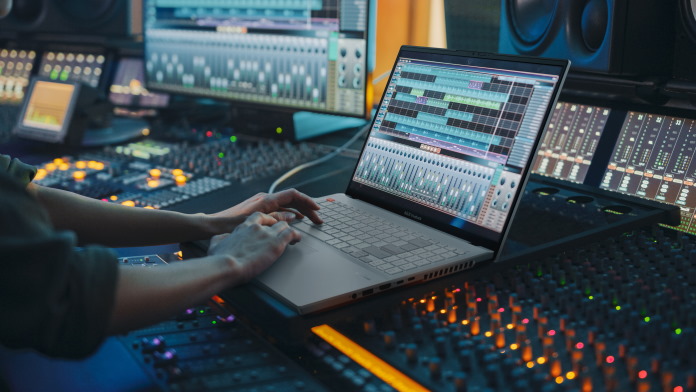 Your Vivobook laptop will protect your health, as well. The surface of any laptop harbors thousands of potentially harmful bacteria. To keep selected Vivobook models hygienic, they're protected by ASUS Antibacterial Guard—a surface treatment scientifically proven* to inhibit the growth of bacteria by more than 99% over a 24-hour period. Antibacterial Guard ensures the protected surfaces of the laptop stay clean and sanitary for longer, and reduces the spread of potentially harmful bacteria via contact.
One free month of Adobe Creative Cloud
Adobe products are central to creative work in many industries. We've partnered with Adobe to empower your workflow with the renowned Creative Cloud suite of apps and services. With your purchase of a select Vivobook laptop in select regions, you'll enjoy a free one-month subscription to Adobe Creative Cloud. Not only will you have access to over 20 apps, including Photoshop, Premiere Pro, and After Effects, you'll have 100GB of cloud storage on tap.
Redemption is easy, and you can apply the Creative Cloud subscription to a new or existing account. The first time you power on your PC, a window will pop up to walk you through the steps. Alternatively, you can use the MyASUS app or head over to the registration site at any time. Check out the full details for this program here.
Your new favorite laptop awaits
Our new Vivobook laptop lineup makes sure that there's a laptop for everyone. With their professional-grade OLED displays, high-performance components, and excellent connectivity, Vivobook Pro laptops offer content creators incredible value. Vivobook S laptops deliver a high-end PC experience in slim designs. Wherever you see the Vivobook name, you're looking at a device that raises the bar with innovative tech, convenient features, and designs brimming with personality.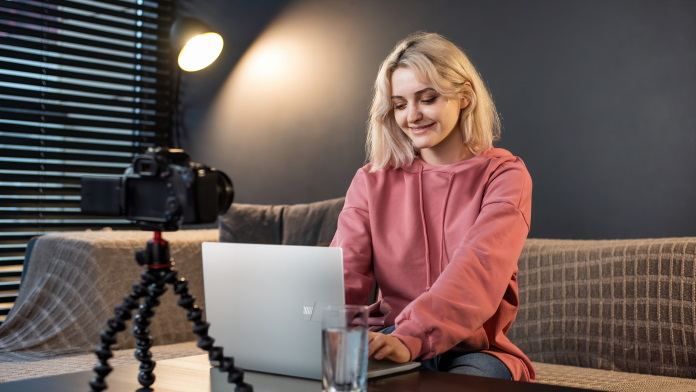 Need help picking between our different laptop families? Click here for an overview of our Vivobook, Zenbook, and ExpertBook lines.  For information on the pricing and availability of Vivobook Pro and Vivobook S laptops in your region, please contact your local ASUS representative.
*Tested by an independent third-party laboratory according to the ISO 22196 standard (Measurement of antibacterial activity on plastics and other non-porous surfaces). ISO 22196:2011 specifies a method of evaluating the antibacterial activity of antibacterial-treated plastics, and other non-porous surfaces of products (including intermediate products). ASUS Antibacterial Guard is applied on the laptop areas that users touch most frequently, including the palm rest area, keyboard, and touchpad (or ASUS NumberPad).