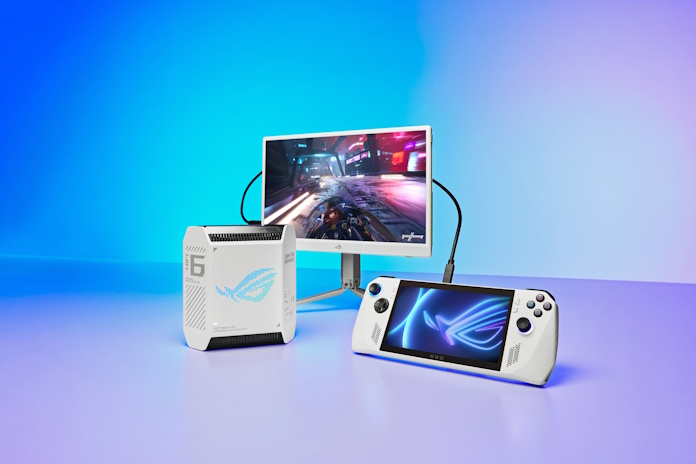 Several things all have to come together for you to enjoy stable, high-bandwidth, low-latency networking for all your devices throughout your home. It starts with a great internet connection, and you'll get a better experience with modern devices equipped with the latest WiFi tech. But at the center of it all is your wireless router. If you're struggling with dropped connections, slowdowns, and dead zones, it's time to reassess this vital piece of kit. The latest and best gaming routers from ASUS and ROG use the latest WiFi technologies, an intuitive and easy-to-use app, and comprehensive security — and they're incredibly easy to set up, too.
We offer wireless routers and mesh WiFi systems for a wide range of scenarios— everything from dorm rooms and apartments to multistory homes. Here, we'll break down our best choices for gamers. Whether you need an affordable entry-level model to get yourself started or a premium model packed with high-end features, you'll find what you're looking for in this guide.
The best gaming router for hardcore gamers: the ROG Rapture GT-AXE16000
Let's kick off this list with a recommendation for the power users out there. If you're passionate about your networking hardware, and you have the knowledge and skills to take advantage of a router with a premium toolkit, then the ROG Rapture GT-AXE16000 is the wireless router for you.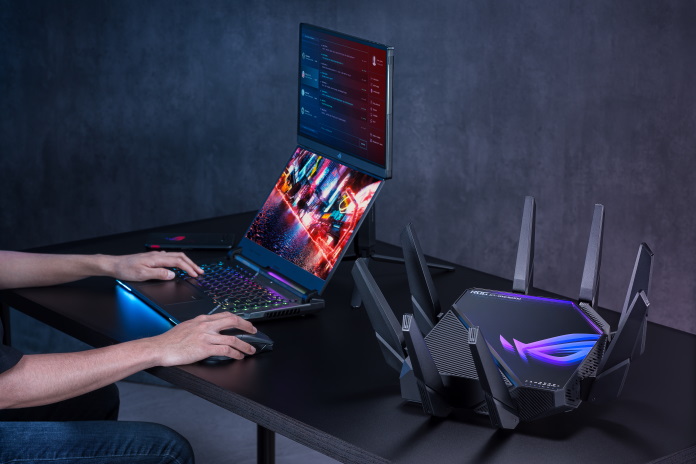 It starts with WiFi 6E support. Gamers who live in a condominium, apartment, or dorm room surrounded by competing WiFi networks and devices often struggle to get the interference-free networking they need for online play. WiFi 6E lets you access dedicated spectrum in the 6GHz band that's free from interference and unburdened by older standards. It opens several of the 160Hz-wide channels that work so well for 8K content creation, cloud gaming, and high-def video conferencing.
Not only does our ROG Rapture GT-AXE16000 go big on WiFi 6E technology, but it also elevates the performance of legacy wireless standards. This is our first quad-band router. Its 6GHz band offers data rates as high as 4,804 Mbps to compatible WiFi 6E devices, and it has two 5GHz bands with the same bandwidth on top. Together with the 2.4GHz band's 1,148 Mbps, that's 16,000 Mbps of aggregate throughput, provided that WiFi 6E is available in your region. What of the second 5GHz band? You might use it as a dedicated backhaul link on AiMesh-compatible networks for maximum performance between wireless clients and other nodes.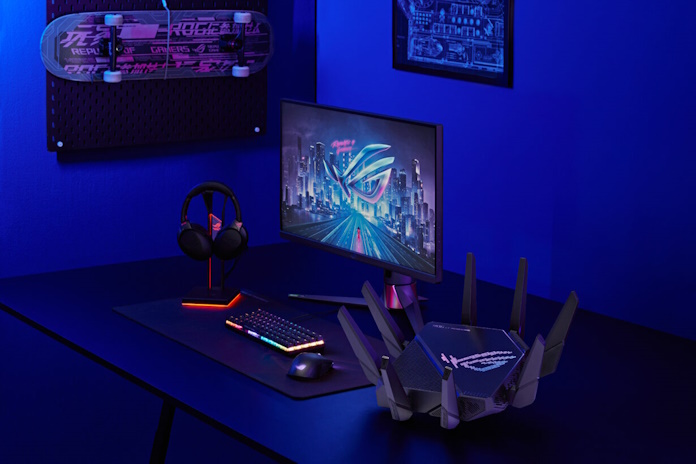 The GT-AXE16000's wired connections wield hard-hitting data rates, too. It boasts a pair of 10 Gbps ports, four 1 Gbps LAN ports, and a 2.5 Gbps WAN port for flexible connectivity. The dual 10Gbps ports open up next-level approaches to data management, network-attached storage (NAS), and data transfer, enhancing your server capabilities and the performance of your network.
Information is shuttled through the router using a new quad-core 64-bit CPU operating at 2GHz. Game Boost adaptive quality-of-service makes it easy to prioritize gaming traffic with the click of a toggle. And integrated gamer VPN tech connects the GT-AXE16000 to gaming servers over optimized routes for less lag.
If you have a large home, two GT-AXE16000 routers working together with AiMesh would help you take full advantage of their quad-band advancements. You'd have the best whole-home seamless roaming experience, and the confidence that all your devices are compatible, even ones from different WiFi generations.
The best gaming router for active gamers with multiple devices: the ROG Rapture GT-AX11000 Pro or ROG Rapture GT6
The architects of legacy WiFi standards planned for households where folks had, at most, one device per person. That paradigm just doesn't cut it for today's connected households. If your current router isn't keeping up with the bandwidth demands of the smartphones, laptops, smart TVs, gaming consoles, smart home devices, and tablets in your home, take a look at the ROG Rapture GT-AX11000 Pro.
The ROG Rapture GT-AX11000 Pro is designed for gamers who want to keep multiple devices connected and still get incredible gaming performance. Enjoy up to eight simultaneous WiFi streams for more video streaming, gaming and browsing for everyone in your home. WiFi 6 helps ensure an ultra-fast, stable connection for all game devices.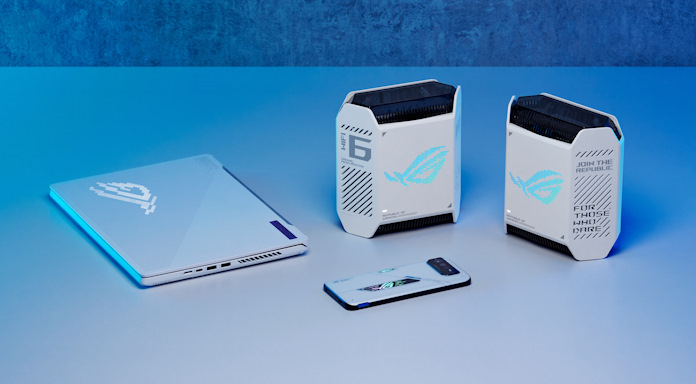 In many homes, you can find a centralized location for your wireless router and enjoy great networking in every room. Some homes pose a bit more of a challenge. If you live in a multistory home, a building with dense construction materials like stone or brick, or a home where you spend plenty of time in a finished basement or backyard patio, a mesh WiFi system might be a better pick for you than a traditional router.
ROG's first tri-band mesh WiFi system, the ROG Rapture GT6, sizzles with great gamer style. It offers massive network capacity, and it's built inside and out for gamers. WiFi 6 tech makes it well-equipped to handle a full household of connected devices, and as a mesh system with two nodes, it can provide excellent coverage to larger, multi-floor homes.
The best performance router for gaming: the ASUS RT-AX86U Pro or ASUS RT-AX88U Pro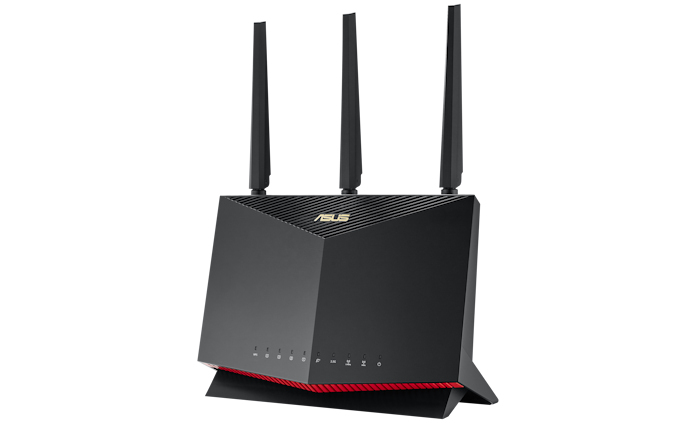 Here's a pair of picks that sit at the sweet spot of performance and price for most gamers out there: the ASUS RT-AX86U Pro and the ASUS RT-AX88U Pro. While they can't quite go toe-to-toe with our cutting-edge ROG Rapture routers, they offer an enviable feature set that'll deliver high-performance networking for years to come. They should be especially tempting to anyone who's still paying their ISP a monthly "rental fee" for the privilege of using a company-provided router — these units are definitely cheaper than a few years of paying those fees.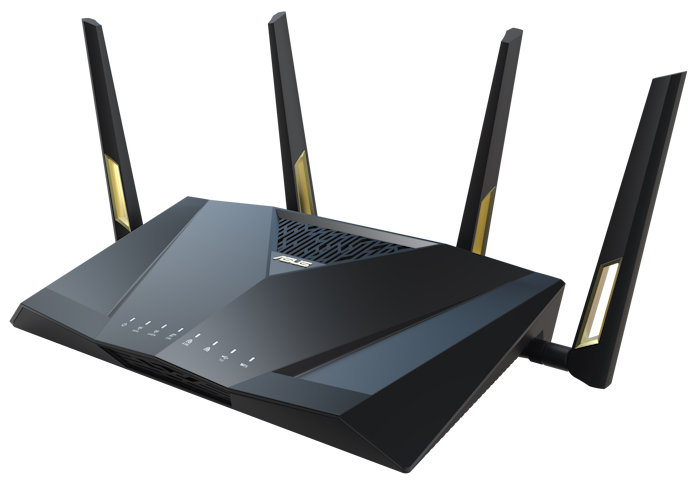 Both models feature high-efficiency WiFi 6, with the RT-AX88U checking in with more bandwidth than its younger brother. Both offer a 2.5Gb Ethernet port ready for a multigigabit internet connection, and the RT AX88U offers a second 2.5Gb port so that you can take advantage of link aggregation and load balancing. You get access to a full suite of network security features, advanced parental controls, AiMesh, and VPN support, all without a paid subscription.
The best budget gaming router for casual gamers: the TUF Gaming AX6000
Finally, here's our recommendation for casual gamers — or any shopper for whom budget is the top priority. The TUF Gaming AX6000 doesn't cost a lot of scratch, and it'll get your home wireless network up and running so that you can start gaming.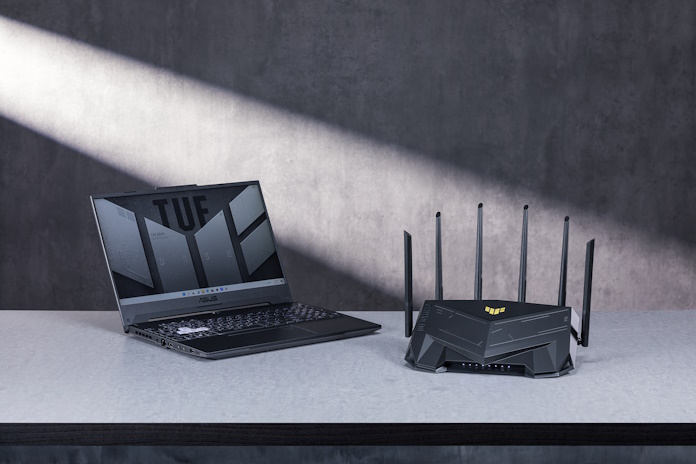 You might be surprised at what you get with this router, despite the fact that it costs less than $200 (USD). It offers WiFi 6 tech for fast network transfer speeds and excellent network efficiency. It provides dual 2.5Gb Ethernet ports with flexible WAN/LAN port configuration, AiMesh support, and a dash of style of Aura RGB lighting. You'll even find a dedicated gaming port which automatically prioritizes traffic to any device connected to it.
An exceptional feature set with the latest firmware
The enhanced web graphical user interface (GUI) and the ASUS router app give you easy access to the 30-second, 3-step web-based installation process. Our latest firmware gives you access to powerful and versatile features. With one of our routers that's equipped with a USB port, you can enjoy plug-and-play mobile tethering. This means that even if the connection from your ISP is down, you can maintain internet access through the 4G LTE/5G connection of a device like your smartphone. After an easy setup, all you'll have to do is connect your device to the port for instant internet access.
Additionally, you'll get intuitive security tools, either through the web GUI or our easy-to-use ASUS Router app. AiProtection works behind the scenes to protect your networks, devices, and data, and you can use Instant Guard to get one-tap safe browsing for your mobile devices when you're using a public WiFi network. Our latest routers also support a variety of VPN protocols, including Wireguard, to help ensure that your data is transferred safely between routers located on different networks.
A full ecosystem of WiFi 6E devices and routers
Perhaps you're looking at one of the WiFi 6E routers in this guide, but you don't yet own a compatible WiFi 6E device that could connect to it over its 6GHz band. Never fear — ASUS provides total WiFI solutions for PCs, consoles, and mobile gaming, so we offer a complete ecosystem of laptops, handhelds, and motherboards that all support WiFi 6E.
One option is the ROG Ally. Competing gaming consoles cap out at WiFi 6, but this Windows 11 gaming handheld supports WiFi 6E to ensure that you get interference-free network connections. That pays off no matter how you game, but it's especially important for anyone streaming a game to their Ally from their desktop PC.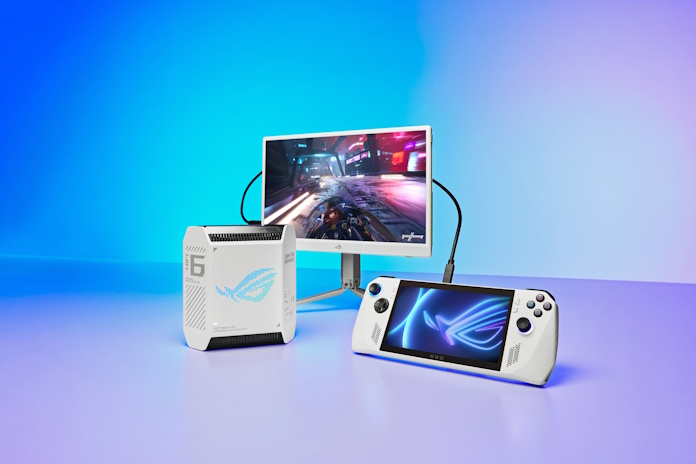 If building your own PC is more your speed, consider the TUF Gaming Z790-Pro WiFi — or nearly all of our X670 motherboards. We offer a wide range of motherboards that are ready for WiFi 6E so that it's easy for you to find a model that fits your needs and budget. You'll find WiFi 6E support across our laptop lineup, too. Everything from the Zenbook 14 OLED to the ROG Zephyrus G14 sets you up for high-performance networking with WiFi 6E.
On the horizon: WiFi 7 beckons
Early in 2023, we announced our very first WiFi 7 routers. Ultrafast WiFi 7 (802.11be) shatters all boundaries to give you exceptional networking speeds for gaming, entertainment, and more. You asked for more speed, and WiFi 7 delivers. While WiFi 6 focused on congestion-busting tech designed for crowded networks, WiFi 7 kicks into high gear with new features that deliver faster wireless speeds than ever, all while retaining or refining the advantages of WiFi 6 and WiFi 6E.*
To take full advantage of the latest wireless standard, you'll need both a WiFi 7 router and some WiFi 7 devices. For your router, look no further than the all-new quad-band ROG Rapture GT-BE98. Our latest ROG Maximus and ROG Strix Z790 motherboards will be among our very first WiFi 7 motherboards. Look to the ROG Maximus Z790 Dark Hero for the very best wireless networking experience. Offering link speeds up to 5.76Gbps, this motherboard is perfect for users with a multigigabit internet connection, or those who want a high-speed wireless connection to a network-attached storage (NAS) unit.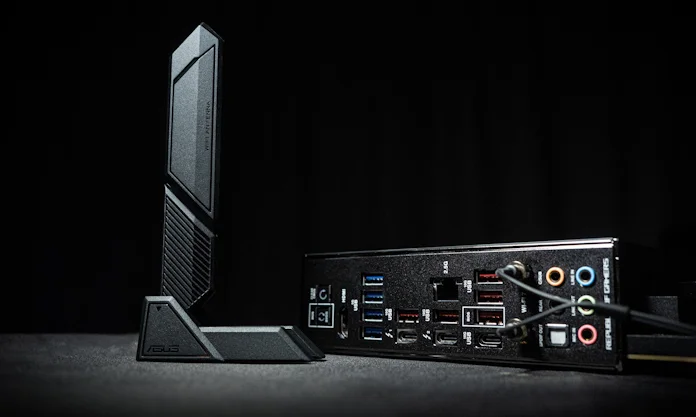 *WiFi 7 features requires WiFi routers and client devices with WiFi 7-supported operating systems to support the corresponding features.