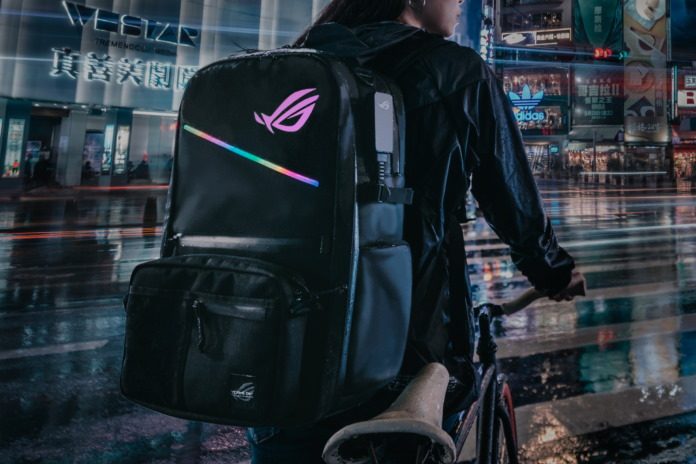 ASUS participates in several affiliate programs, including the Amazon Associates program, and may receive affiliate fees for qualifying purchases.
School is a place, but education is a process. From kindergarten all the way through graduate school, today's students learn, study, create, and connect wherever they are. That might be in a classroom, a dorm room, a family room, or a library. No matter where they are, they need the tools to keep up with their work, create projects, and stay connected with their communities. Back-to-school season has arrived, and it's time to assess your family's technology needs and make sure they're being met.
Whether you're sending a kid off to college or prepping your house for remote learning, VivoBook, ZenBook, ExpertBook, ROG, and TUF Gaming products have your needs covered. Our laptops, desktops, wireless routers, monitors, and broad range of peripherals are all tailored to meet your family's educational needs—and maybe even a few of their wants, too.
A laptop for every learner
Lots of folks are learning from home these days, and for a wide variety of reasons. Some are earning their college degrees through an online program. Kids often do their classwork through remote learning sessions. Other families have opted for homeschooling.
Whatever school looks like in your home, you'll need enough PCs to handle the needs of the different learners in your family. Our VivoBooks and ZenBooks are all set to go for the fall semester. Our ExpertBook B9450 is ready to help college students stay on track with a busy courseload—and make the transition into the professional world, too. Finally, our StudioBook 15 and StudioBook 17 can empower your student's developing content-creation skills thanks to their high-resolution screen and powerful components.
VivoBook Flip 14 TM420
Who says an affordable laptop can't be stylish and convenient to use? Our new VivoBook Flip 14 is a portable and convertible laptop that's light on the pocketbook, making it a great choice for families that need a Windows laptop for school.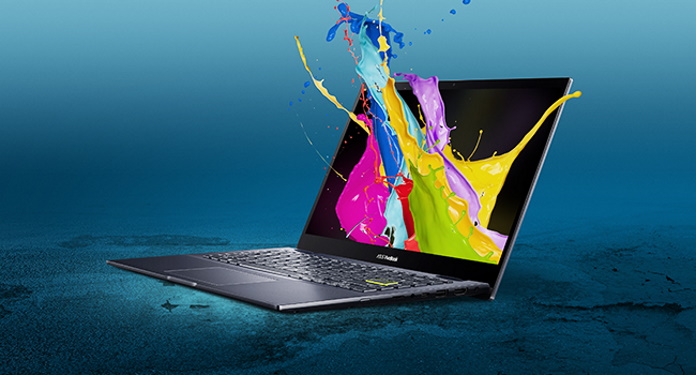 The VivoBook Flip 14 is just 18.2mm thick and only weighs 3.3 lbs, so it's comfortable to hold and an easy traveling companion. A powerful and efficient AMD Ryzen 7 4700U CPU handles processing duties, and we pair it up with 8GB of RAM. This combination will readily handle everything you or your child needs for school, from virtual class meetings to web apps and project creation.
The VivoBook Flip 14 is designed top to bottom for flexibility. It has a 360° hinge that lets you use it in a variety of modes. Small hands often prefer interacting with a PC in tablet mode, so they might prefer to flip the screen all the way over and use its 1920×1080 touchscreen. It has ASUS Pen support, as well, so if someone in the family has a creative itch, they can use a stylus to make beautiful digital art. Tent mode is convenient for watching lessons or kicking back with a video, and laptop mode opens up the full potential of the VivoBook's keyboard and touchpad.
VivoBook Flip 14 TM420
Availability (USA)
ASUS
Newegg
ZenBook 13 UX325
For a family PC that travels anywhere, check out the ZenBook 13. This petite performer offers outsized battery life and functionality well beyond what you might expect from its its 13.99mm thin chassis and lightweight 2.45lb frame.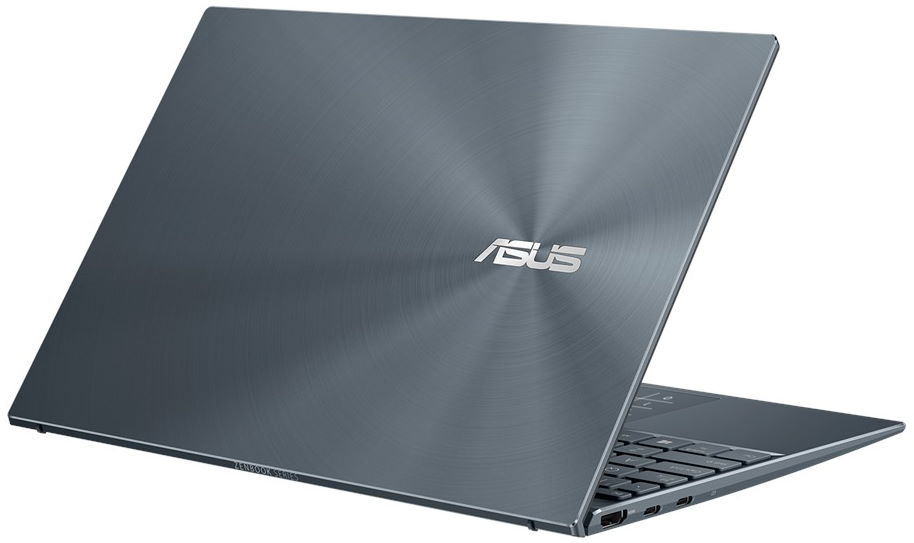 A cutting-edge, power-sipping 10th Gen Intel Core i7-1065G7 processor and 8GB of LPDDR4X RAM help to provide up to 22 hours of time away from an outlet, as does the 1W display. This low-power Full HD panel maximizes battery life while still delivering 450 nits of brightness. The ZenBook 13 will only need infrequent connections to its charger to handle the needs of the different learners in your household.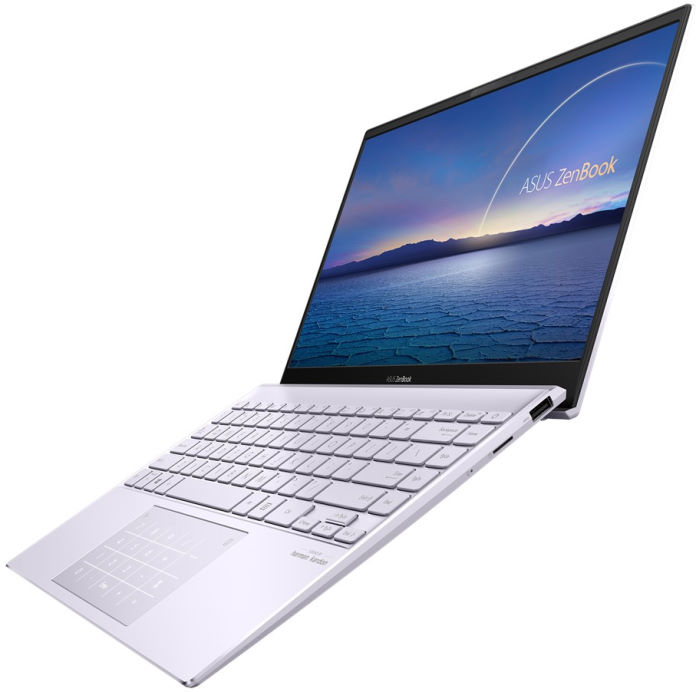 The ZenBook 13 makes the most of its compact profile. Our edge-to-edge keyboard design makes sure there's space for comfortably sized keys, and the ErgoLift hinge raises the rear of the laptop as you open it so that you can type at a natural angle. With a press of a button, you can switch the touchpad into NumberPad 2.0 mode, revealing an illuminated numeric keypad on the touchpad so that you can quickly enter data or perform calculations. Anyone in your house taking a math class or making heavy use of Excel will appreciate this accurate and easy input. A Thunderbolt 3 USB Type-C port opens up a world of possibilities. It'll easily connect to an external display, and as it's wired for USB Power Delivery it can charge up your other devices.
If you like these specs but prefer a slightly larger chassis, take a peek at the ZenBook 14. It retains the 13.9mm-thin chassis of the smaller model, but gives you a wider layout and a bit more screen space to play with.
ExpertBook B9450
Style is a very personal thing. For some, it's about eye-catching designs and bold statements. For others, it's about communicating the right values. People entering a competitive workforce often end up thinking twice about bringing their old college laptop along with them to job interviews. In your back-to-school shopping this year, you might need to help someone get a laptop with style—business style.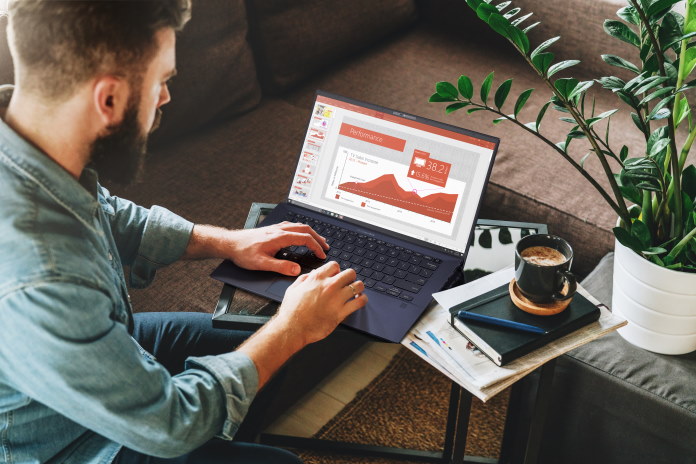 The ExpertBook B9450 has the understated good looks of a bespoke suit. Its deep blue finish and smoked chrome logo reward close inspection without drawing attention to themselves, while the laptop's chiseled corners indicate the careful craftsmanship that went into its construction.
Thanks to an efficient Intel Core i7-10510 CPU and a 66Whr battery, the B9450 has astounding battery life. It soldiered through 13 hours and 10 minutes of constant use in our real-world testing. That's more than enough juice to take a college student through a full day of classes, or a young professional through a lengthy business trip. That outsized battery life doesn't come at the expense of portability, though. This 14" laptop checks in at an incredibly lightweight 2.19lb.
ProArt StudioBook 15 and ProArt StudioBook 17
If you or your teen are hitting the performance limits of the household PC, it might be time to get an upgrade. You don't want to get frustrated and turn away from a promising hobby or career just because of long export times, slow renders, or uneven software performance. Our ProArt StudioBook 15 and ProArt StudioBook 17 laptops offer all the hardware creators need in one portable package.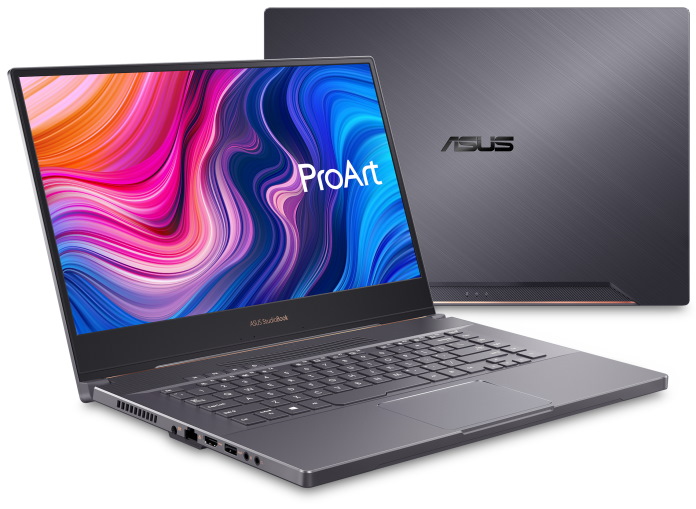 The six-core, twelve-thread Intel Core i7-9750H CPU in these laptops brings the strong balance of single-core performance and multithreaded muscle that's so important for demanding applications like Adobe Creative Suite. We pair this CPU with a 32GB pool of DDR4 RAM so that creators can work with large projects and high-resolution assets. A GeForce RTX 2060 lets the StudioBook 15 and 17 take advantage of powerful GPU acceleration, and a pair of 512GB NVMe SSDs in a RAID 0 configuration provide plentiful high-speed storage.
The crown jewel of the StudioBook 15 and 17 is a bright, high-resolution 3840×2160 display that's ready to go for content creation. It covers 100% of the Adobe RGB color gamut, and it's Pantone Validated at the factory to achieve an average Delta E value of less than 1.5. From the moment your teen or college student first opens the lid, this screen will deliver the accurate colors they need for their projects.
Gaming machines keep them connected and exploring
Many of today's games are hangout spaces. We use them to reconnect with old acquaintances, chill out with friends on weekends, or take a break from the usual routine. Between our ROG and TUF Gaming lineups, we've got all the gear your family needs for great gaming experiences.
TUF Gaming A15
Looking for a dependable laptop that delivers rock-solid gaming performance without breaking the bank? Look no further than the TUF Gaming A15. This laptop is an excellent starting point for anyone getting their toes wet in the waters of PC gaming.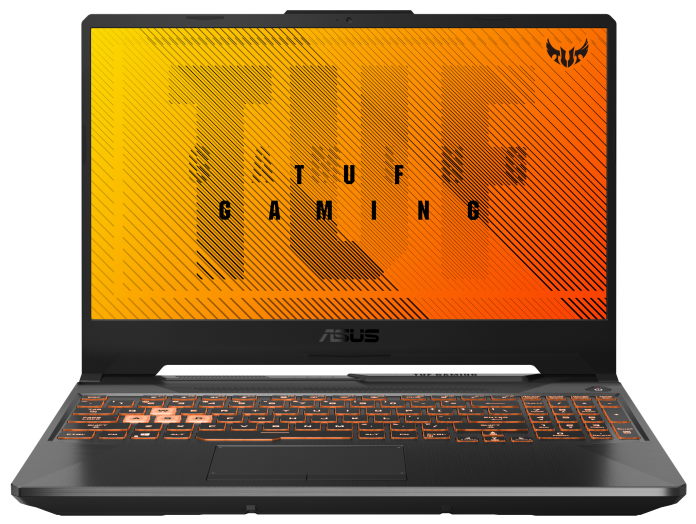 You'll find one of AMD's new Ryzen 7 4800H CPUs inside the A15. An NVIDIA GeForce GTX 1660Ti GPU runs the show inside of games. Fast-paced esports games are all the rage these days, so your kid will appreciate the high-refresh-rate 144Hz IPS-level panel. This panel refreshes itself over twice as fast as conventional displays, so it delivers a more up-to-date view of the in-game action and gives your teen an edge in battle.
ROG Strix GA15
Not every student wants to take their gaming system with them to class. If you or your learner prefer desktop power from a battlestation, here's another contender with a very reasonable price tag: the ROG Strix GA15. This slim desktop is dorm-room ready and bursting at the seams with potent gaming hardware.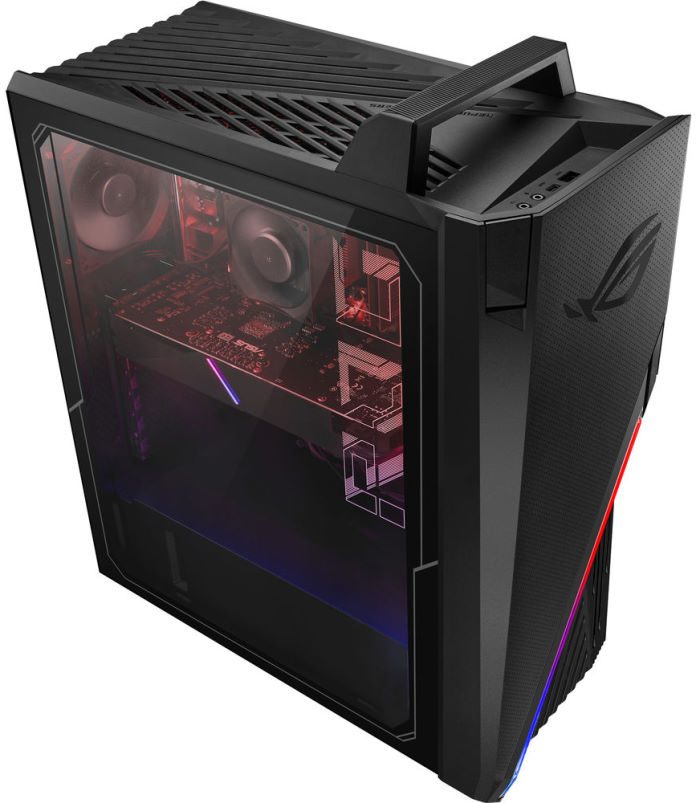 One of AMD's Ryzen processors takes the helm in the GA15. This unit features the beastly AMD Ryzen 7 3700X CPU. This eight-core, sixteen-thread monster provides an impeccable base for this gaming rig, and it can even serve up the processing power for high-quality streaming. Below, we've linked to an all-AMD configuration with a Radeon RX 5700XT graphics card. You can also find options that deploy an NVIDIA GPU ranging up to the GeForce RTX 2070 SUPER.
The GA15's case is carefully crafted for convenience and conquest. A sturdy carrying handle makes it easy to move, while a cunningly-hidden hook provides a secure location for your teen to hang up their headphones. Wide vents along the front and top panels allow for cooling air to move quickly through the chassis without excessive fan noise. With Aura Sync, you or your teen can customize and coordinate the RGB LED lighting in the case's interior and in a diagonal slash across the front panel.
Electro Punk collection
Too often when shopping for peripherals, you'll find the exact keyboard you want. Everything from the features down to the style suits you. There's just one thing: no other peripheral matches it. Or you'll have a laptop with a standout design, but the peripherals you connect to it always look like they were made to go with another machine. If you're putting together a back-to-school shopping list for someone who loves coordinated designs but craves something different, our Electro Punk collection checks all the right boxes.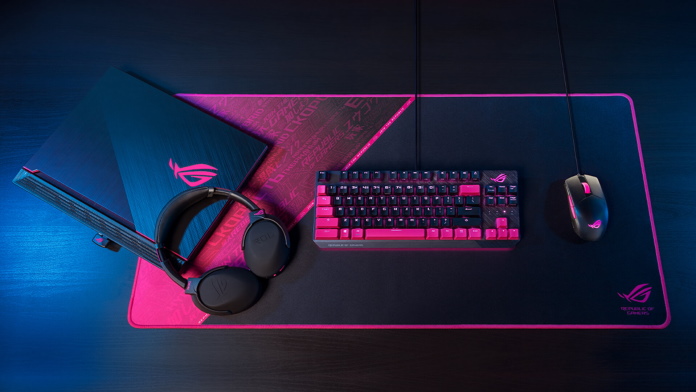 This collection covers everything from a powerful gaming laptop to an attention-grabbing keyboard, all decked out in an unmistakable cyberpunk black-and-pink theme. The ROG Strix Go 2.4 Electro Punk is a great starting point. With its AI-powered noise-canceling microphone and wired and wireless connectivity options, this flexible headset is ready to go for use in virtual classrooms, after-school gaming, or private music listening. It's a natural fit for the ROG Strix G15 Electro Punk. This gaming laptop uses an Intel Core i7-10750H and an NVIDIA GeForce GTX 1650 Ti graphics chip to deliver fluid gaming experiences. That horsepower can also be turned to use for photography, video editing, audio production, and high-quality digital art. Don't be shy about handing your teen the tools to take their talents to the next level.
With special Electro Punk versions of the ROG Strix Go 2.4, ROG Strix Scope TKL keyboard, ROG Strix Impact II mouse, and ROG Sheath mouse pad, there are lots of stylish options for your teen's back-to-school gear. And if you're eyeing up one or all of these for your own desk, you won't hear any judgment from us. There's no reason for your home office to look like a stodgy corporate cube.
ROG Zephyrus G14
For a bold new take on the gaming laptop, take a look at the ROG Zephyrus G14. There's nothing on the market quite like its optional AniMe Matrix display. A large array of mini-LEDs shine through 6,536 CNC-milled perforations on its lid. You or your learner can use it to express their unique personality through custom graphics and animations.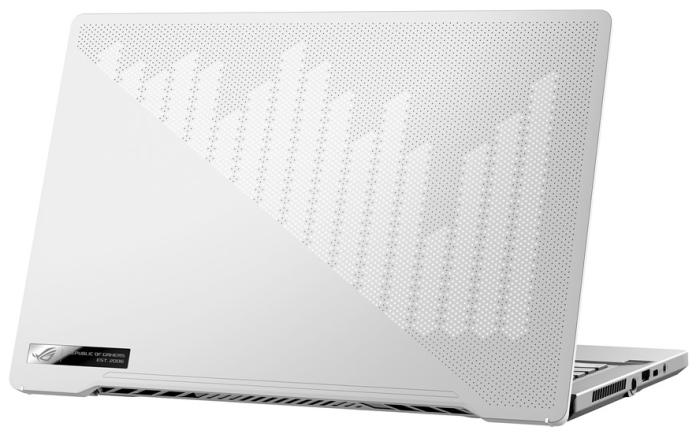 Since it's an ROG laptop, you know that it's decked out with top-end gaming hardware. AMD's Ryzen 9 4900HS runs the show. This eight-core, sixteen-thread CPU brings astounding single- and multi-core performance to an eminently portable 14" laptop. That's not just important for today's games, which are increasingly taking advantage of the abundance of processing power available for gamers. It also opens up possibilities for your teen to dive into the world of game streaming and video creation. The Zephyrus G14's NVIDIA GeForce RTX 2060 offers a one-way ticket to the most exciting new technologies in the gaming world, like ray-traced lighting effects.
Our monitors create digital workspaces and virtual playgrounds
Need to expand the capabilities of a laptop, desktop, or even an Android smartphone? One of our displays might be just the thing. Connect a second display to a laptop and you'll not only give it a lot more screen space to work with, you'll open up some serious multitasking potential for kids writing research-based essays or college students managing a full slate of assignments. A gaming display will let your family get the most of a gaming PC, and one of our ProArt monitors will provide an outlet for your kids' creative talents.
ZenScreen Touch MB16AMT
Watch a creator at work, and you'll often find that they're switching back and forth frequently between several windows and applications. That's why a second display can be such a productivity booster. One option for upgrading your teen's multitasking potential is a dual-screen laptop. We've explored first-hand how the ZenBook Duo can transform the audio production process. Another option is a portable display.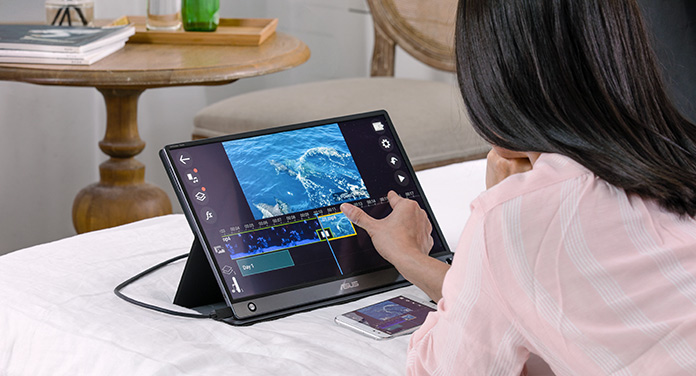 We have a full selection of portable displays ready to meet a wide variety of needs. The ZenScreen MB16AMT is a 15.6" Full HD touchscreen that's a great fit for digital artists. It's slim enough to fit into a backpack or laptop bag, yet it has a 7,800 mAh battery and a kick-out stand that lets your teen deploy it anywhere. It connects with a single USB Type-C cable. It's a great choice for someone who works primarily from their smartphone. Just plug it into an Android phone and it'll seamlessly mirror the content on the portable display.
ProArt PA248QV or ProArt PA278QV
A photographer or videographer's display is their canvas, the tool they use to interact with their raw materials and create a finished, shareable product. Professional displays range up to highly-specialized models for specific content-creation niches, but your kid can get started with one of our affordable ProArt PA248QV or PA278QV monitors. These displays deliver the color accuracy needed for high-quality projects without requiring extra setup or calibration.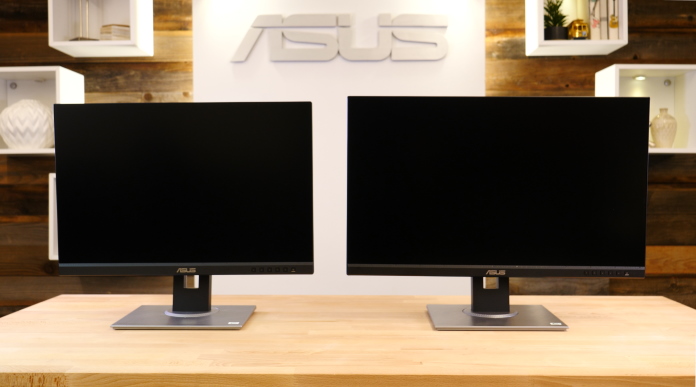 These IPS monitors cover 100% of the Rec. 709 and sRGB color gamuts typical for standard-dynamic-range photos and videos. They're factory-calibrated and Calman Verified to achieve an average Delta E value of less than 2 so that they deliver professional-level color accuracy out of the box. The 27" PA278QV has a generous 2560×1440 resolution, while the 24" ProArt PA248QV has a 1920×1200 pixel array. Both are wallet-friendly choices for a talented teen or a college student pursuing a major in digital art, photography, or video production.
TUF Gaming VG259QM and TUF Gaming VG279QM
Looking for the perfect partner for a gaming desktop or laptop? With their blazing fast refresh rates, our TUF Gaming VG259QM and TUF Gaming VG279QM displays are built for dominance, and they're quite affordable, as well.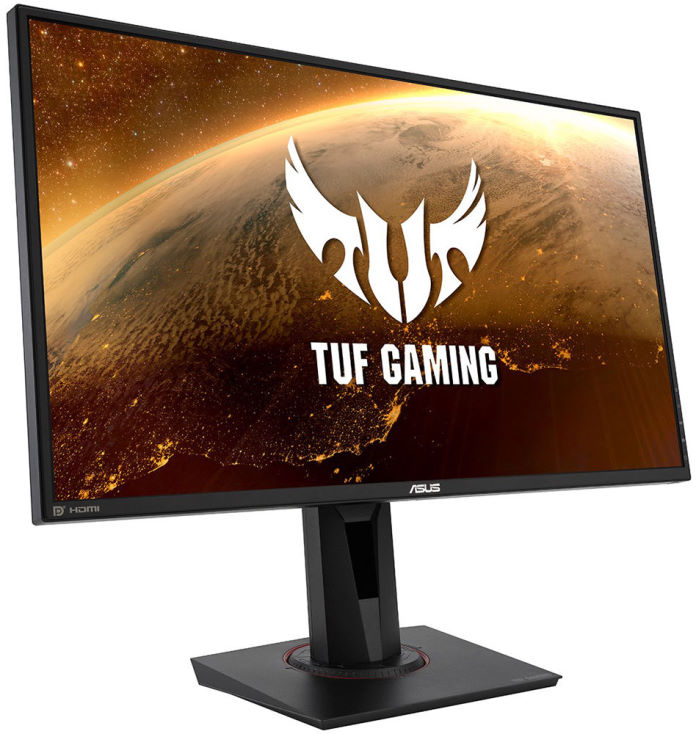 The key spec these 1920×1080 monitors offer is speed. Their refresh rate can be overclocked to an astounding 280Hz. When they're connected to a PC that can produce a comparable frame rate, the VG259QM and VG279QM can display fast-paced action with unparalleled fluidity. With their 1ms response time (GTG) and ELMB Sync technology, these fast IPS screens eliminate ghosting and motion blur for unparalleled clarity, even for moving objects on the screen. They're G-SYNC Compatible as well, so you or your teen won't get distracted by screen tearing as in-game frame rates naturally vary over time.
ROG Strix XG17
For a high-end gaming experience that travels, take a look at the ROG Strix XG17. This gaming display offers the fast refresh rate and low response time that gamers demand in a slim monitor that fits into a laptop bag.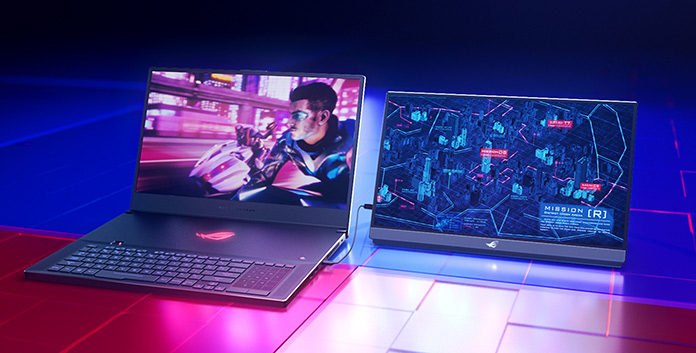 This 17.3" monitor adds a whole lot of high-powered pixels to a mobile gaming rig. It has a 1920×1080 resolution and offers up a 240Hz refresh rate. Combine that with a 3ms response time and VESA Adaptive-Sync support, and you've got a portable display that competes spec-for-spec with desktop models. A powerful 7,800 mAh battery keeps the XG17 glowing for up to three solid hours of gaming without draining any juice from your laptop.
Like our other portable monitors, the XG17 comes with a Smart Cover that doubles as a protective barrier and a stand when the display is in use. You can also opt for a model with our innovative Tripod stand. It gives you more options for deploying the monitor on a desk, yet it folds up neatly when you need it to travel.
ROG Strix XG27UQ
To really appreciate the detailed worlds in today's games, you need a high-resolution 4K monitor. With a 3840×2160 array of pixels in front of your teen, they'll get the best experience in games, movies, and other media—not to mention plenty of space for multiple windows and creative work. The ROG Strix XG27UQ combines a 4K resolution with a suite of gaming features that will elevate anybody's game.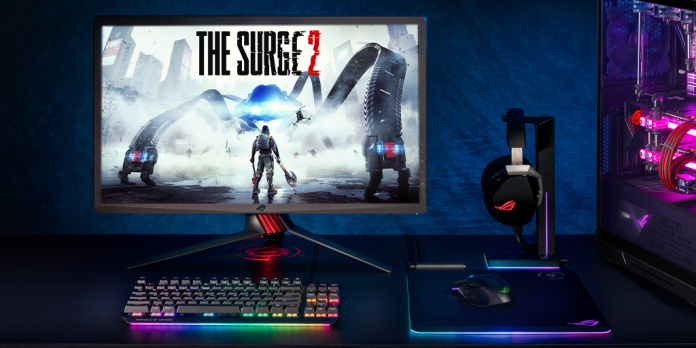 This 27" monitor not only has a 4K resolution, but also a fast 144Hz refresh rate. VESA Display Stream Compression (DSC) technology allows the XG27UQ to receive this dizzying amount of data over a single DisplayPort connector. 90% coverage of the DCI-P3 color gamut means that it can reproduce a broad range of vivid colors, and there's even support for G-SYNC and Adaptive-Sync on tap, as well.
If you're thinking that 4K and 144Hz are just the ticket, but your teen has a little more desk space—okay, a lot more desk space—check out the enormous ROG Swift PG43UQ. This display offers the same capabilities as the XG27UQ but across a broad 43" canvas. In addition, it's VESA DisplayHDR 1000 certified, so it provides one of the best HDR experiences on the market today. Take a look at our hands-on coverage for all the details on what HDR brings to the world of gaming.
ROG Strix XG27UQ
Availability (USA)
Amazon
Wireless networking solutions for busy households
RT-AX82U
With a houseful of people watching lessons, working, checking email, relaxing with Netflix, and competing in online games, you need a stable and powerful home wireless network. Don't live with the frustration of laggy virtual classroom meetings, dropped video conference calls, and high-latency gaming. Our RT-AX82U wireless router will give everyone in your household the reliable connection they need.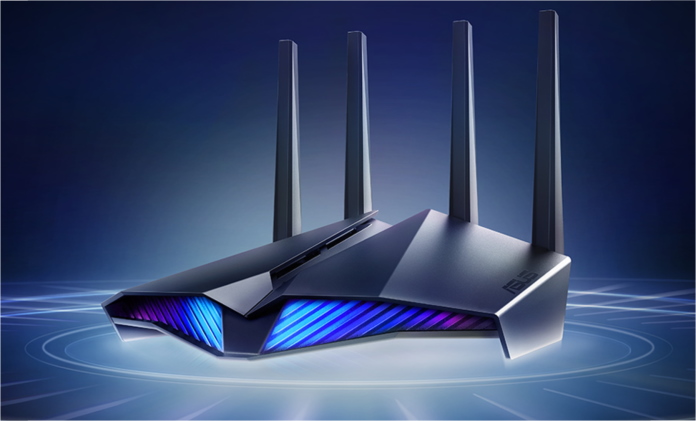 The RT-AX82U features Wi-Fi 6 and offers aggregate speeds up to 5400 Mbps. It'll really shine when paired with compatible Wi-Fi 6 devices, as it can keep latency low and ensure equitable access to available bandwidth even on a crowded network. Support for ASUS AiMesh means that you can connect it with compatible routers to make a mesh network in your home. This type of network uses multiple routers to give you seamless coverage across your household. A lifetime free subscription to AiProtection Pro powered by Trend Micro lets you breathe easy about network security. And did I mention that installing a new ASUS router isn't much more difficult than plugging in a few cables?
RT-AX82U
Availability (USA)
TBD
Availability (Canada)
Best Buy
ZenWiFi AX
In some homes, one wireless router just doesn't quite cover every room. Sometimes it's just the size of the house, but more often there are elements like old foundation walls, metal and concrete construction materials, or large appliances that could all dampen the connection between your devices and the router. The ZenWiFi AX is a drop-in solution for homes where your family isn't getting the Wi-Fi signal it needs in one or more important rooms.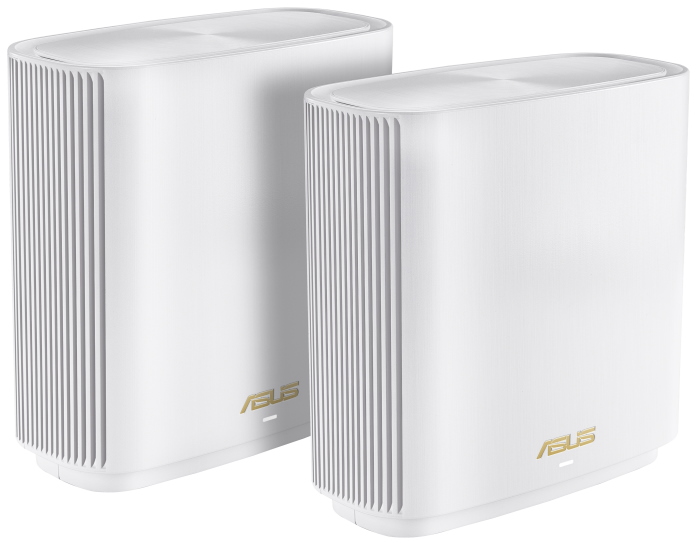 The ZenWiFi AX comprises a pair of AX6600 Wi-Fi 6 routers that work together to make a mesh network. Place one next to your modem and the other in that particularly hard-to-reach corner of your home, and you'll have a great internet connection throughout. The routers will seamlessly connect devices to whichever access point provides the best signal, even if you move those devices around the house. A wall-to-wall wireless network will let your family take full advantage of the space available to them. If someone needs a little privacy to get some work done, they can find a quiet corner and still have the stable internet connection that they need.
The finishing touches to your kid's back-to-school gear
A powerful PC, a great monitor, and a reliable household internet connection all add up to a productive and friction-free back-to-school season. There are a few extras that will make the experience even smoother, though. Our new AI Noise Canceling technology is empowering a new generation of peripherals to help you sound your best in virtual classrooms, conference calls, and heated gaming after hours. The ROG Chakram gaming mouse offers precise and convenient input for games and productivity apps alike. The ROG Strix Arion is the ultimate high-speed portable storage enclosure, and we've got a truly next-gen backpack ready to safely transport high-tech equipment wherever life takes your kids.
AI Noise-Canceling Mic Adapter
Lots of classes, presentations, conferences, and meetings are happening virtually these days. It's hard to create a quiet background, though, when there are other people in the house moving around and making noise. Our AI Noise Canceling Mic Adapter makes it easy to subdue nearby clatter so that your voice is crystal clear.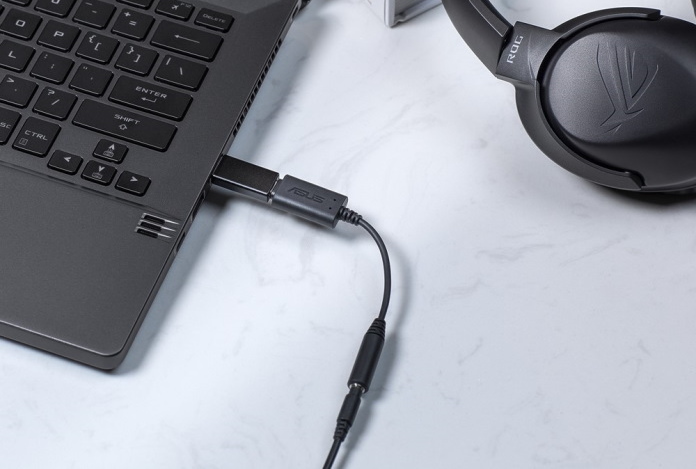 Setup couldn't be easier. From the outside, the AI Noise Canceling Mic Adapter looks much like an ordinary dongle. Plug it into a USB port and then connect your headset to the 3.5mm jack on the other end, and you're done. Our AI-powered noise canceling technology will minimize any noise in the signal, like keyboard clicking, the rhythmic thump of your washing machine, or your kid brother doing that infuriating thing where he won't stop clicking his pen.
Because the AI Noise-Canceling Mic Adapter doesn't require any installed software to function, you can use it with a wide range of devices. Whether you're presenting to your classmates through a laptop, talking with coworkers on a smartphone, or chatting with other players on your Nintendo Switch, this unassuming little adapter will work to make you sound your best.
AI Noise-Canceling Mic Adapter
Availability (USA)
Amazon
ROG Strix Go 2.4
Our AI Noise Canceling Mic technology is also available in the ROG Strix Go 2.4. This is a great choice for someone in your family who needs a wireless replacement for a worn-out headset.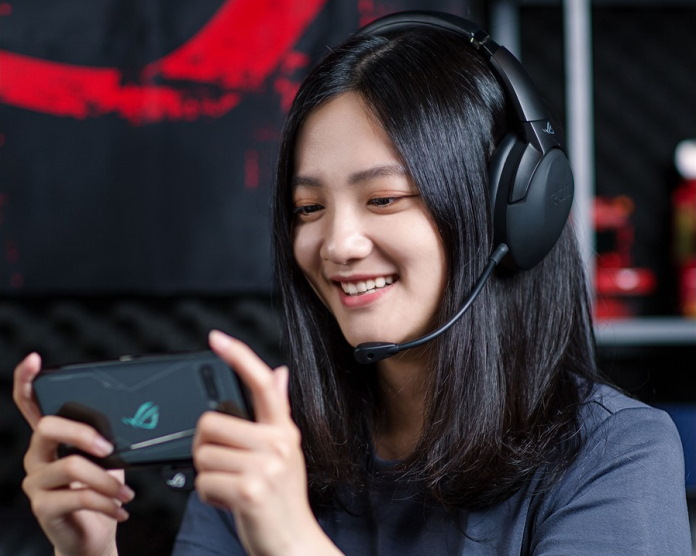 The ROG Strix Go 2.4 provides easy connectivity and the performance you need for gaming. It uses a 2.4GHz wireless signal to connect to a wide range of devices. Pop its dongle into an available USB Type-C port and you're good to go for wireless listening and chatting. This makes it a natural fit for modern smartphones and the Nintendo Switch. An included 3.5mm cable lets it connect to just about any other device.
For chatting with teachers, professors, classmates, or squadmates in a game, the Strix Go 2.4 has two microphones at the ready. There's a detachable boom mic and a hidden integrated microphone. Both automatically use our noise-canceling technology when the headset is connected in wireless mode, so no matter who you're talking to, your voice will come through clear of any distracting background noise.
ROG Strix Go 2.4
Availability (USA)
Amazon
ROG Chakram
Whether you or your kid are gaming, making fine adjustments to a photo, or putting the final touches on a class project, precise controls make all the difference. Round out your back-to-school shopping with the ROG Chakram, a highly-customizable mouse that's precise, convenient, and powerful.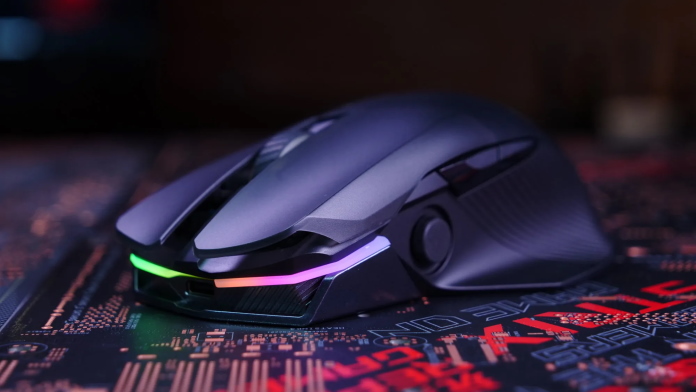 Its professional-grade optical sensor makes the Chakram an asset for any game or workflow. No matter what mousing surface you use, it'll track your motions with unerring precision. It connects wirelessly to PCs through a low-latency RF transceiver or through Bluetooth, and on those infrequent occasions when it needs to recharge you can plug in its cable and keep on gaming while its battery tops off. If you manage to click through the lengthy lifespan of the Chakram's premium Omron switches, you can use our exclusive push-fit switch socket design to pop in new ones.
What really makes the Chakram unique, though, is its programmable joystick on the left panel. It works in either digital or analog mode to add a whole new level of control over your games. For a few ideas of how the Chakram might revolutionize your gameplay, check out our hands-on coverage.
ROG Strix Arion
Ask just about any creator, hobbyist, or enthusiast and they'll tell you that portable storage is one of the most important parts of their kit. The ability to transport projects and source files from one PC to another is crucial for so many people's workflows, especially creators working together on complex multimedia projects.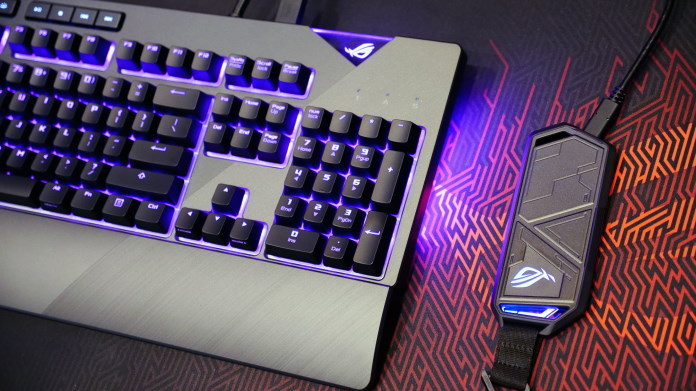 The ROG Strix Arion is the ultimate portable storage enclosure. This slim little device can house the latest NVMe M.2 SSDs, so it'll give your teen access to the drives with the fastest storage speeds on the market. It can connect with USB 3.2 Gen Type-C ports for transfer speeds of up to 10 Gbps, too, so they won't be sitting around twiddling their thumbs while waiting for file transfers.
ROG Ranger BP3703
In the past, backpacks didn't have to do much more than hold a Trapper Keeper, some books, and a pencil case. Today's backpacks often have to protect laptops and smartphones alongside all the traditional trappings of school. The ROG Ranger BP3703 RGB modular gaming backpack has a thoroughly modern design that provides a stylish and protective enclosure for the high-tech gear that today's students take with them everywhere—along with an unexpected stylistic twist.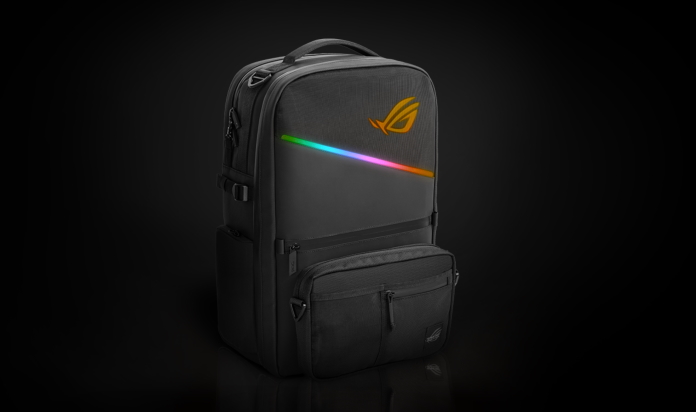 Customizable Aura RGB LED lighting effects really make this backpack stand out from the crowd. After you attach your own power bank, you can use the intuitive one-touch controller to light up the ROG logo and LED strip on the back panel. There's even an interior light strip to help you find what you need inside. And you thought your light-up shoes were cool when you were a kid.
Multiple internal compartments, including a padded partition big enough for 17" laptops, keep everything inside the ROG Ranger neat and tidy. A water-repellent exterior and and a reflective rain cover keep the gear inside protected from the elements, while a suitcase-style zip, anti-theft zip clip, and hidden backrest pocket help you travel safely.
ROG Ranger BP3703
Availability (USA)
ASUS
Ready for whatever life brings
Every back-to-school season brings a new set of challenges and possibilities, a chance for your kid to step forward and grow in new ways. Equipped with cutting-edge ASUS technology, your child, teen, or college student will have the tools they need for success in and out of the classroom. What's more, they'll have the opportunity to develop new skills and friendships as they explore their hobbies and passions. So set them up with some powerful hardware and get ready to be amazed by what they can do with it.