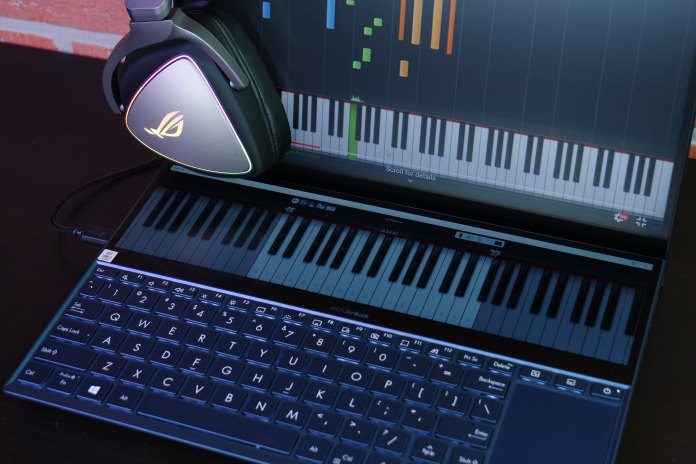 Time was when musicians needed access to professional studios to create cutting-edge sounds and high-quality published music. Now, recording has been democratized. With a PC, cheap or free digital audio workstation (DAW) software and plugins, a basic USB audio interface, and a halfway-decent microphone, you can record, mix, and export from the comfort of a home studio. And as your skills and knowledge grow, there's high-end equipment ready to help you take things to the next level.
Yet even the freedom to make music at home isn't quite enough freedom for many of today's musicians. They want a studio that can travel with them. These creators look for laptops that can handle their recording and editing needs wherever they go, whether that's at a corner table in the college cafeteria or at a hotel room desk after a show on the road.
A laptop screen can be a constrained space for music production, though. DAW software will quickly fill a whole display by itself, and that's before you start looking for a place to put your FX windows, music sheets, and miscellaneous browser tabs. That's why I was eager to get my hands on the new ASUS ZenBook Duo. This dual-screen laptop gave me a unique opportunity to pack up my home studio and take it on the road. Its ScreenPad Plus display can provide everything from extra screen space for my DAW software to a touch input device for mixing controls. Its capable 10th Gen Intel Core i7 CPU, spacious 16GB of RAM, and long-lasting battery all add up to a music studio that easily fits into my bag so I can deploy it whenever and wherever creativity strikes.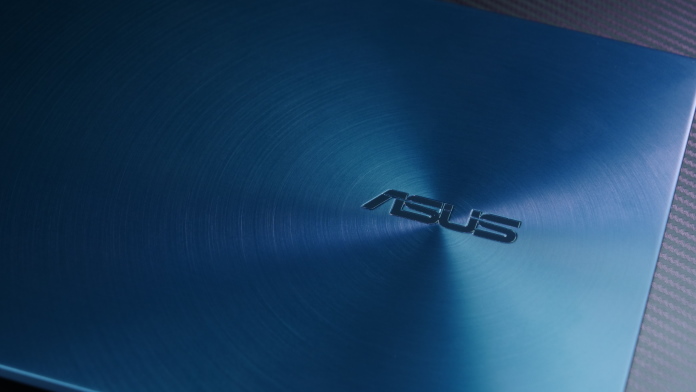 I'm no professional musician, but I've been playing guitar for over twenty years and enjoy sharing my projects with friends and family. I put the ZenBook Duo at the center of my workflow to get a hands-on look at its music-creation chops.
Making the dual-screen dream a reality
With its deep blue finish and concentric circle design on its lid, the ZenBook Duo makes a solid first impression. It's a compact notebook that's easy to slip into a backpack or satchel. The chassis has just about the same profile as a standard 8.5" x 11" piece paper, just about 1" wider.
The ZenBook Duo never failed to turn heads when I opened it. The bright 14" Full HD touch display and its vanishingly small 3.5mm bezels are worth a glance all by themselves, as is the unique ErgoLift hinge that raises the rear of the chassis for better airflow and a more comfortable angle for typing.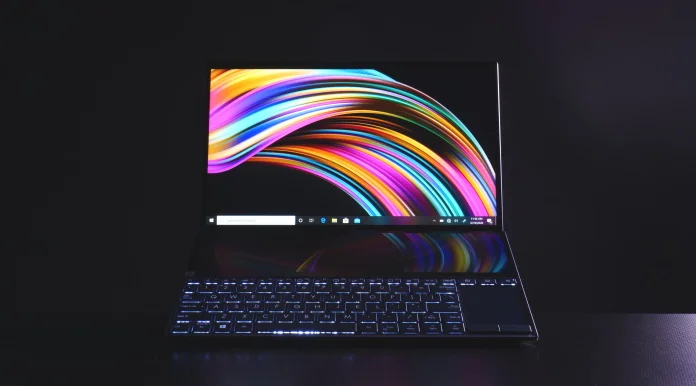 But it's the secondary ScreenPad Plus display that everyone wants to check out. Right where you'd find the keyboard in a conventional laptop, the ZenBook Duo has a 12.6" touch display. The ScreenPad Plus stretches across the full width of the notebook, and it's big enough and its resolution is high enough that you can arrange two or even three windows on it. It's also positioned perfectly for pen input. The included stylus let me take advantage of this potential right away.
With not one but two touchscreen displays at the ready, I found myself controlling the ZenBook Duo with touch controls much more often than I usually do on a Windows machine. Whether I was adjusting the volume of a track, panning through the timeline of a project, or just skipping ads on YouTube, the ScreenPad Plus was perfectly positioned for quick taps and swipes.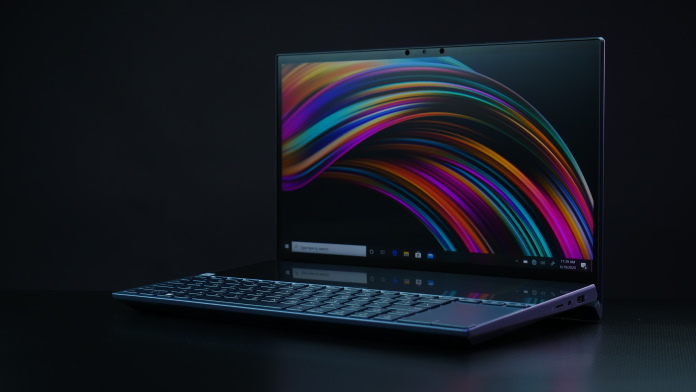 Since the ScreenPad Plus occupies a prominent position on the laptop's lower half, the keyboard and trackpad find new homes along the front edge of the chassis. The trackpad sits underneath my right hand with the keyboard to its left.
A potent platform for audio production
The basic hardware requirements for DAW software typically aren't that steep, but the world of FX plugins is full of CPU-intensive effects and virtual instruments that require high-end PC platforms. I can recreate classic reverb sounds through a variety of excellent plugins, for example, but to get a full, rich sound I need a CPU that can keep up.
The ZenBook Duo harnesses the four cores and eight threads of the Intel Core i7-10510U for plenty of audio-production power. That chip's maximum turbo frequency of 4.9GHz lets this system tackle demanding workloads with alacrity. A 16GB pool of RAM let me take full advantage of the multitasking potential of the ScreenPad Plus, and it also gave me the freedom to load up multiple plugins on all of my audio tracks as I was mixing down my latest audio project. Since the laptop is equipped with NVIDIA's GeForce GTX MX250, I could edit videos of my latest projects, as well, and even play a light game or two during my downtime.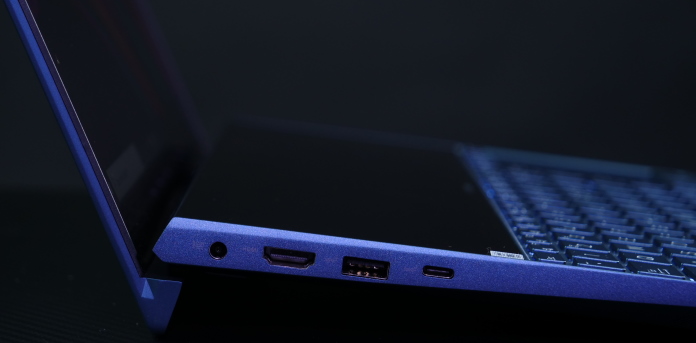 I find it easy to load up a laptop's ports once I start recording music in earnest. The ZenBook Duo has a pair of high-bandwidth USB 3.1 Gen 2 ports, one of the Type-C variety and the other Type-A, and a USB 3.1 Gen 1 Type-A port. That's more than enough connectivity for my USB audio interface and mouse, and when I splurge on the keyboard MIDI controller that I've been eyeing up for a while I'll be able to connect it without unplugging any of my other peripherals. The microSD card reader gives me another easy way to transfer files between devices, and the speedy 1TB NVMe SSD makes sure that Windows and my applications load up in a snap.
The ScreenPad Plus lets me EQ like a pro
Power users have long connected multiple displays to one PC to increase its multitasking potential. The ZenBook Duo's HDMI port allows you to do this when you're working in your office, but the ScreenPad Plus offers this functionality wherever you go and without the fuss of connecting cables.
Working with multiple displays in Windows is a breeze. Your mouse cursor will travel back and forth between displays just as you think it should, so you can drag and position apps and windows on whichever display you want. To make this process even easier, we added a touch of custom software. Whenever you click and hold a window to move it around, a small set of options will pop up on the display near your cursor. The first option will move the selected window to the ScreenPad Plus, the second will pin the app to the ScreenPad Plus's launcher, and the third will stretch the app window across both displays.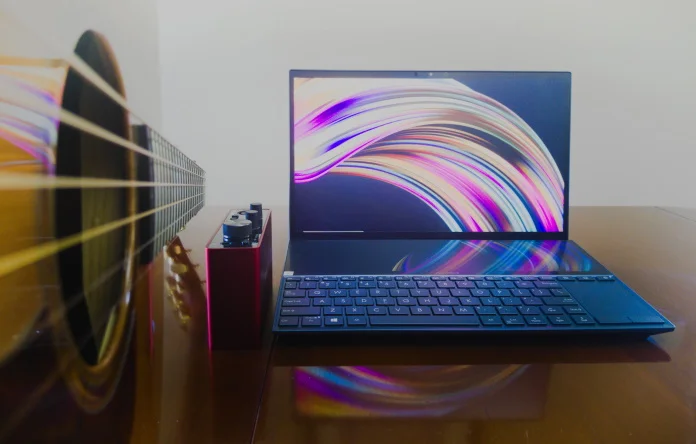 This dual-screen functionality is ready-made for Reaper, my preferred DAW. This powerful and flexible app gives users an incredible amount of control over its layout. That's a good thing, because there's a lot of information and controls that I need to see while I'm mixing music. With all the tracks and mixing controls I can put on-screen, Reaper takes up every available pixel.
A good chunk of the time I spend on any given track is devoted to getting the equalization just right. The lead vocal track, in particular, takes some careful attention. Good EQ can make a recording sound like the singer is right there in the room with you, but to make that happen I have to listen carefully while making small changes as I go. With a conventional laptop, the FX window where I tweak the EQ would be covering up part of the main window. That's just not ideal, considering how often I need to modify track levels, mute tracks, or make small timing adjustments.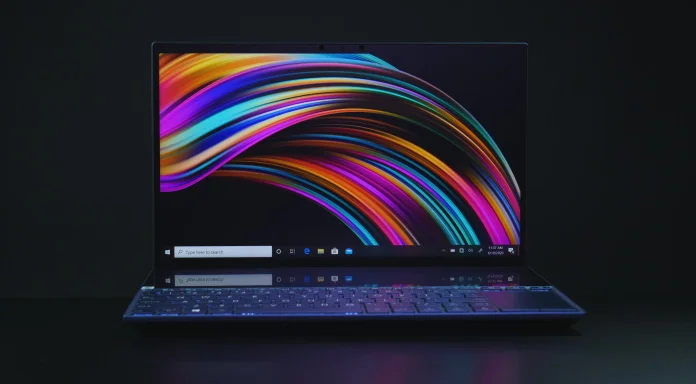 That's why I love having the equalization windows visible on the ScreenPad Plus while I work. There's room on the secondary screen to have two FX plugin windows sitting side by side, so I can do things like EQ two vocal tracks at the same time, making sure that each voice is distinct yet complementary. Since this arrangement leaves the main Reaper window fully visible, I can adjust the tracks as necessary while I work on the EQ without closing or moving windows. That's not just convenient, it's a real time-saver.
Putting the final touches on the track
The ScreenPad Plus is a convenient tool for keeping an eye on important windows, and it's also a powerful input device, as well. As a touchscreen with active pen support, it's a wellspring for all kinds of creative projects. As I did a final pass on the volume levels of my track, the ScreenPad Plus proved to be a valuable partner.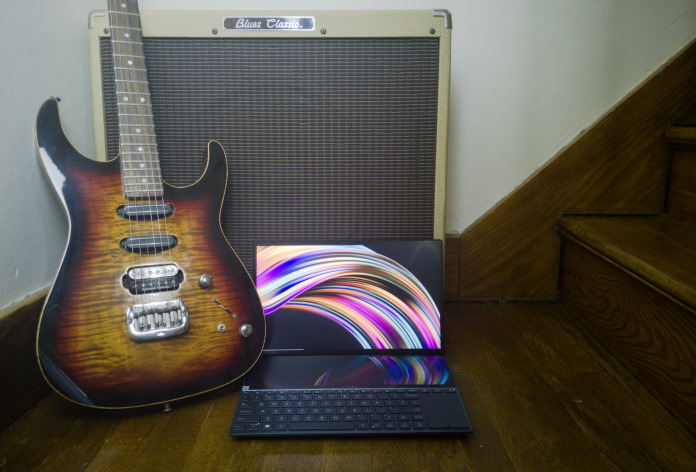 The main thing I wanted to do was put the mixing panel down on the ScreenPad Plus so that I could conveniently use the touchscreen controls to adjust track levels. Thanks to Reaper's highly customizable GUI and the ZenBook Duo's easy controls, it was a breeze to reposition everything just as I wanted. First, I clicked on Reaper's title bar and held it until the ScreenPad Plus controls appeared. Then, I stretched the app across both displays.
The two-screen setup effectively gave me an extra-tall workspace. I only had to adjust the size of the mixing panel a little bit to fit it to the size of the ScreenPad Plus while leaving everything else on the primary display. This move gave the main window a lot more room to breathe. It not only kept all of my tracks visible—and I had 14 of them in my project at this point—but made sure I had enough space to work on the per-track volume automation, as well.
Using the mixing controls on the ScreenPad Plus felt just like using the sliders on a physical mixing board. With one easy motion with my finger, I could make adjustments to track volume, and there was plenty of screen space for me to see if anything was peaking. It was easy and intuitive, and didn't require any specialized setup or equipment beyond the ZenBook Duo itself.
Sometimes you just want to make music
There's a lot of work that goes into the process of taking a musical track from inspiration to publication. Composition, recording, and mixing all take time, and unless you have the right laptop, that's time that you're tied down to the desk chair in your office.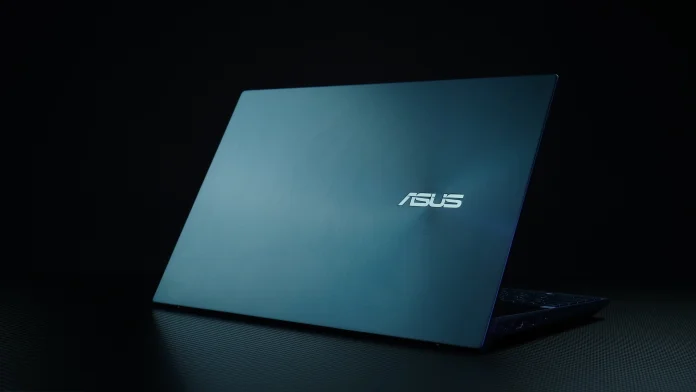 That's why the ZenBook Duo is such an exciting laptop for music production. The extra screen space and unique input functionality of the ScreenPad Plus mitigate the hassles of working in a DAW on a conventionally-designed laptop. Whether I was adjusting FX plugins, setting up a virtual instrument, or balancing the volume levels of my tracks, the ZenBook Duo's powerful second display let me get the job done without covering up the main DAW window in the process.
The ZenBook Duo's pair of displays are just one aspect of this well-appointed laptop. Thanks to its speedy Core i7 CPU, spacious 16GB pool of RAM, and lightning-quick NVMe SSD, the Duo has the hardware I need to work on a project loaded with tracks and plugins. Wi-Fi 6 with Gig+ (802.11x) and a trio of USB ports give this laptop the connectivity I need, and the 70Wh battery gave me plenty of time away from the outlet, even with both screens on.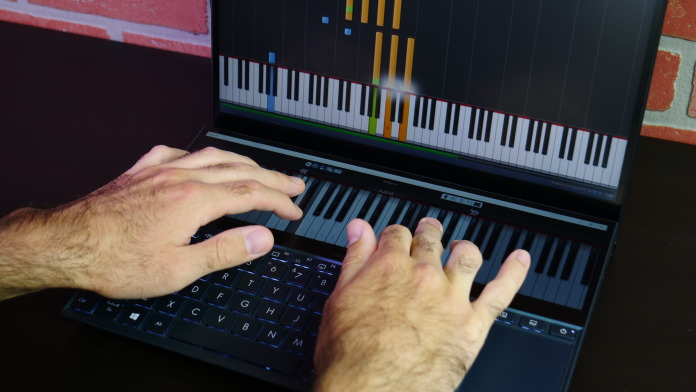 In a pinch, the ZenBook Duo can even play double duty as an instrument. It's not a replacement for a fully-featured keyboard MIDI controller, of course, but it's surprisingly comfortable to put a virtual keyboard on the ScreenPad Plus and try out a chord progression or tap out a melody. It's a rewarding way to fill a quiet moment.
Moments like these are what convinced me that the ZenBook Duo offers real value to musicians. My recording and mixing time used to be limited to those moments when I could completely separate myself from work and family for an hour or two. Now, I can make real progress on my projects when a brief lull in the day's schedule affords me the opportunity to pull out my laptop.
The ZenBook Duo's unique ScreenPad Plus and capable suite of supporting hardware have the potential to make you more productive in your musical projects, as well. If your home studio needs a new nerve center, then don't hesitate to grab one that can pack up and travel with you. The ZenBook Duo is ready to go wherever your musical journeys take you.