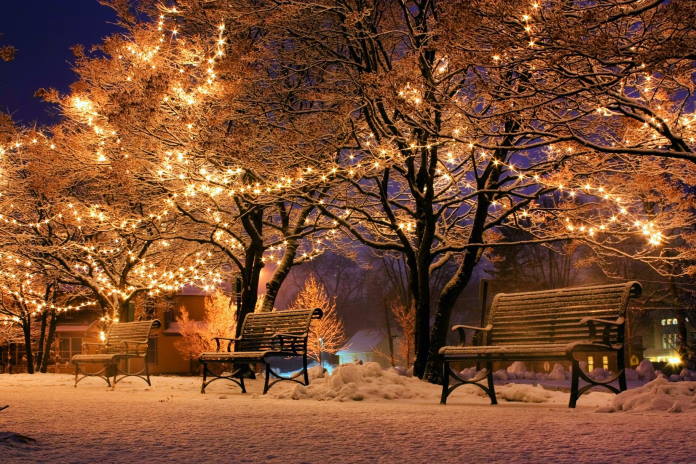 ASUS participates in several affiliate programs, including the Amazon Associates program, and may receive affiliate fees for qualifying purchases.
2020 has been unique in many ways, but one thing remains the same as ever: the opportunity to show our loved ones that we care with a well-chosen gift. Finding the right present for everyone on your list can be tricky, but there are good chances this year to bring some joy. Since folks are relying on technology more than ever to work, learn, and play, this is a great moment to put some new tech under the tree. Our holiday gift guide will help you find the best ASUS tech to satisfy even the hardest-to-shop-for recipient.
Today's gamers, hobbyists, and learners typically look for specialized computers and components tailored to their specific needs. If you're not a fellow tech enthusiast, it might feel a little intimidating to find the right gift. That's where we come in. We've selected some useful, gift-able hardware for everyone from competitive esports gamers to aspiring artists. Whether you're shopping to kickstart someone's budding career in digital media or to make someone's work-at-home life just a bit easier, we've got presents that will bring a smile to their face.
For the home office hero
Working from home can be a fantastic opportunity—with the right technology. Many of us dream of getting things done while lounging on the couch in our coziest pajamas, but that's only possible with a reliable laptop, a robust Wi-Fi connection, and the right peripherals. Got someone on your list whose work-at-home life has turned out to be more frustrating than freeing? One of the following gifts could alleviate some stress and bring them joy that lasts well past the holidays.
ZenBook S and ZenBook Flip S
There are advantages to having a dedicated home office, but many folks love how a laptop lets them be productive in any room of their house. Looking for a gift that will untether someone from their desk and give them the hassle-free computing they need for work and entertainment alike? Take a look at our brand-new ZenBook S and ZenBook Flip S.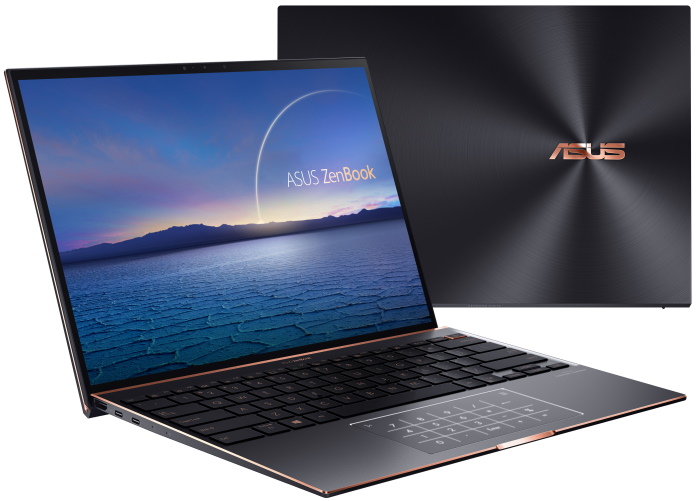 Both models stand out from the crowd with aluminum and magnesium-alloy bodies finished in Jade Black. Red Copper accents and diamond-cut edges give them a luxurious look that's a natural complement to their powerful internal components. A cutting-edge Intel Core i7-1165G7 CPU runs the show alongside 16GB of RAM, keeping apps responsive and loading up fast  even as your lucky recipient multitasks. A pair of high-speed Thunderbolt 4 USB Type-C ports provides powerful options for connecting displays and peripherals. USB Power Delivery allows users to charge their notebook through these ports using any standard USB-C charger up to 65W for extra convenience.
The ZenBook S has a standout screen with a taller-than-average 3:2 aspect ratio. That extra vertical space is ideal for productivity apps, as it makes more room for reading documents, spreadsheets, and web pages. The touchscreen display has a rich 3300×200 resolution, and it's PANTONE Validated for out-of-the-box color accuracy. This is a great gift for someone who wants plenty of room to stretch out for productivity and content creation.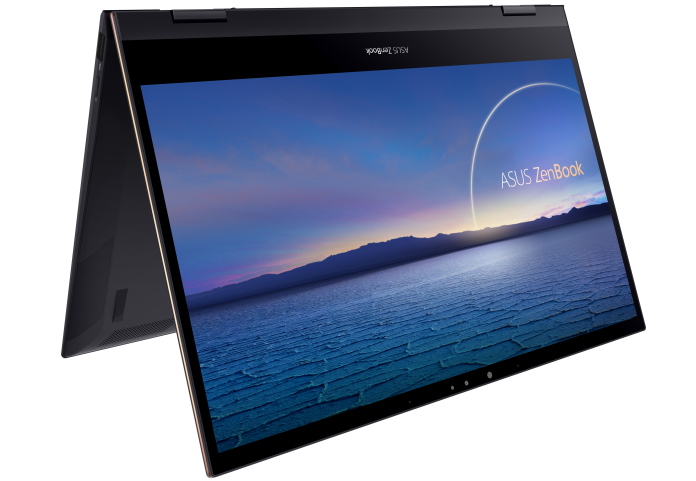 The ZenBook Flip S translates the sophisticated style of its sibling into a convertible form. Its stepless 360° ErgoLift hinge lets users flip the screen over into tablet mode. As it's just 13.9mm thin and 2.65lb, it's easy to hold and use in any mode. The notebook's spectacular 4K OLED touchscreen is vivid, colorful, and bright, and it's so natural for creative work with a stylus that we include an ASUS Pen in the box. When it's time to kick back and relax, the DisplayHDR 500 True Black certified display makes it possible to enjoy next-generation video content with ease.
ExpertBook B9
Here's a laptop with buttoned-up good looks and rock-solid reliability. The ExpertBook B9's subdued hues, sensible lines, and sophisticated materials communicate professionalism and no-nonsense practicality. Its bespoke style isn't the only reason that it's a natural choice to carry to a client meeting or a job interview. At just 2.2lbs and 14.9mm thin, it's exceptionally easy to carry, period.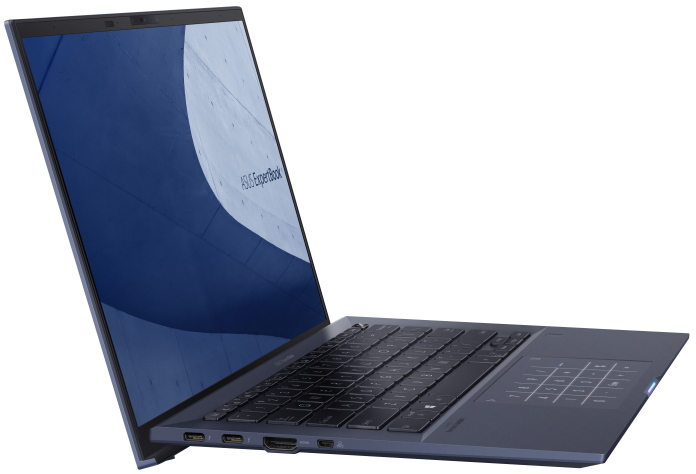 The Intel Core i7-1165G7 processor in this slim notebook will capably handle the demands of the modern professional. Energy-efficient Panel Self Refresh technology and a robust 66Whr battery ensure exceptional battery life. And your recipient will appreciate its convenient extras like a webcam shield and our exclusive NumberPad 2.0.
For the holiday season, we're offering a handsome discount on the prior-generation B9, as well. This model sports an Intel Core i7-10510U, a 512GB SSD, and 16GB of RAM, all in the same exceptionally thin and light chassis. We've priced it to move, so grab one while supplies last.
AI Noise-Canceling Mic Adapter
Any holiday shopping guide worth its salt should have an affordable stocking-stuffer that just about anyone on your list would appreciate. In this guide, that's the AI Noise-Canceling Mic Adapter. This $40 tool works with a wide range of devices to filter out unwanted background noise from headset microphones. In a year when so many people are remote conferencing, hanging out in online games, and using video calls to connect with family and friends, this device is bound to be perfect for someone you're shopping for.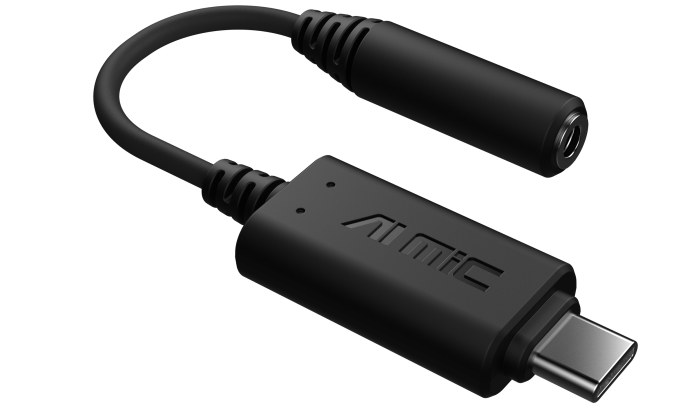 It couldn't be easier to use. Plug a headset into the 3.5mm combo jack on one end, plug the other end into a USB Type-C port, and you're set. There's even a USB Type-A adapter in the box for older devices. Once everything is connected, the device will perform its magic and remove unwanted background noise, all without software.
No one wants to be known in their family, friend group, or office as the one with the noisy washing machine in the background. Pick up an Ai Noise-Canceling Mic Adapter for a loved one, and their voice will always come through clearly.
ZenWiFi AX System
With so much of our work, school, and social lives happening from the comfort of our homes these days, a stable and reliable wireless network is more important than ever. The ZenWiFi AX System could be a lifesaving gift for someone with spotty Wi-Fi coverage. With this new mesh networking system, the rooms and corners of their house with poor signal strength can suddenly become real options for getting work done or finding a quiet moment online.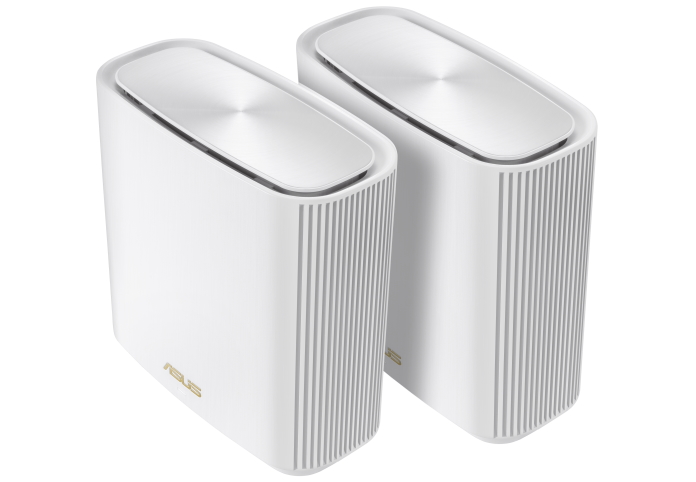 How does the ZenWiFi AX make that happen? It actually uses a pair of Wi-Fi 6 nodes to blanket a home in a reliable, low-latency signal. After the recipient of this gift places the two routers in different rooms or on different levels in the house, they'll use our AiMesh technology to form a wireless mesh network. In this arrangement, the two routers track all connected devices in real time and determine which access point provides the best signal to each one. They'll seamlessly pass devices back and forth to each other without dropping the connection. With these two routers providing a stable wireless signal, your loved one could finally have reliable Wi-Fi on the back porch, in the basement family room, or any other comfy corner of their house.
ROG Strix Flare gaming keyboard
Whether someone's primary machine is a laptop or a desktop, a new keyboard is an excellent gift for anybody who does a lot of typing. The ROG Strix Flare fits the bill nicely. Surprised to see a recommendation from our gaming lineup here? Don't be. This board pulls together the best key switches, convenient media controls, and fun customization options, all in one luxurious keyboard. All those things appeal to gamers and non-gamers alike.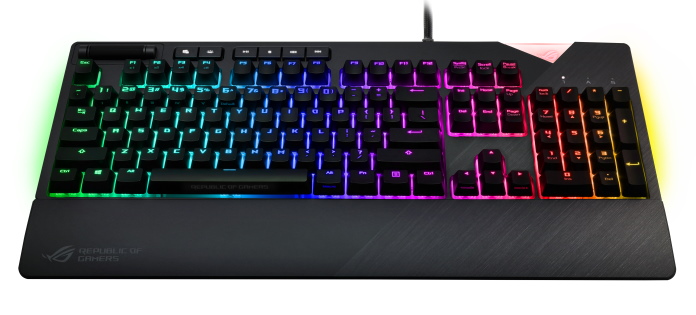 The Cherry MX switches in the Flare reproduce the feel of classic PC keyboards. Typists love that their actuation point is roughly halfway down the switch, as that means they don't have to bottom out the keys on every stroke. There's a wide range of Cherry MX switches available for the Flare, so we'll recommend a few of our favorites. Blues and Browns both have that classic clicky sound and tactile bump at the actuation point that's great for precise typing, but Browns are noticeably quieter. Think your loved one would prefer keys with a little less bump and click? Reds have a smooth, linear stroke that's a little lighter on the fingers. They've earned a following in the gaming community for their fast actuation.
No matter which switch type you choose, customizable Aura Sync RGB LED lighting will let your loved one coordinate the look of their keyboard with their PC and office decor, while the convenient media controls in the upper left hand corner will make it easy for them to stay focused with some music while they work.
ASUS VA32UQ Eye Care monitor
A desktop monitor is a practical gift that can provide a serious productivity boost, especially for laptop users. With a big display at the ready, they can hook up their laptop and reap the advantages of extra screen space. This is the holidays, though, so perhaps you'd prefer something to give that isn't all business. How about the VA32UQ? This spacious 32" display provides a sweeping expanse of pixels that's great for work and entertainment alike.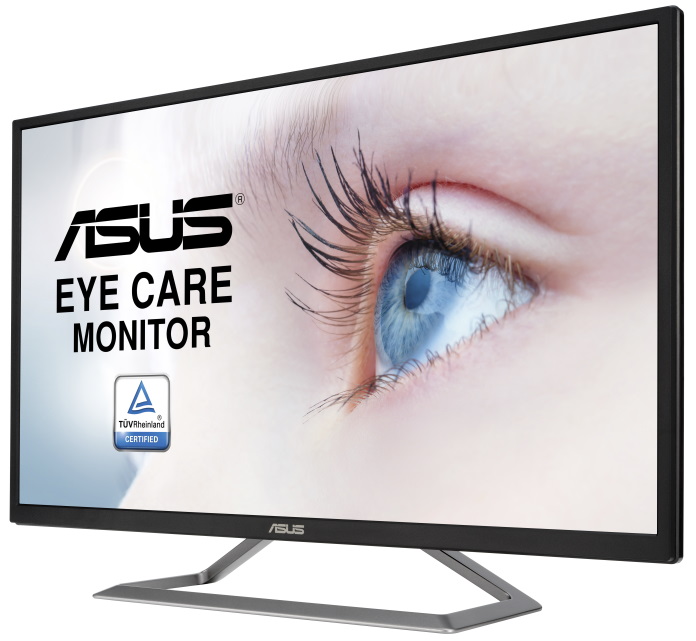 The VA32UQ is primed and ready for all kinds of work. It features a broad panel that provides plenty of space for your friend or family member to spread out their windows and look at it all at once. Since it has a 4K, or 3840×2160, resolution, text and images will be clear and readable, even when they're poring over a large spreadsheet. And the large size means that it's easy to  read text without applying lots of desktop scaling, making more of that 4K resolution practical to use.
After the work day is done, the VA32UQ is ready to switch gears into entertainment mode. Thanks to its high 3000:1 typical contrast ratio, it can reproduce inky blacks and bold highlights, and 95% DCI-P3 color gamut coverage will make bright colors really pop. Its flicker-free and Low Blue Light technologies are TÜV Rheinland certified, so your loved one will have a comfortable viewing experience even as they transition from work to play.
For the creative prodigy
Artists are a different breed. There's some part of them that just isn't satisfied unless they're constantly improving their skills in photography, digital art, music, videography, or whatever creative endeavor fits their talents. We have a long history of designing tools for creators of all kinds. We've got the gear for everyone from budding talents to fully-fledged professional artists. One of these presents is sure to help your loved one take their craft to the next level.
ZenBook Duo
Creators of all kinds often end up using more than one display on their PC. Whether they're sketching out an animation or cutting a new video for YouTube, there's often not enough space on one display for all of the controls, windows, and reference materials they want to keep an eye on. For many years, this meant that they needed to work at a desk crowded with multiple monitors. Now, one of our dual-screen laptops can give them the multitasking power of a second display wherever they go.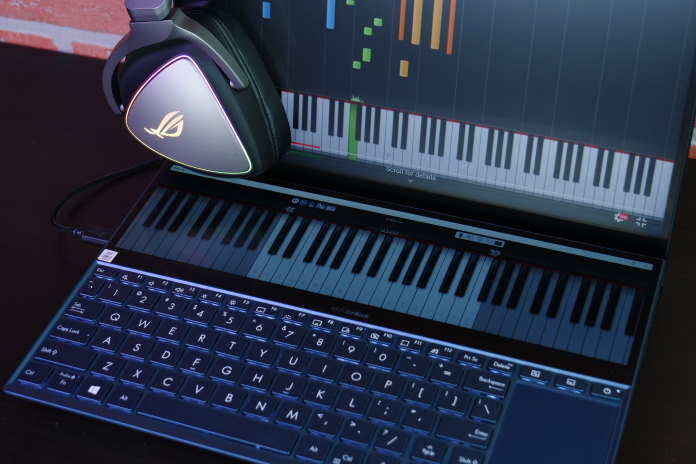 The ZenBook Duo is a highly portable laptop that brings our unique ScreenPad Plus to a wide audience. This 12.6" FHD display is nestled between the keyboard and the primary 14" FHD display. They're both touchscreens, so it's incredibly easy and intuitive to use the Duo for everything from music production to animation to game development. You can read the full story of how we used the Duo for music recording and editing here. Intel's i7-10510U processor keeps creation apps snappy and responsive, and NVIDIA's GeForce MX250 GPU gives the notebook a jolt of graphics processing power for 3D rendering and light gaming.
For a limited time, we're offering a more attainable version of the ZenBook Duo at a discount. This variant still has the ScreenPad Plus and Core i7-10510U, but might be more tempting for mainstream users who find 8GB of RAM sufficient for their needs and don't have plans to make use of a discrete GPU.
ZenBook Pro Duo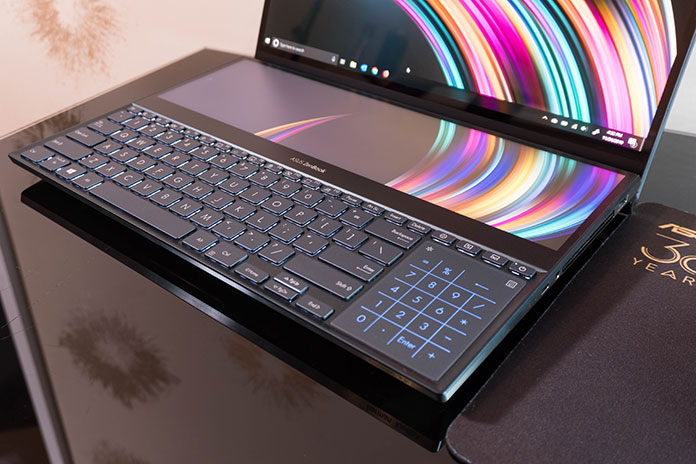 The ZenBook Pro Duo is a compelling option for mobile creators who need supremely powerful performance and high-resolution, color-accurate displays. The primary display is a 15.6" 4K OLED touchscreen that covers 100% of the DCI-P3 color gamut. It's Pantone Validated, too, so you can trust it to accurately reproduce colors right out of the box. With an Intel Core i9-10980HK CPU and an NVIDIA GeForce RTX 2060 GPU under the hood, the Pro Duo has the processing power to muscle through long video exports and transcodes with ease—or just about any other task your loved one might care to throw at it. Read our hands-on coverage for all the details on this unique and powerful device.
Like most of our laptops, we offer the Pro Duo with several different loadouts. For a limited time, you can purchase the little brother of the version above at a nice discount. It has the same powerful 4K ScreenPad Plus display and GeForce RTX 2060, but has a Core i7-9750H CPU and 16GB of RAM.
ZenScreen Touch MB16AMT portable monitor
Many of today's creators, and particularly teens, are quite adept at using their smartphones to create all kinds of interesting projects, especially photos and videos. That said, there are limitations to creating on a phone, notably the size of the screen. To help a loved one produce ever more impressive art—without requiring them to learn a new app or interface—consider getting them the ZenScreen Touch MB16AMT.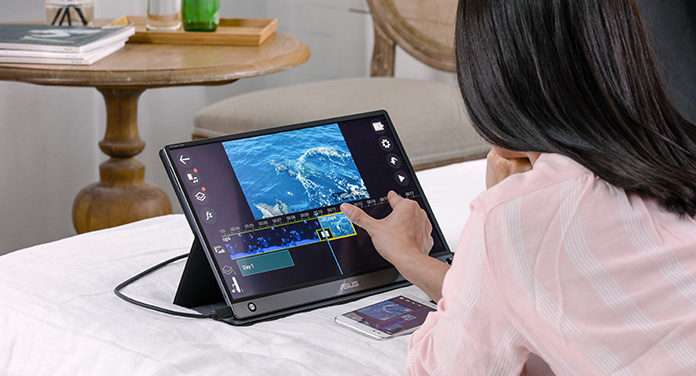 The ZenScreen Touch is a natural fit for digital artists. This 15.6" Full HD touchscreen is slim enough to fit into a laptop bag or backpack, yet it has a 7,800 mAh battery and a kick-out stand that lets users deploy it anywhere. It connects to a wide variety of devices with a single USB Type-C cable, so it's a great way to add a second screen with touch and stylus input to a laptop. Folks who work primarily from their smartphone can just plug it into an Android phone and it'll seamlessly mirror the content on the portable display. The ZenScreen Touch will greatly expand the creative possibilities of any device your loved one connects it to.
ProArt Display PA248QV and ProArt Display PA278QV monitors
For photography, videography, and digital art of all kinds, an accurate display is a must-have. For a long time, monitors of this caliber were priced out of the range of most hobbyists, amateurs, and developing talents. That's why the ProArt Display PA248QV and ProArt Display PA278QV are such exciting additions to our lineup. These displays deliver the color accuracy needed for high-quality projects without requiring extra setup or calibration, and they're surprisingly affordable.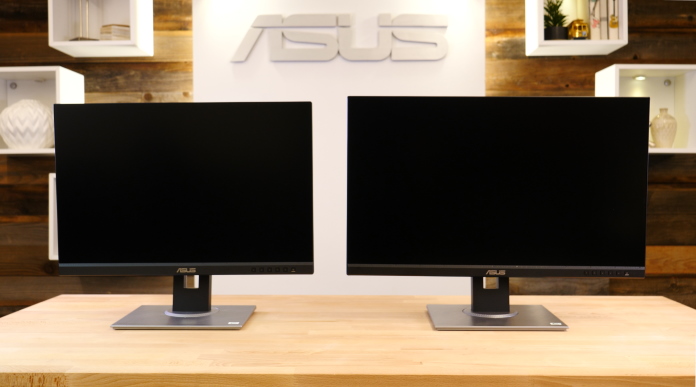 These IPS monitors cover 100% of the Rec. 709 and sRGB color gamuts typical for standard-dynamic-range photos and videos. They're factory-calibrated and Calman Verified to achieve an average Delta E value of less than 2. Right out of the box, these displays deliver professional-level color accuracy. For under $300, you can purchase the 27" PA278QV and its generous 2560×1440 resolution, while the 24" ProArt PA248QV and its 1920×1200 pixel array can be had for less than $200. That's remarkable value for anyone on your holiday shopping list with aspirations in digital art, photography, or video production.
ProArt StudioBook Series laptops
Perhaps there's someone on your list who has reached that happy moment in their lives when they realize that they have the talent, passion, and training they need to turn their hobby into a career. At this moment, it's only a question of what tools they need to get started. Our ProArt StudioBook lineup of laptops is geared for the demanding needs of the budding creative professional on your list.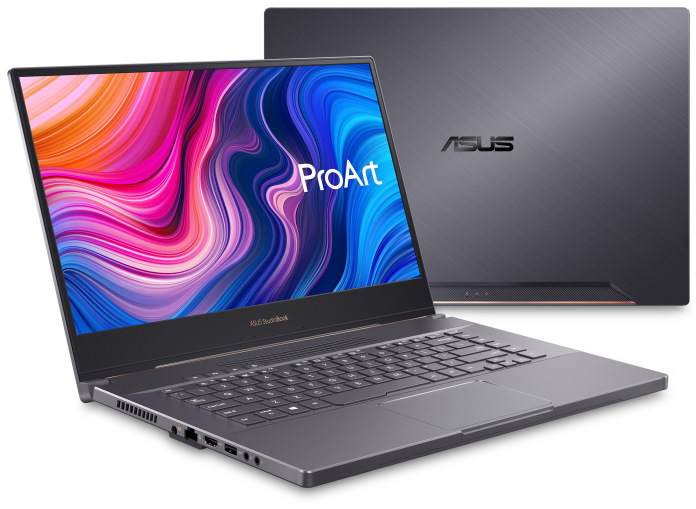 The ProArt StudioBook 15 H500 and StudioBook 17 H700 combine powerful components and a high-resolution, color-accurate display. The six-core, twelve-thread Intel Core i7-9750H CPU in these laptops brings the strong balance of single-core performance and multithreaded muscle that's so important for demanding applications like Adobe Creative Suite. We pair this CPU with a 32GB pool of DDR4 RAM so that creators can work with large projects and high-resolution assets. A GeForce RTX 2060 lets the StudioBook 15 and 17 take advantage of powerful GPU acceleration, and a pair of 512GB NVMe SSDs in a RAID 0 configuration provide plentiful high-speed storage.
Creators are just as demanding about displays as they are about the rest of a laptop's components. The StudioBook 15 and 17 feature a bright, high-resolution 3840×2160 display engineered to meet their needs. It covers 100% of the Adobe RGB color gamut, and it's Pantone Validated at the factory to achieve an average Delta E value of less than 1.5. From the moment your loved one first opens the lid, this screen will deliver the accurate colors they need for their projects.
For certain users, the certified drivers of NVIDIA's Quadro lineup of GPUs are imperative. Check with your gift recipient about their needs before making this investment, but if that professional platform is a requirement, the Studiobook Pro 15 W500 or StudioBook Pro 15 W700 will give them the power they need in a device that travels anywhere.
For students of all ages
Today's homes are often workspaces and artistic studios, and for many they also serve as classrooms, too. Everyone from kindergarteners to college students to lifelong learners are moving their education forward from the comfort and security of their homes. If you have a loved one whose goals and dreams are being held back by unreliable technology, it's high time to return them to the fast track with some new PC hardware.
Chromebook C436
For many students today, a Chromebook is the first PC that they learn how to use. After getting used to a thick, durable, kindergartner-proof model wrapped on all sides with a drop-proof case, these kids might be surprised to learn that they can get a premium Chromebook experience, too. Our Chromebook Flip C436 offers the familiar Chrome OS interface wrapped in a lightweight chassis that's brimming with high-end features.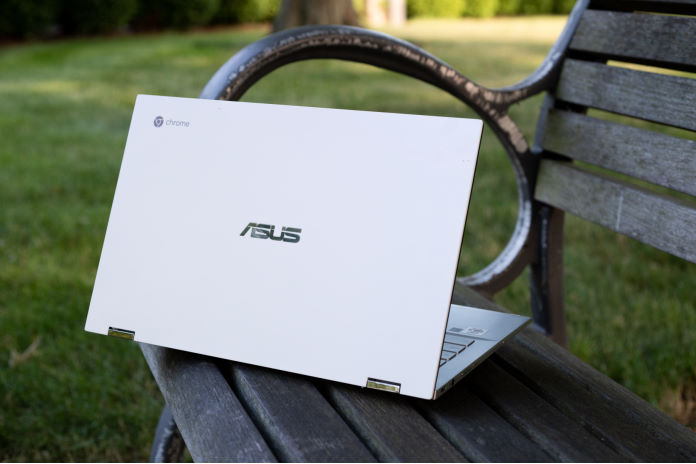 Lightweight, convertible chassis constructed of a magnesium-aluminum alloy? Check. 10th Gen Intel Core processor for supremely snappy performance? Check. 8GB of RAM and a 128GB NVMe SSD? Also check. The C436 is primed for frictionless multitasking and responsive computing. For more info, read what happened when we put one in the hands of an avid Chrome OS user and web developer.
The C436 will handle any student's needs today and lead them into exciting projects tomorrow. It also powers great entertainment experiences thanks to its 14" touchscreen and Harman Kardon-certified quad-speaker array. From the moment your friend or family member logs in using the fingerprint sensor integrated into the power button, they'll know that the C436 was designed from top to bottom for convenient, comfortable computing.
If you like the looks of the C436 but are specifically looking for a model with a bit more horsepower and a lot more storage, try this model on for size. It pairs an Intel Core i5-10210U with 16GB of RAM, and its 512GB SSD will store a large library of projects alongside a collection of Chrome OS apps.
ASUS VA24DQLB Eye Care monitor
One of the great things about working with a PC is that it's so easy to plug in an external monitor and increase its multitasking capabilities. This is especially valuable for students, who often need to work with a wide range of open windows on their desktop. Our VA24DQLB will be a welcome addition to any learner's desk.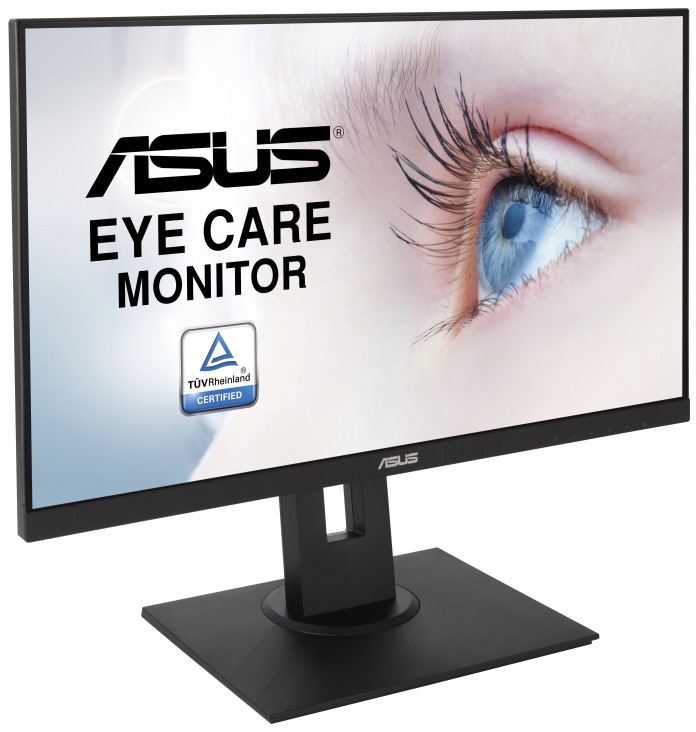 At 23.8", the VA24DQLB fits onto just about any desk. It has an FHD resolution and an IPS panel for crisp images and wide viewing angles. Thanks to its thin display bezels, this monitor is also a prime candidate for a multiple-monitor setup, should that special someone on your list want to expand their screen real estate even further down the line.
Eye strain and muscle fatigue can be a real concern for students putting in long hours at a PC, but the right technology can minimize these problems. The VA24DQLB has a full suite of tilt, swivel, pivot, and height ergonomic adjustments that allow your friend or family member to put the screen at just the right position for comfortable use. Even better, this monitor is equipped with our Eye Care technologies to reduce the fatigue associated with overly blue light and flickering backlights. Even when they're cramming for finals, it won't be tired eyes that hold them back.
ROG Strix Go 2.4 gaming headset
In a busy household, nothing helps people minimize distractions and get work done more than a quality headset. The ROG Strix Go 2.4 will let someone on your list tune out distractions with some focusing study music, and it's also ready for fantastic gaming experiences.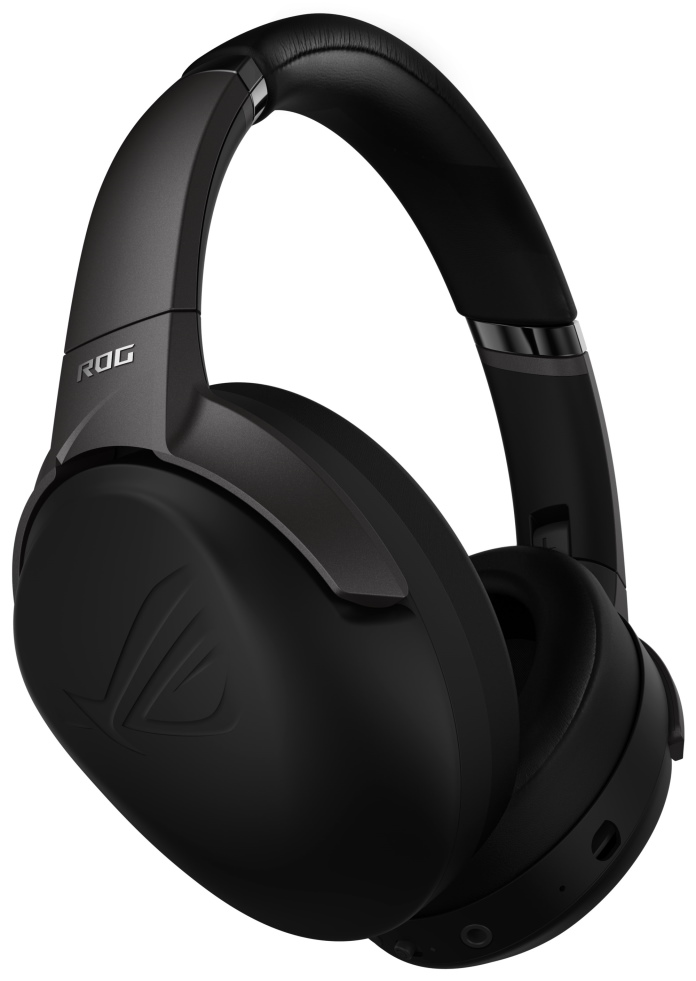 The ROG Strix Go 2.4 features a closed-back design with our exclusive 40mm Essence drivers, so it produces rich, pure sound with deep bass. Whether your gift recipient is chilling with some music, tuning in to an online class, or playing their favorite game, they'll be drawn in by the immersive audio. When it's their turn to talk, their listeners will appreciate how our AI Noise Canceling technology filters out unwanted background noise without any extra software. Because this noise canceling intelligence is built right into the headset, it works with any device that you can hook up to the Strix Go 2.4 wirelessly.
This headset truly shines when it comes to connectivity. We ditched Bluetooth in favor of a low-latency, stable 2.4GHz wireless connection. It's perfect for gaming, where lag between in-game action and the resultant audio is a dealbreaker. The ROG Strix Go 2.4 connects to devices through a small USB Type-C transceiver, so it's compatible with the Nintendo Switch, PlayStation 5, and a wide range of laptops and phones. An included cable with 3.5mm jacks lets users connect the headset to just about any other device they have on hand.
For the laptop loyalist who also likes to game
Gaming is a fantastic way to spend time with friends and family that you don't see very often in person. Across the world, multiplayer and cooperative games are exploding in popularity. Perhaps you're shopping for someone who loves to game but can't sit down at their desktop PC long enough to get in a round or two? The gifts on this list all offer great gaming experiences even on the go.
TUF Gaming A15 and TUF Gaming A17 gaming laptops
For someone on your list who's just getting started with PC gaming, the TUF Gaming A15 or TUF Gaming A17 offer incredible value. For just $1,199.99, you can gift a loved one an A15 fully loaded with an AMD Ryzen 7 4800H CPU and an NVIDIA GeForce RTX 2060 GPU. Those components are primed and ready to deliver winning performances in just about any game out there. You can get all the details about the A15 in our hands-on coverage here.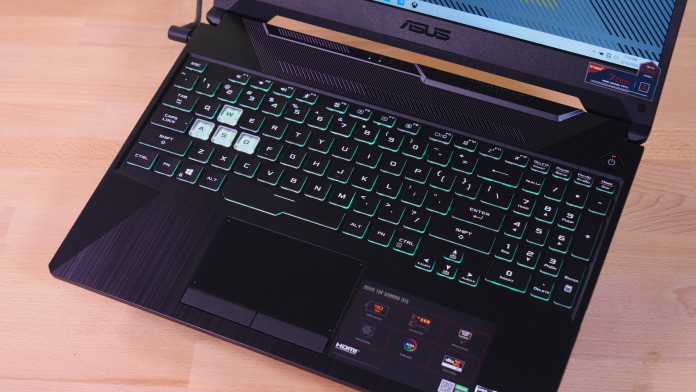 A gaming laptop has to check a lot of boxes, and a CPU and GPU that can keep up with the demands of rendering complex 3D environments are just the start. The TUF Gaming A15 and A17 complement these components with a powerful 90Whr battery and a robust cooling system. The desktop-style keyboard has RGB LED backlighting and has generously sized keys that are comfortable for long gaming sessions. The monitor is a special treat for fans of esports games. It refreshes all the way up to 144Hz for fluid visuals even in fast-paced titles.
ROG Zephyrus G14 gaming laptop
If portability is a must for someone on your shopping list, look no further than the ROG Zephyrus G14. Its ability to deliver excellent game experiences from the slim confines of a 14" chassis makes it an absolute standout on the market.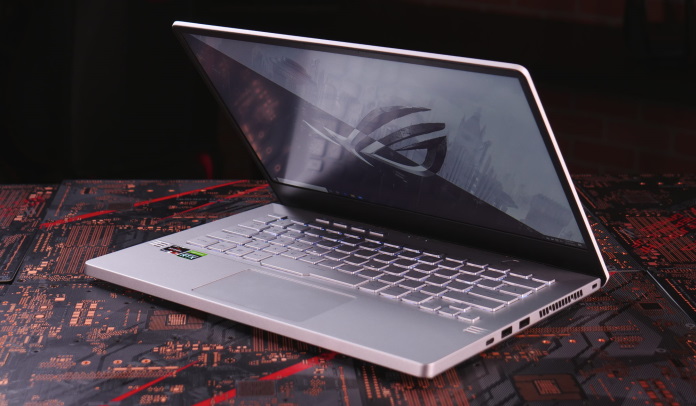 Powered by an AMD Ryzen 9 4900HS CPU and an NVIDIA GeForce RTX 2060 GPU, the G14 has the raw horsepower for a broad range of tasks. Whether the recipient of this laptop is gunning down opponents in the latest Call of Duty or exporting a video of their most recent highlight reel, the G14 will deliver the performance of a much larger machine. A 120Hz display keeps the action fluid and clear, and a substantial 76Whr battery gives the machine surprising longevity away from a wall socket.
All this gaming prowess is wrapped in a slim chassis with understated style. Available in Eclipse Gray or Moonlight White, the G14 stands out from the crowd with unassuming good looks. For the ultimate in personalization, there's an optional AniMe Matrix display for the laptop's lid that puts you in charge of an array of 1,152 mini-LEDs. Check out our hands-on coverage for all the details on this award-winning laptop.
ROG Zephyrus Duo 15 gaming laptop
We all know the feeling: that low-level worry that the gift we've chosen is too similar to something our recipient already has. If you need an absolutely unique machine for a loved one, take a look at the ROG Zephyrus Duo 15.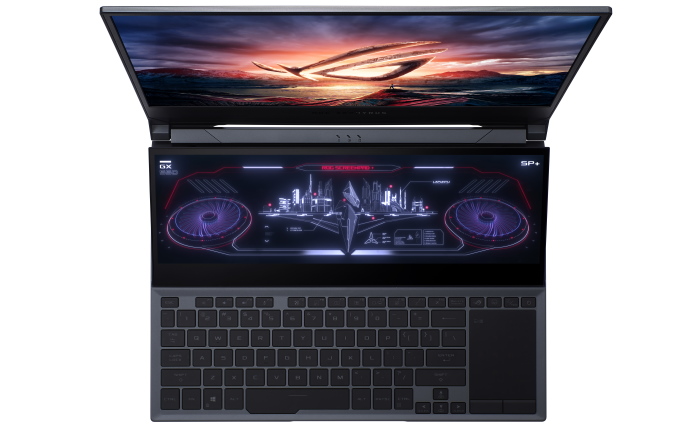 The ROG ScreenPad Plus display in the base of this notebook opens up incredible multitasking potential. This touchscreen is a prime location for all the other windows that gamers tend to have up while they're playing on their primary display: chat windows, video tutorials, or the controls for their streaming software. Additionally, it's a natural fit for anyone who uses their notebooks for content creation. Read more about it in our hands-on coverage.
The ROG ScreenPad Plus even helps with cooling the laptop's potent internal components. As you open the lid, the secondary display tilts up for a better view angle. That also opens up wide vents for the cooling system underneath, thanks to our Active Aerodynamic System Plus thermal design. That extra airflow keeps the Intel Core i7-10875H CPU and NVIDIA GeForce RTX 2070 SUPER performing to their full potential. Between the processing power of those chips and the efficient cooling power of the chassis design, the Duo 15 has the chops to run games at astonishing frame rates. That's perfect for the laptop's 300Hz display. This display draws new frames at an incredible pace, giving your friend or family member smooth, responsive visuals that keep up with the frantic in-game action.
ROG Delta gaming headset
The perfect partner for a high-powered gaming laptop is a great headset. The ROG Delta will create some holiday cheer, either as a standalone gift or as a stocking-stuffer alongside one of our gaming rigs.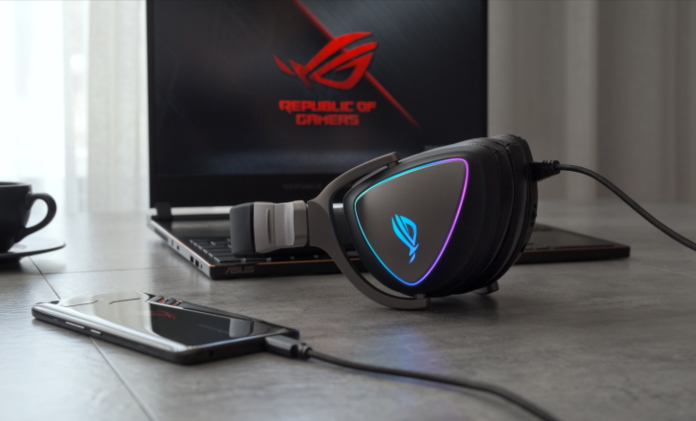 What sets the Delta apart from the competition? It starts with a high-res ESS 9218 quad DAC array that delivers incredibly detailed and clear audio to gamers hunting for the telltale sounds of their digital opponents. This unit's exceptional signal-to-noise ratio means that users are much more able to take advantage of positional audio and pinpoint enemies. The Delta's USB Type-C cable and included Type-C to Type-A adapter make it compatible with a wide variety of devices, and the RGB LED lighting on the outside of the cups allow users to personalize their gear.
ROG Phone 3 gaming smartphone
Looking for a gift that's even more mobile than one of our gaming laptops? With its gorgeous display, massive 6000mAh battery, top-end chips, and selection of innovative accessories, the ROG Phone 3 is a pocket-sized gaming powerhouse.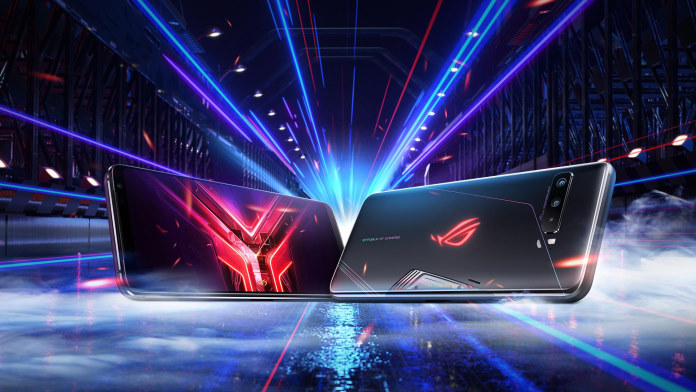 Simply put, the ROG Phone 3 offers the best Android gaming experience around. It takes advantage of Qualcomm's Snapdragon 865 Plus mobile platform to deliver exceptional performance in popular games like PUBG: Mobile and Call of Duty. That action is displayed with lightning speed across the 6.6" 144Hz AMOLED screen.
The ROG Phone 3 will give your loved one a variety of intuitive controls for mastering their games. It starts with the touchscreen, which has an industry-leading 270Hz touch-sampling rate to respond to every tap and gesture with remarkable alacrity. The lucky recipient can also take advantage of our AirTrigger 3 system, a pair of ultrasonic touch sensors on the right-hand edge of the phone. In landscape mode, the AirTriggers naturally fall under the index fingers, mimicking the familiar interface of common game controllers. These sensors can be assigned to any in-game action, and they can differentiate between a variety of gestures, including slides and swipes.
A suite of accessories makes the ROG Phone 3 a complete mobile gaming platform. The included AeroActive Cooler 3 augments the phone's already-impressive cooling capabilities with a fan focused on cooling the Snapdragon processor. It also has an integrated kickstand for when users kick back and watch a video or game with the ROG Kunai gamepad. The Kunai is a modular controller system that can be attached to the phone or to a lightweight gamepad. The TwinView Dock adds an entire second screen to the experience, while the Mobile Desktop Dock lets users connect the phone to their favorite PC display and peripherals.
Before putting one in your shopping cart, consult with the potential recipient of this phone to make sure that it's compatible with their carrier. It supports most GSM-based networks in the United States. If it's a good fit with their current service plan, they'll get the best of Android gaming in a flexible, powerful device.
For the esports fanatic
Gamers are a competitive bunch. Whether it be researching new strategies, sharpening their reflexes, or upgrading their hardware, they're always looking for a way to secure their next win. These gifts have the potential to revolutionize their gameplay and take things to the next level.
ROG Strix GT15 and ROG Strix GA15 gaming desktops
Lots of folks out there love the portability of a gaming laptop, but there's still ample reason to consider a desktop. For someone on your list who really won't need to move their PC around often, the ROG Strix GT15 or ROG Strix GA15 offer compelling value.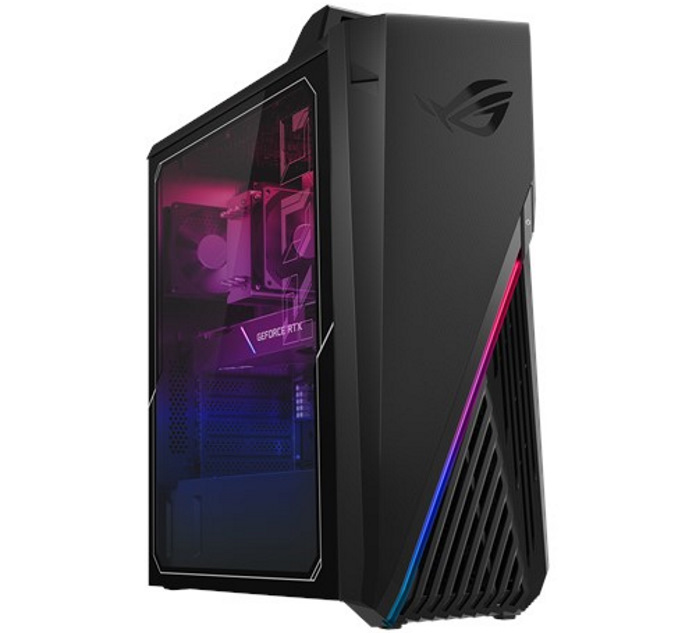 We offer these desktops in a variety of configurations, but here's a pair that are primed to push high FPS in competitive esports titles. The ROG Strix GT15 we've chosen pairs up an Intel Core i7-10700KF CPU and an NVIDIA GeForce RTX 2060 SUPER. This processor's snappy 5.1GHz max Turbo frequency keeps the GPU fed and happily churning out frames at a breakneck pace. If your loved one hooks this machine up to one of our high-refresh-rate monitors like the TUF Gaming VG27AQ or the ROG Swift 360Hz, they'll reap the competitive advantages that high FPS gaming can provide.
To take things to an even higher level of performance, consider the ROG Strix GT35. That system combines an Intel Core i9 CPU with NVIDIA's GeForce RTX 2080 Ti GPU in a specially designed chassis that leverages vertical cooling and a closed-loop AIO cooler to push components to new heights of performance.
Prefer an all-AMD build instead? The ROG Strix GA15 harnesses an AMD Ryzen 5 3600X CPU. This six-core, twelve-thread processor offers a compelling balance of multithreaded muscle and responsive single-threaded performance. Alongside an AMD Radeon 5700XT GPU, it'll launch the lucky recipient of this gift into gaming glory.
All GT15 and GA15 systems use a cooling system with an advanced airflow design that keeps component temperatures and fan noise low. Wide yet stealthy vents adorned with striking RGB LEDs on the front panel direct cool into the system's interior. Additional vents on the top and bottom panels help keep the power supply and CPU well-supplied with cooling air.
ROG Strix SCAR 17 gaming laptop
Our laptop lineup isn't willing to let the desktops take all the glory when it comes to top-of-the-line gaming performance. Check out the specs on the beastly ROG Strix SCAR 17.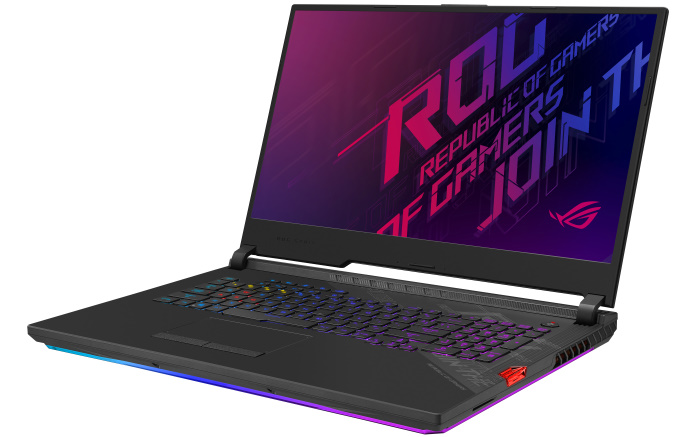 This is a specially-built version of the SCAR 17 designed around the needs and capabilities of NVIDIA's GeForce RTX 2080 SUPER, the most powerful GPU currently available for laptops. With a potent Intel Core i9-10980HK directing the action, the 2080 SUPER has no parallel in the mobile market when it comes to rendering competitive games at sky-high frame rates. That's why the SCAR 17 features an IPS display with a blistering 300Hz refresh rate. 32GB of speedy 3200MHz RAM ensures that users have all the memory they need for multitasking and serious content creation projects, while a whopping 2TB of NVMe storage provides more than ample shelf space for an extensive gaming library.
The SCAR 17 houses these top-end components in a chassis with a style that's all its own. Per-key RGB LED lighting is complemented by a wraparound light bar, all of which can be synchronized with the rest of your peripherals through Aura Sync. The unique ROG Keystone II port lets you assign custom settings and unlock an encrypted Shadow Drive only when the included key is connected to the laptop.
There's something special about gaming on some of the finest hardware available. There's also something special about a holiday discount. For a limited time, you can grab a SCAR 17 with an Intel Core i7-10875H and a GeForce RTX 2070 SUPER at $200 off.
TUF Gaming VG27AQ and VG32QV1B gaming monitors
It's not only possible to get extremely high FPS in esports titles like Counterstrike: Global Offensive, Overwatch, or Rocket League—it's an unquestionable competitive advantage. A system that can churn out those frames is just one part of the equation, though. The gamer on your holiday shopping list also needs a high-refresh-rate monitor to truly take advantage of that performance. The 27" TUF Gaming VG27AQ and the 32" TUF Gaming VG32VQ1B combine a 165Hz refresh rate with a suite of gamer-focused technologies, and they do so at an affordable price.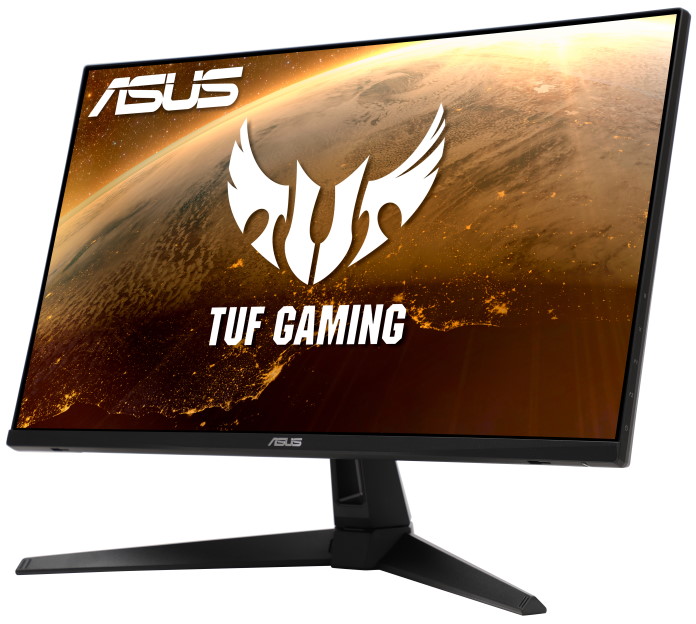 1920×1080 monitors reigned supreme for many years, but monitors like these with a 2560×1440 resolution have become popular due to their increased detail and image clarity. Many of today's midrange graphics cards can run games at high frame rates at this resolution, especially esports titles, so these monitors' 165Hz refresh rate isn't just for show. Our exclusive Extreme Low Motion Blur Sync (ELMB Sync) technology and 1ms response time make sure that gaming visuals are sharp and blur-free even when the action is fast-paced. There's even NVIDIA G-SYNC tech on tap. This allows you to enjoy smooth in-game visuals without tearing or the input lag introduced by Vsync, even as frame rates naturally vary over time.
ROG Swift 360Hz PG259QN gaming monitor
Shopping for someone who's shooting for the big leagues? Meet the next generation of competition-grade displays. Our new ROG Swift 360Hz boasts a record-setting 360Hz refresh rate for unparalleled visual clarity and responsiveness.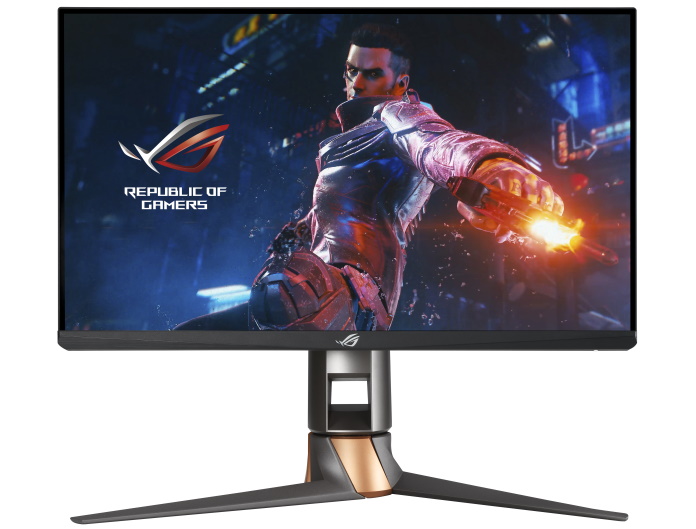 The ROG Swift 360Hz is a 24.5" display, perfect for letting gamers see the entire screen without having to turn their head. Fast IPS technology lets the screen respond to changes in imagery with a blazing 1ms gray-to-gray response time, and NVIDIA G-SYNC smooths out any inconsistencies even as frame rates vary naturally over time. If you have a gamer on your list who deserves the absolute best, the ROG Swift PG259QN is the monitor to get.
RT-AX82U gaming router
In a competitive online game, a stable internet connection is a matter of life and death. Got a loved one who's limping along with a sadly out-of-date router? The RT-AX82U will pull them out of the doldrums and back into the fast lane of online gaming.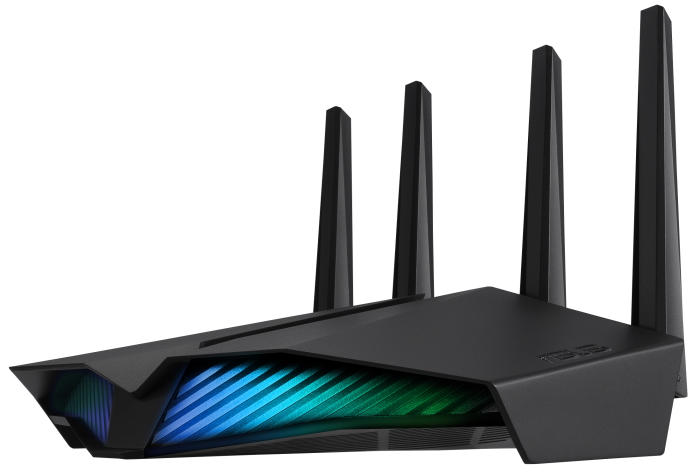 With network speeds up to 5400 Mbps on the 5GHz band, the RT-AX82U is ready to accelerate your lucky gift recipient's online gaming, streaming services, and internet browsing. It includes convenient tools for getting the best gaming experience, including a mobile gaming boost feature in the ASUS Router app. There's a dedicated gaming port that automatically prioritizes the traffic of any wired device connected to it, no software setup required. If the person you're giving it to already has a compatible ASUS router, AiMesh technology lets them connect the two routers to create a range-boosting mesh network.
The RT-AX82U serves up powerful performance today, and it's ready to do even more for your loved one's household as the next revolution in wireless networking kicks in. When a Wi-Fi 6 router like the RT-AX82U manages a network of Wi-Fi 6-compatible devices, it's better able to ensure a stable connection to each one. For the person on your list whose household internet superhighway is bogged down by rush-hour traffic, the RT-AX82U offers a path forward to congestion-free home internet.
Worried that a router is too utilitarian of a gift? Never fear. The AX82U features Aura Sync RGB LED lighting that lets you customize its appearance for the occasion. A little red and green for the season, maybe?
ROG Strix Scope TKL gaming keyboard
Still haven't found that perfect holiday present for the esports fanatic in your life? We do have one more card left in our sleeves, and this one's definitely an ace. Check out the ROG Strix Scope TKL Deluxe. This one-of-a-kind keyboard is a visual stunner that's decked out with features.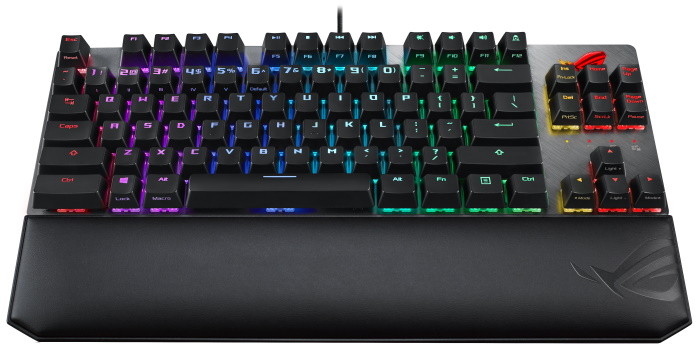 The ROG Strix Scope TKL stands out due to its compact design. By nixing the numpad, which games don't typically use, we were able to shorten the width of the board. That moves the user's mousing hand closer to their typing hand, which is much more comfortable ergonomically, and it also frees up more desk space for the mousing surface. That's a win-win right there. And with per-key Aura Sync RGB LED lighting, Cherry MX mechanical key switches, and a durable aluminum top plate, the Scope TKL has all the features gamers need in a form that's (almost) small enough to fit into a stocking.
For the PC building enthusiast
There's a special community in the PC world that deserves recognition here: builders. Ever since computers became small enough for home use, the do-it-yourselfers of the world have been assembling their own PCs from carefully curated and customized components.
ROG Chakram and ROG Balteus Qi
If you have such a person on your list this holiday season, you might add to their already-potent setup with the customizable and convenient features of the ROG Chakram gaming mouse and ROG Balteus Qi mousepad. The Chakram combines unique controls and powerful connectivity options, and it's even more convenient to use when it's given a home on the Balteus Qi.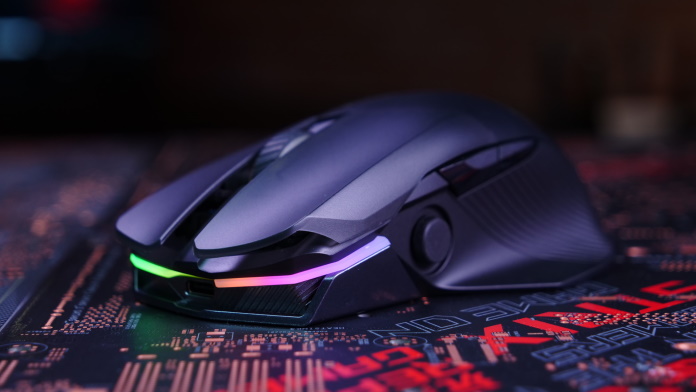 We've made it easy to swap out the Chakram's switches and customize its RGB LED-illuminated badge in the palm rest, so this mouse is a DIYer's dream. The star of the show is the joystick tucked away on its left side panel, though. In analog mode, this joystick acts just like the ones on a controller, letting users do things like steer a vehicle or or adjust a viewport all with their mousing hand. In digital mode, your loved one can assign four different bindings that activate when they move the joystick in any of the four primary directions. This customizability makes the Chakram a surprisingly useful tool in a wide variety of games. Check out our hands-on coverage for some more ideas.
The Chakram's joystick makes it a standout on the market, but its tri-mode connectivity is just as impressive. With a flick of a switch on the bottom of the mouse, users can toggle wired, Bluetooth, and 2.4GHz wireless modes. Bluetooth is a convenient option that's compatible with a wide range of devices. The low-latency RF wireless mode is perfect for gaming. The fast 1000Hz polling rate in this mode ensures that there's no delay between every motion and the in-game response.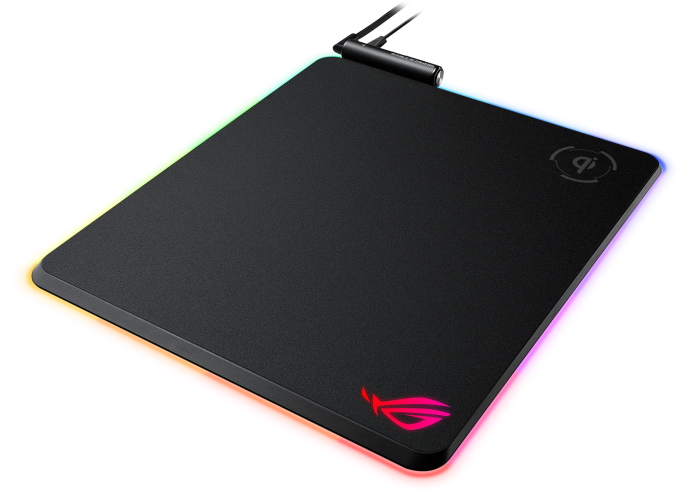 After just fifteen minutes charging through its USB cable, the Chakram is good to go for up to twelve hours of use. The Balteus Qi mouse pad will take away even that modest requirement. Since the Chakram supports wireless Qi charging, all your gift recipient will have to do to keep the mouse topped off is to let the mouse rest on the charging spot between uses. The Balteus Qi does more than just charge, though. Its slip-resistant undersurface keeps the pad precisely in place, and it has Aura Sync RGB LED lighting that can be coordinated with the lighting effects on the Chakram—and the rest of your loved one's Aura Sync gear, too.
ROG Swift XG27UQ
Powerful new graphics cards from both NVIDIA and AMD have a lot of gamers out there itching for an upgrade. Don't let someone on your list waste all that rendering horsepower on an out-of-date monitor. Put the ROG Strix XG27UQ in their hands.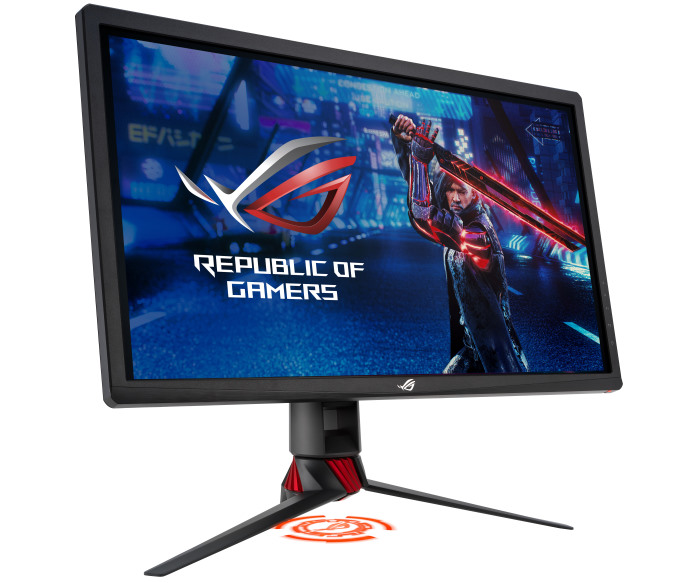 A common theme for the next generation of high-end graphics cards is across-the-board prowess for gaming at a 3840×2160 resolution. It's a great time for a 4K monitor like the PG27UQ. This 27" display complements the brilliant detail of this high resolution with a suite of modern gaming features. If the lucky recipient connects it to their PC through a DisplayPort cable, they can enjoy both 4K and a 144Hz refresh rate through Display Stream Compression (DSC) with compatible graphics cards. Colors are vivid and realistic thanks to the monitor's 90% DCI-P3 color gamut coverage, and there's support for Adaptive-Sync variable refresh rates, too.
For your own DIY PC
ROG Crosshair VIII Dark Hero
Perhaps the PC building enthusiast you're buying presents for is yourself? You don't have to apologize for that around these parts. Enthusiasts everywhere are eyeing AMD's Ryzen 5000-series processors—not to mention this fall's new graphics cards from AMD and NVIDIA—and making plans for their next build. Here's a few components that are ready to make that dream rig a reality.
A quick note for those still shopping for friends and family: the hardware in this section is just one part of a complete PC build. It's probably best not to purchase one as a surprise present. By all means, though, talk it over with the intended recipient. You'd make their day by engaging them about their favorite subject, and you'd probably learn a lot in the process!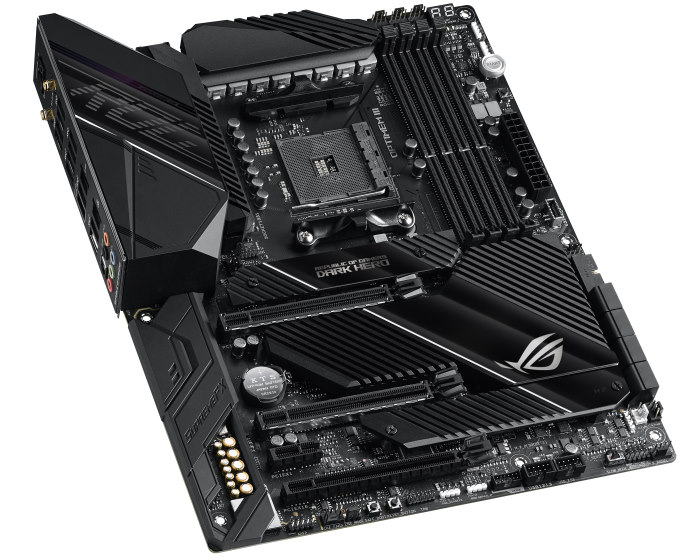 Back to your own plans for a PC powerhouse. For a rock-solid foundation for an AMD Ryzen 5000-series build, take a gander at the new ROG Crosshair VIII Dark Hero. ROG fans asked for a X570 motherboard that passively cools the platform's chipset, and we've delivered. We engineered a massive high surface area heatsink that covers the chipset and the space between the PCIe slots. In a case with good airflow, this thick slab of metal capably dissipates the heat that comes from serving up PCIe 4.0 bandwidth.
We know how users love to tweak and tune their Ryzen processors, so we also took advantage of the occasion to beef up this board's power design. 16 integrated TI power stages, each capable of delivering 90A of current, deliver the power your CPU needs for high-end performance.
The Crosshair VIII Dark Hero has more high-end features than I can detail here. An Intel Wi-Fi 6 AX200 adapter. 2.5 Gigabit and Gigabit Ethernet jacks. A SupremeFX S1220 audio codec paired up with an ESS ES9023 DAC. Four USB 3.2 Gen1 ports on the back, and a front-panel header for another. And that's before we get to the convenient overclocking features that enthusiasts turn to ROG motherboards for. If you know your recipient is planning out a high-end Ryzen 5000 build, this motherboard should be at the top of your list.
ROG Thor 850P
It's a great idea to evaluate your power supply situation when upgrading to a new graphics card or CPU. You don't want to entrust all that new silicon to the hands of an ailing or inadequate PSU. If it's time for a new unit, grab yourself an ROG Thor 850P.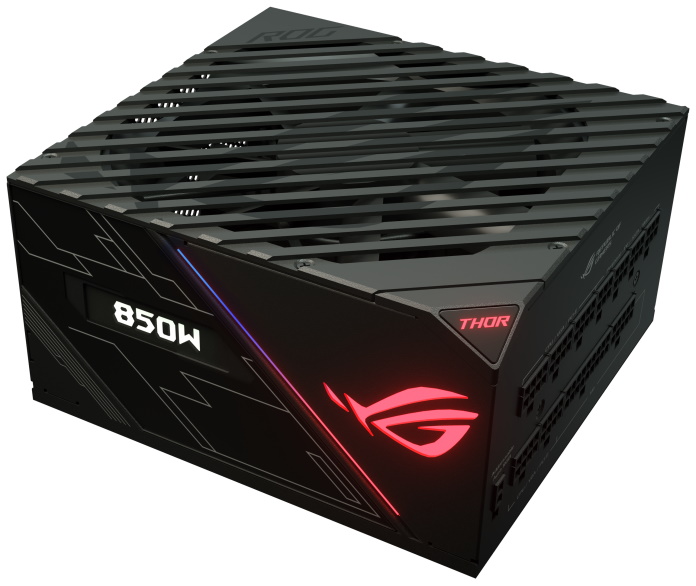 This PSU is rated for 850W, just a bit higher than the figure NVIDIA recommends for the GeForce RTX 3080. There's very little downside to mild overprovisioning here, though, and potential gains for efficient operation. This unit is 80 PLUS Platinum certified for enviable efficiency, in fact. It's also fully modular, and has a carefully considered cooling system. A large heatsink inside allows for 0dB operation at low load levels, and even when its large fan spins up, it'll remain quiet thanks to a rotor with our Wing-blade design.
Of course, you know we had to bring something special to the table for the Thor. On the side, there's a LiveDash OLED panel that reports total system power draw at a glance. This real-time monitoring sets this PSU out from the crowd, and we top things off with customizable Aura Sync RGB LED lighting.
ROG Strix Helios
Last but far from least, we think that your dream build deserves a case worthy of the powerful components inside. Enter the ROG Strix Helios. This mid-tower case is easy to build in, packed with features, and overflowing with personality.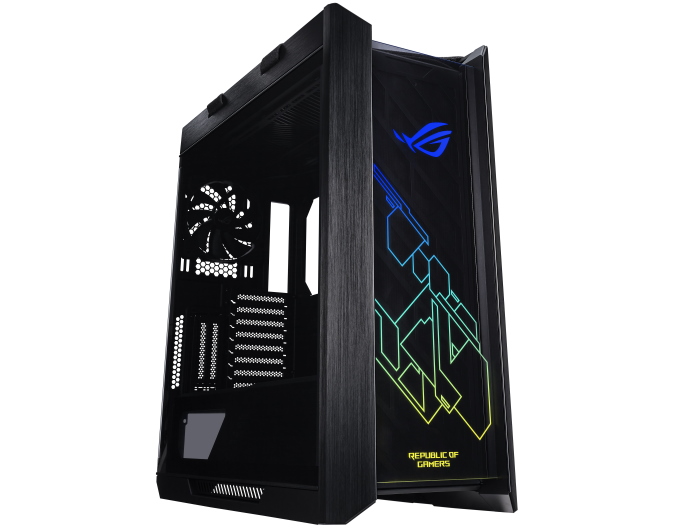 With the Helios, you have the flexibility to work with just about any motherboard all the way up to an E-ATX monster. You'll have just as many options when it comes to cooling. The Helios can accommodate radiators up to a whopping 420mm in size. A dedicated fan speed control on the front panel gives you a convenient tool to adjust the cooling power of your rig, too.
Are you the kind of PC builder who looks for cases that allow for a clean, coordinated look? The Helios has you covered. There's a PSU shroud that keeps the power cables tucked away and the PSU separated from the other heat-producing components. We figure that you just might mount an ROG Thor PSU under that shroud, so the Helios has a window for keeping an eye on that unit's LiveDash OLED panel. Extensive cable management options fill the space behind the motherboard tray. We know that enthusiasts like to tinker with their build, so we provide tool-free access through both side panels. Just use the releases on top to let the panels swing down and open.
Finally, the Helios will scratch your itch for customizable good looks. An included bracket lets you mount your GPU vertically, if you'd like to put its full shroud and fans on display through the tempered glass side window. Aura Sync RGB LEDs adorn the front panel, ready to be synchronized with the lighting on the rest of your gear.
May the season bring you joy
There's something special about finding a gift that not only brings a smile to a loved one's face, but brings new possibilities into their life. That's what's so exciting about giving a friend or family member a crucial piece of tech as a holiday gift. Whether you're eliminating their day-to-day frustration with an aging or inadequate PC, opening a door to the vibrant, social worlds of PC gaming, or giving their creative talents new channels in which to flow, your gift of an ASUS, ROG, or TUF product will be appreciated for a long time to come.
So create a little cheer this holiday season with a well-chosen gift, and don't forget to find a little joy and peace for yourself, as well. From all of us here at ASUS, happy holidays.