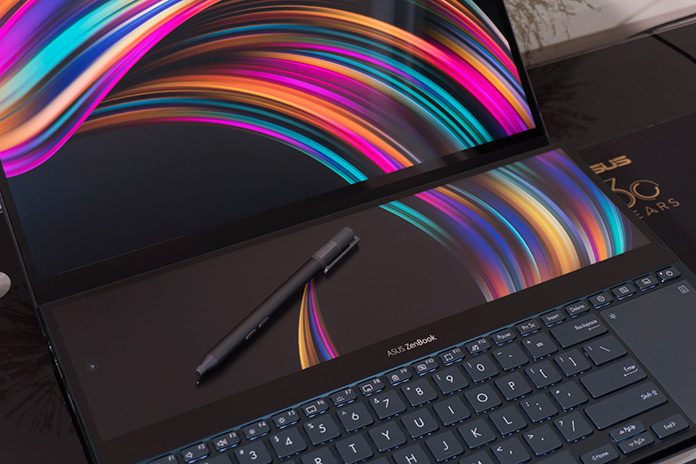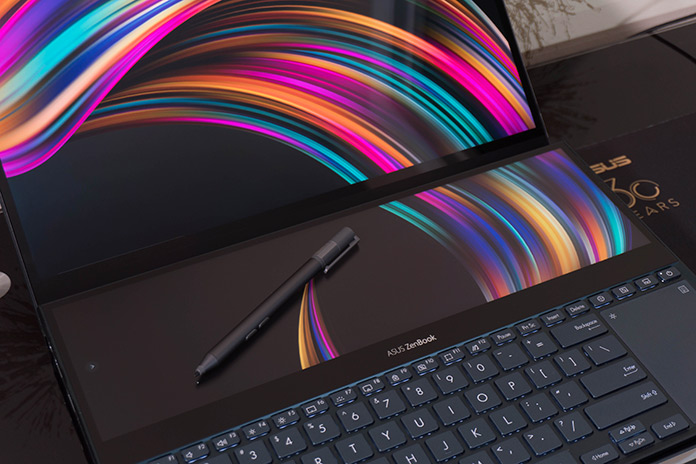 When you've spent the better part of your career sitting at a desk in front of several large displays, it can be difficult to work on a single laptop screen. Unfortunately, this is the reality that most creative professionals will experience at some point in their lives. Whether you're editing video on location for a quick turnaround, or you're working on a pet project on the plane, your laptop's single screen is likely going to feel cramped. Enter our groundbreaking ZenBook Pro Duo.
If you need a second monitor to maximize your productivity, there are several options on the market, like the ASUS ZenScreen Touch, that can double your screen space on the go. But not everyone wants to keep a second monitor in their bag, and in many situations, there simply isn't room to set a portable screen next to your notebook. That's where the ZenBook Pro Duo saves the day with its built-in secondary display.
Last year, we replaced the touchpad of our ZenBook Pro with a 5.5-inch IPS-type touchscreen called the ScreenPad, and this year we introduced the ScreenPad 2.0. This screen opened up entirely new possibilities on a portable device, but it was only the beginning. The ZenBook Pro Duo takes the original idea even further with its ScreenPad Plus. This second screen is the exact same width as the primary display, and it fills the entire space above the keyboard with 4K touchscreen goodness. This secondary display functions just the same as if it were an external monitor, with a few enhancements to help maximize its use.
Sleek inside and out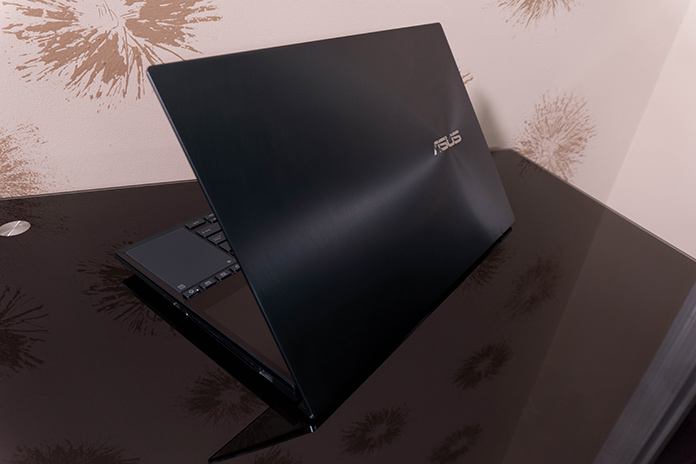 When it's closed, you might think that the ZenBook Pro Duo is simply another beautiful-looking laptop in our ZenBook line. The Celestial Blue finish features our iconic Zen-inspired spun-metal lid, naturally drawing your eye to the offset ASUS logo. Once you open up the Pro Duo, it becomes clear that this system is quite unlike any ZenBook before it.
On any other notebook, the bright 15.6" 4K NanoEdge OLED screen would immediately draw your gaze. However, the ZenBook Pro Duo's ScreenPad Plus turns nearly half of the keyboard deck into a secondary 4K touchscreen that will arrest the attention of anyone who catches a glimpse. It perfectly matches the width of the primary screen to create a seamless visual experience.
Nestled below the ScreenPad Plus are your keyboard and trackpad. The full-size backlit keyboard has been positioned at the front edge of the system to emulate a desktop typing experience. An included wrist rest will help bring back that traditional laptop feeling if you want it, though I've quite enjoyed typing on the Pro Duo without it.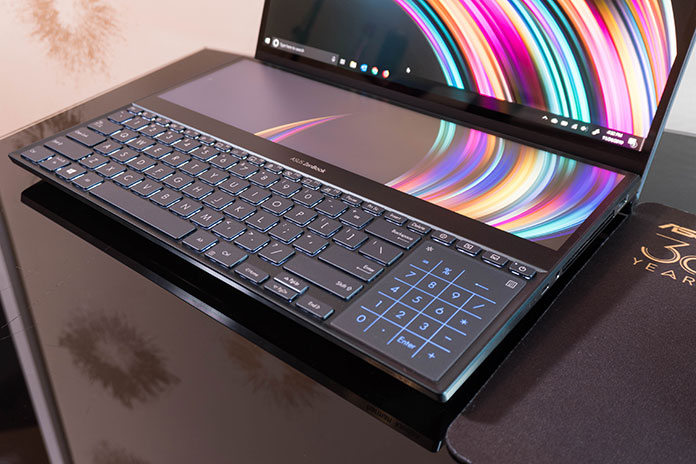 When you open the lid of the Pro Duo, our ErgoLift hinge design gently lifts the back of the device for a better typing experience. The base of the laptop angles down toward you, much like a desktop keyboard does when you flip its feet out. I prefer this angled position, since it lets me type more comfortably. The ScreenPad Plus rises into a natural viewing position thanks to the ErgoLift hinge, as well.
The keyboard's migration to the front edge of the laptop means the trackpad can no longer sit in its traditional spot. Instead, we moved it to the right side of the keyboard. This position works out well for me, as I already use my right hand for mousing while resting my left on the keyboard. Keeping that position isn't very comfortable on traditional laptops, but my hands feel right at home with the trackpad on the Pro Duo.
The trackpad also pulls double duty as your laptop's dedicated NumberPad. With a tap in the top corner of the pad, the LED-illuminated keys light up and allow you to punch in numbers just like you can on a full-size keyboard. And because of the trackpad's clever position next to the keyboard, the ten-key is precisely where you would expect it to be.
A tale of two screens
When you're creating visual content, you can't skimp on the quality of your screen. Our ProArt line of monitors is perfect for the digital artist at home or the office, and the ZenBook Pro Duo brings that same visual fidelity with you on the go. The 4K OLED touchscreen has vibrant colors and perfect blacks that make my other laptop screen pale in comparison. And it should, because the panel achieves 100% coverage of the cinematic DCI-P3 color space. It's also DisplayHDR 500 True Black certified, so you can both watch and create HDR content on the go.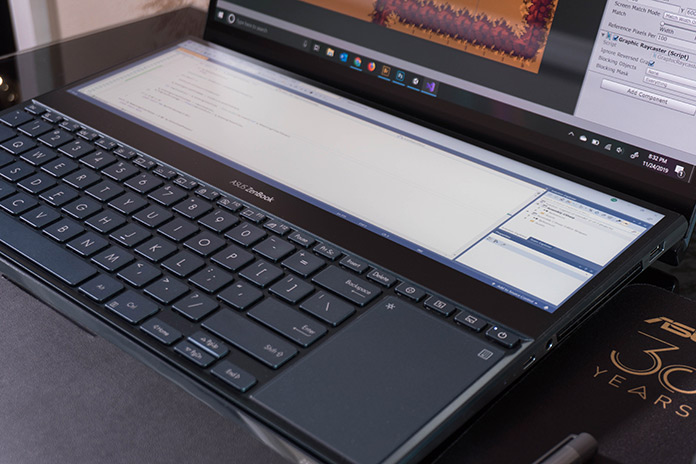 The NanoEdge bezels surrounding the primary display have a way of disappearing whenever I'm focused on my work. I'm someone that likes as my screens as big as I can get them, so the razor-thin bezels make me feel like the display covers as much of the laptop as is possible. And with the ScreenPad Plus, there's no question that the Pro Duo has more screen real estate than any other laptop I've used.
The ScreenPad Plus itself is a 14", 32:9, 3840 x 1100 touchscreen with an extra-wide viewing angle. Because it sits just above the keyboard, you'll have to look down at a sharper angle than the primary display. Even at that angle, the wide 178° viewing angle helps the screen appear bright and crisp regardless of whether I'm using the Pro Duo on my lap or a desk. A matte finish on the ScreenPad Plus serves to protect the display from both fingerprints and pokes. Since the Pro Duo ships with the ASUS Pen for drawing and editing on the secondary display, it only makes sense to have a protective coating.
Our engineers designed and positioned the 14" ScreenPad Plus so that it sits precisely below the primary display. Since both screens have the exact same width and number of horizontal pixels, dragging items and windows between the two will be absolutely seamless. In fact, you can stretch an image or video across both screens and use them as a single high-resolution display.
More screens equal more productivity
The ScreenPad Plus is more than just another monitor built into the laptop. It comes with a suite of powerful functions and tools that allow you to maximize your productivity. The first of these tools is the App Switcher. The App Switcher is an on-screen utility that appears whenever you grab an app and drag it across one of the screens. By dragging an app across the Switcher on the main display, you can choose to dock it in the ScreenPad Plus, add the app to the Launcher utility, or maximize the window across both screens. 
I find myself using the App Switcher during those periods when I'm opening new windows and trying to reorganize what I'm working on quickly. Since not every window needs to span the entirety of the ScreenPad Plus, it's easy to split the secondary display up into two or three sections. When dragging a window in the ScreenPad Plus, just look for the grey bar over the area you want to dock it. Once that bar appears, you can release your mouse button.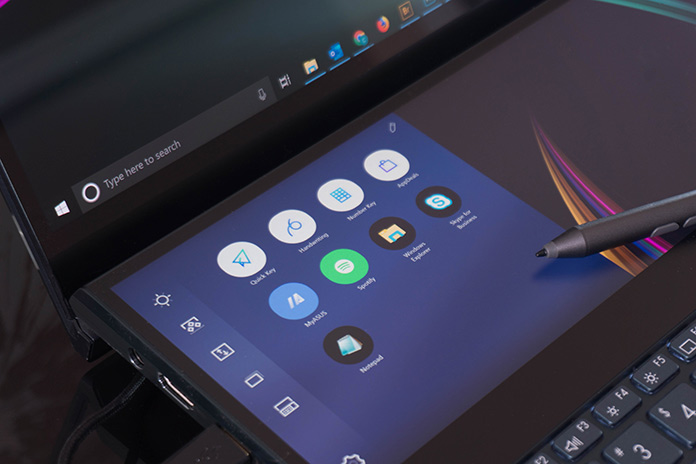 Accessing the Launcher utility is as simple as tapping the on-screen button on the left side of the ScreenPad Plus. You'll find all of the apps that you've added with the App Switcher, along with a few of the other included utilities. A quick tap on any of the icons will open the associated app.
If you want to open multiple apps that you regularly use together, the Task Group app has that covered. Once you have up to five windows opened and arranged on your displays, Task Group will take a snapshot of their locations. You can then open them in those same locations with just a tap on the associated Task Group. I've got a few groups set up that help me dive into my work without having to spend time organizing windows. On Monday morning, it just takes one tap to open my email, my chat program for work, my music, and my project folder. The motivation to get started tends to need a caffeine jump-start, but at least signing into work is easy, even in a pre-caffeinated state.
You might think that the Launcher interface looks a lot like that of a typical smartphone. The App Navigator also shares roots with a smartphone interface. This utility allows you to quickly see all of the open apps on the ScreenPad Plus and close them if needed.
The Quick Key utility lets you turn all or a portion of your ScreenPad Plus into a dedicated touchscreen hotkey board. You can create personalized hotkeys to execute complicated key combinations, control windows functions, and more. You can even create hotkey groups to use with certain apps and scenarios. There's also a Handwriting utility that allows you to write text with the ASUS Pen if you prefer that to typing.
More than just a duo of displays
The Pro Duo's potential isn't linked solely to the brilliant secondary display. A series of carefully-chosen components can tackle even the most demanding tasks on the road. It starts with the Intel Core i9-9980HK CPU. Eight cores, 16 threads, a base clock of 2.4GHz, and peak Turbo Boost clock speeds of 5GHz are ready for even the most demanding creative applications. Combine that with up to 32GB of RAM and a powerful NVIDIA GeForce RTX 2060, and you've got a machine capable of encoding, rendering, and compiling any creative project you can throw at it. If you're concerned about disk space or I/O bandwidth, the lightning-fast 1TB PCIe x4 SSD will more than keep up with your needs.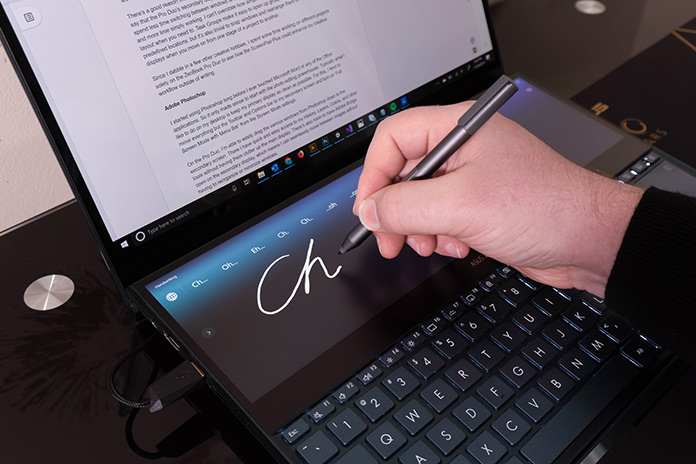 Being able to crush multi-threaded encoding tasks is great, but we understand that sometimes creating content is only half the battle. The other half is getting the raw materials on your laptop and moving the finished project off of it. If you need to download B-roll from your cloud storage, Intel Wi-Fi 6 with Gig+ (802.11ax) gets you the fastest wireless speeds. When you're ready to export your project onto an external drive, the Thunderbolt 3 USB-C port is going to be your quickest route. You'll also find a pair of USB 3.1 Gen 2 Type-A ports for connecting legacy drives and devices. Bluetooth 5.0, an audio combo jack, and a standard HDMI 2.0 port round out your connectivity options.
Since audio fidelity is an essential part of many creative projects, we tapped the audio experts at Harman Kardon to help us with the Pro Duo. They helped us craft the SonicMaster stereo audio system, complete with a smart amplifier for maximum audio performance.
Anything that takes your focus away from your work is an opportunity for distraction. Even if you're just wanting to change the song that's playing, you'll have to go to the right app and click or type something. However, the Pro Duo has Alexa compatibility built-in, complete with a dedicated lightbar that illuminates when you speak to it. Just download the Alexa app and you'll be able to use nothing more than the power of your voice to quickly pause your music, or check the weather without interrupting your workflow. You can even set up commands to tap into your existing smart home setup and prepare your office for work, such as dimming the lights for editing and putting on your favorite Spotify playlist.
Using two screens in the real world
It's one thing to talk about the potential of the ZenBook Pro Duo's secondary screen, and another to take it on the road and put it to the test. I've spent plenty of time using my Pro Duo for a variety of tasks, from my usual work duties to pet projects, both on the road and at home.
Much of my everyday work involves Microsoft Outlook for keeping up with my work emails, Skype for Business for chatting with colleagues, and multiple Chrome instances for research and writing. Trying to fit all of those windows on a single laptop screen is frustrating at best, and generally isn't worth the trouble. However, once I had them set up in the most efficient manner on the Pro Duo, I created a Task Group that remembers the locations of each window. Now when I'm ready to start writing, I can tap on the Task Group I created, and my desktop morphs into my ideal layout.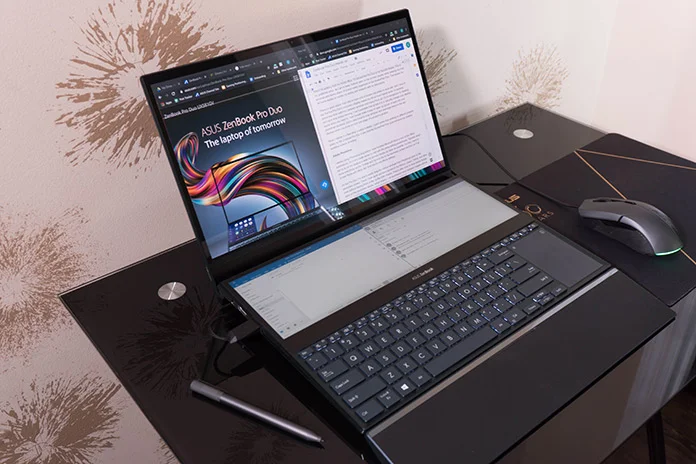 Depending on what I'm working on, my desktop can look very different. Sometimes I'm listening to music or watching a podcast on YouTube while I write, and I swap out Spotify or an instance of Chrome for Outlook and Skype. Other times, chat windows will dominate my secondary screen or I'll be knee-deep in researching a topic, so the screens will be broken up into several different Chrome windows containing various online resources that I've opened. 
When I'm working from my home office, I'll connect the Pro Duo to my favorite display. This is my preferred setup, as I get to keep Outlook open on the primary screen while keeping my chat windows and media player of choice neatly organized on the ScreenPad Plus. That leaves my 4K home display to handle my writing and research with no distractions.
There's a good reason that I like to have a lot of screen real estate to work with, and the Pro Duo's secondary display makes my life so much easier while I'm working. I spend less time switching between windows and losing focus as I try to reorganize my desktop, and more time simply focusing on the task at hand. I can't overstate how simple it is to radically change your desktop layout when you need to. Task Groups make it easy to open up groups of apps into your predefined locations, but it's also trivial to snap windows and rearrange them on the two displays when you move on from one stage of a project to another.
Since I dabble in a few other creative hobbies, I spent some time working on different projects solely on the ZenBook Pro Duo to see how the ScreenPad Plus could enhance my creative workflow outside of writing.
Adobe Photoshop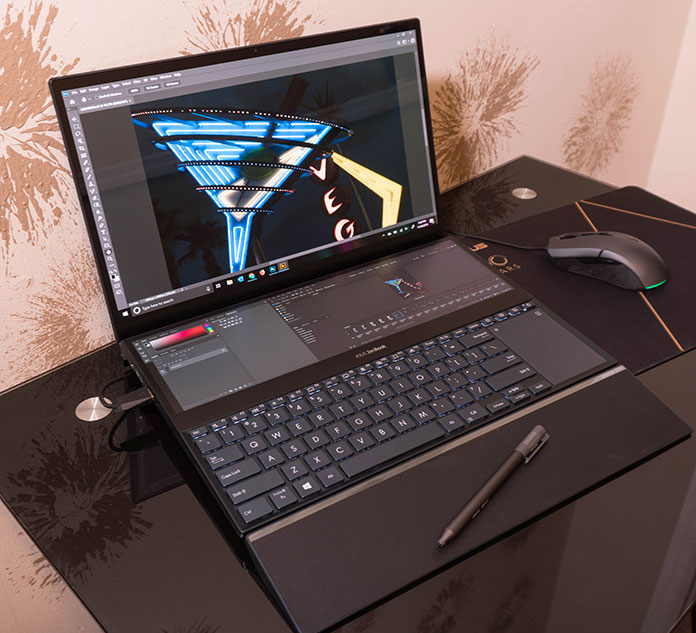 I started using Photoshop long before I ever touched Microsoft Word or any of the Office applications. So it only made sense to start exploring the ScreenPad Plus with the photo-editing powerhouse. Typically what I like to do on my desktop is keep my primary display as clean as possible. For this, I tend to move everything but the Toolbar and Options bar to my secondary screen and turn on 'Full Screen Mode with Menu Bar' from the Screen Mode settings.
On the Pro Duo, I'm able to easily drag the various windows from Photoshop down to the secondary screen. There I have quick and easy access to my History, Layers, Colors, and other tools without having them clutter up the main display. There's also room to have Adobe Bridge open on the secondary display, which means I can seamlessly move between images without having to reorganize or minimize windows.
Adobe Lightroom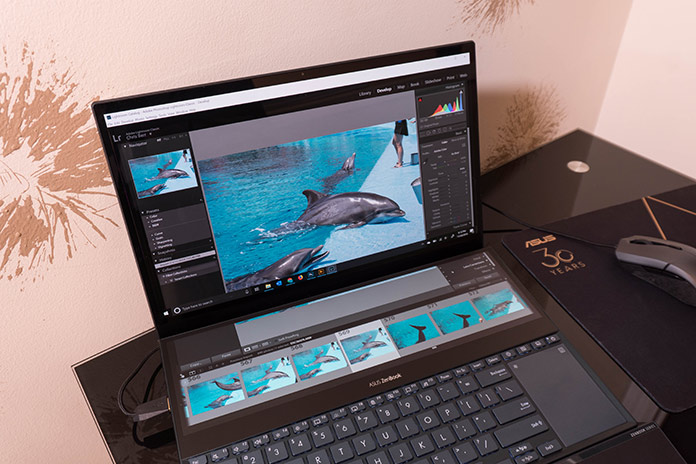 When I take a bunch of pictures with my trusty mirrorless camera, I turn to Adobe Lightroom Classic to manage and edit them. While it doesn't give me the finer tools of Photoshop, it gets the job done on most of my shots.
Lightroom doesn't let you freely move windows around like Photoshop, so things work a bit differently if you want to utilize the ScreenPad Plus. In Lightroom Classic, you can cast your Loupe or the Compare features to the secondary screen. This will work seamlessly with the Pro Duo's dual-screen setup. 
My preferred way to use Lightroom on the ZenBook Pro Duo is to use our ViewMax feature to stretch it across both monitors. Then I raise the filmstrip as high as it will go, which will usually keep the image I'm working on in the primary display. Unfortunately, the collapsable menus on either side of the Lightroom window can't be moved. But by stretching the application across both displays, I'm able to see more of both menus when they're open.
Adobe Premiere Pro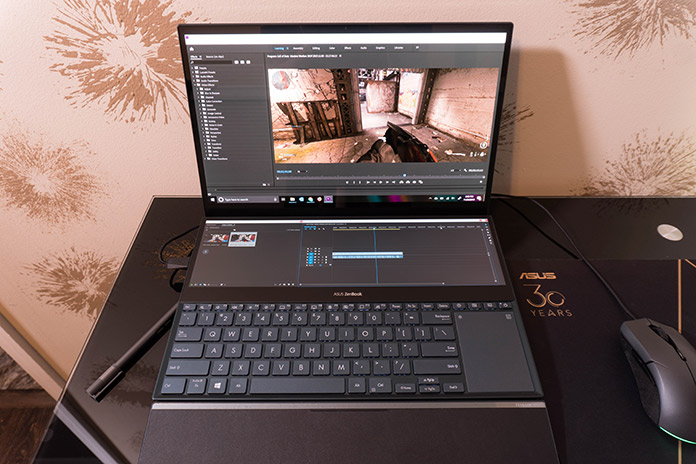 I admittedly don't do as much video work as I used to, but I always used Adobe Premiere Pro for all of my editing needs. Just like Photoshop, it's easy to drag panels like the Timeline and your Media Browser down into the ScreenPad Plus. Doing so frees up your primary display for previewing your clip and whatever other tools you prefer to keep up there. Premiere Pro has several different workspace presets that work particularly well with the Pro Duo. You can customize any of these depending on what part of the editing workflow you're on. Any panels that you set up on the secondary screen will be remembered and put back into place when the preset is selected.
Unity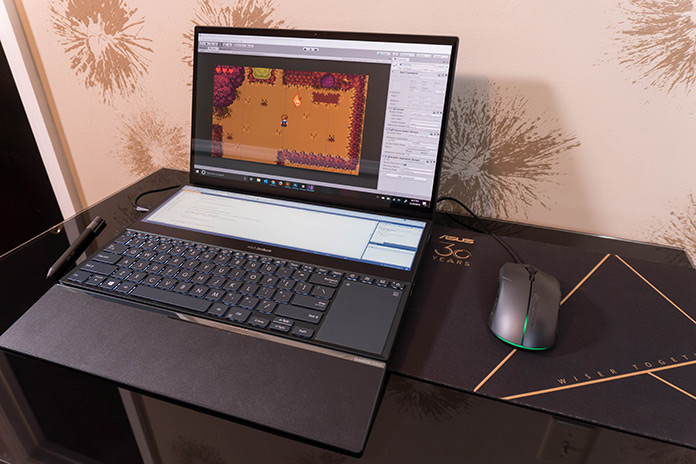 One of my favorite hobbies that I've picked up in the last few years is teaching myself game development with Unity. And if there's one thing I've learned about developing Unity, it's that I hate doing it on a single screen. Even if I make room for my Scene, Inspector, Console, Project Files, and Hierarchy onto the screen, I still have to bounce between Unity and Visual Studio to make any changes to the code.
The Pro Duo feels like the perfect laptop to do work in Unity. I like to keep my Scene and Inspector on my main screen, as I tend to be working with those the most. There's plenty of room to stack the Console and Project windows on top of each other with the Hierarchy window off to the side. When I want to work in Visual Studio, I just maximize it on the secondary screen. That way, I can make changes to the code, save them, and test the results in a snap.
Twitch streaming
I haven't got the reflexes or the charm to be a full-time Twitch streamer, but I have dabbled with live streaming for fun. Normally, I'd shy away from trying to stream and play on the same laptop because I like to have my controls and chat windows visible while I'm streaming. If you've been following along, though, you won't be surprised to learn that gaming and streaming on the ZenBook Pro Duo is much easier thanks to its secondary display.
Streaming on the Pro Duo is easy because all you need to do is organize your preferred streaming tools and chat windows in the ScreenPad Plus. Once you've got everything set up, you can simply open your game and play, just the same as you would do on any other laptop. One thing to note is that Windows doesn't generally like it when you click on another application while gaming in full screen. I ran all of my games in borderless windowed mode and didn't have any issues interacting with apps like OBS and Spotify using the touchscreen, though.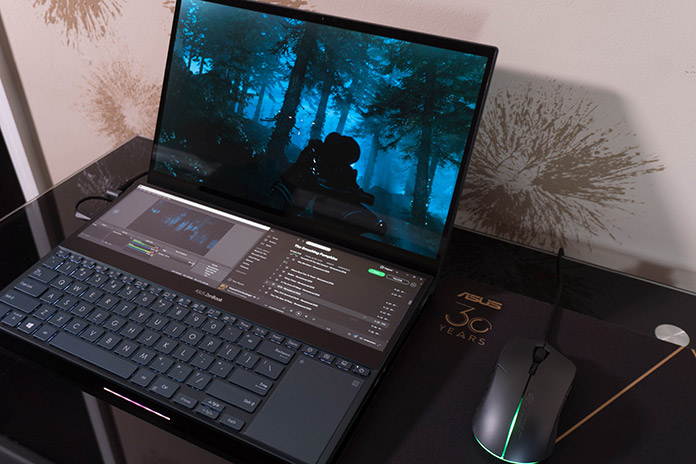 One of my favorite games to play these days is Rocket League, so it was the first one I fired up on the Pro Duo. The RTX 2060 was more than capable of pushing out a solid 60FPS even while running at 4K at the highest settings.
I really wanted to use the beautiful 4K OLED panel to its fullest potential, so I started up my current shooter of choice, Call of Duty: Modern Warfare. This title is considerably more demanding than Rocket League, so I turned the resolution down to a more manageable 1080p. I left most of the settings on high, and the game stayed at a steady 60FPS as I played. Even though the Pro Duo's screen was designed with content creators in mind,  games like Modern Warfare look absolutely stunning on the OLED panel. Modern Warfare also supports HDR, so if you enable it in your display preferences, you can increase the visual fidelity of the game considerably.
The ZenBook Pro Duo features an IR webcam with Windows Hello support. While OBS doesn't take advantage of any of the Hello features, the cam captures Full HD video at 60FPS, which is perfect for adding a face cam to Twitch or Mixer at the same frame rate as your game source.
Get more done with the ZenBook Pro Duo
Whether you're a travel photographer that needs to organize and edit thousands of images on the road, a videographer that needs all the screen real estate and processing power they can get, or an aspiring developer that takes their work everywhere, the ZenBook Pro Duo is going to help you create at your best. It features powerful hardware with up to a Intel Core i9-9980HK and an NVIDIA GeForce RTX 2060 that can handle any creative endeavor you undertake. But what transforms the Pro Duo into a productivity powerhouse is the 14" ScreenPad Plus. This secondary touchscreen opens up countless new possibilities that you won't find anywhere else. Priced starting at $2,499 USD up to $2,999 USD, the ZenBook Pro Duo is currently available at the retailers listed above.