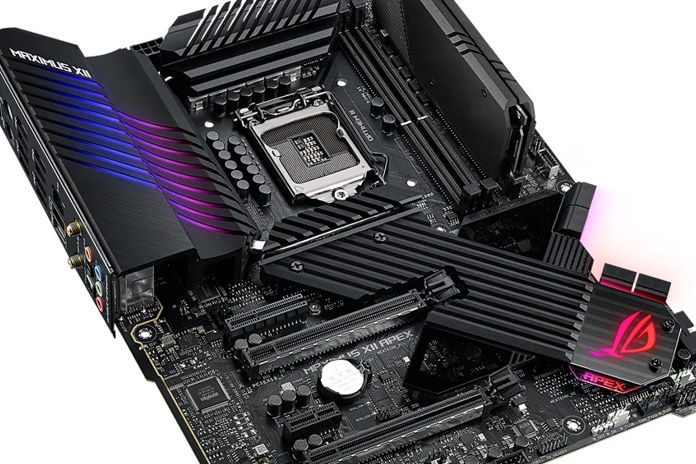 Since its founding in 2006, the Republic of Gamers has built a long line of motherboards capable of keeping up with the record-setting elite overclockers that define the outer limits of PC performance. In recent years, we've distilled that knowledge into three prior generations of ROG Maximus Apex mobos for mainstream Intel CPU sockets. These boards have shared a single laser-focused goal: help the most skilled overclockers on the planet reach the top of OC leaderboards. The Maximus XII Apex is the fourth board of the line, and it brings everything we've learned from legions of elite overclockers to the Z490 platform.
16 teamed power stages, each capable of producing a whopping 70A of current with enviable efficiency, border the CPU socket. Two eight-pin power connectors with our ProCool II construction stand ready to deliver as much juice as extreme overclockers demand from the power-delivery subsystem. And two DDR4 DIMM slots use the shortest possible trace lengths and our OptiMem III design to put 5000MHz RAM multipliers and beyond at the fingertips of the world's best OCers. Pair all that with a range of other impressive OC features, and you have everything you need to mount an assault on a wide range of benchmark world records with a 10th Gen Intel Core CPU in the socket. 
Show me the numbers
All those specs would make the Maximus XII Apex impressive enough on its own, but we don't build bench racers. The truth of performance is in the numbers. Our internal overclocking team has had access to 10th Gen Intel Core CPUs for some time, and we've been working on shattering world records with them in tandem with this board. Now it's time to reveal some of their achievements. We're proud to announce that we've set seven verified world records using the Core i9-10900K and the Maximus XII Apex, as well as another 10 global first place finishes on a range of other benchmarks for this platform.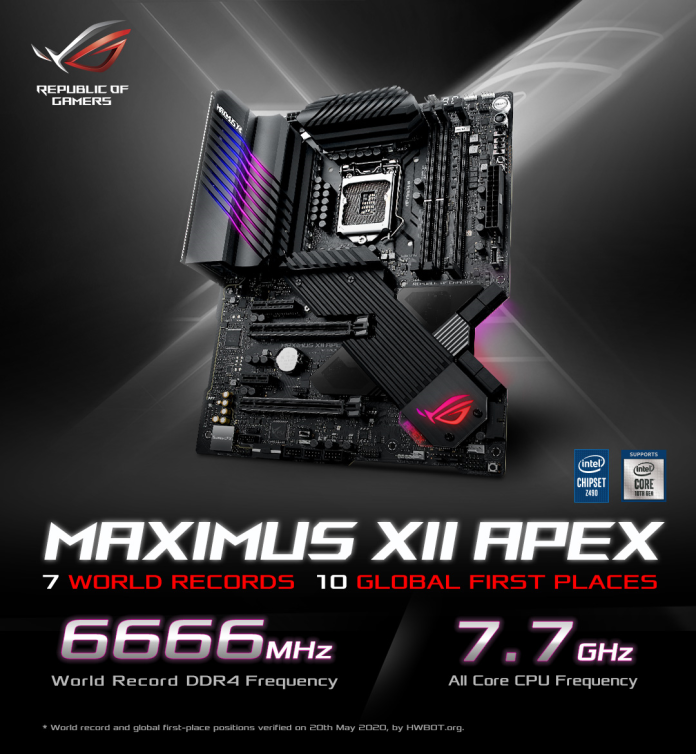 First and foremost, let's discuss the world record performance results the Maximus XII Apex now has to its credit.
Maximus XII Apex
Benchmark
World record
DDR4 Frequency
6666MHz
PiFast
8.37 seconds
SuperPi - 1M
4.734 seconds
SuperPi - 32M
4 minutes 1.766 seconds
Geekbench 4 single-core score
10257
3DMark06 score
77649
3DMark11 Single Card score
57807
Our team used the Apex's laser focus on DDR4 performance to set a world-record DDR4 frequency of 6666MHz. Demonstrating the incredible single-threaded performance possible from 10th Gen Intel CPUs, we achieved a Geekbench 4 single-core score of 10257. We used SuperPi to calculate that famous constant out to one million digits in 4.734 seconds, and to 32 million digits in four minutes and 1.766 seconds—both world records. Last but certainly not least, we achieved a 3DMark06 score of 77469 and a 3DMark11 single-card score of 57807. 
On top of those world records, we've achieved 10 global first place finishes with the Maximus XII Apex and 10th Gen Core CPUs.
Maximus XII Apex
Benchmark
Global first place result
All-core CPU frequency
7.7GHz
wPrime - 32M
1.171 seconds
wPrime - 1024M
35.625 seconds
Cinebench R11.5 score
41.86
Cinebench R15 score
3892
Cinebench R20 score
9106
GPUPI for CPU - 1B
1 minute, 25.089 seconds
HWBOT x265 benchmark - 1080p
131.513 FPS
HWBOT x265 benchmark - 4K
31.594 FPS
Geekbench 3 multi-core score
69936
To start, we pushed a Core i9-10900K to 7.7GHz on all of its cores—the highest frequency ever for an Intel CPU architecture. Our platform also completed the wPrime 32M benchmark in 1.171 seconds and the wPrime 1024M benchmark in 35.625 seconds. We achieved a Cinebench R11.5 score of 41.86, a Cinebench R15 score of 3892, and a Cinebench R20 score of 9106 points. On the GPUPI for CPU benchmark, we calculated 1B digits in one minute and 25.089 seconds. For the HWBot x265 benchmark, we achieved throughput of 131.513 FPS for the 1080p test and 31.594 FPS for the 4K test. And last but not least, we turned in a Geekbench 3 multi-core score of 69936. 
All of these world record and global first place wins didn't happen by luck. They're the result of years of innovation and hard-earned lessons that our motherboard engineers have used to give elite overclockers the tools they need to come out on top. Congratulations to our overclocking team on adding 17 new number-one results and world records to their trophy case. 
Even if you're not trying to set world-record performance results with your own PC, you can rest assured that those same lessons and careful engineering are baked into the PCB of every Z490 motherboard we make. Find the right motherboard for your 10th Gen Intel build with our in-depth guide to the Z490 platform.