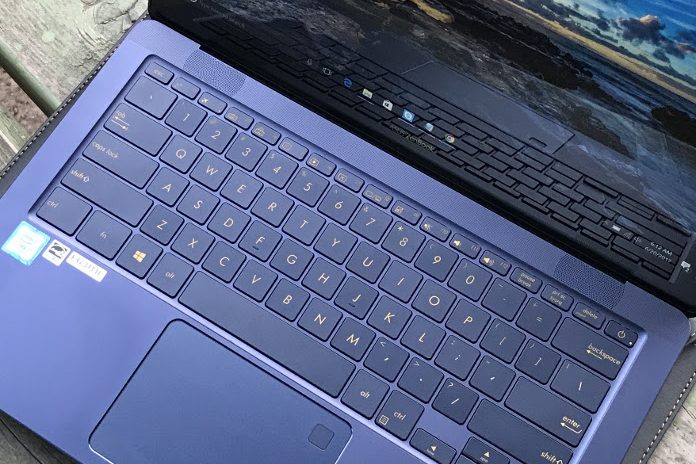 You'd think shopping for a high-end laptop would be easier than shopping at lower price points. With more to spend, you're not forced make compromises based on budget alone. But there is no single definition of 'premium.' Variety among high-end laptops is plentiful, and they come in a wide range of specs, form factors, and screen sizes. Deciding where to spend that extra money ultimately comes down to your needs and how you plan to use the machine. As a business executive who does a lot of travelling, your needs are going to be very different than those of a designer, for example.
The frustrating thing is that a lot of premium laptops are built for one type of user, which forces you to try to fit yourself to the laptop rather than finding one that's really perfect for you. Our premium ZenBook line solves this by offering a wide range of high-end models in different shapes and sizes and tailored to all kinds of users. Whether you're a new grad hoping to make a good impression, a creative professional who needs the versatility of a 2-in-1 for sketching on the go, or a video editor looking to harness the power of discrete graphics in a sleek package, this guide will help you find the right ZenBook for you.
If you spend most of your time working in Microsoft Office, surfing the web, and checking email, you might not need to invest in a Windows 10 ultrabook. Chromebooks are built for working on the web. With Google's suite of productivity apps, you can still write up proposals and create spreadsheets, surf the web, stream music and video, and even run Android applications. Check out our Chromebook guide, which features a full range of laptops, from convertible 2-in-1s built for travel to durable computers for kids and even a sleek metal offering with a little more power for serious multitaskers.
One big happy family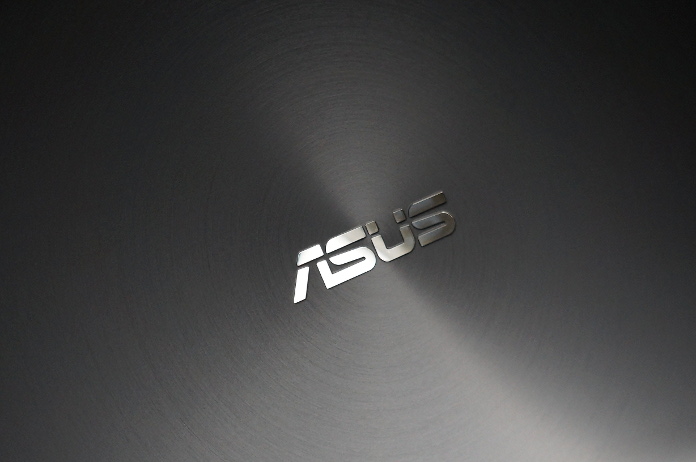 Each ZenBook is specially crafted to meet the needs of a particular type of user, but some Zen elements are consistent throughout the entire family. Premium design is synonymous with the ZenBook brand, and each laptop sports a luxurious metal construction with an eye-catching concentric circle design on the lid. Sleek aluminum not only allows us to maintain a consistent aesthetic throughout the family, but also contributes to each laptop's slim profile and lightweight build. The line ranges from 13″ to 15.6″ in size, but every laptop features a beautiful Full HD display. Wide 178° viewing angles keep colors vivid when watching movies side-by-side with a friend, collaborating on group projects, or presenting to a room full of people.
The processor, GPU, and RAM vary from model to model, but you'll still find some commonalities under the hood. Performance is a priority for the ZenBook line, and every model has a powerful quad-core CPU. Each laptop in this guide features at least 8GB of RAM, and all but one have been upgraded to the latest 8th generation of Intel Core processors. Otherwise known as Kaby Lake-R, these chips raise the bar for the processing power that can be squeezed into a thin and light laptop. It's the first time Intel has crammed four cores onto a 15W chip, and Hyper-Threading doubles the number of threads, so you can handle multitasking like a champion and chew through photo and video editing with ease.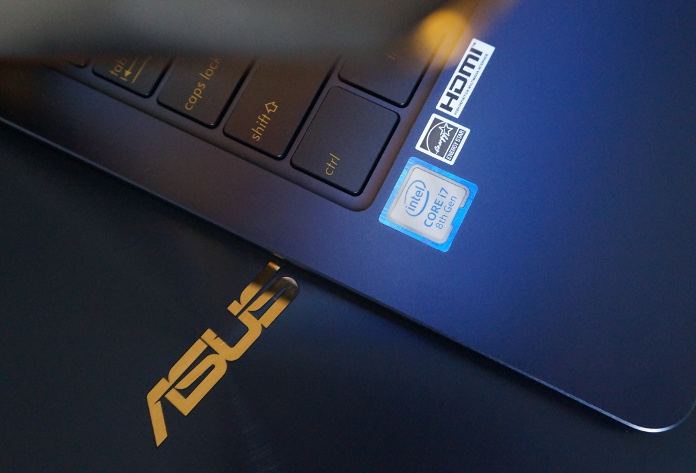 Not to be outdone, the ZenBook Pro UX550 takes ultrabook performance to another level with a more potent quad-core Core i7-7700HQ processor. This desktop-class chip has a higher 45W power envelope, and it's a perfect match for content creators who plan to use their computer as both a travel companion and a daily driver that's hooked up to the 4K monitor on their desk at home.
Time is precious when it comes to working on the road, and there's little point in a powerful processor and oodles of RAM if you're losing time waiting for your computer to transfer files or looking at your watch while it boots up. Every ZenBook is tuned for snappy performance with SSD storage that offers a fast boot and lightning load times for applications and files. Quick, secure login via fingerprint sensor saves you from entering your password each time, though every model, from the compact 13" ZenBook Flip S to the 15.6" ZenBook Pro, features a full-size backlit keyboard to ensure comfortable typing day or night.
Battery life is arguably the most important feature for any ultraportable, so all of the laptops in this guide are capable of lasting a full work day off the charger. The majority feature fast charging if you need to top up your battery in a hurry.
On paper, the family ties are unmistakable, but, like any clan, there are differences that make each ZenBook unique. So, let's meet them!
With its affordable $749 USD asking price, the ZenBook UX330UA offers easy entry to the high-end laptop segment without sacrificing style or tanking your budget. The premium unibody chassis measures just 12.3 mm thick and weighs 2.6 lbs. The 13.3" Full HD display features a matte coating to counter bright overhead fluorescent lights in classrooms, libraries, and conference centers.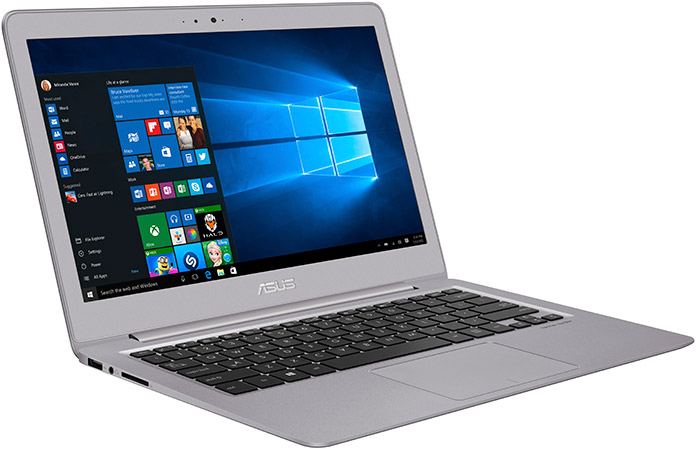 Purring away at the heart of this nimble notebook is an 8th gen Core i5-8250U CPU clocked at 1.6GHz with Turbo speeds up to 3.4GHz. It's complemented by 8GB of RAM to ensure smooth switching between apps while you stream music, send email, and work on presentations. But thanks to four cores with Hyper-Threading, the UX330 is also more than capable of taking on heavier workloads, like photo and video editing. A 256GB SSD is on hand for all of your files, and an SD card reader allows you to transfer pictures from your camera without finicky adapters or dongles.
The UX330 is blessed with plenty of ports, including two USB Type-A, a reversible USB Type-C port, and a micro HDMI port for extending your display to a TV, projector, or external monitor.
You can get a Quartz Gray version of the ZenBook UX330 in the US for $749 USD or in Canada for $999 CAD. Check out the full system specs and retail availability in the table below.
ZenBook UX330UA-AH55
CPU
Quad-core Intel Core i5-8250U 1.6GHz (6MB Cache, up to 3.4GHz)
GPU
Intel UHD Graphics 620
Display
13.3", 178° viewing angles
Resolution
Full HD 1920 x 1080
Memory
8GB DDR3
Storage
256GB SSD
Networking
802.11ac Wi-Fi with 2x2 antenna
Connectivity
2 x USB 3.0 Type-A
1 x USB 3.1 Gen1 Type-C
1 x Micro HDMI
1 x SD card reader
1 x Audio combo
Battery
57Wh
Weight
2.6 lbs
Dimensions
8.7" x 12.7" x 0.5"
OS
Windows 10 (64-bit)
Price
$749 USD / $999 CAD

Availability (USA)
Amazon
Availability (Canada)
Amazon
Doubling down on performance with the ZenBook UX430
Go one step up from the UX330, and you'll meet the ZenBook UX430. Though both models share a lot of the same design elements, when it comes to hardware, the ZenBook UX430 one ups its sibling in every regard and is ultimately geared towards users with more demanding workloads. Looks-wise, you'd have a hard time telling these fraternal twins apart. Both have similar metal chassis, but the UX430 squeezes a 14" display into a 13" body to offer more screen real-estate for spreadsheets and photo editing without adding any extra bulk.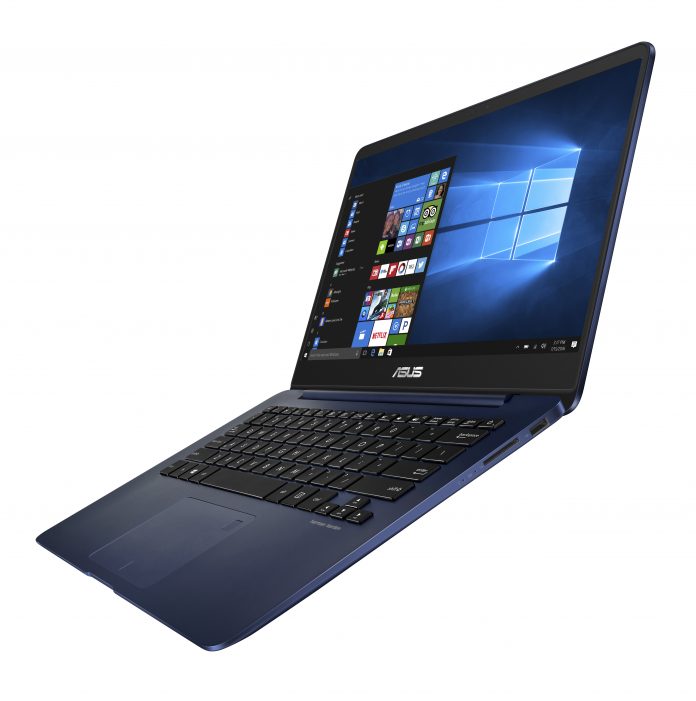 The UX430 doubles down on raw power with a 16GB of RAM and a more powerful Core i7-8850U processor. Clocked at 1.8GHz with Turbo speeds up to 4GHz, this quad-core chip features Intel UHD 620 graphics and is fast enough for heavy multitasking, like encoding video in the background while you work through emails. Content creators looking for a GPU-accelerated boost can opt for a version of the UX430 configured with NVIDIA GeForce MX150 graphics for a couple hundred dollars more at Costco.
A spacious 512GB SSD offers plenty of room for large media files, like high resolution photos that you'd otherwise have to stash on an external drive, and the UX430 matches the UX330's connectivity with an SD card reader, a reversible USB Type-C port, two USB Type-A ports, and a micro HDMI port for hooking up to a monitor.
You can pick up a Quartz Grey ZenBook UX430 for $1,099 USD and $1,399 CAD
ZenBook UX430UA-DH74
ZenBook UX430UN-IH74-GR
CPU
Intel Core i7-8550U
1.8GHz (8MB Cache, up to 4GHz)
GPU
Intel UHD Graphics 620


NVIDIA GeForce MX150
Display
14" Wide View, non-reflective matte finish
Resolution
FHD 1920 x 1080
Memory
Up to 16GB DDR4 2133MHz
Storage
Up to 512GB M.2 SATA3 SSD
Networking
802.11ac Wi-Fi with 2x2 antenna
Connectivity
1 x USB 3.1 Gen 1 Type-C, 1 x USB 3.1 Gen 1 Type-A, 1 x USB 2.0 Type-A, 1 x combo audio jack, 1 x SD card reader, 1 x Micro HDMI

Battery
50Wh
Dimensions
12.6" x 8.6" x 0.6"
Weight
2.8 lbs
OS
Windows 10 (64-bit)
Price
$1,099 USD / $1,399 CAD

$1,299 USD
Availability (USA)
ASUS Store
Newegg
Amazon
B&H
Micro Center
Staples
Fry's
Costco
Availability (Canada)
Best Buy
Canada Computers
Memory Express

Visions
Staples
The Source
Newegg
Costco
N/A
The ZenBook 3 Deluxe UX490 is the jewel in the ZenBook crown, and it's easy to see why. All blue and gold, this is one great looking computer. Obtaining such a pristine metal finish requires a 40-step manufacturing process for the chassis alone. The metal then undergoes a two-stage anodizing process that creates the contrasting blue with gleaming gold edges. The end result is a metallic sheen that glows when light shines across the lid and catches a subtle sparkle on the laptop's edge. At just shy of 13 mm thick and weighing less than 2.5 lbs, the Deluxe is portable enough that you might forget you're carrying it at all.
The UX490 is more than just a pretty face, though. It matches its looks with impressive power thanks to Kaby Lake-R, which brings performance that could previously only found in bulkier laptops. A Core i7-8550U is paired with 16GB of RAM to ensure snappy responsiveness when you've got lots of programs running and are hopping back and forth between tasks. The 512GB NVMe SSD pushes data transfer rates beyond what's possible with even the fastest SATA SSDs. When we tested the drive's performance during our hands on with the ZenBook 3 Deluxe, CrystalDiskMark returned sequential read/write speeds of 1839MB/s and 1526MB/s, respectively.
Although thermals are typically a pain point in super thin laptops, we redesigned the internals to ensure they stay cool under pressure. All of the components are neatly arranged inside, and the innovative cooling system uses a fan just 3 mm thick. Despite its diminutive dimensions, the fan provides quiet cooling even when you're pushing the processor to its limits with heavy jobs.
Lots of ultrabooks fall short in connectivity; it's not uncommon for those that boast extremely thin bodies to stick to just a single USB-C port. The UX490 features two USB Type-C ports with Thunderbolt 3 that are capable of data transfer speeds up to 40Gbps, and both support 4K video output for hooking up to external monitors. If you need more connectivity, the ASUS Mini Dock is included in the box; it adds another Type-C USB port as well as a traditional USB Type-A port and a full-size HDMI connection, saving you the trouble of seeking out third-party dongles.
The battery in the UX490 goes beyond the standard workday, with our own tests pushing it to 12 hours under mixed use. If you forget to top up before leaving the office or hopping on a plane, fast charging can get you to 60% in just 49 minutes.
Designed with professionals in mind, the Deluxe ships with Window 10 Pro, which adds security features and support for Remote Desktop Connection. You can buy a ZenBook 3 Deluxe UX490 in the US for $1,699 USD or in Canada at $2,299 CAD. Check out our Edge Up hands on with the ZenBook 3 Deluxe UX490 for more on this machine.
ZenBook 3 Deluxe UX490UA-XH74-BL
CPU
Intel Core i7-8550U, 1.8GHz (8MB cache, up to 4.0GHz)
GPU
Intel UHD Graphics 620
Display
14" LED backlit, wide view, Gorilla Glass 5
Resolution
Full HD 1920 x 1080
Memory
16GB 2133MHz LPDDR3
Storage
512GB PCIe Gen 3 x4 (NVMe) M.2 SSD

Networking
802.11ac Wi-Fi with 2x2 antenna
Connectivity
1 x USB 3.1 Gen 1 Type-C, 2 x USB 3.1 Gen 2 Type-C with Thunderbolt 3, 1 x audio combo jack, Bluetooth 4.1

Battery
46Wh
Dimensions
12.95" x 8.27" x 0.51"
Weight
2.42 lbs
OS
Windows 10 Professional
Accessories
Carrying sleeve,
ASUS Mini Dock (1 x USB Type-C, 1 x USB Type-A, 1 x HDMI)
MSRP
$1699 USD
$2299 CAD
Availability (USA)
ASUS Store
Newegg
Amazon
B&H
Adorama
Costco
Fry's
Micro Center
Availability (Canada)
Best Buy
Amazon
Canada Computers
Newegg
The Source
Walmart
Travel in style with the versatile 2-in-1 ZenBook Flip S UX370
The ZenBook Flip S UX370 has similar specs and a nearly identical design to the UX490, but you get the added benefit of a versatile convertible form factor. A low-profile, dual-gear hinge provides seamless switching from laptop to tablet mode without adding bulk to the ZenBook's edge. For business travelers, configurations like tent mode or stand mode allow you to get work done even in cramped conditions, like long flights or shared work spaces. With tablet mode and support for Windows Ink, you can jot down notes, mark up documents, and sketch out diagrams with ease.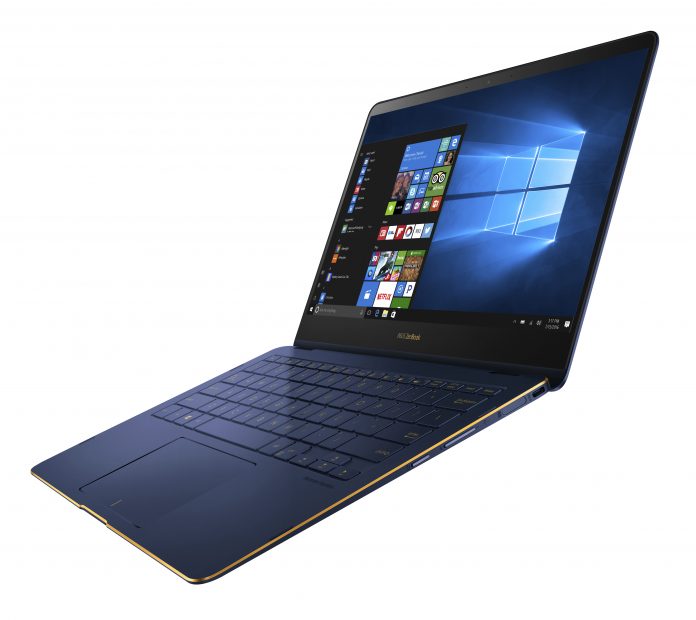 The included ASUS Pen boasts 1,024 levels of pressure sensitivity, and you don't need to worry about it scratching up the screen. The 13.3" display is covered by Gorilla Glass to protect the screen from scrapes and scratches while scrawling, and this also helps prevent dings and gouges if you're tossing UX370 into your bag in tablet mode.
As similar as the Flip's design is to that of the Deluxe, the convertible is even thinner at just 10.9 mm, making it more comfortable to hold in tablet mode and less cumbersome to carry overall. Despite the chassis' extreme slimness, the backlit keyboard has a generous 1 mm of key travel, which lets you type without any of the mushiness that comes with shallower ultrabook keyboards and tablet covers.
For connectivity, there are two USB Type-C ports, both of which support charging as well as 4K video output. The included ASUS Mini Dock adds USB Type-A, USB Type-C, and HDMI for additional flexibility. Quick charging allows you to juice up in a hurry, but like all our ZenBooks, the UX370 will probably last a full day if you start the morning with a full battery.
The ZenBook UX370 sells for $1,399 USD and $1,899 CAD Check out our hands on with the ZenBook Flip S for a detailed overview of this flexible laptop.
ZenBook Flip S UX370UA-XH74T-BL
CPU
Quad-core Intel Core i7-8550U 1.8GHz (8MB Cache, up to 4GHz)
GPU
Intel UHD Graphics 620
Display
13.3" IPS-type, LED-backlit
Resolution
Full HD 1920 x 1080
Memory
16GB LPDDR3 2133MHz
Storage
512GB PCIe/NVMe SSD
Networking
802.11ac Wi-Fi with 2x2 antenna
Connectivity
2 x USB Type-C, 1 x combo audio, fingerprint sensor, Bluetooth 4.1

Battery
39Wh
Weight
2.4 lbs
Dimensions
12.3" x 8.3" x 0.43"
OS
Windows 10 Pro
Price
$1399 USD
$1899 USD
Availability (USA)
ASUS Store
Microsoft Store
Best Buy



Availability (Canada)
Best Buy
Canada Computers
Microsoft Store
The ZenBook Pro UX550VE takes ultrabooks to a whole new level with an expansive display and enough muscle to do double duty for work and play. Wrapped in matte black with a gorgeous 15.6" display crammed inside a 14.6" chassis, the UX550 makes a statement on design alone, but the real achievement lies underneath the smooth metal exterior.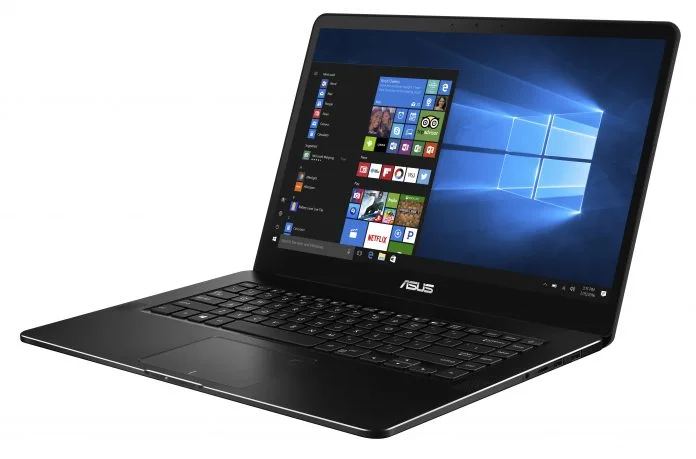 We fit a stunning amount of power inside the Pro's 18-mm-thick body. The Intel Core i7-7700HQ CPU might match Kaby Lake-R on core count, but its 45W TDP enables much better performance than the 15W procesors found in the other thin-and-light laptops in this guide. You'll find the same chip in our high-end ROG gaming laptops, and we've added 16GB of RAM for smooth multitasking and heavier content creation workloads.
The CPU is paired with an NVIDIA GeForce GTX 1050 Ti discrete GPU; together they deliver enough power to replace the PC sitting your home office. GPU acceleration is great for speeding up rendering and other demanding workloads, and it serves up a little fun on the gaming side, too. The GTX 1050 Ti is the same graphics chip powering our entry-level ROG Strix GL553 and GL753 laptops, and it packs enough of a punch to play Overwatch, Doom, GTA V, and Batman: Arkham City. Those games all ran smooth as silk when we tested them on the UX550. An efficient dual-fan cooling system with two heat pipes keeps the innards cool and quiet, so you're not distracted by noise or feeling the heat while you work or play.
Connectivity is plentiful and includes a micro SD slot, an HDMI port, two USB Type-A ports, and two USB Type-C with Thunderbolt 3 support. When you're not on the go, you can set the UX550 up on your desk with two 4K displays. If you're in and out of meetings with no time to plug in, or you manage to run through your battery before the day is done, fast charging can help you out of a bind and get you to 60% charged in just 49 minutes.
The ZenBook Pro UX550 is available for $1,699 USD and $2,299 CAD. We've got more about the performance of the ZenBook Pro in our hands-on article.
ZenBook Pro UX550VE-DB71T
CPU
Intel Core i7-7700HQ, 2.8 GHz (6MB Cache, up to 3.8 GHz)
GPU
Nvidia GTX 1050 Ti 4GB GDDR5
Display
15.6" IPS-type, LED-backlit
Resolution
FHD 1920 x 1080
Memory
16GB DDR4 2400MHz
Storage
512GB PCIe x 4 SSD
Networking
802.11 ac Wi-Fi with 2x2 antenna
Connectivity
Bluetooth 4.1, 2 x USB 3.0 Type A, 2 x USB 3.1 Type-C, with Thunderbolt 3 support, 1 x audio combo jack, 1 x HDMI 1.4, 1 x MircoSD slot, 1x DC jack

Battery
73Wh
Dimensions
14.4" x 9.9" x 0.74"
Weight
3.97 lbs
OS
Windows 10
Price
$1,699 USD
$2,229 CAD
Availability (USA)
ASUS
Amazon
Newegg
B&H
Adorama
Staples
Micro Center
Costco
Availability (Canada)
Canada Computers
Memory Express
Amazon
Walmart
Staples
Newegg