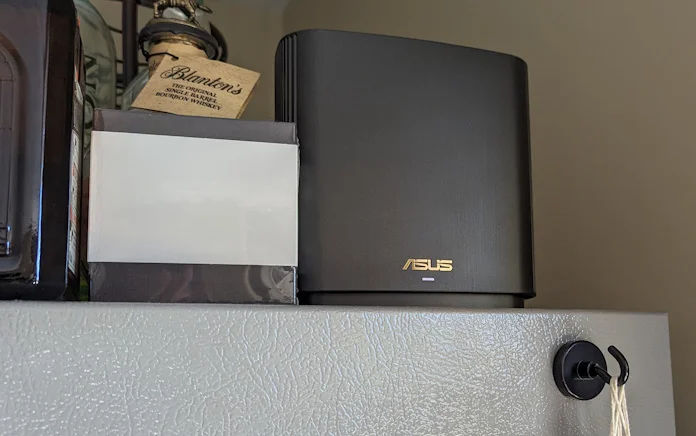 By Lane Prescott
As I was looking for a new house recently, one of my main priorities was finding a home with a great outdoor space for spending time with my dog. When I toured a house with a large fenced-in yard, a well-shaded space with plenty of shade, I thought that space would be perfect for working, browsing, and hanging out while the dog played in the yard. Unfortunately, my hopes were dampened shortly after I moved in. The brick façade that gives my home great curb appeal is pure kryptonite for a wireless signal. I clearly needed a more robust router than the one bundled with my internet service. I found what I needed in the ZenWiFi XT8.
The ZenWiFi XT8 is a mesh WiFi system consisting of a pair of ASUS AX6600 WiFi 6 routers. Since it has two units working in tandem, it offers excellent range. The 2-pack can handle homes up to 5500 square feet. For folks who need more bandwidth or a bit more range, there's an updated version with a broadly similar feature set: the ZenWiFi XT9. It offers a bump up to 7800 Mbps total bandwidth, a powerful UNII-4 (5.9 GHz) mesh backhaul, and up to 5700 square feet of coverage. If you're shopping for a mesh WiFi system this holiday season, don't be shy about picking up the XT9 over the XT8.
Network setup made easy
Too often, I've stuck with the router provided by my ISP because I worried that the setup process would be too time consuming. I shouldn't have been so worried. The setup process for the ZenWiFi XT8 was dead simple, and it allowed me to easily create my own custom network name and password, select which wireless bands I wanted to use, and pair the routers together into a mesh. Simply download the ASUS Router App, follow the instructions, and you'll be off to the races in under five minutes.
Because I'm looking for the best performance outdoors as possible, I set the second router with a clear view out of the kitchen window looking towards the backyard to eliminate as much interference from the brick walls of my home as I could. During the setup process, I also reserved one of the two 5GHz bands on the routers as a dedicated backhaul, allowing them to share information uninterrupted by other devices. This incredible feature is basically like running an invisible ethernet cable through my home, and gives the second router nearly identical top speed performance compared to the primary router that is connected directly to my modem. This solution is much, much less painless than running a hardwire through my attic (ask me how I know).
Attractive, unobtrusive design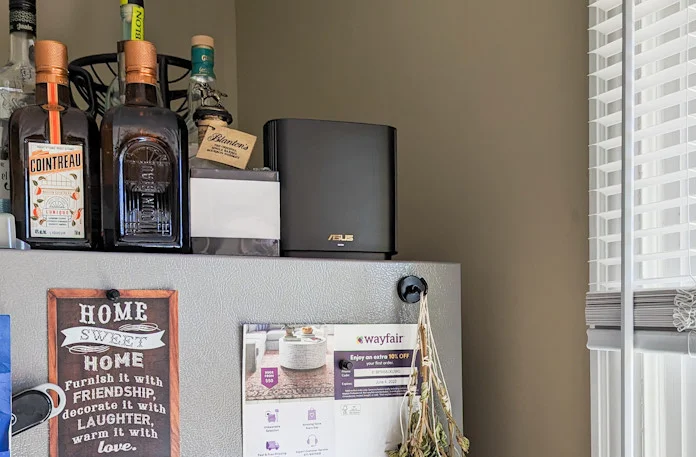 The understated and refined chassis design of the ZenWiFi XT8 instantly captured my attention, since I knew it would blend in well with my existing furniture and décor. I opted for the black variant, since my furnishings tend to skew either gray or black throughout the house, but for those with a lighter touch, the XT8 also comes in a white model.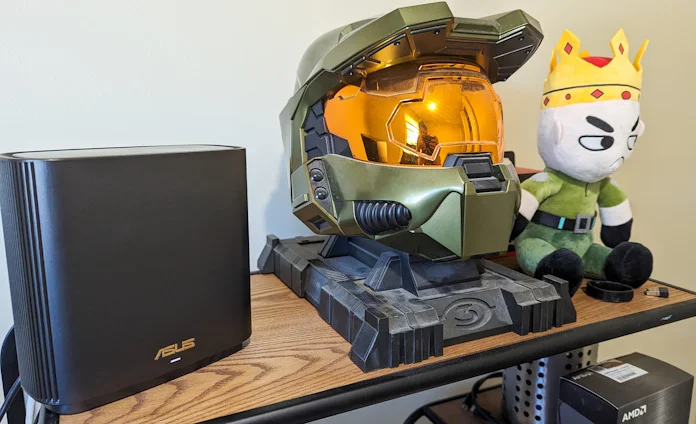 In order to operate at peak efficiency, a router needs to be out and in the room, not stuffed in a networking closet. This means that aesthetics matter, and both on my office shelf sitting proudly next to the Master Chief and the Loot Lord of Tarkov, or on top of the fridge, the XT8 looks elegant yet subtle.
Meshing everything together
My home is a fairly modest size, at just a hair over 1000 square feet. I went for the ZenWiFi XT8 over the bundled router from my previous apartment because of its ability to create a mesh network. A mesh network connects two or more routers with each other to create a seamless network for the end user. We aren't talking about needing to switch from Network 1 to Network 2 when the signal gets weak, but an invisible handoff from one router to the other, allowing for an incredibly convenient user experience for anyone logged into my home network.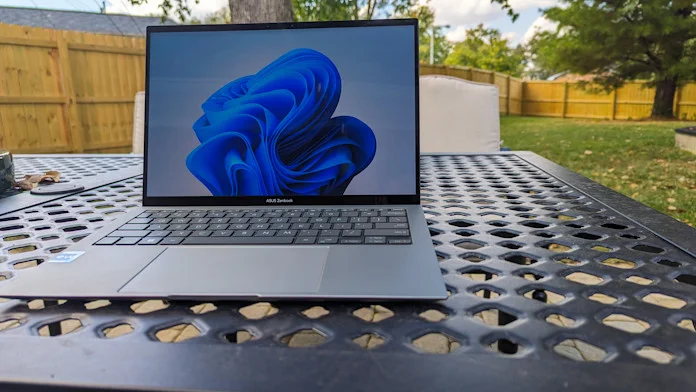 Two of the greatest features of this house are its large fenced-in yard and a paver patio that is shaded for most of the day. In the early mornings or late afternoons, it's an idyllic place to sit and spend time with my dog, where we can both reminisce about how much nicer we have it compared to our last studio apartment. But the router supplied by my ISP simply couldn't handle the brick façade of my home. What was a strong connection in the kitchen dropped off a cliff as soon as I stepped outside to the patio, making the prospect of working outside on a laptop for a few hours impossible.
When using a pair of ZenWiFi XT8 routers, I'm blown away by the performance difference. Standing in the same locations outside, I was seeing increases in transfer speed from 20MB per second to 500MB per second. That's the difference between never being able to take a video call from the patio to a rock-solid connection. I was sitting in my neighbor's backyard a few weekends ago and pulled my phone out to double check something he said with Google. I was blown away to see that I still was connected to my own WiFi network from his back porch, with enough signal to load a YouTube video without any visible lag. The ZenWifi XT8 simply performs beyond my wildest dreams.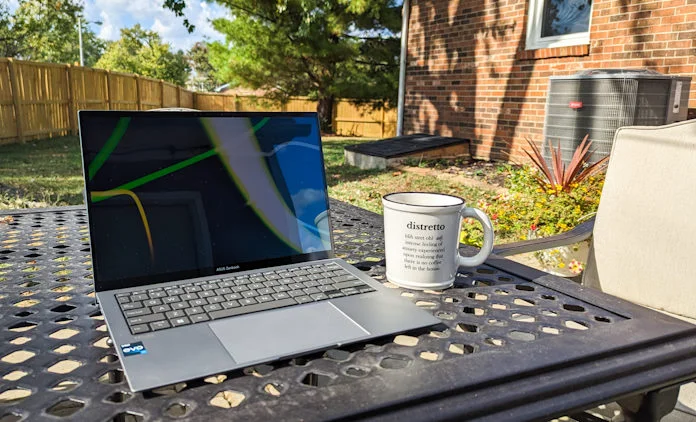 A mesh network has another key advantage as well: upgradeability. While two units is more than enough for my current setup, if I ever add on to the house, or move to a larger one, I can simply add another node to adjust to the changing conditions when the time comes. For those currently in an apartment, one unit would likely offer more than enough coverage, but still leave you flexibility to upgrade seamlessly as needed.
WiFi 6 is the sweet spot
In recent years, the Wi-Fi Alliance has simplified their name scheme, leaving behind suffixes like .ac and .ax for WiFi 5, WiFi 6, and right over the horizon, WiFi 7. Thankfully, the Wi-Fi standard is completely backwards compatible, meaning that my legacy devices on an older network standard have no issue communicating with the WiFi 6 capable ZenWiFi XT8. One bonus of the new WiFi 6 standard is that my newer devices like my cell phone and Zenbook can communicate much better when all connected at once, thanks to Wi-Fi 6 being able to handle a large number of connected devices with less signal interference. A solid connection, regardless of where I am or what device I'm using, is like a dream come true.
Simply wonderful
I've been a gamer for as long as I can remember, with long nights spent playing Halo and Banjo Kazooie. But once I discovered the endless potential of online multiplayer with Xbox Live, I never looked back, and always begged my dad to make sure my setup was as fast as humanly possible. So when I bought my own house, a rock-solid connection was one of my top priorities.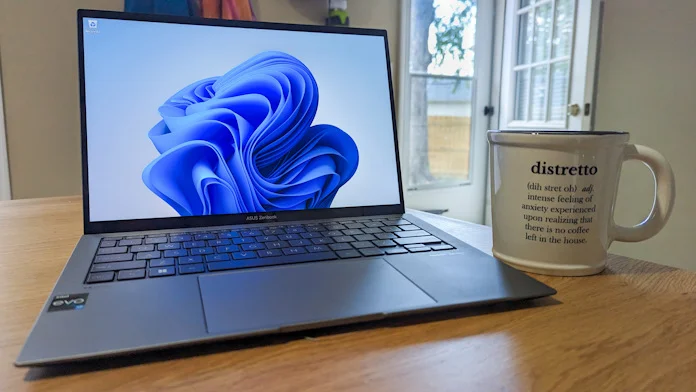 The ZenWiFi XT8 is everything I was hoping for and more. From the absolutely painless setup process, the refined black chassis that blends in perfectly with my home furniture, to the lightning-fast and rock-solid performance, I simply can't imagine using any other mesh system in my home. If you have a home like mine with a slightly challenging wireless layout, consider a 2 or 3-pack ZenWiFi XT8 mesh system to keep you connected no matter where you are.