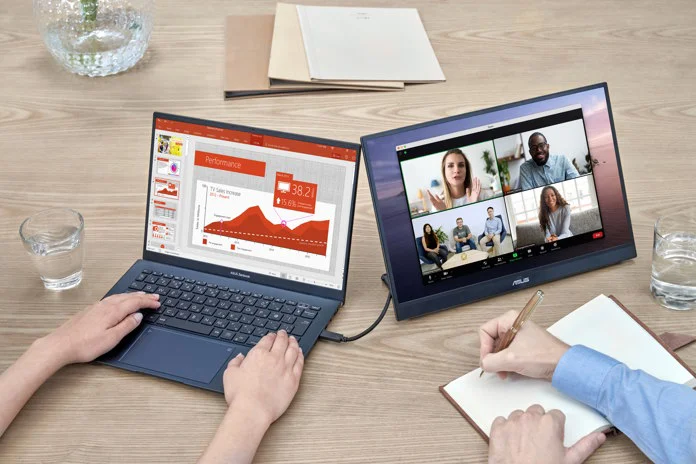 Shoppers haven't always given much thought to display refresh rates when buying a new monitor, laptop, or smartphone. While gamers have long sought out displays that could refresh their image hundreds of times per second, others have been content with the standard 60Hz refresh rate that they're used to. But that's all changing. High refresh rate displays aren't just for gaming. Anytime there's motion, displays with a 120Hz refresh rate or higher show their worth. Fast-paced video looks smoother. Long web pages and social media feeds scroll with less jerkiness and stutter.
It's quite possible that your living room television, smartphone, or laptop already features a fast refresh rate. We think your portable display should, too. That's why we're expanding our ZenScreen portfolio with new high refresh rate portable monitor options: the ZenScreen MB16QHG and the ZenScreen MB17AHG. These displays give you the convenience and multitasking power of a second display in ultra-slim designs that travel anywhere — and they delight your eyes with the luxury of high refresh rates, too.
ZenScreen portable displays fit any context
ZenScreen portable displays offer endless versatility. These monitors are slim and light enough to slip inside a satchel alongside your laptop, yet they give you all the options of a full-sized display.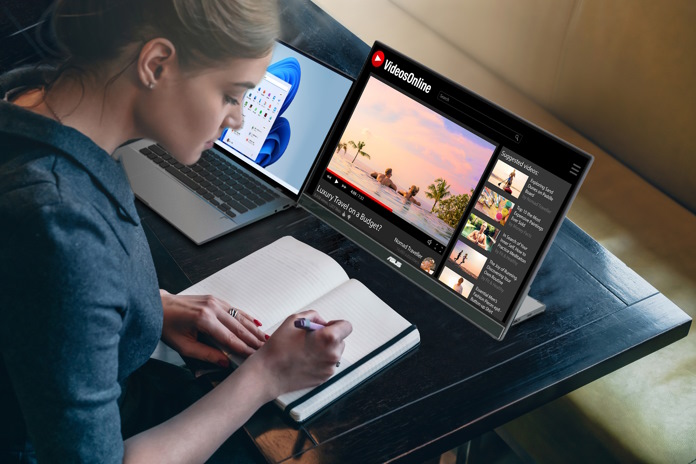 For anyone employed in a remote or hybrid work arrangement, a portable monitor makes it easy to stay productive and connected no matter where you go. With one of these displays, you can bask in the afternoon sunshine during your afternoon teleconferences, all while keeping your meeting app on one screen and your notes on the other. You can work from the local coffee shop for a change of scenery without giving up the multitasking potential of a second display. And when you're meeting with clients and need to share a document or a presentation, your ZenScreen makes it easy and comfortable.
The versatile input options of our ZenScreen portable monitors give you additional options that you might not expect. The ZenScreen MB16QHG and MB17AHG both include HDMI ports, so you can connect them to just about any device that can output a display signal: gaming consoles, cameras, desktop PCs, and more. Their USB Type-C ports let you get even more creative. These ports allow you to connect the displays to many smartphones and laptops, giving you extra screen space no matter where it's needed.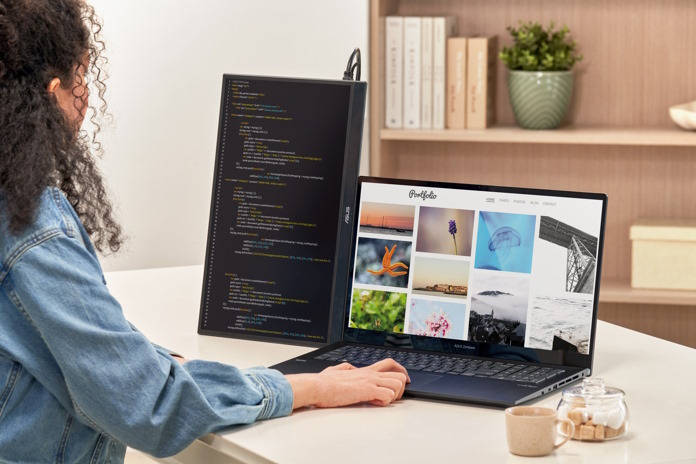 ZenScreen portable displays are also standout options for any context where space is limited. Your studio apartment or dorm room might not have enough room for a full-size desktop monitor, but it almost certainly can fit a space-saving ZenScreen monitor. And even if your home office has plenty of room for a full PC workstation, it's quite likely that other corners of your house don't. A ZenScreen portable display ensures that you're not tied down to your office desk. Want to watch a show, work on a project, or play a game from the comfort of your living room couch, breakfast nook, or backyard patio? Your ZenScreen portable monitor will travel there easily.
The ZenScreen MB16QHG is loaded with luxuries
Portable monitors offer undeniable advantages for a wide range of folks, but not all of them elevate your experience with a fast refresh rate. The ASUS ZenScreen MB16QHG gives you the premium tech that you demand in a monitor, all in an ultra-slim design that travels anywhere.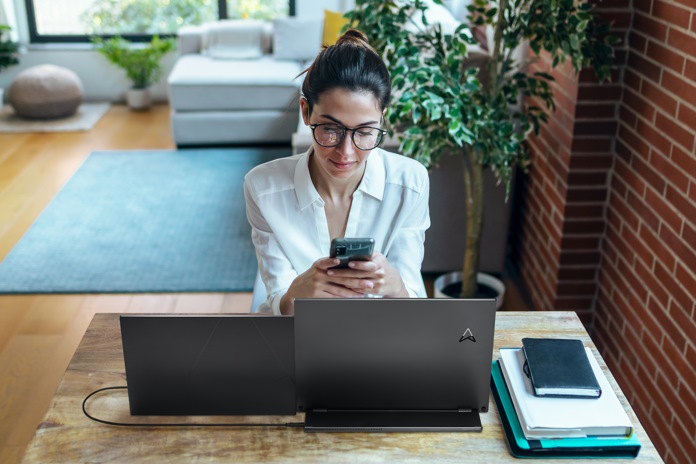 With its speedy 120Hz refresh rate, the MB16QHG refreshes its content twice as fast as a model with a standard 60Hz refresh rate. This gives you more fluid animation in video, games, and even everyday computing. Since so many of today's smartphones also offer a 120Hz refresh rate, this display is a great fit for augmenting what you can do with your phone.
For exceptional clarity for everything you do with your PC, this 16-inch display offers a 2560×1600 resolution. That will give you astonishing detail when you're editing photos, and crisp, easily readable text when you're browsing the web or catching up on emails. Its 16:10 aspect ratio opens extra vertical space for increased productivity and more breathing room for the content you care about the most.
The ZenScreen MB16QHG draws you into your entertainment like never before with lifelike visuals. It covers 100% of the cinema-grade DCI-P3 color gamut, so it offers vibrant, saturated colors that leap off the screen. It even offers a taste of high dynamic range (HDR) tech through contrast and color performance that targets the standards of the VESA DisplayHDR 400 certification.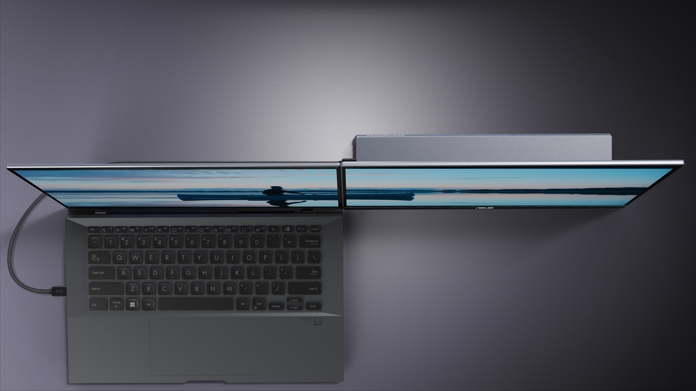 The ZenScreen MB16QHG's 16-inch display makes it an ideal partner for your laptop, as well. With our new kickstand design that supports a wide range of angles, you'll be able to align the two displays together easily. Whether you need it flat on the table for collaboration or perfectly upright to match your laptop's display, this design gives you what you need. Since the display is surrounded with luxuriously thin bezels, you'll have a nearly seamless workflow between the two screens. An embedded tripod socket opens even more possibilities for perfectly positioning the ZenScreen MB16QHG for the task at hand.
A rich selection of connectivity rounds out the ZenScreen MB16QHG's feature set. Two USB Type-C ports, both wired for display signals and charging the display, give you versatile options. We placed these ports on opposite sides of the display so that the cord won't come between your laptop's display and the ZenScreen MB16QHG, no matter which side of the laptop you prefer to set it up. An HDMI port provides broad connectivity with a broad range of devices, and a 3.5mm audio combo jack gives you a convenient port to plug in your headset.
Great entertainment awaits with the ZenScreen MB17AHG
If you're primarily looking for immersive entertainment that travels anywhere, the ASUS ZenScreen MB17AHG has everything you need. This thin and light monitor uses the same kickstand, connectivity, and frameless design as the MB16QHG, but its 17.3-inch FHD panel offers the 16:9 aspect ratio that's standard for media of all kinds. You'll enjoy your favorite shows and streams in full detail without letter boxing. The MB17AHG offers even smoother animation with its 144Hz refresh rate, perfect for fast-paced action of all kinds. FreeSync Premium tech provides smooth, tear-free visuals in media and day-to-day productivity.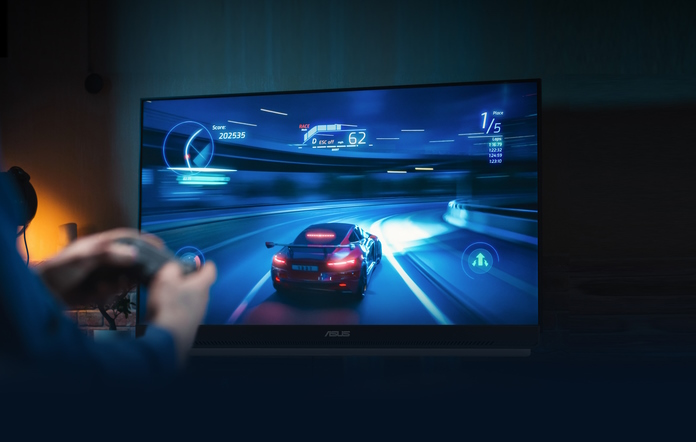 When you need to adjust any of your monitor settings, the DisplayWidget Center app makes it easy. After a quick download, you'll be able to tweak any of the settings you typically find in a monitor's on-screen display (OSD). Additionally, you'll have full control over the ASUS-exclusive features of the MB17AHG and MB16QHG — all from the comfort and convenience of your mouse and keyboard.
Smooth animation and effortless portability in one package
We don't think that you should have to choose between high refresh rates and the convenience of a portable monitor. With your smartphone, laptop, or television, you've likely already seen how a high refresh rate display is smoother, more responsive, and easier on your eyes.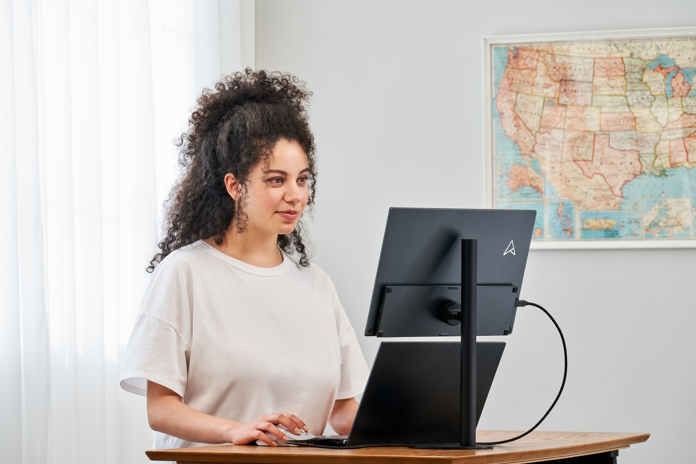 Now, you can enjoy those same premium visuals with your portable monitor, too. The 120Hz ZenScreen MB16QHG and 144Hz ZenScreen MB17AHG ensure that you can enjoy the high-end display specs that you prefer in any context. Purchase one today to enjoy their perfect balance of effortless convenience and luxurious visuals.