As a part-time university professor, I spend six hours per week lecturing roughly forty students about technical writing. When I brought in a new laptop one day — the Zenbook S 13 OLED — it attracted more attention than my carefully prepared lecture did. I plugged the classroom projector into the Zenbook's full-sized HDMI port and cued up the day's PowerPoint, but when I got started, half the students in the front row spent more time looking at the laptop's Basalt Gray shell than my presentation.
After class, a computer science major approached the lectern with several questions about the Zenbook's screen. Was it an OLED panel? It offered so much more contrast, brightness, and clarity than the one in his laptop. And was the aspect ratio really 16:10? Up close, it seemed larger than what he thought could fit into such a compact computer.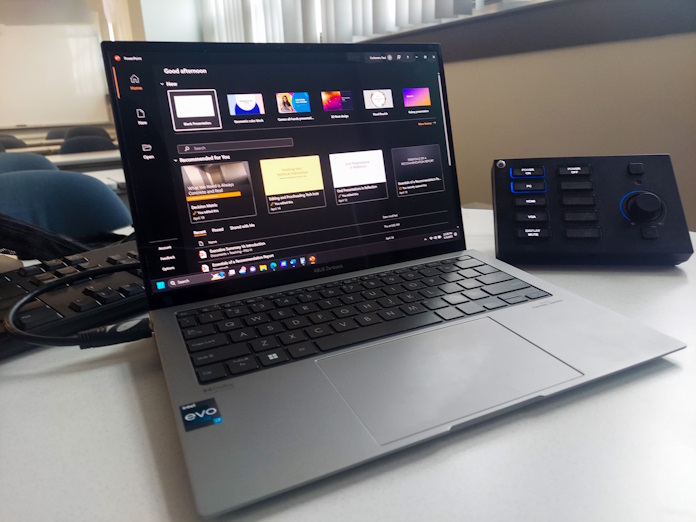 As I slid the laptop effortlessly into a messenger bag that was already stuffed with files, notepads, and books, the questions kept coming. He followed me all the way to my office, which students normally do only when they're struggling to write a paper. I felt funny telling a computer science major about computers rather than papers, but he walked away satisfied.
However, once I entered the office that we part-time professors share, the questions kept coming. All my coworkers use laptops instead of the outdated desktops offered by the university, so we spend a lot of time eyeballing one another's computers. Our line of work leads us to a specific set of concerns about laptops: we require great battery life, a comfortable display, and excellent connectivity. The Zenbook S 13 OLED promised all these things, and what's more, it assured me that I could have the tech I needed for work while still meeting my commitments to sustainability. After a week with this device, I can say that the Zenbook delivers on all fronts.
I test the Zenbook's limits
The first question, as we neared final exams, was whether the Zenbook S 13 OLED's battery could endure the busiest weeks of the semester. One day with the device was enough to prove that it could. I used the laptop to plan out my schedule while drinking the day's first cup of coffee, and then I delivered an hour-long presentation. Next came several hours spent either writing emails and lectures or playing music and videos with screen brightness and speaker volume at maximum. The workday finished with another hour-long PowerPoint. After putting the Zenbook S 13 OLED through that gauntlet, I was surprised that when I got home and settled into my evening, the battery still held a 56% charge and promised another seven hours of life. Perfect for an evening's relaxation with movies and TV.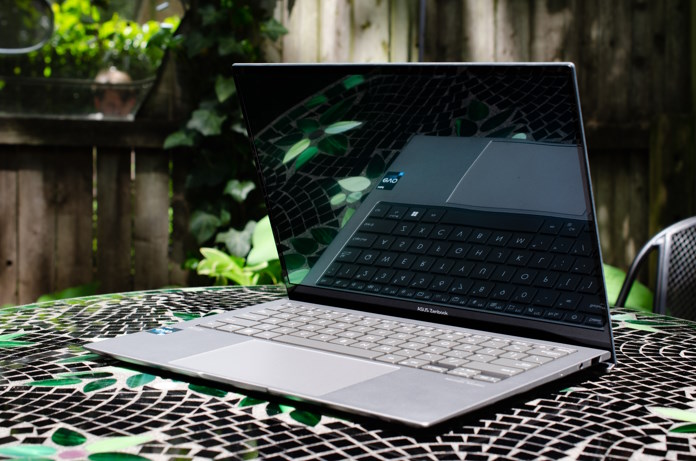 I intended to monitor the battery's endurance throughout the evening. I must have lost track sometime after the first scotch and soda I poured while rewatching The Bourne Supremacy on Netflix and typing these notes and juggling ten other windows of background work. This was, by far, the most use I've gotten from a laptop in a single day, but the Zenbook was ready for more.
I noticed something else that first day: At about two pounds, the Zenbook is much lighter than my old machine, which I call the Steel Box. Unlike the Steel Box, the Zenbook was easy to carry around the house while pinched between two fingers and a thumb, freeing up my other hand for beverages or anything else. Jason Bourne and I went from home office to living room to kitchen without missing a beat. With the Zenbook S 13 OLED, I don't have to choose between battery life and effortless portability — I can have both.
I try to wow my coworkers
I tend to stick with computers well past their intended lifespan. This practice is not only economical but also kinder to the environment, since I hate to imagine circuit boards clogging up landfills. The Zenbook S 13 OLED promised solutions to my concerns in two ways. First, the Zenbook will be usable for a long time to come thanks to its highly durable design. Sometimes I worry that sustainable products, like paper straws that don't last quite as long as the beverage I'm drinking, might not offer the quality I'm looking for. But the Zenbook S 13 OLED's eco-friendly construction, including plasma ceramic aluminum, makes for increased wear resistance, corrosion protection, and thermal management. Simply put, this is a tougher computer than my Steel Box, and it promises a longer lifespan.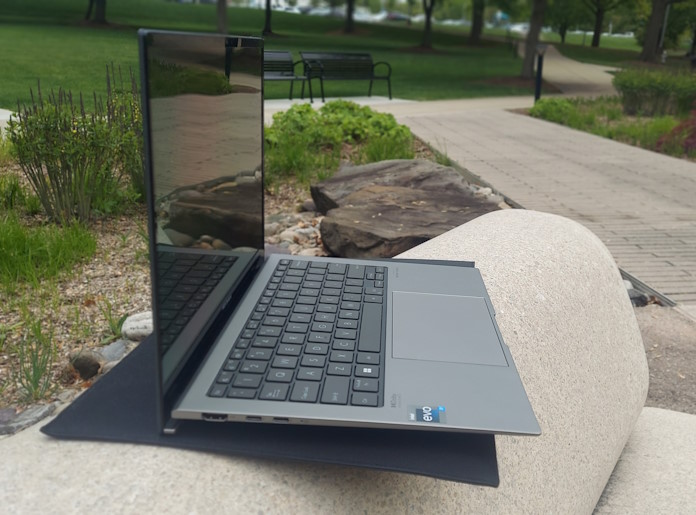 Second, the Zenbook S 13 OLED came to me with a light environmental footprint. Its easy-to-understand ecolabels are issued by organizations I trust: The EPEAT Gold and Energy Star certifications helped me feel good about its manufacturing, materials, and energy use, and I appreciate that it was shipped in packaging with an FSC Mix rating. The other laptop options I considered didn't give me anywhere near this much information about their environmental impact. Also, the Zenbook boasts post-industrial recycled (PIR), post-consumer recycled (PCR), and ocean-bound materials in its construction wherever possible.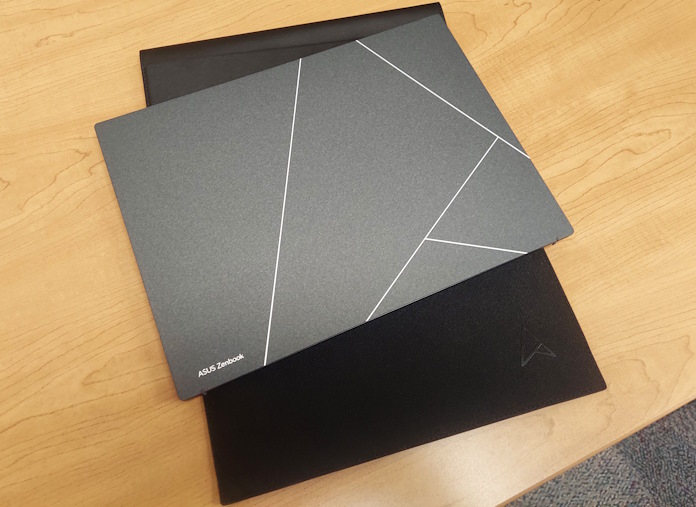 Out of all the Zenbook S 13 OLED's environmental benefits, the one that garnered the most interest from my coworkers was its finish. Their attention went straight to its Basalt Gray color and the fascinating texture produced by the ceramitization process. The texture reminded them of old granite quarried by hand, natural yet comfortably human.
Compact machine, outsized sound
The ASUS Zenbook S 13 OLED's Dolby Atmos speakers also made a stir. My coworkers assumed that such a slim notebook couldn't possibly produce high-quality sound, but they quickly changed their minds after I cued up one of their recommendations. The sound quality was so good that the coworker who recommended the song got self-conscious, worrying everyone would hear the ballad's throbbing chords and rich bass and conclude she was an emo girl.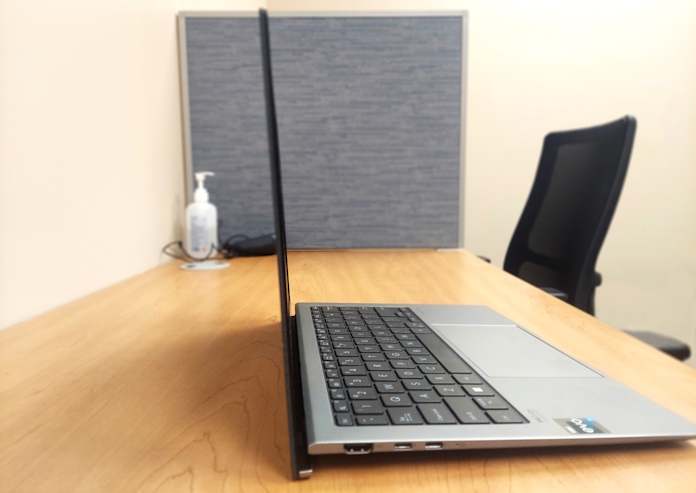 The perfectly tuned speakers had me feeling pretty good about how my new laptop compared to my coworkers', until one professor played a few tunes on his rig. The sound quality from his Macbook Pro proved to be comparable, but then, his laptop cost, by his own admission, some $2600, and it was also noticeably heavier. I'd like to see him carry that computer around his house using only three fingers, watching The Bourne Supremacy while he sneaks into the kitchen to enjoy some pre-dinner cheese and crackers. He'd probably drop his scotch and soda.
I marvel at the OLED screen and other luxuries
Over the years as a professor and a technical writer, I've used a large number of laptops and desktop monitors. I thought the screen on the Steel Box, my old laptop, offered everything that I needed. The Zenbook S 13 OLED proved me wrong.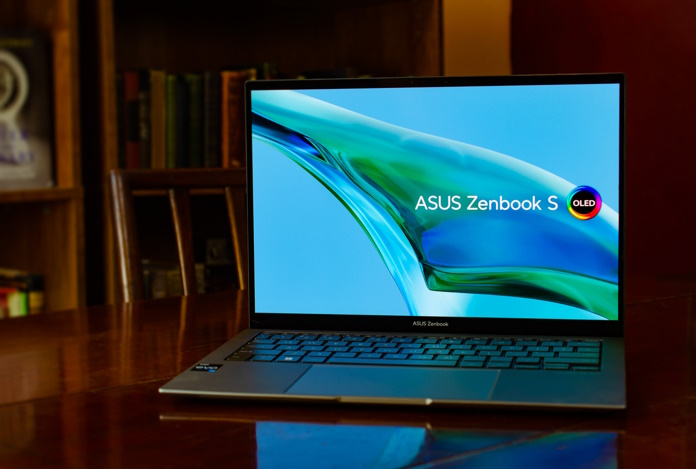 For starters, the Zenbook S 13 OLED is more compact than my old laptop but affords an equally large screen. Its display is also brighter, has better resolution, and provides that generous 16:10 aspect ratio. With its extra-tall vertical dimension, I can see more of the project that I'm working on or the website that I'm reading without scrolling. And while rewatching The Bourne Supremacy, I kept getting distracted by questions like, has Jason Bourne always looked this rugged, or run through cities this vibrantly colored? Has the foreground of low-lit scenes always looked so vivid against such deep shadows? And why is Bourne not blurry?
Things got even better when it came time to read dozens of student papers, write an article, or comb through old philosophy books for research. The Zenbook S 13 OLED provided the easiest, most comfortable reading experience I've ever had from a laptop. Eyestrain came later in the day or never. The text contrasted brilliantly against the background in both Dark and Light Modes.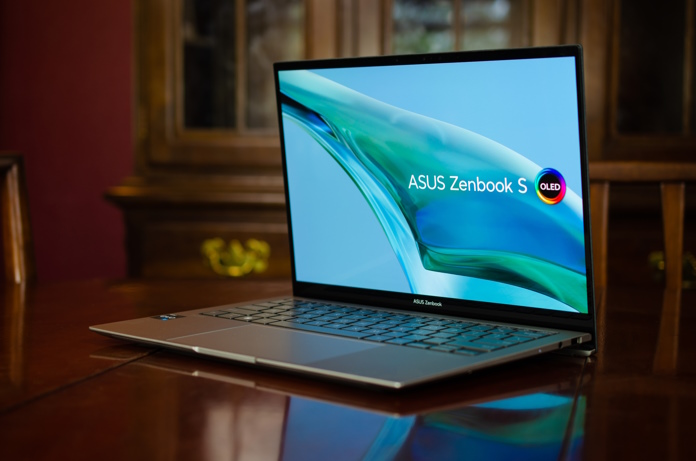 I initially worried that I would miss the touchscreen from the Steel Box. I shouldn't have worried. The Zenbook S 13 OLED's amply sized track pad invited me to make fuller use of its navigational functions than I ever did on the Steel Box. The Zenbook's track pad was so large, in fact, that I found that I really didn't miss the touchscreen.
I get productive in the backyard
In my townhouse, there is a notorious Wi-Fi dead spot: the tiny square of yard at the back. Whether the dead spot results from an overcrowding of plants or the tall privacy fence or the house's thick brick walls, I don't know. All I can say is that every laptop or smartphone drops the signal that comes from the router at the front of my house.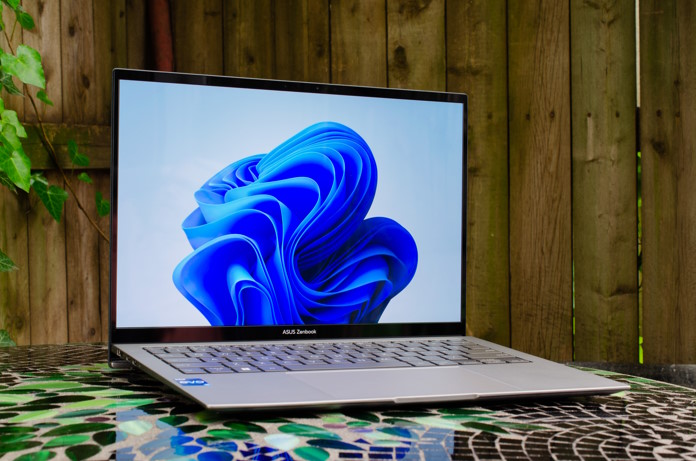 But the Zenbook S 13 OLED had me surfing the Web on my back deck for hours at a time, without one dropped signal. I scanned celebrity gossip and news feeds while enjoying the cool breeze and monitoring the ongoing war between city squirrels. Suddenly able to work in my urban wilderness, I really started to appreciate the Zenbook's keyboard. The keys have a crisp snap compared to the mealier, mushier feel of the Steel Box.
Finally, whether I was in my highly populated office or in my newly functional backyard, the infrared camera kept the Zenbook secure while helping maintain its battery life. This camera proved to be a giant advancement over the Steel Box's fingerprint scanner, which works maybe half the time. The Zenbook darkened its screen whenever I stopped working or walked away, then required only a quick tap and a glance to recognize me and resume functionality. Not even Jason Bourne could have broken into this computer.
Make your life easier
The Zenbook S 13 OLED proved more than a match for the most hectic time of the academic year. Its battery life exceeded a full day of heavy use, its screen provided sharp text in inky black tones, and its TUV Rheinland-certified low-blue-light and flicker-free technologies cushioned my overtaxed eyes. Meanwhile, its razor-thin profile and light weight let me take it everywhere, whether in one hand or tucked into a stuffed messenger bag.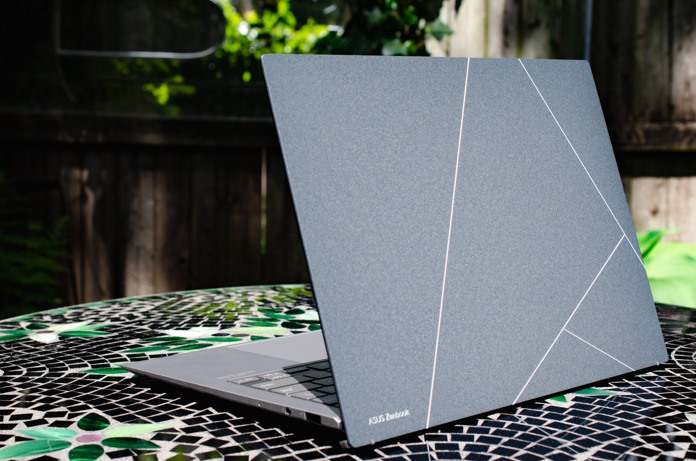 I am surprised by how easily the Zenbook S 13 OLED plugged into my life — as easily as the classroom projector's cable plugged into the Zenbook. For the first time, I can imagine an entire semester without logging onto the university's computers at all. It is a life with more control over my presentations, less friction between me and my applications, and the fastest, most reliable Wi-Fi connections I've experienced. What's more, with the Zenbook's eco-friendly profile, it's a life that pulls less ore from the earth and puts less plastic into the oceans. And with the Dolby Atmos speakers, it's a life filled with music.
If you're a business or education professional, it's a life well within your reach. Pick up the ASUS Zenbook S 13 OLED from any of the retailers below.