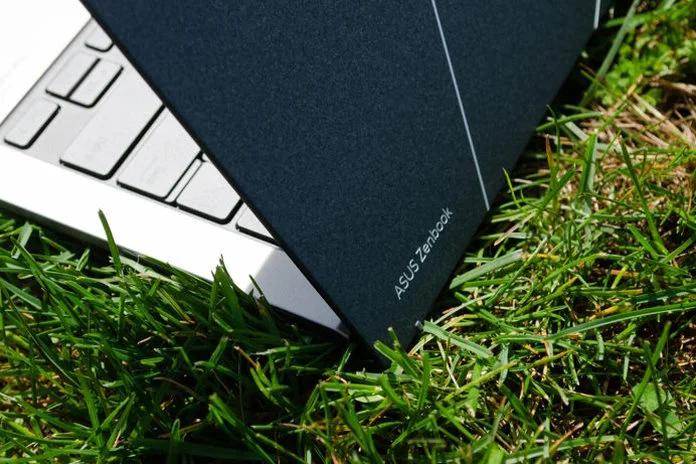 Conscious of the environmental impact of our everyday choices, many of us seek out opportunities to reduce our footprint. We're avoiding single-use plastics, driving electric or hybrid vehicles, installing solar panels on our property, reducing our water consumption, and so much more. As you're considering your options for your next laptop, you're likely thinking about the sustainability of this choice, too. To make this decision easy, we developed the all-new Zenbook S 13 OLED. This laptop showcases our latest efforts in materials sourcing, manufacturing, and packaging — and it also offers a stunning display, effortless performance, easy portability, and all the conveniences of our modern Zenbook line.
Built for sustainability
The Zenbook S 13 OLED's story of sustainability begins with its materials. Recycled materials abound in its chassis. We include a high percentage of post-industrial-recycled (PIR) aluminum and magnesium-aluminum alloy in its metal parts, and wherever plastic is used, we include as much PIR and post-consumer-recycled (PCR) ocean-bound plastic as possible without compromising the laptop's strength and durability. The Zenbook S 13 OLED shows that toughness and recycled materials can coexist: this laptop meets the requirements of a wide range of the MIL-STD 810H military-grade durability tests.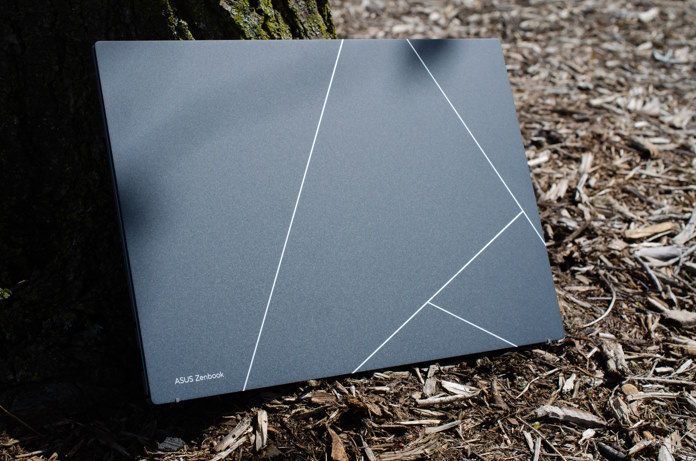 The Zenbook S 13 OLED also benefits from our latest finishing techniques. Our new eco-friendly plasma ceramization finishing process reduces the laptop's total environmental impact. This lightweight Basalt Gray finish is scratch-resistant and offers a pleasing, grounded texture.
You'll even see our efforts toward creating a sustainable future reflected in the Zenbook S 13 OLED's packaging. An FSC MIX certification demonstrates that a significant portion of the forest-based materials were sourced from responsibly managed forests.
All told, our work to make the Zenbook S 13 OLED a supremely sustainable laptop solution has resulted in it earning a coveted EPEAT Gold certification. This is the leading global Type-1 ecolabel covering products and services from the technology sector, and it shows that this product goes above and beyond by meeting a wide range of criteria for materials sourcing, recyclability, environmental stewardship, and more.
A luxurious OLED display
For most folks, an OLED panel is a better fit than an LCD panel. Whether you're connecting with friends on social media, skimming through your email, watching the latest show, or just browsing your favorite sites, a premium OLED panel will elevate your experience.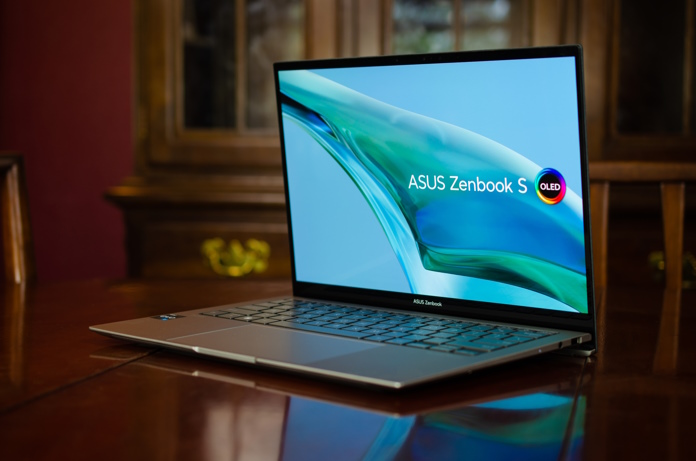 The Zenbook S 13 OLED lets you get more done with its high-resolution 2880×1800 panel. Working in a room with plenty of natural light will be no problem thanks to the OLED panel's infinite contrast and the screen's 550-nits peak brightness. The display's 16:10 aspect ratio gives you an increased vertical dimension to let you see more of your current project or materials at a glance. TÜV Rheinland-certified low-blue-light and flicker-free technologies make it comfortable to stay productive with the Zenbook S 13 OLED throughout your workday.
But the Zenbook S 13 OLED isn't all business — it's ready for immersive entertainment, too. It offers 100% of the cinema-grade DCI-P3 color gamut and Pantone Validated colors so that your media is vivid, colorful, and accurate to the vision of the creator. Dolby Vision support gives you great HDR experiences. Slim NanoEdge display bezels offer a stunning frame for the screen, offering an 85% screen-to-body ratio. To complement your entertainment experience with great audio, the Zenbook S 13 OLED offers a Dolby Atmost speaker system tuned by the experts at Harman Kardon.
Road-ready performance
We'll forgive you for assuming that making a laptop sustainable would require compromises in its design or performance. The truth is that the Zenbook S 13 OLED gives you the best of both worlds: effortless everyday performance and a reduced environmental impact, all at the same time.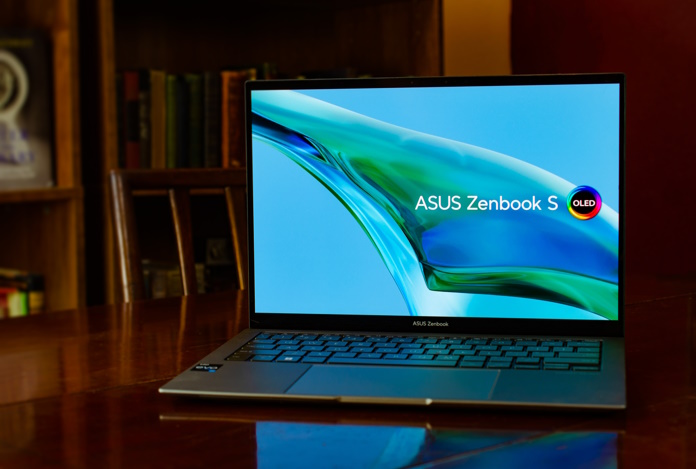 The Zenbook S 13 OLED makes sure that you're never tied down with its ultracompact, supremely portable design. At a mere 1kg, it's astonishingly light — you might not even notice its weight in your over-the-shoulder bag or satchel. But considering that it's a 13-inch, 10.9mm-thin laptop, you might not even need a dedicated bag for it.
Inside those slim dimensions, the Zenbook S 13 OLED offers a fully modern selection of components that take the wait and delay out of your everyday computing. Processing power comes courtesy of up to a 13th Gen Intel Core i7 CPU, and we pair this efficient and effective chip with plenty of RAM and storage space so that you're never limited when you need to multitask.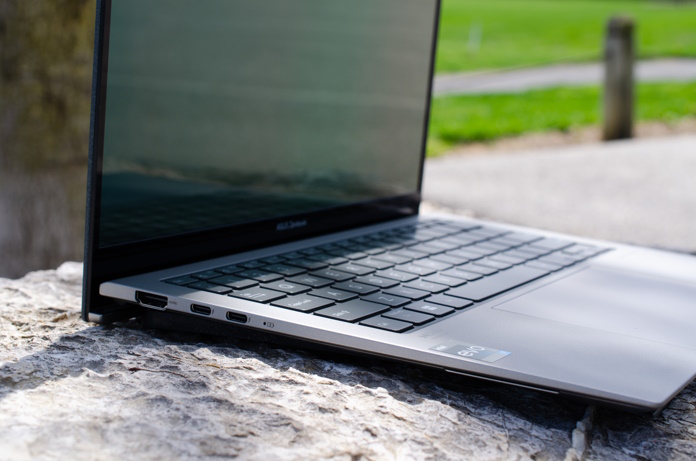 What's more, the Zenbook S 13 OLED is an Intel Evo laptop designed and verified to give you a great experience for everything you do with your PC. Its 63Whr battery gives it substantial staying power away from its charging cable. When it's time to top off the battery, its pair of Thunderbolt 4 ports with USB Easy Charge will get the job done quickly. With Intel Gigabit WiFi 6E, you'll have low-interference, high-bandwidth connections to your WiFi 6E router. And you'll look and sound your best in conference calls and video chats thanks to AI Noise Cancelation, background blur, and lighting correction.
Designed for the best user experience
Talk to folks about their favorite parts of their new laptop, and they'll often talk about the little things: the conveniences, the finishing touches that smooth the way every time they open their notebook. The Zenbook S 13 OLED elevates every moment with your PC with a comprehensive set of thoughtful design features.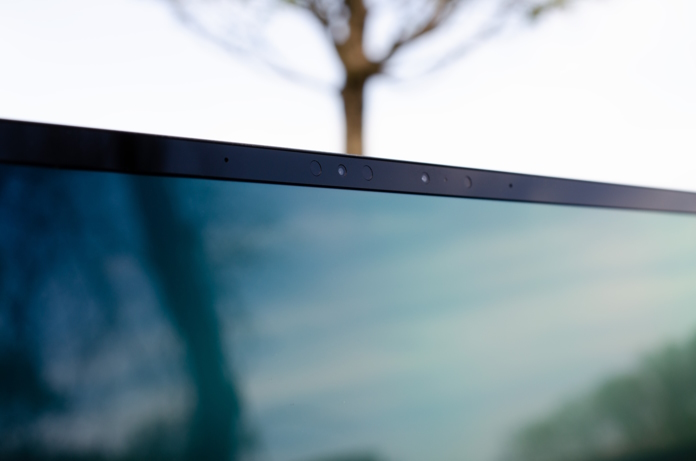 It starts with an FHD IR webcam that lets you log in with nothing more than a glance. It can enhance image quality so that you look your best when you're chatting online, and it also includes an RGB light sensor that will automatically adjust the display's brightness and color temperature to best fit the moment. That'll give you the best battery life, and it ensures you'll always have a clear, accurate picture.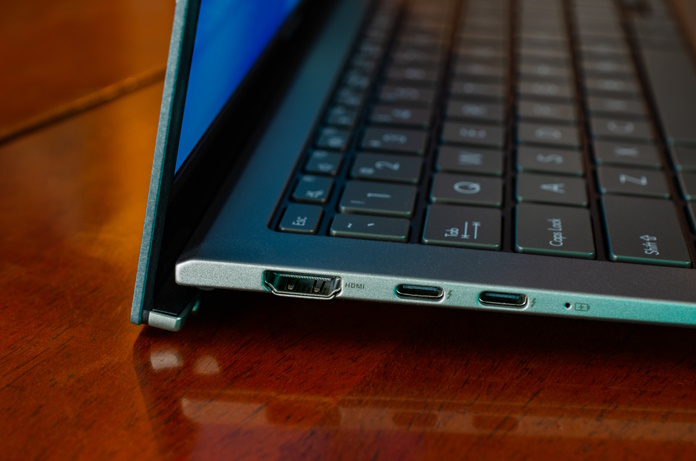 When you need to set up your full workstation at a desk, you need an array of handy ports, not a rat's nest of dongles. The Zenbook S 13 OLED gives you two fully-equipped Thunderbolt 4 ports, each ready to recharge the laptop, top off your other devices, connect high-speed storage, drive a secondary display, or connect your mouse and other peripherals. A USB Type-A port, an HDMI port, and an audio combo jack give you an additional set of versatile options.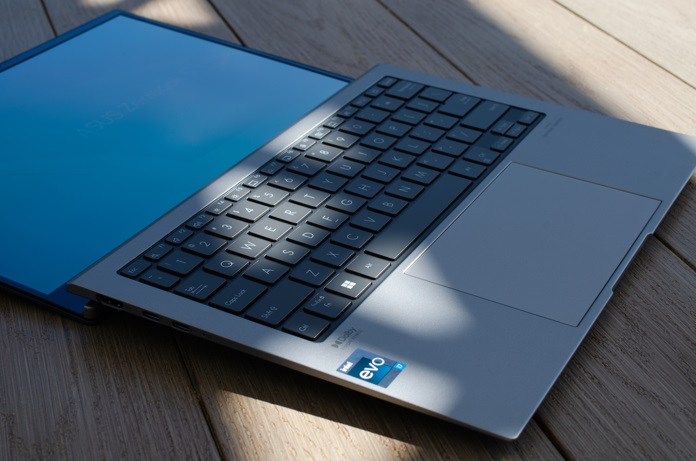 We've given the Zenbook S 13 OLED's ErgoSense touchpad some key upgrades over last year's model. Not only is it 9.5% larger, letting you move your cursor farther with a single swipe of your finger, it also has a 0.23mm longer click depth. That additional tactile response lends precision to your every command.
Sustainable, portable, powerful
With the Zenbook S 13 OLED, you don't have to choose between your commitment to sustainability and your need for a powerful, portable laptop. You can have both. The Zenbook S 13 OLED features our latest innovations in our years-long efforts to reduce the environmental impact of our devices, and it does so in a design that's elegantly slim, strikingly light, and effortlessly powerful.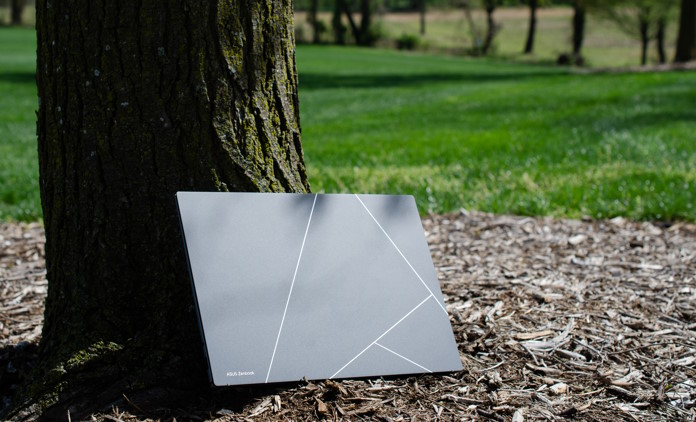 For more information about the pricing and availability of the Zenbook S 13 OLED in your region, please contact your local ASUS representative.