Your laptop's out in front of you on your desk, docked to a keyboard, mouse, and ultrawide monitor. There's a smartwatch on your wrist, and a smart speaker in your office reading you the day's headlines. Your smartphone sits on its charging stand on your desk, notifying you of new texts and emails. Each device has its own role that it does better than the others. When they're all working together, you're able to work at your best. Our new Link to MyASUS app brings the best capabilities of your smartphone and ASUS PC together to help you be more productive and organized.
What can you accomplish with Link to MyASUS? For one, it allows you to receive smartphone notifications through your PC and interact with your smartphone using your mouse, keyboard or touchscreen. Link to MyASUS even allows you to use your mobile device as a secondary display for your PC, and when you're away from your desk, it lets you take advantage of new ways of transferring files from one device to another. I went hands-on with Link to MyASUS to discover the full range of its capabilities for myself.
Perfectly balanced PC and smartphone, as all things should be
Link to MyASUS supports a range of smartphones and compatible ASUS laptops. For the software to work, you'll need both devices to meet certain requirements. You'll find the full details here, but in brief, your smartphone needs to be running Android 9 or higher or iOS 10 or higher. Link to MyASUS uses a Bluetooth connection to pair the devices, so you'll need to have Bluetooth enabled on both your phone and PC.
Your PC needs to be an ASUS system with one of Intel's latest 10th Gen Intel Core CPUs or AMD's Ryzen 4000 CPUs, and it should run Windows 10 64-bit version 1809 or later. It'll need to support the Universal Windows Platform (UWP 2.2.2.0 and above) and our MyASUS 2.0 utility. If managing drivers isn't your thing, don't worry. Our Link to MyASUS installation wizard and detailed FAQ will help you with the details.
Coordinate your devices in a few easy steps
If you're using a compatible smartphone and PC, you're probably ready to pair your devices already. Take a quick look at your MyASUS app. On the left side of the window, you'll see a list of icons for the app's different functions.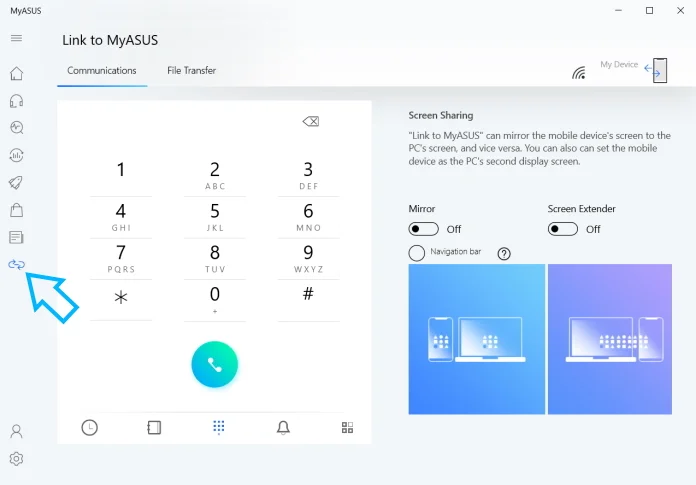 If you see the Link to MyASUS icon, as shown with the arrow in the picture above, you should be ready for the next steps. If the icon isn't there, use our installation wizard to update MyASUS and update the necessary drivers. We have detailed instructions to walk you through each step of the process.
Now it's time to pair your devices together. On your mobile device, download the free Link to MyASUS app from the Play Store or App Store. Make sure both devices are connected to the same Wi-Fi network and have Bluetooth enabled. Then, open the MyASUS app on your PC. On the Link to MyASUS page, select Pair New Device. The setup wizard will walk you through each step. For full functionality, approve all the mobile device permissions.
And you're done. The Link to MyASUS app on your PC will now give you powerful options for integrating the functions of your PC and mobile device.
Mirror, mirror on my desktop
The Mirror function puts a window on your PC that displays the current on-screen content of your mobile device. This window doesn't take up your PC's full screen. You can tuck it in a corner or position it on a secondary display. Through this window, you can use your mouse, keyboard or touchscreen to access the complete functionality of your smartphone.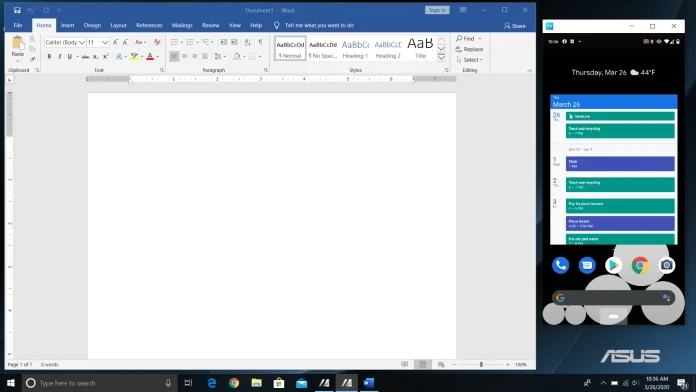 Link to MyASUS frees you to set your phone off to the side and leave it alone. You can focus your attention on your PC, switching over to the Mirror window whenever you need to do something on your phone. Link to MyASUS also gives you powerful new tools for interacting with your phone. A full-sized physical keyboard can't be beat for writing texts and messages quickly and without typos. You can also use the Mirror function to keep an eye on any app that you primarily use your smartphone for, like your calendar or personal email.
One stream of notifications you control
If you're like me, you have notifications coming in from your PC, perhaps from your work email, work calendar and your team's messaging service. You have another set of notifications coming in from your smartphone—app updates, personal calendar reminders, and text messages, among others. With Link to MyASUS, all of these notifications can appear in the Windows 10 notifications area when your PC and smartphone are paired up.
The major advantage here is focus. Without even looking away from your laptop, you can prioritize your incoming smartphone notifications, choosing which ones require your immediate attention and which ones you can tend to later. If you have a Mirror window up, you can quickly respond to these notifications without missing a beat.
Use your PC to make hands-free phone calls
Professional phone calls these days often involve a lot more than just your phone. While you're talking with clients and coworkers, you might be using your PC to reference a document together, coordinate your schedules using your online calendars, or review meeting materials. It's very useful to be able to do this, but it does require you to juggle your phone and PC at the same time.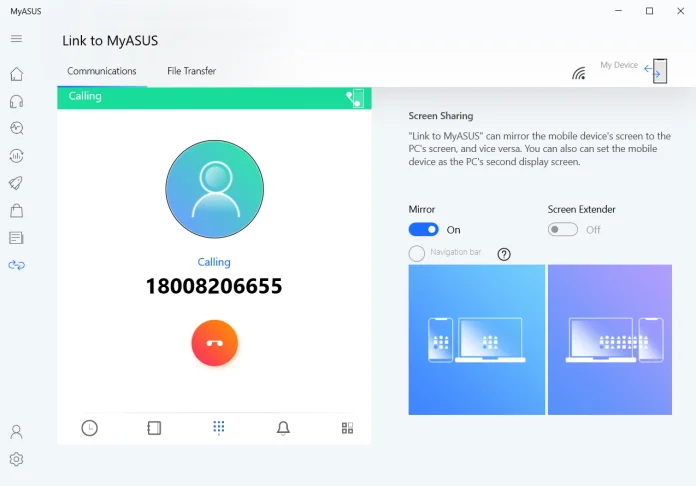 Link to MyASUS takes the juggling out of your phone calls. While your PC and smartphone are paired together, you can make and receive calls through your PC using the microphone and speakers of your PC or even the dedicated headsets that many people already connect to their PC for music, gaming, and streaming. You won't have to hold a phone with one hand while one-hand typing with the other. Everything about the call from the conversation to the reference documents will be handled by your PC. Hook up a wireless headset like our ROG Strix Go 2.4 for additional privacy and the ability to walk around your office during the call.
More screens, more productivity
The single greatest thing you can do to increase your multitasking potential is invest in a second monitor. If you're going to track several apps simultaneously, you need the screen space to arrange them. In your home office, you can set up a second monitor on top of your desk. For a productivity booster wherever you need it, we recommend one of our portable monitors. These displays can be set up wherever you need them, yet they're slim and light enough to travel in your laptop bag.
Link to MyASUS gives you another tool for extending your available screen space. Its Screen Extender function lets you turn your smartphone into a wireless secondary display. While your smartphone certainly isn't large as our ZenScreen MB16ACE, your smartphone is probably just sitting there while you work on your PC. Why not put it to work as a second display?
Use it to display a window that you'd just like to keep an eye on, like a messaging app, multimedia, or a document you're referencing. This is particularly useful when you're out of the office and don't have an extra monitor ready to hand.
A suite of tools for sharing files between your devices
Stop me if you've heard this one before. You just traveled across town to meet to make a brief presentation. You put everything you thought you needed on a flash drive and left your laptop at home. Everything went great—until the Q&A session. Someone asked a question, but the file you needed to answer it was back in your office.
Missed opportunities like this happen all the time. One way to avoid this situation is to always carry everything with you, but it's impossible to plan for every situation where you might need something off your PC. Link to MyASUS can be a lifesaver when you're away from your main system. In the app on your PC, you can enable Remote File Access. This allows you to access the files on your PC from your mobile device, even from across town. For security, you'll need to be logged into your MyASUS account on both devices.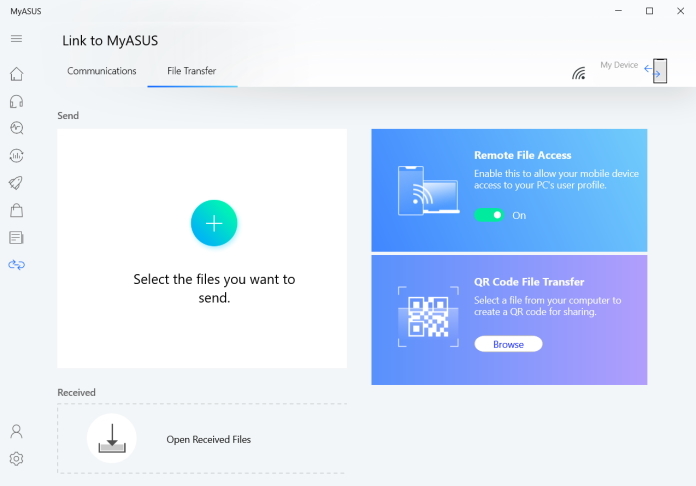 Link to MyASUS has a few more file sharing tricks up its sleeve, too. The Share function lets you quickly share files and URLs from one device to the other. You can take a website or a document that you're looking at on your smartphone and move it to your PC. If you need to transfer a file from your PC to your smartphone, you can also create a QR code. Once your phone scans that QR code, it'll download your file securely.
Your PC and smartphone work better together
Your smartphone and your PC are both important parts of your personal and professional life. Each tool has its own strengths. They'll work better when their unique capabilities are integrated intelligently—and you'll work better, too.
Link to MyASUS serves as the bridge between your primary devices. It allows you to simplify your workflow by focusing your attention on one device instead of two. It exposes new opportunities for your devices to communicate with each other. And it creates new ways of interacting with your PC and smartphone.
If you own one of our PCs, take a moment to check out the MyASUS app to see if it's ready for Link to MyASUS. Its new productivity tools are just a click away. If you're not using an ASUS laptop, now might be the time to check out one of our VivoBooks, ZenBooks, or ExpertBooks.