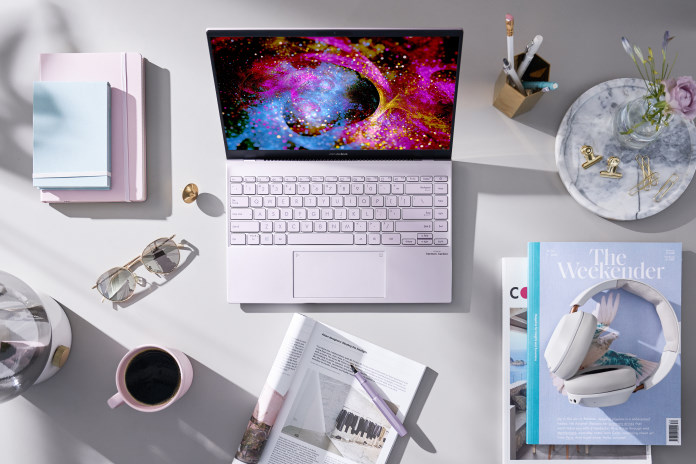 The all-virtual CES 2021 event is a little different than usual, but one thing remains the same: it's full of exciting new products from ASUS. We're debuting a wide range of hardware that's ready to upgrade your digital life. For a hassle-free home office, engaging educational opportunities, and immersive gaming experiences, check out these innovative laptops, displays, wireless networking products, and more. Follow the links for more detailed information on each one.
A new generation of laptops make their debut
A new year is a great time for a new laptop. With their latest-generation processors, vivid displays, and revolutionary designs, our new notebooks will give you a fresh start. Whether you harness the creative power of our latest dual-screen ZenBook Pro Duo 15 OLED, upgrade your everyday entertainment and productivity with the ZenBook 13 OLED, or enter a new world of fuss-free computing with one of our Chromebooks, you'll find that the new ASUS laptops are ready partners for all your PC needs.
ZenBook Pro Duo 15 OLED dual-screen laptop
Our dual-screen laptops offer incredible multitasking potential for all users, but the ZenBook Pro Duo 15 OLED UX582 is laser-focused on the exacting demands of creators. With its high resolution primary display, versatile ScreenPad Plus touchscreen, and supercharged components, this laptop is more than ready for the challenges of powering professional software.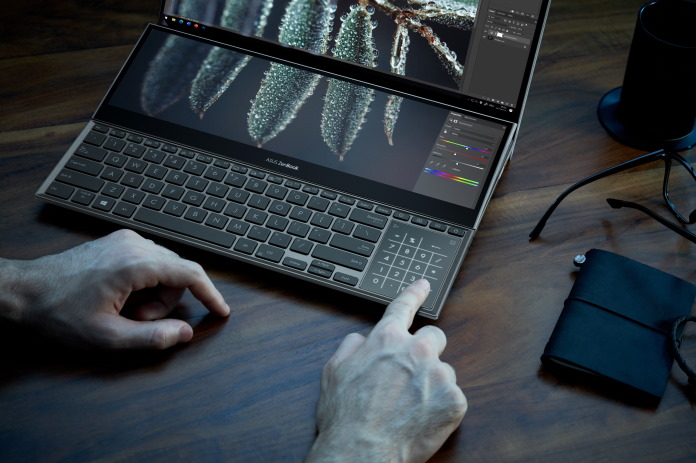 The star of the show is its 4K ScreenPad Plus. As you raise the lid, a sturdy ergonomic hinge tilts this secondary display to a comfortable viewing angle. The hinge mechanism helps with performance, as well. As the ScreenPad Plus raises, it exposes wide vents that supply cooling air to the components underneath. This display can act like any other attached display. Place any windows on it you like by simply clicking and dragging or using our convenient built-in ScreenXpert 2 software tools. Users of Adobe products like Premiere Pro and Photoshop can go a step further and set up a custom control interface for that software on the ScreenPad Plus's touchscreen.
We complement the ZenBook Pro Duo 15 OLED's dual-screen design with potent hardware that can keep up with the demands of creators. An Intel CPU up to an 8-core, 16-thread Core i9 processor runs the show, providing a potent blend of single-threaded and multithreaded performance. Since many creation apps are GPU-accelerated, this notebook has an NVIDIA GeForce RTX 3070.
Topping it all off is a gorgeous 15.6" OLED main display. This 4K UHD panel offers exceptional contrast and bright, accurate colors. It covers 100% of the DCI-P3 color space that's typical for cinematic work, and it's Pantone Validated for out-of-the-box color accuracy. Artists who prefer to work with a stylus in hand will appreciate stylus support on both screens with 4,096 levels of pressure sensitivity.
ZenBook Duo 14 dual-screen laptop
Creators aren't the only PC users who can take advantage of the convenience of an integrated second display. The ZenBook Duo 14 UX482 is a compact, portable laptop that makes dual-screen multitasking available for everyone.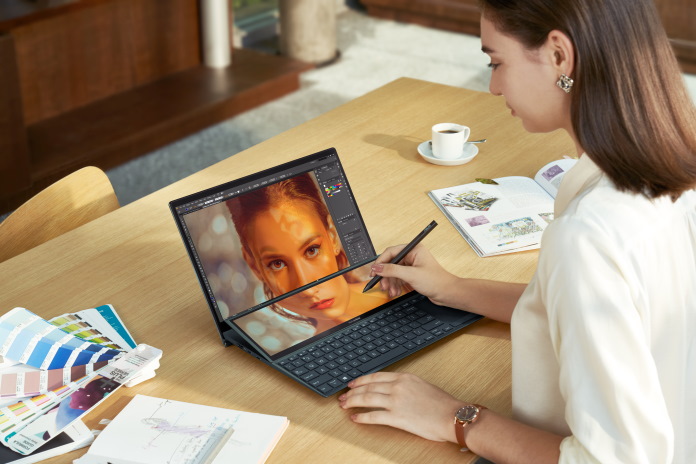 This lightweight notebook is an easy traveling companion. Its FHD primary display is surrounded on all four sides with thin NanoEdge display bezels, making this 14" laptop more similar to the size of traditional 13" models. Finished in Celestial Blue, this sophisticated laptop will turn some heads even before you open it and reveal its second display.
Armed with an Intel 11th Gen Core i7 CPU, this notebook provides the snappy, responsive performance you expect for your everyday tasks. With its 512GB PCIe SSD, it'll boot up and load your apps quickly. If you like to socialize with friends in occasional rounds of light gaming, consider a model with an optional NVIDIA GeForce MX450 GPU.
It's got the connectivity you need for hassle-free computing, too. Its Wi-Fi 6 radio lets it take advantage of the latest generation of wireless networking. A pair of Thunderbolt 4 ports provide flexible options for your everyday needs. Through either of them, you can charge the ZenBook Duo 14 or a device like a smartphone. They'll also drive another display or a high-speed peripheral.
ZenBook 14 and ZenBook 13 OLED laptops
There's a distinct luxury to the new ultra-thin, lightweight ZenBook 14 UM425 and ZenBook 13 OLED UM325. They fall readily to hand. Unobtrusive companions, they slide easily into your bag or satchel without hardly making themselves known. Yet they provide all the responsive performance you demand from a Windows laptop.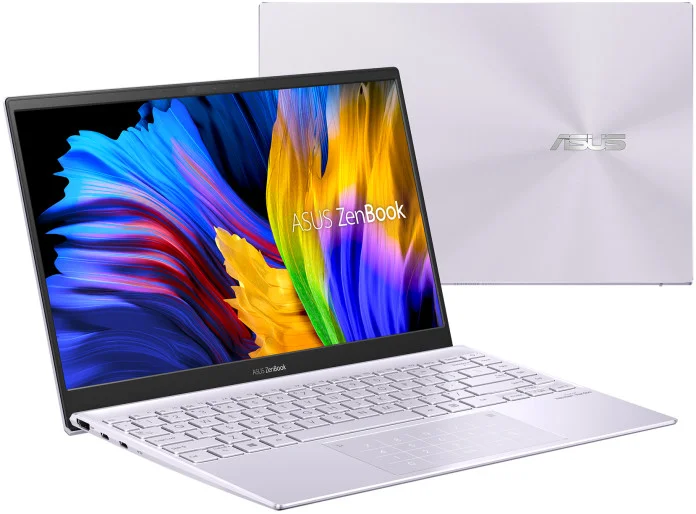 It's hard to overstate the portability of these laptops. The ZenBook 14 weighs as little as a mere 1.13kg, and it's only 14.3mm thin. The ZenBook 13 OLED barely tips the scale at 1.07kg and is even slighter at 13.9mm thin. That's light enough to hold in one hand as you move about your day.
The ZenBook 14 offers two FHD panel options, one 250-nit and the other 400-nit for those who tend to use their laptops in brighter environments. The ZenBook 14 OLED has a truly special display. Its organic LED panel bears a VESA DisplayHDR True Black 500 badge for its ability to produce vivid colors, inky shadows, and bright highlights. It covers 100% of the DCI-P3 color gamut preferred by the motion picture industry.
Despite their compact size, these notebooks offer the performance you need. Powered by AMD Ryzen 5000-series mobile CPUs and up to 16GB of LPDDR4X RAM, these notebooks will breeze through your everyday tasks.
Thoughtful features make them easy to use, too. The redesigned edge-to-edge keyboard makes full use of the space provided by the compact chassis so that you can enjoy generously sized keys. A trio of USB ports, two Type-C and one Type-A, an HDMI port, and a Micro SD card reader provide a comprehensive set of connectivity. Excellent battery life brings it all together. Its spacious 67Wh battery can keep you working and entertained for up to 22 hours.
VivoBook S14 laptop
It's a breath of fresh air to have a thin-and-light PC on hand for your everyday needs. Our new VivoBook S14 S435EA proves that a laptop doesn't need a steep price tag to offer a great experience. In a slim chassis with a cheerful design, the VivoBook S14 S435 offers responsive performance, excellent battery life, and comprehensive connectivity options.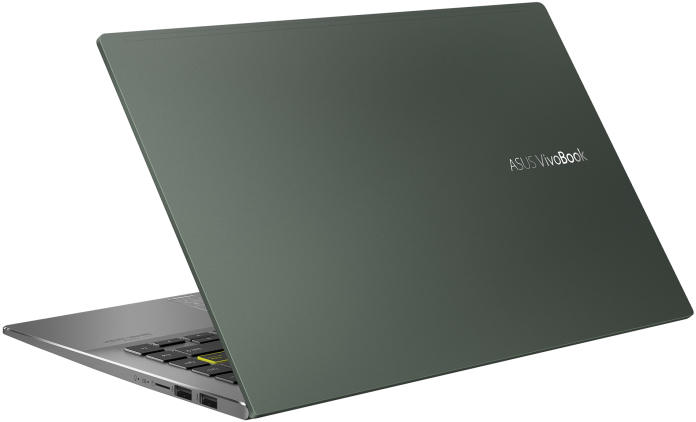 The latest 11th Gen Intel processors power the S14, ranging up to a Core i7. The high-end options feature Intel's latest Iris Xe graphics. This integrated processor gives you increased power for content creation and light gaming without adding to the laptop's weight or limiting its battery life. We've carefully balanced the components of the S15 so that its large 67Wh battery can power a full day of work and play.
The VivoBook S14 has a 14" Full HD display, yet the laptop has a footprint closer to yesterday's 13" machines thanks to the ultraslim display bezels. This panel has a 400-nit peak brightness level so that you can get the clear image you need, even in rooms with plenty of natural light.
With its calming Deep Green finish, this laptop is easy on the eyes, and it's easy to use, too. A pair of Thunderbolt 4 USB Type-C ports gives you access to high-speed peripherals and external displays. Not only can you use them to charge your notebook, they'll top off your other devices like your smartphone, as well. Wi-Fi 6 connectivity means that you can reap the benefits of the latest generation of wireless networking. Thanks to its snappy performance, long-lasting battery, and crisp display, the VivoBook S15 earned an Intel Evo badge. It'll fit right into your on-the-go lifestyle.
Chromebook Flip CM5 and Chromebook Flip C536
Today's students are rarely tied down to one place. Even when they're learning from home, they take advantage of the freedom provided by their notebook to learn and complete assignments wherever they are. Powered by the latest processors from AMD and Intel, the Chromebook Flip CM5 and Chromebook Flip C536 bring exceptional performance and supreme portability to the familiar Chrome OS.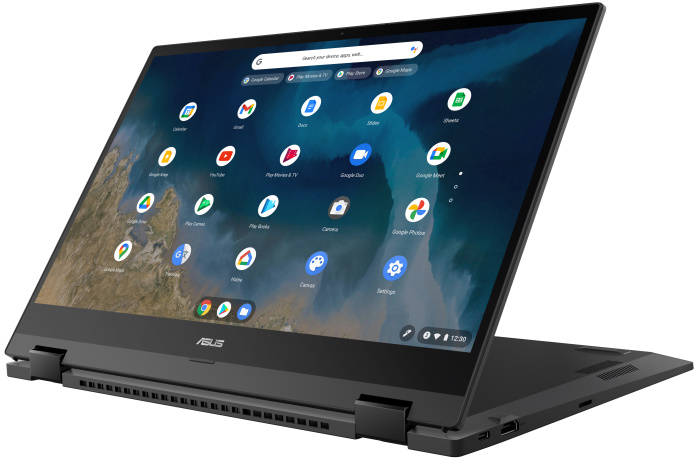 Chromebook Flip CM5
The Chromebook Flip CM5 harnesses the power of an AMD Ryzen CPU, ranging up to the four core and eight thread Ryzen 5 3500C. Its counterpart, the Chromebook Flip C536, boasts one of Intel's latest 11th Gen Core CPUs, up to a Core I7. Up to 16GB of RAM empowers real multitasking, while storage options range up to a spacious 512GB SSD.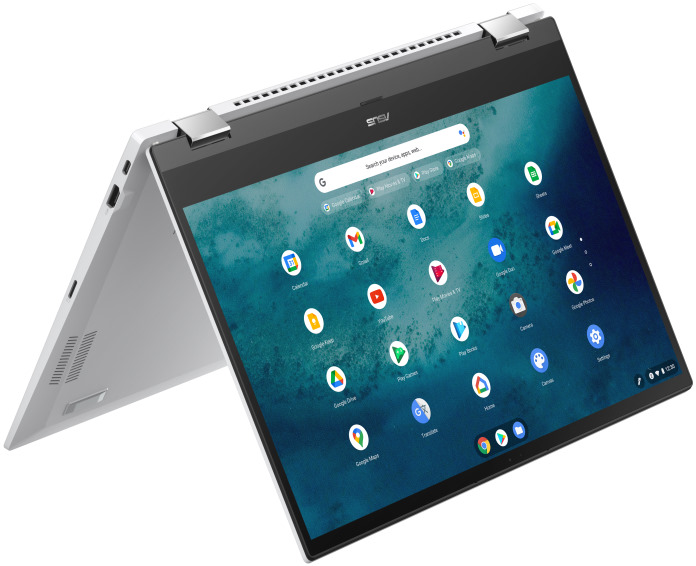 Chromebook Flip C536
These are excellent machines for sitting down and getting work done. They have full backlit keyboards with a numpad that provide a great typing experience thanks to their generous 1.4mm key travel. Their wide 5.5" glass touchpads are smooth and responsive. When a pen input makes more sense, simply flip them over into tablet mode. USI stylus support lets you use a tool like the ASUS Pen to take notes or draw naturally.
ASUS BR1100 2-in-1 laptop
Reliable, powerful laptops matter for education now more than ever. The ASUS BR1100 delivers the flexibility of the Windows platform in a rugged device ready for young hands.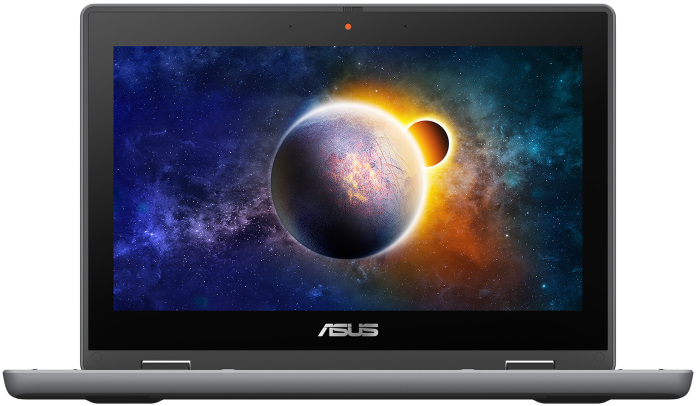 This 12" laptop is built with durability in mind. All-around bumpers protect the device from incidental bumps and jostles. The keyboard is resistant to both spills and tampering, while the I/O ports are reinforced for additional protection. Should any part of the device need to be serviced, its modular design will make it easy to get it serviced and back in action. Classroom devices often pass through many hands, so we gave frequently touched surfaces a special antibacterial treatment.
The ASUS BR1100 harnesses a nimble Intel processor and at least 4GB of DDR4 RAM. It's ready for the next generation of wireless connectivity with its Wi-Fi 6 radio. There's a healthy selection of ports, as well. It has an HDMI 1.4 port for connecting to displays and projectors, an RJ45 port for Ethernet, and two USB 3.2 ports, one a Type-C port.
A special convertible model offers more flexibility and options for users. It features a touchscreen with stylus support, a welcome feature for youngsters still learning to type.
2021 ROG laptops break new ground for mobile PC gaming
A 13" notebook that harnesses an external GPU for supreme power when it's time for serious gaming. An esports powerhouse with the world's fastest laptop display. Dual-screen gaming laptops in more premium—and more attainable—configurations. The 2021 lineup of ROG gaming laptops is packed top to bottom with boundary-breaking machines.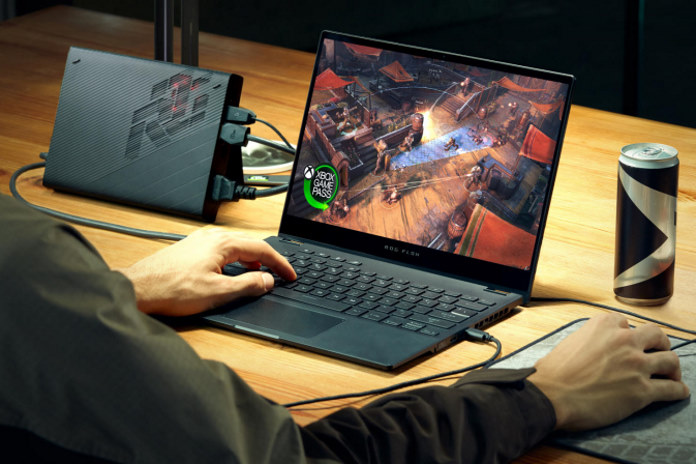 Take the ROG Flow X13, the smallest ROG laptop ever. This 2-in-1 convertible offers all the convenience that you'd expect from a lightweight ultraportable, but it has a special trick up its sleeve. When it's plugged into the XG Mobile external GPU, it offers desktop-class gaming performance.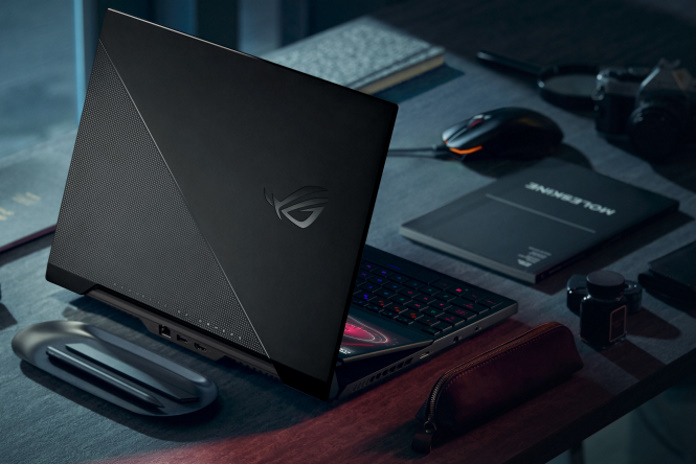 Our Zephyrus series continues to shatter expectations for the level of performance that gamers can expect in thin, sleek designs. The ROG Zephyrus Duo 15 SE upgrades our innovative dual-screen design with high-end configurations that push performance to a new level and more attainable models that bring its unique multitasking abilities to a wider audience. The award-winning Zephyrus G14 boasts even more gaming power than before, and the well-rounded Zephyrus G15 has been augmented with a new industrial design and a more immersive audio system.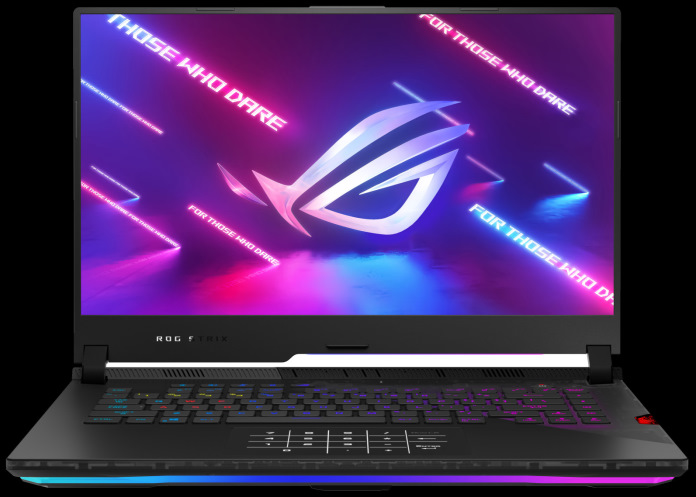 The new Strix series takes competitive gaming to a whole new level. We're introducing the world's fastest laptop display in the Strix SCAR series. A 17" 360Hz screen offers unprecedented visual clarity. Strix G designs deliver ROG style and exceptional performance at attainable prices.
Across the board, you'll find the 2021 ROG laptops provide key refinements that offer real benefits to gamers. We've updated our displays with new options that combine high resolutions, wide color gamut coverage, and high refresh rates. We're using liquid metal thermal compound and reshaped fans to improve thermal performance and lower system noise. And we've improved audio experience for all users with redesigned speaker configurations, Dolby Atmos technology, and two-way AI Noise Cancelation.
For detailed information on all of the new 2021 ROG laptops, read our full coverage on the ROG portal.
New TUF Gaming laptops offer powerful gaming performance at attainable prices
Not to be outdone by their ROG peers, new TUF Gaming laptops enjoy refinements of their own. The all-new TUF Dash F15 brings ultraslim gaming to a wide audience. It's only 19.9mm thin and 2kg (4.4lb), but it's powered by a 11th Gen Intel Core H-series CPU and up to an NVIDIA GeForce RTX 3070. Display options include a blazing fast panel that uses a 240Hz refresh rate, 3ms response time, and Adaptive-Sync to deliver fluid, responsive visuals. It's a rock-solid and reliable gaming partner, as its expansive battery and high marks in military-grade durability tests affirm.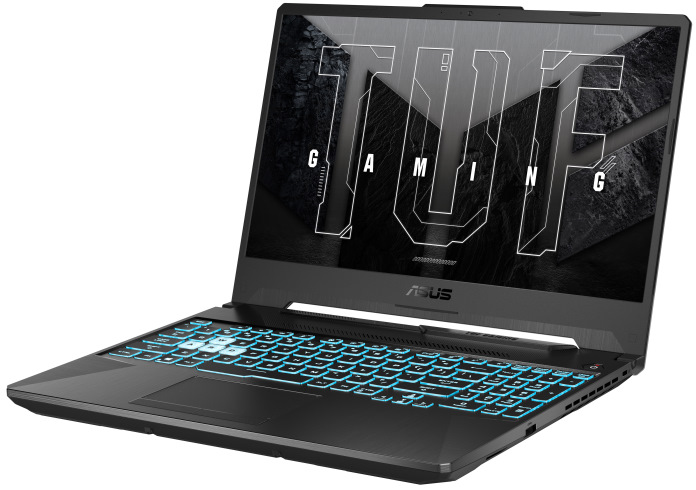 The TUF Gaming A15 and A17 offer compelling new improvements as well. Equipped with GeForce RTX 30-series GPUs and AMD Ryzen 5000-series CPUs, these laptops deliver exhilarating gaming experiences at prices attainable for everyone. Upgraded cooling systems featuring 83-blade fans keep these crucial components performing optimally. Speedy displays with Adaptive-Sync and refresh rates up to 240Hz give gamers a moment-by-moment edge on the action even in fast-paced games. Two-way AI Noise Cancelation keeps your voice, and the voices of your teammates, clear of distracting background noise.
A versatile display for every user and budget
No offense to the other components of a PC, but the display has a special role. Whether you're poring over a spreadsheet, playing the latest games, or editing a video, your monitor in large part defines the kind of experience that you're going to have. Our latest monitors bring cutting-edge technologies that empower the work and play of gamers, creators, and everyday users alike.
ROG Swift PG279QM gaming monitor
Too often, gamers feel like they have to choose between high resolutions and high refresh rates. No longer. Our new ROG Swift PG279QM gaming monitor fuses a 2560×1440 resolution with a 240Hz refresh rate—higher than we've ever offered for this balanced resolution before.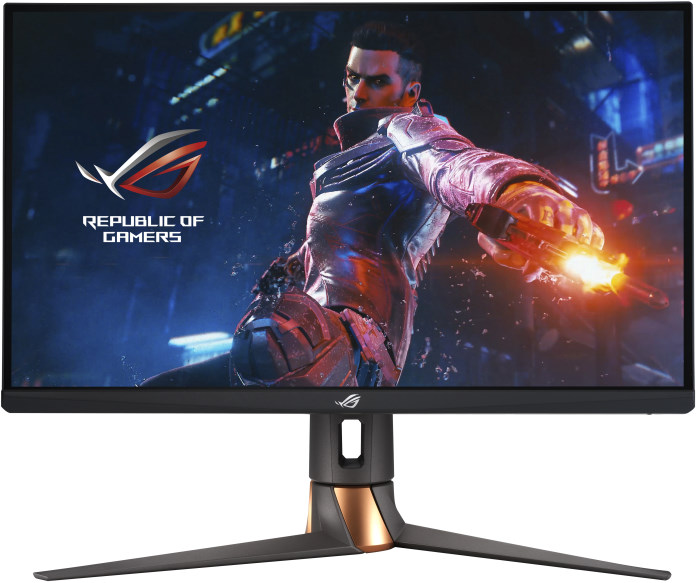 The 240Hz refresh rate is a significant increase in responsiveness and fluidity over the 144Hz max refresh rate typical for 1440p displays, but the PG279QM has more to offer than high-end speed. The picture is crystal clear, too, thanks to its 1ms gray-to-gray response time on average, and it has vivid, bright colors. It bears a VESA DisplayHDR 400 badge, and it covers 95% of the DCI-P3 color space commonly used for cinematic content.
A dedicated NVIDIA G-SYNC processor handles some key technologies for the PG279QM. It offers variable refresh rate, of course, a technology that synchronizes the refresh rate of the display with the output of frames from the GPU even as frame rates naturally vary over time. But it also enables the NVIDIA Reflex Latency Analyzer. This tool analyzes the time it takes for a mouse press to be translated into motion on the display and gives gamers a tool for understanding and eliminating the causes of input lag in their system.
ROG Swift PG32UQ gaming monitor
Whether you're gaming with one of the latest graphics cards from NVIDIA or AMD or on one of the current-gen consoles, you've got the hardware to enjoy 4K gaming at high refresh rates and HDR. Better pair that groundbreaking hardware with a monitor that can take advantage of it. The ROG Swift PG32UQ is equipped to provide PC and console gamers alike with a feature-rich 4K display.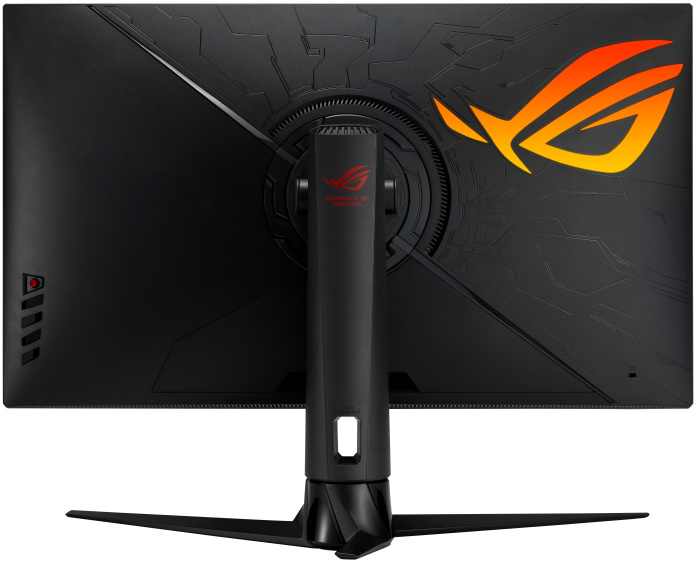 This 32" monitor has a dense 3840×2160, or 4K, array of pixels. This resolution lets you sit close to this big screen without being distracted by pixelation. It bears a VESA DisplayHDR 600 badge that attests to its ability to produce dazzling highlights and inky shadows, and it's factory calibrated, to boot. Right out of the box, you'll get accurate colors, and they'll be lifelike, too, as the display covers 98% of the wide DCI-P3 color gamut.
The PG32UQ supports FreeSync Premium Pro and its NVIDIA G-SYNC Compatible certification is in process, so it can synchronize its refresh rate with the GPU even as frame rates vary naturally over time. With its sizzling 144Hz refresh rate, it'll keep visuals fluid and clear even in the fastest games. It's got a few more tricks up its sleeve for gamers chasing the ultimate in clear visuals, too.
ELMB Sync technology allows you to simultaneously enable variable refresh rate technology and blur-busting Extreme Low Motion Blur (ELMB) tech. The cherry on top is Variable Overdrive. Many gaming displays boast some kind of overdrive to increase panel response time and reduce ghosting, but Variable Overdrive adapts this setting on the fly to minimize the visual artifacting that can result from the wrong parameters.
TUF Gaming VG28UQL1A gaming monitor
TUF Gaming monitors have earned a reputation for offering high-end features at affordable prices, and we're continuing that tradition with the TUF Gaming VG28UQL1A. This feature-packed display combines a 4K panel with a high refresh rate, excellent color gamut coverage, and HDR. As if that wasn't enough, it also boasts technologies that keep animation smooth and clear even in the fastest competitive games.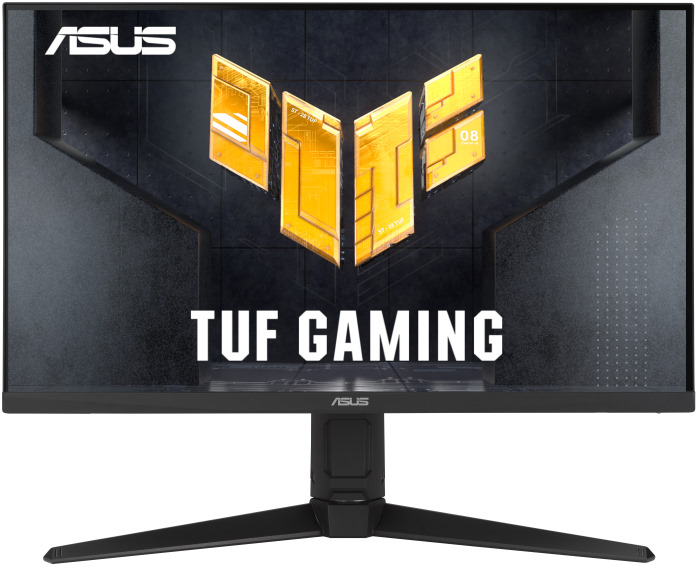 The VG28UQL1A's has a 28" panel with a resolution of 3840×2160. That high resolution makes text crisp and clear, and makes for incredibly detailed video and games. With 90% coverage of the DCI-P3 color space, it provides bold colors, and it's VESA DisplayHDR 400 certified to produce bright highlights and deep shadows.
Gamers obsessed with speed will appreciate the VG28UQL1A's fast 144Hz refresh rate. Connect your PC or console to the monitor through either the HDMI 2.1 or DisplayPort 1.4 port, and you can enjoy 4K gaming all the way up 144Hz. VESA Adaptive-Sync allows the monitor to synchronize its refresh rate the GPU even as frame rates naturally vary over time, and thanks to ELMB Sync, you can have Extreme Low Motion Blur technology enabled at the same time as Adaptive-Sync. Finally, our Variable Overdrive technology minimizes ghosting by dynamically adjusting its overdrive settings for the best visuals at any frame rate.
ProArt Display PA329CV monitor
The ProArt lineup of displays is a big family that encompasses everything from specialized monitors for HDR color grading to models that make it easy for people to get started on their own creative journeys. The ProArt Display PA329CV is the perfect starting point for artists of all kinds who need a big, high-resolution screen that can accurately reproduce the colors of their photos, video footage, or artwork.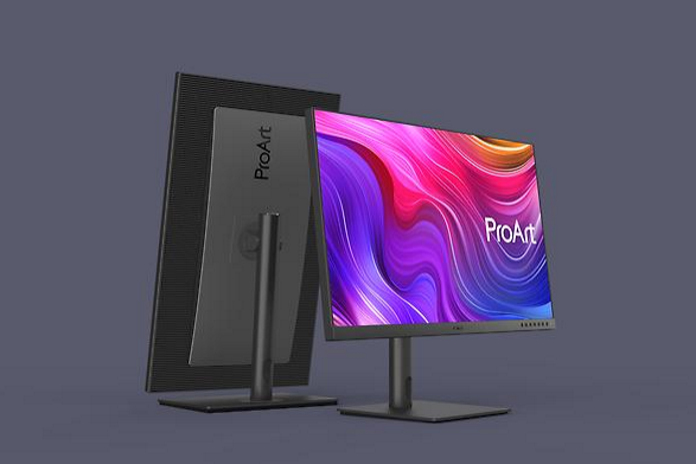 Your creative vision needs a big canvas. The PA329CV offers a 32" sweep of pixels that will immerse you in your projects. Since it's a 4K display, the image is both large and crisp, and it can natively display high-resolution footage from your camera or phone. It covers 100% of the sRGB color gamut that's typical for online media, and it's factory calibrated and Calman Verified for out-of-the-box color accuracy.
Convenient features make it easy to get the PA329CV up and running. An optional c-clamp mounting mechanism lets you retain your desk space even while using a wide screen. It accepts signals through two HDMI ports, one DisplayPort, and one USB Type-C port, so it'll connect to just about any PC you have on hand. And front-side function buttons give you quick access to the handy ProArt Preset and ProArt Palette functions, which let you select the right color space for your work and make fast adjustments to hue, brightness, and saturation.
ProArt Display PA148CTV portable monitor
A portable display is just as empowering and freeing for creators as it is for other users, but digital artists need specialized tools. The ProArt Display PA148CTV gives creators the color accuracy they need in a portable display, and it also provides customizable tools that can turn it into a powerful control interface for certain Adobe apps.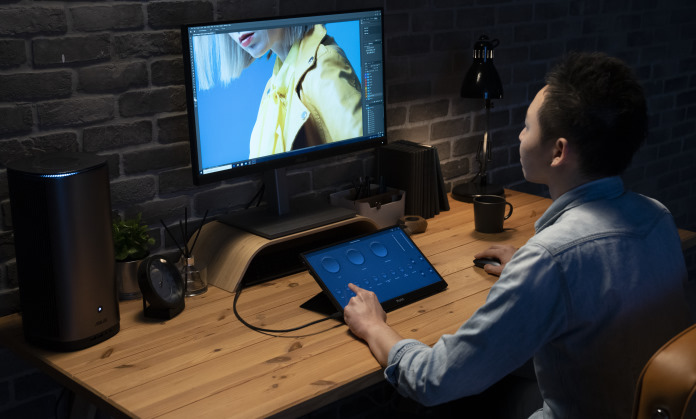 This 14", Full HD portable display boasts the specs necessary for work in photography, video editing, and digital art. It covers 100% of the sRGB and Rec. 709 color spaces, and it's factory-calibrated and Calman Verified to achieve an average Delta E value of less than 2. Right out of the box, this slim monitor is ready for professional use.
Users of Adobe's Photoshop, After Effects, Lightroom Classic, and Premiere Pro apps can get even more out of the PA148CTV. The ASUS Dial, a physical control built into the back panel of the display, gives you easy and intuitive access to user-defined shortcuts. The Control Panel turns the 10-point capacitive multitouch in a customizable interface for controlling these apps. Fill the workspace with virtual dials, buttons, scroll wheels, and sliders, and then link those elements to the software functions of your choice, and you'll have an intuitive interface right under your fingertips.
ZenScreen MB16ACV portable monitor
People everywhere take advantage of a second display for effortless multitasking. A big desktop monitor makes sense for your home office, but what about when you're out on the road? Our ZenScreen MB16ACV portable monitor is a secondary display that plugs right into your laptop, yet it's slim and light enough to fit into your laptop bag.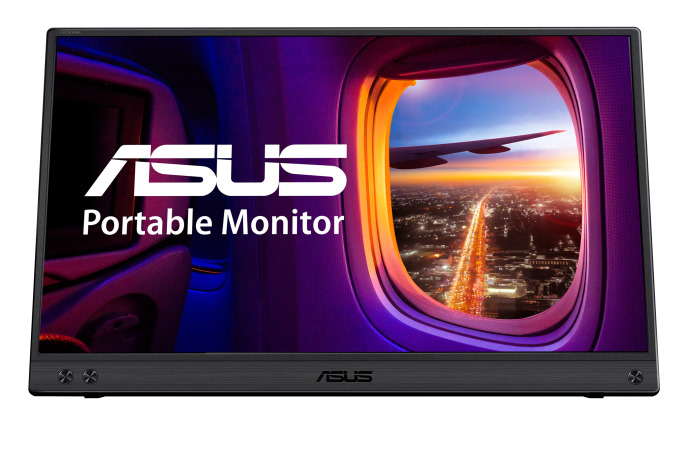 The MB16ACV is a 15.6" display with an integrated kickstand. Thanks to its thin bezel, it has a compact footprint. An embedded tripod hole lets you stand it upright with a tripod, if you prefer. Connecting it to your PC is easy thanks to its hybrid signal solution that works with either a USB Type-C or USB 3.0 Type-A port. This display is designed with your health in mind, too. A special antibacterial treatment on the MB16ACV effectively limits the spread of the bacteria on its surfaces.
Take your wireless network to the next level
For those of us working, learning, and gaming from home, unreliable Wi-Fi is just a dealbreaker. In our increasingly smart homes, we rely on a wide range of internet-connected devices. That's why our latest wireless networking products are built from the ground up to root out congestion and deliver stable, high-bandwidth signal where it's needed the most.
ASUS RT-AX68U router
For homes packed with internet-connected devices all competing for signal, Wi-Fi 6 comes as a breath of fresh air. Our RT-AX68U Wi-Fi router brings the benefits of the next generation of wireless internet at a price that's attainable for everyone.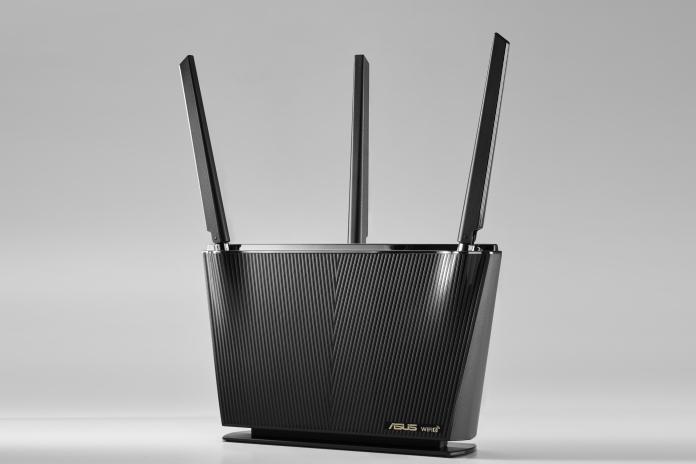 Your first priority with your router is speed, and the RT-AX68U doesn't disappoint. On the 2.4GHz band, it can achieve speeds up to 861 Mb/s. On the 5GHz band, it can reach 1,802 Mb/s. This router is more than capable of delivering the networking speeds you need for great gaming and entertainment experiences. Since it supports AiMesh, the RT-AX68U can team up with compatible routers to extend the reach of your Wi-Fi network to the hard-to-reach nooks and crannies of your house.
The RT-AX68U also has the tools to relieve network congestion. When it's managing a household of compatible Wi-Fi 6 devices, it uses Orthogonal Frequency-Division Multiple Access (OFDMA) and multi-user, multiple input, multiple output (MU-MIMO) to communicate with many devices at the same time and intelligently apportion frequency into sub-channels so that your bandwidth isn't monopolized by a small number of devices.
Managing your household network with the RT-AX68U is hassle-free. With the ASUS Router app, initial setup is a breeze, and you can take advantage of a comprehensive suite of parental controls to protect your kids and maintain a screen time schedule. To protect your family from cyberattacks, the RT-AX68U includes AiProtection Pro. Powered by regular updates from Trend Micro, this service protects devices on your network and blocks access to malicious websites. Instant Guard lets you take this protection on the road by making it easy to establish a VPN connection with your home network while you're out and about.
ASUS ZenWiFi AX Hybrid (XP4) system
For large homes or installation sites plagued with thick walls and other interference-causing structures, the ASUS ZenWiFi AX Hybrid (XP4) system can save the day. This system uses a pair of routers in a mesh networking topology to provide reliable wireless signal to every corner of your home.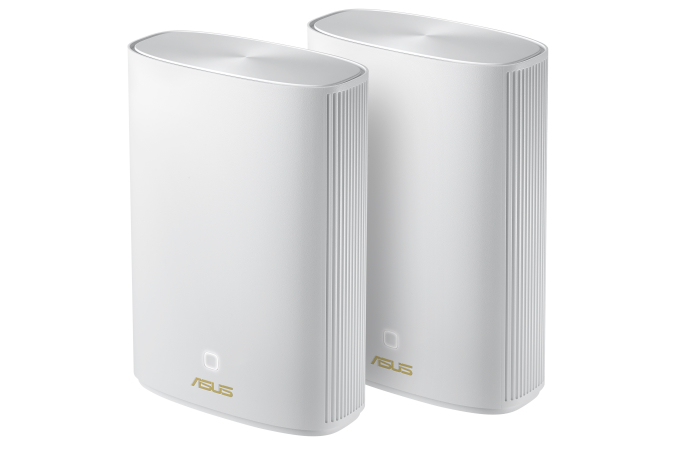 A mesh networking system relies on a powerful, consistent backhaul connection between the two routers. If the two nodes are placed too far from each other, or if there is an impenetrable wall between the two, their performance will drop off. That's why the ZenWiFi AX Hybrid is equipped to use either an Ethernet backhaul or powerline networking as a workaround. Its support for HomePlug AV2 allows you to create a backhaul easily and quickly using your existing electrical wiring.
From the user perspective, the ZenWiFi AX Hybrid provides one house-wide network. Behind the scenes, the two routers work to identify which one provides the best signal to the connected devices. Even while you walk around the house while checking social, the routers will seamlessly pass you back and forth to provide you the best connection at all times.
The ZenWiFi AX Hybrid has the tools to blanket your home in stable signal, and it's also equipped to provide the bandwidth you expect. With up to 574 Mb/s on the 2.4GHz band and 1,201 Mb/s on the 5GHz band, it can deliver the raw throughput you need for gaming and streaming video. As a Wi-Fi 6 router, it's equipped with the tools to relieve network congestion when it's managing a household of Wi-Fi 6-compatible devices.
Finally, the ZenWiFi AX Hybrid makes it easy to set up and manage your home network. Our convenient ASUS Router app puts the tools you need in one easy location. You can use it to set up your network, manage your kids' screen time, or prioritize bandwidth to certain devices. With your ASUS router, you get a lifetime subscription of security updates from Trend Micro to our AiProtection Pro network security suite.
ZenWiFi XD6 mesh networking system
Need a mesh networking system with exceptional performance at a midrange price? The ZenWiFi XD6 pushes incredible bandwidth through a pair of attractive routers that are easy to set up.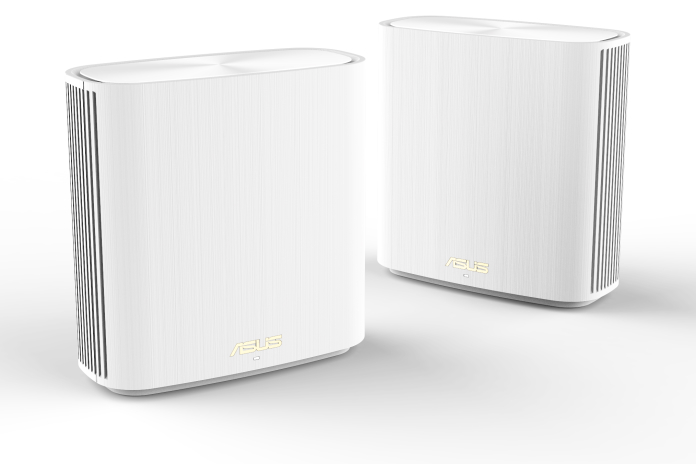 Speed is the name of the game for this Wi-Fi 6 system. Each of the two nodes has six antennas. The two devoted to the 2.4GHz band can deliver up to 574Mbps of bandwidth. The other four, arranged carefully to improve coverage in multi-story homes, can serve up data rates as high as 4804 Mbps. That's a serious speed increase over the previous generation. And with OFDMA and MU-MIMO technologies, the ZenWiFi XD6 can intelligently alleviate congestion when it's managing a network of compatible Wi-Fi 6 devices.
As with our other routers, the ZenWiFi XD6 makes it easy to maintain a secure network. A lifetime of regular updates from Trend Micro empowers our AiProtection Pro security system to protect your devices from attacks and malicious websites. And our new Instant Guard functionality makes it easier than ever to use a virtual private network (VPN) to establish a secure connection while you're away from your home wireless network.
ASUS PCE-AXE58BT
One exciting development in home networking was the unveiling of Wi-Fi 6E. This superset of Wi-Fi 6 is compatible with existing hardware, but adds a giant 1.2GHz slice of radio spectrum in the 6GHz region. If you'd like to break your desktop PC free of a 5GHz logjam, the ASUS PCE-AXE58BT adapter will help it rise to the top and get the bandwidth you need.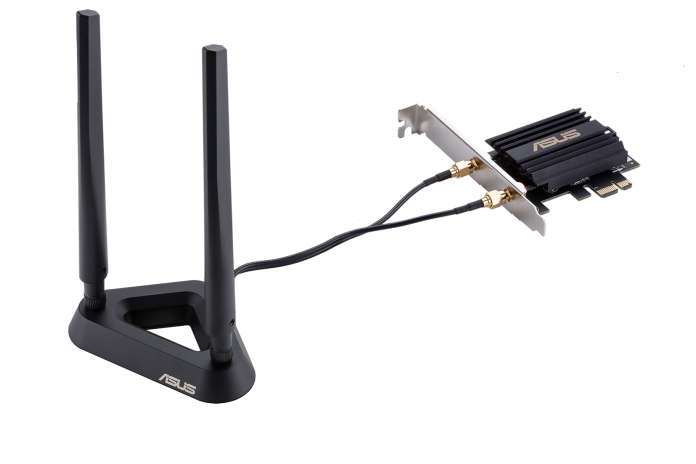 This add-in card arrives in the PCIe x1 form factor, making it an easy upgrade for any desktop PC with a spare slot. Its dual-band antenna system connects with a wire, so you have some flexibility for arranging the antennas for ideal reception. Once it's up and running, the PCE-AXE58BT can provide transfer speeds up to 2401Mbps across the 6GHz and 5GHz bands. In the legacy 2.4GHz range, it can provide up to 574Mbps. This adapter even equips your PC with Bluetooth 5.2 in the process. The latest generation of this handy tech brings a suite of improvements, such as true wireless stereo that transmits left and right audio channels independently to your headset.
ASUS USB-AX56 adapter
Wi-Fi 6 brings many exciting benefits to the table, but in order to reap its full advantages you need to have a Wi-Fi 6 router managing a network of compatible Wi-Fi 6 devices. After upgrading your router to the new standard, it's time to start upgrading the devices around your home that connect to it. Perhaps you have a desktop PC or laptop that you're not quite ready to move on from, though. The ASUS USB-AX56 adapter gives you a plug-and-play solution for giving just about any PC Wi-Fi 6 functionality.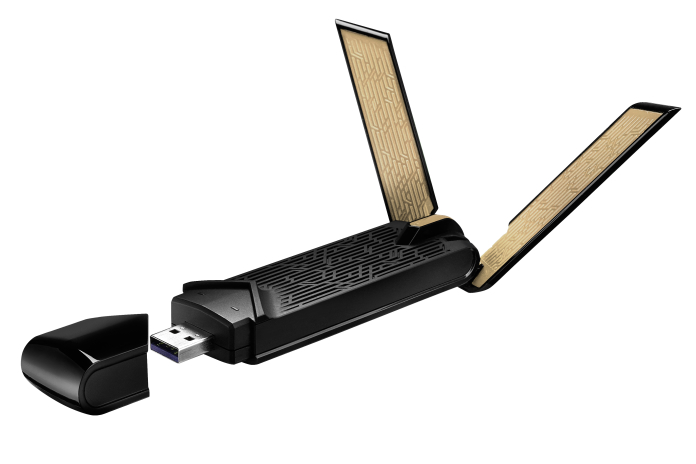 The adapter couldn't be easier to use. Just pop it into a USB 3.2, 3.1, or 3.0 port, and it'll provide a wireless connection at up to 1800Mbps. Its dual-band functionality lets you use either the 2.4GHz or 5Ghz networks, and its adjustable antennas let you find the angle that provides the best reception.
Put gaming glory under your fingertips
Like a carpenter's hammer or a blacksmith's anvil, a keyboard and mouse are the tools of a PC gamer's trade. ROG peripherals are carefully sculpted to give gamers the accurate, high-speed input they need while gaming and the convenient features that ease everyday computing.
ROG Claymore II gaming keyboard
With its modular design, optical-mechanical switches, and low-latency wireless connectivity, the ROG Claymore II keyboard stands out from the crowd.
Many users face a bit of a conundrum as they purchase a keyboard. Compact tenkeyless models, with their narrower dimensions, put your keyboarding hand closer to your mousing hand, a more ergonomic arrangement that has the side bonus of leaving more desk space open for sweeping mouse hand movements. On the other hand, the tenkey, or numpad, is a powerful tool for productivity that some users find hard to give up entirely. The ROG Claymore II's modular design gives you the best of both worlds. When you need a numpad, you can snap it right on the main body of the keyboard and enjoy a consistent typing feel between both units. When you don't have an immediate need for it, you can pop it back off and tuck it away.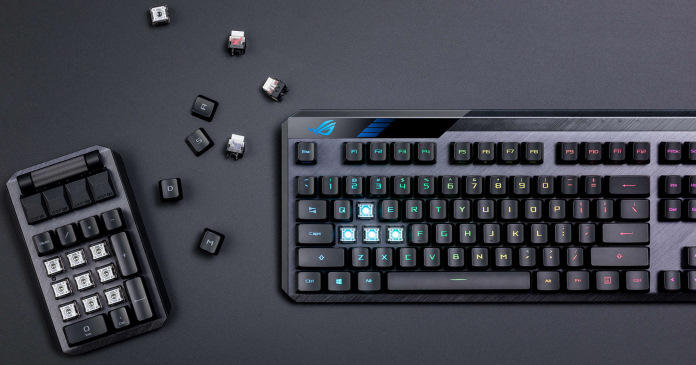 Speaking of that typing feel, the new Claymore features our exclusive ROG RX Optical Mechanical switches. Available in two flavors, these switches use a beam of light to register key presses, a process that all but eliminates the latency between the movements of your fingers and the actuation of each switch. Moreover, the hollow square stem design and x-shaped stabilizers of each switch ensure stable, wobble-free presses and a long 100 million keypress lifetime. ROG RX Reds might appeal most to gamers with their smooth linear stroke and ultralight 40g actuation force, whereas ROG RX Blues have a clicky stroke with a tactile bump at the actuation point.
Many users prefer the clean open spaces of a desk free of cables. For them, the ROG Claymore II has a 2.4GHz wireless mode. This low-latency connection has the same 1ms response time as its wired mode, giving you the convenience of cordless operation and the speed you associate with standard wired modes.
We think a great keyboard should look as good as it feels and operates. The ROG Claymore II has a brush aluminum top cover that captures the per-key RGB LED illumination. The unique design of each switch allows this glow to spread evenly in all four directions, making the customizable lighting vivid and bold. For users who prefer a little wrist support, there's a leatherette wrist rest in the box that attaches magnetically to the keyboard.
ROG Gladius III and ROG Gladius III Wireless gaming mice
The ROG Gladius series of mice lets gamers take home a tournament-quality mousing experience, and the new ROG Gladius III is the next evolution in our pursuit of excellence. Armed with a slimmed-down design, optional low-latency wireless connectivity, and advanced switches and sensors, this is the best ROG Gladius yet.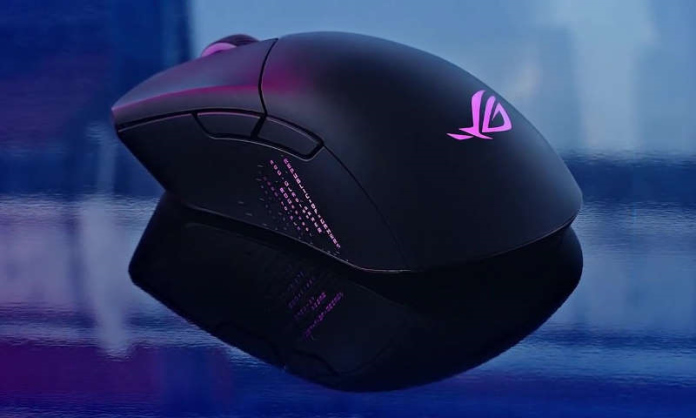 In the process of reshaping the Gladius into a hybrid body shape well-suited for any grip style, we trimmed its overall weight—down to 89g for the wireless version and 79g for the wired model. Smooth PTFE feet let you slide it across your mousing surface effortlessly. The upgraded 16,000 DPI optical sensor will capture your every movement. It can handle 50g of acceleration and track at up to 400 inches per second, so even when the action is hot and fast the sensor will keep up.
The ROG Claymore II isn't the only new peripheral to get the optical treatment. The ROG Gladius III includes optional next-gen Omron optical switches for the two main mouse buttons. Swap them in using a pair of our exclusive Push-fit Switch Socket II connections, and explore the next generation of mousing input. These switches actuate when a shutter allows a beam of infrared light to reach a sensor. This mechanism employs very few moving parts, making it exceedingly reliable, and it reduces latency by eliminating the need for debouncing circuitry.
If you don't mind a cable on your desk, the ROG Gladius III will serve you well, but the cord-averse will appreciate the freedom afforded by the wireless version. Optimized RF technology results in click latency under 1ms, giving you a nearly identical experience with or without the cord.
The ZenBeam Latte L1 portable projector puts the big screen in your pocket
Many of us carry a lightweight Bluetooth speaker around with us for music wherever we go. We think that video ought to be that portable and convenient, too. Our ZenBeam Latte L1 portable projector lets you turn just about any spare wall into a large, vivid screen for all kinds of entertainment.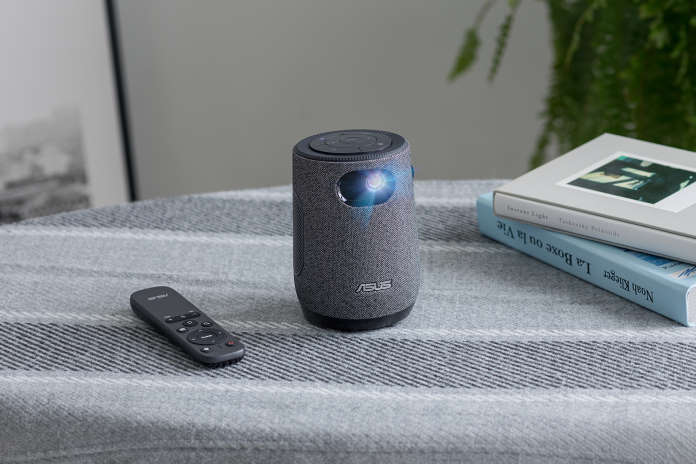 Don't be fooled by the ZenBeam Latte's compact size. It's about the size of a grande from your local coffee shop, yet it can display a 720p image 120" (3m) across at 300 lumens of brightness. It's adept at projecting in tight spaces, too. It only needs a meter of space between itself and the wall to project a 40" picture. There's a spacious 6000 mAh battery tucked inside its slim enclosure, too. It's good for up to 3 hours of projection in Eco Mode for extended viewing.
A great entertainment experience needs great audio, and the ZenBeam Latte has you covered. It has a powerful integrated speaker system capable of producing 10W of rich sound. For private screenings, you can use the integrated headphone jack.
It's easy to watch your favorite media with the ZenBeam Latte. It runs Aptoide TV, a media-streaming platform with over 2500 applications including Netflix, YouTube, Amazon Prime Video, and Hulu. Use the integrated controls on the top of the unit or its included remote to start watching. Additionally, you can connect an external device to the ZenBeam Latte using its HDMI input or with wireless mirroring.
Z590 motherboards prepare the way for Intel's next-gen CPUs
Finally, we're seizing the opportunity during the excitement of CES 2021 to give you a preview of our upcoming Z590 motherboards. Compatible with both the current 10th Gen Intel Core CPUs and the upcoming 11th Gen chips, our Z590 family offers PCIe 4.0 connectivity, upgraded power delivery, blazing-fast I/O, immersive audio, and more.
We'll share the full details on these motherboards soon, but here's a teaser to whet your appetite. Intel's 11th Gen Core CPUs will support PCI Express 4.0 connectivity. With one of these processors in the socket of one of our Z590 boards, your graphics card will enjoy up to 16 PCIe 4.0 lanes for up to 32GB/s of raw bandwidth. Your primary storage drive can also get in on the action, as our motherboards provide four dedicated PCIe lanes to empower the latest solid-state drives to reach their maximum performance.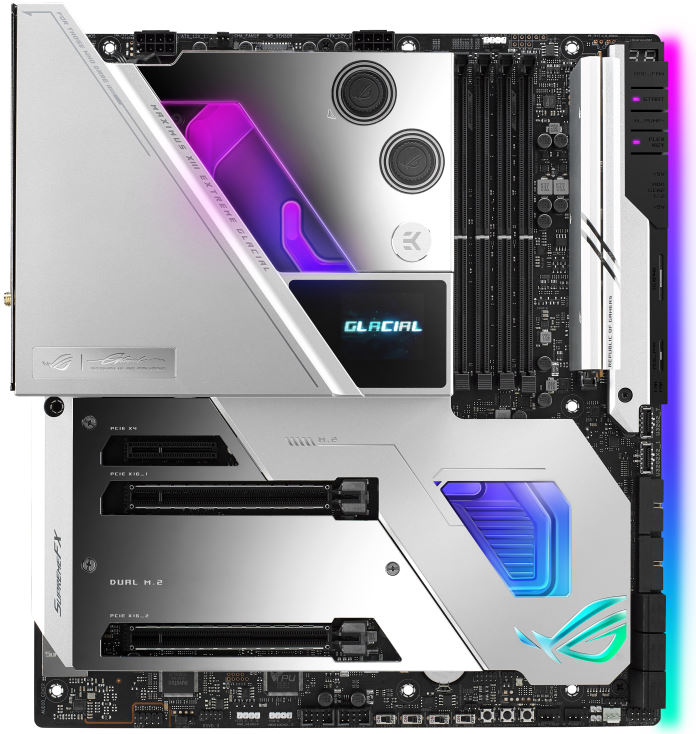 The top-end ROG Maximus XIII Extreme enables overclockers to push their CPUs to the limit with an incredible 18+2 topology for its multi-phase VRMs. Efficient 90A integrated power stages support high sustained performance even in the most demanding overclocking expeditions. To keep these VRMs cool, the ROG Strix and TUF Gaming models feature high-surface-area heatsinks, wide heatpipes, and cooling elements integrated into the massive alloy I/O shroud to effectively transfer heat from the circuitry beneath. For the ultimate in cooling performance, check out the ROG Maximus XIII Extreme Glacial, which keeps every onboard component frosty with a full-coverage waterblock developed in tandem with our partners at EK.
The new boards feature enhanced connectivity and updated audio hardware, too. There's support for WiFi 6 across the lineup. Special WiFi 6E models are equipped to work with the freshly-allocated slice of 6.0GHz spectrum. The entire Maximus XIII family features two onboard Thunderbolt 4 ports, too, giving you convenient access to the fastest peripherals. We've upgraded the audio experience across the board with the new Realtek ALC4000-series codecs. Select models pair that codec with ESS digital-to-analog converters and our SupremeFX suite of circuit design and software tools to drive the best experience in high-fidelity headphones. ROG Maximus XIII Extreme and Extreme Glacial boards include the ROG Clavis, an outboard USB Type-C DAC that employs a whopping four ESS converters dedicated to discrete ranges of the audio spectrum.
Check out all the details of our Z590 motherboard lineup in our full guide.
The latest hardware for PC users of all kinds
For this year's CES event, we've pulled out all the stops to bring you the hottest gear. Between our wide range of laptops for creators, gamers, and everyday users, our selection of vivid displays, our easy-to-use networking products, and our innovative peripherals, we've got the hardware to make your PC experience hassle-free, high-powered, and immersive. Follow the links on this page for more information about each product, and connect with us on social media for all the info on our online CES events.