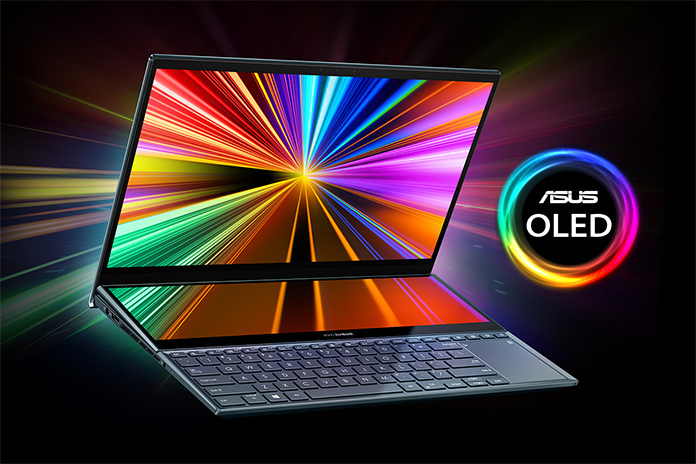 If you've shopped for PCs or phones lately, you've probably seen the acronym "OLED." A quick web search might tell you that the letters stand for Organic Light-Emitting Diode, but what does that actually mean for your computing experience? We're happy to help demystify this technology for you—and to help you find the best ASUS OLED laptop for your unique needs.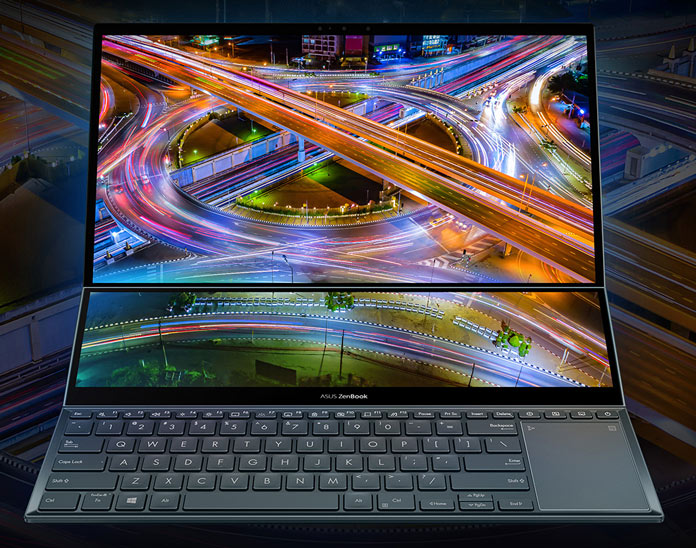 Simply put, an OLED display is superior to standard liquid-crystal display (LCD) screens. For starters, they can easily display intense, lifelike colors, with bold reds, blues, and greens that have rarely been seen outside of expensive professional-grade monitors before now. There's more, though. Standard LCDs use a single light source—think of a light bulb—to light up every pixel on the display. This means that even if parts of an image are dark, this backlight must remain on to show the brighter portions, leading to black levels that are closer to a shade of gray.
In an OLED panel, each individual pixel is a light source that can be switched on or off independently. Imagine a grid of millions of individual light bulbs, each with its own dimmer control. Black portions of an image on an OLED are truly black, and shadows remain deep and inky just as you see them in nature. The contrast ratio—the ratio between the lightest and darkest parts of an image—on an OLED display is close to infinite (you can't divide by zero!).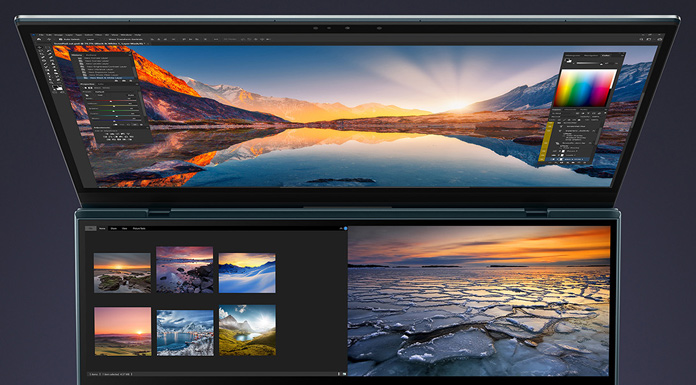 Since each individual pixel lights up by itself, the viewing angles of an OLED screen are super-wide, letting onlookers see whatever you're sharing with them as if they were sitting directly in front of the screen—a particularly handy characteristic in work environments and on convertible laptops. By design, OLED screens emit less blue light, resulting in less chance of disturbance to delicate circadian rhythms and consequent issues with sleep. Finally, the response time (the time it takes a pixel to change colors) is extremely low, meaning that on-screen movement is devoid of distracting motion blur.
All those benefits come through in every way you use your PC: for work, entertainment, and even gaming. You can enjoy movies exactly as they came out of the editing room, or you can pull up all the photographs you've taken and enjoy each moment exactly as it was shot. Fast-moving action videos and fast-paced competitive games will look exceedingly clear, too. Look at an OLED screen once, and you'll never want to look at content any other way.
Laptops with OLED displays used to be extremely difficult to find, but our 2021 laptop lineup is changing all that. We've created several models with OLED displays that bring the benefits of vivid colors, deep blacks, intense contrast, and clear motion to mainstream users, cinephiles, content creators, gamers, and professionals. We have four models to present, so keep reading to find out which one best suits your needs.
The ZenBook Pro Duo 15 OLED is a content creator's dream
When your creative work is on the line, a color-accurate display is a lifesaver. That's even more true on a laptop that you can take with you to client sites, photo and video shoots. We've paired OLED technology with an incredibly powerful professional laptop for 2021 in the form of the ZenBook Pro Duo 15 OLED.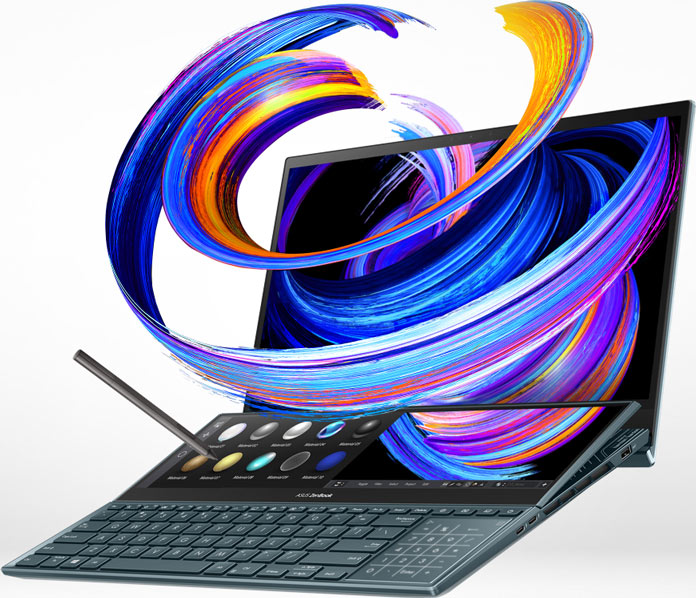 The ZenBook Pro Duo 15 OLED has two tricks up its proverbial sleeve: a 15.6" OLED main panel paired with a secondary 4K ScreenPad Plus display above the keyboard. The main display reproduces all the colors of the cinema-standard DCI-P3 color space, giving you the assurance that your work will appear consistent across a wide range of systems and monitors during client review or collaboration. Both have stylus support so you can use the included ASUS Pen to draw on them, quickly reach shortcuts, and manage on-screen objects and windows.
The main display is PANTONE Validated and factory-calibrated to an average Delta E of less than two, and VESA DisplayHDR 500 True Black compliance means you can view and edit high-dynamic-range video with confidence. What's more, this OLED panel maintains consistent color volume across brightness levels to ensure your work will look consistent whether you're in well-lit sets and photo studios or dark editing suites. All told, this gorgeous display makes the ZenBook Pro Duo 15 OLED the ideal creative tool to shape your creative vision.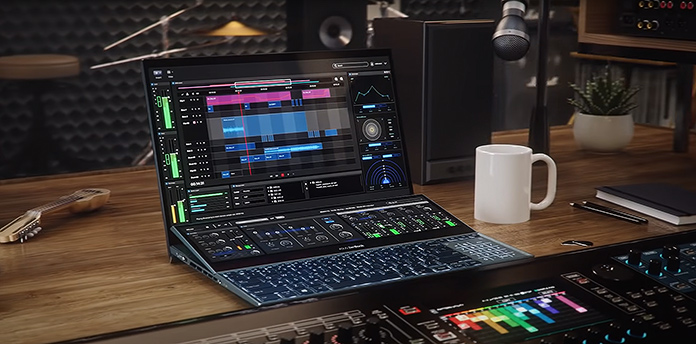 As any working professional can tell you, there are few things in the world more practical than a second (or third) display. The added real estate is invaluable for working efficiently, thanks to the extra room for toolbars, shortcuts, browser tabs, and secondary applications. Work-from-home days require keeping extra communication apps at hand, too. Those take up precious room, but they're most useful when visible all the time.
The exclusive ScreenPad Plus on the ZenBook Pro Duo 15 OLED is a rocket booster for productivity. Not only can you place floating windows and secondary apps on it, you can make the most of your existing productivity suites in many ways. Painters and photographers can move their tools and brushes to it and leave the main screen for their masterpieces. 3D artists and architects can place their material libraries and extra perspectives on the secondary screen, and video editors, audio producers, and engineers can put it to good use for timelines and plug-ins. Both displays are TÜV Rheinland-certified for low blue light emissions, reducing eye strain during hours-long work sessions and minimizing circadian rhythm disruptions so that you don't lose sleep and harm your opportunities to recharge.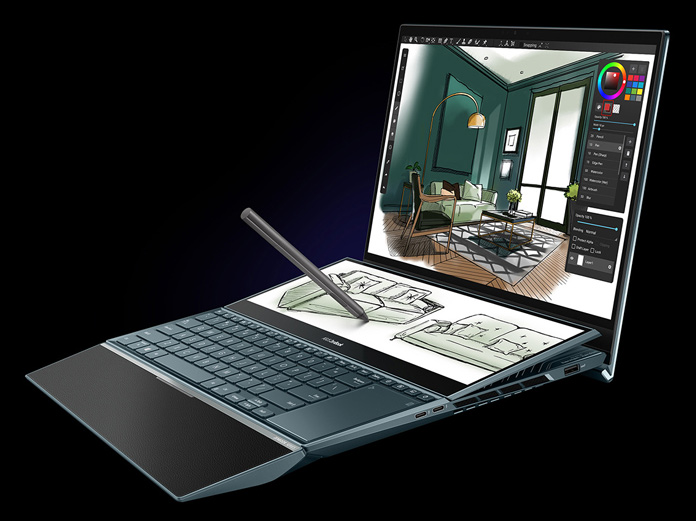 To give you full command of the ScreenPad, we've added new functionality to the existing ScreenXpert 2 management suite. The new Control Panel tool works with Adobe applications to help smooth your creative workflow and open up new frontiers of creative possibilities. Control Panel integrates with Photoshop, Premiere Pro, After Effects, and Lightroom Classic, providing dials, sliders, and buttons on the ScreenPad that are all connected to the applications' functionality. Creativity has never been more agile.
Powering many graphically-intensive applications across two 4K displays at once requires meaty internal hardware. For that reason, the ZenBook Pro Duo 15 OLED comes with an octa-core Intel Core i9-10980HK processor and an impressive latest-generation NVIDIA GeForce RTX 3070 graphics card with mighty 3D graphics capabilities and ray-tracing support. The dual-fan, six-heatpipe Active Aerodynamic System Plus cooling system prevents thermal throttling, keeping the processor and graphics card working at their rated speed during long sessions.
The silky-smooth magnesium-alloy chassis opens on an ErgoLift hinge that raises the keyboard when the laptop is open, improving typing comfort, cooling, and sonic output. Despite the two screens and the top-grade hardware, the laptop measures under an inch thick. The included palm rest provides additional relief and helps prevent repetitive strain injuries even during long editing sessions. Each ZenBook Pro Duo 15 OLED laptop undergoes a battery of physical tests including humidity, vibration, and shock tests so you can carry it around without worrying that a slight bump or drop will damage it.
ZenBook Pro Duo 15 OLED
Model
UX582
CPU
Core i9-10980HK
Core i7-10870H
Display
15.6" UHD OLED 100% DCI-P3
Pantone Validated
Touchscreen
UHD ScreenPad Plus
GPU
GeForce RTX 3070
Memory
Up to 32GB DDR4
Storage
Up to 1TB SSD
I/O
2x Thunderbolt 3 USB Type-C
1x USB 3.1 Gen 2 Type-A
1x HDMI 2.1
1x audio combo jack
Dimensions
359 x 249 x 21.5mm
Weight
2.4kg
Battery
92Wh
The ZenBook Flip S13 OLED (UX371) puts a movie theater right on your lap
Avid movie-goers and streaming subscribers probably have a nice TV or perhaps even a home cinema to enjoy all of their favorite content with. You can't put a home theater in your backpack, though, and even at home, it's impractical to have a TV on every surface if you need to do chores or simply sit on the porch. The ZenBook Flip S13 OLED marries the convenience and technology of a luxurious high-end convertible ultrabook with a stunning OLED display and powerful speakers so you can have your own personal cinema at your disposal anywhere and any time.

The star of the show is the OLED 4K touchscreen display and its bright, intense hues and spectacular contrast. It has a DisplayHDR 500 True Black certification, meaning the latest crop of movies and shows properly display all their enhanced colors and lighting. The screen's vivid colors cover 100% of the wide DCI-P3 color space, and PANTONE Validated color accuracy means that movies, shows, and sports broadcasts on the UX371 are presented exactly how their creators intended. All that content will be devoid of distracting motion blur thanks to the near-zero response time of OLED pixels.
OLED technology carries additional benefits for cinephiles. The color volume of the display remains consistent whether its brightness is maxed out or dimmed, meaning the overall picture will look the same in a bright coffee shop as it does in a dark bedroom. Low blue light emissions certified by TÜV Rheinland help ease eye strain during hours-long streaming sessions and preserve your circadian rhythm so you can enjoy blissful sleep after.

As a convertible with a 360° hinge, the ZenBook Flip S13 OLED is convenience incarnate. Fold the machine completely and hold it like any tablet. Flip it halfway around or make a tent with it. It can rest on any surface, and you can angle the screen just so for a perfect viewing experience whether you're in the kitchen baking, at a patio table, or in a quiet reading corner. Since OLED displays have near-perfect viewing angles, you can be sure friends or family who want to share your content will enjoy the same high-fidelity entertainment experience.
The ZenBook Flip S13 OLED is crafted with exceeding attention to detail. The exquisite Jade Black or Red Copper diamond-cut highlights make a striking impression as you open the lid to reveal the OLED display. An ErgoLift hinge raises the keyboard slightly for comfort in standard-laptop mode. The keys themselves run the entire width of the chassis, and the large touchpad incorporates our NumberPad 2.0 for easy data entry when it's time to get to work. Explosions, dialogue, and booming soundtracks come alive thanks to a speaker system tuned in tandem with the audiophiles at Harman/Kardon.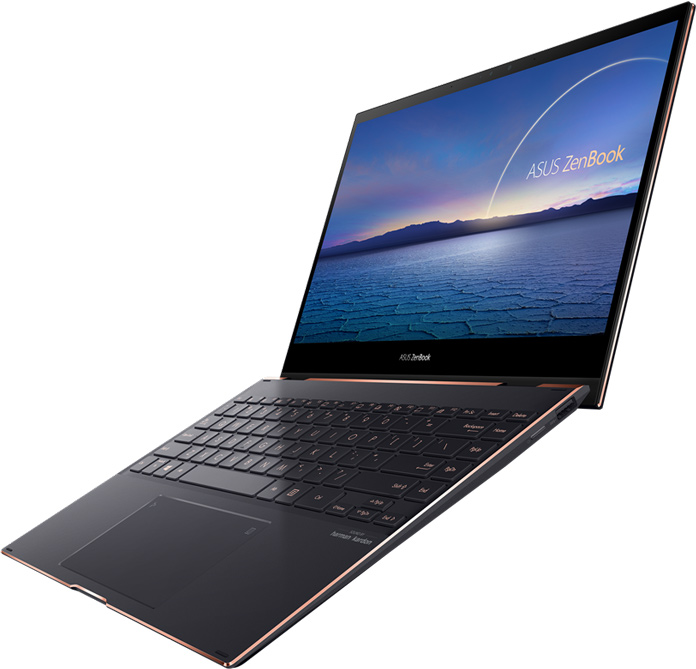 An Intel Core i7-1165G7 quad-core processor with next-gen Intel Iris Xe integrated graphics, NVMe solid-state drives up to 1TB, and up to 16GB of system memory make the ZenBook Flip S a productivity powerhouse. Dual-band WiFi 6 support ensures you can easily stream 4K HDR video without dropouts. The battery can deliver up to 15 hours of run time in mixed usage, and it'll quickly top up from 0 to 60% in just 49 minutes. All this productivity and entertainment comes inside a package that weighs just 2.65lb (1.2kg) and measures a svelte 12mm to 14mm from its thinnest to thickest points.
ZenBook Flip S UX371EA-XH77T
CPU
Intel Core i7-1165G7
Display
13.3" UHD
100% DCI-P3
PANTONE Validated

Memory
16GB LPDDR4X
Storage
1TB SSD
Networking
Wi-Fi 6
Bluetooth 5.0
Connectivity
2x Thunderbolt 4
1x USB 3.2 Gen 1 Type-A
1 x HDMI 1.4
MicroSD card reader

Battery
67Whr
Size
305 x 211 x 11.9~13.9mm
1.2kg
Availability (USA)
ASUS Store
Newegg
Amazon
Best Buy
Availability (CA)
Newegg
Amazon


The ZenBook 13 OLED UM325 and UX325 infuse everyday computing with splendid color
For everyday computing, the AMD-powered ZenBook 13 OLED UM325 and Intel-powered ZenBook 13 OLED UX325 deliver the same ultra-slim, ultra-light spins on the traditional clamshell laptop that ASUS ZenBooks are renowned for. Flip them open, however, and you'll quickly see that their screens are anything but traditional.
The vivid hues portrayed by the OLED Full HD displays in both system are guaranteed to impress. Vivid colors come through in all of your content thanks to PANTONE Validated color accuracy across 100% of the DCI-P3 color space. VESA DisplayHDR 500 True Black compliance means you'll enjoy bright whites next to bottomless blacks. All those perks contribute to an enveloping visual experience regardless of the content on display. Videos, photographs, movies, and games are all displayed as their creators envisioned.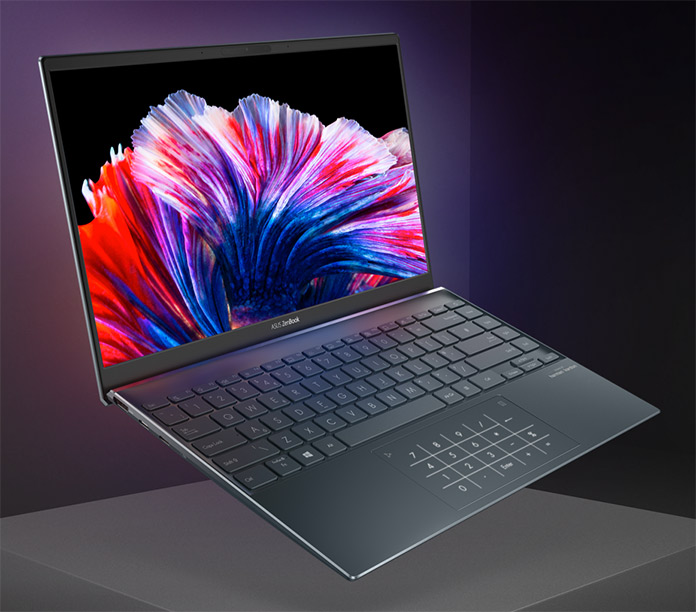 Like the rest of our OLED laptop lineup, the panels on these machines have extra-wide viewing angles, making it easy to share content with people around you. A low level of blue light emission (verified by TÜV Rheinland) eases eye strain and helps maintain a healthy sleep schedule after long computing sessions.
The UM325 and UX325 follow the ZenBook design language in all the right ways. The displays are surrounded by slim NanoEdge bezels, offering a more immersive visual experience, for an 88% screen-to-body ratio. The comfortable keyboard extends out to either edge of the slim 13.9mm chassis, while the touchpad has a NumberPad 2.0 built into it for added utility. When the laptop is open, the ErgoLift hinge raises the bottom section, increasing typing comfort and facilitating the flow of air to keep the internals cool and quiet.
Inside, AMD Ryzen 5000-series chips up to a Ryzen 7 5800U (in the UM325) or Intel 11th-gen Core chips up to a Core i7-1165G7 (for the UX325) provide responsive, steady performance and capable integrated graphics. USB Type-C ports and HDMI outputs are present in all models. Dual-band WiFi 6 provides stable multi-gigabit wireless transfers and stable signals so you can stream HDR content at full quality, or play fast-paced games without worrying about lag bringing you down.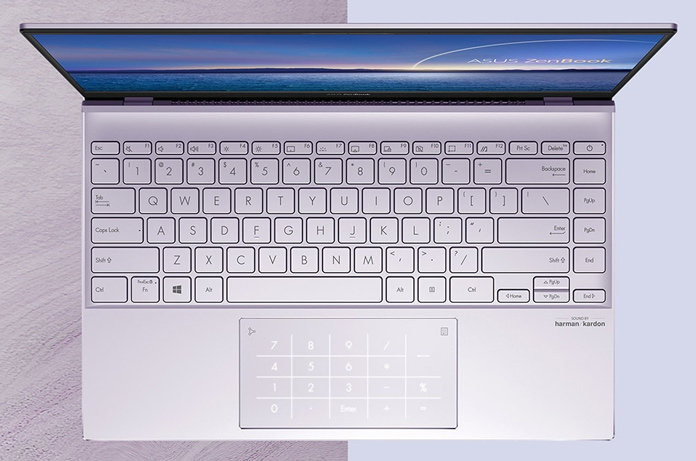 Additional niceties include a pair of high-quality speakers backed by our SmartAmp power for louder and clearer sound without distortion, along with an infra-red camera with Windows Hello support so you can sit down and start working in a snap. Large batteries and efficient processors in both units are good for a whopping 13 to 16 hours depending on the model, enough for a full day of work and play. Both models feature integrated fast-charging technology that can juice them up to 60% in only 49 minutes. Depending on the exact model, you can get your ZenBook 13 OLED in either Pine Gray or Lilac Mist finishes.
Whether you choose the AMD-powered ZenBook 13 OLED UM325 or the Intel-powered ZenBook 13 OLED UX325, you'll find swift and responsive performance that's backed up with powerful integrated graphics processors, rich connectivity, and long battery life for an enviably well-rounded everyday computing experience.
ZenBook 13 OLED
Model
UM325 and UX325
CPU
UM325: AMD Ryzen 5 5600U up to Ryzen 7 5800U
UX325: Intel Core i3-1115G4 up to Core i7-1165G7
Display
13" Full HD OLED
100% DCI-P3
Pantone Validated
GPU
UM325: Radeon Vega integrated graphics
UX325: Intel Iris Plus graphics
Memory
UM325: up to 16GB LPDDR4X
UX325: up to 32GB LPDDR4X
Storage
Up to 1TB NVMe SSD
I/O
UX325: 2x Thunderbolt 4 USB Type-C
UM325: 2x USB 3.2 Gen 2 Type-C with DP Alt Mode
1x USB 3.1 Gen 1 Type-A
1x HDMI 2.0b
MicroSD card reader
USB-C audio adapter with ESS DAC
Dimensions
12.0" x 8.0" x 0.6" (30.4 x 20.3 x 1.4 cm)
Weight
2.4lb (1.07kg) to 2.5lbs (1.14kg) depending on model
Battery
67Wh
The ZenBook Flip 13 OLED (UX363EA) enhances your productivity with a twist
Many types of work involve presenting to colleagues next to you, either at your desk or in a big meeting. That's true of classwork, too, where group projects and study sessions naturally involve shared screens. Conventional laptop form factors and display technologies make this simple-sounding practice trickier than it needs to be. Many LCDs appear dark and washed-out at an angle, particularly from the sides. And a standard clamshell form factor means that only the person sitting in front of it will get a perfect view. If your laptop doesn't have a lay-flat screen, the clamshell form factor can make it harder to share with your colleagues, too.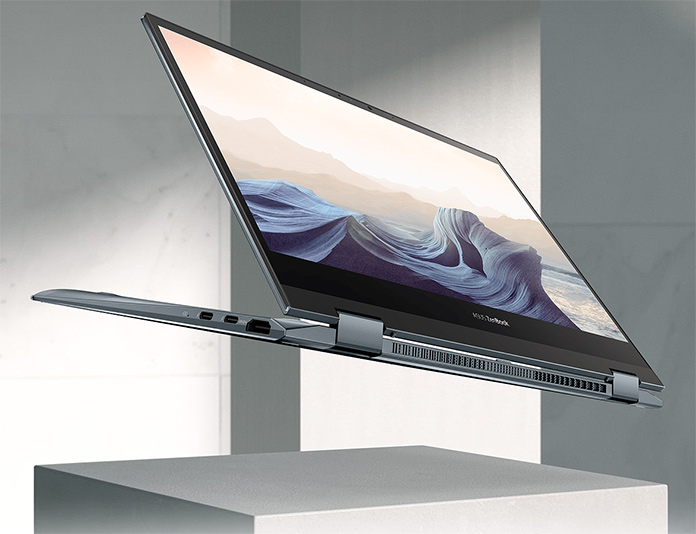 The convertible ZenBook Flip 13 OLED makes it easy to collaborate and create throughout your day. The 360-degree hinge design lets you take advantage of the Full HD OLED screen not just for traditional productivity in clamshell mode—it also allows you to convert the laptop to tent or stand modes for collaborative viewing of documents and media, or wrap it around to tablet mode for quick note-taking and freehand content creation with the ASUS Pen.
Wide viewing angles and the convertible hinge design make it easy to share your screen with colleagues, family, or friends, all with confidence that everybody is enjoying the same great experience, no matter where your day takes you. Use the laptop in clamshell mode or flip it into tent or stand modes to fit the space you're in, always with consistent color reproduction. The convertible hinge and the wide viewing angles of OLED work great together in tablet mode, as well. You can hold the laptop at a comfortable angle or set it on a table without worrying about shifts in color or contrast.
Whether you're working on a document, editing a photo, or catching up on your favorite YouTube channel, the ZenBook Flip 13 OLED's display panel is easy on the eyes. The vivid color gamut extends to 100% of the cinema-grade DCI-P3 color space, and it's PANTONE Validated for accuracy. Thanks to OLED's consistent color volume, colors will pop vividly regardless of whether you're in a well-lit office, mood-lit living room, or a dark bedroom. The true blacks and spectacular contrast from the ZenBook Flip 13 OLED's screen give enviable clarity to documents, spreadsheets, and diagrams. Photographs, video content, and games are all presented precisely as the artists intended, too.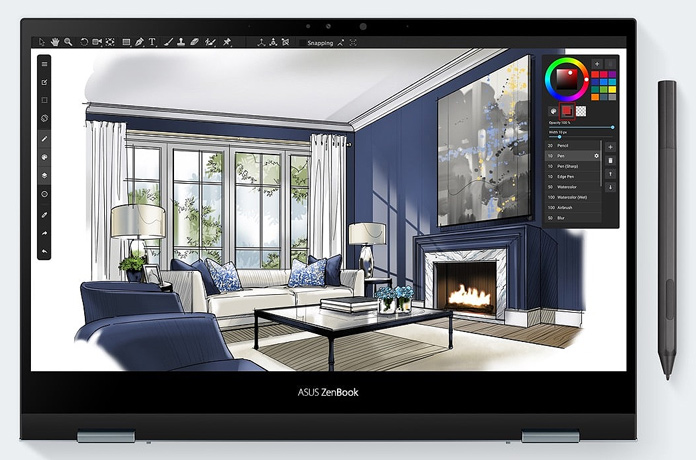 The blue light emissions from this OLED panel are strictly controlled, as proven by the TÜV Rheinland certification. Your eyes will remain fresh and attentive after long work or play sessions, and getting sleep after using the ZenBook Flip 13 OLED won't be an issue. The low blue light levels are especially easy on children's developing eyes, making this laptop an ideal platform for younger users engaging in learning and play alike. The exceedingly fast response time of OLED panels guarantees that the picture will remain crisp and blur-free as you scroll through documents, spreadsheets, or webpages. When it's time to have a little fun, motion in fast-paced videos and games will be impeccably clear.
With the ZenBook Flip 13 at your side, your workday will be powered by Intel 11th Gen Core processors up to a quad-core Core i7-1165G7, containing Intel Iris Xe integrated graphics processors capable of easily dealing with all your charts, photographs, and videos with aplomb. The same graphics processor will let you join in on light games when the day is done. Memory options up to 16GB provide plenty of breathing room for heavy multitasking.
Some workdays slip into overtime, and you'll probably want to continue using your laptop tether-free when you come home. Battery life up to 16 hours gives you plenty of time for both (and then some), and it can charge up to 60% capacity in just 49 minutes. During long typing sessions, the ErgoLife hinge saves you fingers and wrists by raising the back of the laptop when it's open in clamshell mode. Despite being a 360° convertible, the UX363EA weighs in at a mere 2.9lb (1.32kg) and is but 14mm thick. WiFi 6 and Bluetooth 5.0 wireless connectivity and a port selection including Thunderbolt 4 connectors round out the main specs.
ZenBook Flip 13 OLED
Model
UX363EA
CPU
Intel Core i7-1165G7
Intel Core i5-1135G7
Display
13" Full HD OLED 100% DCI-P3
Pantone Validated
Touchscreen
GPU
Intel Iris Xᵉ Graphics
Memory
Up to 16GB LPDDR4X
Storage
Up to 1TB NVMe SSD
I/O
2x Thunderbolt 4 USB Type-C
1x USB 3.1 Gen 1 Type-A
1x HDMI 1.4
USB-C audio adapter
Dimensions
12.0" x 8.3" x 0.5" (30.5 x 21.1 x 1.2 cm)
Weight
2.9lb (1.3kg)
Battery
67Wh