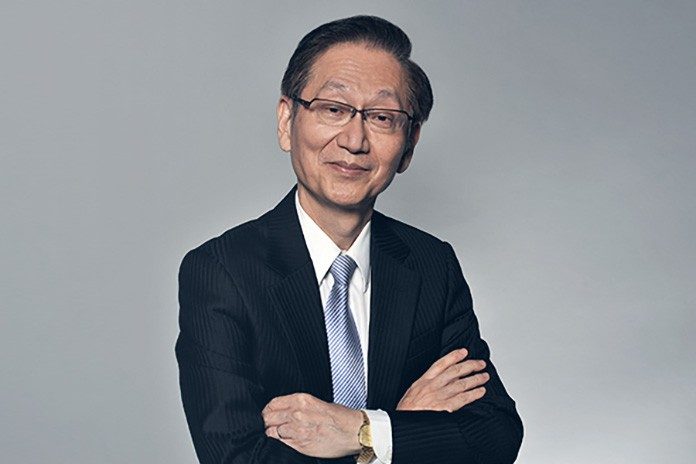 Looking back, 2015 was another innovation-filled year for ASUS. We launched the world's first carrier-unlocked, dual-SIM, 4GB RAM smartphone in the ZenFone 2, in addition to its siblings, the ZenFone 2 Laser, Deluxe, and Deluxe Special Edition. With notebooks, internal upgrades were made to our thin, lightweight, and powerful Zenbook line. Our ZenWatch was also updated and offers even better value to consumers. Most recently, we introduced four new models of our Zen AiO Pro – an all-in-one desktop PC that offers a unique combination of power and style. Needless to say, we've taken our design aesthetic to a new level, as we continue to strive to empower luxury to everyone.
Recently, I had the pleasure of catching up with Jonney Shih, the Chairman of ASUS, to talk about achievements of this past year and to ask what he envisions for the future of the company.
KT: Thank you for taking the time to speak with me today, Mr. Shih.
JS: You're welcome, Khang. I'm always happy to talk about the exciting things we're doing at ASUS! As you know, it's been a very busy year for us – even busier than usual, with the global release of our new ZenFones.
KT: Yes, 2015 has been an incredible year. In looking back, what are your thoughts? Are there any key decisions or factors that you see as leading to the successes of the year?
JS: I am proud of the achievements and breakthroughs we have made in the last year, especially with the Zenfone series.  As I have mentioned in the past, our industry is undergoing a massive paradigm shift. It is very important for ASUS to ride the right wave and to pursue great new opportunities that appear with changing trends.
Over a decade ago, we knew that smartphones would become a device that became essential in the lives of consumers everywhere. That is why we started developing our technology early. At that point, we also began focusing on obtaining essential patents.
The decision to enter the global smartphone market was a long-term strategy. Our experience and success in developing the ASUS Transformer tablet technology played a key role in helping us prepare for – and ultimately succeed in – that process.
KT: We've designed different ZenFones to meet different consumer needs. Can you elaborate on that?
JS: Empowering luxury for everyone is our design concept and goal for the ZenFone series. The ZenFone 2 Deluxe, ZenFone 2 Laser, ZenFone Selfie, ZenFone Max and ZenFone Zoom are all new models released this year. Each of these phones is designed to cater to specific consumer needs. For example, the ZenFone Zoom is designed for consumers who enjoy professional photography, while the ZenFone Max is designed for consumers who place special importance on exceptional battery life. We want each ZenFone owner to experience the joy of owning a device that provides the features they most value. That's what the ZenFone is designed to do, and the success of the series tells us that it's accomplishing that goal. I'm very pleased to know that!
KT: The ZenFone 2 offers a very interesting value proposition for consumers. When the phone was in the concept stage, did you expect that ASUS would be able to offer to an unlocked device with premium features such as a 13MP camera, dual-SIM capabilities, and 4GB RAM – all for $299?
JS: Of course, that was our goal!  The process was challenging, but we did it!  I am very proud of everyone who worked relentlessly on this project.  That is the spirit, in search of incredible!
KT: To change direction for a moment, I wanted to ask about Zen AiO Pro. The technology community has shown a lot of interest in it. What did ASUS set out to achieve with the AiO Pro?
JS: The Zen AiO Pro is a special case, indeed! I think our engineers took the Zen aesthetic to a new level with this beautiful device. Our goal was to redefine the all-in-one experience, and we did that by partnering with Intel and integrating their RealSense technology, packing the Zen AiO Pro with powerful processors and storage solutions for incredibly fast multitasking, and a bright 4K screen for stunning visuals. With the AiO Pro, I think we've created a truly exceptional product, and it's great to hear that the community has responded so positively to it.
KT: In closing, let me ask one question on behalf of Zen Fans everywhere: What can we look forward to in 2016?
JS: As I always say, stay tuned.  We will certainly bring more exciting innovation to the market.
2016 is shaping up to be another amazing year – one that will be full of ASUS innovations (I know I'm looking forward to that ZenFone 3 with a USB-Type C port). We're always pushing ourselves to provide the best user experience possible. I'd like to thank our Chairman for taking a few moments to join us and to offer his perspective and insight. For more information, and a few creative ideas for the holidays, visit Zen Your Way.
Looking forward to an incredible new year with you,
The MyZen by ASUS team