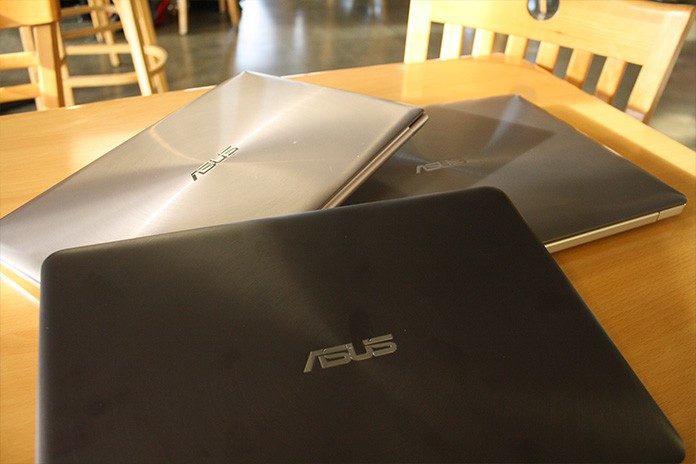 2016 is right at our doorstep, and as I look forward to this new year, I'm thinking about how I can reduce my clutter, be a bit more mobile, and not tied down to my desktop at home. This holiday season got me thinking a little bit about being closer to my loved ones, literally. Many times, I find myself upstairs, typing away, chatting with friends, while my fiancee is downstairs watching Friends – I mean, I love the show, but I can't watch and be playing on my tower at the same time. I'd much rather be sitting next to her laughing, while I get to do my own thing too! (Sure, it's obvious I could just shut down, disconnect, and just sit there and watch with her, but admittedly, it's hard!)
The needs
Guilt aside, I've started to research which notebook I really wanted to help me with my first-world problem. I immediately turned my attention to our Zenbooks because I knew I wanted something thin and light, yet powerful enough so that it could, 1) allow me run around with it without being weighed down 2) look good, which guarantees I'll play with it much longer 3) let me scour the internet, maybe play some League of Legends, and handle basic Office applications. I figure I'd leave my more powerful desktop to manage my more demanding tasks, so a product with the most powerful CPU wasn't necessary.
The options and specs
The three notebooks I took from my office to play around with (quite a perk if you ask me) were the UX305CA, UX303UA, and UX501VW.
| | UX501VW-DS71T | UX303UA-DH51T | UX305CA-DHM4T |
| --- | --- | --- | --- |
| OS | Windows 10 | Windows 10 | Windows 10 |
| CPU | Intel® Core™-i7 | Intel® Core™-i5 2.3GHz | Intel® Core™-M 0.9GHz |
| RAM | 16GB DDR4 | 8GB DDR4 | 8GB DDR3 |
| Storage | 512GB PCIE x4 SSD | 256GB SSD | 256GB SSD |
| Display | 15.6" UHD IPS screen 3840x2160, glossy | 13.3" 1920x1080 FHD IPS (16:9), glossy | 13.3" 3200x1800 QHD IPS (16:9), matte |
| Graphics | NVIDIA GeForce GTX 960M | Integrated Intel® HD Graphics 520 | Integrated Intel® HD Graphics 515 |
| Connectivity | Wi-Fi 802.11BGN and AC, BT 4.0 | Wi-Fi 802.11AC, and BT 4.0 | Wi-Fi 802.11AC |
| Weight | 4.5lbs | 3.2lbs | 2.6lbs |
| Battery | 96Whrs | 50Whrs | 45 Whrs |
| Price | $1499 (other models available) | $839 (other models available UX303UB) | $799 (other models available) |
| Where to buy | ASUS Store | ASUS Store | ASUS Store |
IRL…(In real life) usage and thoughts: UX501VW-DS71T
I brought the notebooks to a nearby coffee shop to take some pictures and play with them for awhile and get a feel for how they performed. The first I brought out was the UX501VW-DS71T. In my mind, it's almost not an ultrabook, weighing in at just over 4.5lbs, However, when you open it up and see how beautifully balanced and thin it is, you can see that it rides that fine line.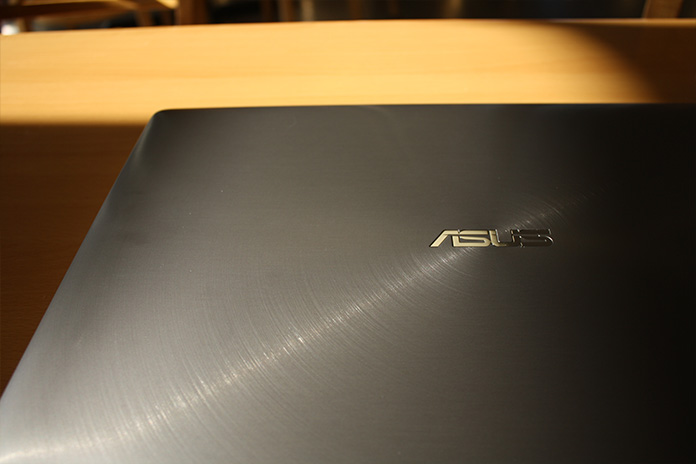 Speaking of beautiful, the UX501VW has the clean lines of its predecessor and continues to feature the concentric circle design on the back panel. Opening it up, you've got a gorgeous 4K screen that pushes more than eight million pixels into that 15.6" panel.
Inside, you've got Intel's 6th-gen i7 CPU and NVIDIA's GeForce GTX 960M graphics which will allow you to play CS:GO, League of Legends at 4k, but Project Cars and other demanding titles might require some downscaling.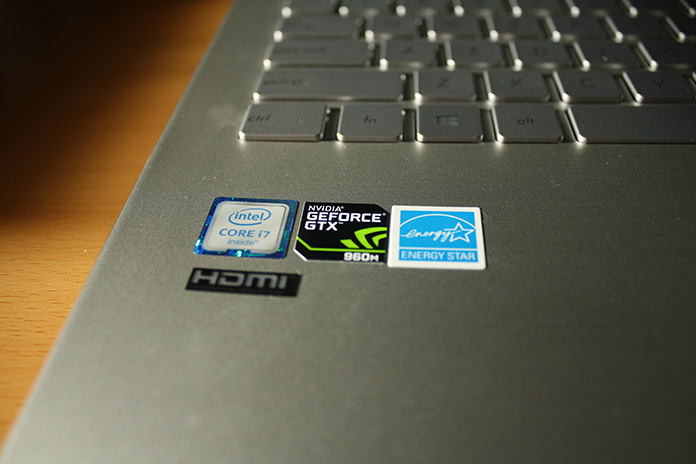 What I've noticed is that this thing is FAST. The 512GB SSD and 16GB of RAM gives it enough speed and multitasking ability and it won't slow down. There's also plenty of connectivity with three USB 3.0 ports, and a USB 3.1 Type-C port for charging compatible devices and transferring data.
So how's battery life? Good thing you asked! Starting at about 2:30 PM today to take pictures and draining the battery to 94%, then running a YouTube playlist from 4:30PM to 8:00PM, the battery is still at 51%. That's really really good (or a lot better than I'm used to). This is at 100% brightness as well, so you can potentially get about 5 to 6 solid hours on this device. Of course, if you're doing more demanding tasks, like Photoshop, and video editing, or gaming, your battery life will take a hit.
UX303UA-DH51T
Moving over to the 3.2lbs UX303UA, we've got a really beautiful, compact machine that still packs a punch. Like its more premium sibling, the UX501, it comes in a sleek, aluminum unibody that always feels cool to the touch. Speaking of touch, when you open the unit, you have a glossy 13.3" IPS Full HD display that supports a superior touch experience – made for writing and drawing.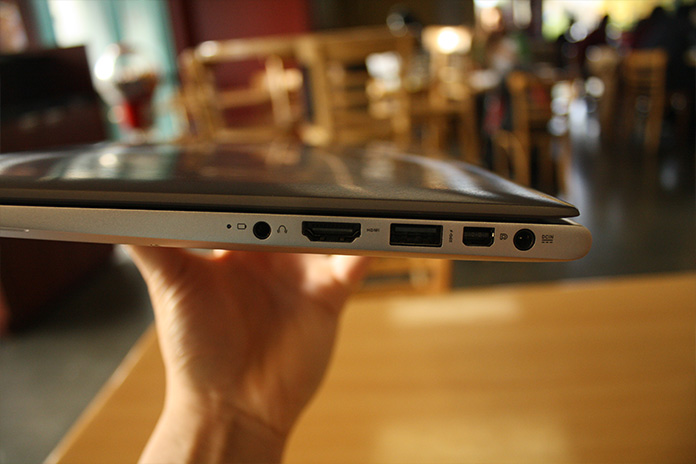 The keyboard feels responsive and has good key travel. However, playing on the UX501VW and moving to a smaller keyboard made me feel a bit cramped at first. I mistyped a few times, but eventually I got used to it and was able to compensate. Similarly, I felt that the trackpad was smooth and the tactile input was responsive. The difference between the UX501 and this was that I needed to press a bit harder to activate the left and right mouse tabs. I actually preferred to just tap on the track pad.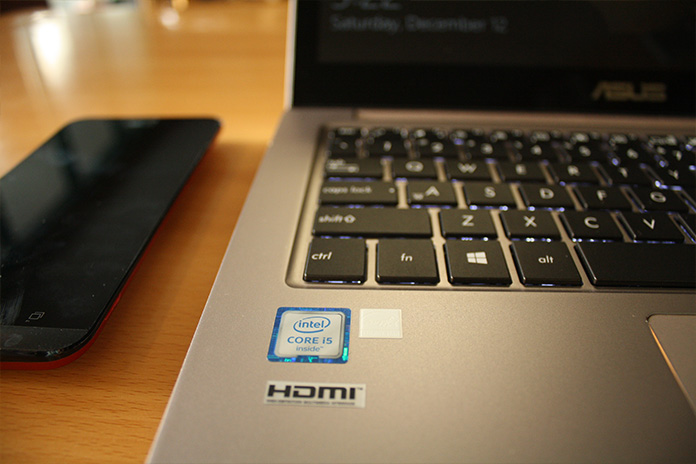 Inside you have an Intel® Core™-i5 processor clocked at 2.3 GHz, 8GB of RAM and a 256GB SSD for super fast boot times and application launches. This notebook is fast, and powerful enough for heavy multitasking. You can play games without issues, but hard core games would require heavier downscaling.
For connectivity, you have a three USB 3.0 ports for super-fast transfers, an SD card slot, HDMI port, Mini Display Port, and a combo headphone/mic jack. Speakers are on each side of the device and are loud enough for me. At full volume, it put out 65dB while listening to a YouTube video.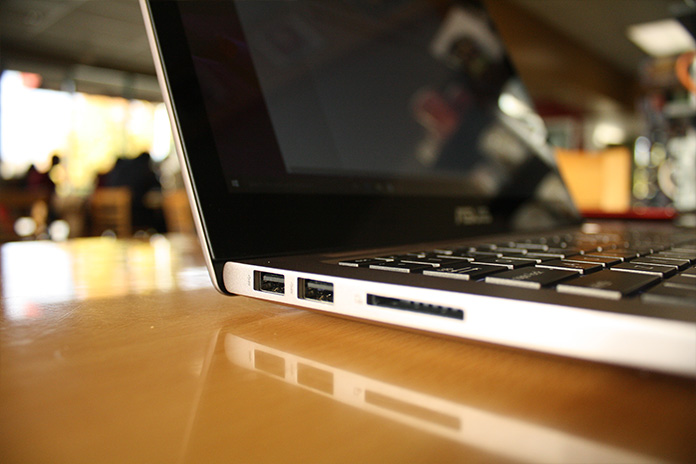 In terms of battery life, I was able to squeeze out about 4.5 hours of constant web browsing, YouTube videos, and typing on Google Docs. The keyboard was lit to full brightness and the display was set to 100%. Though the notebook is rated for 7 hours, that would be minimal tasks like email, browsing, brightness set lower, and keyboard lighting off.
This is a great notebook overall and JUST FYI, there's a Core-i7 2.5GHz, 12GB RAM version, the UX303UB-DH74T, if you need more power.
UX305CA-DHM4T
Thinnest and lightest of the three, the UX305CA weighs in at just over 2.5lbs. It is an update to last year's UX305F with a faster Skylake processor improving its clock speed. We'll get into that later.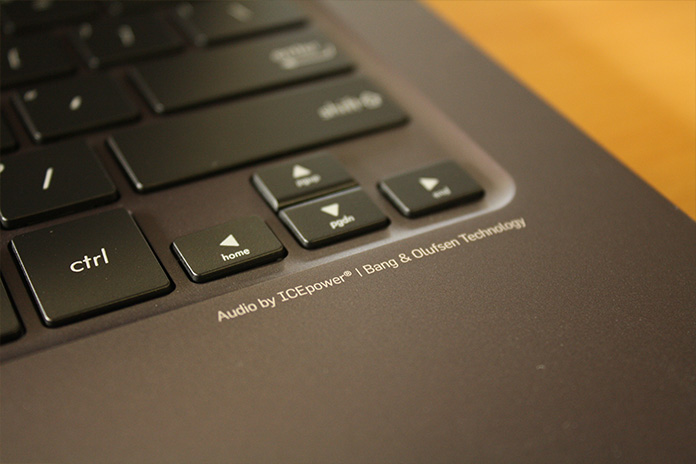 Design-wise, the UX305CA remains the same as last year with the "obsidian stone" colorway, and slim aluminum unibody. Again, the body has a fanless design so it runs really quietly and never heats up in a way that would require fans and vents. The keyboard is comfortable and with the depression that the keys sit in, it allows for a good resting position. The keys themselves have minimal noise and decent travel.
The display, like the UX303 is 13.3", but differs in that it is a Quad-HD, IPS matte display. So you've got a lot of pixels (3200×1800) at that 16:9 ratio. Everything is crisp and clear, and is just a pleasure to look at. Some people might think that the text icons at full resolution is too small, but I prefer it because it makes me feel like I have more real estate to work with.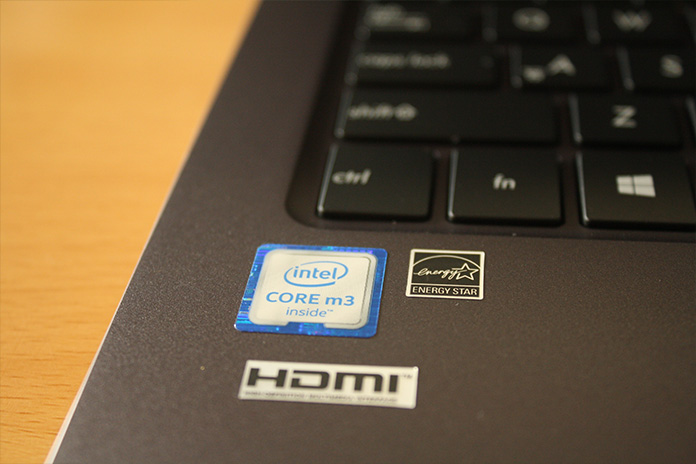 Inside, you've got an Intel® Core™-M that is clocked at 0.9GHz. Don't let that number fool you though. The UX305 features a 256GB SSD and 8GB of DDR3 RAM so it's speedy in that respect and multitask easily.
For connectivity, you have a micro-HDMI, combo headphone/mic jack, three USB 3.0 ports, and SD card reader slot. So you've got pretty much everything you need to stay productive.
From my experience using the UX305, I didn't run down the battery from 100 to 0, but I can say that it's more than 5 hours of my typical use. I've used the notebook like I would any other day and went from 100 to 52% in about 3 hours while watching YouTube videos, and running audio, and brightness all at 100% will drain the battery faster. Unlike the other models, this device doesn't come with a backlit keyboard and that definitely helps with battery drain. Also keep in mind that Battery Saver was not enabled in any of these battery tests.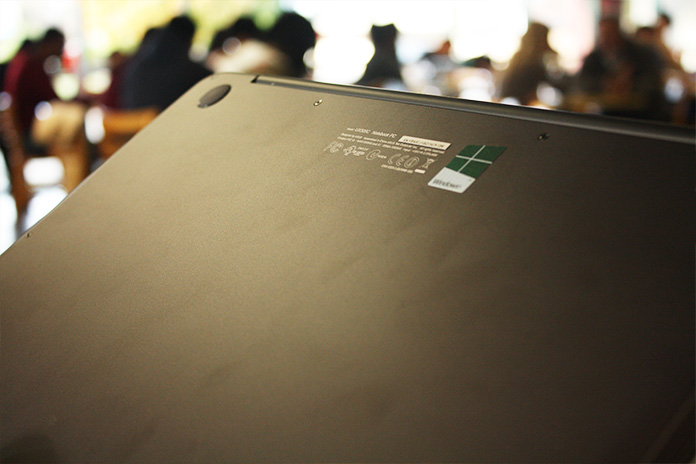 Do keep in mind that there other iterations of this machine and one of them comes with a 512GB SSD and a dual core M7-6Y75 processor clocked at 1.2 GHz. Be sure to check out our review article on the UX305CA.
The Verdict
The Zenbook series of notebooks can fit any budget and practically any need. You have your powerful UX501VW with its amazing 4K display, the UX303UA that is a compact workhorse, and you've got the ultraslim UX305 made for simpler tasks, and for productivity on the go.
In the end, I wanted to have a notebook that I could easily take with me wherever I wanted to go without the hassle of needing a large laptop bag. With its quiet, fanless design, lightweight chassis, and budget-friendly price, I chose the UX305CA. I knew that for me, I didn't need to do any heavy gaming on it, which I reserve my desktop for.
So if you're looking for cream of the crop, powerhouse with screen that just oozes pixels, colors, and clarity, the UX501VW is a great choice. But, if your needs calls out for a portable device (all are for sure, but we're talking the lightest) that can handle the simple things, the UX305 is perfect. Lastly, if you need something in between that has a bit more OOMPH, the UX303 is a nice fit.