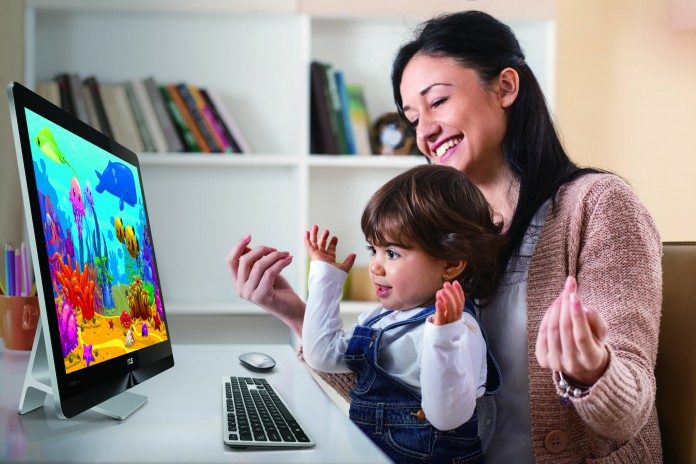 If you're like me, your desktop probably sits in the same corner all of the time. Something that didn't really occur to me until recently is that you can pretty much put the ASUS Zen AiO anywhere without the hassle of weight, wires and woe. There are some pretty practical uses for the AiO and it doesn't necessarily have to be something you keep in the office or in your living room.
The Zen AiO is a great multipurpose All-In-One, designed for almost all of your household needs, be it in the kitchen, the living room or even in the garage. It boasts a 24" FHD IPS screen, which allows for a wide viewing angle and rich color, meaning you won't lose color or clarity, even if you get up from the Zen AiO and walk around. It also comes endowed with two dual-channel speakers that are paired with ASUS SonicMaster Premium technology, which allows for crystal-clear sound all around. Let's say that you're talking to a friend on Skype while you're trying to make dinner in the kitchen: combined with the built-in mic, the front facing camera and the speakers, you can rest assured that you'll be able to hear your friend while you're walking back and forth to the counter.
One of the big pluses of the Zen AiO and the Zen AiO series in general is being able to use a touchscreen. By utilizing the Multi-Touch technology, you are able to rotate images on screen, pinch to zoom in or out, scroll through webpages and so much more. So, if you can't find your mouse, the touchscreen definitely comes in handy.
The internal specs on the Zen AiO are not too shabby either. It comes with up to an Intel® Core™ i5 processor, up to 16GB of DDR4 RAM, up to 512GB SSD storage, and Integrated Intel Graphics. Simple tasks like data processing, email and browsing the web are effortless with the Zen AiO, but with integrated graphics, it is also capable of other tasks like photo-editing or simple video rendering. You can take a look at the specs down below:
Part No

90PT01M2-M00520

Model Name

ZN240ICUT-DB51T-CB

EAN Code

4712900403282

UPC Code

889349403280

Color

Gray

Display

23.8″ FHD (1920×1080), glossy touch

On Board Processor

Intel Core i5-6200U 2.3GHz (Turbo up to 2.8GHz)

DIMM Memory

8GB DDR4 (2x 4GB DDR4)

Chipset

Integrated

Storage

1TB (5400 RPM)

Wireless

802.11ac+Bluetooth 4.0 (Dual band)

LAN

10/100/1000Mbps

Camera

1.0M 720p

Keyboard and Mouse

New Zen Grey Wireless Keyboard + Mouse

Operating System

Windows 10 (64 bit)

AC Adapter

90W AC Adapter

Output: 19V DC, 4.74A, 90W

Input: 100-240V AC, 50/60Hz universal

Back I/O Port

1x Headphone

1x Microphone

1x HDMI out

1x Power Input

1x LAN

1x Kensington lock slot

1x 2-in-1 card reader

2x USB2.0

4x USB3.0

Dimension (cm)

23″ x 17″ x 2″ ~ 7.5″

Weight (Kg)

16.1
If you're looking for a All-In-One that can handle your everyday tasks and so much more, then the Zen AiO was made for you! By being multipurpose in any place in your home, your workplace this AiO aims to make your life easier and stress-free, no matter where you are in!