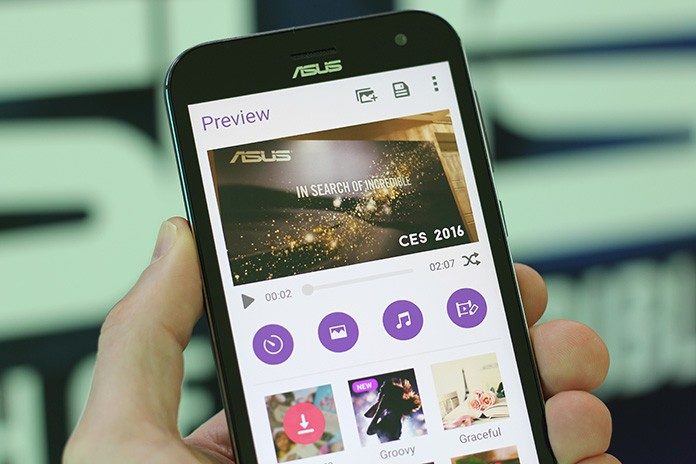 The tech industry converged on Las Vegas for International CES 2016 this week.  The show gives media, analysts, and industry insiders a chance to see all the latest gear for the new year, but it's closed to the general public, which puts me in a bit of a quandary.  Since I can't invite you to experience ASUS' CES showcase in person, what's the best way to share it with the MyZen audience?
Writing an article could work, but that's not as simpler as one might expect.  The hustle and bustle of the show leaves little time—and room—to sit down with a laptop and compose elegant prose.  CES is a much better environment for smartphones, which are easier to use whether you're walking the show floor, touring vendor suites, or traveling between the various venues.  It's also the perfect opportunity to use MiniMovie, an ASUS app that transforms static pictures into dynamic videos:
MiniMovie lets you weave pictures, music, and text together to tell compelling stories using only your smartphone.  You can choose between themes with carefully matched music and effects, combine multiple themes to tell longer stories, or go freehand with the flexible slideshow mode.  New themes, music, and slideshow formats can be downloaded from right inside the app.
After choosing a theme, simply select the pictures you want to include, and MiniMovie does the rest.  It's even smart enough to sequence and crop images based on facial detection.  The built-in editor lets you tweak everything from the sequence and cropping to the music and pacing.  You can also enhance MiniMovies with custom text, complete with different fonts, colors, and sizes.  If you don't finish in one sitting, you can save a draft and return to it later.
MiniMovies are output as standard video files that can be shared with friends, family, and the rest of the world.  Social media integration makes it easy to upload your creations from the app.  It's no wonder MiniMovie has become so popular.  The app has been downloaded over 11 million times to date, and users are generating around 50,000 MiniMovies per day.
If you want to join the fun and try MiniMovie for yourself, you can grab it right here from Google Play.