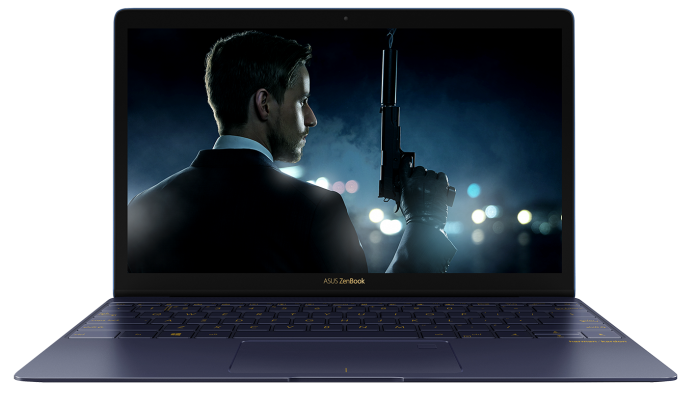 Is it a tablet? It it a notebook? In the good words of the Old El Paso commercial, "Porque no los dos" (Why not both?). The Transformer 3 is the answer to that question, a 2-in-1 PC that wants to be your on-the-go best friend.
Weighing in at less than two pounds (695 grams to be exact) and dimensions smaller than an A4 piece of paper, the compact design may, at first, surprise you. But similarly to the ZenBook 3, the Transformer 3 is made from aluminum, and has a spun-metal finish to give it that elegant look while still being durable. It also comes with the ASUS Transformer sleeve keyboard for comfortable typing, no matter where you are. The Transformer 3 and Pro have two colors available, Icicle Gold and Glacier Gray, while the Sleeve Keyboard for the Transformer 3 has four colors: Stone, Charcoal, Taupe and Amber.
What's inside the Transformer 3? You have a 12.6-inch, 3K display with a 275ppi pixel density and 450 nits of brightness, meaning colors on this 2-in-1 will be vivid and precise. The Transformer 3 will be powered by 7th Gen Intel Core processors, and come equipped with up to a 512GB SSD and up to 8GB of RAM. This 2-in-1 also has up to all-day battery life and also comes equipped with fast-charging technology, which, like the ZenBook 3, will charge up to 60% within 50 minutes.
The Transformer 3 Pro is going to be powered by an Intel Core i7 processor, and have up to a 1TB SSD and 16GB of RAM. It will also have a 12.6-inch, 3K resolution display with 275ppi and 121% sRGB gamut. The Transformer 3 Pro will also come with a mechanical hinge that will allow you to set the screen up at almost any angle (up to 170°) for your viewing pleasure.
One of the key features of the Transformer 3 and Transformer 3 Pro is the use of external accessories. You will be able to pair your 2-in-1 with external accessories such as the XG Station 2, which brings desktop-grade performance in a portable fashion. This will allow for individuals such as videographers to bring their Transformer 3 and their XG Station 2 on-the-go without having to sit at a workstation, or individuals who want to experience VR while being away from home.
The Transformer 3 may be a gateway into more external accessories that can make this 2-in-1 a powerhouse.  The possibilities could be endless with the Transformer 3 series and it seems that it is aiming to be the device that can do almost about anything with the right set-up.