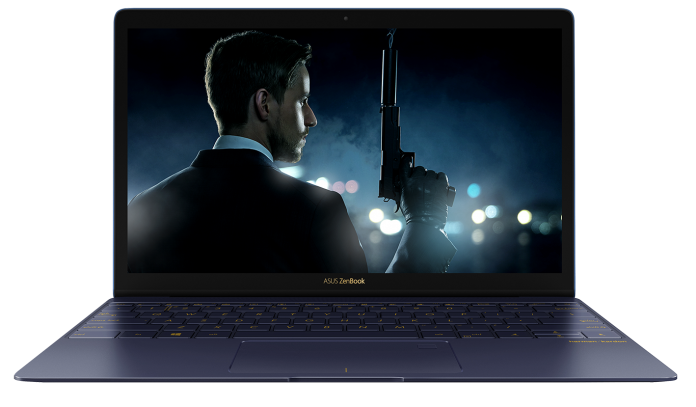 Imagine a notebook that is the size of a piece of A4 printer paper. That's the ASUS ZenBook 3: The World's Most Prestigious Laptop with Unprecedented Performance. It's lightweight, but built for ultra performance.
The ZenBook 3 was one of four major announcements at Computex last week, priding itself on being a sleek, slim machine with impressive specs at a weight of almost two pounds. It's built with aerospace-grade aluminum alloy to not only protect your notebook, but to make it super lightweight. But because it's built with this kind of material, you get a very shiny but elegant finish with its spun-metal look. You can grab the ZenBook 3 in Royal Blue, Rose Gold and Quartz Grey. ASUS has not told us which ones will be coming to the US yet so if you have an opinion as to which color you would like to see let us know.
The ZenBook 3 comes with a Full HD, 12.5-inch display with true, life-like colors by having a 72% NTSC color gamut and a 1000:1 contrast ratio. Also, the display is completely covered in scratch-resistant Corning Gorilla Glass 4. With the Zenbook 3, you get up to an Intel® Core™ i7 processor, 16GB of RAM, and up to a 1TB SSD. To keep the processor nice and cool, a 3mm thick cooling system with is used, discreetly routing warm air through hidden vents in the notebook. With all of this hardware inside, you would think it would drain your battery swiftly. With up to 9 hours of battery life, the ZenBook 3 implements fast-charging technology, which allows you to charge the notebook up to 60% within a 50 minute period.
Something new that the Zenbook 3 features from its predecessor is Microsoft Hello. In an era where pins and passwords are required for almost everything you do with a computer, Microsoft Hello hopes to make your life easier by being able to lock and unlock your notebook with your fingerprint. By enabling one-touch access, you can sign into your Zenbook 3 within seconds without having to type in a long password or worst, or risk having your password keylogged or stolen.
What are your thoughts about the new ZenBook 3? Let us know in the comments!