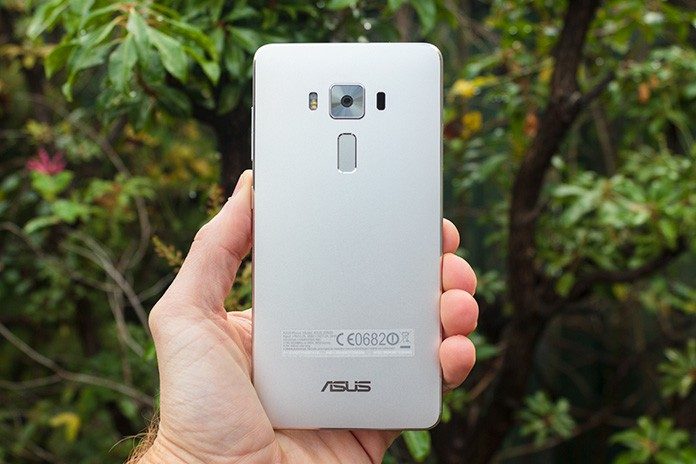 Our new ZenFone 3 smartphones are finally rolling out in North America, which is the perfect excuse to spend some quality time with the flagship. The ZenFone 3 Deluxe 5.7" lives up to its name in every sense; it's faster and more luxurious than its predecessor, with sweeping upgrades and thoughtful touches that elevate every aspect of the experience. Despite leaping into more premium territory, the Deluxe hasn't forgotten its unlocked, user-friendly roots.
A stunning sight for sore eyes
The first thing you notice is the massive display. Thanks to narrow bezels and a 79% screen-to-body ratio, the 5.7" panel dominates the face. But the size isn't the whole story. The underlying Super AMOLED technology produces an exceptionally vivid picture that's much richer than typical IPS alternatives.
OLEDs don't rely on backlights, so they display deeper blacks and higher contrast than conventional LCDs. The difference is immediately apparent on the default home screen, whose inky backdrop is so dark the icons look like they're floating over an abyss. The colors are gorgeous, too. With full coverage of the NTSC color gamut, the display draws from a vast palette of different shades to ensure that everything looks just right.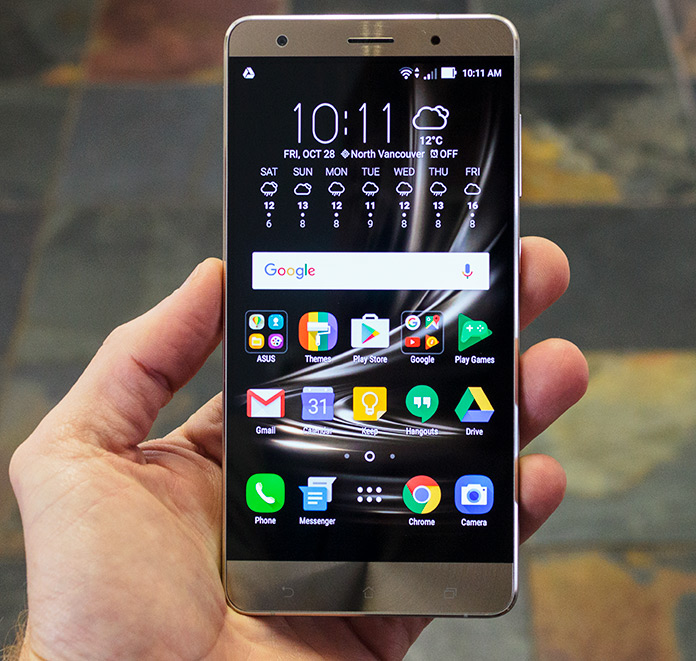 Everything looks even better than just right when the Super Color mode is enabled. This optional profile saturates colors to generate an almost candy-coated picture that resembles reality turned up to 11. It breathes new life into photos and videos, and even basic UI elements benefit from the extra visual pop. You can tweak and switch display profiles easily via the settings menu or configure a custom profile tailored to your tastes. There's also an adjustable blue light filter that's perfect for tired eyes and late-night reading.
Bottomless blacks, luscious colors, and a crisp 1080p resolution make the screen an integral part of the premium proposition. That's why we coated it with a protective layer of Gorilla Glass 4 that's up to 2X stronger than the previous generation. The ZenFone 3 Deluxe can better withstand scratches and impacts as a result, although the glass doesn't deserve all of the credit. The new unibody chassis wraps the device in an aerospace alloy that's extremely strong and lightweight.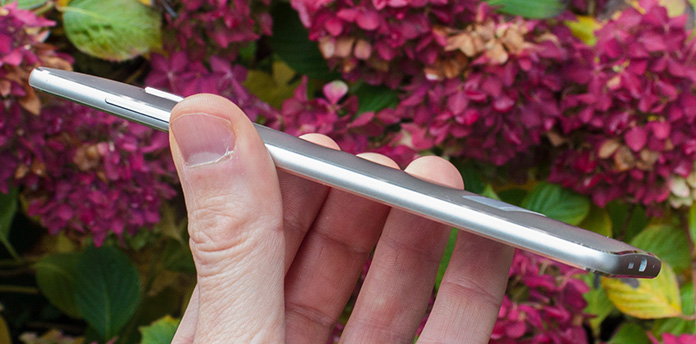 At only 7.5 mm thick and 192 grams, the ZenFone 3 Deluxe 5.7" is both thinner and lighter than its forebear. It slips more discreetly into pockets and still has a gently curved back that's comfortable to cradle in your hand.
The body is milled from a single piece and then sand-blasted to create a smooth finish with just enough grip. Diamond-cut chamfering softens the edges and adds a glint of flare, while Zen-inspired patterning puts subtle aesthetic accents up front. The sleek design exudes simple elegance whether you opt for silver or gold anodizing. And the best part is the matte shell looks as good after a day of manhandling as it does fresh out of the box.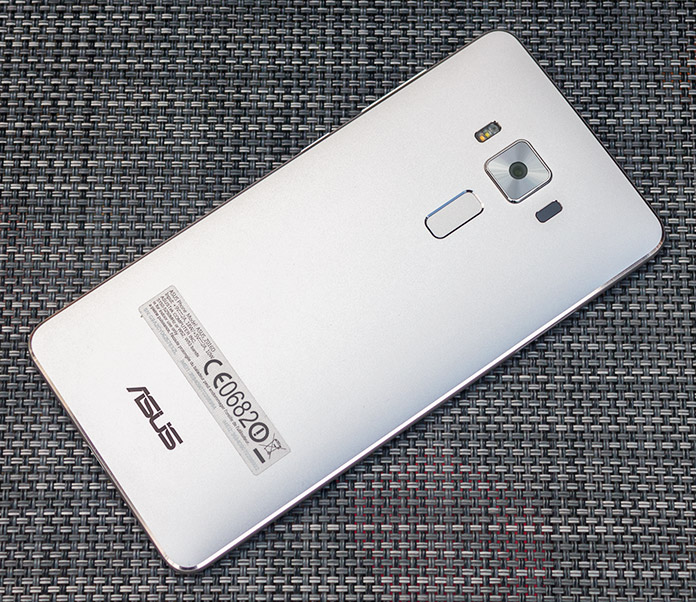 Notice that the pristine exterior is completely devoid of antenna lines. Metal chassis usually rely on unsightly gaps to let radio signals through, but our invisible-antenna design wraps the ZenFone 3 Deluxe in a full metal jacket. You still get ultra-fast wireless connectivity, including support for GSM-based 4G LTE networks up to Cat 12 speeds. The full list of supported networks is detailed on the official product page. Dual-band 802.11ac Wi-Fi and Bluetooth are included, of course.
Next-gen hardware with real-world implications
The ZenFone 3 Deluxe 5.7" is powered by Qualcomm's Snapdragon 820 processor. This high-performance chip boasts quad cores based on Qualcomm's proprietary Kryo architecture, plus a Hexagon 680 DSP and Adreno 530 graphics. It effortlessly plows through everything I throw at it, from gaming and multimedia to productivity and its antithesis: reddit. Navigating the ZenUI interface feels especially fluid and responsive, in part thanks to its Android 6.0 Marshmallow underpinnings.
Even with loads of apps in the background, I've yet to see the ZenFone skip a beat. Some of the multitasking prowess can be traced to the massive 6GB DDR4 memory payload. The ZenFone 3 Deluxe 5.7" has more RAM than most PCs, let alone smartphones. It's also equipped with cutting-edge UFS 2.0 storage that's faster and more power-efficient than older eMMC flash. The North American configuration comes with 64GB of storage, and more can be added via Micro SD.

Memory cards pop into a removable tray that also holds the SIMs. Primary connectivity comes from a Micro SIM slot that delivers the full-fat 4G experience, and there's a secondary Nano SIM slot limited to 3G speeds. The second slot is shared with Micro SD, so you have to choose between the two. I really like the dual-SIM support for cross-border travel—and for my work and personal life on the same device.
Although it's literally a small thing, the Type-C USB port is one of my favorite aspects of the ZenFone 3. The reversible port is a revelation in the real world, where you never need to worry about plugging in the wrong way. The only side effect is that fumbling with the old-school ports on other devices has become more frustrating than ever before.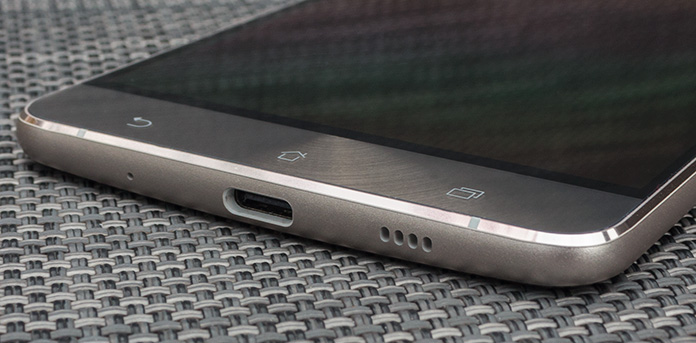 Turbo-charging enhances the Type-C port on two fronts. Support for USB 3.0 enables higher transfer rates, while compatibility with Quick Charge 3.0 lets you fill the battery to 60% in just 39 minutes. That doesn't mean you'll need to charge the ZenFone frequently, though. Over the past couple weeks of normal use, the 3000-mAh battery has reliability made it to the end of the day without running dry.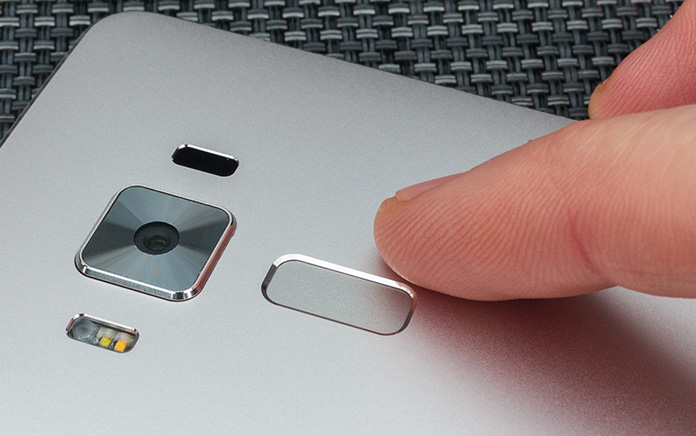 The other small-but-significant detail is the integrated fingerprint reader. It's located on the back, right next to where my fingers naturally sit when holding the handset. You can scan up to five digits and touch the scanner in any orientation, making it easy to authenticate in portrait and landscape modes alike. Recognition is much faster than tracing a pattern or typing a pin. There's no need to look down at the phone, either, making the process less distracting than traditional authentication.
Like the Type-C port, the fingerprint reader is both a blessing and a curse. It makes strong security much faster and more convenient, which then highlights the awkwardness of traditional authentication schemes on devices that aren't as well-equipped. It's a good thing we're integrating fingerprint readers into other devices, like the ZenBook 3 ultraportable and Transformer Mini T102 tablet. All I need now is a fingerprint reader for my desktop.

The 3.5-mm audio jack didn't seem like a big deal when we first announced the ZenFone 3, so we didn't make a fuss. But it's worth pointing out that the standard port works with all the headphones everyone already owns. The sound quality is great, and audiophiles will appreciate the certification for Hi-Res Audio content up to 24 bits and 192kHz.
While the integrated speaker obviously doesn't sound as good as quality headphones, it's plenty loud. The speaker uses five tiny magnets driven by an NXP Smart AMP to produce louder volume, lower frequencies, and less distortion than the ZenFone 2. The volume controls also have a toggle switch for Outdoor Mode, which instantly boosts the output.
A new camera with All The Megapixels
Cameras are an integral part of every smartphone, so we put extra effort into the ones on the ZenFone 3 Deluxe. The rear PixelMaster 3.0 shooter uses Sony's latest Exmor RS IMX318 sensor, whose 23MP resolution trounces even my DSLR. It has an f/2.0 aperture and fast TriTech autofocus that automatically choose between laser, phase-detection, and continuous modes depending on the scene. Photography geeks get full manual controls, including shutter options up to 32 seconds, and there are loads of pre-baked modes for everything from HDR to animated GIFs.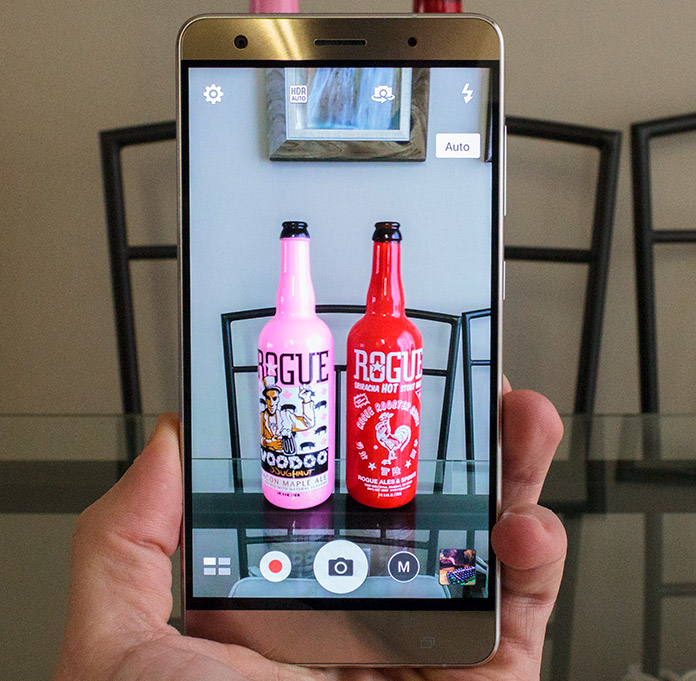 Keeping a steady hand is key to getting good shots, so the ZenFone 3 has four-axis optical image stabilization for photos and 3-axis stabilization for video. You can record insanely detailed Ultra HD movies at 4K resolution, and there's a 1080p60 mode that's perfect for sports and action-filled scenes that can benefit from a higher frame rate. The front-facing camera tops out at 1080p for video and 8MP for stills.
We're working on a dedicated article that explores the new ZenFone 3 camera, so I won't spend too much time on it now. Suffice to say it takes great pictures with minimal effort. Here are a couple of examples that have been cropped but otherwise unedited:
Pricing and availability
The ZenFone 3 Deluxe 5.7" isn't the only Deluxe in the family. We also have a 5.5" version with a slightly smaller IPS display, a slower Snapdragon 625 processor, 4GB of memory, and a 16MP rear camera. That configuration comes with 64GB of storage and sells for $399 in the US. The 5.7-incher also starts at 64GB of storage, but for $499 in the US and $669 in Canada.
For me, the Super AMOLED panel is almost worth the extra cost all on its own. You could say I've gone OLED and don't want to go back. The other upgrades further sweeten the pot, especially if you take a lot of pictures. Power users may actually have a harder time contemplating whether to spring for ZenFone 3 Deluxe Special Edition, which has a faster Snapdragon 821 processor and a whopping 256GB of integrated storage for $799 USD.
Look for the ZenFone 3 Deluxe 5.7″ at the following retailers: