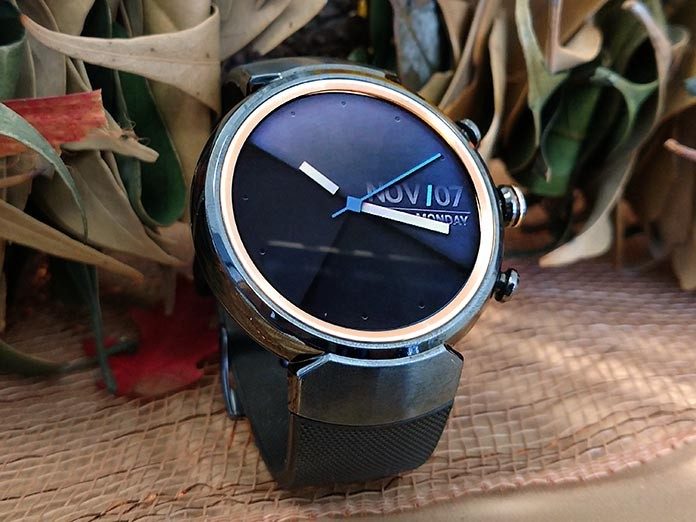 In my time wearing the ZenWatch 3, the most common comment I'll usually get from family members, friends, and strangers is, "That's a nice watch." It is at that moment when I press one of the buttons to light up the screen, and they're shocked to see that it's actually a wearable. The ZenWatch 3 is a conventional-looking smartwatch with a round face and luxurious body, but its price won't make your wallet cry.

Dive into a luxury wearable
The ZenWatch 3's body is composed of jewelry-grade stainless steel. Besides giving the watch a nice, metallic sheen, the material is strong enough to withstand the rigors of daily use. Right now, the gunmetal grey and silver watches are available in North America, and you will be able to choose between high-grade rubber and leather wristbands in different colors from our ASUS store soon. Both types of bands are great to have if you want to switch between simpler and more sophisticated looks.
Speaking of customization, the watch face is easy to change for a more unique look. There are loads of free faces available to suit different styles, and many of them include their own tweaking options. You can change faces from the watch itself or from a paired smartphone. I personally find myself switching faces every so often to color-coordinate with the rest of my outfit.
Stayin' alive, stayin' Alive
I'll admit, I'm a complete and utter klutz. My current smartphone has dents and scratches from the many times I've dropped it or bumped into something. In the past, I even managed to crack a new smartphone's screen after having it for less than 12 hours. So, when I got the ZenWatch 3, I was scared of damaging it, fearing the face would shatter if I accidentally nudged a wall or tripped on the edge of the sidewalk. Fortunately, the ZenWatch 3's display is covered by a tough layer of Gorilla Glass 3 that guards against physical damage. This protective coating makes it difficult to scratch or shatter the screen with normal use, even if you're a bit of a klutz.

Speaking of protecting your watch, we're heading into winter, and you know what that means: cloudy weather, colder temperatures, and rain or snow, depending on your latitude. Does this mean you'll have to stow the ZenWatch 3 in the depths of your pocket or bag during bouts of bad weather? Not at all. The watch has an IP67 rating that guarantees it can survive being submerged in one meter of water for 30 minutes. The ZenWatch 3 can easily handle heavy rain and loads of dish water, and you can even take it into the shower or bath.
We're not running on cogs here
The ZenWatch 3 takes the next step up from the ZenWatch 2 by integrating Qualcomm's latest Snapdragon Wear 2100 processor. The new chip uses 25% less energy than its predecessor, so the ZenWatch 3 doesn't need to charge as frequently. Can it get you through the entire day, though? After all, nothing puts a damper on the smartwatch experience like having your wearable's battery life deplete as quickly as fast as a Thanksgiving meal.
The short answer is: yes. I used the ZenWatch 3 heavily throughout my work day to check emails, reply to messages, track activity with ZenFit, and navigate with Google Maps. By the time I got home, the battery was still at 40% capacity. Even after a 24-hour period that combined normal use with nighttime idling, the ZenWatch 3 still had a smidgen of battery life remaining.
During my testing, I was pleasantly surprised to find that using Google Maps on the ZenWatch 3 helps conserve battery life on my smartphone. Navigating my normal commute via smartphone alone usually burns through about 20% of the handset's battery. Doing the same trip with the Google Maps wearable app leading the way only drains 9% of my smartphone battery. Having directions provided by the ZenWatch 3 lets the smartphone display go dark to save power and reduce heat.

There have been days that I totally forgot about charging my ZenWatch 3. Thankfully it uses QuickCharge 3.0 technology capable of bringing the battery up to 60% capacity in just 15 minutes. For situations where the battery is getting low and you don't have a charger handy, the ZenWatch 3 features a special Eco mode that saves power by disabling notifications, wireless connections, and touchscreen input.
What can it do?
The ZenWatch 3 is a watch, so naturally it tells time. Thanks to Android Wear, it also does a lot more. You can easily download and install apps to perform different functions, and the watch includes a configurable button that can be set to quickly launch your favorite app. There are three buttons in all, one of which provides a quick shortcut to the battery-saving Eco mode.
What makes wearables awesome is that you don't have to take out your smartphone for basic things. Notifications can be sent directly to the ZenWatch 3, keeping you up-to-date on Facebook posts, messages, and emails even when your handset is out of reach. The integrated Google Now speech recognition is excellent, especially if you want to send replies while your hands are full. It rarely made mistakes when transcribing my instructions.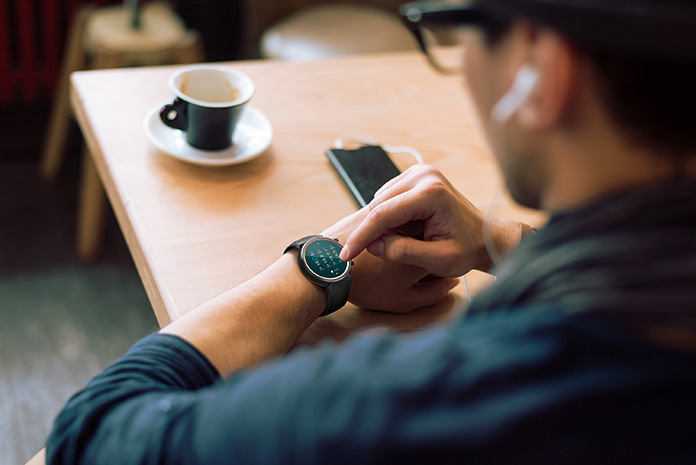 Another key feature is ZenFit, the health-and-exercise app linked to the ZenWatch 3's top button. I'm more interested in basic fitness than hardcore gym workouts, so ZenFit is a good match. It has a pedometer for tracking running and walking, plus the ability to count sit-ups and push-ups. You can set goals for time elapsed, distance traveled, reps completed, and tacos earned calories burned. ZenFit is a nifty little tool that helps you get into the groove of easy exercises and activity tracking.
Luxury doesn't have to break your wallet
If you're interested in wearables or want a chic-and-elegant smartwatch, the ZenWatch 3 delivers. It's a good alternative to constantly taking out your smartphone to check the time, browse notifications, and send replies—and it can do a lot more than just that. Despite its premium materials and luxurious design, the ZenWatch 3 is available for just $229.00 in the USA right now in gunmetal grey. For Canada, the ZenWatch 3 will be arriving this month for $349.99 in both gunmental grey and silver colors. You can find it at the following retailers: