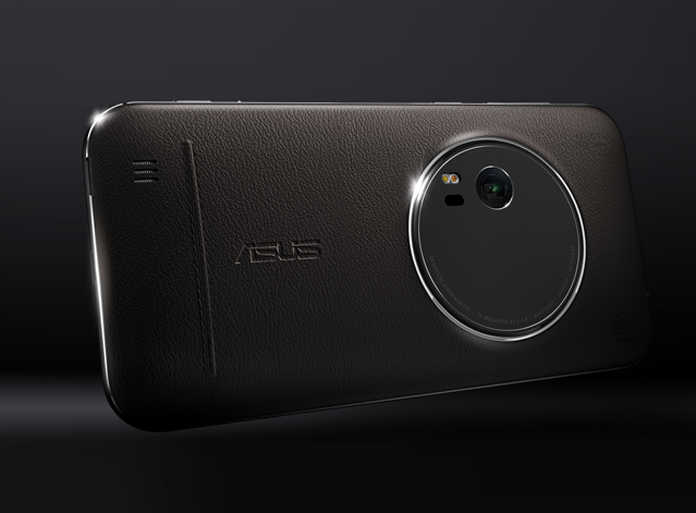 Hey everyone, we're back here in Las Vegas for the most exciting tech show in the world, and are more than pleased to announce that the ZenFone Zoom is finally here. This awesome smartphone was revealed last year at CES, but the team has taken its time to develop and tune the technology to make it the slimmest camera smartphone with a 3x optical zoom. Now, it's time to see the world up close.
Design – Not a hump for hump's sake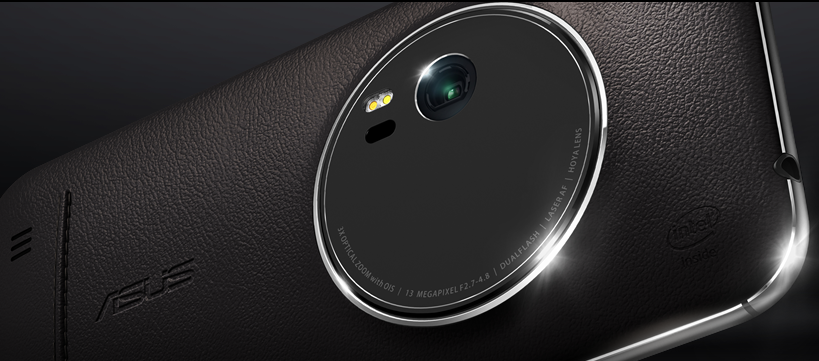 The ZenFone Zoom feels really premium compared to the ZenFone 2. Surrounding the edge of the phone is a soft, smooth aluminum that reminds me of the Zenbook UX305 in the obsidian stone colorway. Also, it's only slightly heavier than its cousin at 185g versus 170g – hardly noticeable. On the right side of the device, you have the volume rocker and power button which is much better than how it was placed on the ZenFone 2. Beneath, you have dedicated record and camera buttons – a really nice addition to keep the camera steady as you shoot. On the bottom of the phone you have a microUSB port, microphone, and strap loop. On the back of the phone, which is covered in a soft, textured leather (it's real, folks), you have a speaker and the hump which houses the dual-tone flash, laser auto-focus, and the camera's multiple lenses, but we'll get back to that. At the top of the phone we've got our 3.5mm headphone jack and noise-cancelling mic.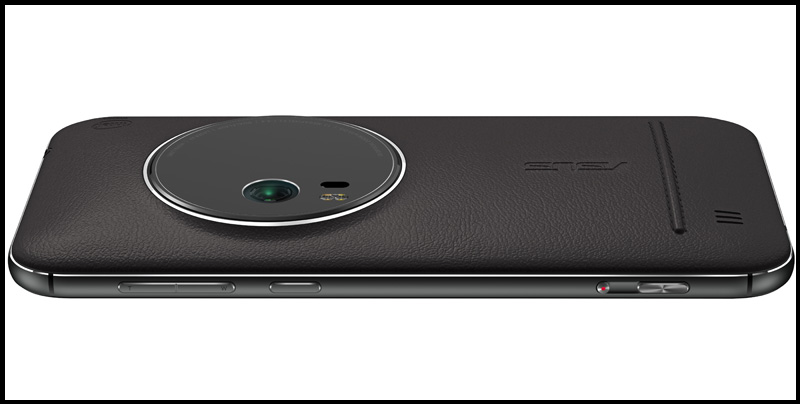 You can definitely tell that the ASUS engineering and design team really did an exceptional job in creating a great product and the extra year was worth it.
Let's look at it close up
The ZenFone Zoom is covered in Gorilla Glass 4 and measures 5.5", similar to the ZenFone 2 Laser, though the body itself is a bit taller. It's still FHD at 1920×1080, 403 PPI and maintains excellent clarity and color accuracy which can be adjusted per your preference in the Screen Settings. Like the ZenFone 2, we have a non-removable 3,000 mAh battery, but where this device differs is instead of a Z3580 CPU clocked at 2.3GHz, the Zoom has a Z3590 processor clocked at 2.5GHz.
But obviously, the ZenFone Zoom gets its name from the 3x optical zoom offered in the housing. This is an amazing innovation from our team. Typically Zoom lenses are created in away that extends away from the body. However, in this case, the team worked with Hoya, a world-renowned optics manufacturer, to create magnification through a unique double-prism layout and mechanism, much like a periscope. To show you the difference between an image taken with our phone and some of the competition, I've compared three shots. You can definitely see here that our ZenFone Zoom with its 3x optical zoom and magnification can beat out some of the "best" cameras out there.

In this example, I've compared three shots – one from the ZenFone Zoom, iPhone 6 Plus, and Samsung Galaxy S6. Standing six feet away from the Guavian enforcer, I zoomed in on the box to see if the text and details could still be made out. It is quite clear that the optical zoom from the ZenFone Zoom made the text still legible where the images from the others weren't at all.
Zoom in on them specs
Android 5.0 Lollipop

Intel Atom Z3590 Processor 2.5GHz

4GB RAM, 64GB Storage w/ microSD card support up to 128GB

5.5" FHD IPS (1920×1080) display with Corning Gorilla Glass 4

3,000 mAh battery (non-removable)

13MP Camera with f/2.7-f/4.8, dual flash, laser auto-focus with 3x Optical Zoom and Optical Image Stabilization

Single SIM with 2G/3G/4G support

Dimensions: 158.9 x 78.84 x 5 ~ 11.95mm

802.11 a/b/g/n/ac Wi-Fi, BT 4.0, and NFC
Bottom Line: The new ZenFone Zoom is a great addition to the ZenFone family
For those who care about image quality, it doesn't get much better than optical zoom. When you're zooming in digitally, resolution begins to take a huge hit, and that make a good picture go bad quickly. The ZenFone Zoom really takes our smartphone family to the next level in terms of build quality and innovation, and we're excited to announce that it will be launching exclusively at B&H Photo on February 1st at $399.
Check out our post for a behind-the-scenes story about designing the ZenFone Zoom.