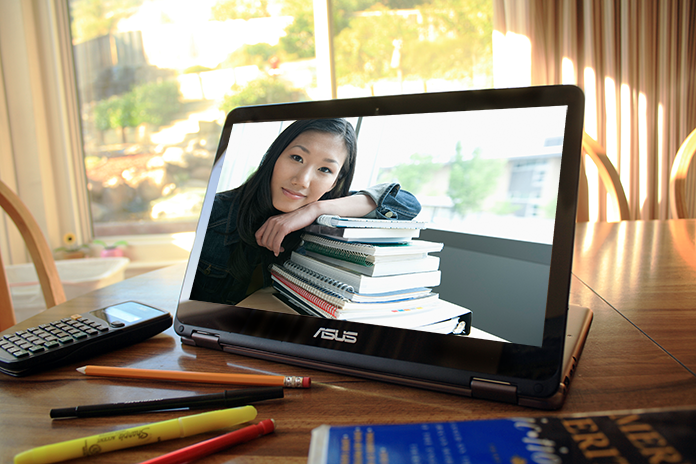 Before you ask, no, I am not talking about Bop-It: I'm talking about the ZenBook Flip a.k.a. the UX360. Why 360, you ask? Because this notebook rotates up to 360 degrees, that's why. The ZenBook Flip truly acts as a great companion for all of your needs. You can bend it all the way into a tablet so you can sit in bed while you read, "A Song of Ice and Fire". You can make it into a tent on the kitchen counter when you're trying to cook and watch E3 highlights simultaneously. Of course, you can just use the ZenBook Flip as a normal notebook if you want, too.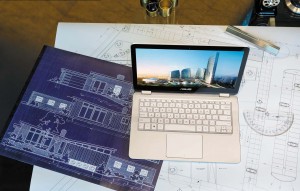 Let's talk specs first. The ZenBook Flip has an Intel Core M, so it's fairly capable of doing some light, day-to-day tasks. Also because of Core M, you'll get silent, passive cooling with a higher battery life. Alongside the Core M processor, you will have up to 8GB of DDR3 RAM and up to a 512GB SSD. On board, there are 2 USB 3.0 and 1 USB-C ports, a micro HDMI port and a microSD card reader. The screen is equipped with IPS for outstanding color and wide viewing angles, with 1080p at 13.3 inches. You'll also find this notebook pretty portable and easy to carry at a little less than 3 lbs, so you can set it almost anywhere you want.
A great addition to the UX360 is not only having Windows 10, but also having Cortana, your on-board personal assistant in your hands. Are you having a conversation with a friend and debating if a tomato is a fruit or vegetable? Just ask Cortana: she'll look it up for you and depending on the type of question, she might tell you out loud! Want to know what events are going on in your area? Ask Cortana, and she'll tell you what's going on! She's great for pretty much any use in any location: ask her to look up a recipe while you're in the kitchen and looking for ingredients, or have her play a YouTube video for you.What I love about Cortana is that, despite being an on-board assistant, she's pretty entertaining. A fun thing you can do when you're alone is ask Cortana random, personal questions such as, "What is the meaning of life." "What's your favorite food." and "Will you marry me" (spoiler alert: she said no). You will not find yourself screaming at Cortana to ask your question either. In a 10 x 10 room, speaking at a normal, talking volume, she was able to hear and respond to me promptly. She really has potential to grow and interact with apps, so there is a really bright future for this halo (haha) looking helper.
The ZenBook Flip wants to be that device that does everything and goes everywhere. Especially for students going back to school soon (or students who are currently enrolled in summer school), this notebook can be great for all of your projects, or for taking a break during classes. You can grab the ZenBook Flip at our ASUS store here, starting at $699.